Many of the following quick and easy clean eating recipes for beginners are part of my new 52 Chef Habits Ecourse – a 52-week clean eating habit challenge. Each of it is scheduled on a specific week within 12 months. I hope you will enjoy these clean recipes, and that you cook them over and over again on your path to a healthier lifestyle.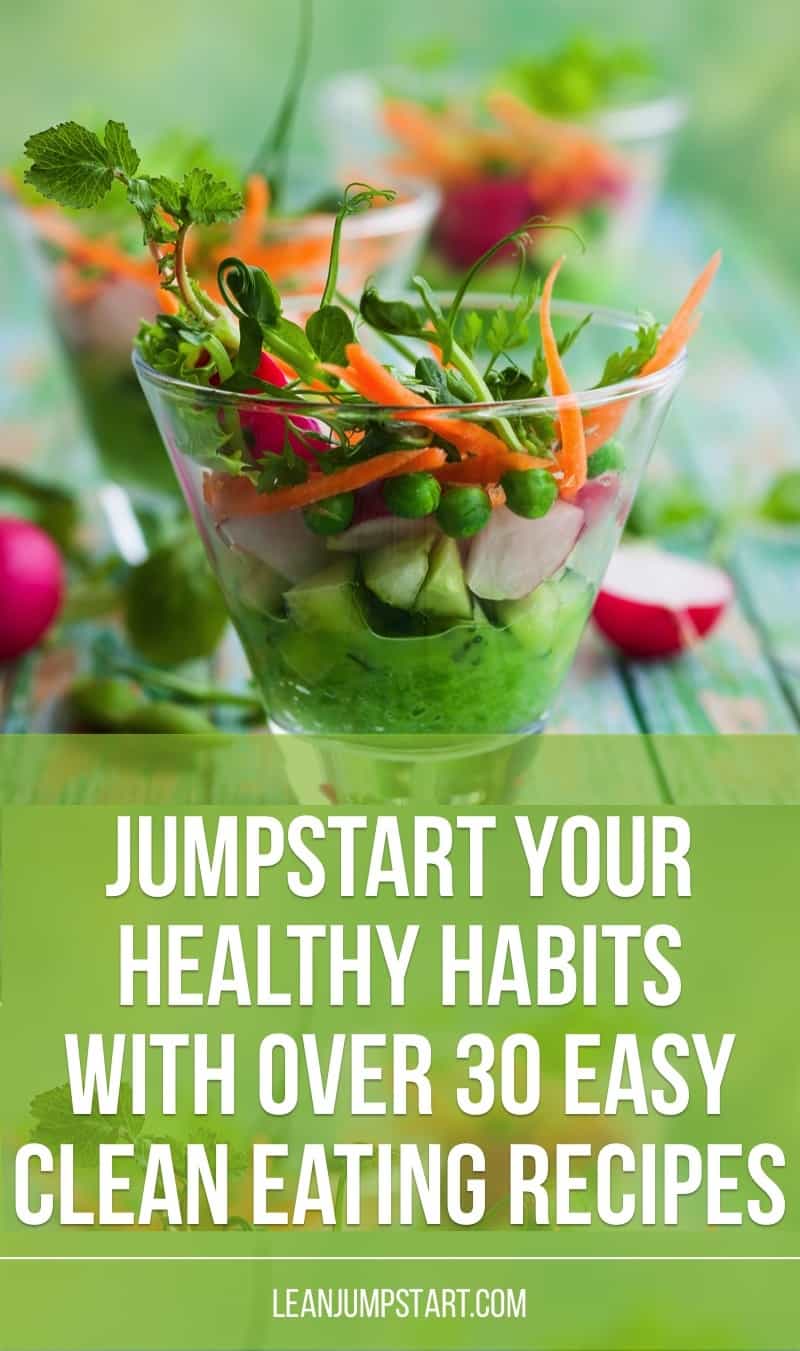 And if you want to even go one step further I highly recommend checking my holistic E-course. Just click on the picture at the end of this post for more information!
Easy, time-saving and affordable preparation
Expect the simplest preparation of affordable breakfast (even gluten-free), lunch and dinner recipes with common ingredients. One-pot meals in a skillet, pasta pot, wok, steamer, casserole or baking pan will play an important role. Each of these high-fiber recipes requires absolutely no acrobatics. You'll also find a huge variety of fiber-rich foods as a side dish or main dish, helping not only your gut to thrive.
Don't expect many muffin or cake recipes. Most of them are not clean and calorie-loaded. Although from time to time I will make an exception – check out, for example, my clean eating raspberry muffins.
Also, you won't find here any slow cooker or crockpot recipes. The reason: I don't own a crockpot and frankly I also don't want it. Instead of having a meal ready in 20 minutes, you get to wait all day for it!
Whenever I can, I try to maintain a one-pot maximum and also a 30 minutes max on time. Many of these healthy recipe ideas will require only 20 minutes or less. Of course, I've included some creative high-fiber snacks and desserts too. Some useful tips for saving time in your kitchen will complete this section.
Breakfast ideas for vegans and vegetarians
Snacks & appetizers for all eaters
Vegan dips & spreads
Plant-based soup recipes
Fiber-rich salad ideas
Simple high-fiber dinner recipes for vegans and vegetarians
Easy clean eating dinner recipes for all eaters
Yummy dessert recipes & treats for vegans and vegetarians

Few simple, high-quality ingredients
Healthy, delicious food doesn't have to contain a lot of ingredients. That's why I try to keep the recipe ingredients at a minimum. You want to put nutritious, high-fiber meals for weight loss on the table fast. Simple, top quality ingredients are the key to success here. I hope you enjoy my tips and have fun experimenting in the kitchen.
Are you a "gourmet chef"?
Wow… I appreciate you reading my website. We can probably all learn a lot from you. If you have any gourmet clean eating recipes that are easy to make and contain only a few, common ingredients, please contact me. I would very much appreciate to feature them on LeanJumpStart.com.
Some important principles 
1. Self-cooking
Don't hide behind excuses (examples: "I can't cook," or "I don't have time"). It's about your body and your wellbeing. Even kids can cook – it is not rocket science and, as mentioned before, it does not have to be complicated. Those who are too lazy to cook their own meals will have a hard time staying lean.
2. Meal planning
To make life easier, plan your menu ahead of time. My clean eating meal prep recipes will help you avoid impulse shopping trips, which usually end with you purchasing unnecessary items. If you think meal planning is too complex for you, then I strongly recommend getting to know my "LeanJumpStart" approach for meal planning.
3. Organize your clean recipes 
You don't want to waste your time searching for the right high-fiber recipes because you can't find it in your "recipe collection chaos". That's why a smart recipe organization is another important success factor. Check out my 3 easy steps for recipe organization!
4. Clean kitchen
Take control of your kitchen and focus on what you really need each day. Get rid of useless items, unnecessary impulse purchases, excess pots, pans, and glassware. Take 10 minutes at the end of the day to clean and organize your kitchen.
Learn more about this effective technique in my beat procrastination approach.
Do also a quick inventory of the food and note it on your running shopping list.
5. Clean, fiber-rich foods – 80/20
Stocking your kitchen with plant-based high-fiber foods is the best way to guard against regrettable food compromises. But clean eating is not about achieving perfection; it's not about maintaining a 100% healthful, chemical and pesticide free diet. It is about balance and making wise choices.
If you follow my guidelines 80% of the time, you can deviate from the approach and still achieve your goals. In other words: the majority of your meals will have lots of natural, whole foods, like fresh produce, whole grains, nuts, and seeds. You will consume healthy fats, and, whenever possible, you will try to mix complex carbohydrates with lean proteins.
Of course, you will omit ingredients like excessive sugar, unhealthy fats, and overly processed foods. But with the 80/20 rule, you can even indulge wisely from time to time.
6. Smart choices for convenience foods 
An 80/20 compromise could be to take advantage of the following convenience foods you can purchase in your discounter or grocery store. Some of these items are worth building into your grocery list, but I warn you, they are not all "clean":
Chopped frozen veggies or fruits: These are usually clean, check the labels for no extra preservatives or extra ingredients, etc.
Canned beans: Stock your pantry with protein and fiber packed black beans, kidney beans, pinto beans or garbanzo beans (chickpeas). Read the labels and avoid any of these items if they contain added sugar. Try to avoid BPA, "Eden Organics" is the only company I know that currently does not use it in its canned beans.
Tomatoes in glasses: These have less BPA than canned tomatoes, but are still not BPA-free.
Tomatoes in Tetra Pak boxes: (e.g. Trader Joe's and Pomi) Tetra Pak does not include BPA, but it is still not totally safe… could leach estrogenic hormones!
Canned tuna and salmon: Although these cans are not BPA-free, they are a tasty and a quick way to get your omega-3s. Opt for salmon if you have the choice!
Pre-cooked grilled chicken breasts: Yes, there are a few more preservatives including sea salt… but eating in moderation they are beside legumes a great source of protein. These pre-cooked protein sources can quickly enhance salads, scrambled eggs or stir-fry meals.
When these convenience foods are used in moderation, they add taste appeal and offer cooking shortcuts. Don't let perfect be the enemy of the good.
7. Proper storage containers
We know that the key to a healthy, delicious and quickly prepared meal in your own kitchen is a properly stocked pantry. But there is more: useful storage containers are another success factor in a healthy cuisine.
I highly recommend the incredibly convenient mason jars. With all of the variety in size, mason jars offer a way to store whole grains, noodles, nuts, spices, tea, and other dried goods in an orderly fashion to get the pantry organized, just like you've always dreamed of.
8. Proper hydration
With all those yummy recipes don't forget that a proper hydration is key for your metabolism and health. For variation check out my top 24 detox water recipes!
9. Learn to make healthy eating habits stick!
To get the most out of your clean recipes, I highly recommend learning how to make healthy habits stick. Click on the picture below for more information!