If you are looking for a high fiber foods list then you have come to the right place. You can expect several charts divided into different food categories totalling over 100 fiber rich foods. But, that's by no means everything.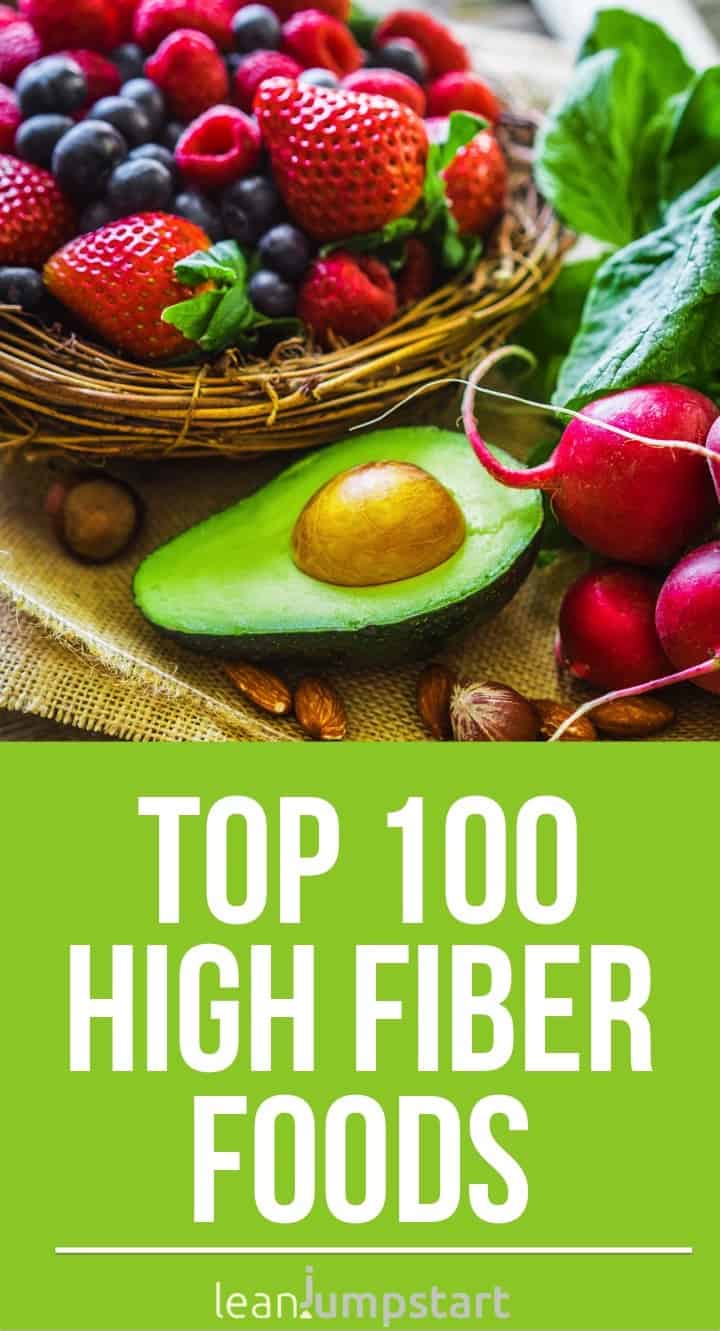 I have already written about fiber in many of my blog posts focusing on clean eating and weight management. In my article "3 simple steps to eat more whole grains" for example, I have found that a fiber rich diet can be helpful with weight loss.
But, what are dietary fibers? What are the different types and what health benefits do they provide? How much should you eat per day? In this blog post, I'll dig deeper into this important topic and use various charts to clarify which foods are particularly high in fiber.
What is fiber?
The American Association of Cereal Chemists (AACC) classifies dietary fiber as "edible parts of plants or analogous carbohydrates that are resistant to resorption and digestion in the human small intestine but are partially or fully decomposed in the colon".
In a shorter definition, I consider them as fibrous components of mainly plant-based foods. They do not occur in animal products. For the most part, these are linked sugar molecules that the intestine cannot digest or is unable to digest adequately.
A basic distinction is made between two different types: the soluble and insoluble fibers. Both groups have different characteristics. The soluble ones include, for example, pectin, inulin and beta-glucans, while cellulose and lignin belong to the insoluble dietary fibers (1).
Soluble fiber foods
The advantage of soluble fibers is that they absorb liquid in our bowels and expand. This gives our intestine something to do and we experience a longer lasting feeling of satiety. That's also the reason why it's easier to lose weight with fiber rich foods. Soluble dietary fibers are mainly found in beans, nuts, berries and various grains such as oats and barley.
They also bind toxins and other harmful substances that enter the intestines with food and thus promote their elimination.
Insoluble fibers
Insoluble fibers are found mainly in vegetables, fruits, most whole grains, most beans, brans and flax seeds. Even if they have no direct effect, they help our digestion by their pure presence as they move bulk through the intestines.
As you can see many healthy foods like fruits, vegetables or legumes contain a mixture of soluble and insoluble "ballast". Regardless of whether they are soluble or insoluble, dietary fibers are good for our health. Let's take a closer look.
Top 5 health benefits of fiber
When physicians first discovered dietary fiber, they thought it was useless and just a "ballast" for our body. That's why here in Germany we still call this fibrous component "Ballaststoff". Today, however, the diverse health benefits of fiber are well researched.
High Fiber Foods List – Top 5
The important question is what foods are high in fiber? Good sources of "ballast material" are legumes, grains, cereals, fruits and vegetables.
In the following charts I have put together fiber high foods in different food categories. As an avid clean eater, hopefully many of the following fibrous foods are already an integral part of your diet.
1. High fiber cereals, grains and pasta:
Whole grains are healthy foods with lots of fiber and most of the fibrous compounds are in the outer layers of the grains. The following high fiber foods list gives you an overview of the most common fiber rich cereals, grains and pasta: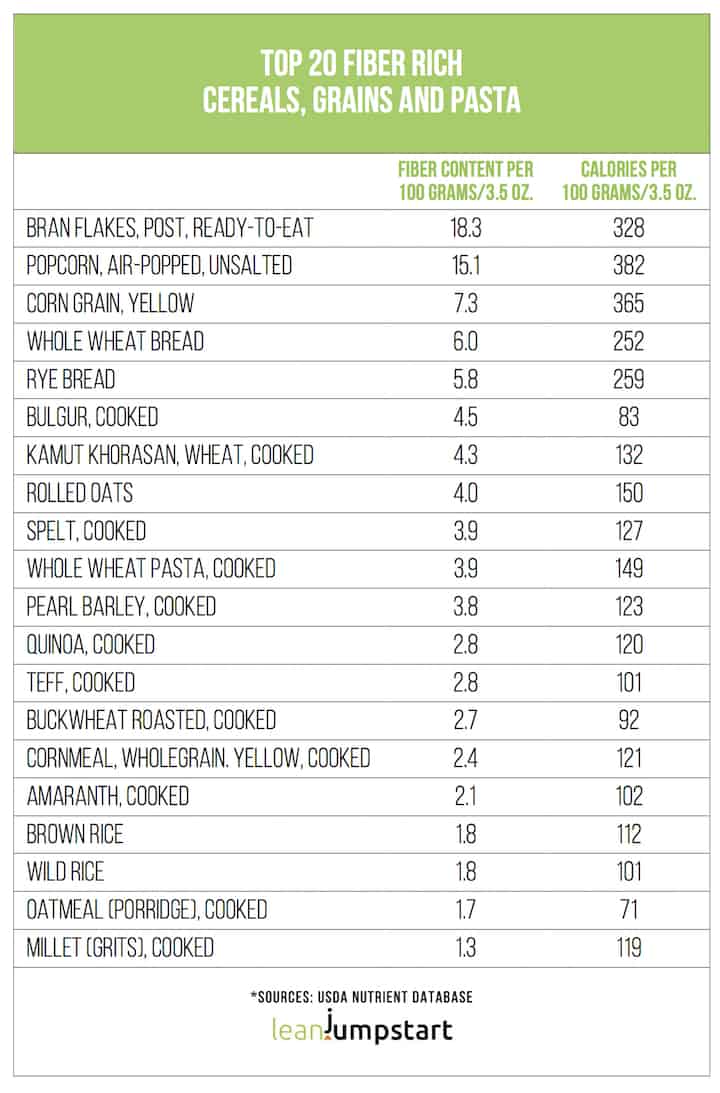 Read also: How to Identify Whole Grain Products
2. High fiber vegetables and salad
Vegetables and lettuce do not have as much "ballast" as cereals, at first glance. But, when you look at the fiber to calorie ratio then vegetables provide per 100 kcal the most fiber. In the table below, for example, you can immediately see that especially greens (beet greens, turnip greens etc.) perform best per 100 kcal. But you can spot in this category even more high fiber low calorie foods such as cabbage, chanterelle mushrooms and endive.
In addition, most vegetables provide vitamins, minerals and valuable secondary plant substances. It is no longer a secret that you should always eat enough of them. Especially when weight loss is your goal, vegetables can help you effectively fight hunger feelings. The following high fiber foods list gives you an overview: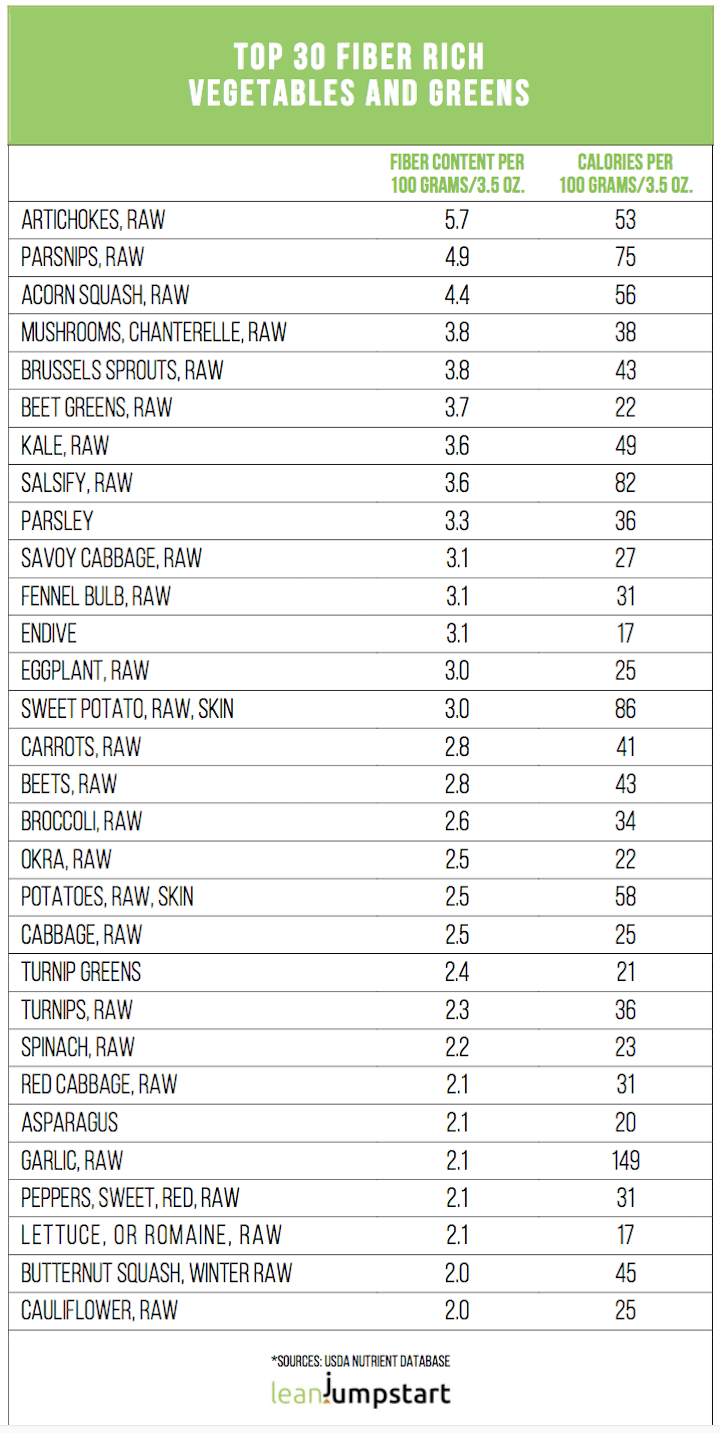 3. Fiber rich legumes:
The absolute classics among the high fiber foods are, of course, legumes that often provide high amounts of fiber per 100 grams. Yet, calculated per 100 kcal, fruits and veggies, perform much better.
On the other hand, pulses are very good sources of protein. Red, uncooked lentils contain more protein than meat.
All in all, Americans (but also Europeans) clearly don't eat enough in this food category. If you want to turn your nutrition to a high fiber diet and you don't eat pulses on a regular basis you should take a closer look at the following high fiber foods list.
A flavorful recipe full of different legumes you can find here: Cowboy Caviar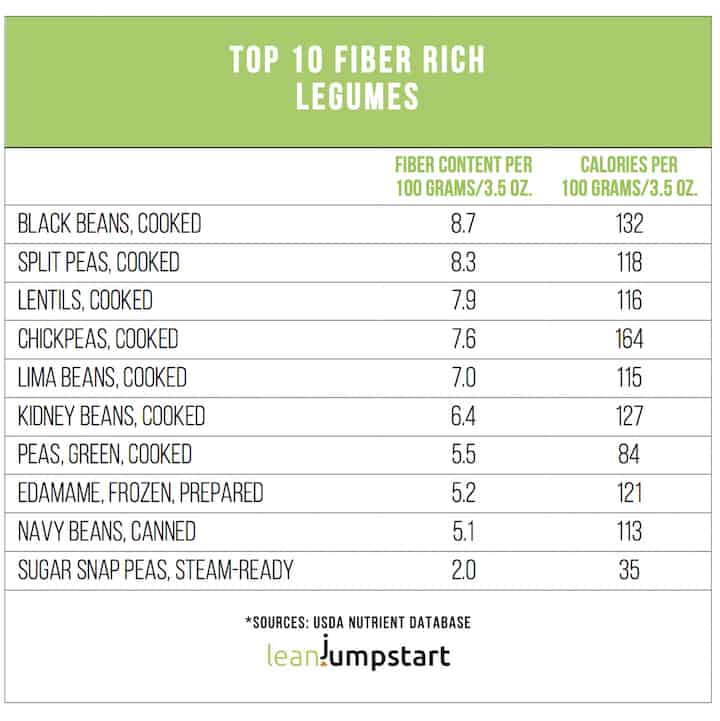 4. High fiber fruits + dried fruits
Dried fruits like dates, apples, apricots, figs and plums (prunes) are particularly rich in fiber. Fresh raspberries, blackberries and pears are also great sources. If passion fruit is affordable in your region, grab it – as it is leading the high fiber fruits list with a still moderate calorie content:
5. Nuts and seeds:
Nuts and seeds are the last food category I would like to take a closer look. Some of them contain high amounts of "ballast" per 100 grams, but often also a lot of fat and therefore many calories.
Nuts, such as almonds and walnuts, have a very good fatty acid profile and are highly recommended in two respects. Firstly, they cover the dietary fiber requirements and secondly, they are used to ingest the valuable mono- and polyunsaturated fatty acids.
With regard to the dietary fiber content of seeds, chia seeds and flax seeds are particularly noteworthy.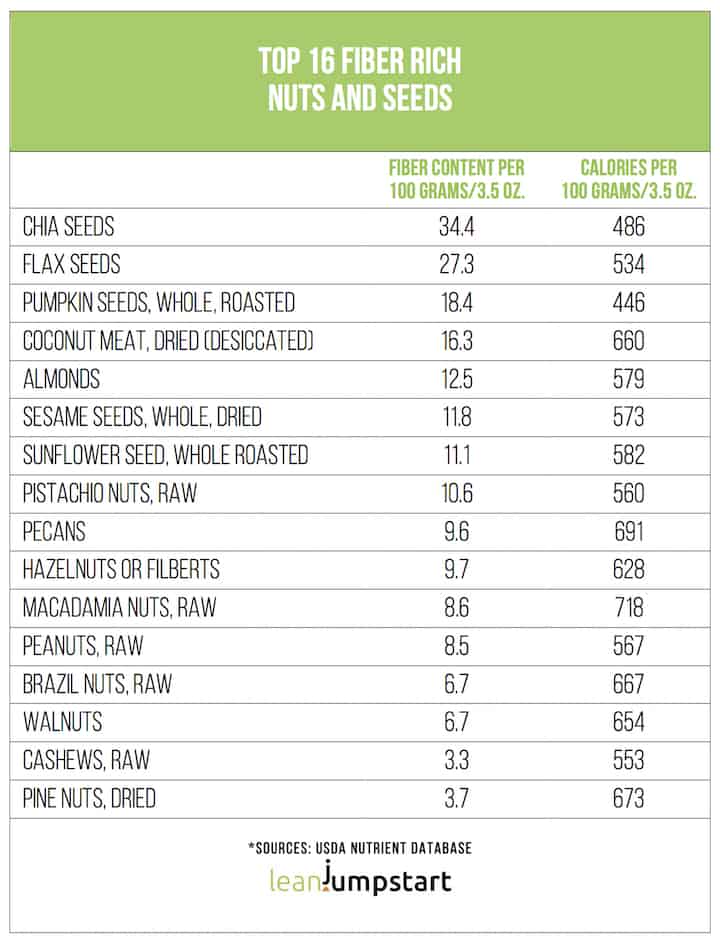 How much fiber per day is recommended?
The Institute of Medicine recommends:
woman: about 25 grams of fiber each day
men: about 38 grams each day
This is consistent with the advice of the American Heart association. The United States department of Agriculture (USDA) recommends for women a daily fiber intake of 28 grams.
Unfortunately, less than 3% of Americans meet the recommended intake. The reason why we eat far too little of it is usually that neither meat nor dairy products contain dietary fiber and we eat far too much of animal based products.
By the way, in Germany an average of 30 grams of fiber per day is recommended by the "Deutsche Gesellschaft für Ernährung (DGE), an independent German nutrition association.
When it comes to daily fiber intake recommendations, Dr. Michael Greger from nutrition.org goes a great deal further: "If you really don't want a stroke, we should try to get 25 grams a day of soluble fiber (found concentrated in oats, beans, nuts, and berries) and 47 grams a day of insoluble fiber (concentrated in whole grains)"(6).
Now, let's do the math.
Dr. Michael Greger's suggestion is to consume in total over 70 grams of fiber per day for best stroke protection. Although this number seems impressive, it is yet consistent with the major review study on dietary fiber conducted by researchers at Harvard University mentioned above.
Why you should increase your dietary fiber intake slowly?
If you have previously eaten very little "ballast" and now increase your intake, your body may initially react with flatulence, bloating, and grumbling intestines. The digestive system must first get used to the high-fiber diet. It's best to gradually increase the consumption and to chew a lot to avoid the initial digestion issues.
The symptoms often disappear over time. Some people, however, do not tolerate all fibers or only a certain type/amount of them. In this case it is important to check the individual tolerance.
If the intestine is sensitive at first, you should use legumes, onions and cabbage sparingly and prefer to serve other vegetables. Instead of coarse-grained whole grain bread, I recommend finely ground or mixed rye bread. It contains three times more fiber than white bread.
High fiber diet: Why you should level up your hydration?
Be aware, however, that the more fiber rich foods are, the more liquid they need in the process of digestion. As fiber swells in the gut, water is withdrawn from our body, which we have to return again.
Consequently, if we switch to a high fiber diet, we should also significantly increase our water consumption. Drinking a lot of water doesn't do any harm anyway, because we usually consume too little liquid.
How to start safe and easy?
In the beginning I recommend concentrating on fruits and vegetables leading the high fiber foods list above. That's also the focus of the first few weeks in my 52 Chef Habits E-course where I help my course students to create sustainable healthy habits.
Fruits and vegetables do not only contain dietary "ballast", but also a lot of liquid! A muesli with nuts and fruits or a fiber drink like my breakfast smoothie will start your day with a good dietary fiber source. Vegetable soups are also a great option. They are easily digestible and contain a lot of liquid in addition to the dietary fibers.
If you want to take it to the next level, you can easily replace foods you love with the whole grain version. This goes particularly well with rice, bread and pasta. Don't give up with the first type of whole grain food. Take your time to test out several whole-meal products until you find your favorites.
Best fiber supplements
If you don't like high fiber foods or you can't tolerate them, you can also buy fiber supplements. Wheat bran, guar gum, pectin, or agar-agar is the best fiber supplement you can get. Such a dietary fiber supplement is available either as powder or in form of tablets and granules.
From a medical point of view, the supplements can make sense in case of constipation. The nutritional supplements are, however, much more expensive than high fiber foods. Also, the added value of the important nutrients we get from fruit and vegetables is lost. Therefore, it's always better to use food in its natural form.
High Fiber recipes
It is no coincidence that many clean eating recipes you find in my E-course and on my blog are high fiber meals. I love to cook with whole grains, vegetables, fruits and legumes. Hey, there are even some high fiber cookies waiting for you:)
Bottom line:
Dietary fibers are not only important for weight loss but anyone interested in eating a healthful diet should ensure to consume it in sufficient quantities.
Do you have an eye on your dietary fiber intake and what are the foods you prefer to use to meet your daily needs?
If there are any questions or if a food should be included in one of the high fiber foods list above, please leave a comment.