Last Updated on October 28, 2020
It was "love at first glance" when I spotted a cowboy caviar recipe on the web some months ago. So experimenting with a clean eating cowboy caviar version was on my to-do list for quite a while.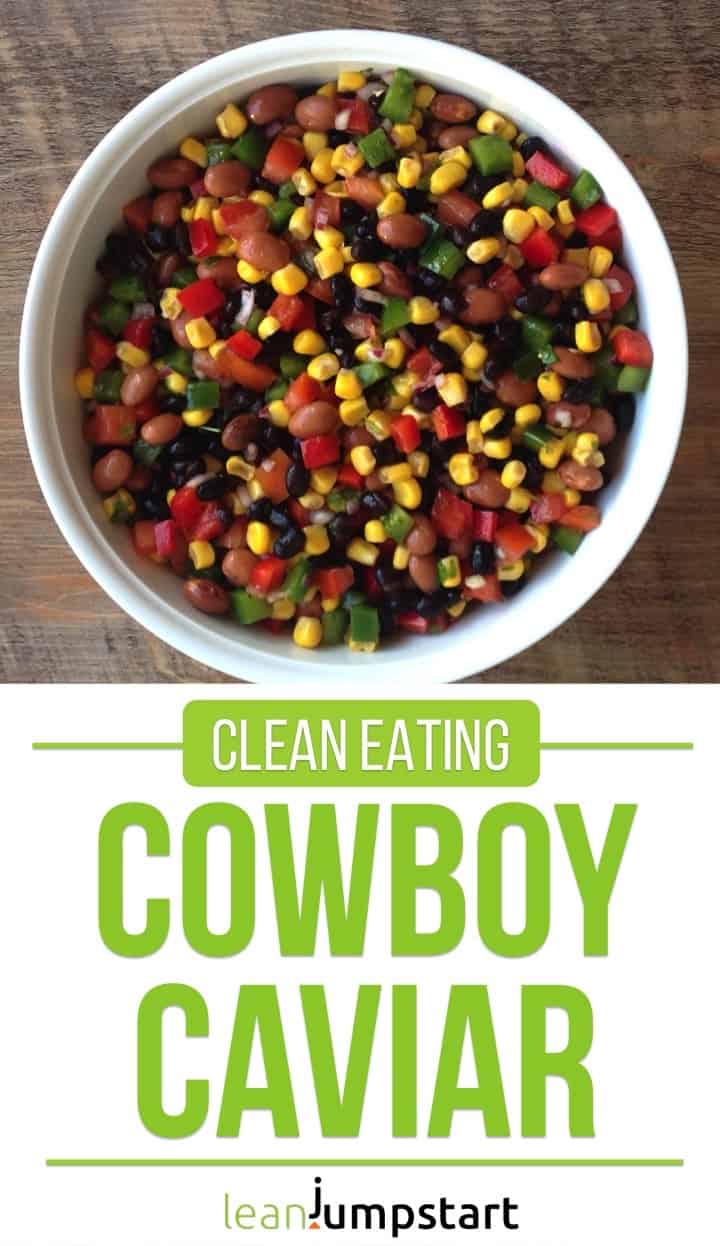 Now with New Year's Eve around the corner, the timing could not be better for posting this healthy, really good recipe full of fiber and protein.
Don't run away, if you are reading this post in the summer time. This cowboy caviar is also a fabulous salad for any barbecue buffet, picnic, or potluck. Or do you need a smart way to use up your summer produce for a side dish? Don't look any further…
Why one essential ingredient is missing
If you are living in the Midwest or South of USA then you might know this colorful bean salad crossed with veggies and salsa. And as a true expert, you can see immediately on the photo above or below that an essential ingredient is missing. I'm fully aware that authentic cowboy caviar that is also called Texas caviar, is based on black-eyed peas.
But hey, living overseas here in Germany means, that you have to use the beans you can get. In consequence, I used a combination of black and pinto beans for this filling salad. Kidney beans would work probably too. Anyway if you have access to black-eyed peas, I highly recommend to include them in your legume-based, gluten-free salad.
Why?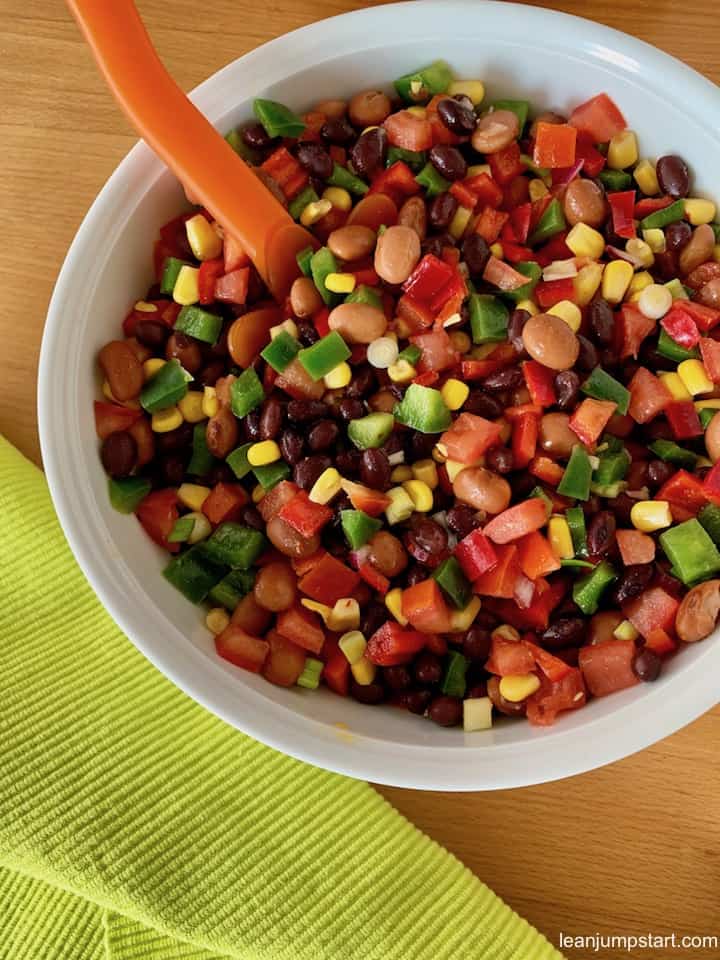 Cowbow caviar recipe for a happiness salad
Not only will you have a more authentic recipe, what is more…
Only recently I learned that eating black-eyed peas on New Year's day is supposed to bring good luck, wealth and happiness for the new year. The peas signify coins. And tell me, who doesn't want to be happy?
Therefore, if you are planning to serve a "Texas caviar" on your New Year's Eve buffet, then using black-eyed peas is a must. This belief is especially popular in the south, and has probably to do with your history, right? By the way, you'll find explanations for this tradition on Wikipedia, dating back as far as ancient Egypt.
Don't panic, I won't bore you with history. What I do know for sure is that this plant-based bean salad is a "must have recipe" for any clean eater and whole food enthusiast.
Even if you don't believe in the "myth around black eyed peas" one thing is evidence-based: Eating lot's of fruits and vegetables boosts happiness (1) (2) (3). Gladly the cowboy caviar is full of veggies:)
Let's jump right into the easy salad recipe notes with all-natural ingredients which are "vegan by nature".
Print
Cowboy Caviar Recipe
A delicious and fiber-rich salad, salsa or dip
Author: Gabi Rupp
Prep Time:

30

Total Time:

90

Yield:

1

0

1

x
1/3 cup

red wine vinegar

1/2 cup

extra virgin olive oil (EVOO)

1/2 teaspoon

chili powder

1 teaspoon

salt

1

(15 ounces) can black-eyed peas or Pinto beans (rinsed and drained*)

1

(15 ounces) can black beans (rinsed and drained*)

1

(11 ounces) can sweet corn (rinsed and drained*) or frozen corn

1

red onion or green onions, finely diced

1 cup

diced red bell pepper

1 cup

diced green bell pepper

1 cup

Roma tomatoes, seeded and diced

1/2 cup

chopped cilantro (or more, if you like)
Instructions
In a large bowl whisk together the olive oil, the red wine vinegar, chili powder and salt.
Add black-eyed peas, beans, corn, tomatoes, bell peppers and red onion to the Italian dressing.
Stir to combine.
Chill in the fridge for at least 1 hour to marinate, better over night.
Toss with fresh cilantro before serving.
Notes
Vary ingredients according to your own taste and color preference.
Instead of vinegar you could also use fresh lime juice
*Don't throw away "bean water". Read instead below what you can do with it.
Convenient party salad you can bring with you
This is by the way also a great salad you can prepare in advance (e.g. the day before) and bring it with you to a party. You can store it in your fridge for up to three days. As mentioned before, in summer time it is a highlight on each barbecue. As it is a cross between fresh salsa and a bean salad, you can also serve it throughout the year as a dip with some tortilla chips or sweet potato wedges.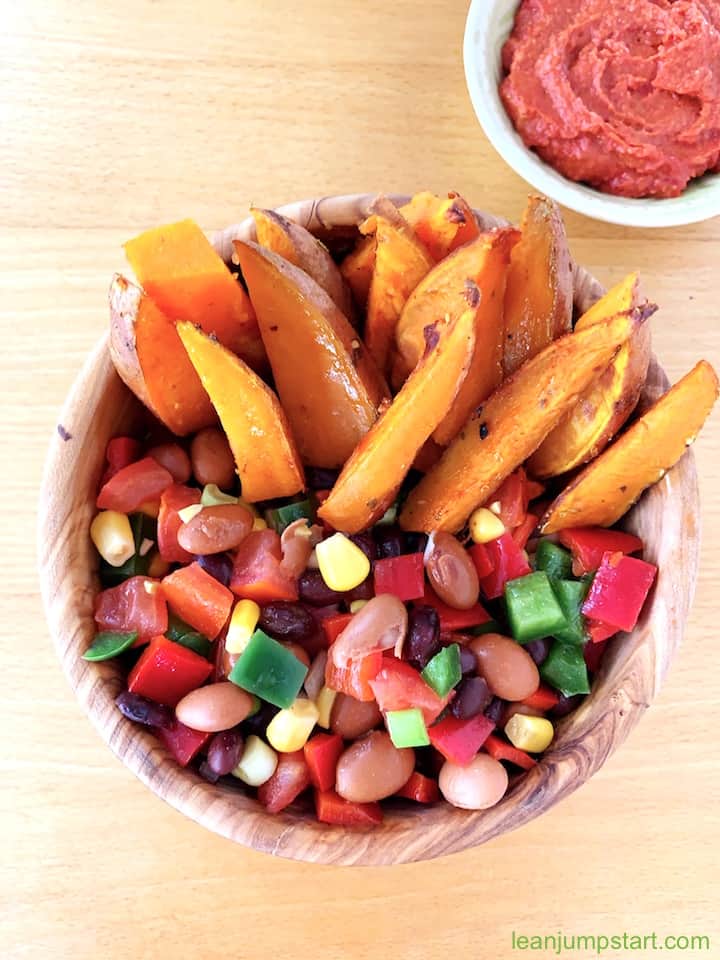 The trick: the smaller the better
Ok, maybe one little warning. In contrast to many other clean recipes on leanjumpstart.com, this one is a bit time-consuming. And yet you won't regret the invested time in your kitchen, promised. Make sure to turn on some inspirational music;)
Yes, at first glance you save time with all the convenient legumes in cans…For the best possible cowboy caviar salad, however, you have to cut the veggies in very small, regular cubes. The smaller your diced tomatoes or pepper the better. This will not only maximize your taste experience but also guarantee an attractive look and feel on any buffet.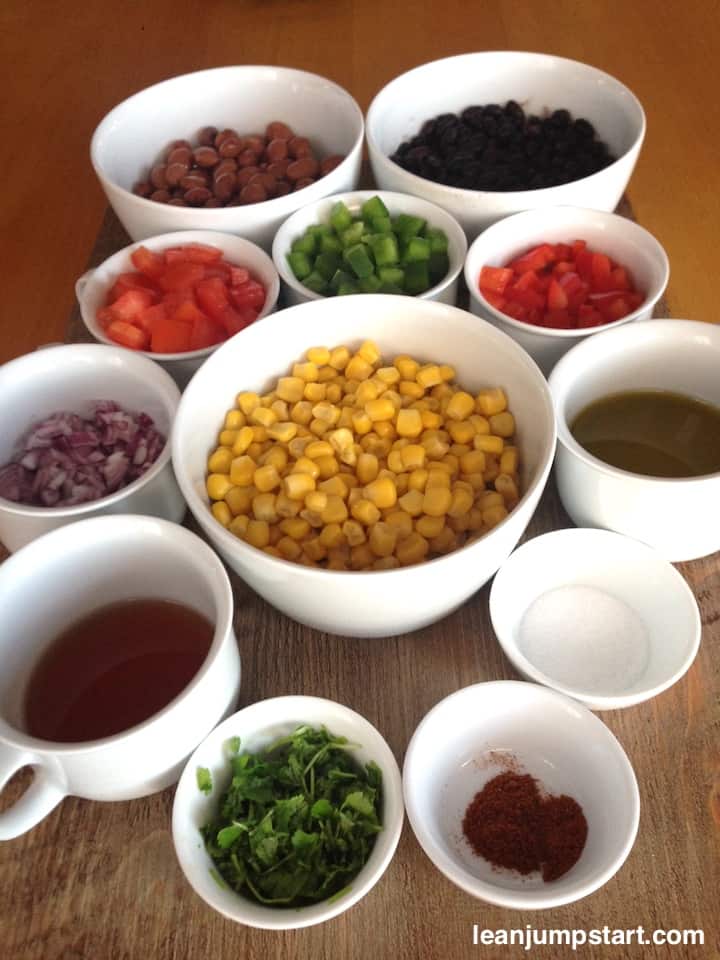 Believe me, if I can do this, you can too! You know I'm not very patient when it comes to cutting veggies into regular tiny pieces. Usually, I'd let my food processor do the job.
But this plant-based salad looks only attractive (we eat with our eyes) if you cut most of the ingredients to the same small size.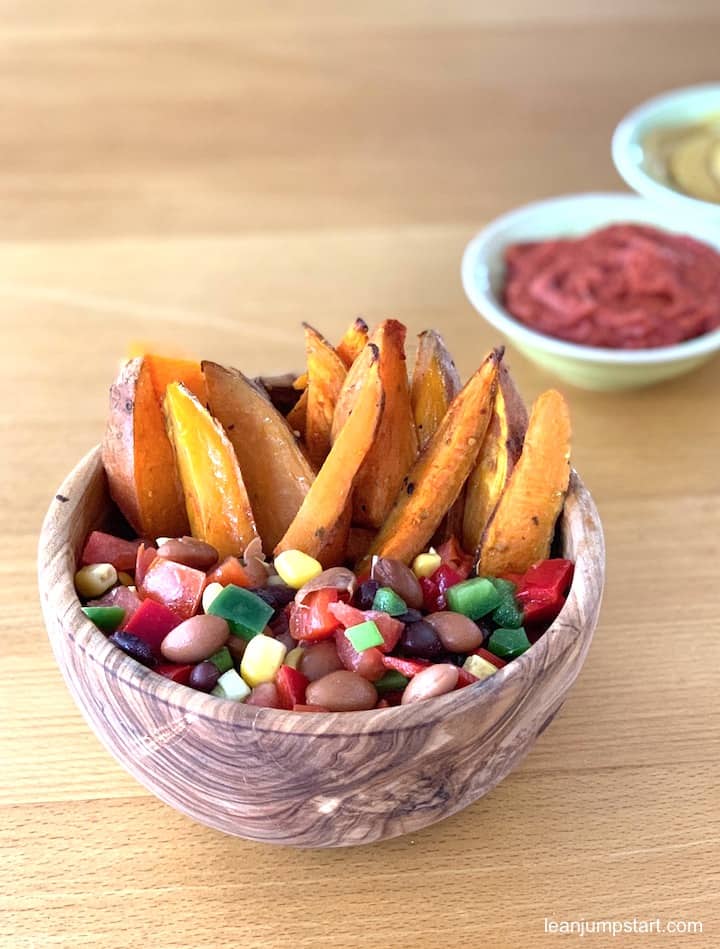 I know that dicing bell peppers can be a challenge, but I have a smart tip for you.
How to easily dice peppers into small cubes (Video)
Cut off the rounded bottom and top ends and save it for raw food snacking. Before I go further into detail… watch this short video from yummly, this is how I learned it.
Impressing health benefits of beans
Besides happiness-boosting properties, this nutrient dense salad provides additional health benefits. Legumes release their carbohydrates only very slowly into the bloodstream and thus keep the blood sugar level constant. This will keep you satiated for a long time, which is an ideal aspect, especially for diabetics.
They also contain soluble fibers that absorb cholesterol when excreted and thus lower cholesterol levels. Click through to learn more about the benefits of foods naturally high in fiber.
In addition, more than with other veggies high in fiber, beans can provide your body with antioxidants against free radicals. They are believed to help prevent cardiovascular diseases, arteriosclerosis and cancer. Various studies have also shown a cancer-preventing effect, especially regarding colon cancer and breast cancer. (4)
Why adding cilantro is a must
As beans are known to cause intestial gas adding a flatulence decreasing herb to the salad is always a good idea. Cilantro contains numerous health-promoting phytonutrients as well as essential oils. The positive effects are particularly beneficial for people with digestive problems. Cilantro is particularly recommended in cases of flatulence, irritable bowel syndrome (IBS) and diarrhea.(5)

If you don't like cilantro at all try it with cumin or fennel seeds which have a similar effect.
Variation tips
Especially in the summertime, I love to add some small chopped avocado cubes right before eating. By the way, the content of fiber in avocado is also impressive. For the dressing, I then use lime juice instead of vinegar.
If you love spicy salsa, then the addition of jalapeno peppers is a great idea.
An eye-catching main dish for vegetarians is to serve the salad on greens and sprinkle it with some Feta cheese.
What to do with the drained "bean water"?
Did you know that you can use bean and chickpea water (Aquafaba) as a great egg white replacement for many great recipes? For recipe ideas, check out my easy chocolate mousse!
Simplify clean eating now!
Eating nutrient-dense whole foods to nourish your body and soul mustn't be complicated. Click below to learn about my 52 Chef Habits E-Course.