Do you love funny life quotes as I do? Then I have good news for you.
I'm happy to announce that my "Funny Quotations" book is ready to be launched.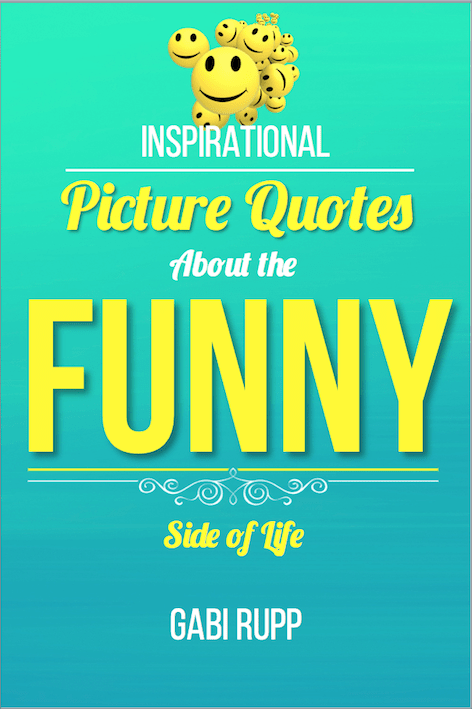 It's loaded with humorous mottos about life, arranged in themes with bright colorful pictures. Each page of this unique picture quotes book will put a smile on your face or leave you laughing for a while.
Nothing works quicker to bring your body and mind back into balance than a good laugh. I feel regular laughter is such an important habit, even one of my 52 Chef Habits focuses on this "hilarious soul food".
If you need a quick spirit lifter don't look any further. I love in this context the thought from William James. He once said:
"We don't laugh because we are happy, we are happy because we laugh".
Funny life mottos are excellent for breaking the ice and remind you not to take yourself too seriously all the time.
If you want a sneak peek inside of the new book just skip the following background story and scroll down to watch my 29 seconds promo video.
Number 1 on my readers' wish list
It is the 11th book in the inspirational picture book series I've created and I'm especially proud of it:)
With this book, I'm catering for a special wish from my readers, which they expressed in a survey a couple of months ago. A book about "funny quotes" was on the wish list ranking number 1!
And although I had this valuable information I just couldn't create it and published instead other inspirational picture quote books.
I got help from my valued readers
What was holding me back was just my realization that humor is so individual and my preference for special funny pictures and words of wisdom could never mirror the humor taste of all. But I was lucky enough to get help from my readers. And this is the other thing that makes me really proud.
It was the first time that a creative group of twenty highly valued readers from all over the world assisted me with a book project.
Altogether they took part in over 50 polls. They voted for:
the number of quotations per category
the best funny life categories
the funniest ideas for each category
the most humorous photos
the best book title
the most suitable cover for it
I could go on and on…
The group helped me with many other things in the book creation process. It was and still is such a fabulous experience and I want to thank all participants again from the bottom of my heart.
Focus on the most important aspects of life
According to the poll results, you will find in this book funny retirement wisdom, smile provoking sayings about love, funny quotes about men and women, work, friend and many more.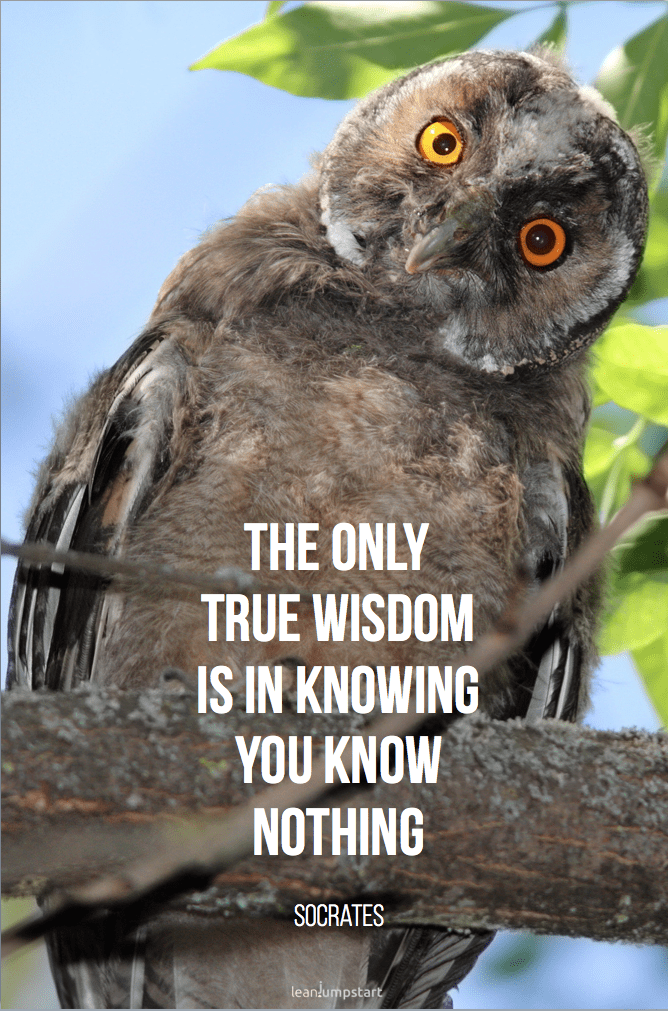 Filled with funny sayings from people throughout history, you will read the quotations of known modern and historical figures such as Agatha Christie, Albert Einstein, Eva Gabor, Pope John XIII, Elbert Hubbard, Leslie Nielsen, George Carlin and many more.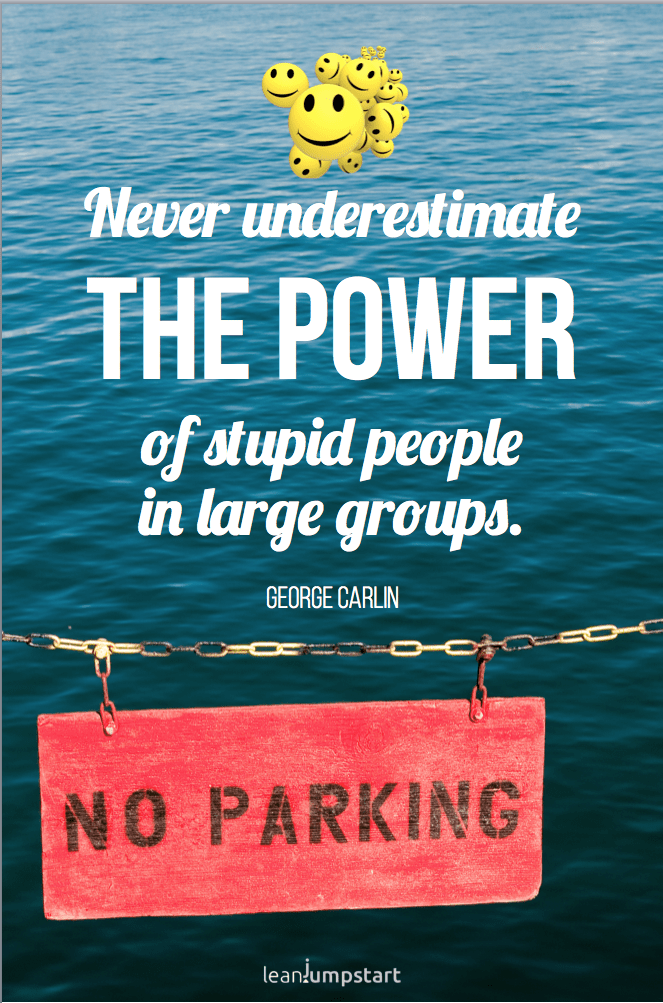 At times greatly humorous and others gently whimsical, this collection will not disappoint. A great one-size-fits-all book that is sure to enlighten engage, and keep everyone giggling even after reading it.
This is what one of my first readers say about the book: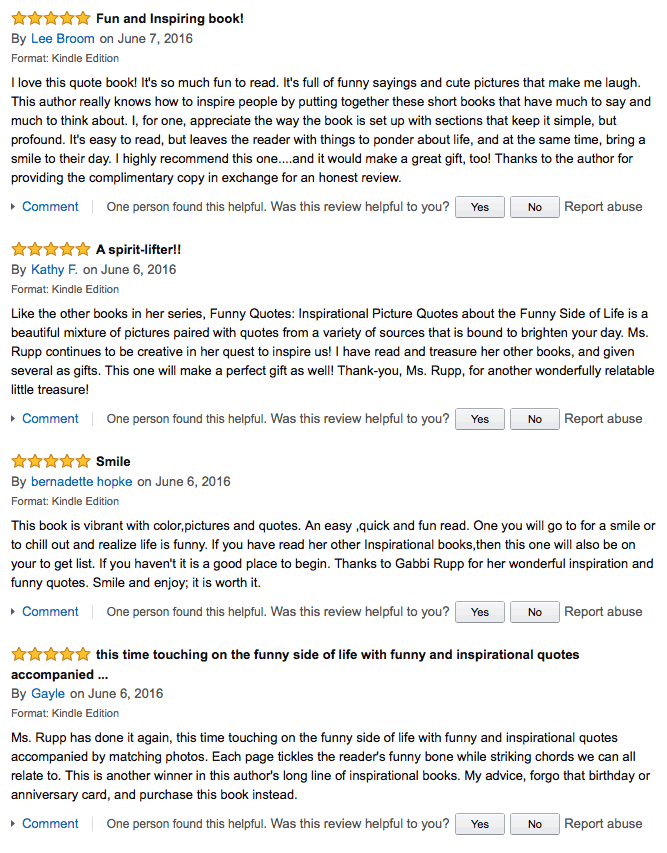 The best about it…You can get a copy of Inspirational Picture Quotes about the Funny Side of Life for FREE!
Watch my Video (30 seconds)
To give you an idea for the look and feel of the book don't miss my short video below.

I will officially launch the book this Sunday (June 26th) and you can download it on Amazon for FREE till next Tuesday, June 28th. After that date, the funny life book will go back to full price (6.99 USD.)
Good to know: Of course you can get all of my picture quote books as print copies on Amazon too. I have included space for your own greetings or dedications. This allows you to create a personal and funny gift for many occasions.
In the printed version I have also integrated 2 blank pages at the end of the book, where you can jot down your favorite funny (additional) quotes.
So save the date and grab your free copy of "Inspirational Picture Quotes about the Funny Side of Life"!
Click here!

Please make sure to share this free book tip with your family and friends too.
OTHER LIFE MOTTOS YOU MIGHT ENJOY