Life is full of challenges. Nobody has immunity against their share of struggles. Sometimes, looking at inspirational picture quotes and uplifting sayings is all that you need to sail through these challenges.
These quotes and sayings are thought-provoking and can help you to see the whole situation in a different light. When you use them at the right moment, it is a small snowflake that can cause an avalanche of good changes. Sometimes these "snowflakes" can help you find the right path.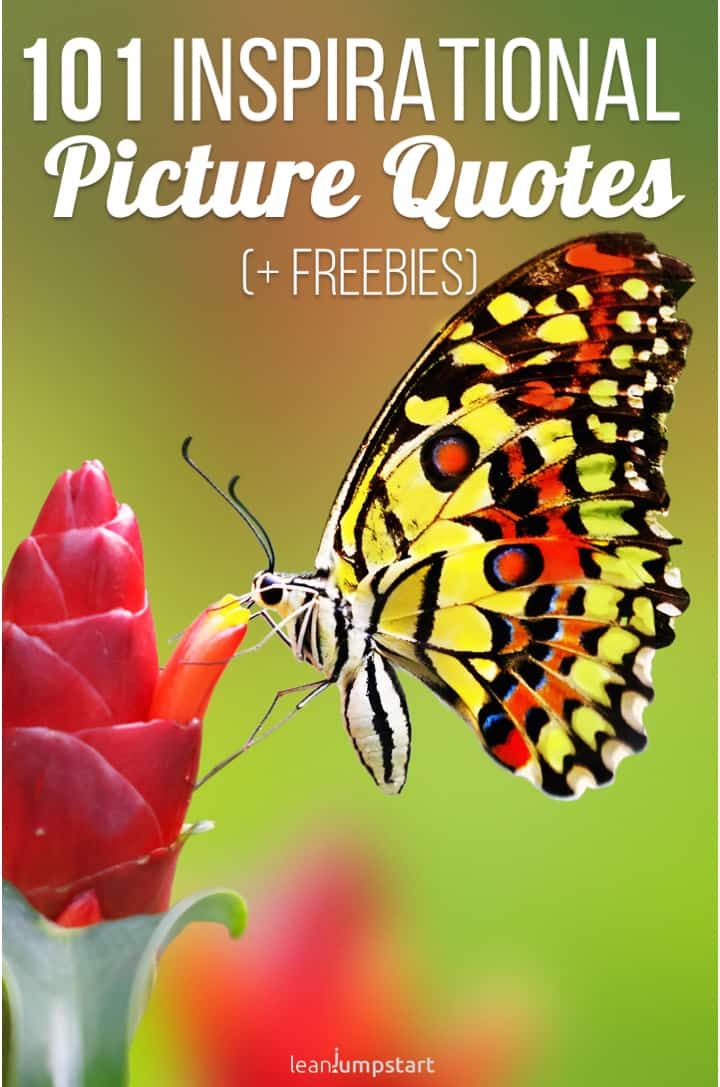 Another analogy is the butterfly effect, where even a tiny event like a flap of a butterfly can cause a thunderstorm. Such a "flap of a butterfly" can even function by giving you purpose. It becomes your new famous motto in life, put a smile on your face, and make each day a bit better.
That is exactly what I hope my extensive collection will do for you. Grab a cup of your favorite beverage, relax, and unlock your inner greatness.
You'll find 101 images of motivational quotes grouped into several categories such as happiness, love, friendship, and others. Let them help you shape your life positively.
Calorie-free, nutrient-rich chocolate for our souls
Ok, I admit it; I have always been a bit of a quote whore. My passion for uplifting quotes resulted finally in curating and publishing more than 12 motivational books with inspiring picture quotes. I've even created some videos featuring positive quotes that will provide energy and brighten up your day. You'll learn more about my books and videos in some minutes.
From the feedback that I get from you, I know that you love words of wisdom too. They are calorie-free, nutrient-rich chocolate for our souls and consolation for our heart.
Happiness boosting photo quotes
Start motivating yourself to a better you with the following sayings about happiness. Experience the powerful synergy of charming images that match the premise of the quote.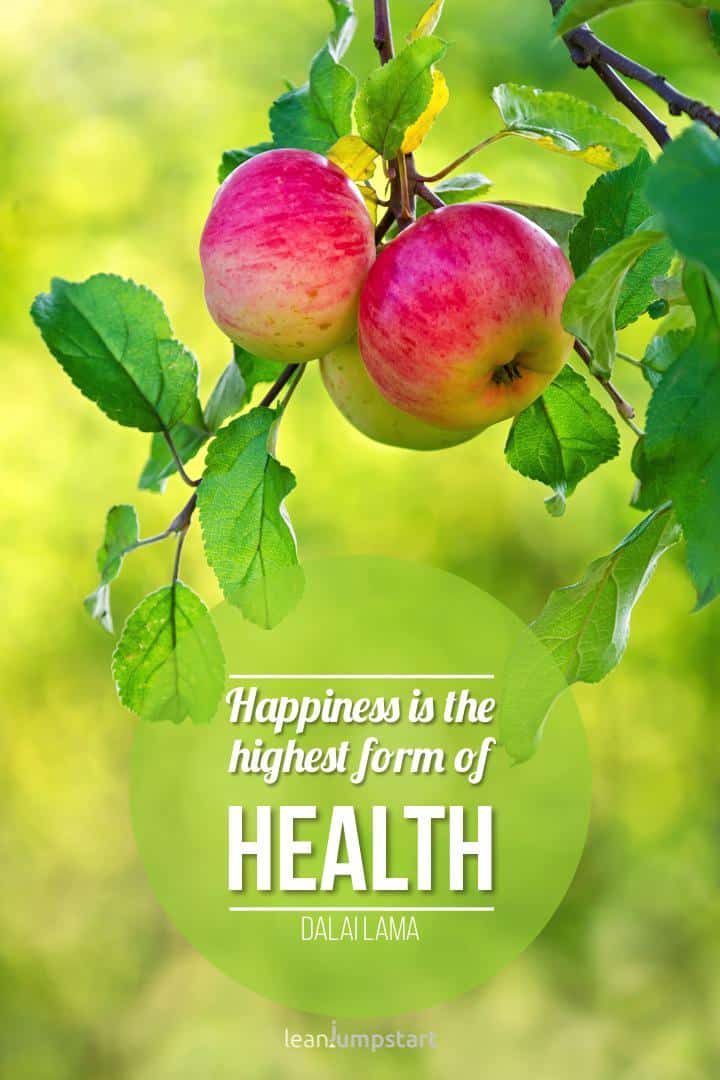 "Happiness is the highest form of health."
– Dalai Lama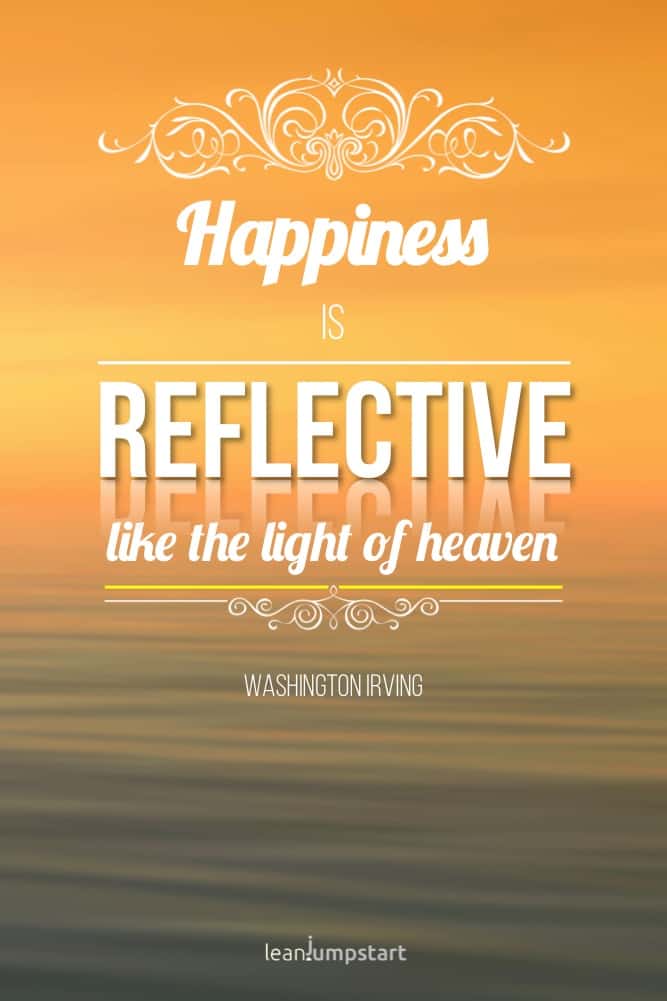 "Happiness is reflective like the light of heaven."
– Washington Irving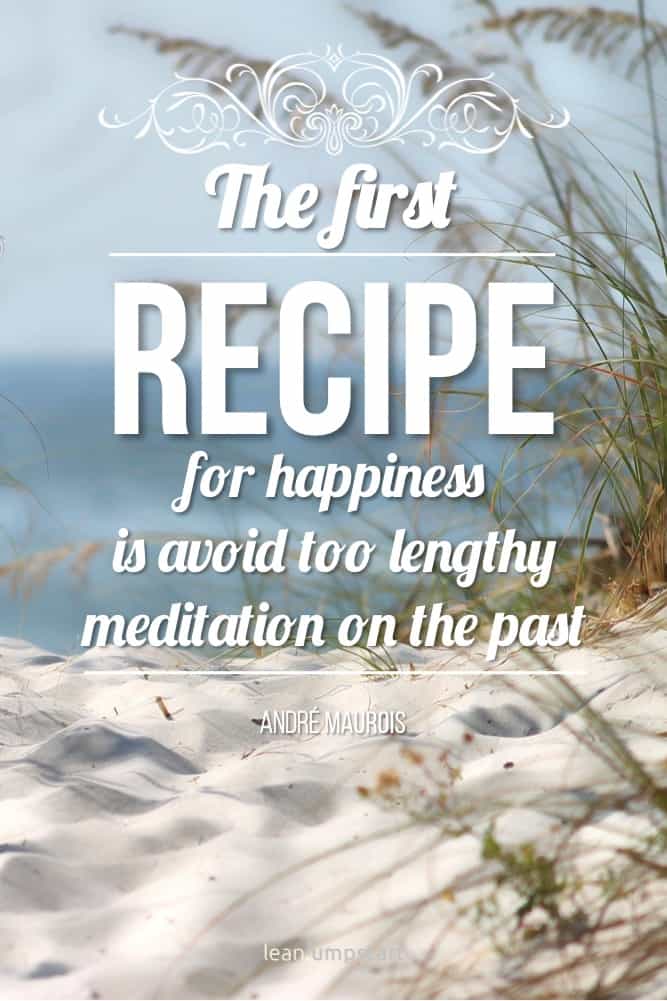 "The first recipe for happiness is to avoid too lengthy meditation on the past."
– Andre Maurois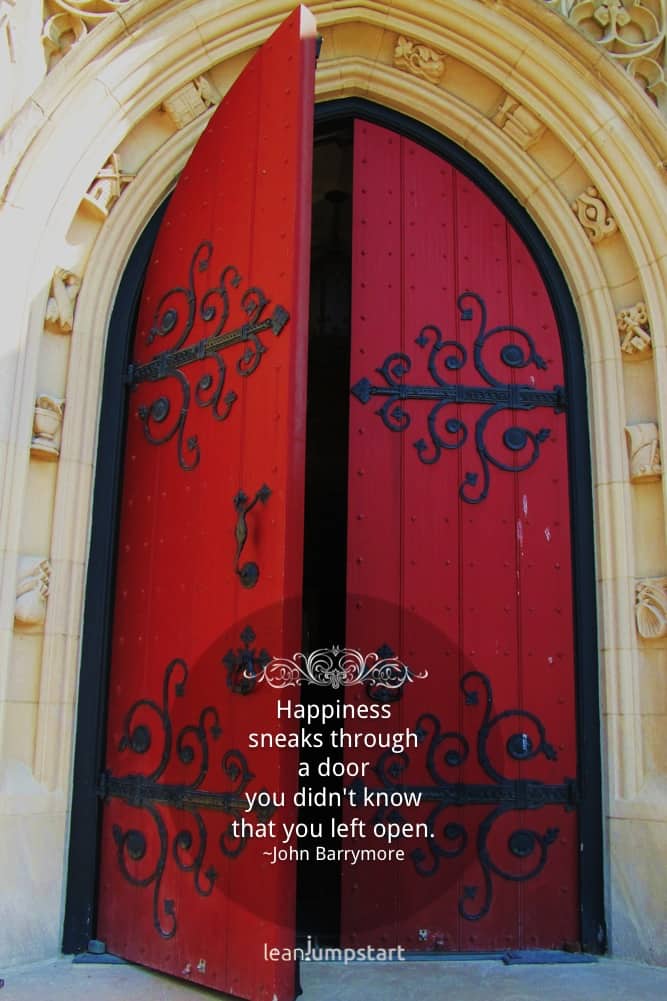 "Happiness sneaks through a door you didn't know that you left open."
– John Barrymore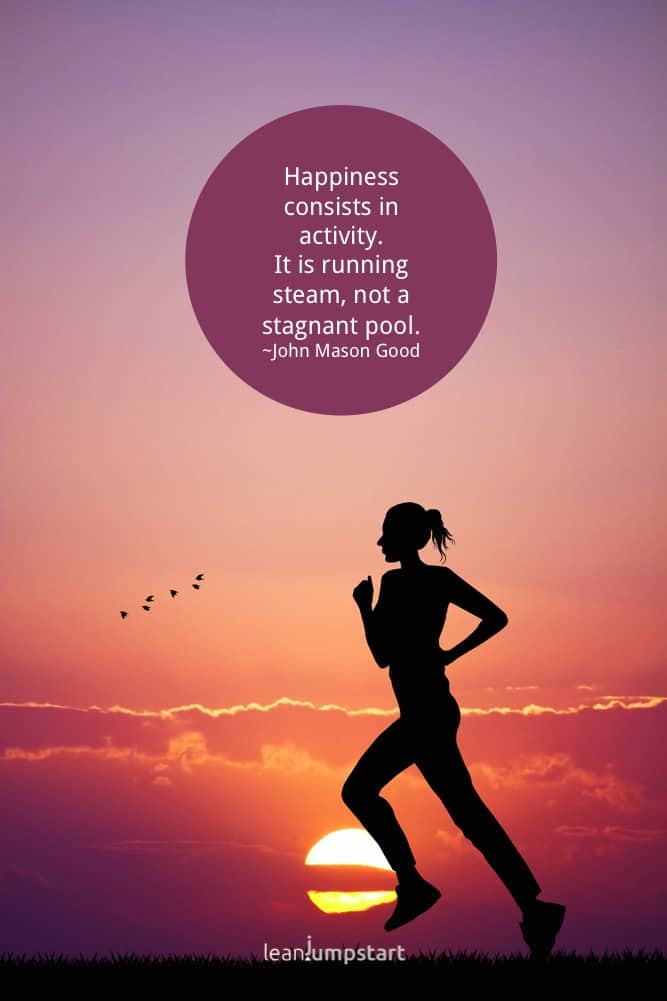 "Happiness consists in activity. It is running steam, not a stagnant pool."
– John Mason Good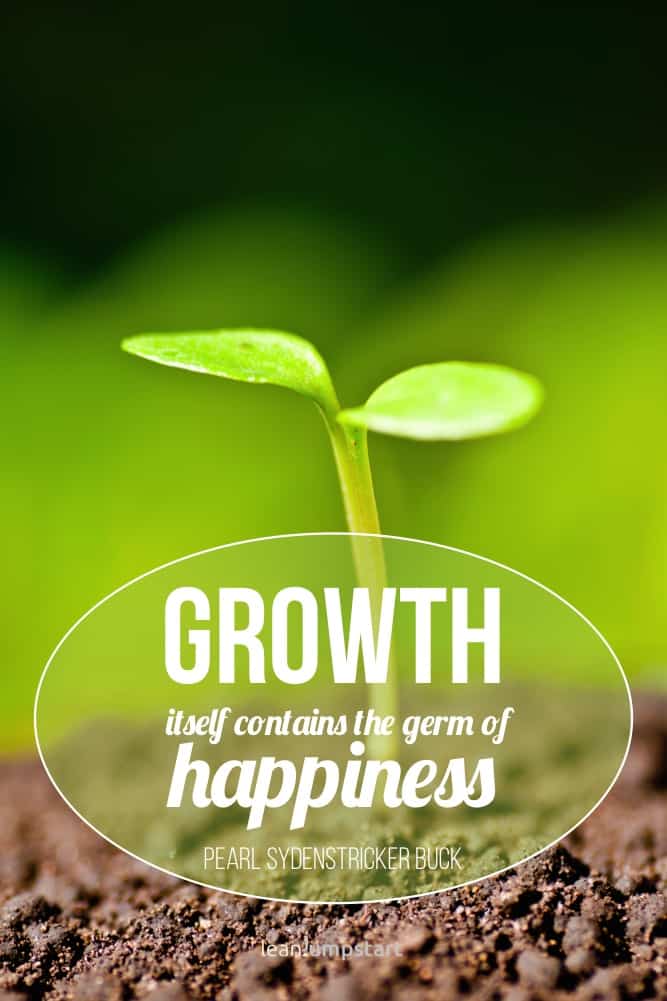 "Growth itself contains the germ of happiness."
– Pearl Sydenstricker Buck
Related: 100 quotes about being happy and the pursuit of happiness
---
Grab your free happiness book by Gabi Rupp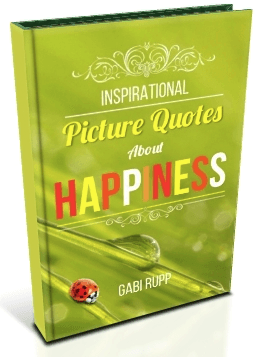 Do you like the beautiful combination of photography and timeless wisdom? Then you will love my happiness promoting gift book.
It incorporates an extraordinary collection of some of the most inspirational sayings from around the world and throughout history. Start each day with a bit of encouragement from people like Ralph Waldo Emerson, Albert Einstein, Helen Keller, Mother Teresa and Buddha. It will propel you go into action, boost your self-esteem and claim your inner happiness.
In addition, each page is colorfully filled with eye-catching photos (see the first photo at the beginning of this post as an example) that will inspire and motivate you to live your life to the fullest. It is available as a digital Kindle version (FREE on Amazon) or as Paperback.
Pick up your copy today and start motivating yourself to a better you!
---
Get further inspired by my happiness video
Click on my video below and watch my collection of 30 happiness quotes by famous authors that will put YOU in a happy mood. For the background music, I've chosen one of my favorite composers: Edvard Grieg with "Morning Mood".
---
Cute words about love
A wonderful marriage or partnership of equals is among life's greatest joys. Several large surveys show that people who live with a partner are happier than those who live alone. Let these love sayings touch your heart and encourage you to think deeper.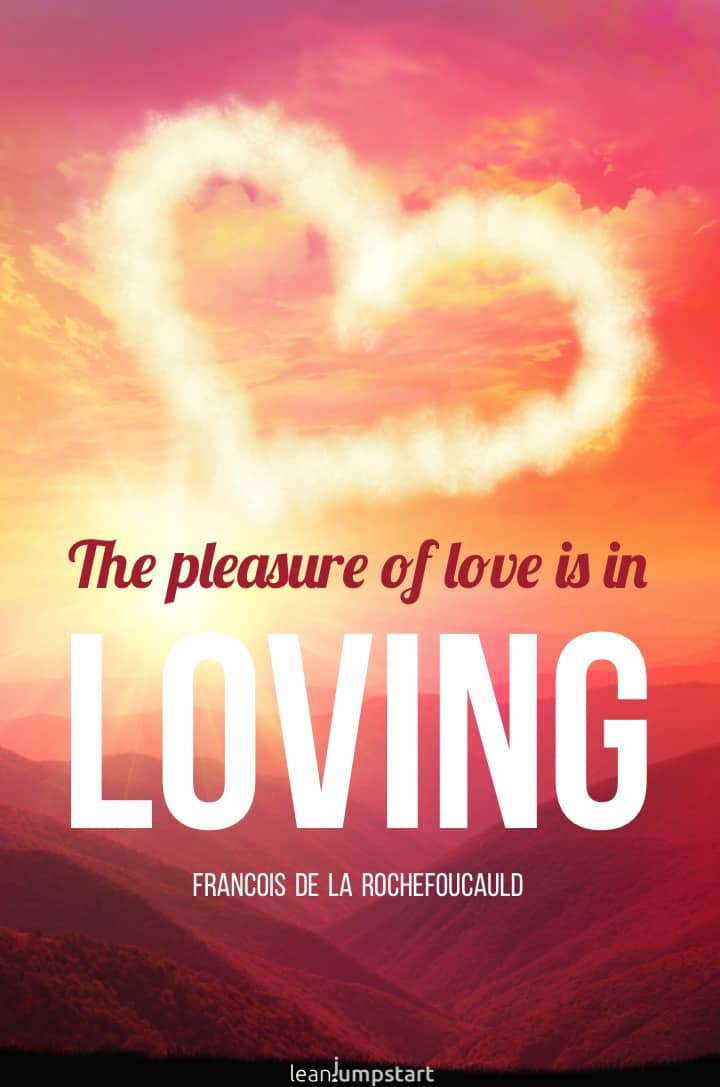 "The pleasure of love is in loving."
– Francois de la Rochefoucauld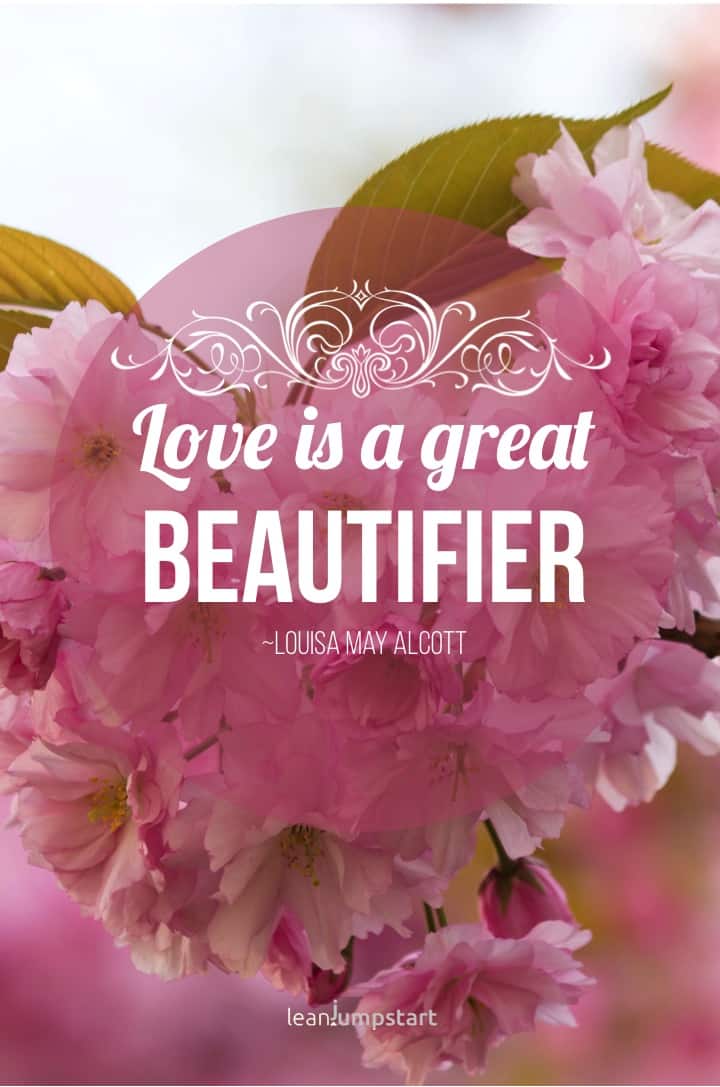 "Love is a great beautifier."
– Louisa May Alcott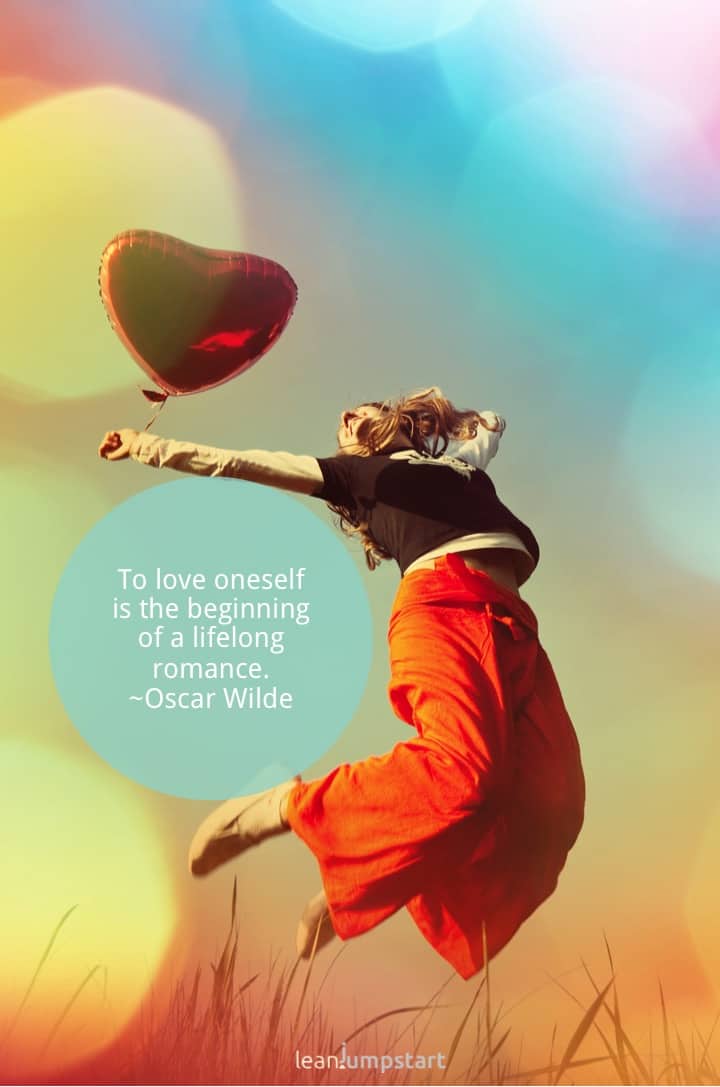 To love oneself is the beginning of a lifelong romance.
– Oscar Wilde
Related: 57 self-love quotes that will make you mentally stronger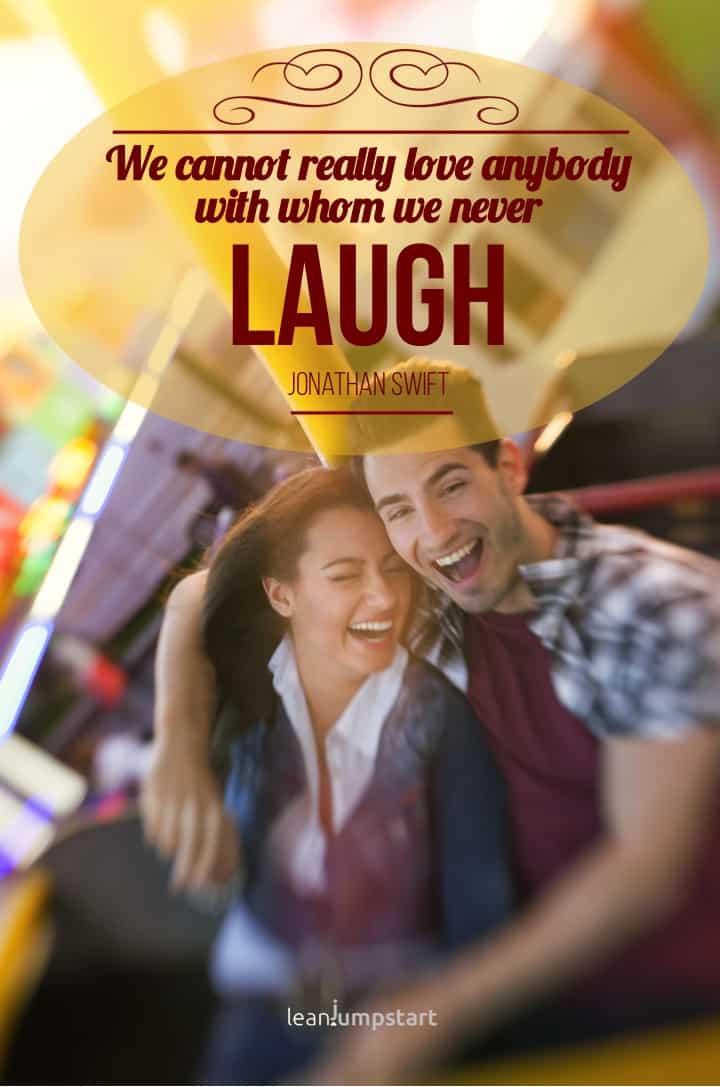 "We cannot really love anybody with whom we never laugh."
– Jonathan Swift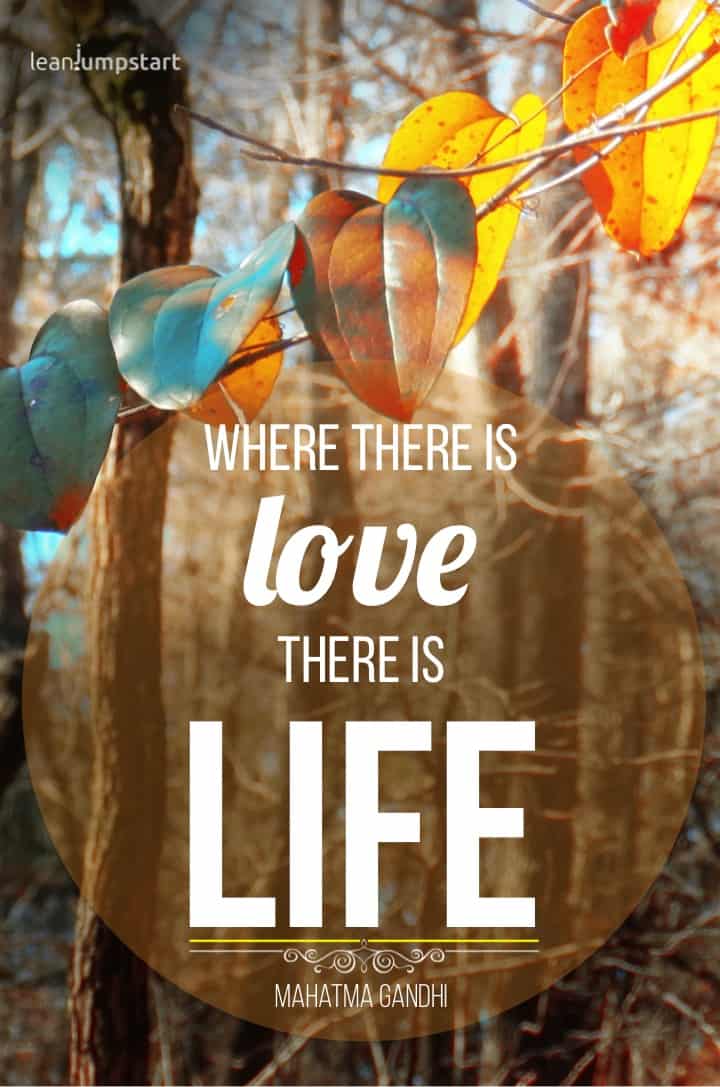 "Where there is love there is life."
– Mahatma Gandhi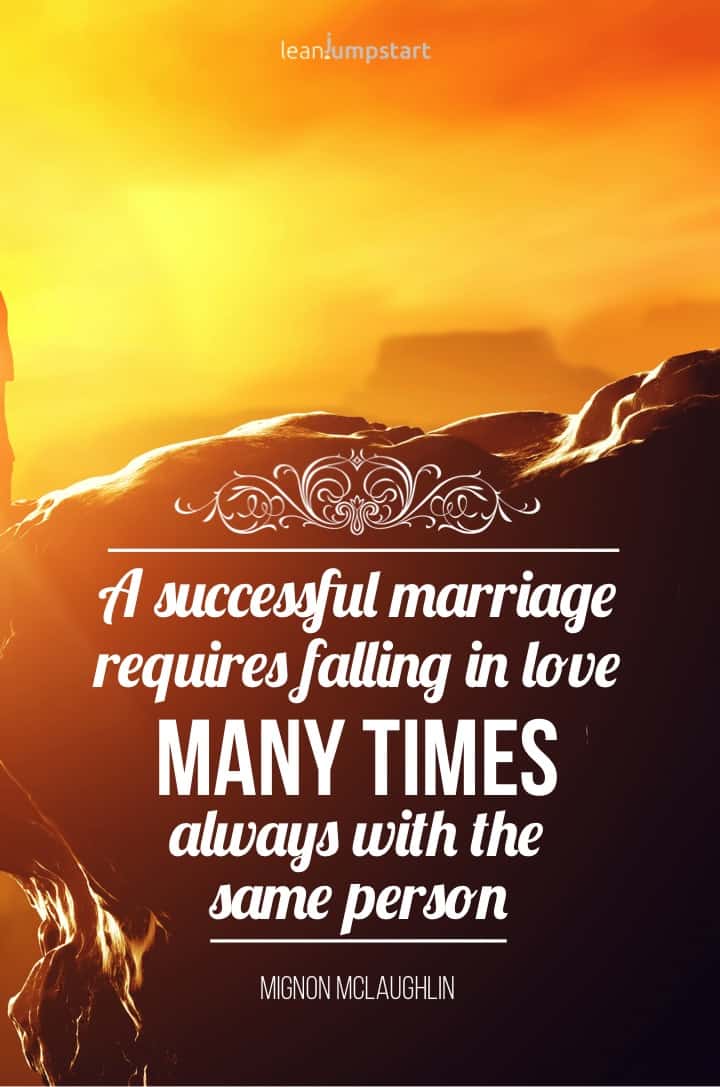 "A successful marriage requires falling in love many times always with the same person."
– Mignon Mclaughlin
Related: 78 wise quotes with images on love
---
Motivating images about friendship
Happy people cultivate deep relationships and friendships.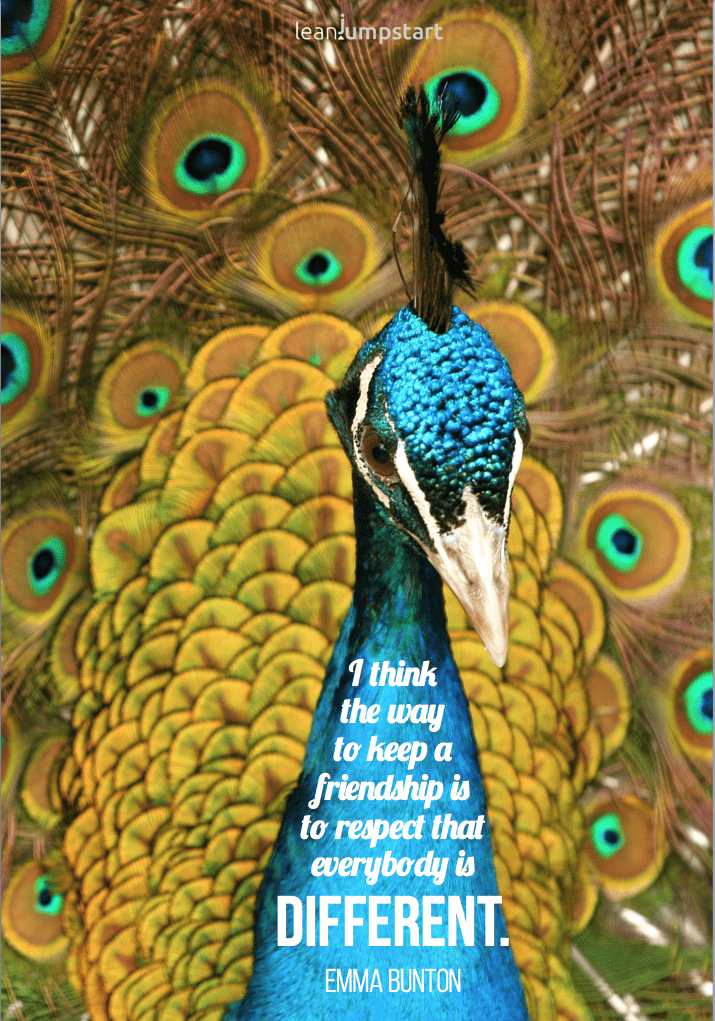 "I think the way to keep a friendship is to respect that everybody is different."
– Emma Burton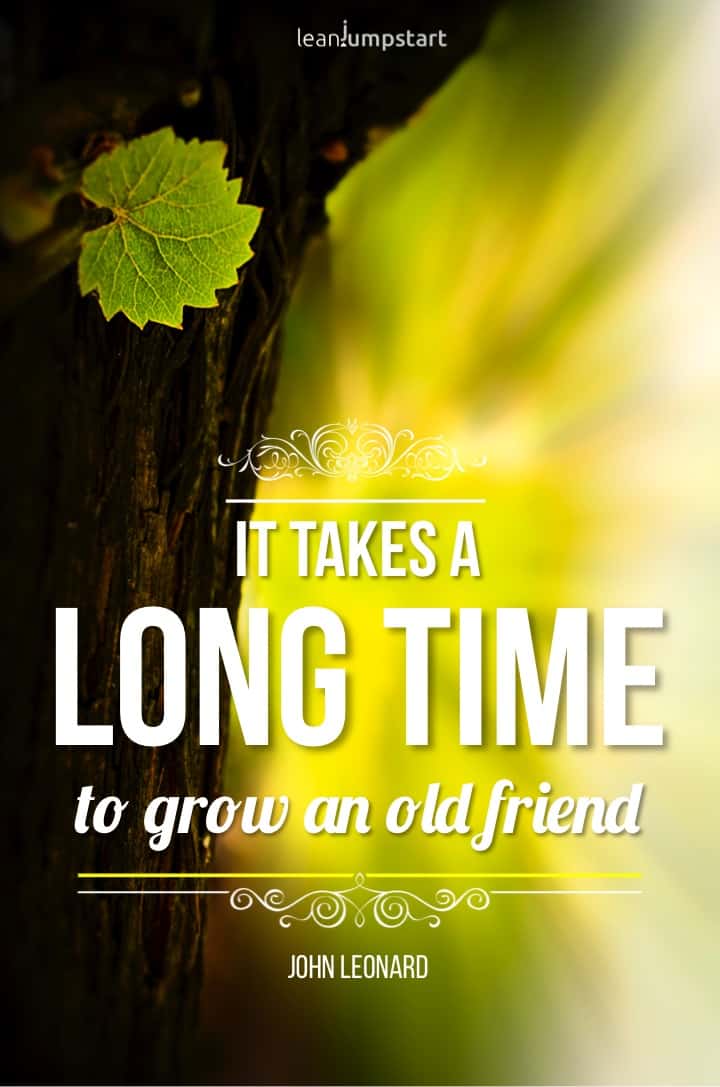 "It takes a long time to grow an old friend."
– John Leonard
Further Reading: 120 friendship quotes not only for best friends
---
Best motivational pictures about gratitude
With the following delightful images, some of the most touching words from influential people, about being grateful come to live. They are a great reminder of why you should smile each day.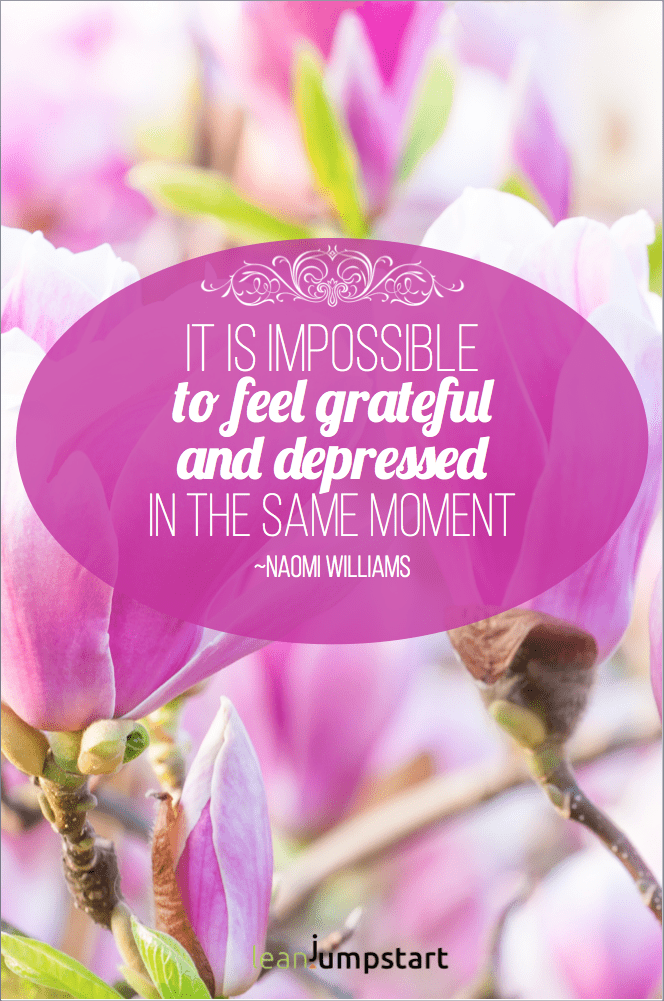 "It is impossible to feel grateful and depressed at the same moment."
– Naomi Williams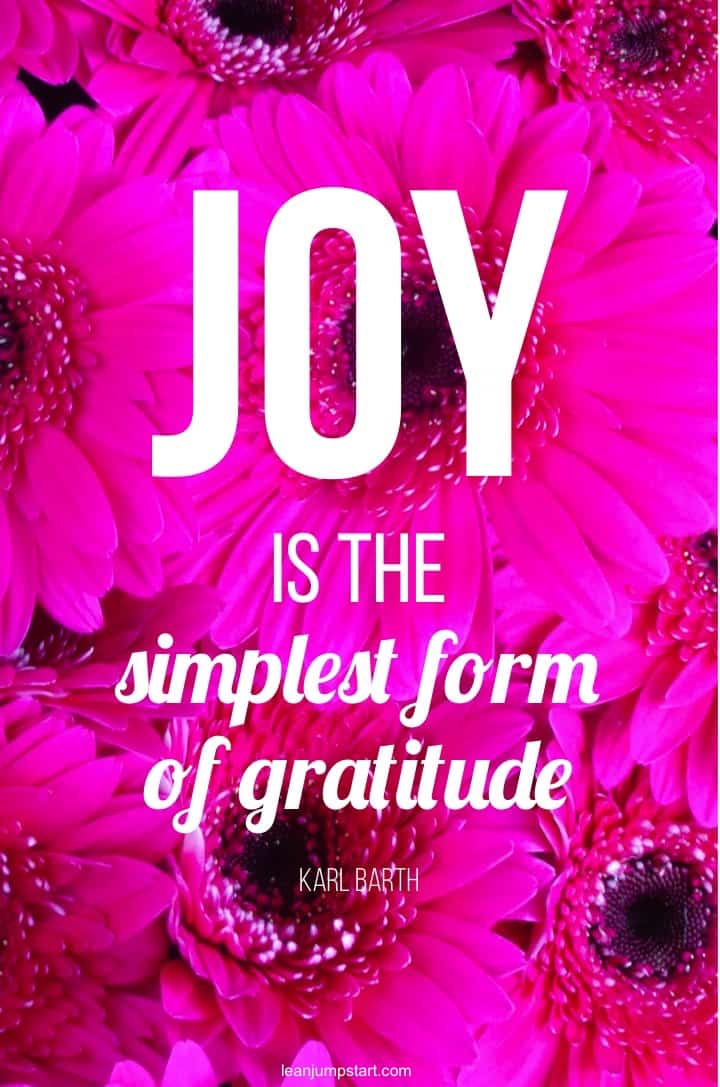 "Joy is the simplest form of gratitude."
– Karl Barth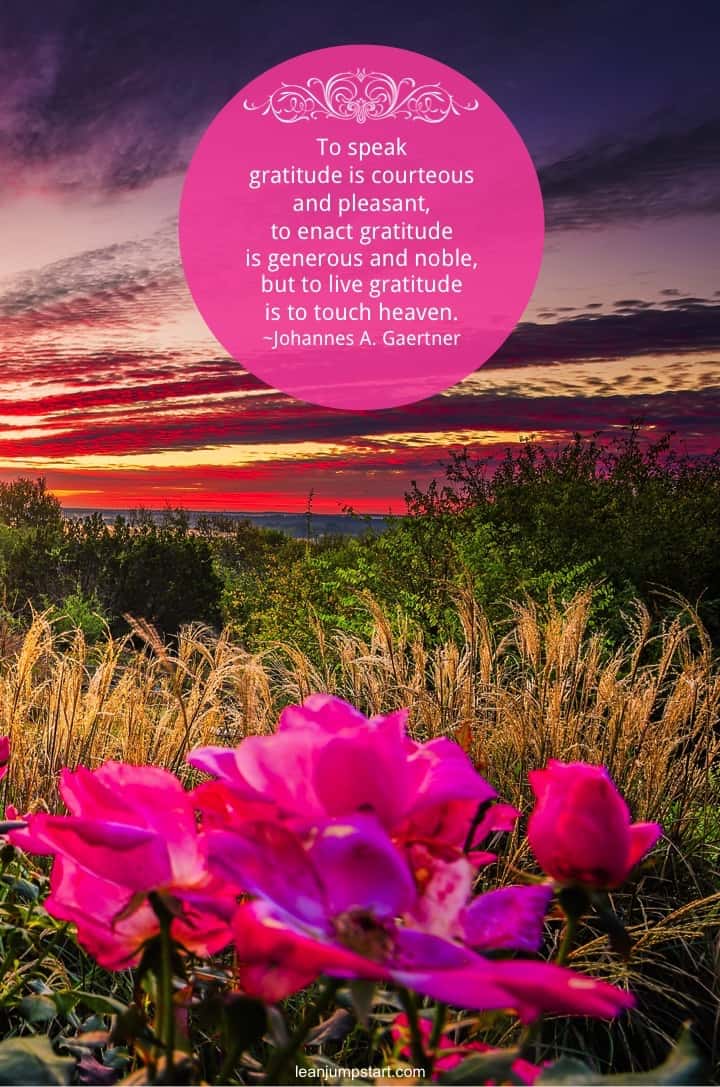 "To speak gratitude is courteous and pleasant, to enact gratitude is generous and noble, but to live gratitude is to touch heaven."
– Johannes A. Gaertner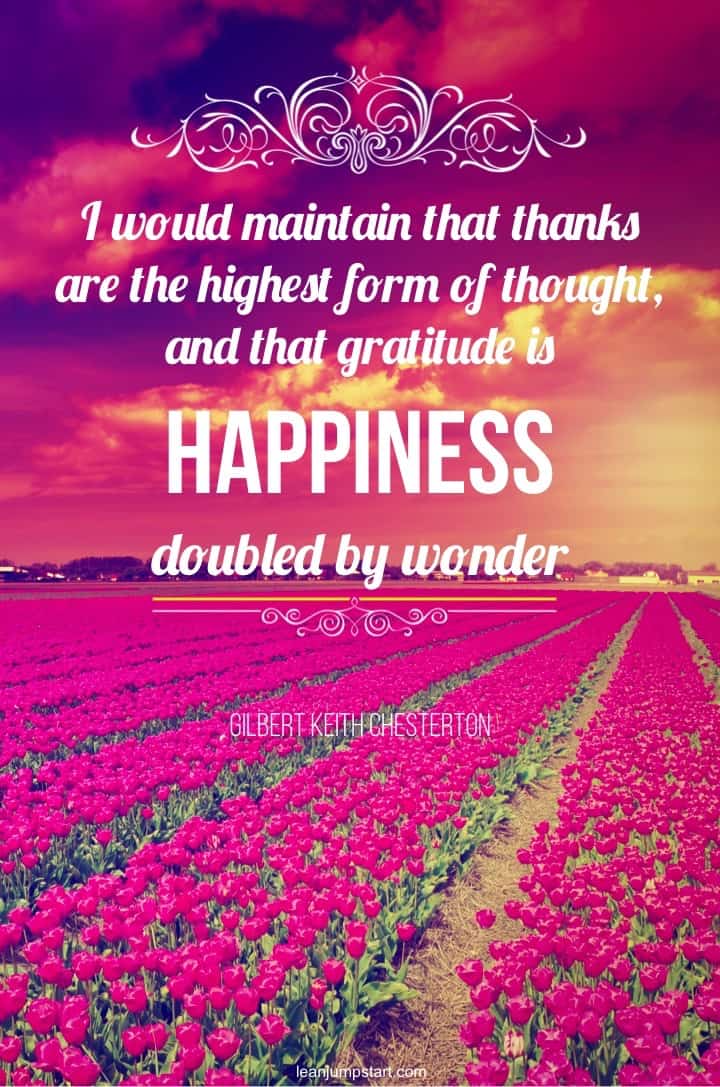 "I would maintain that thanks are the highest form of thought and that gratitude is happiness doubled by wonder."
– Gilbert Keith Chesterton
---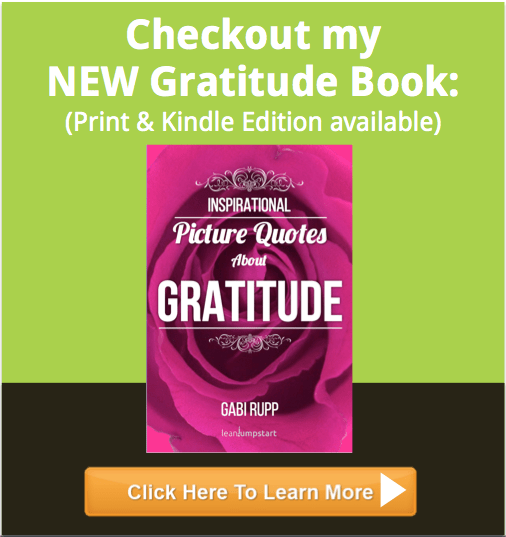 Even more beautiful pictures with spirit-lifters about being thankful, you'll find in my gratitude gift book. Just click on the pic below!


---
Pure motivation with the best photo quotes about life
Finding motivation in our daily lives is not always easy when you feel beat up and drained. Often there creeps in a certain sluggishness, that you should overcome quickly to actually achieve your long-term goals. Awesome life quote images help you to overcome your weaker self within minutes and propel you to pursue new goals and achievements.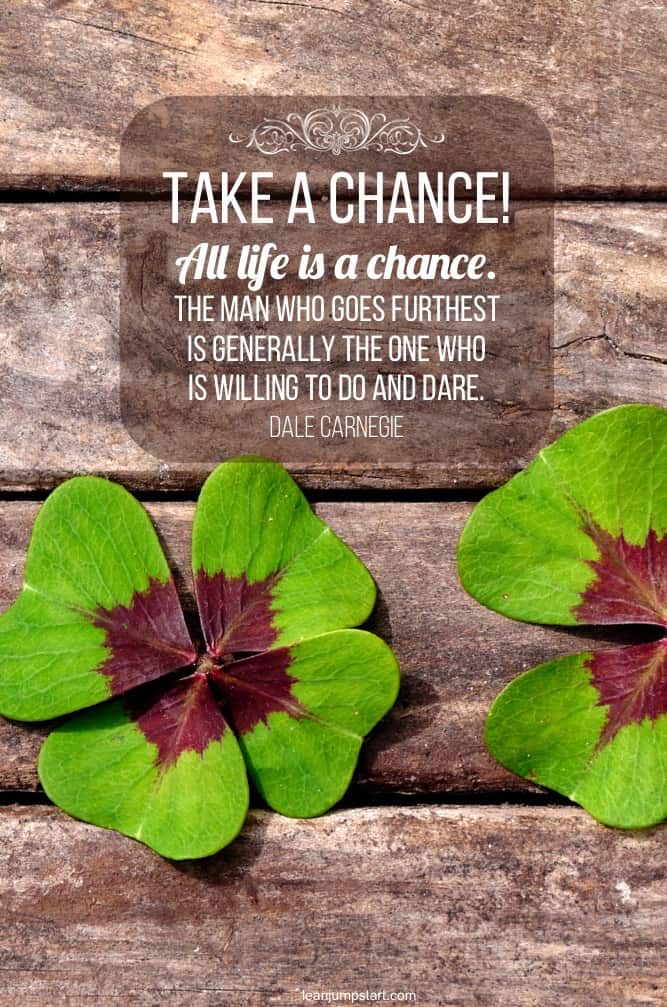 "Take a Chance! All life is a chance. The man who goes furthest is generally the one who is willing to do and dare."
– Dale Carnegie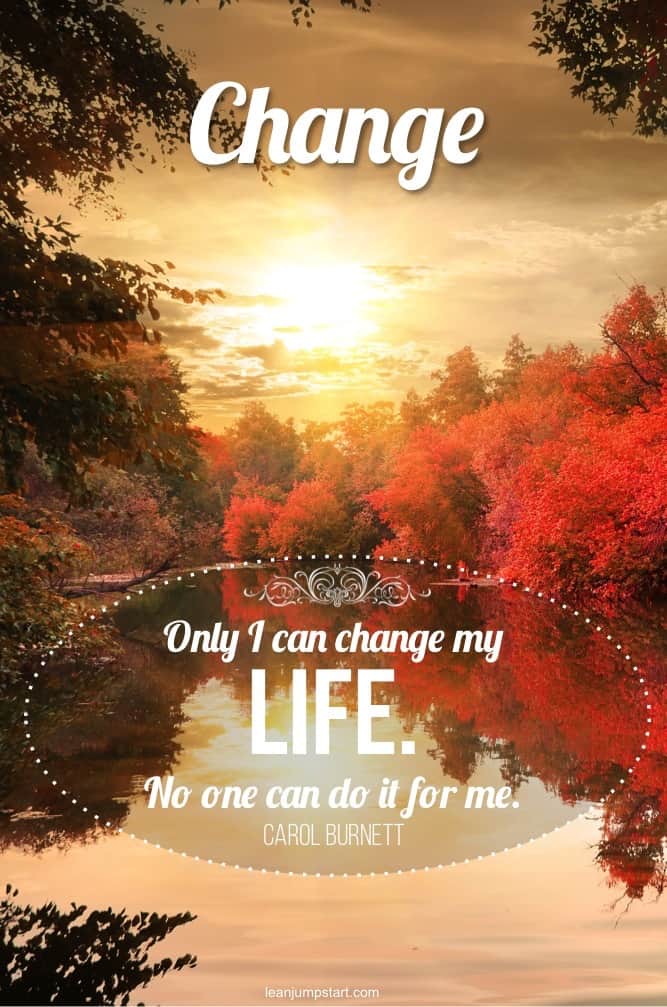 "Only I can change my life. No one can do it for me."
– Carol Burnett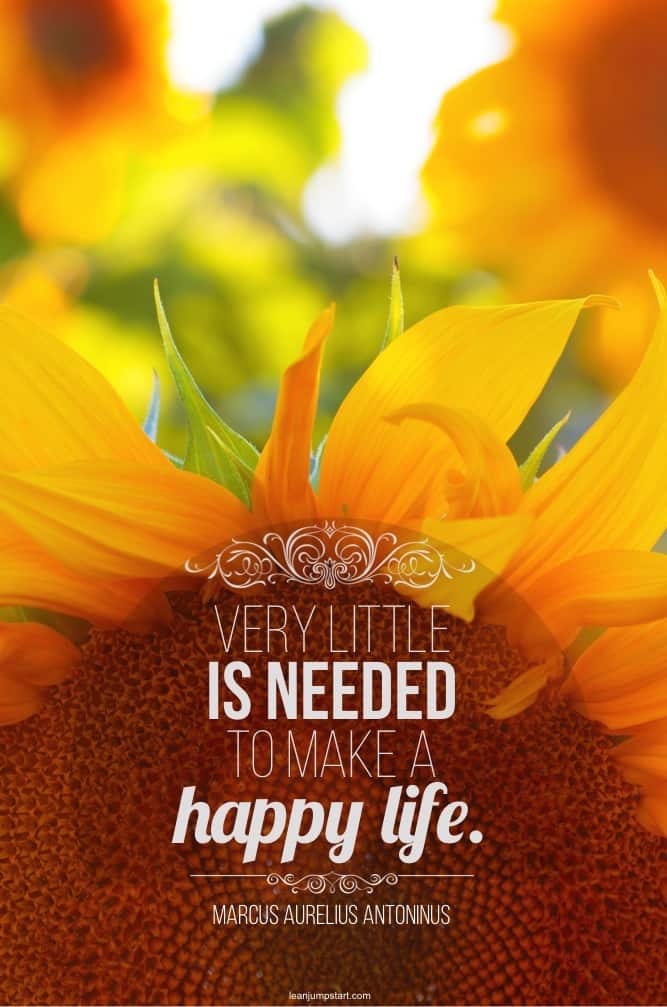 "Very little is needed to make a happy life."
– Marcus Aurelius Antonius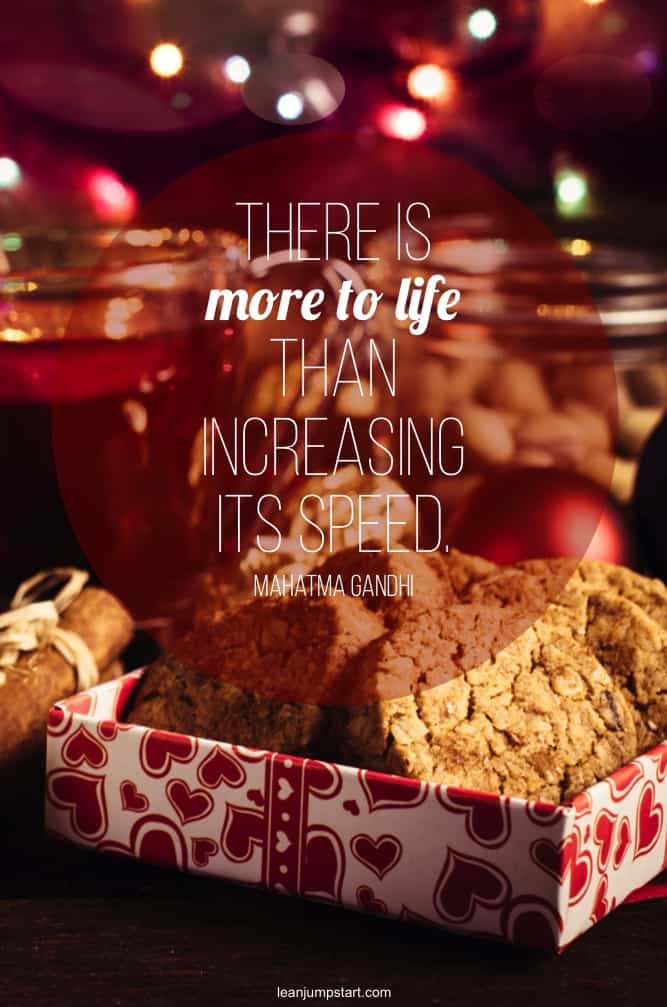 "There is more to life than increasing its speed."
– Mahatma Gandhi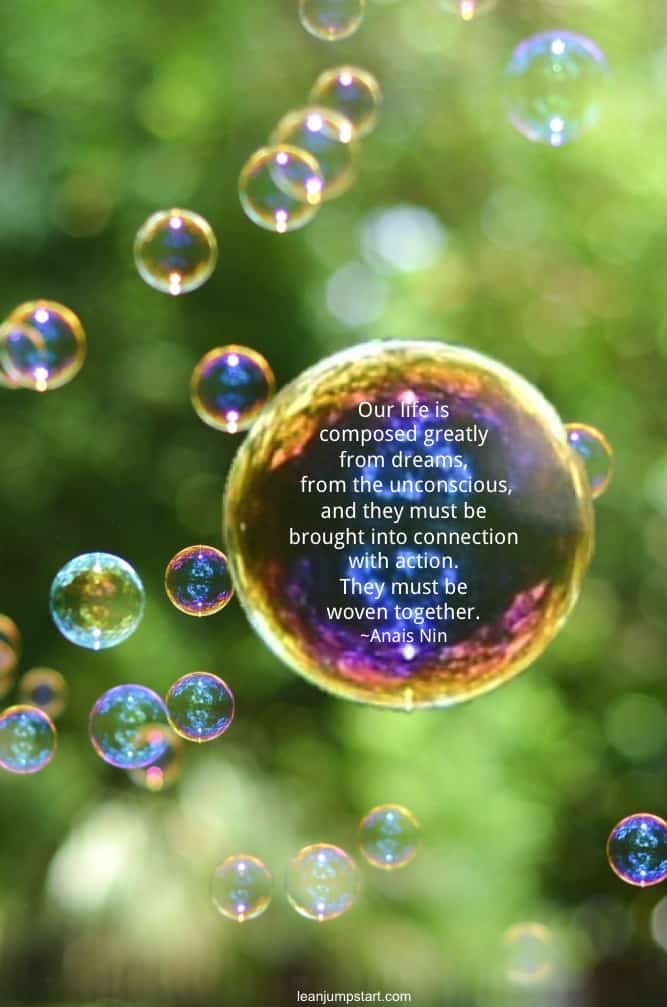 "Our life is composed greatly from dreams, from the unconscious, and they must be brought into connection with action. They must be woven together."
– Anais Nin
I've curated in another gift book an epic collection of quotes about life with vivid pictures, It's so far, the largest book of its kind. More about it later.
Further Reading: 150 good quotes about life which will brighten up your day (+ great images)
---
Habit quotes can cause an avalanche of positive changes
Following the great advice that I have discovered from habit quotes, helped me tremendously with the hard work of changing and improving my own routines. The wonderful thing about "words of wisdom" is that they have the power to motivate our minds and improve our perspective for the better. Do you need to change some habits? Let the following insights support your journey.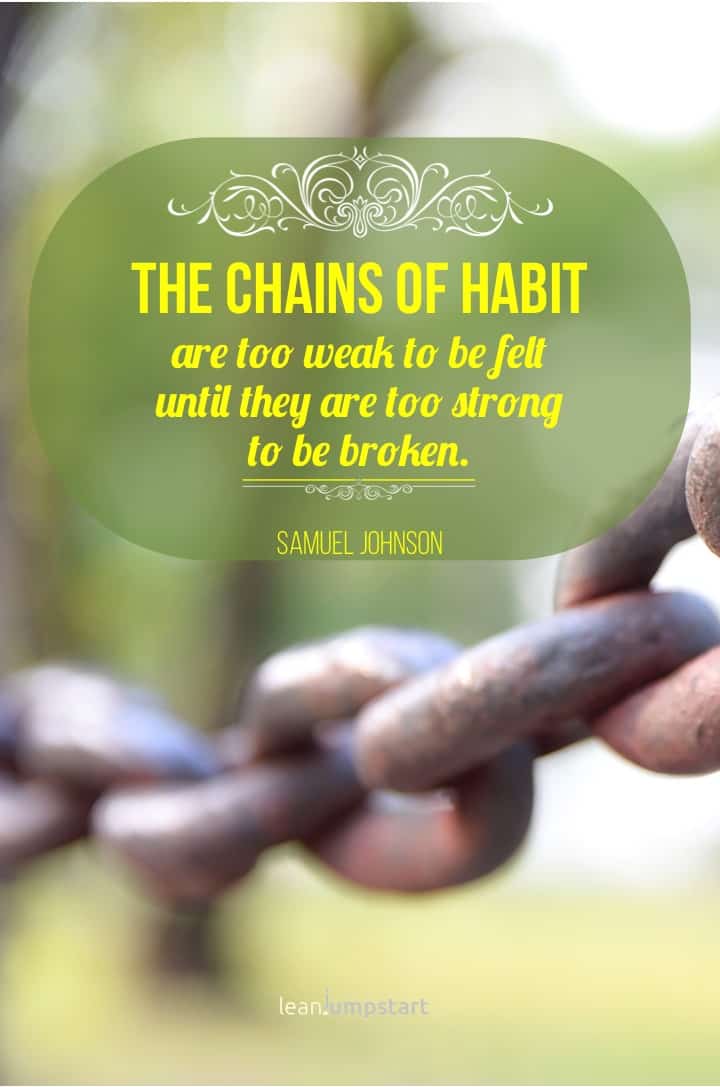 "The chains of habits are too weak to be felt until they are too strong to be broken."
– Samuel Johnson.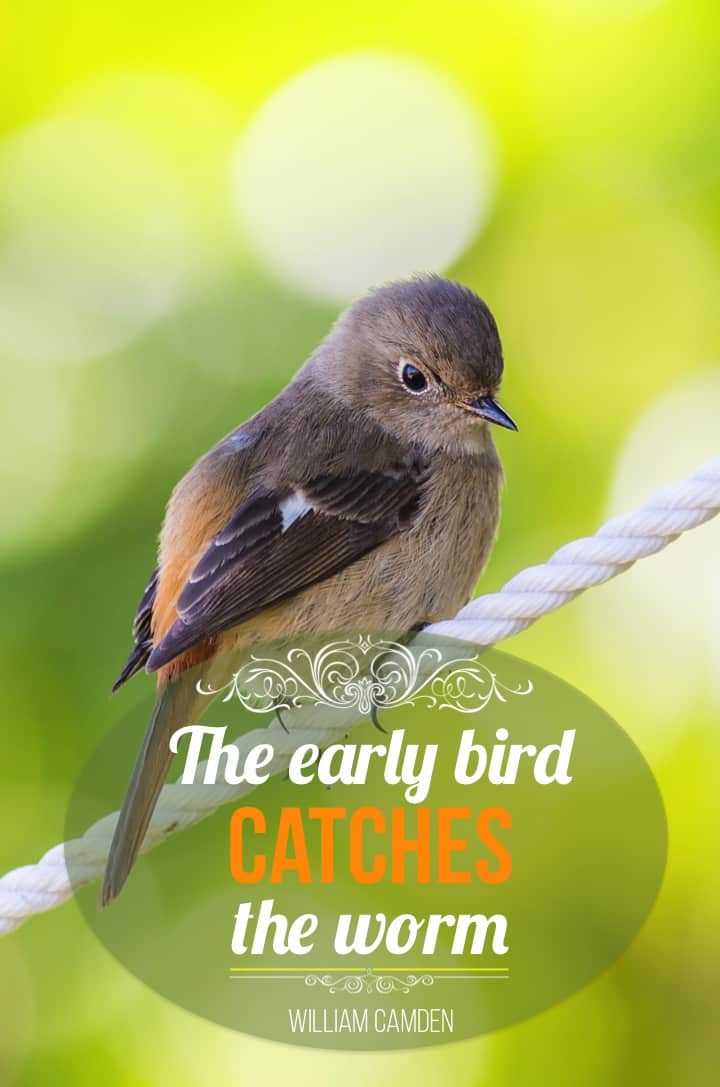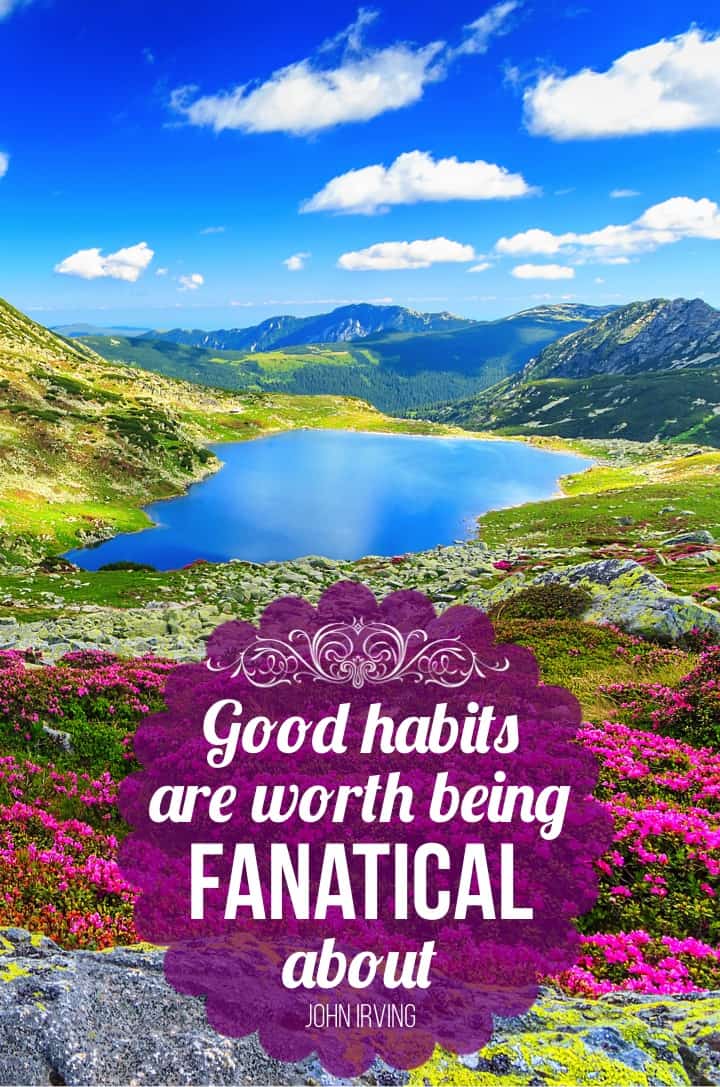 "The early bird catches the worm."
– William Camden.

"Good habits are worth being fanatical about."
– John Irving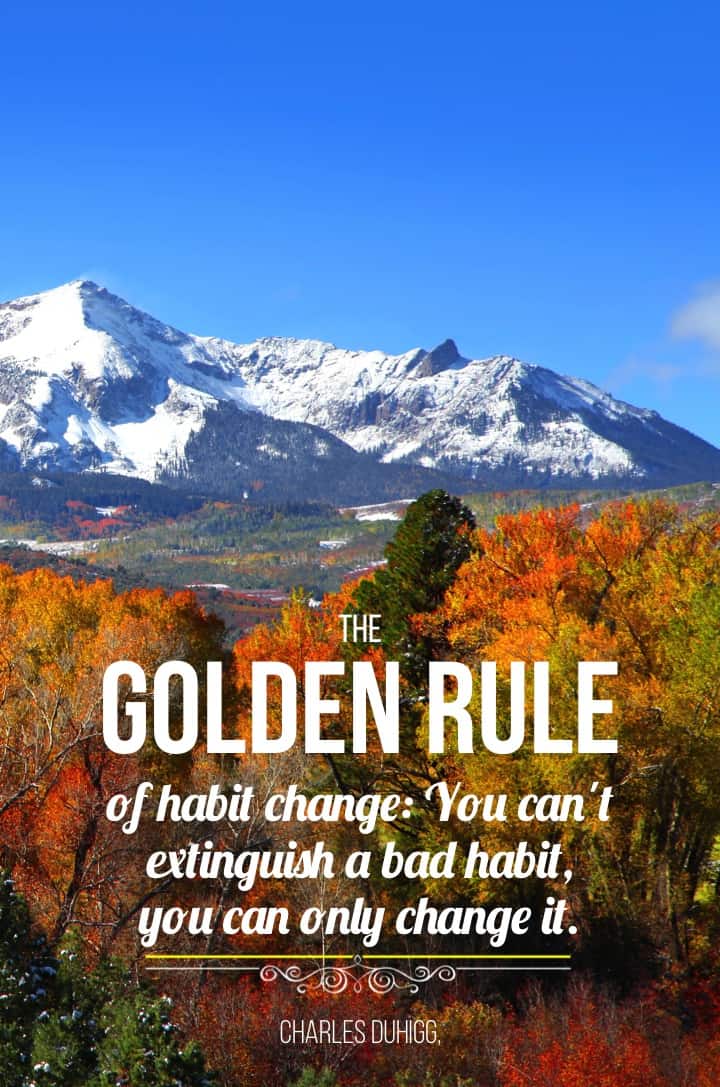 "The golden rule of habit change: You can't extinguish a bad habit you can only change it."
– Charles Duhigg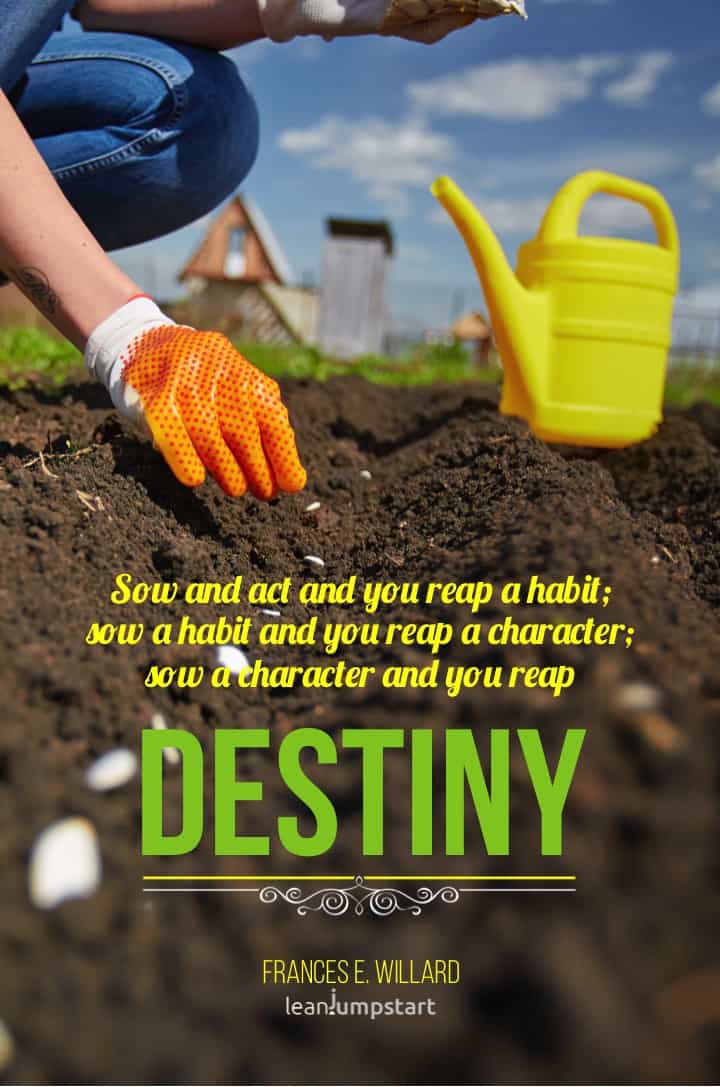 "Sow an act and you reap a habit. Sow a habit and you reap a character. Sow a character and you reap a destiny."
― Charles Reade
For more brain hacks, use these smart 91 habit quotes about change including a glimpse of my habits book!

---
Encouraging video with more uplifting quotes about habits and change!
If you need an energy boost for the rest of the day, I highly recommend watching my video below. The source for the 26 stunning motivational images about habits is my book of the same name as mentioned above.
---
Be an eternal learner!
Learning and education take center stage in the following uplifting quotes with images. You are never too old to pursue your dreams.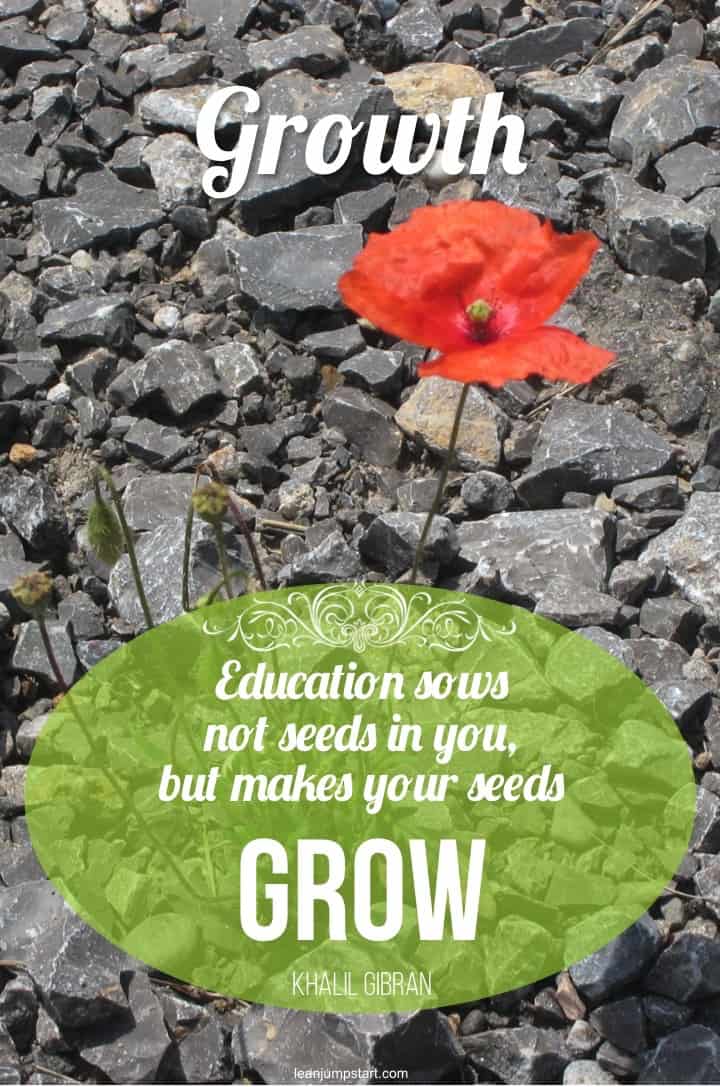 "Education sows not seeds in you but makes your seeds grow."
– Khalil Gibran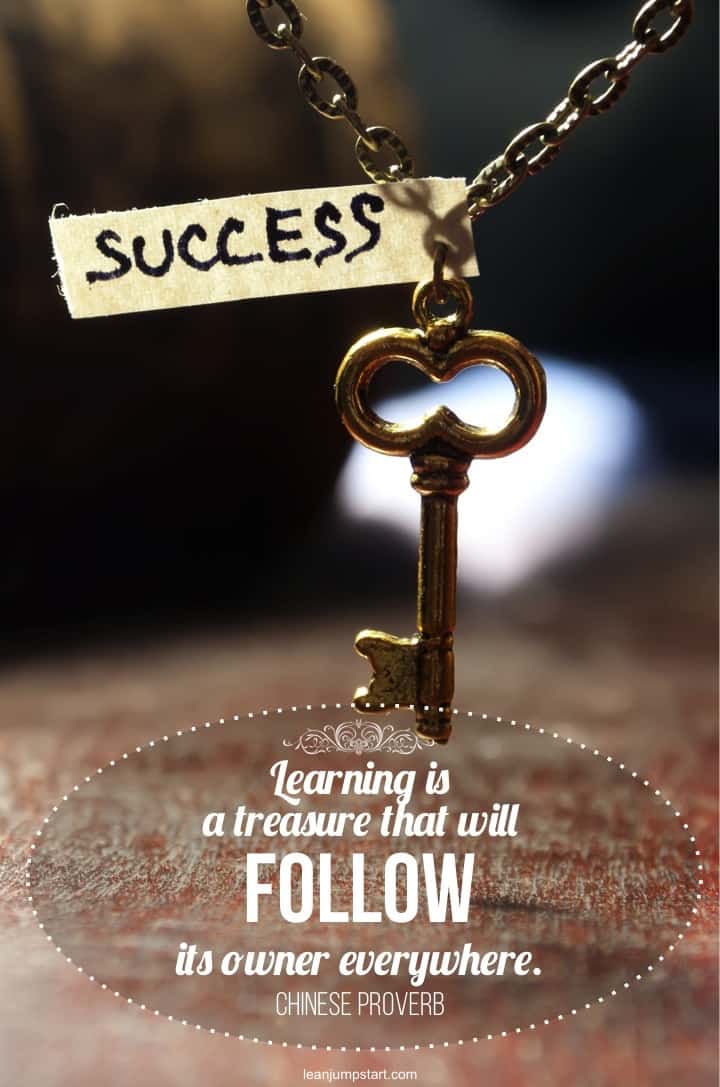 "Learning is a treasure that will follow its owner everywhere."
– Chinese Proverb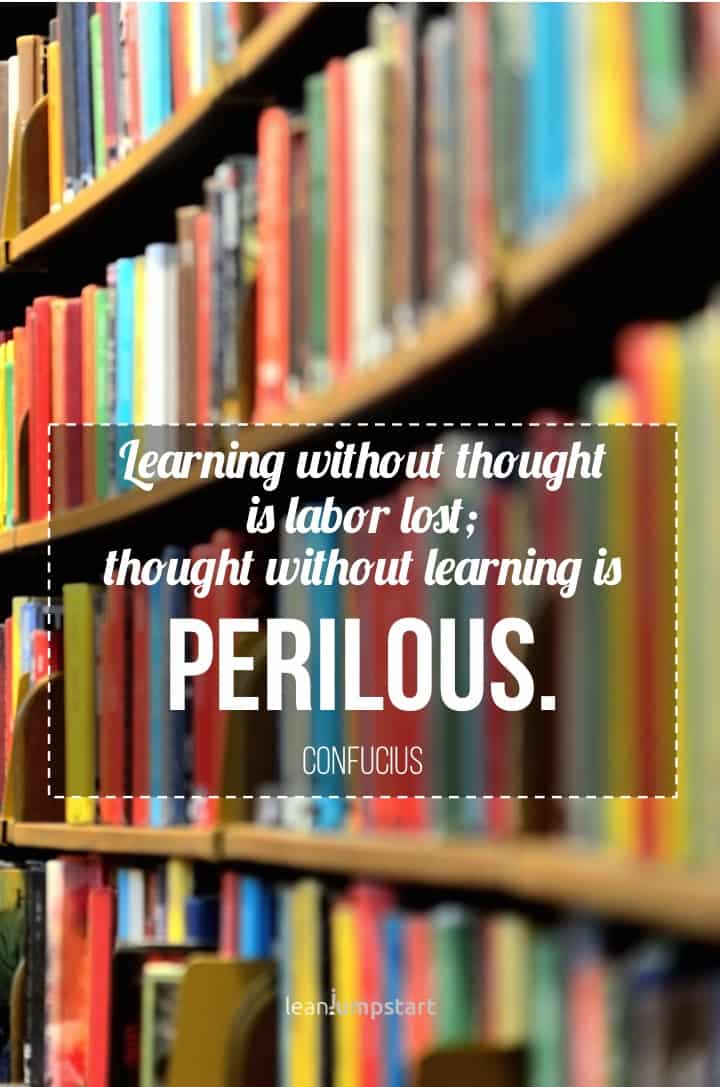 "Learning without thought is labor lost; thought without learning is perilous."
– Confucius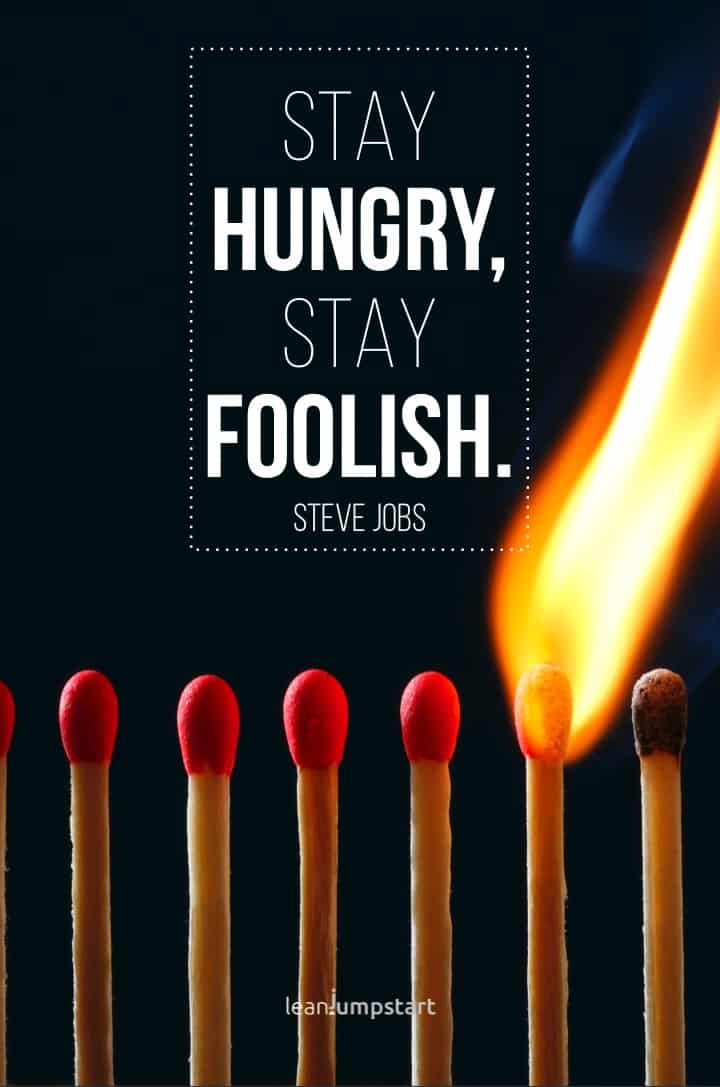 "Stay hungry, stay foolish."
– Steve Jobs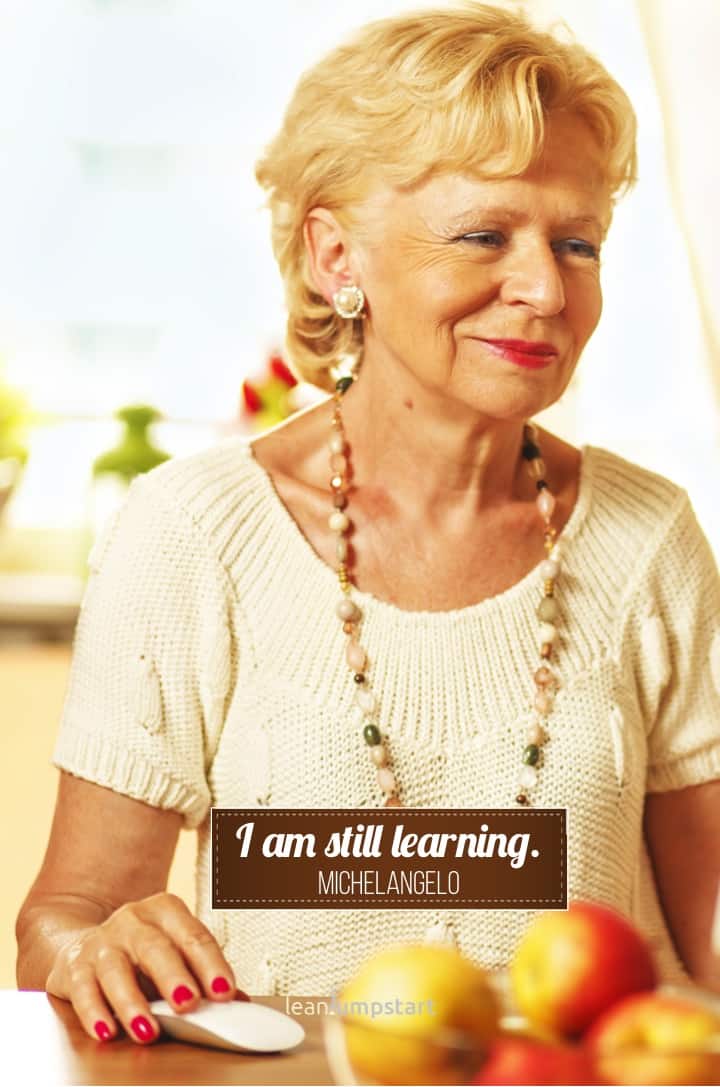 "I am still learning"
– Michelangelo
"You don't learn to walk by following rules. You learn by doing, and by falling over."
– Richard Branson
"Tell me and I forget. Teach me and I remember. Involve me and I learn."
– Benjamin Franklin
Click through for a good dose of inspiration: 77 education quotes that will make you love learning again
---
Never give up!
Sometimes all we need is a little spark in the dark. The following inspiring pictures with words to give you hope are subtle encouragements.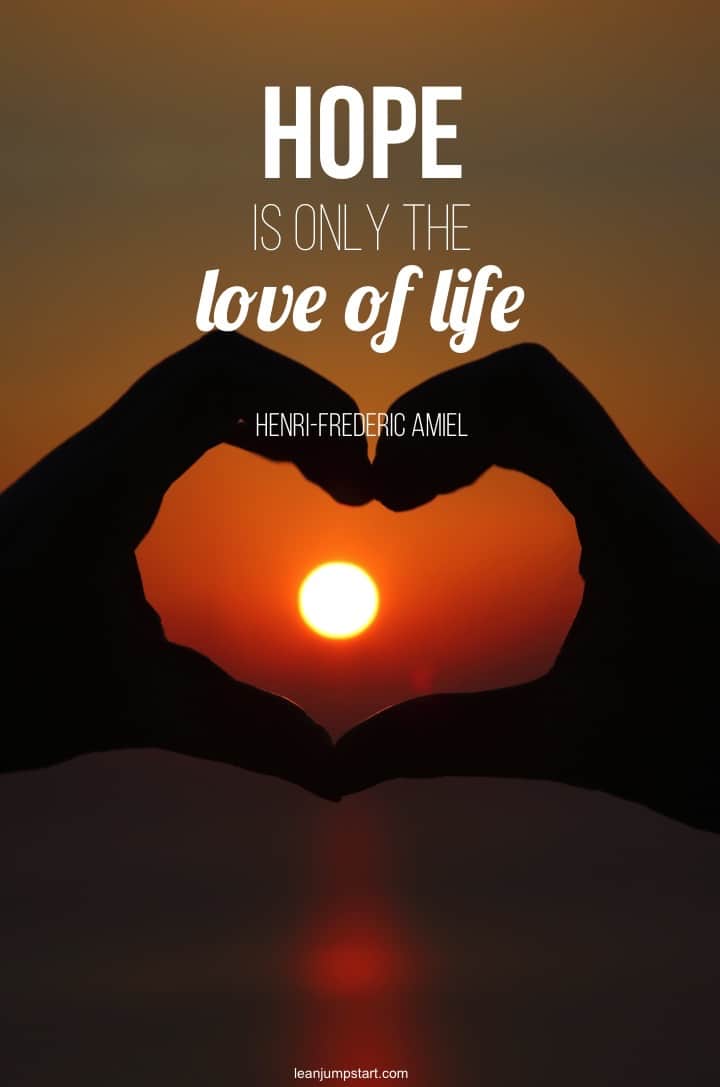 "Hope is only the love of life."
– Henri-Frederic Amiel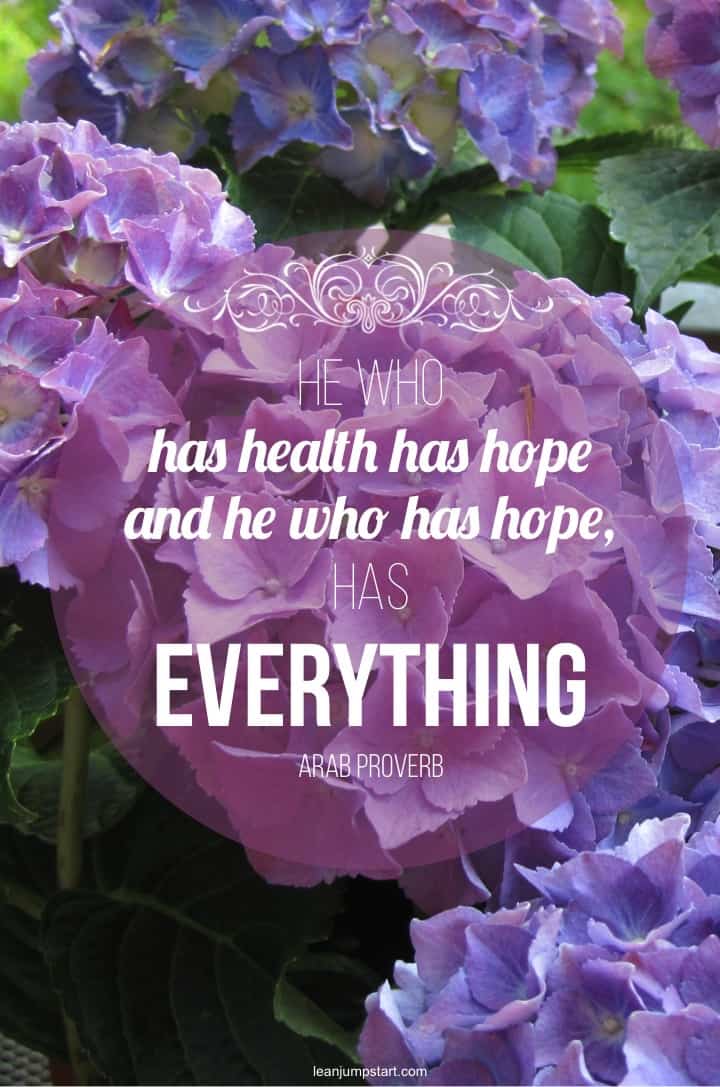 "He who has health has hope and he who has hope has everything."
– Arab proverb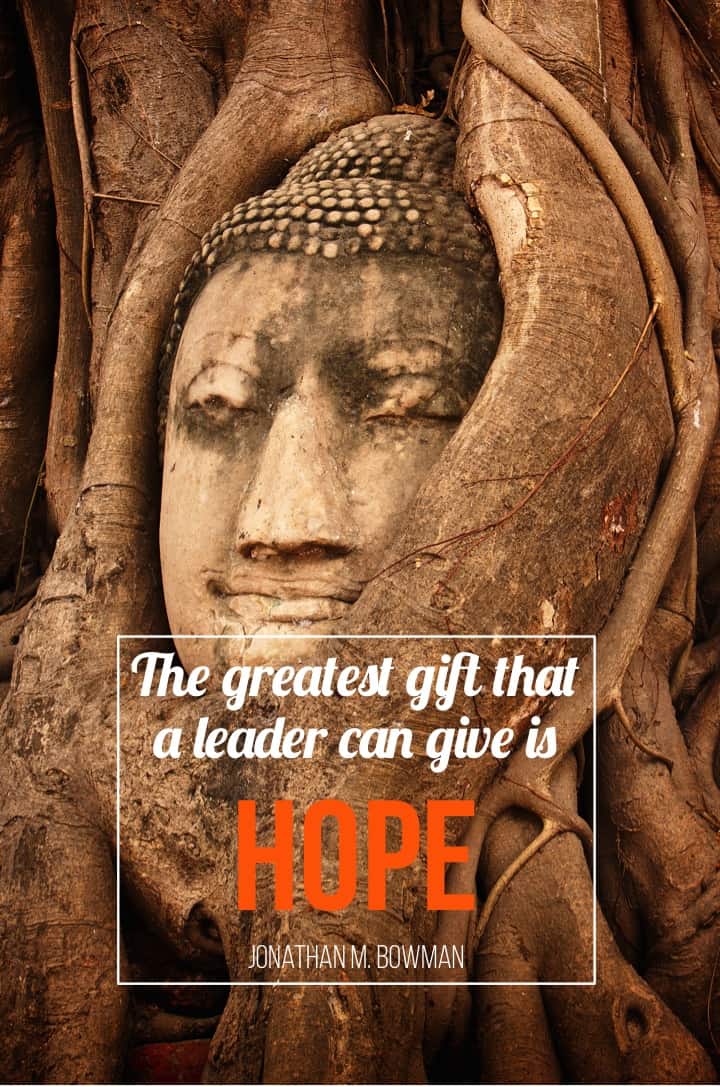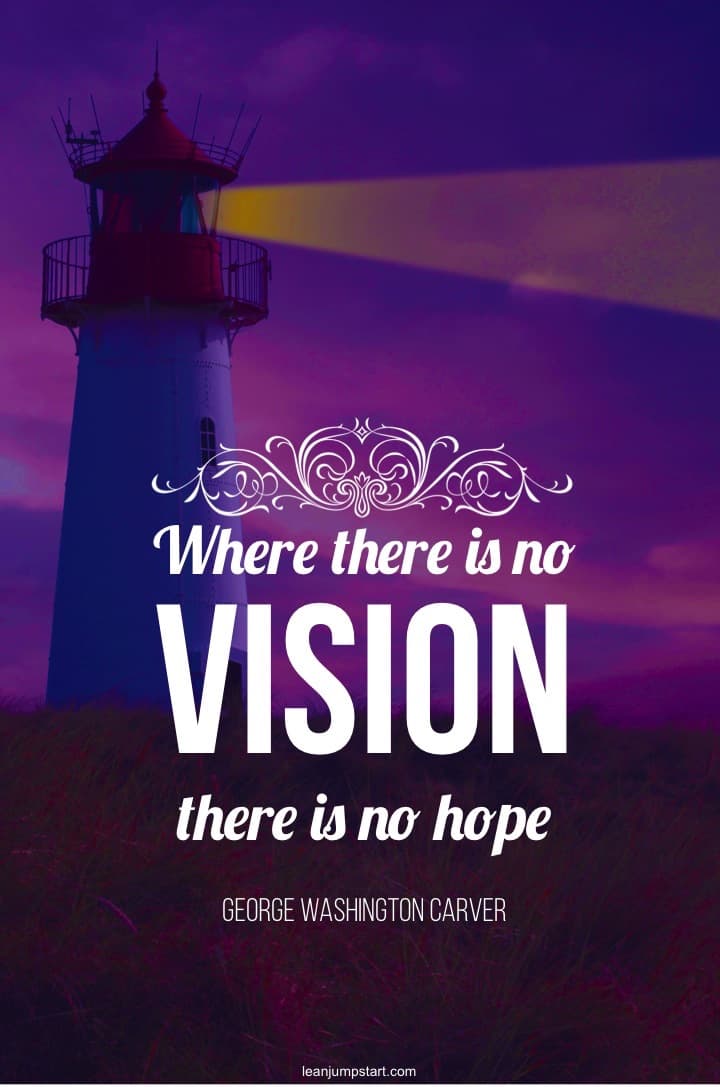 "The greatest gift that a leader can give is hope."
– Jonathan M. Bowman

"Where there is no vision there is no hope."
– George Washington Carver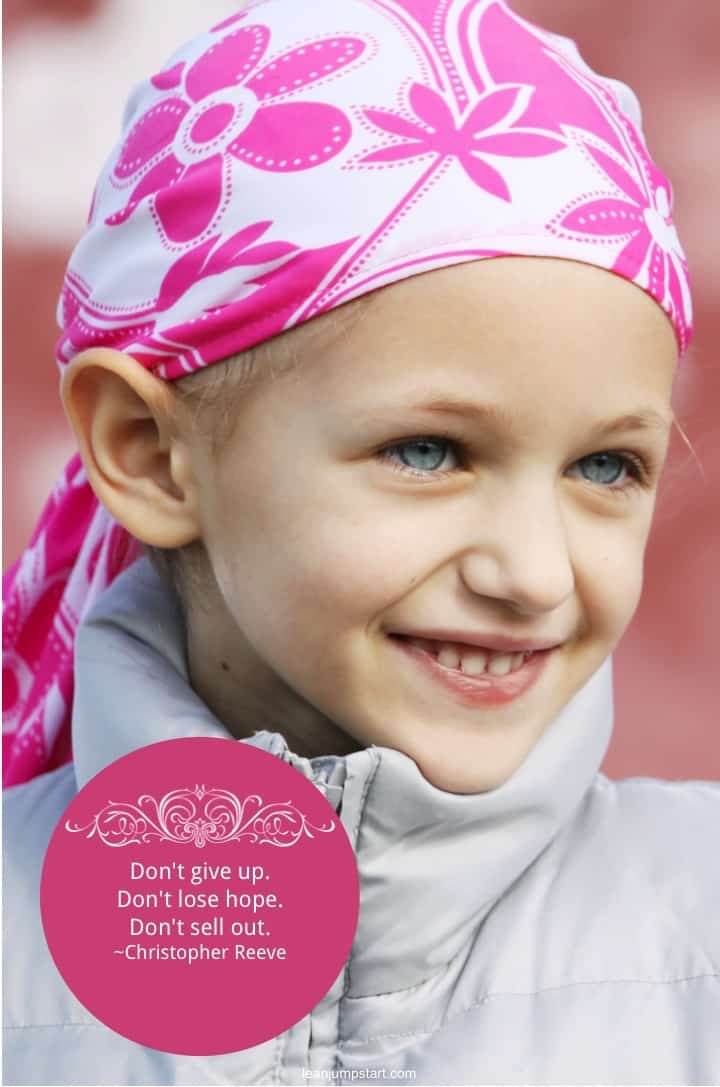 Don't give up. Don't lose hope. Don't sell out.
– Christopher Reeve
A stunning collection of quotes about hope I've curated in another gift book. Learn more about it at the end of this post.
---
Funny quote images with a grain of truth
A piece of great advice for a happy life is not to take yourself too seriously all the time. We need to laugh and smile more often. These funny quotes images are a terrific help on the way there. Enjoy!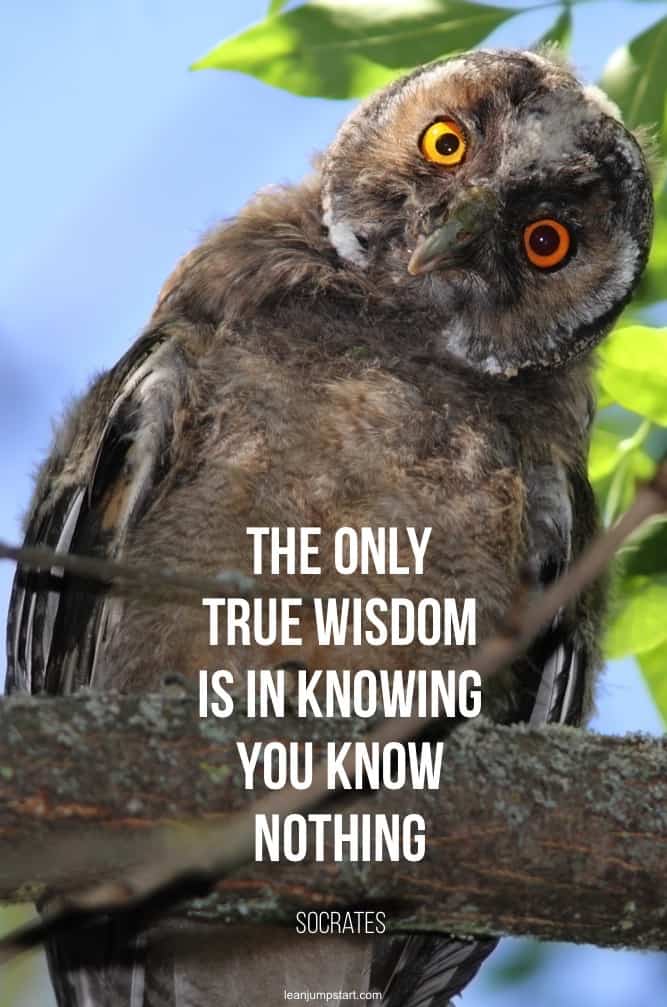 "The only true wisdom is knowing you know nothing."
– Socrates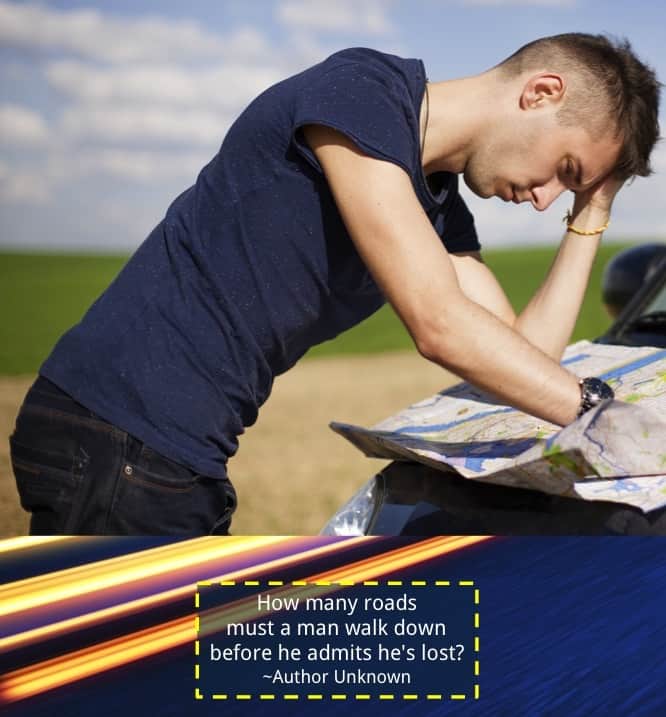 "How many roads must a man walk down before he admits he's lost?"
– Author unknown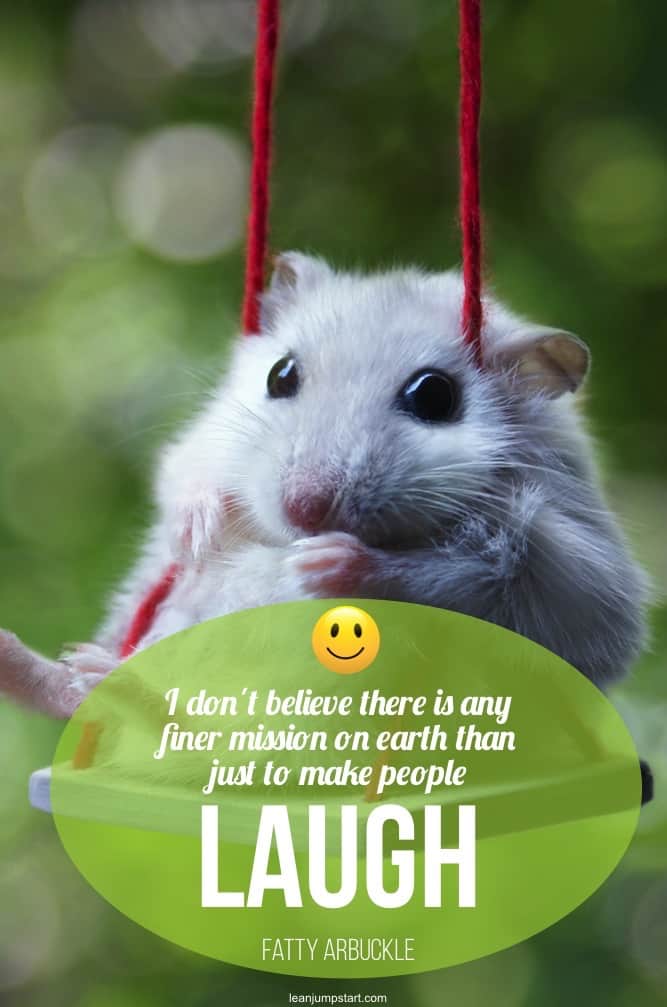 "I don't believe there is any finer mission on earth than just to make people laugh."
– Fatty Arbuckle
Related: 88 funny life quotes
You can find more funny images in my gift book about the funny side of life. If you know someone who needs a chuckle – this is the perfect book for them.
---
Why are motivational images so popular?
Corporations and media want to influence us to think that things on the outside bring happiness and peace when true happiness is found on the inside. In reality, it doesn't really matter how much you possess or how many things you can acquire.
Good picture quotes directly connect our soul to where we came from. They offer a minimalistic approach to nurture our soul. Deep down inside of us, we desire love and happiness.
In a materialistic world, the special quote for the day or quote posters tends to put things in perspective and fill an empty space in our hearts. Check out in this context also my collection of inspirational Christmas quotes.
Motivational gift book tips
But wait… that's not all. Fascinated by inspirational quotes images as seen above, I've published in the last couple of years several gift books.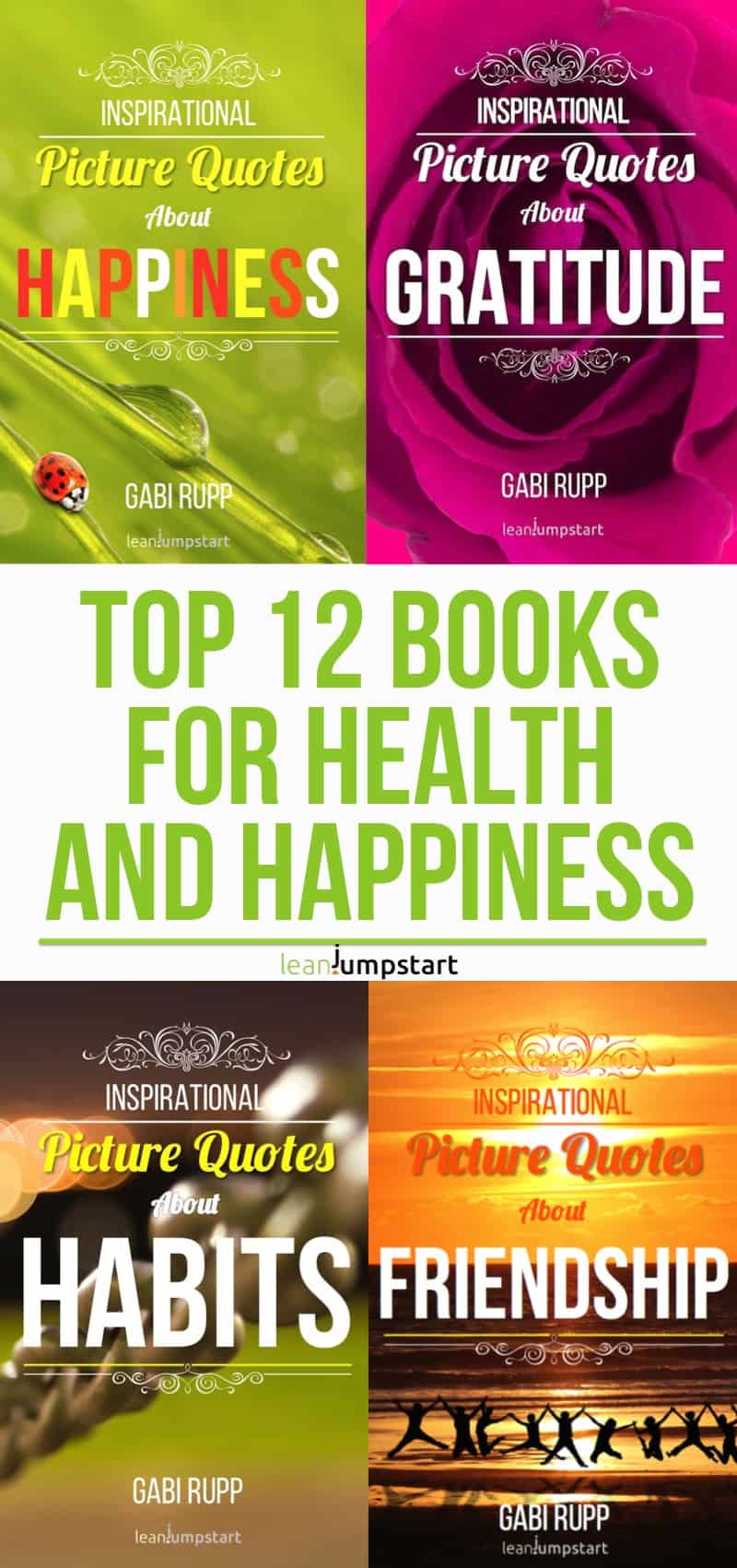 Brilliant pictures combined with graphic design breathe life into quotes that are focusing on various categories:
Love
Friendship
Happiness
Gratitude
Habits
Hope
Life
Learning
The funny side of life
Horses
Dogs
Christmas
All of these books come in digital and printed versions and can function as a nice escape from a stressful day. Click through to learn more about all of my inspirational quote books!
More simple everyday life mottos
The following beautiful quotes with pictures harmonize with my own simple habit changes in the contexts of good food choice, fitness, and happiness.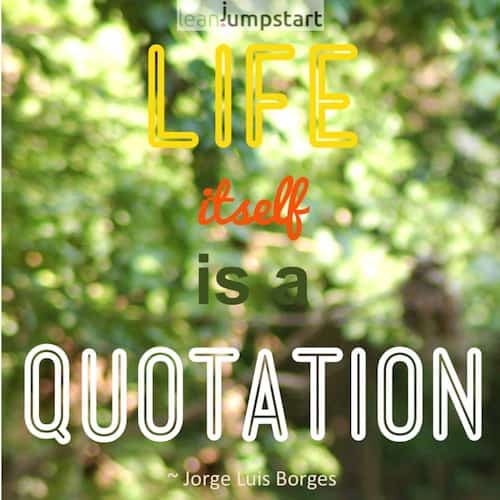 They will help you build your self-confidence and inner will. In addition, these stunning quotations cater to the "kick in the ass" that is sometimes just required. Check out below my handpicked collection of inspirational quotes with and without pictures. I have found them to be most helpful in my pursuit of healthier and smarter habits.
You can achieve anything in life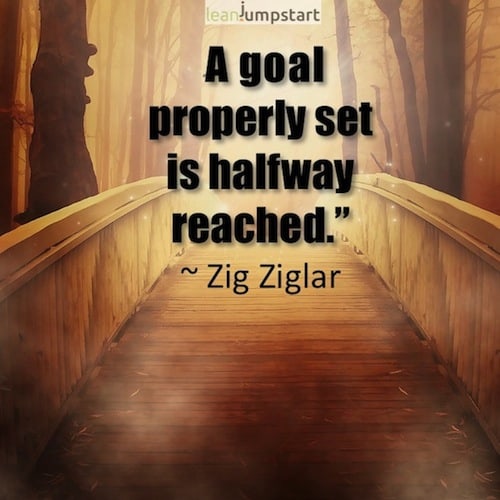 "A goal properly set is halfway reached."
– Zig Ziglar
"If you want to be happy, set a goal that commands your thoughts, liberates your energy and inspires your hopes."
— Andrew Carnegie

"You should set goals beyond your reach so you always have something to live for."
— Ted Turner
Related: 87 motivational quotes about setting and achieving goals!
---
Proper hydration is crucial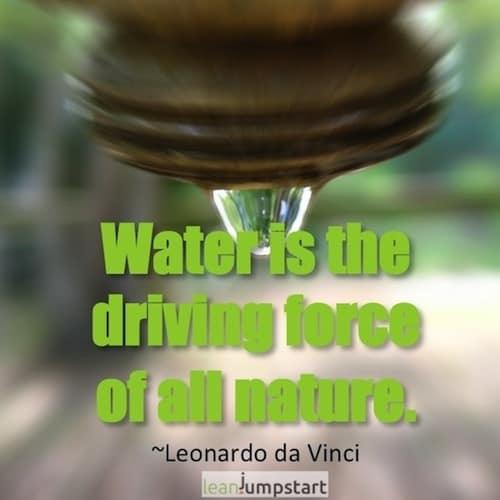 "Water is the driving force of all nature."
– Leonardo Da Vinci
"Drinking water is essential to a healthy lifestyle."
– Stephen Curry

These sayings about water will further inspire you to level up your hydration habit.
---
A good night's sleep is essential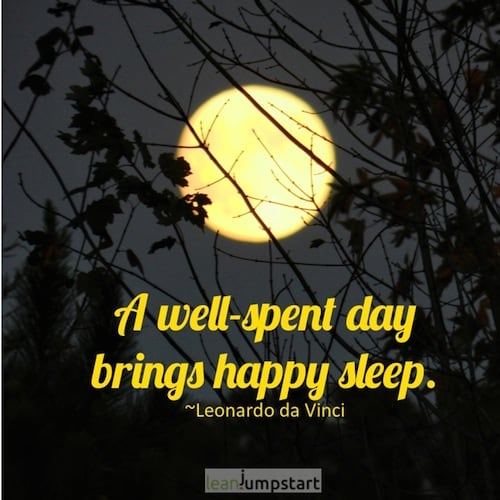 "A well-spent day brings happy sleep."
– Leonardo Da Vinci

"No day is so bad it can't be fixed with a nap."
– Carrie Snow
"There is more refreshment and stimulation in a nap, even of the briefest than in all the alcohol ever distilled."
– Edward Lucas

The importance of a good night's sleep for health and well-being cannot be overemphasized enough.
Related: sleep quotes!
---
Eat more plants!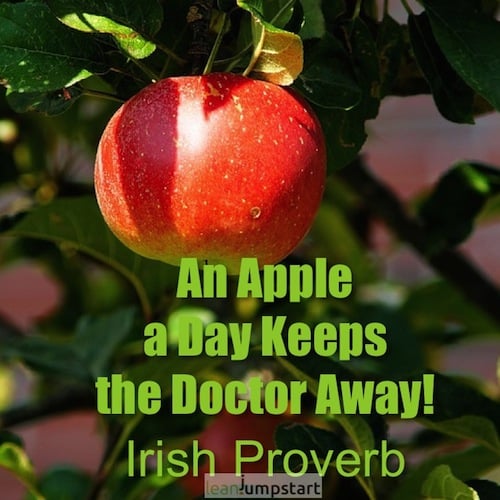 "An apple a day keeps the doctor away!"
– Irish Proverb
Although this Irish proverb seems to be quite old, it hasn't lost any validity. In the following, I share some
other healthy eating quotes that are a good reminder to eat more plant-based foods.
"Eat food, not too much, mostly plants."
– Michael Pollan
"By eating many fruits and vegetables in place of fast food and junk food, people could avoid obesity."
– David H. Murdock
"To ensure good health: Eat lightly, breathe deeply, live moderately, cultivate cheerfulness, and maintain an interest in life."
–William Londen
"Maintaining good health should be the primary focus of everyone."
– Sangram Singh

"The doctor of the future will give no medicine but will interest his patients in the care of the human frame, diet and in the cause and prevention of disease."
–Thomas A. Edison
and a similar one that in fact means the same:
"The doctor of the future will no longer treat the human frame with drugs, but will rather cure and prevent disease with nutrition."
– Thomas A. Edison

"To enjoy the glow of good health, you must exercise."
– Gene Tunney
---
Deepen your attitude of gratitude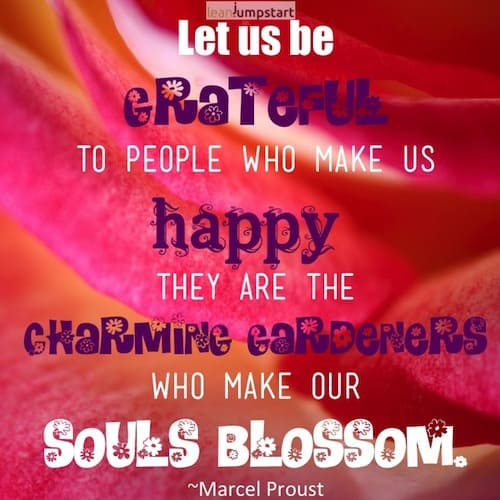 "Let us be grateful to people who make us happy. They are the charming gardeners who make our souls blossom."
– Marie Proust

Here comes another freebie for you! You can further deepen the attitude of gratitude and click through to download a free template with 9 famous quotations on gratefulness.
---
Boost your productivity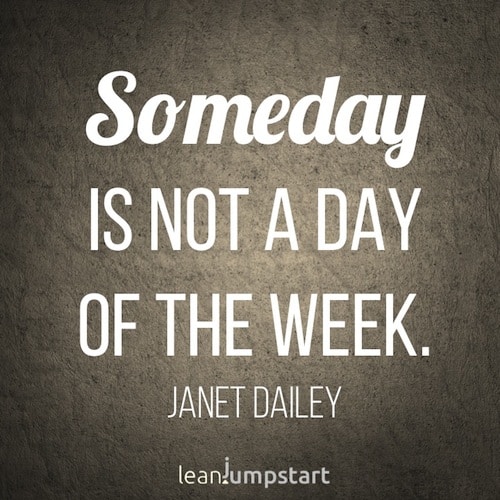 "Some day is not a day of the week"
– Janet Dailey
"It is easier to resist at the beginning than at the end."
– Leonardo da Vinci
"A year from now you may wish you had started today."
– Karen Lamb

Do you wish you would have more focus in your life? These 45 procrastination quotes will help you boost your productivity.
---
Pursue a positive attitude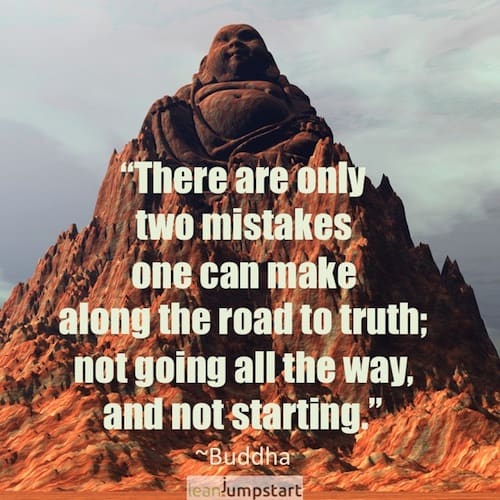 "There are only two mistakes one can make along the road to truth; not going all the way, and not starting."
– Buddha

Related: 39 positive attitude quotes!
---
Above all: Have fun!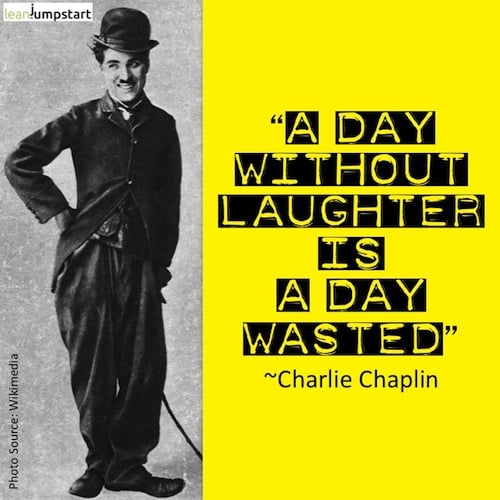 "A day without laughter is a day wasted."
– Charlie Chaplin

Click through to discover more thoughts about laughter, including funny quotes with images.
---
Print them out and hang them up!
I hope you've enjoyed the motivation that each inspiring image brings to your life. For even more mood-boosting impact, you may want to print them out, hang them up at home, in your office, gym or at school. You can even create a gallery wall when you use a harmonious collection of framed images.
Do you want others to achieve amazingly wonderful things too? Then feel free to share these hilarious images on Social media like Pinterest, Facebook, or Instagram.