My sincere hope is that these funny procrastination quotes help inspire those of you, who struggle with this sticky and annoying habit.
And if this doesn't help, make sure to read until the end of this blog post because I have some more helpful tips and support for you.
We tend to postpone unloved tasks
Do you have emails sitting in your inbox that you know you won't respond to until next week? Haven't you wanted to unclutter your recipe box lately?  And what about your switch to clean eating?
How many healthy habits have you implemented into your daily routine yet? Mark Twain already knew the procrastination game.
Never put off until tomorrow what you can do the day after tomorrow. – Mark Twain
We tend to postpone unloved tasks until tomorrow or even the day after tomorrow. But each task that you don't finish is similar to a ball you are juggling: As soon as it is in the air you have to keep an eye on it.
Dangerous Concentration Robbers
Unfinished duties are the most dangerous concentration robbers in the world. This is something the psychologist Bluma Zeigarnik could prove – that's why it is also known as the Zeigarnik-Effekt. Or as William James would say:
 Nothing is so fatiguing as the eternal hanging on of an uncompleted task.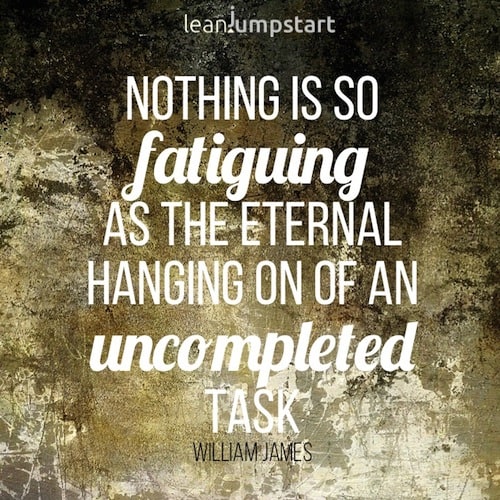 What can you do to reduce the number of open tasks and free your brain? Here is another quote that gets to the point of the dilemma when we keep putting off doing our tasks and duties:
If you want to make an easy job seem mighty hard, just keep putting off doing it. – Olin Miller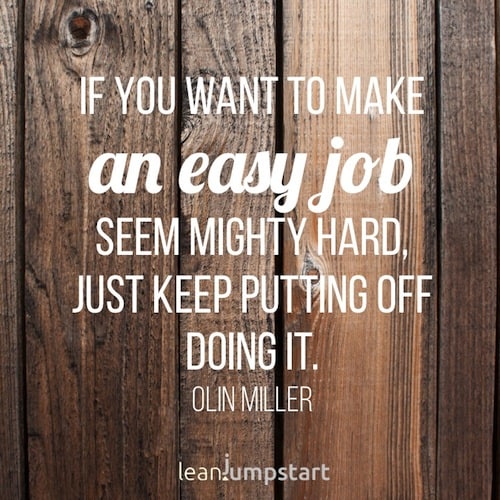 Did you love these thought-provoking images? The make sure to click through to my huge collection of inspirational picture quotes.
More words of wisdom motivating you to conquer difficult tasks
"It is easier to resist at the beginning than at the end". – Leonardo Da Vinci

"Begin while others are procrastinating. Work while others are wishing." – 

William Arthur Ward

"You can't get much done in life if you only work on the days when you feel good." – Jerry West
"A year from now you may wish you had started today." – Karen Lam

"If you procrastinate when faced with a big difficult problem… break the problem into parts, and handle one part at a time." 

– Robert Collier
3 quick tips to overcome procrastination
Finish everything that can be done fast immediately. Instead of shifting 5 unanswered emails into a new week, just reply to them as soon as possible. If you batch tasks of the same type, such as writing 5 emails at once instead of spending an hour on each email individually, you save time and energy.
The second tip is the most important: Dare to ask yourself with all the open tasks: Can't I just drop this ball? Do you really need to buy new curtains? Wouldn't your living room still look great with the old ones? And do you really have to attend the overdue Tupperware party? Would the world go down without your attendance? You would be surprised what you can let go without any serious consequences.
And last but not least write down those few tasks you really want to accomplish on a To-Do List. Set clear dates and make sure that you stick to your goals. For me, tackling one big thing a day has proved to be much more effective than several little tasks spread over the day. If you want to dig deeper into the simple truth behind extraordinary results, there is a great book

 

I can highly recommend: => 1Thing by Gary Keller (Affiliate Link!)When you write things down, you aren't forced to remember them. That's another ball you can drop. With this kind of simple strategy, you will be rewarded with a peace of mind. The satisfaction over the achievement will dominate the uncomfortable feeling of always being behind on your own resolutions. Above all, you create free space for new thoughts. The fewer "old balls" you are juggling, the higher you can throw the balls. And hitting the jackpot is only possible if you make up your mind about the most important tasks instead of the most urgent tasks. Your ideas may be bold and your visions grand. These are the balls you should keep an eye on.
How to increase productivity in your household
Quotes about procrastination might not be enough when you want to become more productive in your household. I have put together a simple approach to get rid of the chaos in your kitchen one step at a time: