Is there a certain key to happiness we can all learn from? If you define happiness as the experience of positive emotions, then the answer is a bold "yes". It is a life skill you can develop and in this blog post, I'll show you some simple strategies on how to do it.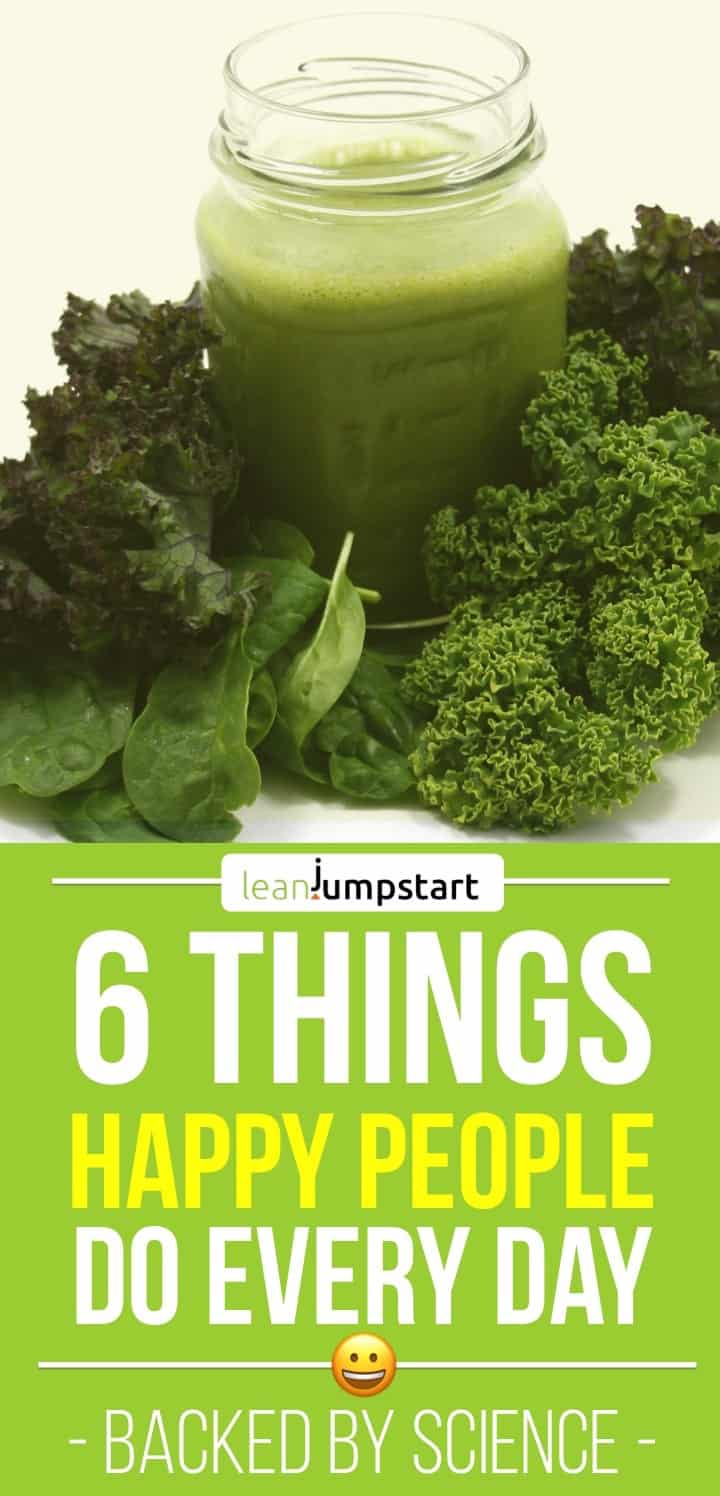 When it comes to habits to improve health, manage weight and feel great, I'm your crash-test dummy.
Dependent on the group of interest, many theories are discussed controversially. As a result I've concentrated my findings on only 6 aspects. Those where research into the nature of human happiness agrees on every level.
I promise you, reading these findings alone will raise your inner bliss.
Happiness vs. health (which comes first?)
For many people, authentic happiness is a valuable life goal and a huge catalyst to pursue and achieve other goals in life. In fact, happy people tend to function better, they are more productive, they are healthier and research suggests they even live longer.
"Happiness is the highest form of health" – Dalia Lama
Happiness is both the precursor to health and the result of it. We need a lot of it to stay healthy. But health is also the foundation to experience positive emotions in life.
Although being happy isn't something you can achieve indefinitely, you can still work on a happy lifestyle every day, or as Eleanor Roosevelt says: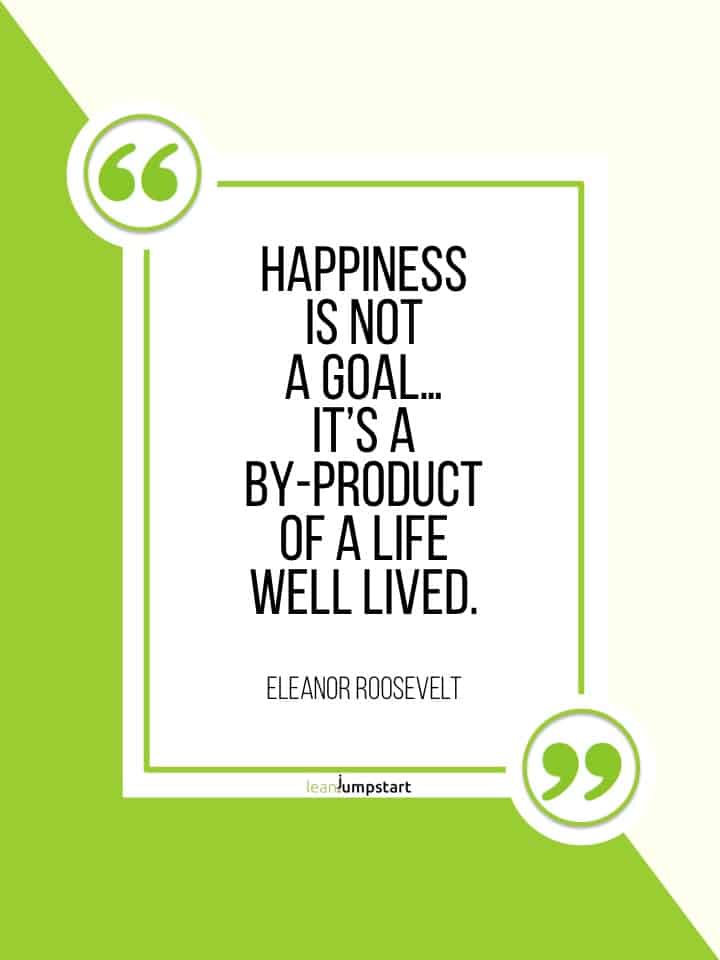 "Happiness is not a goal…it's a by-product of a life well lived." 
40% is determined by your own activities
Research psychologist Dr. Sonja Lyubomirsky found that:
50% of our happiness is determined by our genes,
10% by circumstances, and
a whopping 40% by our intentional activity.
In her famous book "The How of Happiness" she argues:
"Thus, the key to happiness lies not in changing our genetics and not in changing our circumstances, but in our daily intentional activities."
Isn't it relieving to know that you can actively shape 40% of your well-being by your actions and effort? To cite Dalai Lama again:
"Happiness is not something ready-made. It comes from your own actions."
So, how do you do it?
How to find it?
A promising approach is to start by focusing on things science knows happy people do every day and create your personal blueprint. In this article, I'll dig deep into the attitudes, habits and thought patterns of happy people backed by science.
Even if you think that you can't do all those things, here is the great news… Happiness and learning are very closely linked in our minds. The simple learning about everyday behaviors, life attitudes and the scientific principles that predict happiness can increase your positive emotions.
How cool is that?
Of course there is no recipe with a 100% success guarantee. Yet we can change certain things in our daily life and learn the most effective habits for more satisfaction, serenity und happy moments.
Let's put Benjamin Franklin's comment on the American Constitution into practice: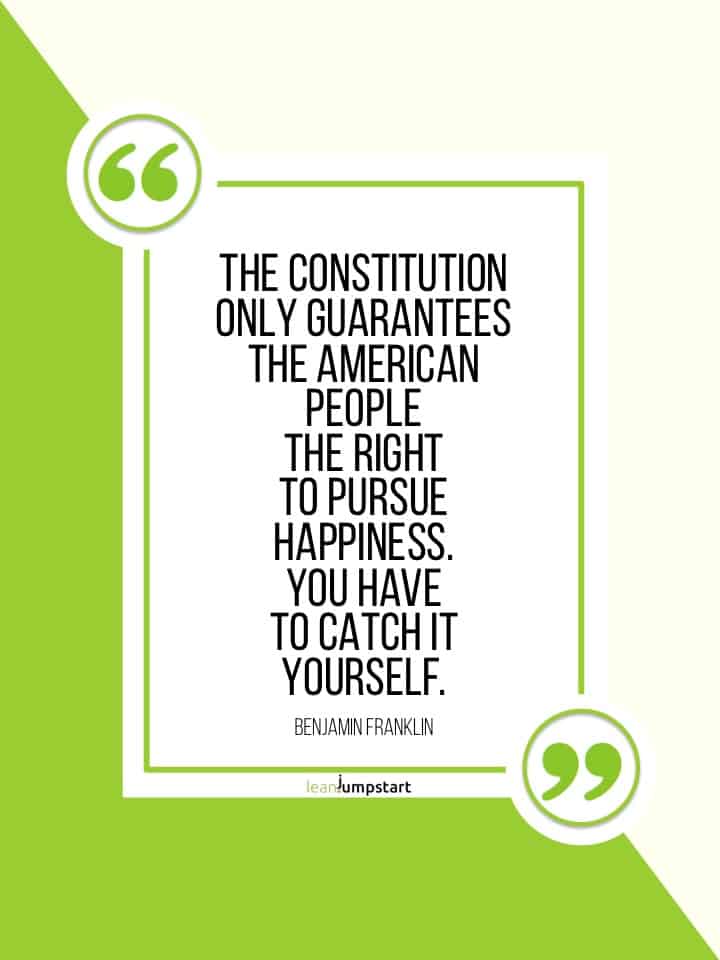 "The Constitution only guarantees the American people the right to pursue happiness. You have to catch it yourself."
6 things happy people do every day 
1. Nurture exceptional relationships
Happy people cultivate friendships and relationships and there is good reason for doing so.
Known as "Dr. Happiness", Ed Diener studied some of the happiest people and found without exception, that all of them have close, supportive families or friends. Some studies go so far as to call good social relationships a "necessary condition for a happy life!".
A strong network of family, friends and other persons that are really important to you are the key to authentic happiness and satisfaction in your daily life. Close social boundaries like a good talk to your best friend (especially if it's a happy friend) are natural mood boosters.
Most noteworthy, it's not important to have many friends on Facebook or on other social networks. Much more crucial is the quality of the few close relationships you have with the 3-4 most important people in your life.
A supportive relationship, like e.g. a marriage, is among life's greatest joys. According to A.M. Greeley in his book "Faithful attraction" 3 out of 4 people say that their spouse is their best friend.
A quality relationship is characterized by:
mutual support and understanding,
precious moments or fun shared together,
giving and taking,
trust and backing up.
Chatter, meaningless conversations and small talk on the other hand breed unfulfilling relationships. Try asking real questions and give real, unscripted answers.
Therefore, nurturing the relationships you have with the most important people in your life is the most fundamental of all love and happiness principles.
 2. Express gratitude
Happy people work on a positive mindset. They stay grateful for those little things that happen each and every day and don't take them for granted.
When was the last time that you were really grateful for something? Family, friends, love, health, job or a hobby that enriches your life might come easily into your mind.
Don't forget about routine things. Most of us experience so many little things daily we can be grateful for. Examples are a good night's sleep, a healthy meal spent with your loved ones, a roof over your head, sunset through the clouds, etc.
If you are mindful and sharpen your awareness for your blessings, you will automatically recognize more of it over time, and the magic happens…Naomi Williams puts it in a nutshell with her inspirational quote:
It is impossible to feel grateful and depressed in the same moment. -Naomi Williams
Click through for more uplifting picture quotes!
Numerous studies show that it is beneficial to focus on positive things in life and to consciously generate gratitude thoughts and feelings. In other words, our thoughts influence our emotions.
Robert Emmons (2003) from the University of California and Michael McCullough from the University of Miami showed in a study, the major benefits of counting blessings. This effective habit increases not only your well-being and optimism, but also facilitates coping with stress and adversity. For that matter, it's already enough to write down 5 things you are grateful for each week.
3. Make physical exercise a weekly or daily habit
Another thing most happy people have in common is that they believe and reap the health benefits of physical exercise.
Any discussion about happiness revolves a lot around the brain chemicals Serotonin, Dopamine, Norepinephrin and Endorphin. All those chemicals are necessary for feelings of pleasure. The things that are best in improving your brain chemistry involve physical activity, which is backed by a multitude of studies (1).
One of the most influential medical reviews of its kind in the world is the Cochrane Review. A meta-analysis of 39 studies found that exercise led to large positive effects in mood elevation when compared to either controls or no treatment.
Moderate intensity activity and aerobic training are probably one of the best releases of dopamine, especially if you do it in novel ways. In addition, regular exercise can help to level out your body's stress hormones, such as adrenaline.
Are you exercising regularly? If yes, then you know the mood boosting effect and I don't need to convince you. Keep on moving!
However, if you are athletically challenged, I recommend taking this strategy to heart. In case you are a "couch potato", I have good news for you.
A short session of maximum 20 minutes is enough to reap the positive health benefits. Gretchen Reynolds has described this effect in her book "First 20 Minutes".
And the best thing about it is that even short, intense training sessions of 1-2 times per week can enormously increase your contentment and well-being.
One week has 168 hours, now it's up to you. Do you think you could invest 1 hour per week to improve the quality of the remaining 167 hours of the week? Why not start right now with a brisk 20-minute walk around the neighborhood?
4.  Increase flow experiences
Happy people know how to get into the "Flow" and they make activities that engage them fully, an important part of their life.
A pioneer of the "Flow" Theory is the psychologist Mihaly Csikszentmihaly. For decades he explored people, who were doing something demanding for no good reason, (no status, no money) but just because they liked to do it. What motivated these people were not something that came from outside, but it came from the activity itself (intrinsic motivation).
His numerous publications and famous book "Flow – The psychology of optimal experience"  have had a strong influence on positive psychology as science.
He describes "Flow" as a state in which we are totally immersed in and concentrating on what we are doing. It is a synergy of different aspects of consciousness, where we wish it could go forever and don't realize how time goes by. We are deeply involved in a joyful activity that is challenging, but well suited to our skills.
Flow can happen almost anywhere, during our personal time, with our family, it can even happen with our job. Many types of activities can produce the flow experience, i.e., playing an instrument, sports, painting, gardening or teaching.
People have the feeling of control and nothing else matters. They forget their problems, they forget about themselves, so that the kind of EGO that we are aware of in everyday life disappears.
The research is clear. People who are experiencing flow on a regular basis are happier than those who aren't.
In conclusion, do more of what gets you in the flow. By the way, to feel happy you don't necessarily have to be cheerful. The high spirits that you are experiencing with flow is a deep, inner sent feeling. It is a long-term happiness that comes with a satisfaction with your own life or life in general.
5. Get enough sleep is a crucial 
Happy people make a good night's sleep priority because it helps them feel great.
It's obvious, I know, but I still can't say enough about the importance of sleep to improve your well-being, self-control and focus. I wrote about how to get sleep in the context of effective weight management some years ago. But getting enough sleep is also an important factor for your peace of mind.
A recent survey of 2,000 people by mattress company Amerisleep found that "perfectly happy" people get 7.1 hours of sleep per night. This is another study that supports the often recommended 7-8 hours sleep duration.
Of course there is also a ton of research supporting the pure health benefits of sufficient sleep. In the following, I'll point out just three of them.
3 health benefits of sleep
Do you know on the days when you feel lousy or react aggressively on almost everything, there is a reason? The cause for this is often bad sleep or sleep deprivation. The brain part that is processing positive emotions suffers more from sleep deprivation than the part for negative emotions. In consequence, we are more vulnerable for bad news and negative thoughts after a sleepless night.
Furthermore sleep deprivation increases stress hormone levels on its own, even without a stressor present. On the other hand, if you are going to bed when you are stressed, a good night's sleep is a great stress reliever. You wake up relaxed, clear-headed and your brain is ready for new adventures. The reason: During the night, your brain processes what it has experienced and learned across the day preparing you perfectly for the new day to come.
With a good night's rest, we also wake up healthier. While we sleep, our body and brain are in a stand-by-modus. We are not conscious and our muscles barely move. Our body uses the remaining energy for other things like the nightly maintenance of our immune system. Our body literally recharges itself while we are sleeping.
Perhaps you remember times when you went to bed a bit groggy only to wake up healthy again the next morning. Isn't this fantastic?
6. Eat more fruits and vegetables
Scientific evidence suggests that happy people eat more fruits and vegetables.
We all know the proverb "an apple a day keeps the doctor away". And also none would deny that fruits and vegetables are an important part of a healthy diet. But, can eating fruits and vegetables really also improve our moods?
Studies (2) (3) (4) show that the more fruits and vegetables you eat, the happier you will be. A recent study published in the American Journal of Public Health, found that participants who increased their fruit and vegetable consumption to eight servings per day from almost no fruits and veggies previously, experienced a raise in happiness equivalent to that of finding a new job.
While science doesn't know yet how fruits and vegetables make you happier, it could be linked to the nutrients they contain like B vitamins and Serotonin production.
An effective way to lift especially your vegetable consumption is to drink green smoothies and eat a raw vegetable salad on a daily basis.
In my 52 Chef Habits Ecourse you can learn how to create sustainable clean eating habits to boost your happiness levels without investing hours in your kitchen. Most of my easy clean eating recipes in the Ecourse are largely based on plant foods.
Click here to learn more about the 52 Chef Habits Course!
How are you feeling now?
For me, researching in the field of positive psychology and creating this blog post clearly improved my mood:) I hope that reading this article will boost your positive emotions in this present moment too.
Cultivating good habits that make you happy will not only improve your life — it may help extend it too. What are you waiting for, start prioritizing your inner bliss now.