Last Updated on October 10, 2020
Our feelings resemble often the tides: they ebb and flow. When the tide is high, every minute is filled with tenderness, laughter, and smiles. But what can you do or say when the tide is low? Those are the times when you might need some inspirational words of wisdom.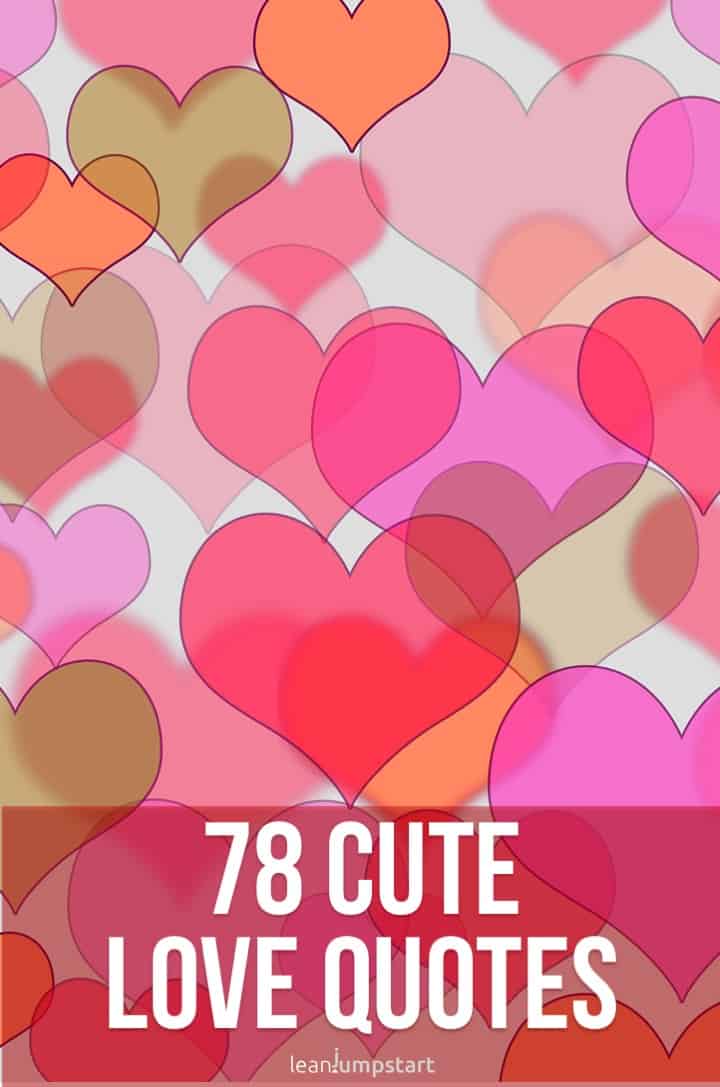 Only recently I have updated this post and hand-picked 78 romantic and cute love quotes for her and him straight from the heart. These nuggets of truth can be positive, beautiful, sweet, happy, deep, heartfelt, funny but also sad or thoughtful. You'll find a suitable phrase for each mood and occasion and they can even help you express your real feelings to your dearest. Do you need some inspirations for Valentine's Day? Get inspired by these sayings and convey your true sentiment in a sweet Valentine's Day quote.
Make sure to read till the end of this blog post where I share a wonderful video with you.
Inspirational love quotes can touch us deeply
There are many forms of affection. The feeling of love makes you happy, and it can be new, exciting, short, passionate, deep, sometimes even painful and unreturned.
Beautiful, thought-provoking sayings about love are something very valuable because they can touch us deeply and speak from the soul. Whether proverbs, letters, or romances – nothing has been written about more frequently than L.O.V.E. Poets, writers and philosophers from the antique have already composed verses and studies with beautiful sayings. Even our ancestors have read romantic poems – short or long, from Goethe to Shakespeare.
The following wise words let us look at life and our feelings from a different angle.
Understanding
This valuable advice comes from "Paul Tillich", one of the most influential theologians of the twentieth century. Listening is an expression of respect for the partner and is one of the most difficult tasks in communication.
If we do not listen properly the partner feels misunderstood, unimportant, rejected, patronized, angry and hurt. And as long as we talk ourselves, we'll learn nothing from him. For this reason alone it is important to know how to listen.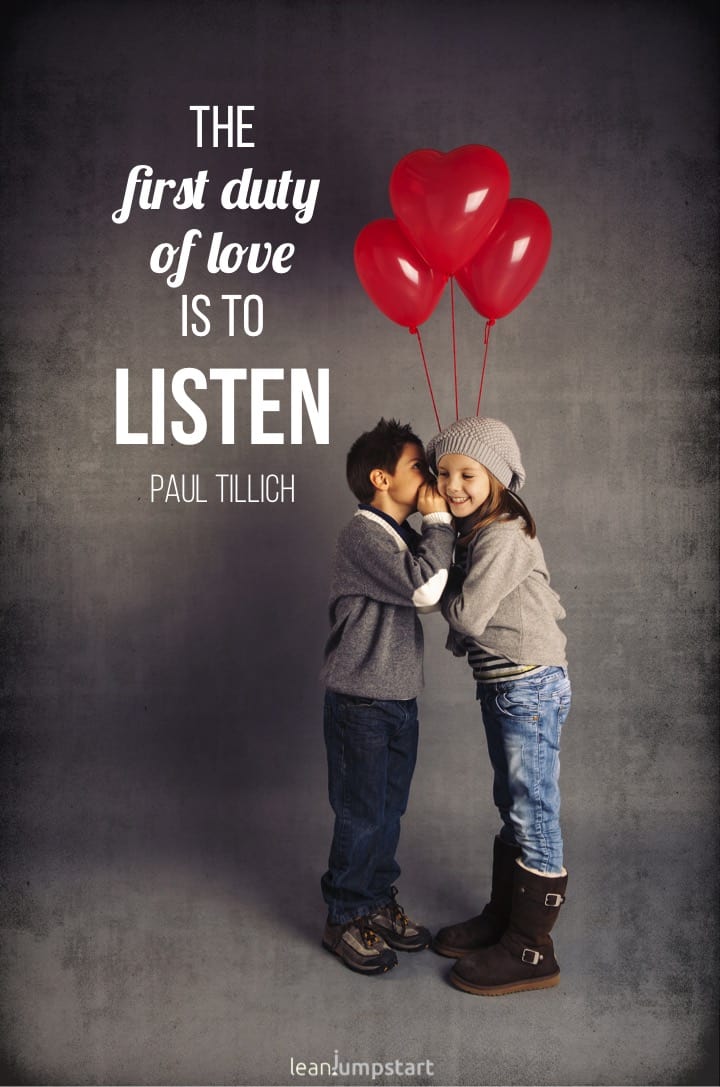 "The first duty of love is to listen."
Paul Tillich
"Everything that I understand, I understand only because I love."
Leo Tolstoy
"What we say is important for in most cases the mouth speaks what the heart is full of."
Jim Beggs
'A man is already halfway in love with any woman who listens to him.' Brendan Francis
Click To Tweet
"Sticks and stones will break our bones, but words will break our hearts."
Robert Fulghum
"The best and most beautiful things in the world cannot be seen or even touched – they must be felt with the heart."
Helen Keller
"Make sure you never, never argue at night. You just lose a good night's sleep, and you can't settle anything until morning anyway."
Rose Kennedy
Small gestures
François was at times a politically active French 17th-century nobleman who, however, went down in history mainly as a poet. He further explains his wise words with…" one is happier in the passion one feels than in the passions one arouses in another. " How true he is!
Obviously, it's not the big, romantic actions, but rather small gestures that determine most whether you feel appreciated or not. For example, when someone shows compassion or cuddles up with you. Perhaps this is due to the fact that actions seem more authentic than words, according to the researchers around Saeideh Heshmati from Pennsylvania State University.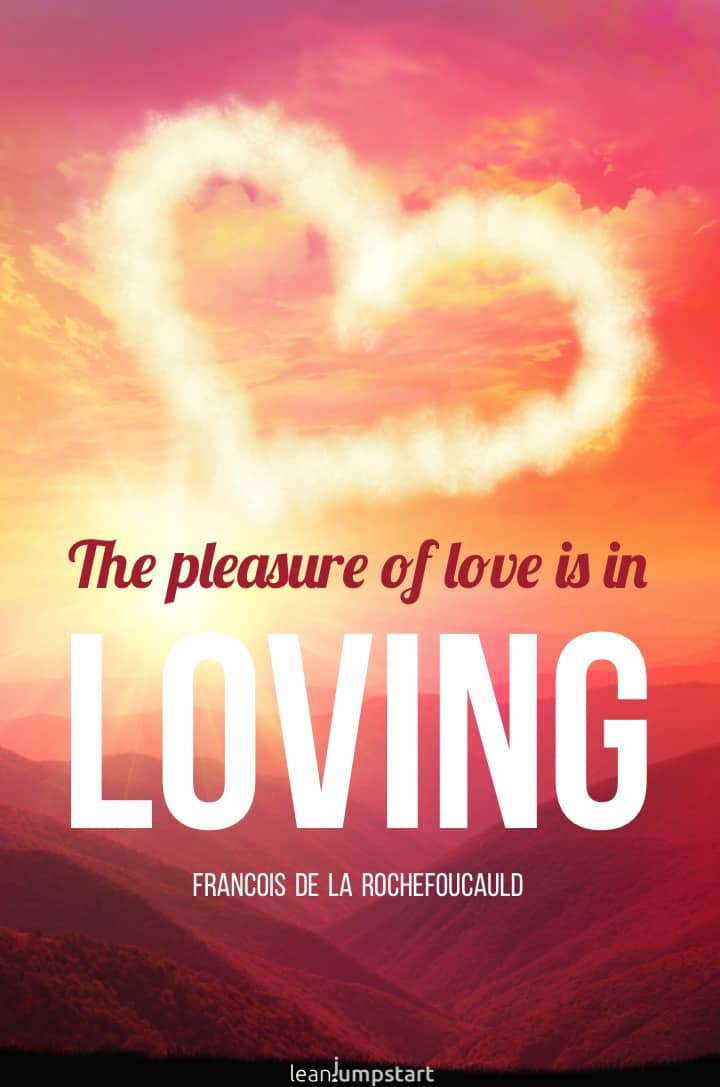 "The pleasure of love is in loving."
François de La Rochefoucauld
"Throw your heart over the fence and the rest will follow."
Norman Vincent Peale
'The only reward for love is the experience of loving.' John LeCarre, The Secret Pilgrim
Click To Tweet
"To love deeply in one direction makes us more loving in all others."
Madame Swetchine
"The most important thing in life is to learn how to give out love, and to let it come in."
Morrie Schwartz
"Being deeply loved by someone gives you strength loving someone deeply gives you courage."
Lao Tzu
Vulnerability
When we allow proximity when we are open and show our feelings, there is always the risk of being hurt. Our partner can hurt us, be unkind, neglect, abandon us or can be taken away by death. If we want to avoid this completely, we can only avoid others – a very high price. Have the courage of falling in love, even if you could get hurt. You can learn to be less vulnerable. You can also learn to forgive and to trust again. Loving makes life worth living and the experience is too precious for you to give it up.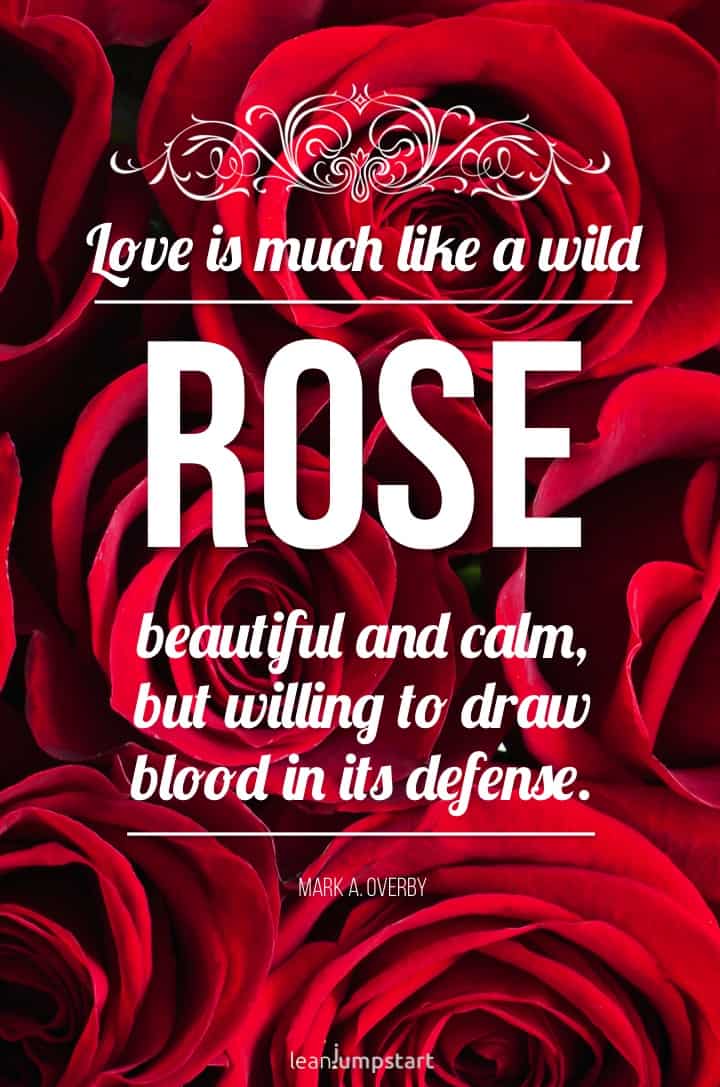 "Love is much like a wild rose beautiful and calm, but willing to draw blood in its defense."
Mark A. Overby
"To love at all is to be vulnerable."
C. S. Lewis
"I think there is a price to being alone, and there is a price to being in a relationship. It all depends on which price you want to pay – but none of them are free."
Lonny Price
"We are afraid to care too much, for fear that the other person does not care at all."
Eleanor Roosevelt
'The road to true love never did run smooth.' Shakespeare
Click To Tweet
"There can be no deep disappointment where there is not deep love."
Martin Luther King, Jr.
"Most people are embarrassed to admit there's another human being that's in control of them, that your heart beats three times as fast because you've given yourself to someone else."
Jerry Lewis
"You think your pains and heartbreaks are unprecedented in the history of the world, but then you read. It was books that taught me that the things that tormented me were the very things that connected me with all the people who were alive, or who have ever been alive."
James Baldwin
Being appreciated without any condition
While learning and knowledge are essential, love gives your life a purpose although it still remains an eternal secret. Often people who are in trouble don't expect a solution from the other but understanding and the feeling of being appreciated without any condition.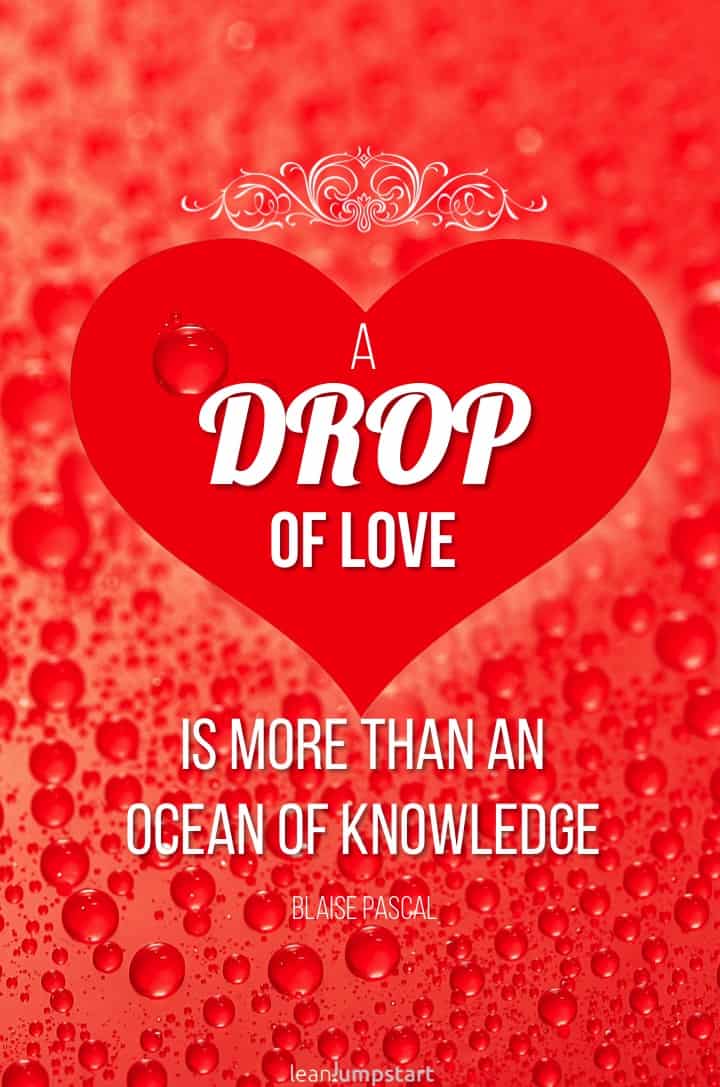 "A drop of love is more than an ocean of knowledge."
Blaise Pascal
"Intellectual passion dries out sensuality."
Leonardo DaVinci
"An ounce of emotion is equal to a ton of facts.
John Junor
'Never let a problem to be solved become more important than a person to be loved.' Barbara Johnson, The Joy Journal
Click To Tweet
"Reason can never be popular. Passions and feelings may become popular, but reason will always remain the sole property of a few eminent individuals."
Johann Wolfgang von Goethe
Related: 77 explore learning quotes and inspirational education sayings
Dream and heaven 
Often just a glimpse of heaven is enough to keep us energized and motivated. It makes us pursuing an ever stronger, ever deeper feeling because we want to get another glimpse.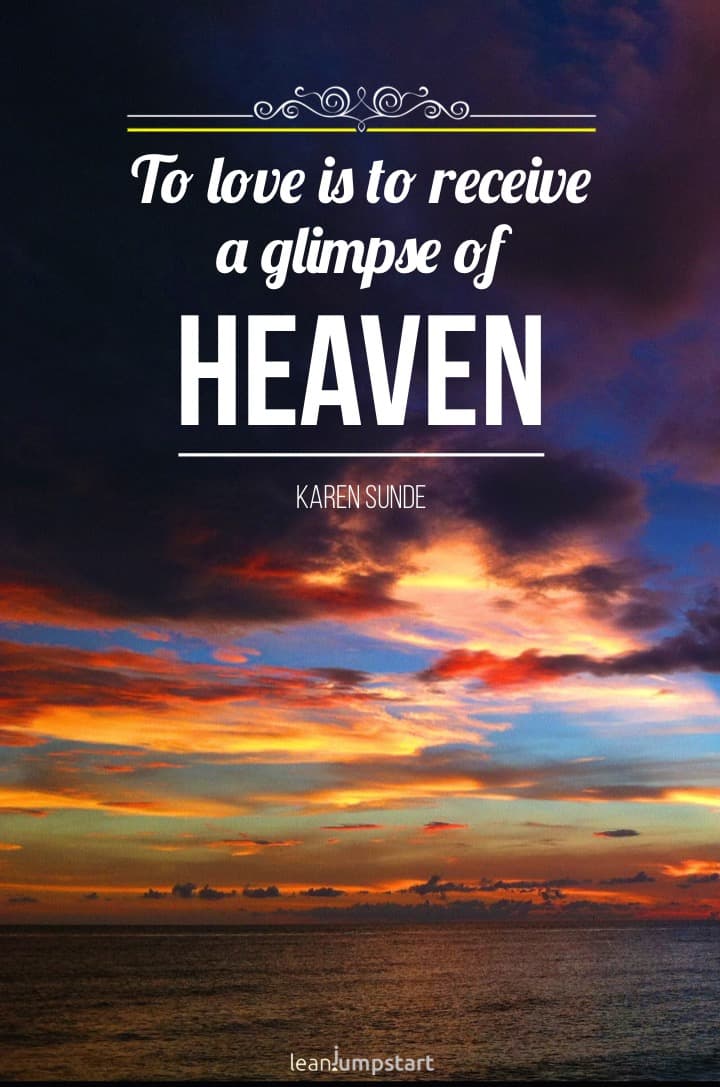 "To love is to receive a glimpse of heaven."
Karen Sunde
"Love is made in heaven and consummated on earth."
John Lyly
"I think we dream so we don't have to be apart so long. If we're in each other's dreams, we can be together all the time. "
Hobbes
'The activity of love and faith is what makes heaven.' Emanuel Swedenborg
Click To Tweet
"You know you're in love when you don't want to fall asleep because the reality is finally better than your dreams."
Dr. Seuss
"Tell your heart that the fear of suffering is worse than the suffering itself. And no heart has ever suffered when it goes in search of its dream."
Paulo Coelho 
"There are many ways of breaking a heart. Stories were full of hearts broken by love, but what really broke a heart was taking away its dream – whatever that dream might be."
Pearl Buck
Freedom
An old saying by Confucius about letting go and freedom, that contains much wisdom. A reminder that you cannot force anything. And that too much intensity, pressure, jealousy, obsession, and fear can destroy the best relationship.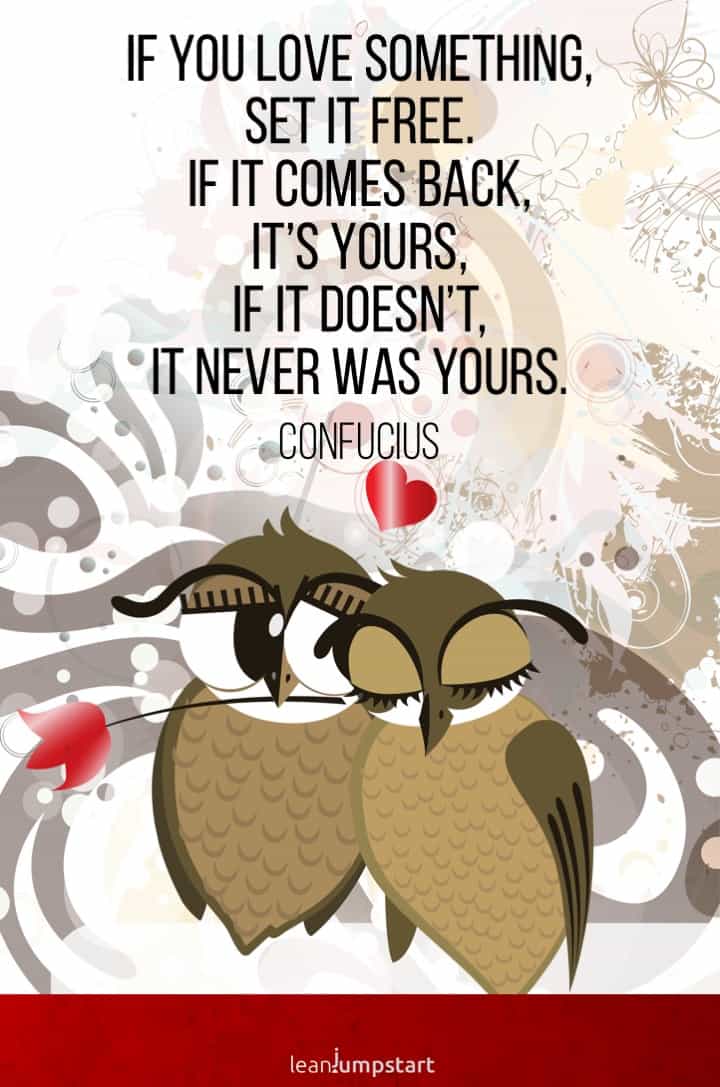 "If you love something, set it free. If it comes back, it's yours, if it doesn't, it never was yours."
Confucius
"Absence diminishes small loves and increases great ones, as the wind blows out the candle and fans the bonfire."
La Rochefoucauld
'Freedom is not worth having if it does not include the freedom to make mistakes.' Mahatma Gandhi
Click To Tweet
"The basic test of freedom is perhaps less in what we are free to do than in what we are free not to do."
Eric Hoffer
"Forgiveness is the key to action and freedom."
Hannah Arendt
Indulge wisely!
Affection doesn't have to be between a man and a woman. It can simply be a reference to things in life that make people happy. This hilarious saying by Charles Schulz comes with a grain of truth. Dark chocolate, for example, can raise serotonin levels in your brain as long as you indulge wisely.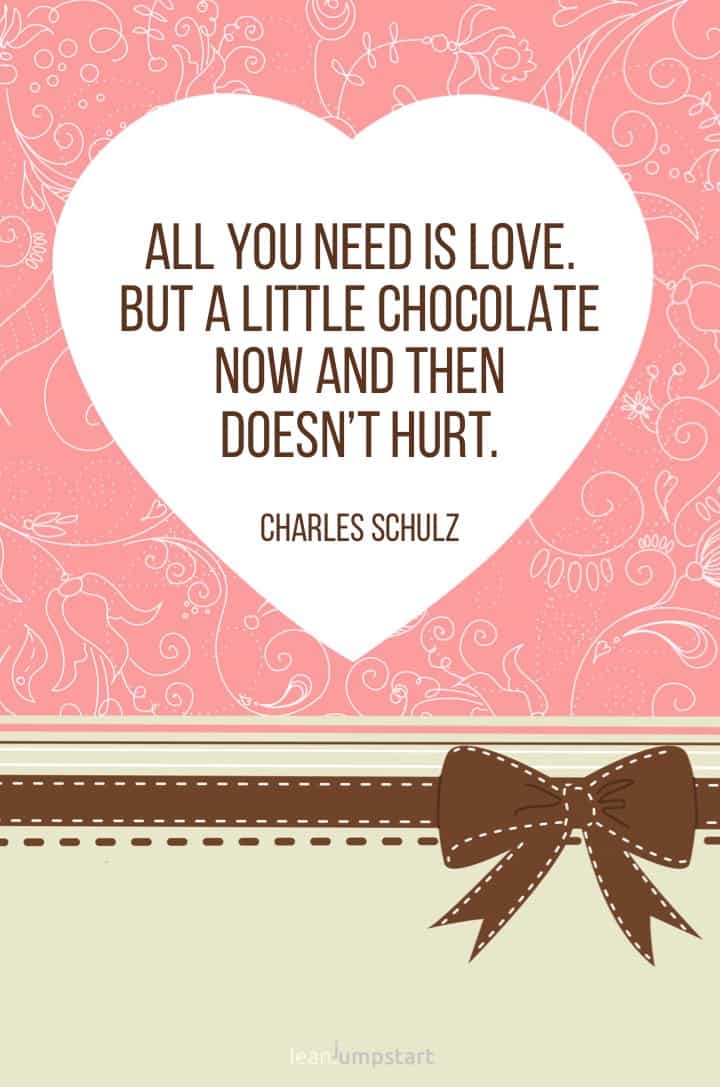 "All you need is love. But a little chocolate now and then doesn't hurt."
Charles Schulz
"Look I eat really well and I work out, but I also indulge when I want to. I don't starve myself in an extremist way. You're not taking away my coffee or my dairy or my glass of wine because I'd be devastated."
Jennifer Aniston
'Before we set our hearts too much upon anything, let us examine how happy those are who already possess it.' Francois de La Rochefoucauld
Click To Tweet
"I still indulge in a glass of wine or chocolate – treats are mandatory. Without deviating from the day-to-day healthy diet once in a while, it wouldn't be sustainable for me, and that's what I wanted: an approach to eating to last my entire life."
Alanis Morissette
One body two souls
This quote is all about the feeling of completeness and wholeness that is said to be there once you find your soul-mate. In a nutshell, it means that a pair of people can shape each-other into one complete being.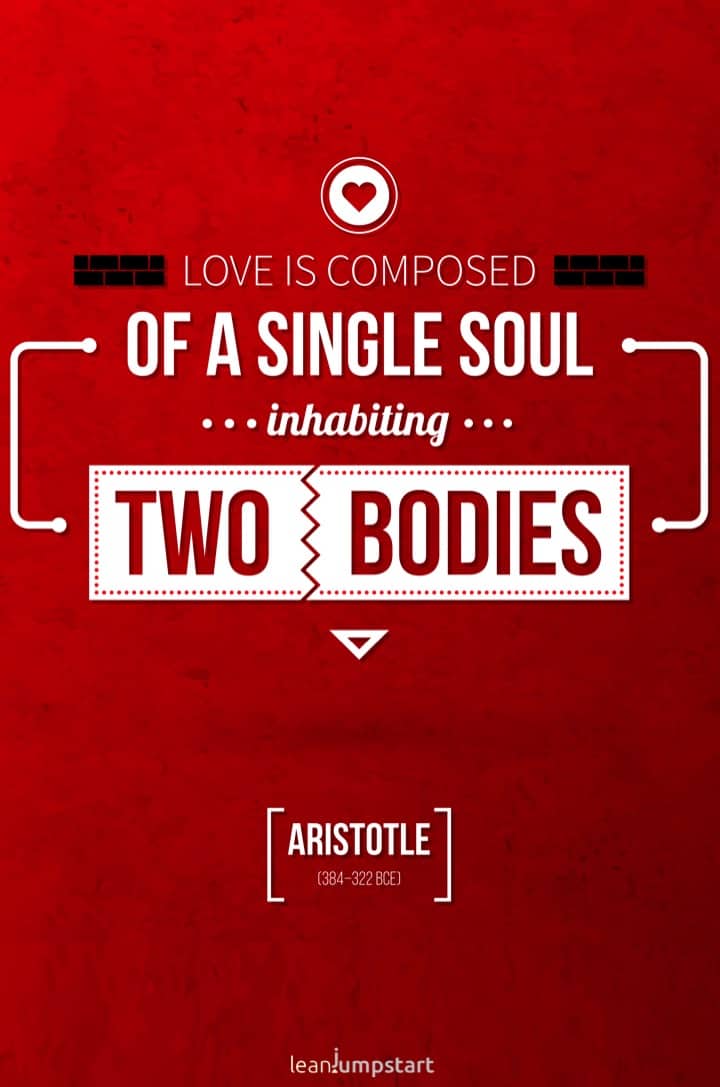 "Love is composed of a single soul inhabiting two bodies."
Aristotle
"Friendship is one mind in two bodies."
Mencius
"When I look into your eyes, I know I have found the mirror of my soul."
Joey W. Hill
"What is a friend? A single soul dwelling in two bodies."
Aristotle, from Diogenes Laertius, Lives of Eminent Philosophers
Further Reading: 130 deep friendship and best friends quotes
Self-knowledge
Herman Hesse is one of my favorite German authors. In his books, he explores an individual's search for authenticity, spirituality, and self-knowledge. The statement is from his book "Narziß and Goldmund" and underlines the positive influence of the counterpart on reaching the highest level of self-development.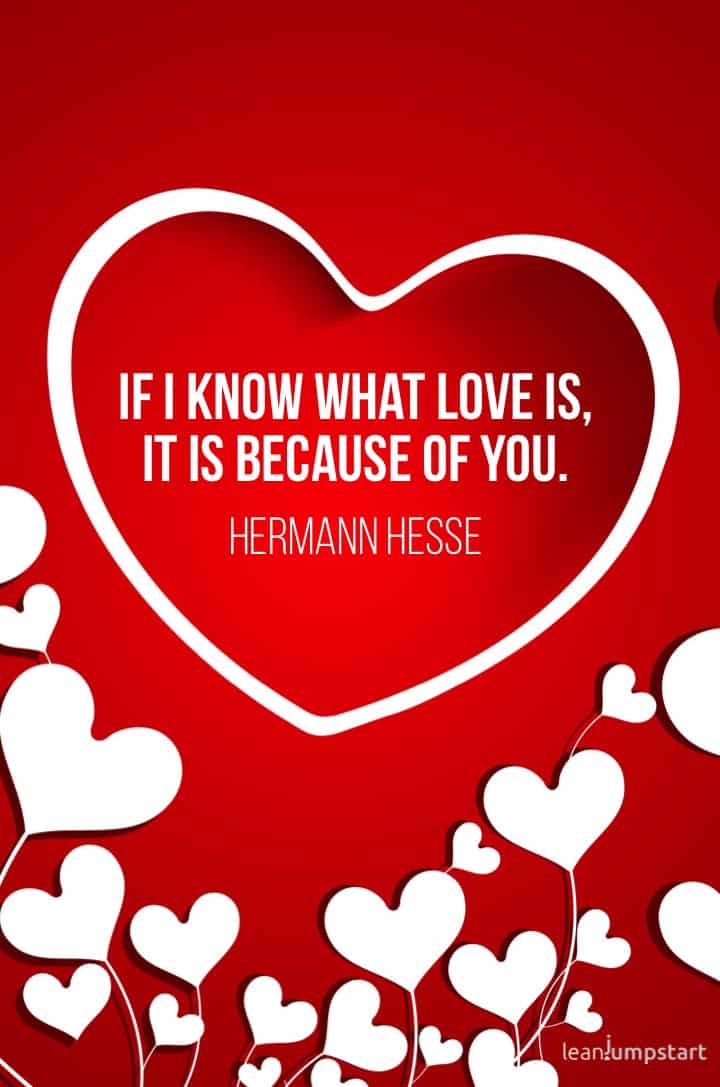 "If I know what love is, it is because of you."
Herman Hesse
"No one is truly literate who cannot read his own heart."
Eric Hoffer
"I want you. All of you. Your flaws. Your mistakes. Your imperfections. I want you, and only you."
Unknown
"Our sweetest experiences of affection are meant to point us to that realm which is the real and endless home of the heart."
Henry Ward Beecher
"If you live to be a hundred, I want to live to be a hundred minus one day, so I never have to live without you."
Joan Powers
"When you realize you want to spend the rest of your life with somebody, you want the rest of your life to start as soon as possible." 
When Harry Met Sally
Happiness
We all have our needs and aspirations. In the pursuit of happiness, proper love is a selfless feeling, as the happiness of another is necessary for your own wellbeing.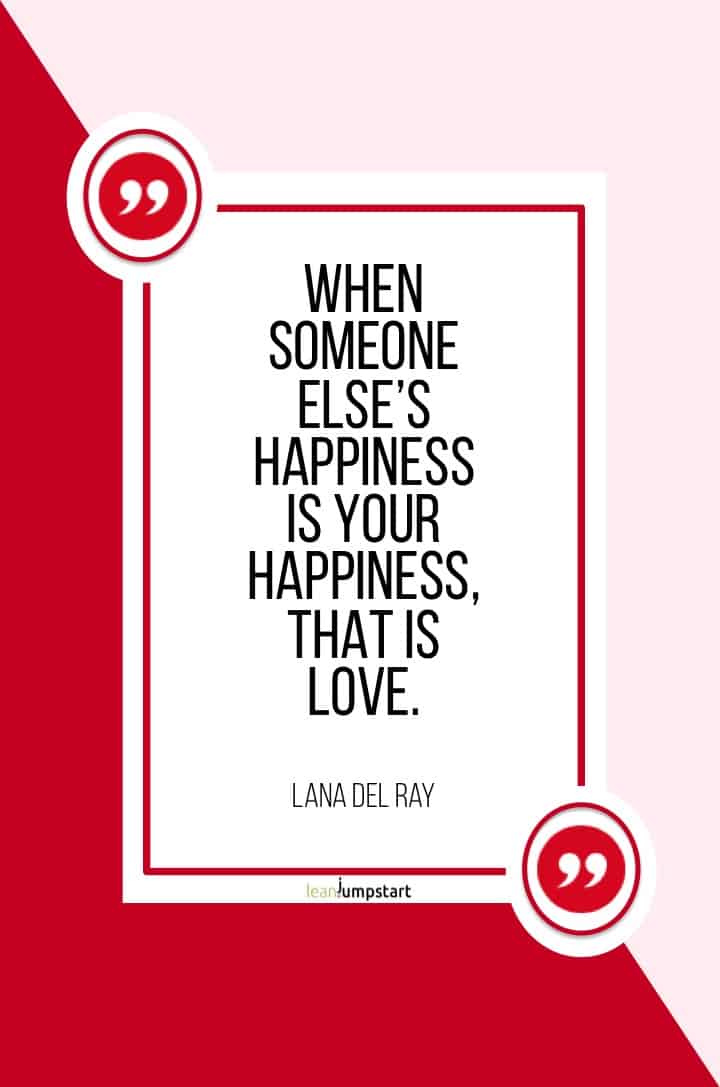 "When someone else's happiness is your happiness, that is love."
Lana del Ray
"The supreme happiness of life is the conviction that we are loved."
Victor Hugo
"I wish I had done everything on Earth with you."
The Great Gatsby
"In order to be happy oneself it is necessary to make at least one other person happy."
Theodor Reik
"I would rather spend one lifetime with you, than face all the ages of this world alone." J.R.R. Tolkien
Click To Tweet
"When you wake up each morning, you can choose to be happy or choose to be sad. Unless some terrible catastrophe has occurred the night before, it is pretty much up to you. Tomorrow morning, when the sun shines through your window, choose to make it a happy day."
Lynda Resnick
'I know of no greater happiness than to be with you all the time, without interruption, without end.'Franz Kafka
Click To Tweet
"You know it's love when all you want is that person to be happy, even if you're not part of their happiness."
Julia Roberts 
"Affection is responsible for nine-tenths of whatever solid and durable happiness there is in our lives."
S. Lewis
"It is essential to know that to be a happy person, a happy family, a happy society, it is very crucial to have a good heart, that is very crucial. World peace must develop from inner peace. Peace is not just the absence of violence but the manifestation of human compassion."
Dalai Lama, (in exile) Associated Press, 5/14/01
Related: 100 happy quotes about the meaning of true happiness
The world
Bill Wilson's words remind us how much the little actions of one person can make a big difference to someone else. So next time your partner or friend is feeling down, come up with something special for her or him. It may change their perspective and mean the "world" to them.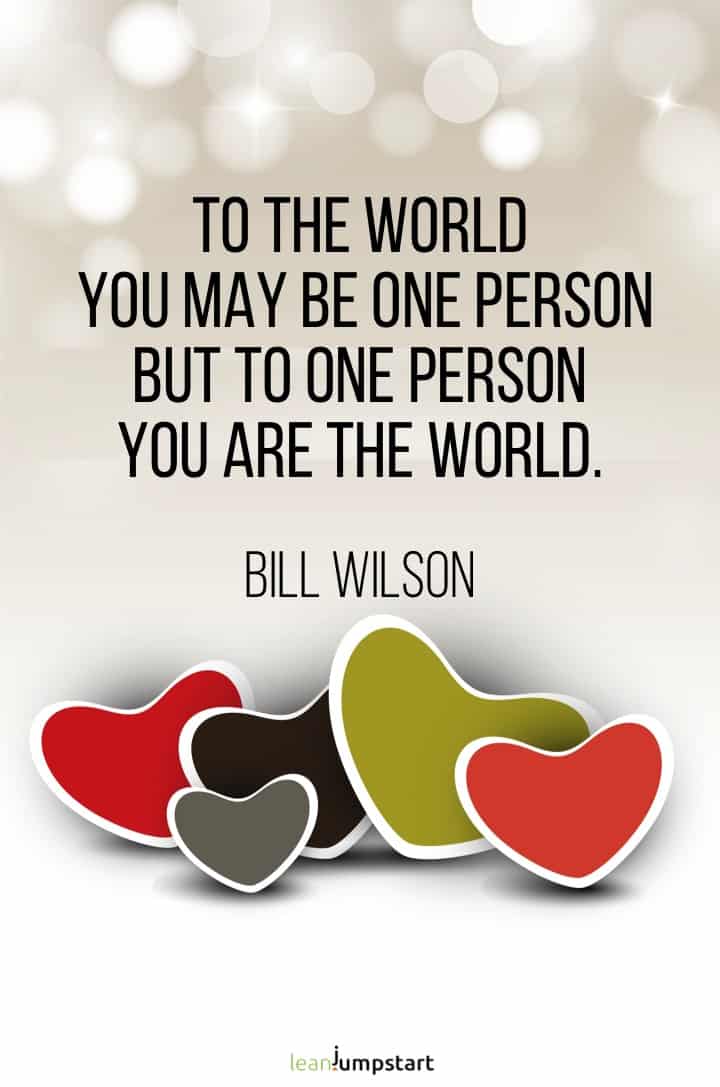 "To the world, you may be one person but to one person you are the world."
Bill Wilson
"If I had a flower for every time I thought of you, I could walk in my garden forever."
Alfred Tennyson
'Life in abundance comes only through great love.' Elbert Hubbard
Click To Tweet
"The best and most beautiful things in the world cannot be seen or even touched – they must be felt with the heart."
Helen Keller
Imagination and creativity
Did you know that Plato was the teacher to Aristoteles and the student of Socrates? How true this Greek philosopher was already over 2,400 years ago. Love brings out, emotions, heartbeat, words, colors, music, that we hadn't yet experienced or thought of before. We see beauty in its true form.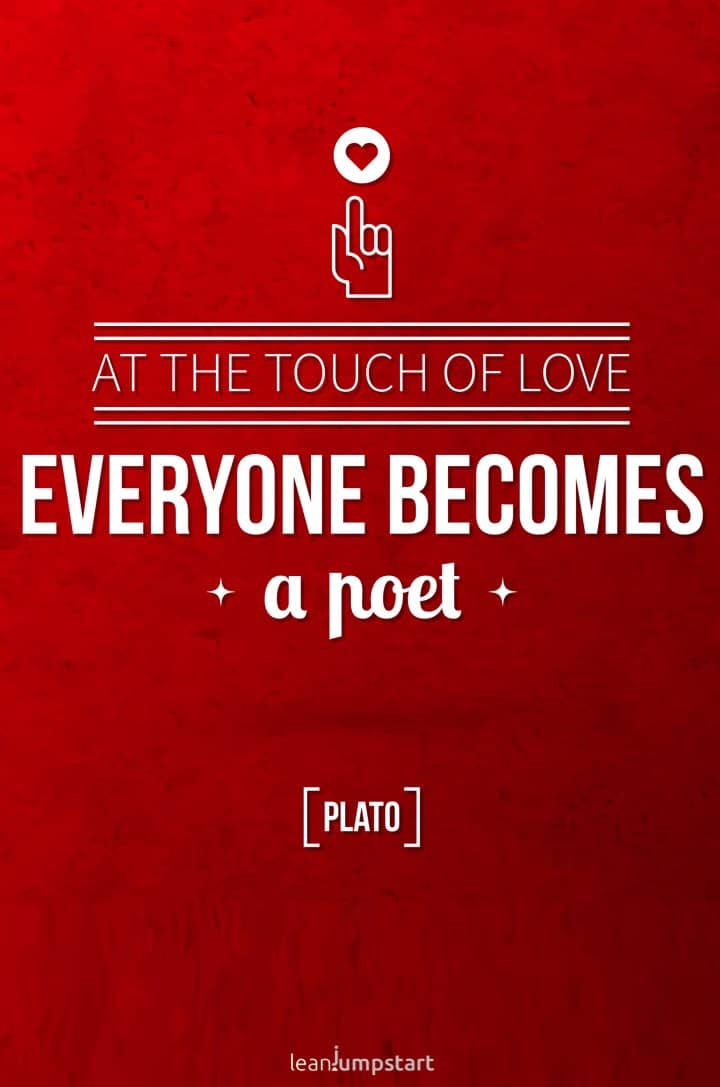 "At a touch of love, everyone becomes a poet."
Plato
Love is the triumph of imagination over intelligence.
H. L. Mencken
Poetry is the spontaneous overflow of powerful feelings.
William Wordsworth
Love inspires, illuminates, designates and leads the way.
Mary Baker Eddy, Science, and Health with Key to the Scriptures
Love and magic have a great deal in common. They enrich the soul, delight the heart. And they both take practice.
Nora Roberts
Smiling and laughing
Quotes about smiling or laughing help you to remember the funniest moments you've spent with your better half. Because a good relationship cannot exist for too long if there is no humor, fun, and amusement in it.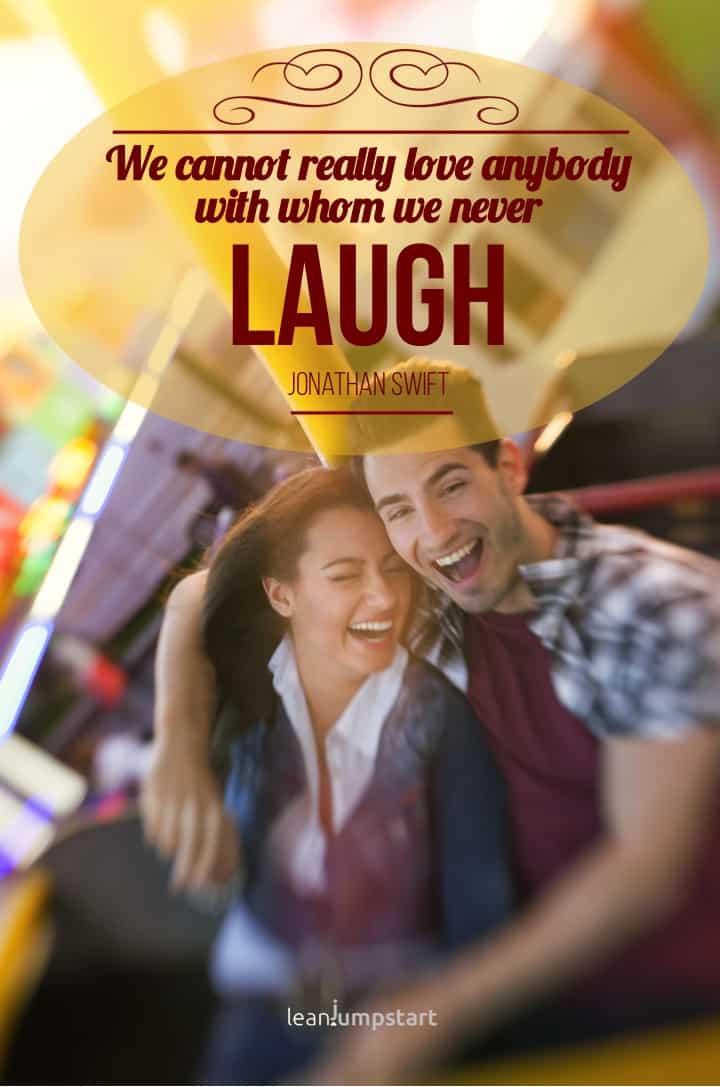 "We cannot really love anybody with whom we never laugh."
Jonathan Swift
"I have witnessed the softening of the hardest of hearts by a simple smile."
Goldie Hawn

"I think there is nothing sexier than laughter lines." 
Isla Fisher

'Laughter is the shortest distance between two people.' Yakov Smirnoff
Click To Tweet
"Among those whom I like or admire, I can find no common denominator, but among those whom I love, I can: all of them make me laugh."
W. H. Auden
"And in the sweetness of friendship let there be laughter and the sharing of pleasures. For in the dew of little things the heart finds its morning and is refreshed."
Kahlil Gibran, The Prophet
Kissing
Kisses are the balm for a relationship. Couples who repeatedly express their affection, by kissing, for example, are usually more satisfied. Because kissing means affection, trust, and attention. A couple who cultivate such proximity supports the sense of belonging. And that, in turn, gives both partners security and happiness.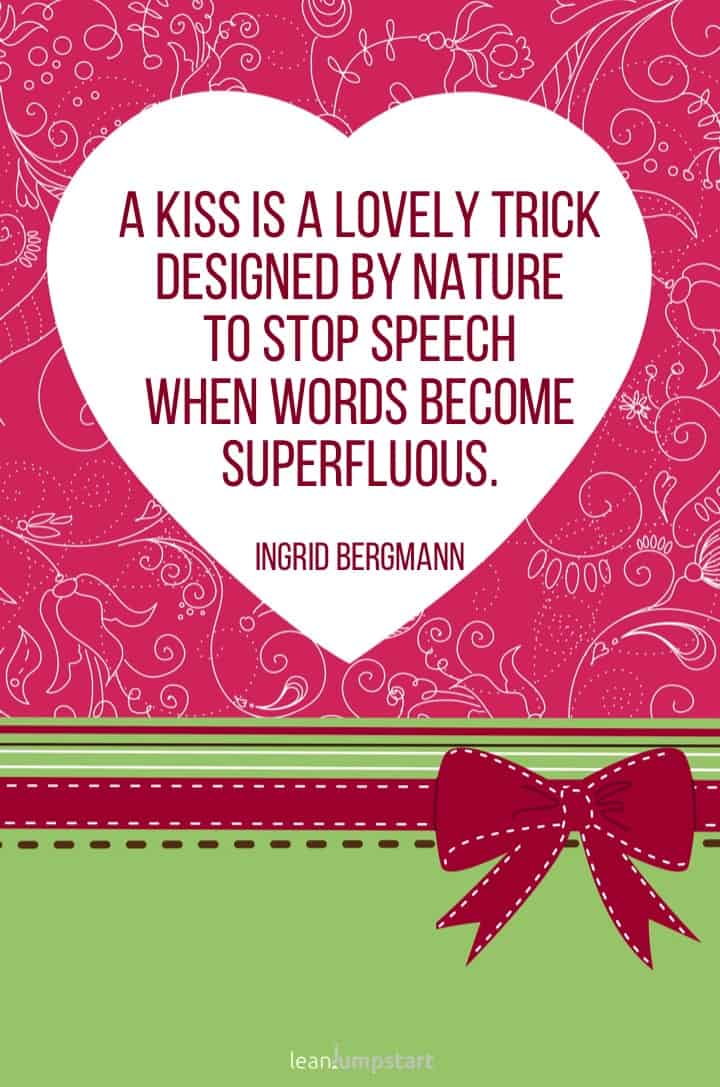 "A kiss is a lovely trick designed by nature to stop speech when words become superfluous."
Ingrid Bergmann
"Life is short. Forgive quickly. Kiss slowly."
Robert Doisneau
"A compliment is like a kiss through a veil."
Victor Hugo
'A kiss can be a comma, a question mark or an exclamation point. That's basic spelling that every woman ought to know.' Mistinguett
Click To Tweet
"As I open my eyes each day, all I want to see is you. Good morning, my dear, I sent you hugs and kisses in my thoughts."
Unknown
"If you are ever in doubt as to whether or not you should kiss a pretty girl, give her the benefit of the doubt."
Thomas Carlyle
It shapes you for the better
A good relationship with others is linked to better health, according to many studies. Researchers believe that close relationships can also influence our habits. A special role is assigned to our partner, who can help us, for example, to do more exercise or to give up bad habits. Both the relationship status and the quality of a relationship are strong predictors whether someone will reach an advanced age.

This following romantic phrase is part of a popular wedding reading by Roy Croft. It's a beautiful celebration of the partnership, of how being with someone you love can only shape you for the better.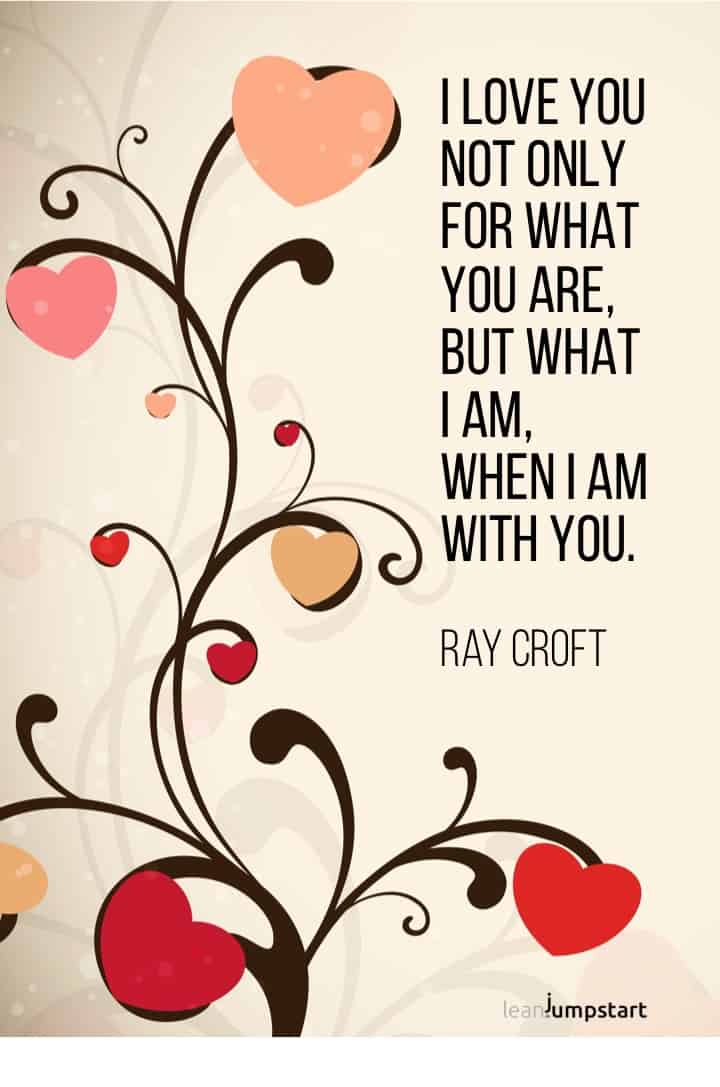 "I love you not only for what you are but what I am when I am with you."
Ray Croft
"We are shaped and fashioned by what we love."
Johann von Goethe
"You make me want to be a better man."
Melvin Udall (As Good As It Gets)
"Love is but the discovery of ourselves in others, and the delight in the recognition."
Alexander Smith
Craziness
Another profound thought from Plato, one of the founding fathers of what we know as Western philosophy.
"The madness of love is the greatest of heaven's blessings."
Plato
"The gods never let us love and be wise at the same time."
Publilius Syrus
"Your intellect may be confused, but your emotions will never lie to you."
Roger
"The heart has its reasons which reason knows nothing of."
Blaise Pascal
"Love never dies of starvation, but often of indigestion."
Ninon de L'Enclos
'Anyone can be passionate, but it takes real lovers to be silly.' Rose Dorothy Franken
Click To Tweet
"Love is like an hourglass, with the heart filling up as the brain empties."
Jules Renard
"A woman will allow herself to be clouded by her emotions. Her reasonable thought becomes completely unreasonable over the most ridiculous thing. It's a girl thing."
Lea DeLaria
Self -Development
You don't have to do anything but be enough for yourself. When you are completely at peace with yourself, you are no longer dependent on others. Your feelings will be of a totally different quality because you can suddenly give and no longer have to take.
"True love allows each person to follow his or her own path, aware that doing so can never drive them apart."
Paul Coelho
"He who reigns within himself and rules his passions, desires, and fears is more than a King."
John Milton
"Real love is a permanently self-enlarging experience."
M Scott Peck
"Love yourself first and everything else falls into line."
Lucille Ball
"To love oneself is the beginning of a lifelong romance."
Oscar Wilde
'We must be our own before we can be another's.' Ralph Waldo Emerson
Click To Tweet
"Just be you and wait for the people who want that."
Naval Ravikant
"Everyone should carefully observe which way his heart draws him, and then choose that way with all his strength."
Hasidic Saying
"Life has taught us that love does not consist in gazing at each other, but in looking outward together in the same direction."
Antoine de Saint-Exupery
Other uplifting quotations you might enjoy: 57 best self-love and self-acceptance quotes
Passion
Passion survives brief enthusiasm; it lets our eyes sparkle when we talk about our ideas or achievements and passion inspires people who see and hear it. Often passion is the crucial factor whether we are heading towards success or failure…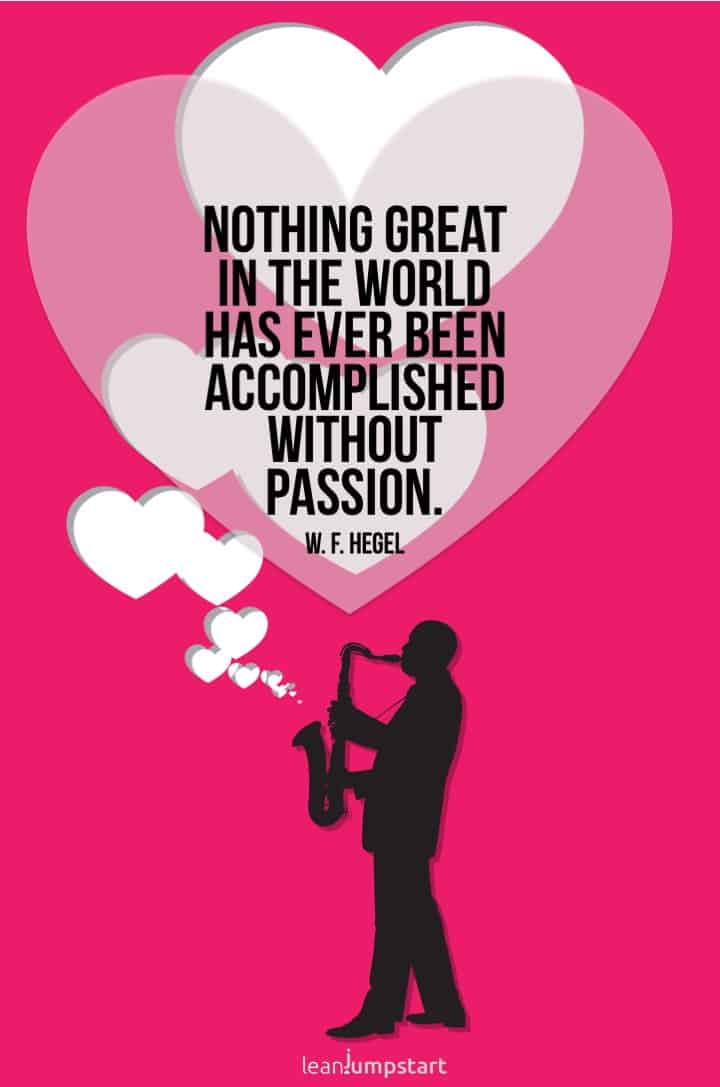 "Nothing great in the world has ever been accomplished without passion."
W. F. Hegel
"Passion is the thing that won't let you sleep at night because you want to get up in the morning and go do your thing."
Chris Gardner
Sure, I can get a little bit jealous. The good part about jealousy is that it comes from passion. It's also the dangerous part and it's an ugly emotion that hurts.
Matthew McConaughey
'All humanity is a passion; without passion, religion, history, novels, art would be ineffectual.' Honore De Balzac
Click To Tweet
"Passion is energy. Feel the power that comes from focusing on what excites you."
Oprah Winfrey 
Click through to learn what a personal motto in life can do for your passion, goals, and purpose.
Inspiring gift book
Are you finding it hard to find the right words to express your feelings? Do you wish you could learn how to respect yourself every day or to feel affection in all circumstances? Are you looking for a perfect Anniversary or Valentine's gift for that special someone?
Then Inspirational Picture Quotes about Love is the gift for you. Filled with encouraging and romantic love quotes from people throughout history like Leo Buscaglia, Mother Teresa, Ann Landers and many more, this work is sure to inspire you to seek out "luv" in every situation.
Brilliant, eye-catching color photos grace each page, stimulating the reader further in loving themselves and others. It is a perfect book to carry in your pocket for daily affirmations and loving messages or to give as a gift.
If you enjoyed the look of my picture quotes above be sure to check out my book below!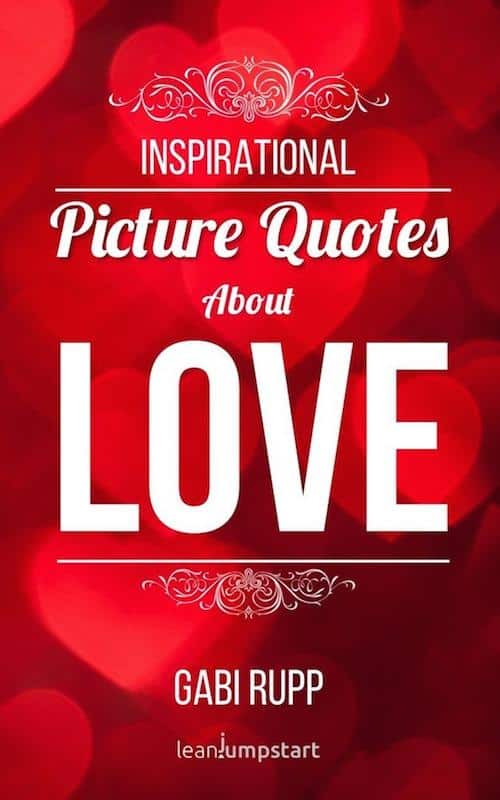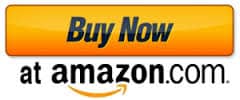 Check my romantic video!
Many wonderful sayings and quotations you'll find today also in self-made video clips. It is a popular topic for music because it exists in all aspects of life.  Even heartache makes an appearance in music and video clips. To give you an idea of my inspirational book I've created a short video.
Click on the video below to take a quick glimpse. Enjoy!
Pick up your copy today and start filling your world and heart with this precious feeling of deep affection.
The book is available as a Kindle or Paperback version.
You might enjoy also: 101+ image quotes and inspirational pictures
Suitable for various occasions
I would also like to mention that these beautiful quotations are suitable for various occasions. How about writing a romantic letter to your dear and starting it with an expressive and profound quote? Or how about formulating an unforgettable declaration deep from your heart and base it on a wonderful emotional saying from our collection?
No matter how you do it, the only important thing is, that your words and lines come from the bottom of your heart and that they express something great!
OTHER ROMANTIC GIFT IDEAS YOU MIGHT ENJOY:
As you might know, I've also an ETSY shop where I'm offering instant download premium art. So in case, you need a last minute (Valentine) gift check out one of my affordable wall arts you can download immediately. Just click on the preferred short love quote below and learn more!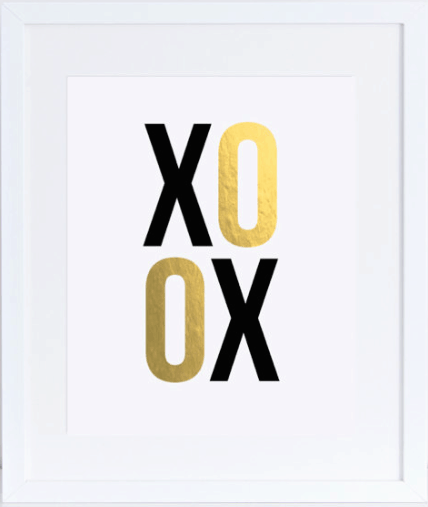 Click here to see all of my typography art on Etsy!