On this page I've put together a collection of goal setting quotes of famous and successful people. You can share them with your family or friends. In addition, I have created cards with inspirational quotations that you can download for free. Enjoy!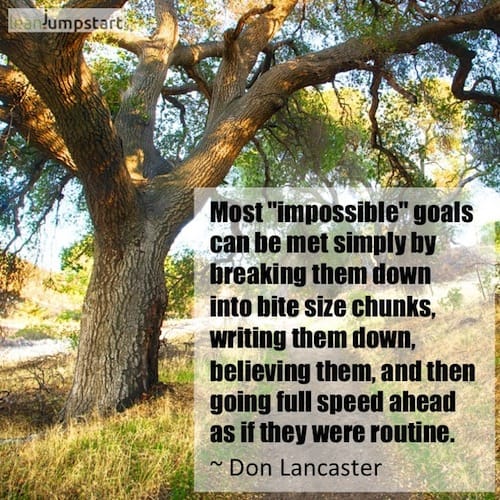 Most "impossible" goals can be met simply by breaking them down into bite size chunks, writing them down, believing them, and then going full speed ahead as if they were routine. -Don Lancaster
The above powerful quote from Don Lancaster is an important principle of the 52 weeks clean eating challenge and a blueprint for success in no matter which area. In our case, we break down the concept of healthy eating into 52 bite size, manageable chunks.
We write them down, believe in them and go full speed ahead as if they were routine until these little habits are routine.
Most people set goals that are too low 
Most people don't have huge success in life because they don't set big goals. Let's pretend you are setting an ambitious goal and you achieve it. Isn't this a wonderful feeling? You know then that it works. But then maybe you ask yourself what would have happened if you would have set an even bigger goal, could you have achieved it too?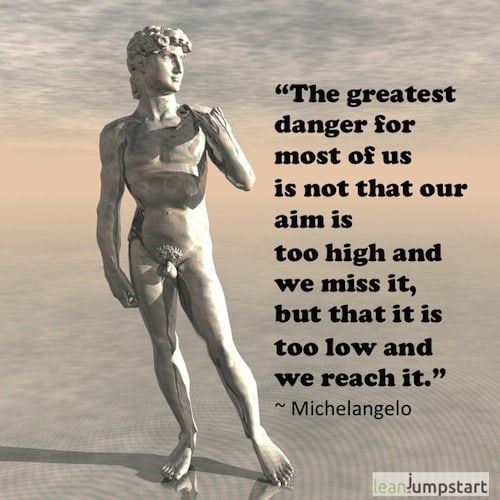 The greatest danger for most of us is not that our aim is too high and we miss it, but that it is too low and we reach it. – Michelangelo
Think about the quote of Michelangelo above – it can change your life. Why don't we set more ambitious goals? Is it the fear that we can't achieve it? If you don't set larger goals because you fear to fail, then you've already failed yourself. The German poet Johann Wolfgang von Goethe sums it up perfectly.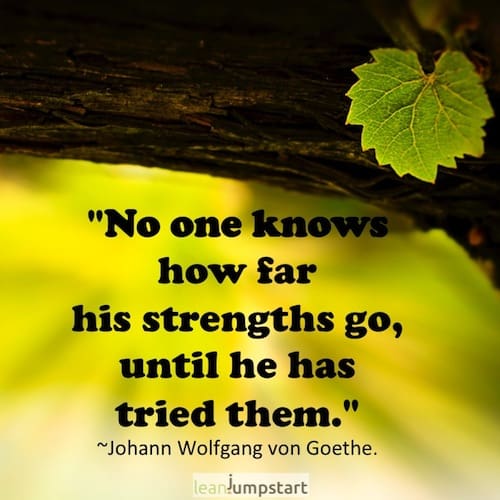 No one knows how far his strengths go, until he has tried them. -Johann Wolfgang von Goethe
Grab the inspirational cards for free!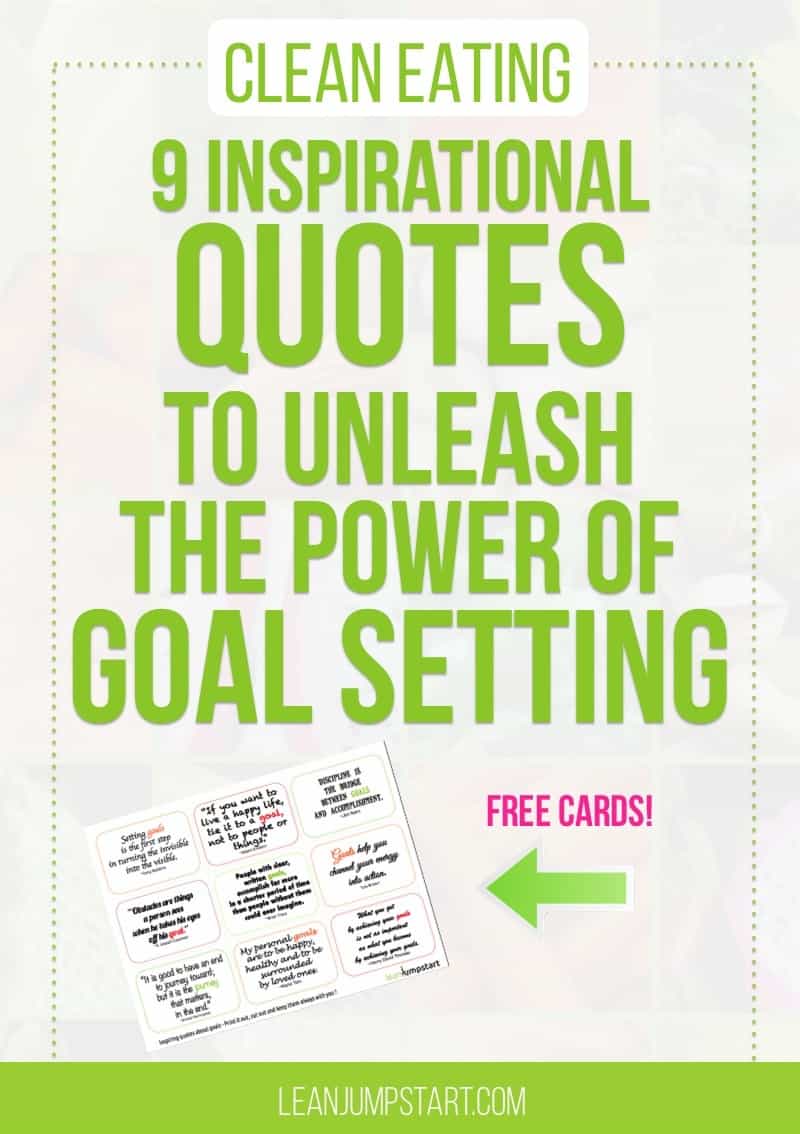 You will seldom achieve bigger things than those that you intended and dared to do. For more inspirations check out the inspirational cards you can download for free with 9 goal setting quotes.
=> Click here and download the cards for FREE!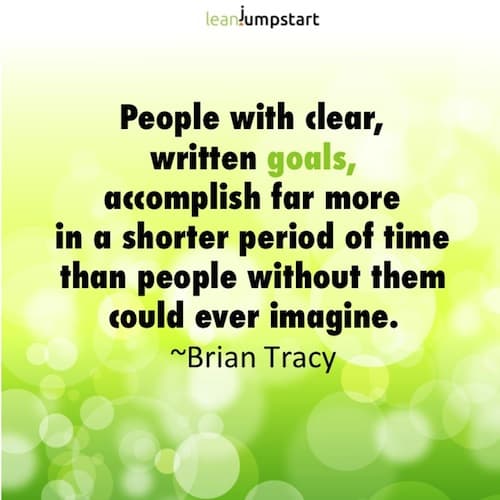 People with written goals achieve more in life" – Brian Tracy
Do you love motivational images with words of wisdom? Then I highly recommend to check out my huge collection of picture quotes.
Have you ever thought about how to formulate your goals? Do you have clear, written goals formulated in a way that it is clear about if and when you want to have achieved them? Or are those goals vague? For example: I want to eat healthier. Yes, this is a nice wish that we all desire but is it a concretely defined goal?
3 remarkable quotes by Jim Rohn
Jim John was a renowned leader in the field of personal development. Here are his most inspirational quotes:
"Start from wherever you are and with whatever you've got."
"You cannot change your decision overnight, but you can change your direction overnight."
"If you go to work on your goals, your goals will go to work on you. If you go to work on your plan, your plan will go to work on you. Whatever good things we build end up building us."
7 wise saying from other famous people
A goal is a dream with a deadline. -Napoleon Hill
Goal setting is the secret to a compelling future. -Tony Robbins

Life can be pulled by goals just as surely as it can be pushed by drives. –

Viktor Frankl

Your goal should be just out of reach, but not out of sight. –

Denis Waitley and Remi Witt

Failures do what is tension relieving, while winners do what is goal achieving. –

Dennis Waitley


(as quoted in Brian Tracy's book, Eat That Frog)
What you get by achieving your goals is not as important as what you become by achieving your goals. -Zig Ziglar
The last quotation I share with you in this context comes from Pablo Picasso.
Our goals can only be reached through a vehicle of a plan, in which we must fervently believe, and upon which we must vigorously act. There is no other route to success. – Pablo Picasso
Do you know what you really want?
I suggest that you write down your wishes and goals. Several scientific studies prove that people with written goals achieve more in life.
You could use a notebook, for example, and jot down your goals and wishes in the context of clean eating at the beginning of each year. Although it is important to write down your goals, that doesn't suffice.
The more often you visualize your goals, the more they prime your subconscious mind. If you want, you can print out my goals setting sheet, fill it out and hang it on a prominent place where you can see it each day:
=> Click here and download the goals setting sheets for FREE!
Setting smart goals in 3 easy steps
Do you need assistance in formulating your goals? Then check out my articles on: