On this page, I've put together a collection of the best 87 goal setting quotes grouped into different categories. You can share them with your family or friends. To further boost your motivation, I have created cards with inspirational quotations that you can download for free. Enjoy!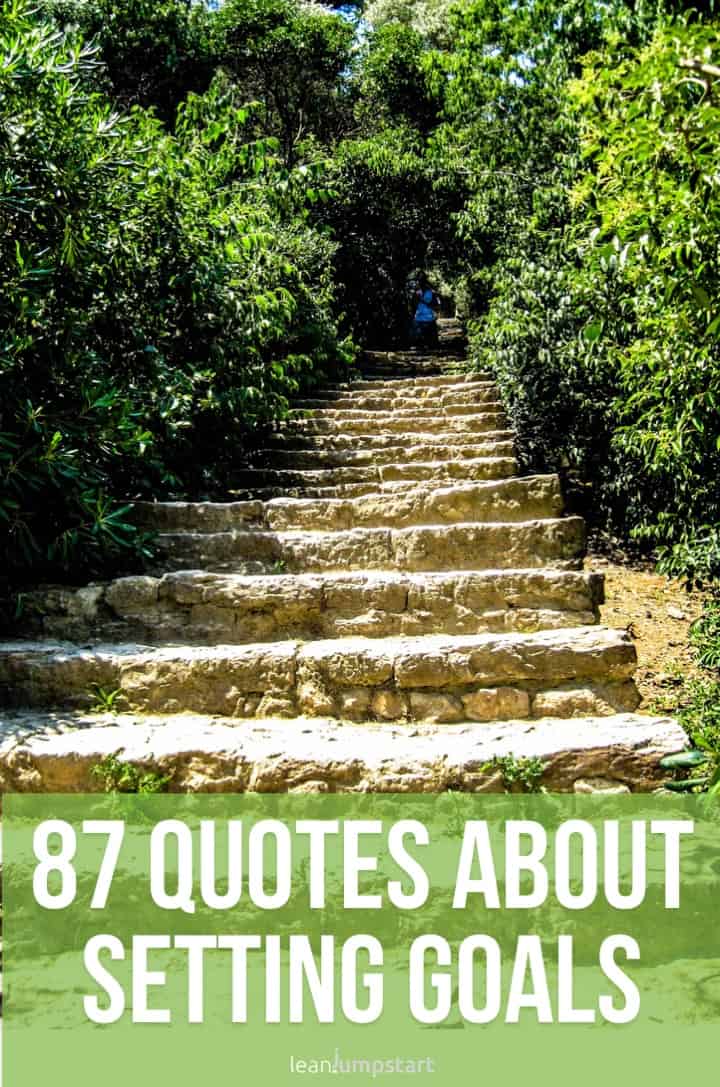 Inspirational goal quotes from famous or successful people 
Determine the objectives first 
When you determine objectives for yourself, it is important that they motivate you. Make sure that there is value in achieving them and that they are important to you.
Positively formulated goals are easier to achieve than negatively formulated ones. In addition, the reward effect is greater. For example, if you intend to learn a new language, the wording might be: "Learn to speak German well" instead of "Stop making mistakes with German grammar".
It helps a lot when you visualize your "reason behind. Why do you want to achieve this objective? What do you get out of it? And the most important question –  is it really your own aspiration or do you feel compelled by others to achieve it.
Your objective should always come from your heart.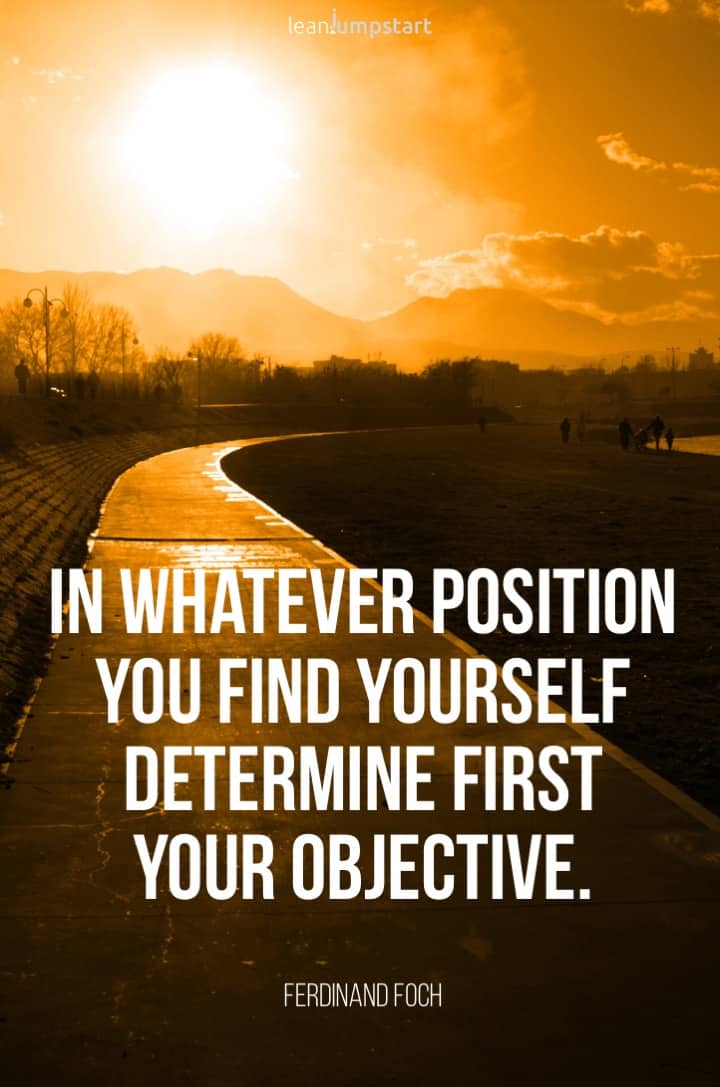 "We advance on our journey only when we face our goal when we are confident and believe we are going to win out."
Orison Swett Marden
"You, too, can determine what you want. You can decide on your major objectives, targets, aims, and destination."
Clement Stone
"This one step – choosing a goal and sticking to it – changes everything."
Scott Reed
"To the person who does not know where he wants to go there is no favorable wind."
Seneca
"Goal setting is the secret to a compelling future."
Tony Robbins
'Rowing harder doesn't help if the boat is headed in the wrong direction.' Kenichi Ohma
Click To Tweet
"The major reason for setting a goal is for what it makes of you to accomplish it."
Jim Rohn
"In the absence of clearly-defined goals, we become strangely loyal to performing daily trivia until ultimately we become enslaved by it."
Robert Heinlein
"Start from wherever you are and with whatever you've got."
Jim Rohn
"The victory of success is half won when one gains the habit of setting goals and achieving them."
Og Mandino
Further Reading: 91 habit quotes about change to inspire and nourish your mind
Write it down! 
It is important that you write down in detail your wishes and objectives. Several scientific studies prove that people with written objectives achieve more in life.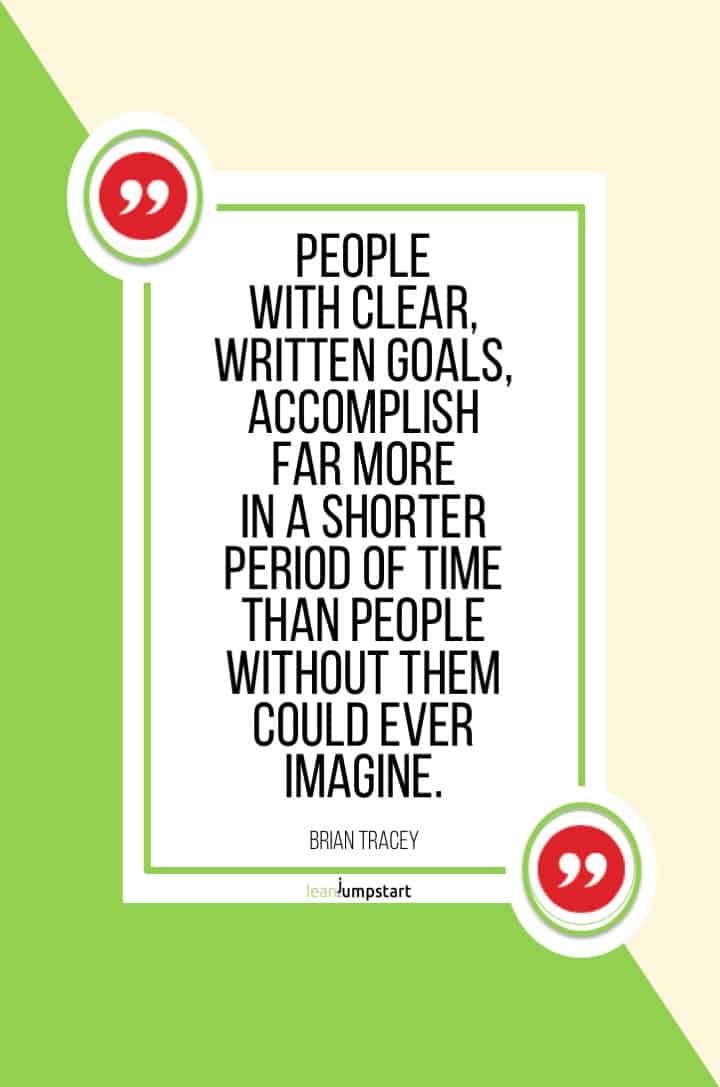 Here is a similar one:

'By recording your dreams and goals on paper, you set in motion the process of becoming the person you most want to be. Put your future in good hands—your own." Mark Victor Hansen
Click To Tweet
Have you ever thought about how to formulate your objectives?
Do you have a written idea formulated in a way that it is clear about if and when you want to have achieved them? Or are those aspirations vague? For example, you want to eat healthier. Yes, this is a nice wish that we all desire but is it a concretely defined goal?
You could use a notebook, for example, and jot down your resolutions in the context of clean eating at the beginning of each year. Although it is important to write down your aims, that doesn't suffice.
The more often you visualize your dreams, the more they prime your subconscious mind. If you want, you can print out my sheet, fill it out and hang it on a prominent place where you can see it each day:
Click here and download the cheat sheets for FREE!
Prioritize, plan and commit
Once you know where you want to go, you should make a precise plan of how you want to achieve it. Divide large tasks into small steps. It should be as specific as possible, yet easy to implement. Your first steps are particularly important. Write them down as detailed as possible.
The better you describe it, the easier it will be for you to take action.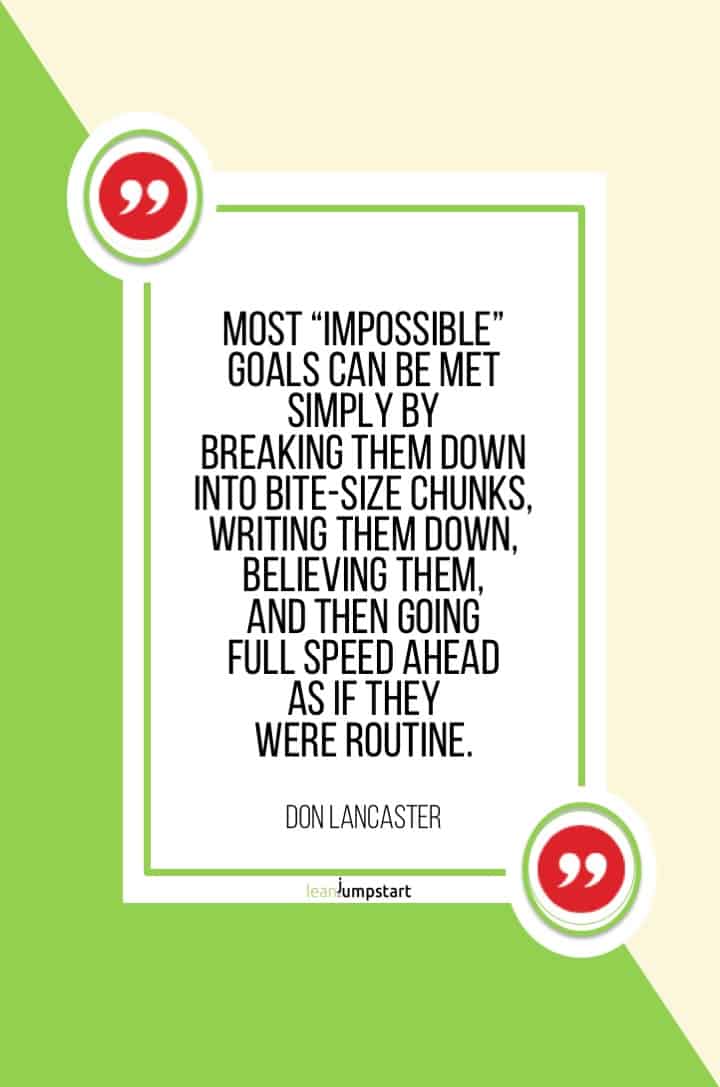 "By failing to prepare, you are preparing to fail."
Benjamin Franklin
"Unless commitment is made, there are only promises and hopes; but no plans."
Peter F. Drucker

"Spectacular achievement is always preceded by unspectacular preparation."
Robert H. Schuller
'Our goals can only be reached through a vehicle of a plan, in which we must fervently believe, and upon which we must vigorously act. There is no other route to success.' Pablo Picasso
Click To Tweet
"Setting a goal is not the main thing. It is deciding how you will go about achieving it and staying with that plan."
Tom Landry
"Every minute you spend in planning saves 10 minutes in execution; this gives you a 1,000 percent return on energy!"
Brian Tracy
"The achievement of your goal is assured the moment you commit yourself to it."
Mack R. Douglas
Act
You will seldom achieve bigger things than those that you intended and dared to do. The German poet Johann Wolfgang von Goethe other famous people sum it up perfectly with achieving goals quotes.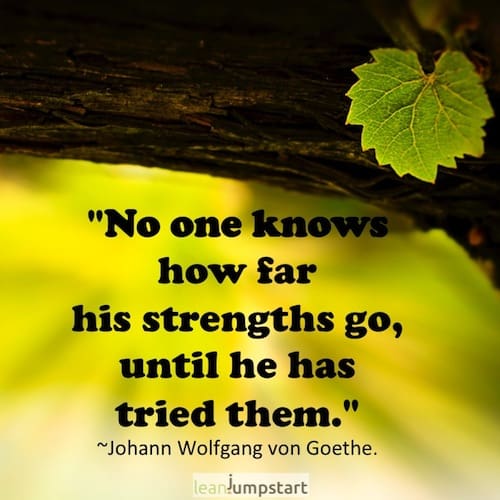 "You can't hit a home run unless you step up to the plate. You can't catch a fish unless you put your line in the water."
Kathy Seligman
"Many great ideas go unexecuted, and many great executioners are without ideas. One without the other is worthless."
Tim Blixseth
"Knowing is not enough; we must apply. Willing is not enough; we must do.' Johann Wolfgang von Goethe
Click To Tweet
"Keep your dreams alive. Understand to achieve anything requires faith and belief in yourself, vision, hard work, determination, and dedication. Remember all things are possible for those who believe."
Gail Devers
Self-discipline!
Scientists have long recognized that discipline is a particularly important success factor. It is not talent, intelligence or education that drives success, but discipline. The good news is that although self-discipline is challenging, it can be learned.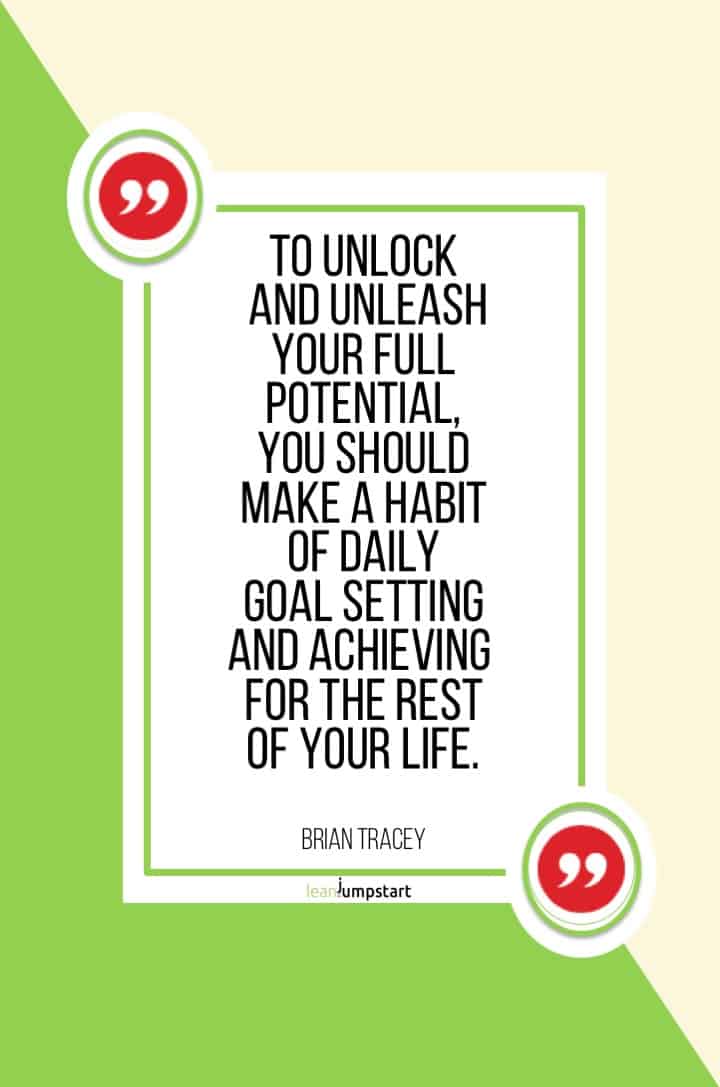 "The ultimate goal should be doing your best and enjoying it."
Peggy Fleming
"Discipline is the bridge between goals and accomplishment."
Jim Rohn
"Goal achievement is hero's work."
Earnie Larsen
'In life, the first thing you must do is decide what you really want. Weigh the costs and the results. Are the results worthy of the costs? Then make up your mind completely and go after your goal with all your might.' Alfred A. Montapert
Click To Tweet
"Becoming a star may not be your destiny, but being the best you can be is a goal that you can set for yourself."
Brian Lindsay
"If I've got correct goals, and if I keep pursuing them the best way I know how, everything else falls into line."
Dan Dierdorf
Dedication and Success 
As hard as it is, try to be absolutely focused as long as you execute your plan. It takes a lot of self-discipline and self-organization, but the thing is essential. Don't let your thoughts wander how other people think about you, or whether they think you will fail.
Maintain your planning, focus on your tasks and work consciously on it.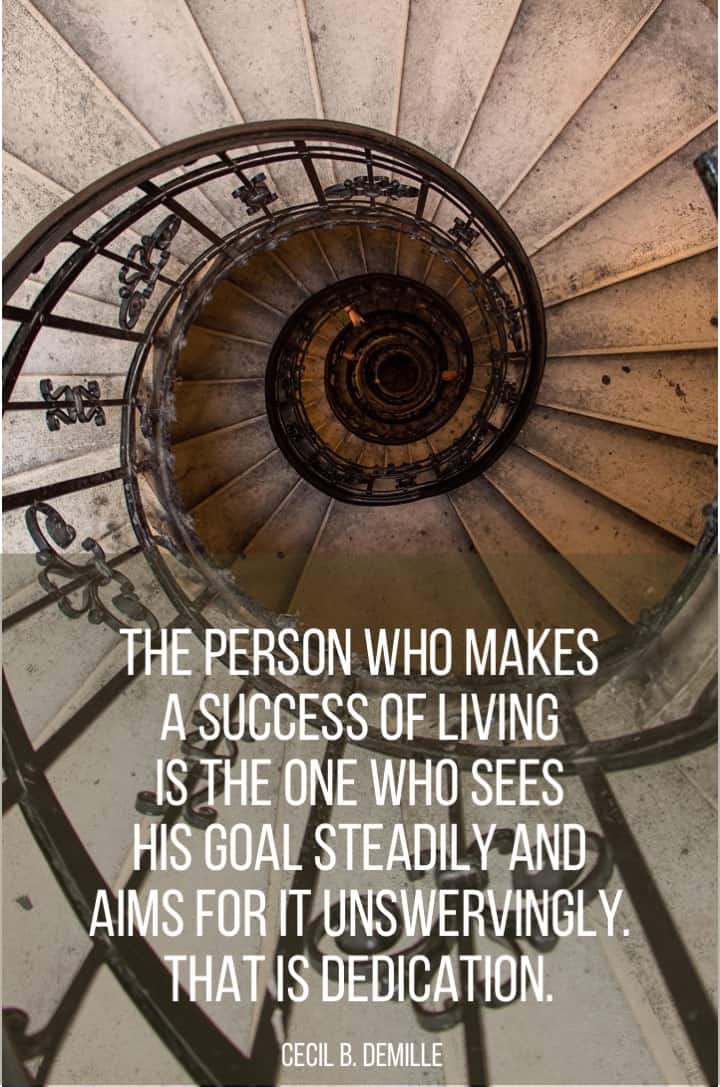 "I think one key part of doing more with less is to be more strategic, to realize what the objectives you're truly trying to accomplish are and then to drive with a greater focus towards those objectives."
Risa Lavizzo-Mourey
"Life can be pulled by goals just as surely as it can be pushed by drives."
Viktor Frankl
"Let me tell you the secret that has led me to my goal. My strength lies solely in my tenacity."
Louis Pasteur
'The thing about goals is that living without them is a lot more fun, in the short run. It seems to me, though, that the people who get things done, who lead, who grow and who make an impact… those people have goals." Seth Godin
Click To Tweet
"There is never just one thing that leads to success for anyone. I feel it always a combination of passion, dedication, hard work, and being in the right place at the right time."
Lauren Conrad
"We succeed only as we identify in life, or in war, or in anything else, a single overriding objective, and make all other considerations bend to that one objective."
Dwight D. Eisenhower, speech, April 2, 1957
"All sport… is one of the few activities where young people can proceed along traditional avenues, where objectives are clear, where the desire to win is not only permissible but encouraged."
Spiro T. Agnew
Let's face it: fitness is boring. But it's critical to be extremely dedicated to whatever you decide to take up to achieve a desired result. There's no way you are going to get there without dedication, which is the key for me.
Harbhajan Singh
Further Reading: 45 procrastination quotes to boost your productivity
Let others help you
This aspect is very often underestimated. Be proactive in finding people who share the same aspirations. If, for example, you want to lose weight, then find someone who also wants to lose weight and join forces. Forming such a group is a win-win situation. Both support and motivate each other.
I'm pretty sure you'd go to the gym more often if you had a partner or friend with you. It would be perfect to get in contact with people who have gone this path before. These could be your role models. Listen to them very carefully. They have certainly learned many important lessons. Take advantage of their experience.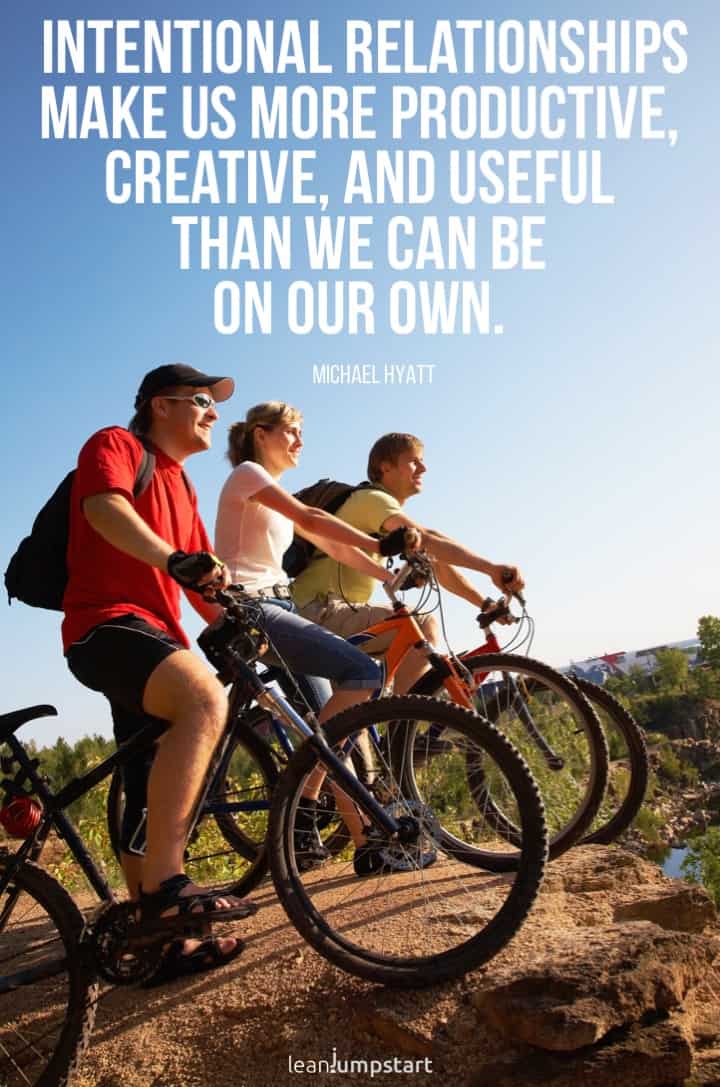 "Be strong, be fearless, be beautiful. And believe that anything is possible when you have the right people there to support you."
Misty Copeland
"You are a product of your environment. So choose the environment that will best develop you toward your objective. Analyze your life in terms of its environment. Are the things around you helping you toward success – or are they holding you back"
Clement Stone
'Choose to focus your time, energy and conversation around people who inspire you, support you and help you to grow you into your happiest, strongest, wisest self.' Karen Salmansohn
Click To Tweet
"Each person holds so much power within themselves that needs to be let out. Sometimes they just need a little nudge, a little direction, a little support, a little coaching, and the greatest things can happen."
Pete Carroll
"All that I have achieved has been possible not only because of my own strength and perseverance, gained through hardship but also through other people's support and believe in me."
Clemantine Wamariya

Further Reading: 78 cute love quotes for her and him
Obstacles, setbacks, and failures 
Even with good planning, not everything will always run smoothly.  A perfect plan doesn't exist. Whether you are faced with unforeseen obstacles or gain new insights. A certain degree of flexibility is necessary to reach your objective. It is important that you can adapt your planning according to the circumstances. This is no problem at all as long as you are flexible. Should you ever end up in a dead end, turn around and take another path. Do not view these little setbacks as personal failures, they happen to everyone.
Ask yourself: "What alternatives do I have to reach my objective? A setback is therefore not a sign of failure, but feedback that the path must be adapted.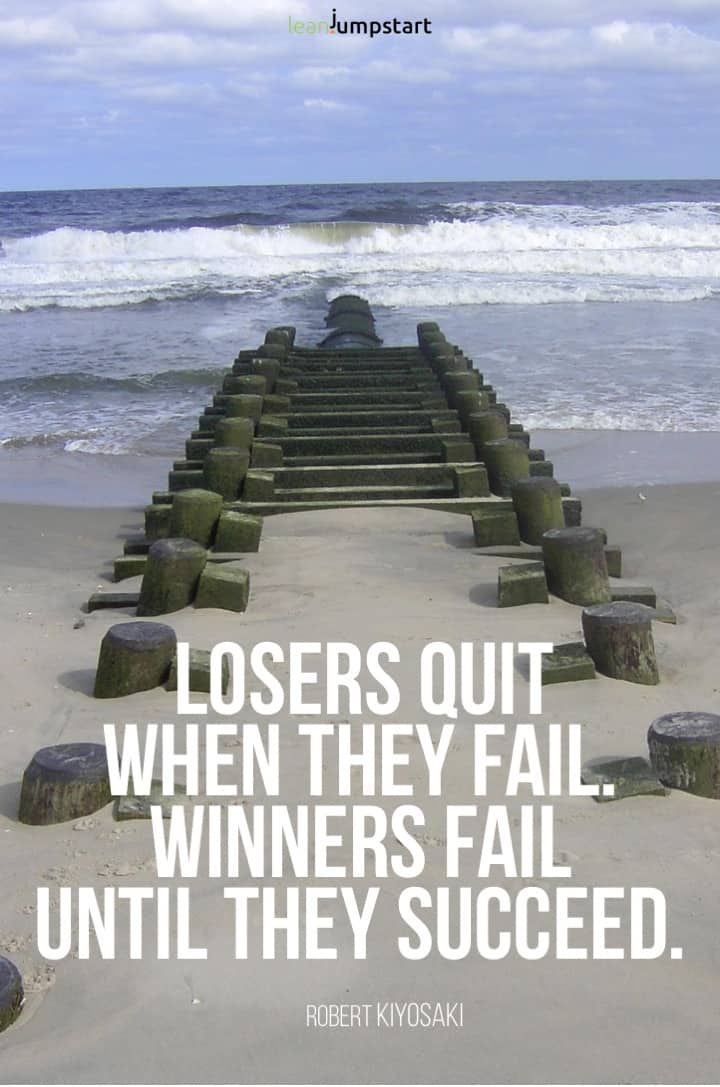 "Obstacles are those frightful things you see when you take your eyes off the goal."
Hannah More
"When defeat comes, accept it as a signal that your plans are not sound, rebuild those plans, and set sail once more toward your coveted goal."
Napoleon Hill

"Failures come only when we forget our ideals, objectives, and principles."
Jawaharlal Nehru
"If you aim for nothing, you'll hit it every time."
Source unknown
'Failures do what is tension relieving, while winners do what is goal achieving.' Dennis Waitley (as quoted in Brian Tracy's book, Eat That Frog)
Click To Tweet
"You cannot change your decision overnight, but you can change your direction overnight."
Jim Rohn
"Learn the art of patience. Apply discipline to your thoughts when they become anxious over the outcome of a goal.
Brian Adams
There are no secrets to success. It is the result of preparation, hard work, and learning from failure.
Colin Powell
Further Reading: 88 learning quotes and education sayings to become a lifelong learner
Aim beyond! 
Most people don't have huge success in life because they don't set big goals. Let's pretend you are setting an ambitious objective and you achieve it. Isn't this a wonderful feeling? You know then that it works. But then maybe you ask yourself what would have happened if you would have set an even bigger objective, could you have achieved it too?
Why don't we set more ambitious goals? Is it the fear that we can't achieve it? If you don't set larger objectives because you fear to fail, then you've already failed yourself. Because…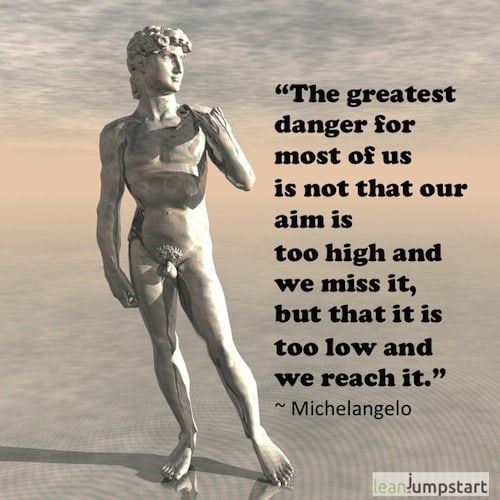 "A successful individual typically sets his next goal somewhat but not too much above his last achievement."
Kurt Lewin
"We aim above the mark to hit the mark."
Ralph Waldo Emerson
'My goal is simple. It is the complete understanding of the Universe.' Stephen William Hawking
Click To Tweet
"Your goal should be just out of reach, but not out of sight."
Dennis Waitley and Remi Witt
Business and leadership 
In the following, you find some of the best quotes in the context of leadership.
"By providing clear objectives for your team, and setting guardrails for how they get there, you will set them on the path to success."
Chris Fussell
"When you delegate work to the member of the team, your job is to clearly frame success and describe the objectives."
Steven Sinofsky
"A leader has the vision and conviction that a dream can be achieved. He inspires the power and energy to get it done."
Ralph Lauren
A leader's role is to raise people's aspirations for what they can become and to release their energies so they will try to get there.
David Gergen
"Never tell people how to do things. Tell them what to do and they will surprise you with their ingenuity."
General George Patton
'Great leaders help their people see how they can directly impact the company's objectives and their own personal goals.' Chip Conley
Click To Tweet
"Define your business goals clearly so that others can see them as you do."
George F. Burns
"Leadership is working with goals and vision; management is working with objectives."
Russel Honore
The leader has to be practical and a realist yet must talk the language of the visionary and the idealist.
Eric Hoffer
Leadership is the capacity to translate vision into reality.
Warren Bennis
Further reading: 10 ways a motto in life can help you achieve your goals
Dream and visualize the end result daily
This is a very powerful tool that you should use to achieve your objectives. When you visualize and are fully in the situation with all your senses, then your subconscious thinks that you are actually experiencing this situation right now.
What does this mean for you? It simply increases your self-confidence. That's why you should dream your goals every morning. Try it out. You will be amazed.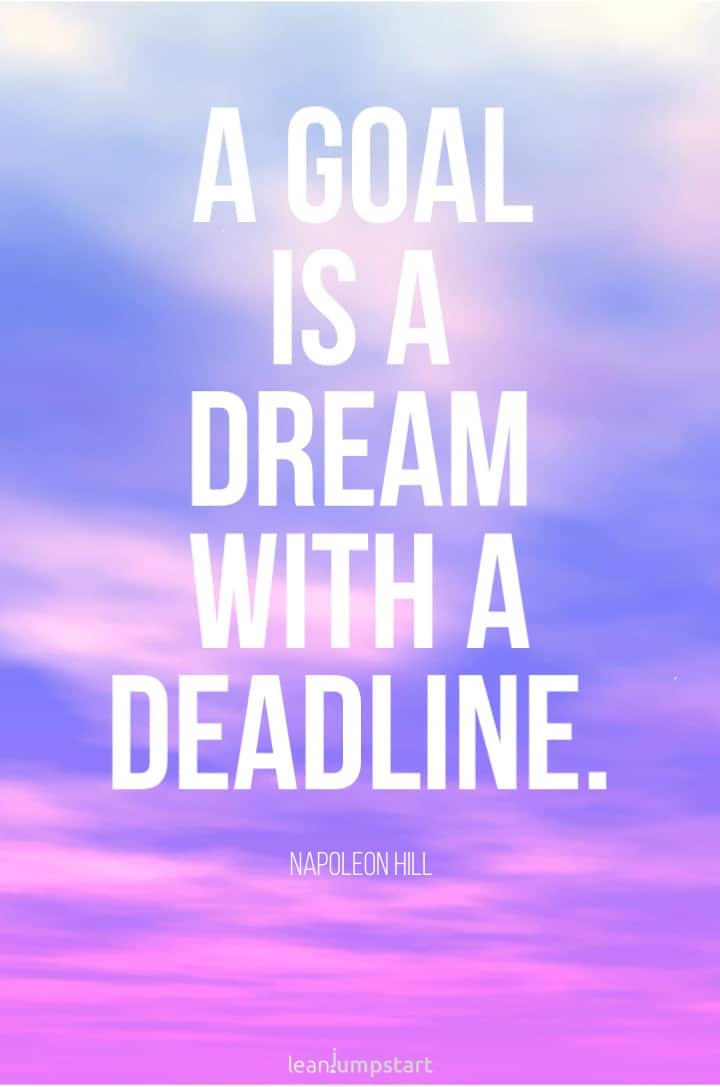 "The more you dream the more you achieve."
– Michael Phelps
"Reach high, for the stars lie hidden in your soul. Dream deep, for every dream, precedes the goal."
Pamela Vaull Starr
"Think and feel yourself there! To achieve any aim in life, you need to project the end-result."
Grace Speare
"The mind is the limit. As long as the mind can envision the fact that you can do something, you can do it."
Arnold Schwarzenegger
"Champions aren't made in gyms. Champions are made from something they have deep inside them A desire, a dream, a vision."
Muhammad Ali
"Vision – It reaches beyond the thing that is, into the conception of what can be. Imagination gives you the picture. Vision gives you the impulse to make the picture your own."
Robert Collier
'Clarity of vision is the key to achieving your objectives.' Tom Steyer
Click To Tweet
"If our actions stem from honesty, kindness, caring, and vision, then no matter what the result of our efforts, we have added something of value to our souls and to the world."
Joan Boysenko, Pocketful of Miracles
"In all things that you do, consider the end."
Solon
"A vision without action is called a daydream; but then again, action without a vision is called a nightmare."
Jim Sorensen
"Where there is no vision, the people perish."
Proverbs 29:18
"The wisest keeps something of the vision of a child. Though he may understand a thousand things that a child could not understand, he is always a beginner, close to the original meaning of life."
John Macy
Further Reading: 39 positive attitude quotes to stop negative thoughts
Happiness is a by-product 
Happiness is not something you achieve, but the by-product of a meaningful life. To do what suits you, to connect with other people, and to constantly learn new things – these are the basic conditions for a happy life.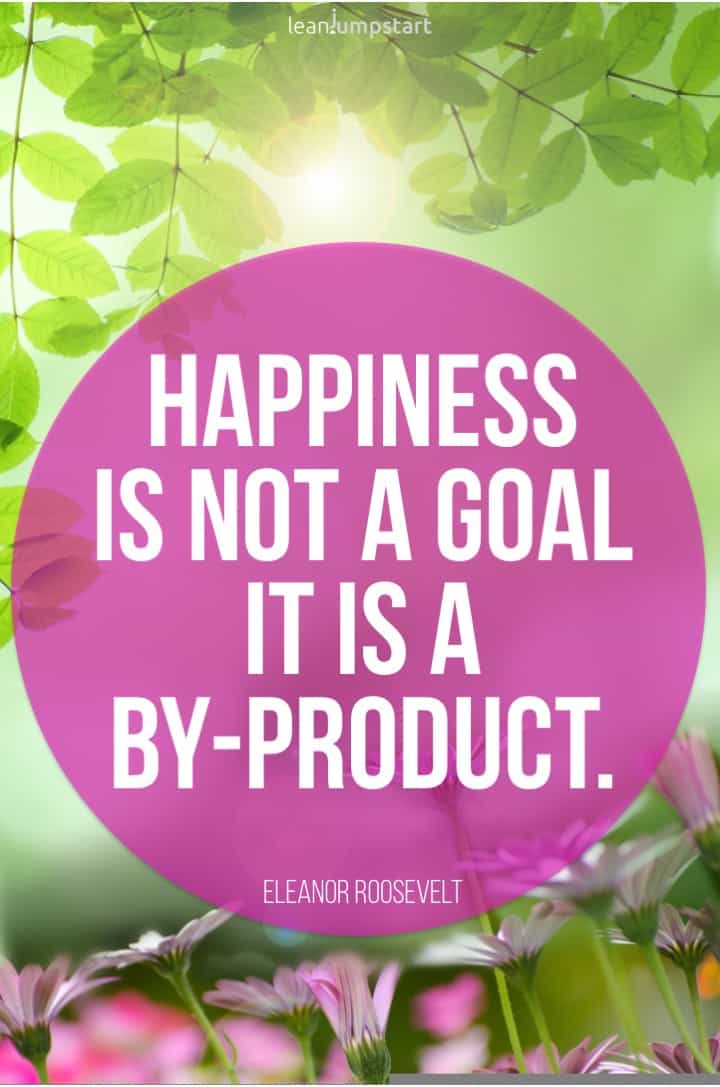 "If you want to be happy, set a goal that commands your thoughts, liberates your energy and inspires your hopes."
Andrew Carnegie
"It is very important to make sure the person you're marrying is like minded. It's crucial for a couple to have shared goals."
Barbara Friedman
"We all live with the objective of being happy, our lives are all different and yet the same."
Anne Frank
'We find no real satisfaction or happiness in life without obstacles to conquer and goals to achieve.' Maxwell Maltz
Click To Tweet
"Enjoyment is not a goal, it is a feeling that accompanies the important ongoing activity."
Paul Goodman
"Happiness is not a goal it is a by-product,"
Roosevelt, Eleanor
Further Reading: 100 being happy quotes to unlock the key to happiness
Grab the inspirational cards for free!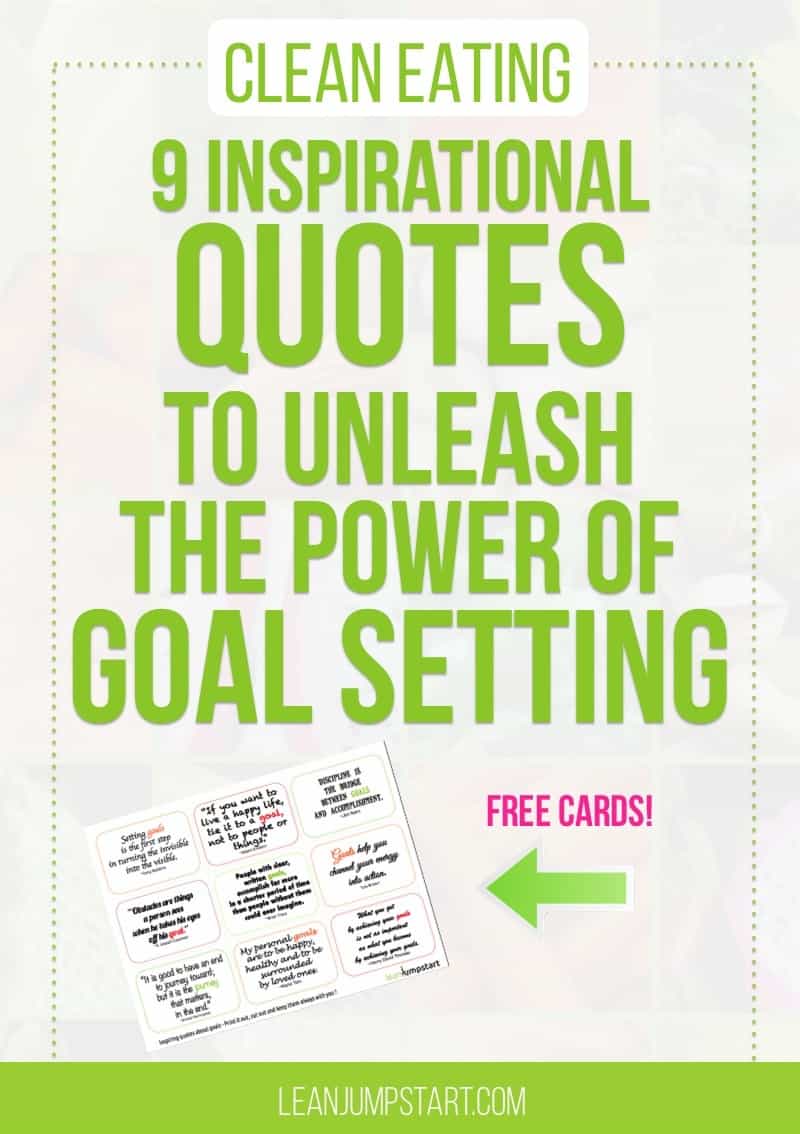 For more inspirations check out the inspirational cards you can download for free with 9 inspirational quotes about reaching goals.
=> Click here and download the cards for FREE!
Inspirational picture quote books
Do you love inspirational images with words of wisdom? Then I highly recommend to check out my motivational books and 101+ picture quotes and cute motivational images.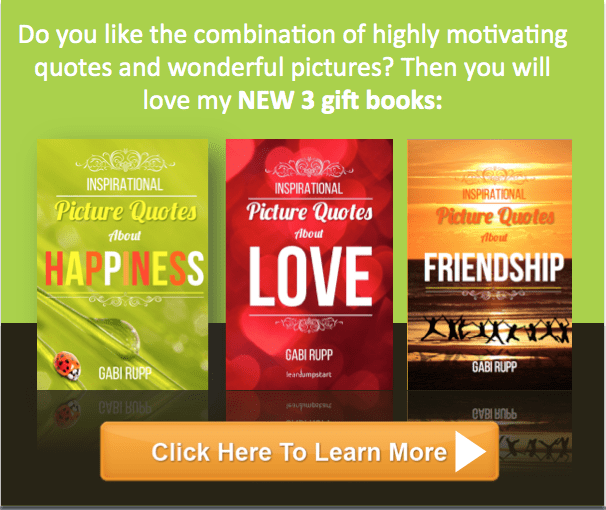 Take it to the next level the S.M.A.R.T. way
Unleash your full power by defining smart objectives. Take it to the next level and check out my articles on: