This week will focus on the smart goal setting theory. A heartfelt welcome to your first week of the 52-week clean eating habits challenge!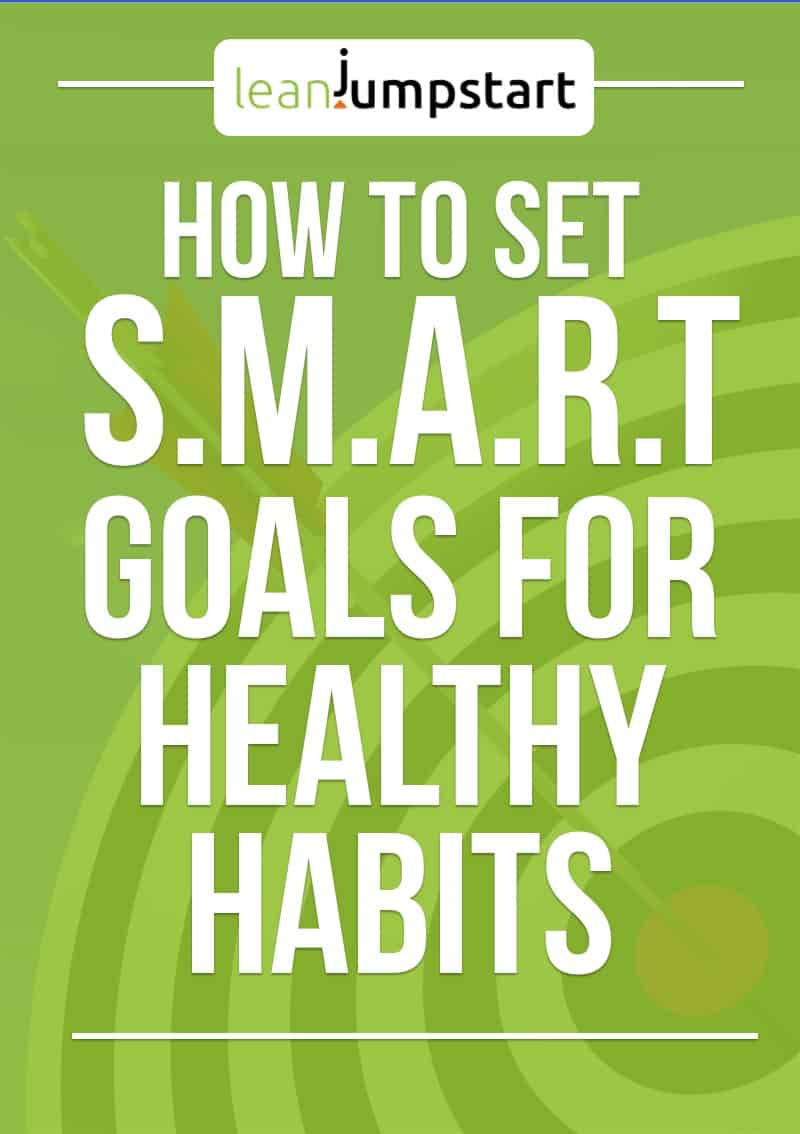 It is that time of the year again: to look back into the past, and more importantly, to think about your focus for the coming year. Most of us have many New Year's resolutions but often struggle with setting and achieving these goals and objectives.
Your first challenge is easy
This first challenge is rather easy. Simply read this article and write down a smart goal for yourself. This little, yet elusive step is vital to achieving your specific goal of becoming healthier in the following months. I will map out an easy path for you that makes regular goal setting more structured and less overwhelming. Accomplishing your goals will be as simple as following the roadmap.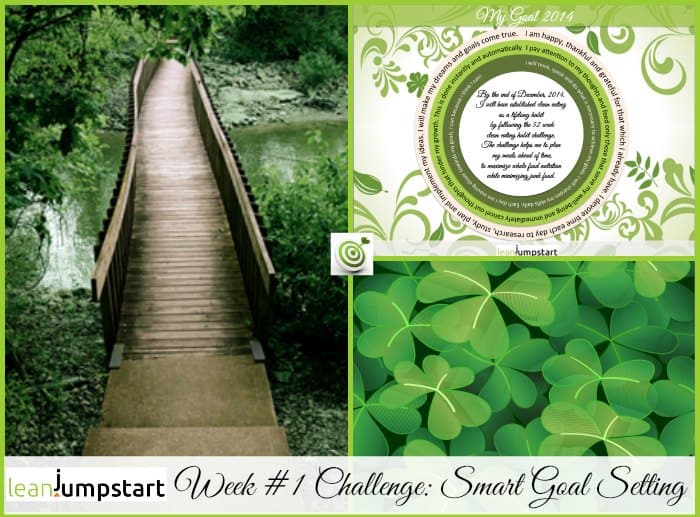 Inspirational quotes will help you stay focused
I've also created motivational cards with quotes about goals for you! Print them out and keep them on your desk, or simply place them in a visible spot on a mirror or fridge.
These messages will help you nourish your mind and keep you focused for the following weekly clean eating habit challenges.
Why is it so important?
Goals are absolutely essential to measuring progress and your success. They give you focus, direction, and motivation. Ideas remain just dreams until you make doable goals to achieve them.
The most realistic idea, however, is not worth anything without a well-designed system. Your commitment to the process is crucial for achieving your objective.
How to set priorities with the 80/20 approach
You know that it is impossible to change all aspects of your life at the same time. Therefore, it is important to pick the one thing that will make the biggest impact or difference.
I operate under the assumption that the biggest idea you are currently most passionate about is improving your "health" through either clean eating or a sustainable weight loss or both.
Hey, that is why you are here?!
So the good news is that you have set your priority for the New Year already…
Congratulations!
Prioritizing "Health" is the best choice you could have made!
Why?
Very often there is a common link between "health" and other categories in your life. Just feeling better and having more energy will very likely contribute in a positive way to other areas in your life like your family or career.


Despite prioritizing health or weight loss you still have not formulated an objective yet.
So what is a goal?
Goal definition
A goal is an observable end result that can be measured. It has at least one or more objectives that have to be reached within a fixed time frame.
S.M.A.R.T. – the acronym smart for goal setting
Although there exist several different strategies, I am a big fan of the S.M.A.R.T criteria, a concept developed by George T. Doran (1). The wonderful thing about this concept is that it gives you the most clarity and you can easily break it into smaller tasks.
S.M.A.R.T goals are specific, measurable, achievable, relevant, and time-bound with a target date. The grammar often used to set goals or New Year's resolutions is the future perfect.
In order to shorten a long process, I have done most of the work for you for a "LeanJumpStart."
Check the following time based smart goals examples:
Weight Loss Example
By the end of June 2019, I will have reached my optimal weight (by losing 20 pounds) by following and implementing the first 26 weeks of the 52-week clean eating habit challenge.
Clean Eating Example
By the end of December 2019, I will have established clean eating as a lifelong habit by following the 52-week clean eating habit challenge. The challenge helps me to plan my meals ahead of time, to maximize whole food nutrition while minimizing junk food.
How to set smart goals in easy 3 steps and stay motivated
Now it is time to write down your SMART goal. Feel inspired by one of the two examples above: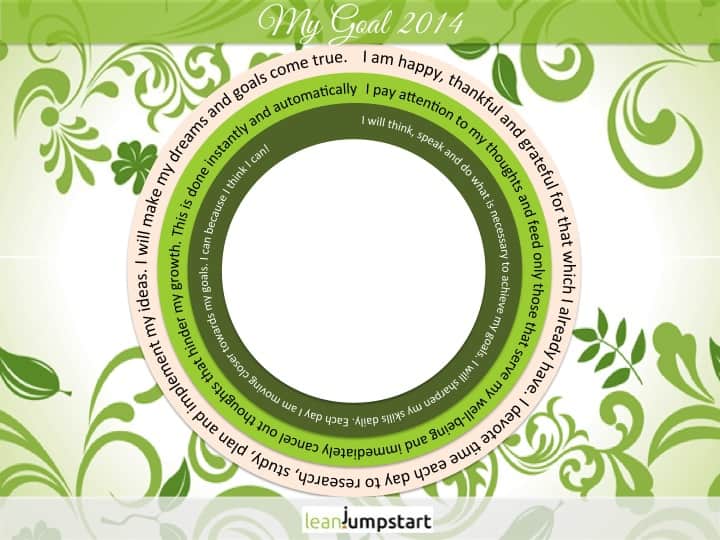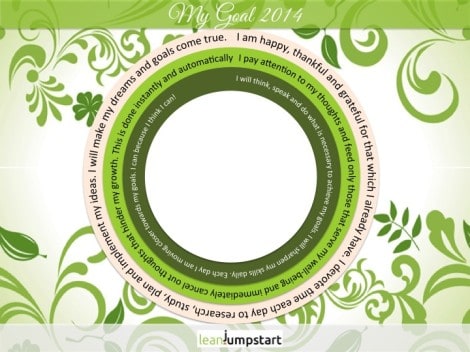 Print out your smart goal setting worksheet
=>Download your worksheet here (including my example!)
Fill it out. You may come up with your own wording or use a formulated smart goal that fits for you above as a guideline. Simply adapt some factors like time, pounds or duration to your individual situation. It might help you to read the positive affirmations I've written in the circles aloud if you can.
Place this sheet in a visible spot on your fridge, mirror or desk. A good idea is to put it close to your motivational cards. That is it!
"One bite at a time"
I mentioned it already… It takes time to reach your objective. It is more important to realize that sustainable change is a product of daily habits, not an overnight success.
It is more effective and practical to focus on your daily habits and routines – and that is what you are doing with the 52-week clean eating habit challenge…
Because… Your life today is essentially the sum of your habits.
How is the challenge going for you?
How is this week's challenge going? Do you have any questions? Make a commitment!
Hold yourself accountable and share your formulated SMART statement with us in the comments below!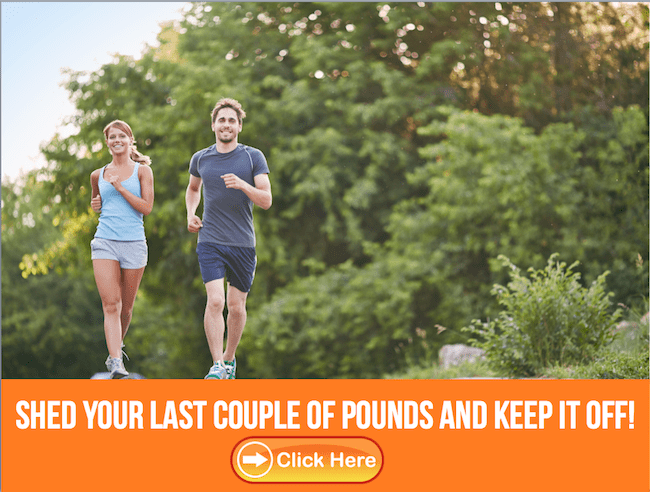 Are you an expert?
Click here if you want to get more tips and dig deeper into the fascinating SMART theory!