This week I've created motivation cards for you with positive attitude quotes that you can download for free. These little cards are powerful tools that will help you overcome negative thoughts regarding your weight loss, clean eating diet, fitness or anything else. More about these inspirational quotes in a minute…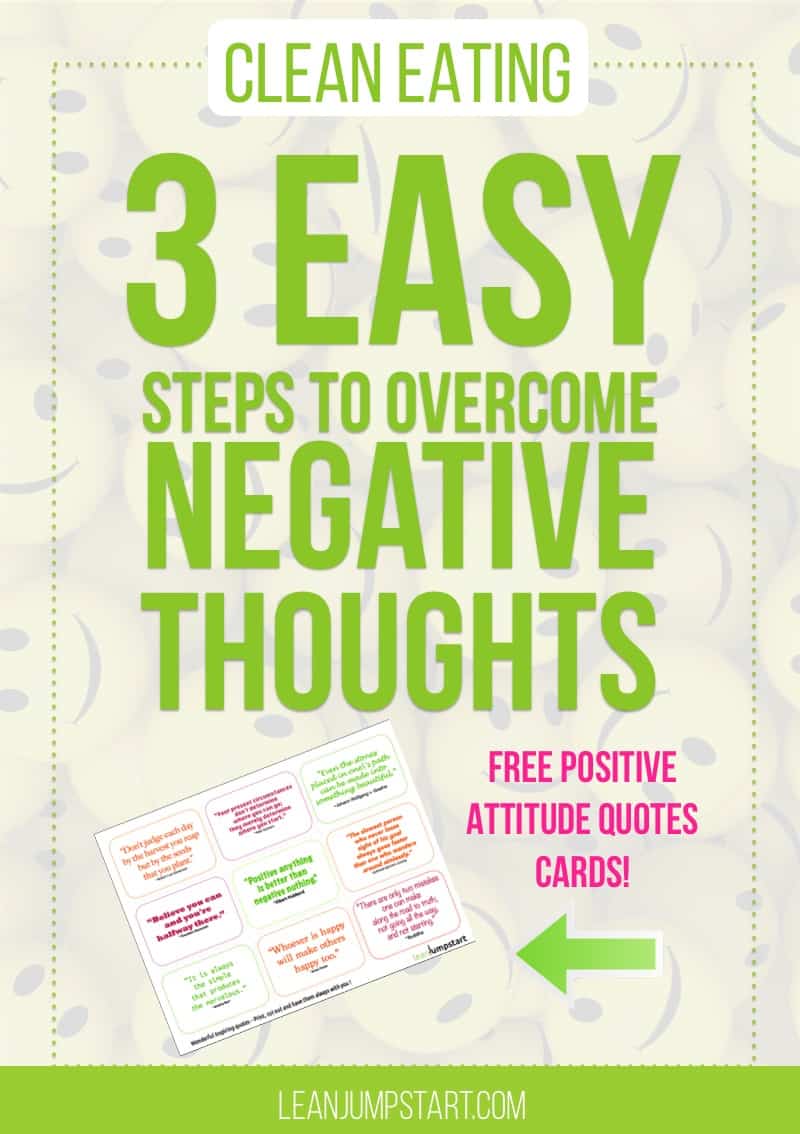 Focus on things that work!
Many people only see what doesn't work and what they can't change. Maybe it's an opulent dinner at the home of your husband's boss you can't refuse, or possibly a day when it's raining cats and dogs and you can't go on your scheduled jog.
However, it makes much more sense to focus on the things that work and what you CAN change.
One of my favorite quotes about positive attitude is from Winston Churchill: "A pessimist sees the difficulty in every opportunity; an optimist sees the opportunity in every difficulty." (see below)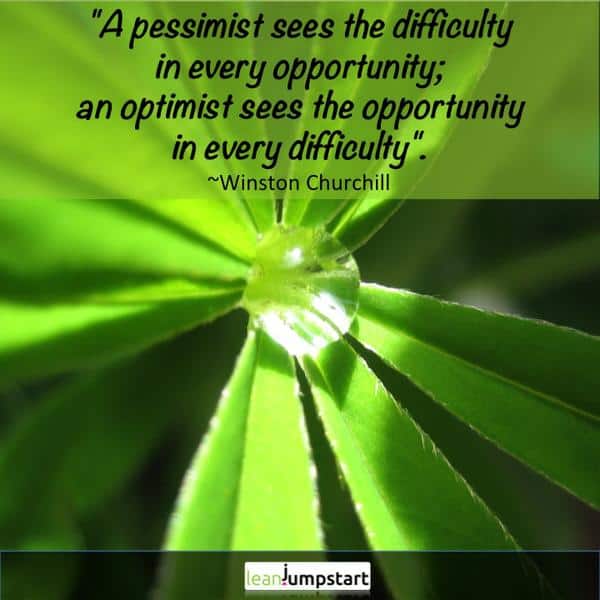 A reaction of positive thoughts means not to sugarcoat a situation (something the concept is often blamed for), but it means recognizing where there might be positive approaches for you individually.
Instead of looking for something "nice" in your situation, it is much more effective to find points where you can get active and change something for the better. These are aspects where you can influence something in a positive way.
Positive attitude in action
Coming back to the given examples: Accept the opulent dinner as something you can't change; enjoy it and plan to indulge wisely. See it as the 20% of deviation allowed within our 80/20 clean eating approach. But react immediately the next day with a light breakfast smoothie or an additional workout session. Expect more smart party strategies in one of my future challenges.
Regarding your workout – you can't change the fact that it's raining cats and dogs. But you can change locations and do workouts instead within your home (e.g. Trampoline Jumping).
Switching from passive victimhood into an active position
This kind of positive attitude is, from my point of view, a very mighty one. It causes an immediate turn from the passive victimhood towards an active position. Of course, there will come situations in your life that are frustrating, scary, and maybe even downright awful.
And yes, sometimes there doesn't remain much more than to accept these feelings. But, eventually, something has to happen.
Very few situations change on their own – at least not in a way you would have expected. But there is one thing that you can always do: change your point of view!
Find that mini-step of action!
To get to the crucial step, looking for a very tiny element in a situation that you can tackle can be essential. Finding a mini-step of action and actually implementing it can be fundamental to changing something within you. It causes a chain reaction of positive events and helps you eventually overcoming the situation.
This principle of positive attitude and to constantly strive for actionable mini-steps shouldn't be new to you. My 52 week clean eating habit's challenge is based on thousands of tiny little steps.
Do you have already a half-full glass mentality?
That's wonderful! Optimism is a valuable emotional competence, especially when it comes to the 52-week eating habit challenge.
Why?
If you have an optimistic outlook, it is easier for you to embrace change over the safety of the known.
For the lucky of us, being optimistic comes naturally. Positive people with a half-full glass mentality come off as confident, comfortable and happy with themselves. They don't let obstacles break them down and most of the time it is fun to be around them.
Hence, there is a lot to be gained in cultivating a positive attitude.
Optimism can be learned
Here comes the good news if you don't have this trait naturally: optimism is a hidden asset that can be learned and practiced.
It is one of the key factors you need to achieve positive results and be successful – no matter which area of your life it is in. This could be a positive attitude at work, regarding your health or anything else.
Today, I present to you a strategy you can consider on your journey to developing a positive mindset. It's a catalyst and it sparks extraordinary results.
3-step habit change to overcome negative thoughts and put your mind at rest
Use the following quotes in a thoughtful way to reprogram your mind. That way your thought process becomes more optimistic, not only to find, but also to carry out the mini-step of action.
Although quotes on positive attitude may sound hokey, they are actually very useful in cultivating positive reactions: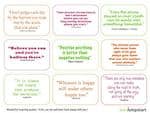 Step 1: Click here and print out the quote cards! (PDF-File)
See them as a starting point. You'll find tons of inspirational sayings online.
Step 2: Do research and write down your own favorite quotation of the day or other wise words about positive attitudes. Jot them down on special cards or use the blank cards I've prepared for you in the pdf file above!
Step 3: Cut them out and keep them on your desk, in your wallet or purse, or simply place them on a mirror or fridge. Read them outloud to yourself … especially in times, when you feel you need encouragement.
These messages will help you nourish your mind while bringing more success and wellness into your life.
5 additional tips beyond positive attitude quotes
Tip 1: Mind your thoughts and say "STOP" outloud in moments when you realize that negative thoughts are popping up. Reprogram the negative thoughts to a positive, productive attitude.
Tip 2: Stay away from negative people who are tearing you down because of your weight, clean eating approach, or anything else. Build instead healthy and strong relationships with people who support you from the bottom of their heart.
Tip 3: If things don't go as planned, try not to take yourself too seriously. Find a sense of humor in the situation.
If unsure – repeat the laughter challenge.
Tip 4: Accept setbacks as a minor part of the process that is easy to overcome.
Repeat the "accept setbacks" challenge.
Tip 5: Read my blog post on 10 ways a famous motto can give you a mental kick-start and print out your personal life motto.
With these strategies, you will exchange more and more negative thoughts with optimistic attitudes influencing your weight loss long-term in a positive way.
What are your favorite uplifting sayings?
I'm curious! What inspirational quotations do you like best to stay positive? Share them with us in the comment section below!
Let me close with the wisdom of Pat Riley:
"If you have a positive attitude and strive to give your best, eventually, you will overcome problems and find you are ready for greater challenges."