Last Updated on October 28, 2020
If you are an avid reader of my blog then you probably know that I'm a huge fan of chia seed pudding. The nutrient-dense seeds poof up amazingly in a cup of liquid. Combined with water, coconut milk, almond or cashew milk and sweetener (optional) they develop the consistency of a pudding.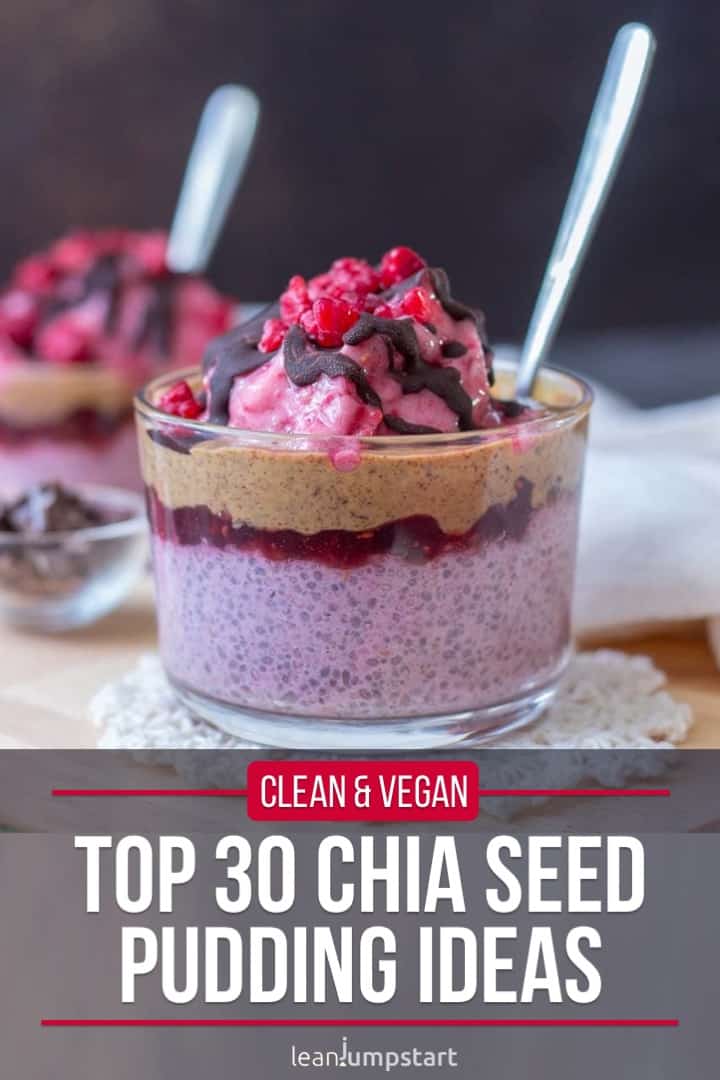 The addition of diverse plant-based foods turn the seeds into a wholesome, low-calorie, and filling delight. If you new to the "chia world" I recommend my basic overnight chia pudding breakfast recipe. I'll also show you how to play with the right pudding consistency.
The following blog post takes it to the next level. I've curated for you the top 30 best pudding recipes from some of my favorite food bloggers on the web.
No matter if you are a Mango fan, a chocoholic, a Matcha lover, or prefer exquisitely layered parfaits, you'll find a wonderful inspiration for any taste. All recipes are loaded with good-for-you ingredients and work as the perfect make-ahead breakfast, afternoon snack or healthier dessert. Layered in a mason jar they are also wonderful meal prep options you can take with you to work.
With berries and other fruits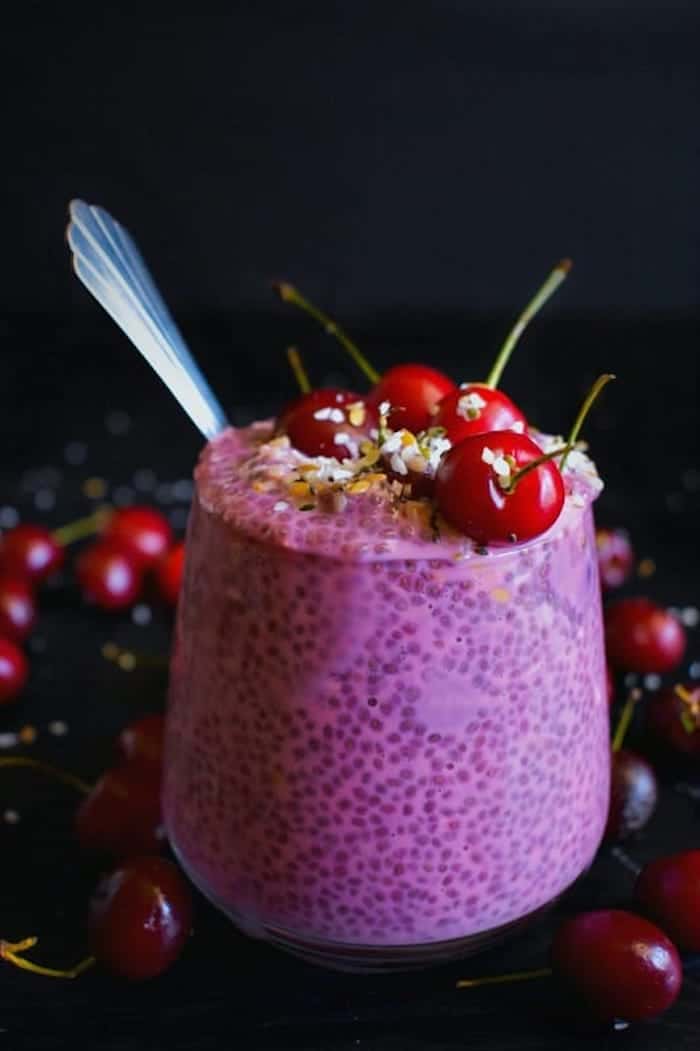 This eye-catching creation can be ready in 5 minutes. Molly uses a mix of cherry, berries, plant protein, hemp seeds, and coconut milk. It's extremely easy to make, divinely delicious, and absolutely stunning. With the added plant protein it can also be used as a great after workout snack.
Detailed recipe and credit – easycookingwithmolly.com
---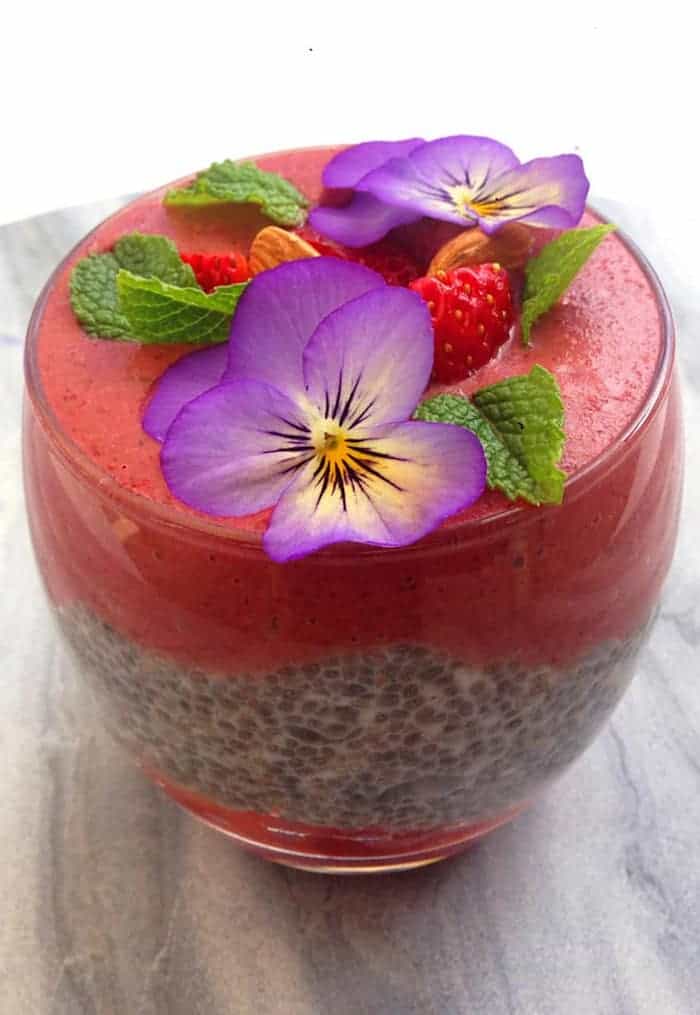 This awesome antioxidant-rich layered chia parfait by Hope from New Zealand combines a creamy coconut chia layer with a smooth banana and acai berry layer. Topped with some fresh strawberries and cute edible flowers you can easily create a nutritious but slightly decadent breakfast or a wholesome dessert.
Detailed recipe and credit – https://lovefoodnourish.com
---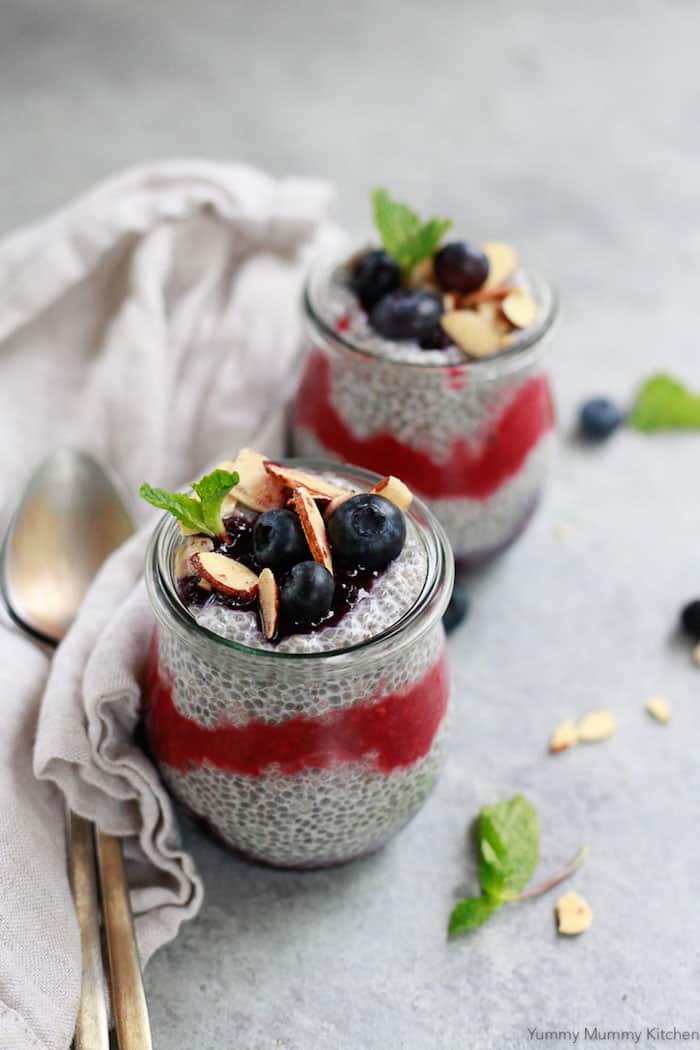 For her blueberry strawberry chia pudding, Marina Delio from Italy is cooking berries down into a sauce which intensifies the flavor. This process makes the berries even sweeter. You can use frozen or fresh berries, and it takes just a few minutes to create the sauce. "OMG, THIS IS SO FREAKING GOOD."
Detailed recipe and credit – yummymummykitchen.com
---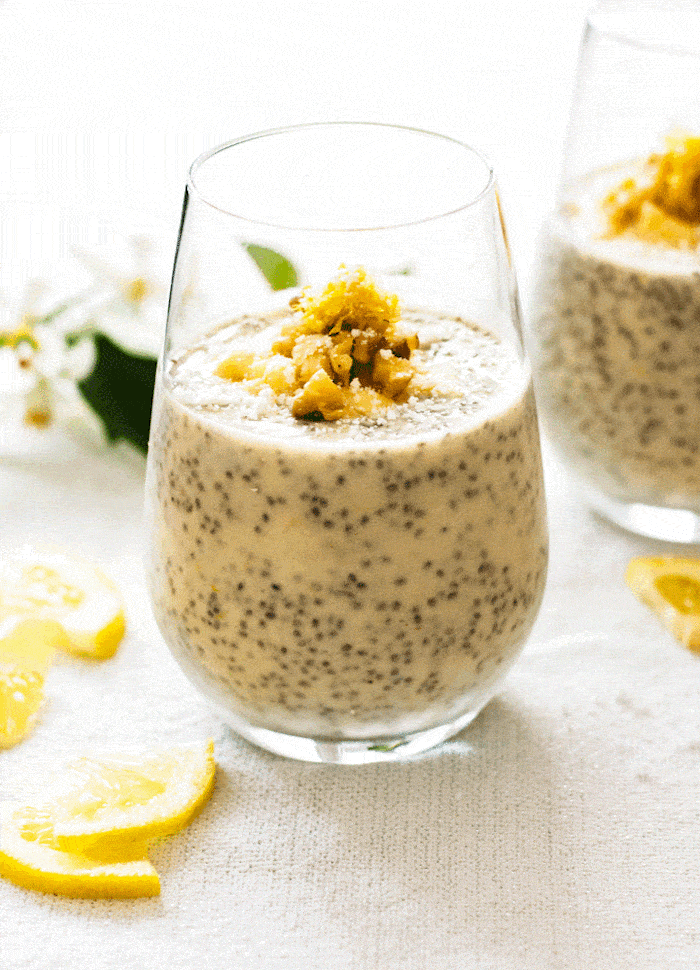 These zesty lemon and vanilla chia pudding cups by Donna are little pots of deliciousness. They are so incredibly easy to make and are beautiful, too, sure to impress even the fussiest of guests. You might want to top them with some nut or seeds to add a bit of crunchiness. To "veganize" her vegetarian recipe, I recommend using soy yogurt or coconut yogurt instead of whole milk plain yogurt.
Detailed recipe and credit – wholefoodbellies.com
---
Mango Dreams
According to my research the most popular fresh fruit pairing for chia pudding seems to be Mango. Here are a few of the best mango-inspired chia pudding creations.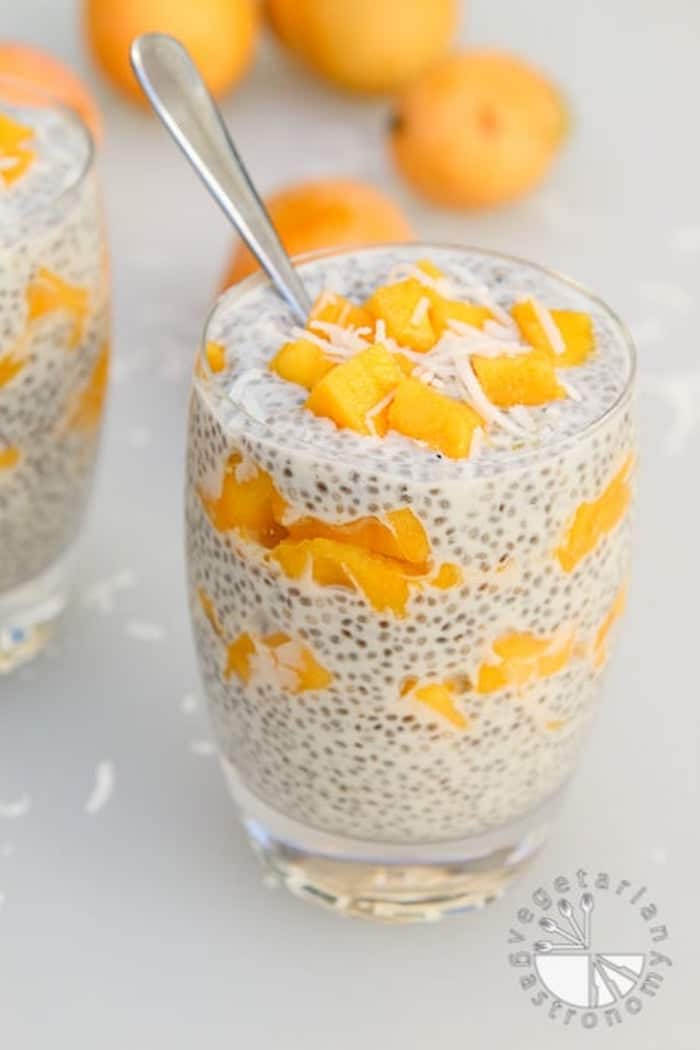 Anjali dedicated her second pudding on this list to her dad. He didn't like chocolate but always enjoyed both mango and coconut flavors. She added shredded coconut to make a parfait, layering the prepared coconut chia pudding with freshly diced mangoes. If you have some fresh mangoes in your fridge, what are you waiting for? This parfait is mellow and smooth and has all the feels.
Detailed recipe and credit – vegetariangastronomy.com
---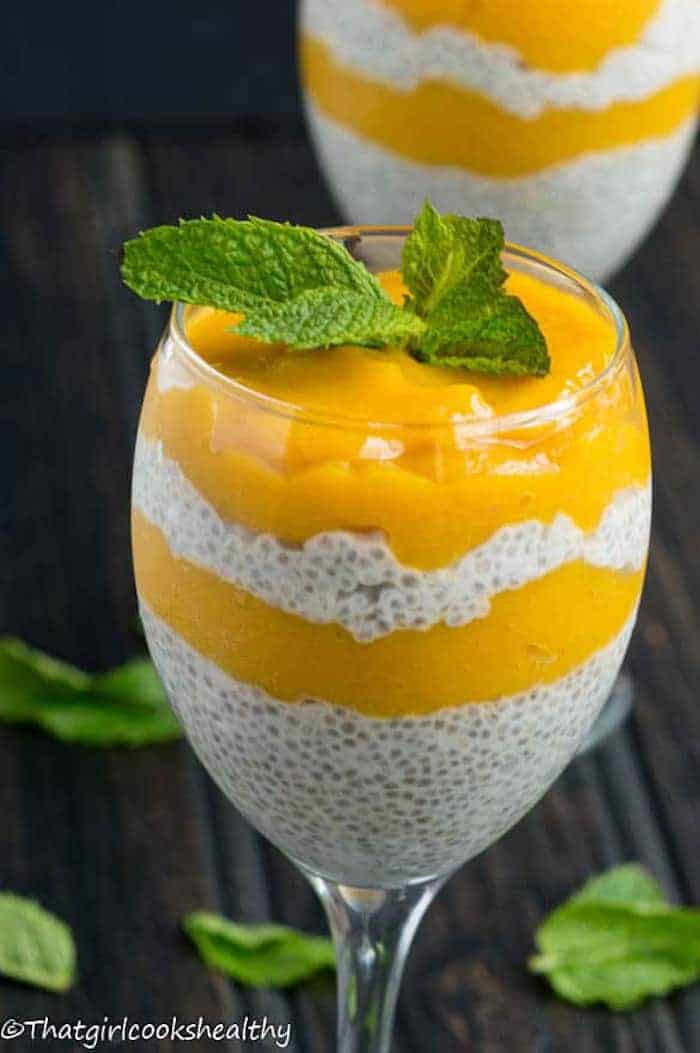 For all mango lovers out there, here is a mango chia pudding variation for you. The yellow layer is simply pureed mango. Assuming the mango is sweet you don't need any additional sweetener. Charla expands two tablespoons of chia seeds with coconut milk. For a special flavor, she adds a bit of cardamon to the mixture which is great to compliment this tropical fruit. So savory, so fruity, so perfectly mango.
Detailed recipe and credit – thatgirlcookshealthy.com
---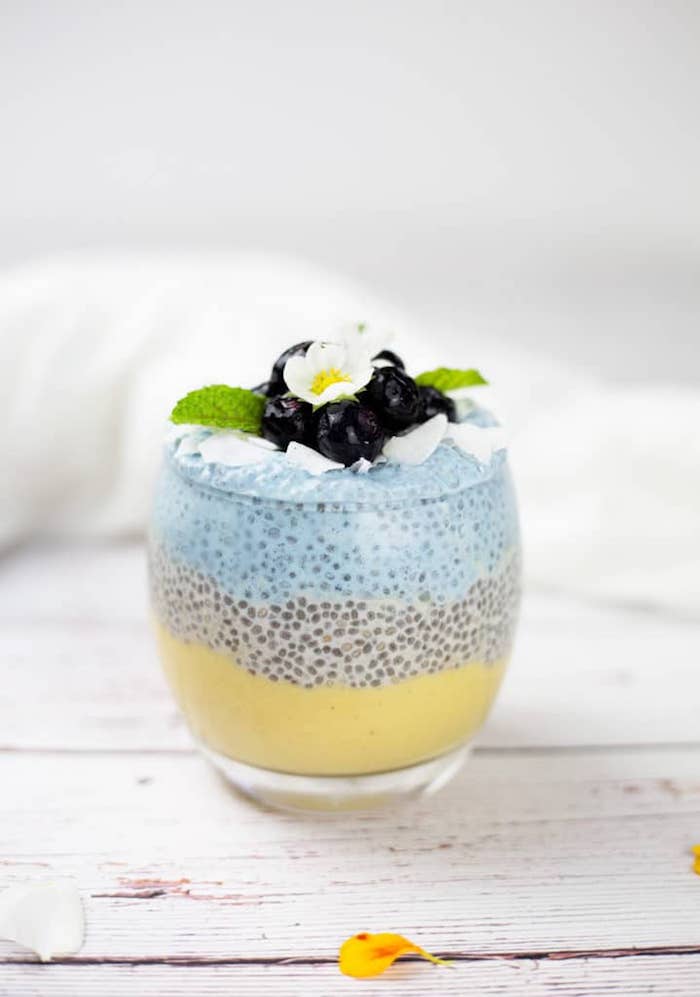 Here comes another impressive-looking creation by Hope that really can be enjoyed at any time of day. For this colorful mango chia pudding, she decided to add in some natural blue goodness from the Zen blend. The blend consists among others of blue spirulina with its powerful antioxidant attributes, pineapple, and ginger. The result is a fresh, creamy, and fruity pudding…….fun to make and eat!
Detailed recipe and credit – lovefoodnourish.com
---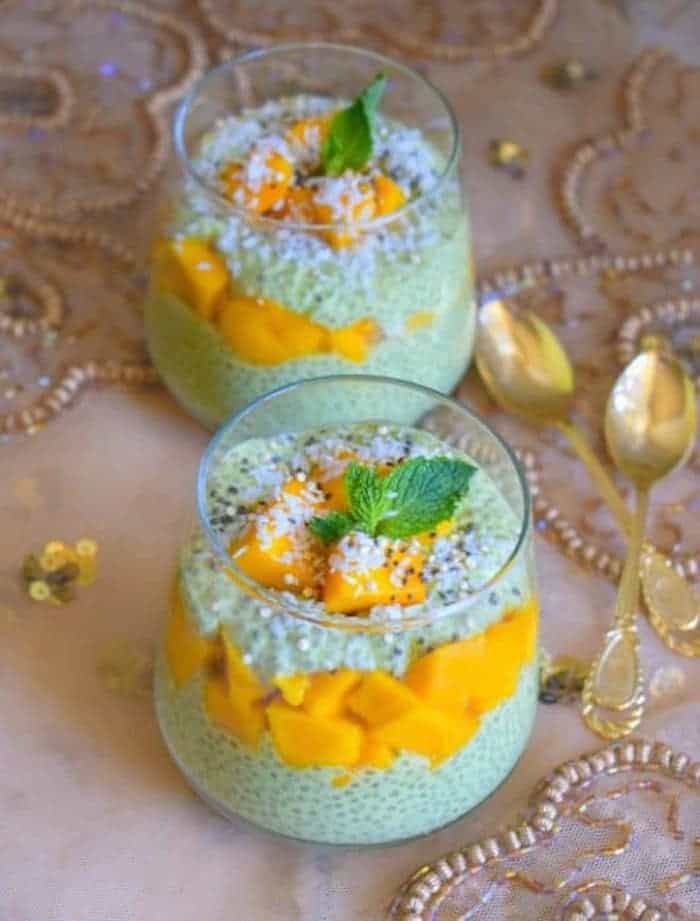 Do you love matcha? If yes, then you will find Molly's combination of coconut-matcha-mango simply divine. For all others let me tell you that this green tea is the best quality powdered tea available that is now conquering the health world by storm. Sure worth a try, I'm convinced that you won't regret this refreshing bite.
Detailed recipe and credit – easycookingwithmolly.com
---
Other tropical chia seed pudding ideas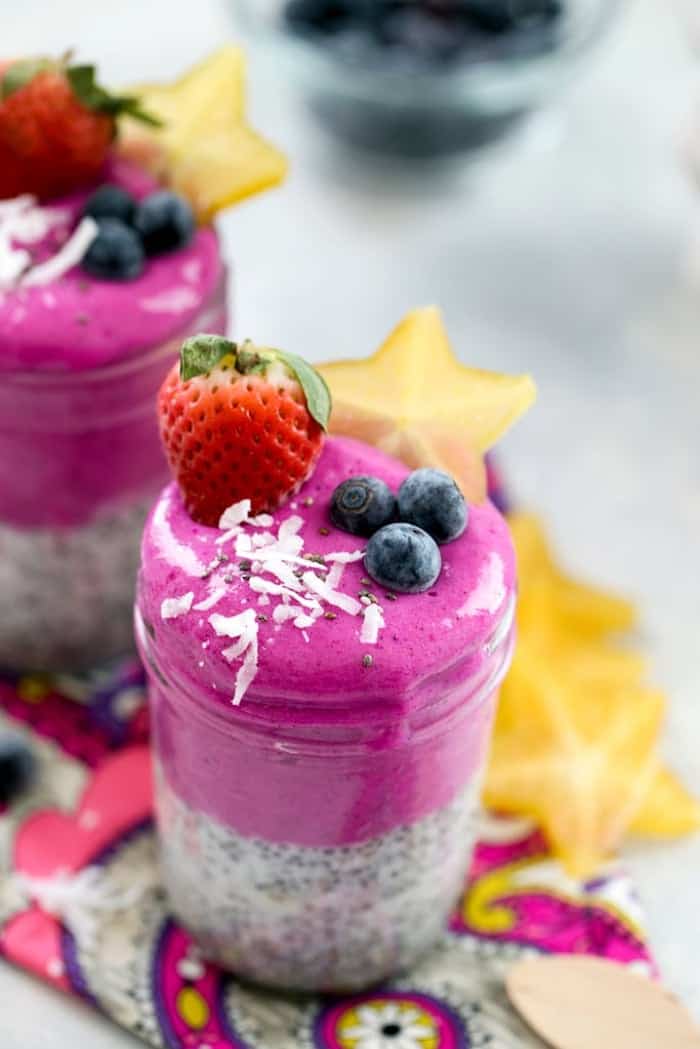 When you wake up to a breakfast like this, how can you not feel at least a little bit happy? I'm getting a positive mood from just looking at this picture:) These coconut chia dragon fruit smoothie jars will brighten up your morning with their stunning pink hue. On top, they will keep you satisfied and full for a long time! For the intense pink color Susy is using freeze-dried dragon fruit powder – a superfood packed with fiber, antioxidants, vitamin C and B.
Detailed recipe and credit: wearenotmartha.com
---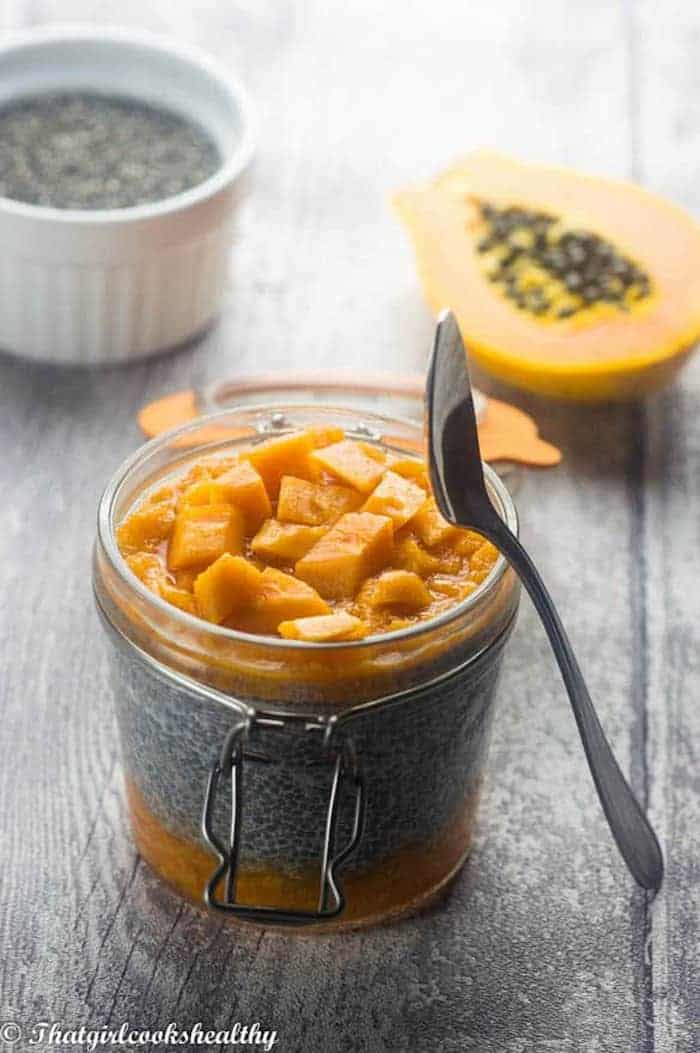 If you are constipated Charla's healthy recipe should work as a treat for you as chia seeds are rich in fiber. Combine papaya with chia seeds and that's a "bowel care marriage" waiting to happen. Her pudding is made up of just natural 4 natural ingredients. You can, of course, eat it whenever you see fit – morning, noon or night. Just grab the recipe!
Detailed recipe and credit: thatgirlcookshealthy.com
---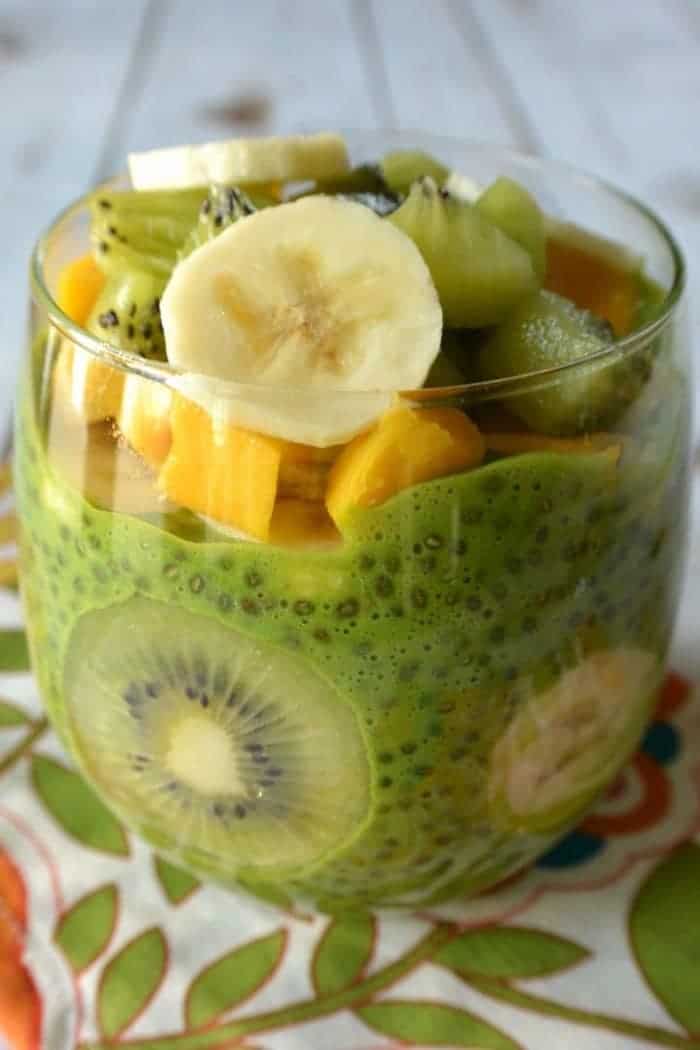 Amy's green chia pudding is the only recipe in this roundup that includes also vegetables. For her appealing creation, she combines spinach, Medjool dates, plant milk, and chia seeds. The fruit topping consists of kiwi, and, mango which I feel is a perfect combination for this tropical recipe.
Detailed recipe and credit: veggiessavetheday.com
---
Fall-Inspired or with flavorful spices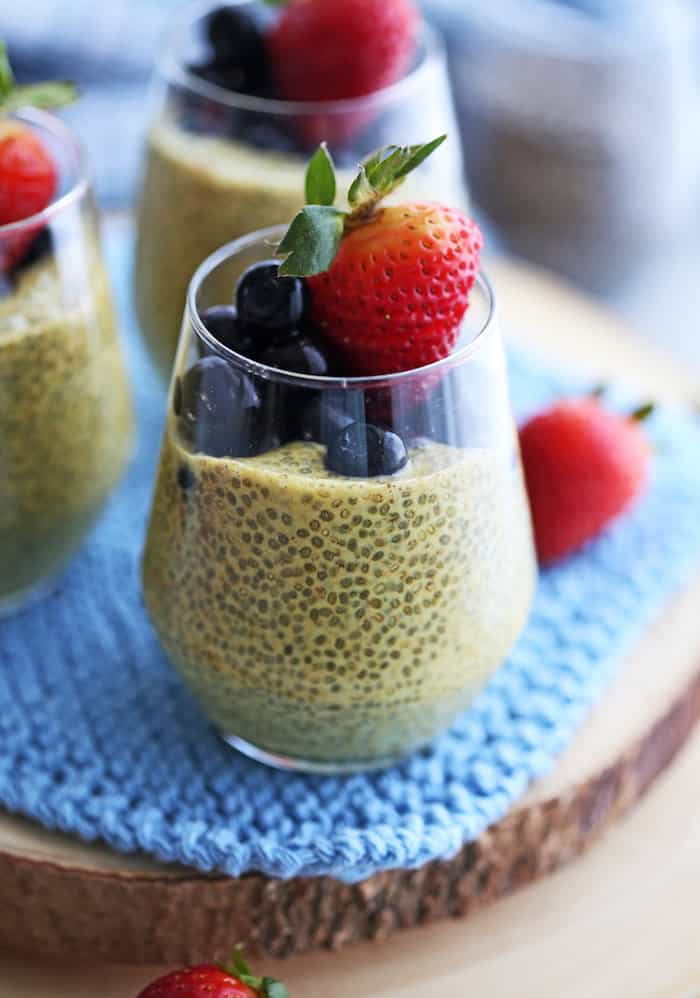 I'm a big fan of turmeric and therefore especially pleased by Marie's easy turmeric milk chia pudding. Turmeric is a warming spice and known for its anti-inflammatory and antioxidant properties. In this pudding, she includes additional warming spices such as cinnamon and ginger. For topping Marie adds a large handful of fruits of her choice (like strawberries, blueberries, or bananas). So good for you and so delicious, too.
Detailed recipe and credit – yayforfood.com
---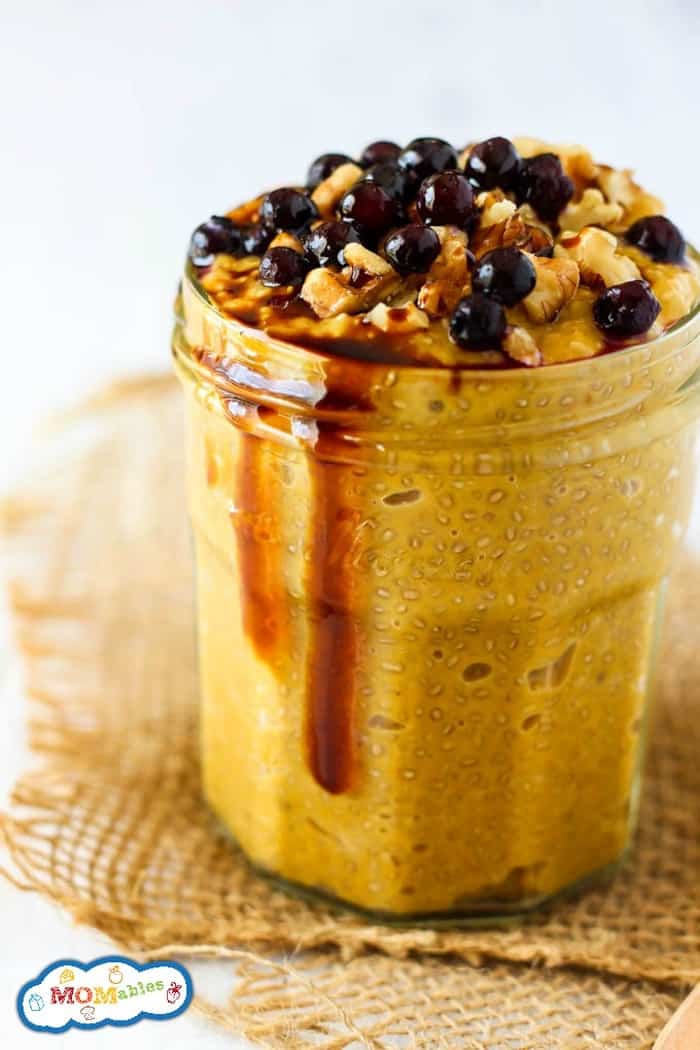 Do you need a healthy way to indulge a pumpkin pie craving? Then you will love Paula's gluten-free dessert-for-breakfast recipe with pure pumpkin puree! For texture, she loves to top it with crunchy pecans. A drizzle of molasses (don't go overboard!) provides the true pumpkin pie flavor. So yummy!
Detailed recipe and credit – momables. com
---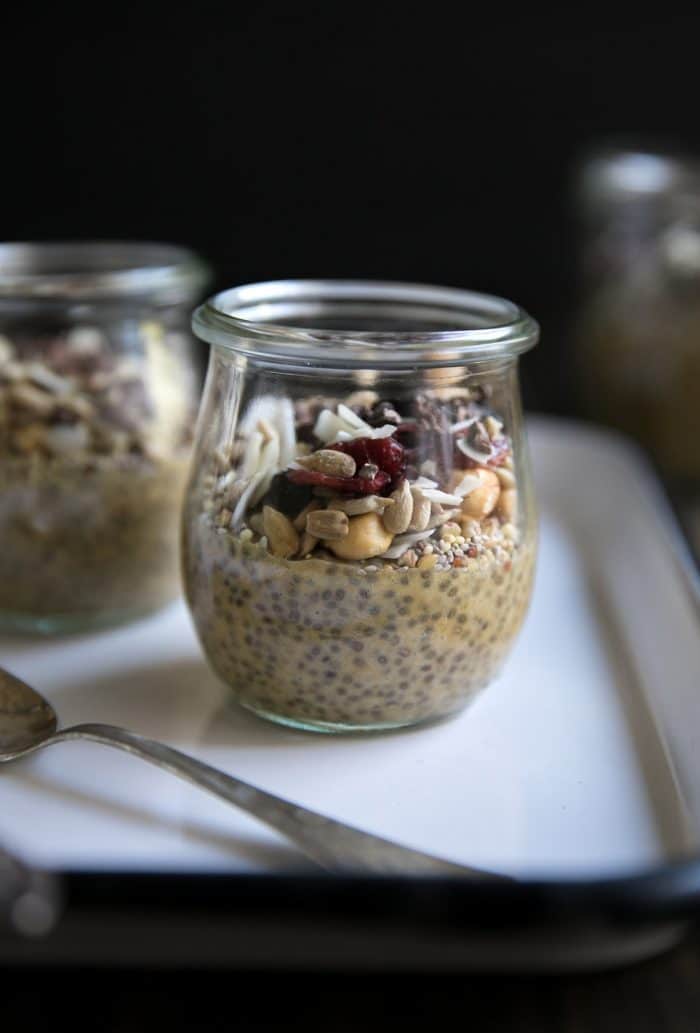 Here comes another fall-inspired pudding that you can totally eat for breakfast or dessert. Jessica promises that even if you dislike chia pudding, you will love her spiced butternut squash chia pudding as it tastes like pumpkin pie. Ok, if you don't like pumpkin pie then you might want to skip this. She also gives some great tips on how to make your own pumpkin puree. The ingenious topping is a mixture of nuts, sunflower seeds, dried blueberries, shredded coconut, and dried cranberries. A great recipe to fall so madly and deeply in love with!
Detailed recipe and credit – theforkedspoon.com
---

Dini presents an ultimate make-ahead, wholesome, delicious dessert or breakfast! This creamy overnight pumpkin pie chia pudding parfait truly is full of protein, fiber, and all the cozy flavors of pumpkin pie, fall, and the holidays. Her parfait is, of course, vegan-friendly, gluten-free, and paleo-friendly. Grab a spoon and dig in!
Detailed recipe and credit – theflavorbender.com
---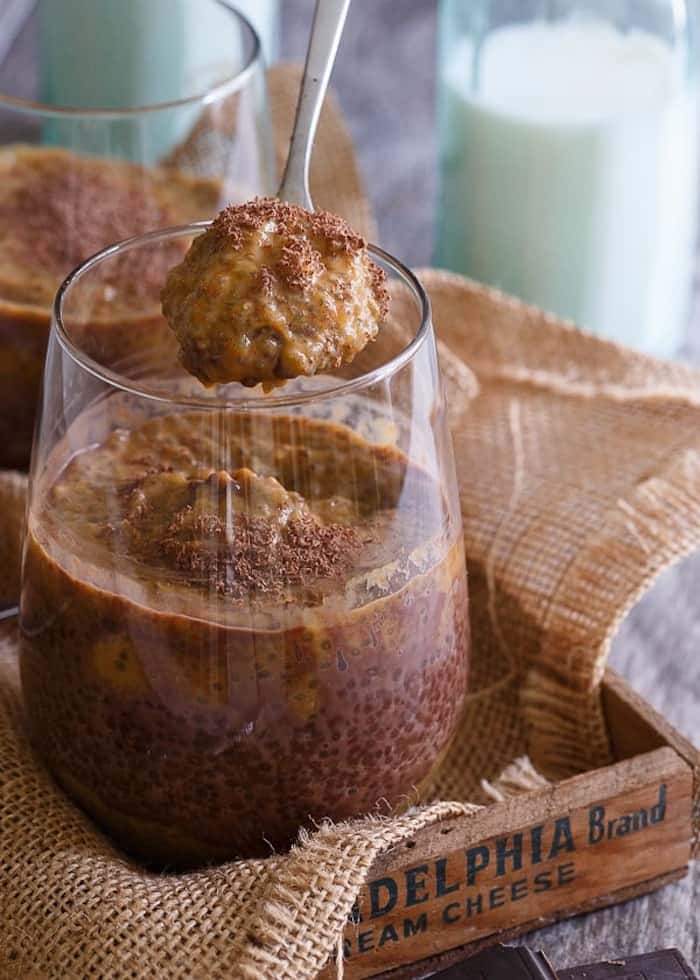 I'll end this fall treat section with Gina's pumpkin chocolate chia pudding – a perfect snack after workouts. Since it's a great balance of carbohydrates and protein, chocolate milk has been long been touted as the "ideal" workout recovery snack. Gina goes one step further and combines Medjool dates, dark cocoa powder, pumpkin, chia seeds and milk to a fancy fall version on that classic. If you are vegan just replace the dairy with plant milk. Keep Gina's recipe at hand, if you want to take your workouts to the next level. Because we all know that nutrition matters when it comes to workouts!
Detailed recipe and credit – runningtothekitchen.com
---
For true chocoholics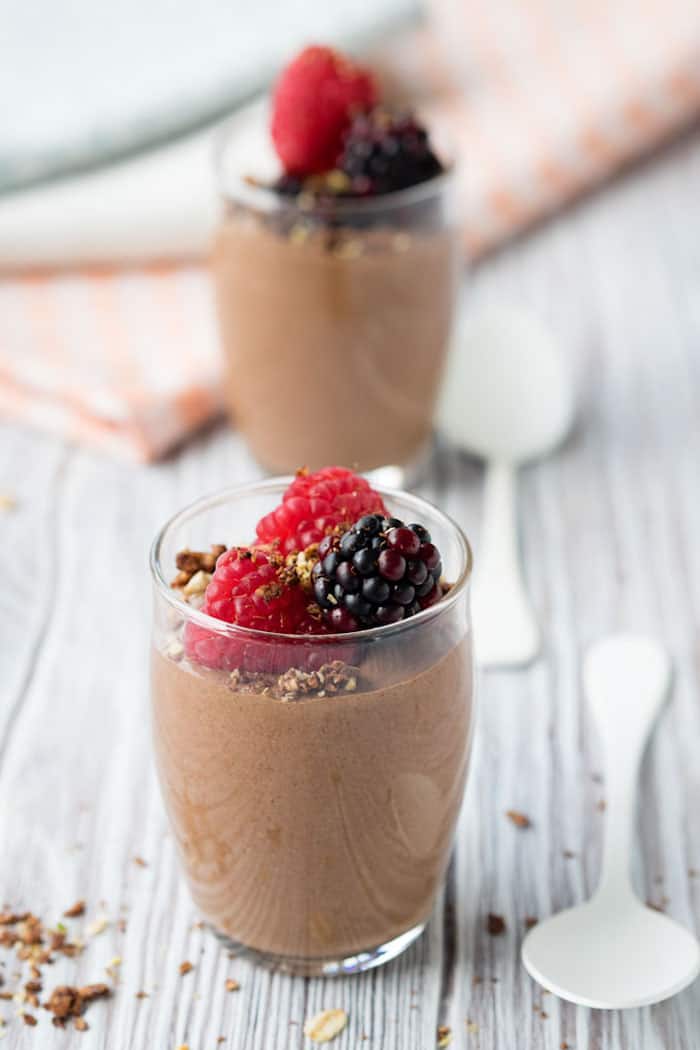 Tina is a true breakfast expert so you can't go wrong with her delicious chocolate chia pudding which she calls affectionately a "bressert".
This simple recipe literally involves three steps and can be done the night before. She also gives some valuable tips on how to blend chia seeds into a smooth pudding. Hint: You don't need a food processor.
Detailed recipe and credit – theworktop.com
---

I think that the only thing that beats peanut butter on its own, is peanut butter and chocolate combined. Sarah's fiber-rich breakfast is loaded with chocolate and peanut butter. It takes all of 5 minutes to throw everything together in a jar, mix it up, and store it in the fridge overnight. What better way to start your day than with something that's as tempting as it is nutritious?
Detailed recipe and credit – asaucykitchen.com
---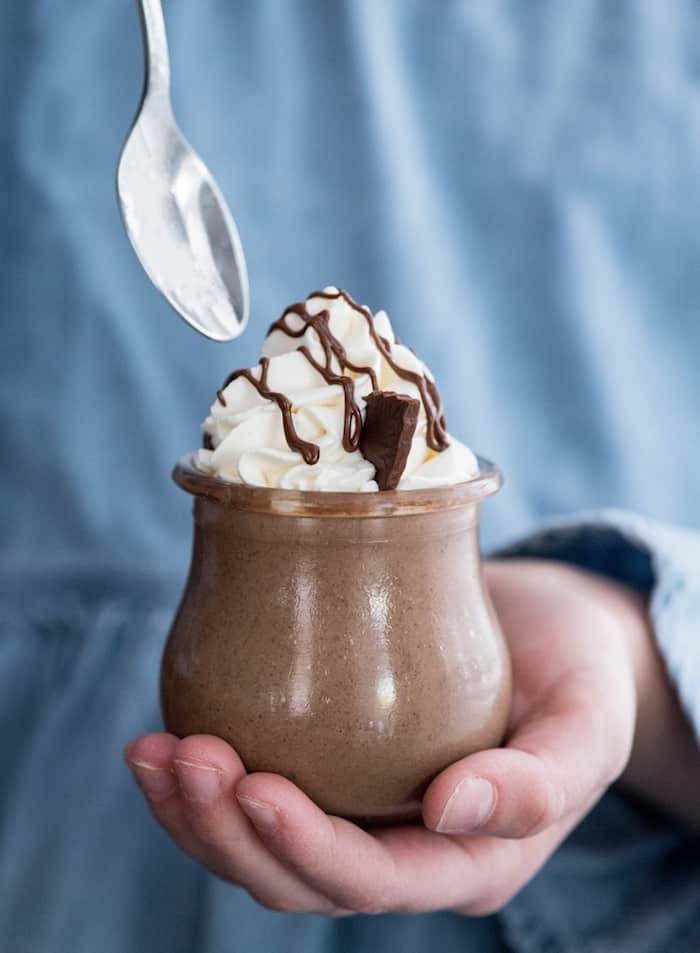 Laura has chosen a combination of peanut butter powder and chocolate. She wrapped all up in a decadent and creamy chocolate peanut butter chia pudding. Although it has no refined sugar it tastes like a luscious treat to satisfy a sweet tooth. For a clean and lean version just leave out the non-dairy whipped cream. If you need a sweet fix without throwing off your healthful lifestyle goals, this is your perfect recipe!
Detailed recipe and credit – joyfoodsunshine.com
---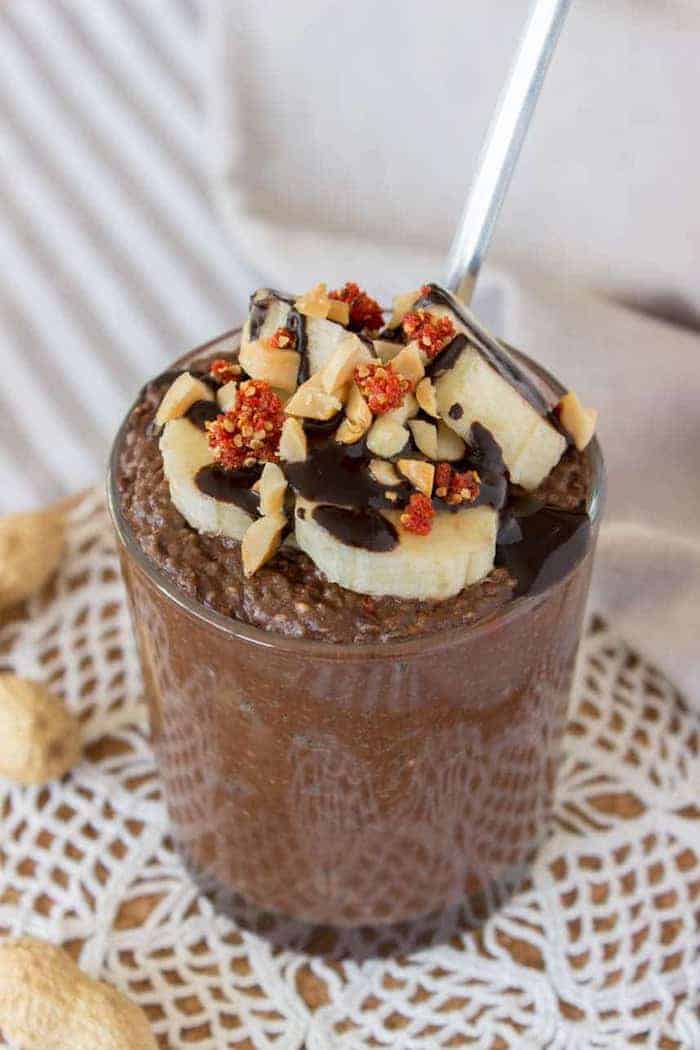 By now you might guess that I can't get enough of chocolate peanut butter chia seed puddings. Natalie created a rich, chocolaty delicacy which is just heavenly. This easy to make chia pudding is maca infused, filled with wonderful flavors, very nutritious and so good. You've never heard of maca? This is a root from the mountains of Peru. It is full of vitamins, minerals, beneficial fatty acids, and antioxidants that offers a wide variety of health benefits.
Detailed recipe and credit – natalieshealth.com
---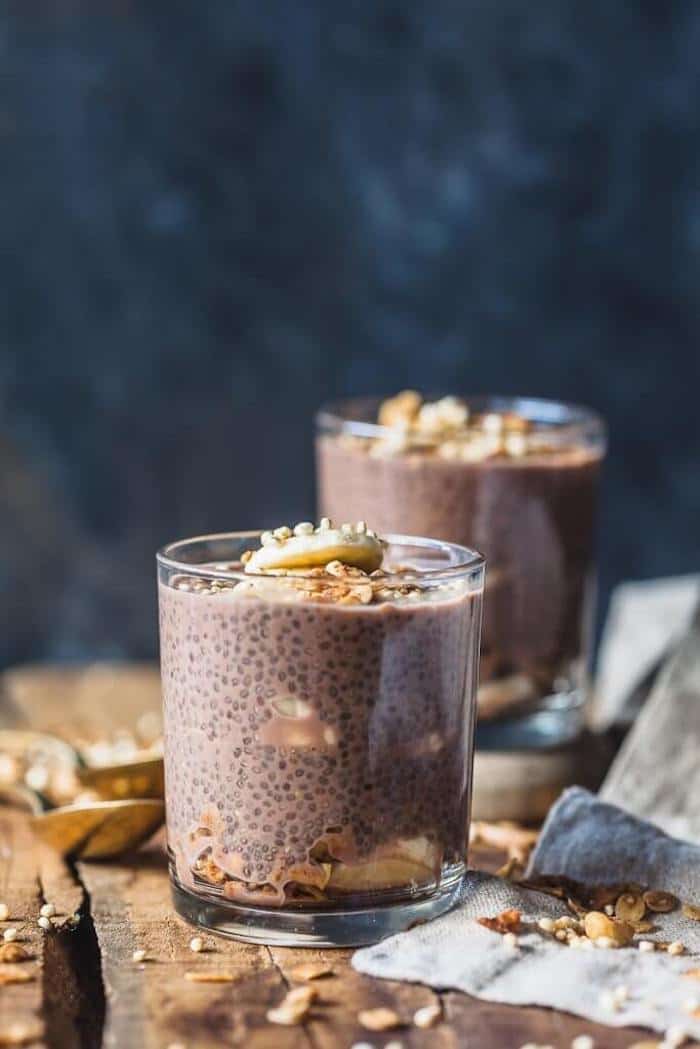 This easy 5-ingredient banana chocolate chia pudding topped with quinoa puffs is the appetizing creation of Kristina and Mitja from lovely Slovenia. For a cleaner version just replace the chocolate syrup with 2 tablespoons of cocoa powder. A ripe banana should provide this perfect breakfast treat with enough sweetness. I think this is just another on-the-go mornings recipe you should not miss. Hvala, Kristina, and Mitja!
Detailed recipe and credit – vibrantplate.com
---
Layered pudding desserts, parfaits or pies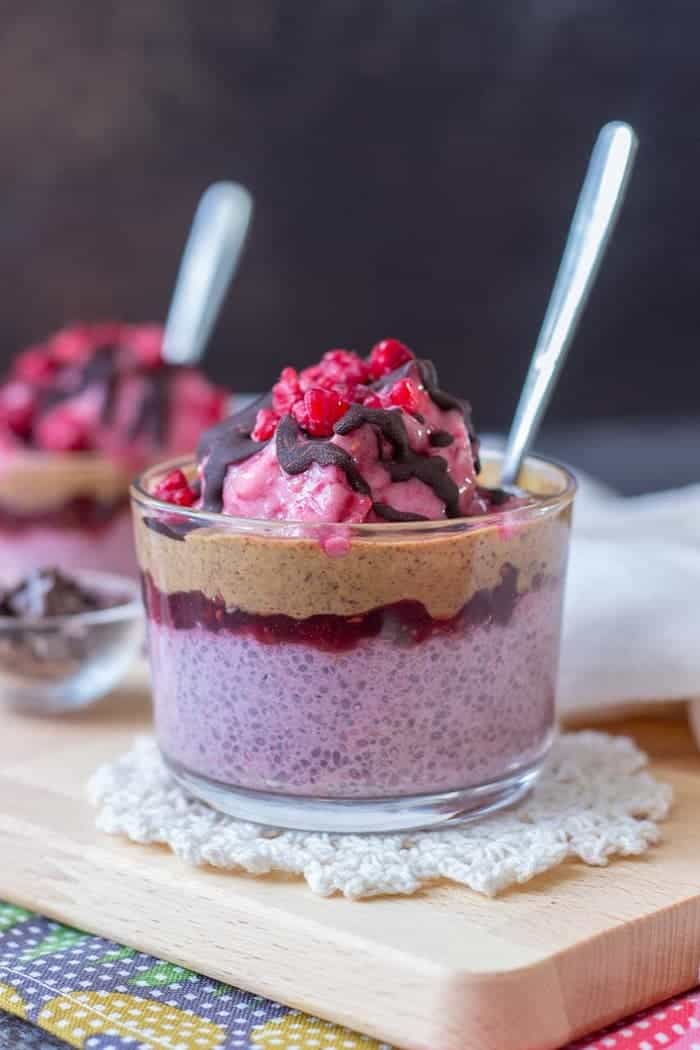 Doesn't this delight look just gorgeous? When I would have to choose the most beautiful photo on this blog post then Nathalie's raspberry chia pudding photo would be my winner. But you can imagine that this layered dessert tastes also marvelous. Topped with homemade raspberry jam, almond butter, and a creamy banana raspberry ice cream, this layered pudding is one stunning guilt-free treat you can't get enough!
Detailed recipe and credit – natalieshealth.com
---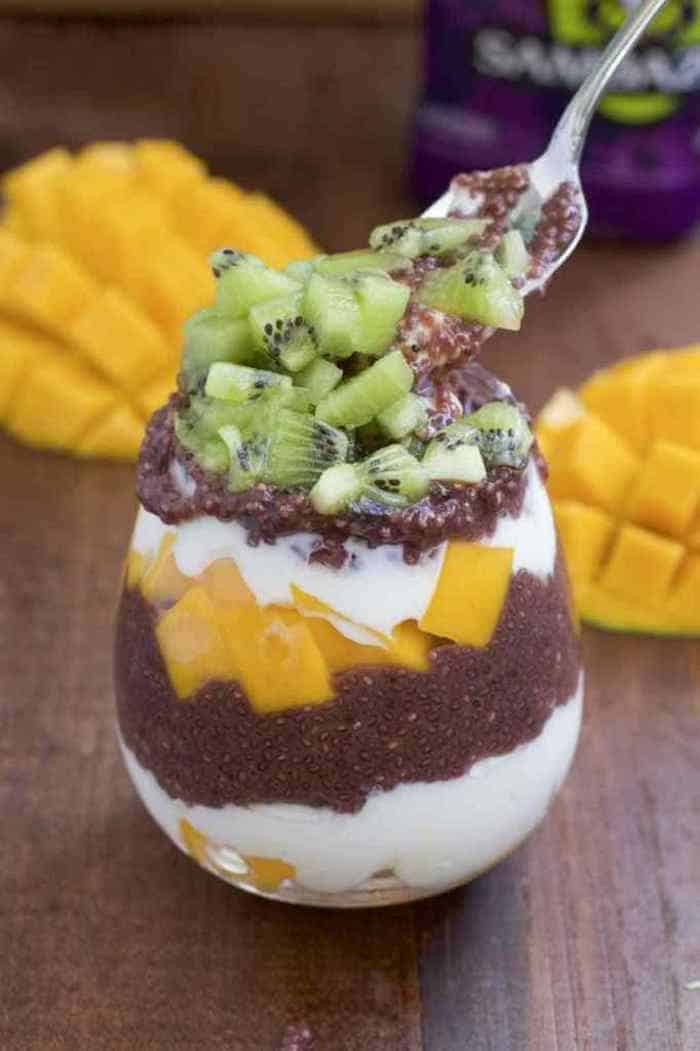 Doesn't Stacey's acai chia seed pudding just look amazing? This protein-packed delicacy is layered with mango chunks, coconut yogurt, and topped with fresh kiwi! To get the chocolate resembling layer she soaked chia seeds in acai juice. Perfect for a nutrient-dense snack or quick breakfast.
Detailed recipe and credit – staceyhomemaker.com
---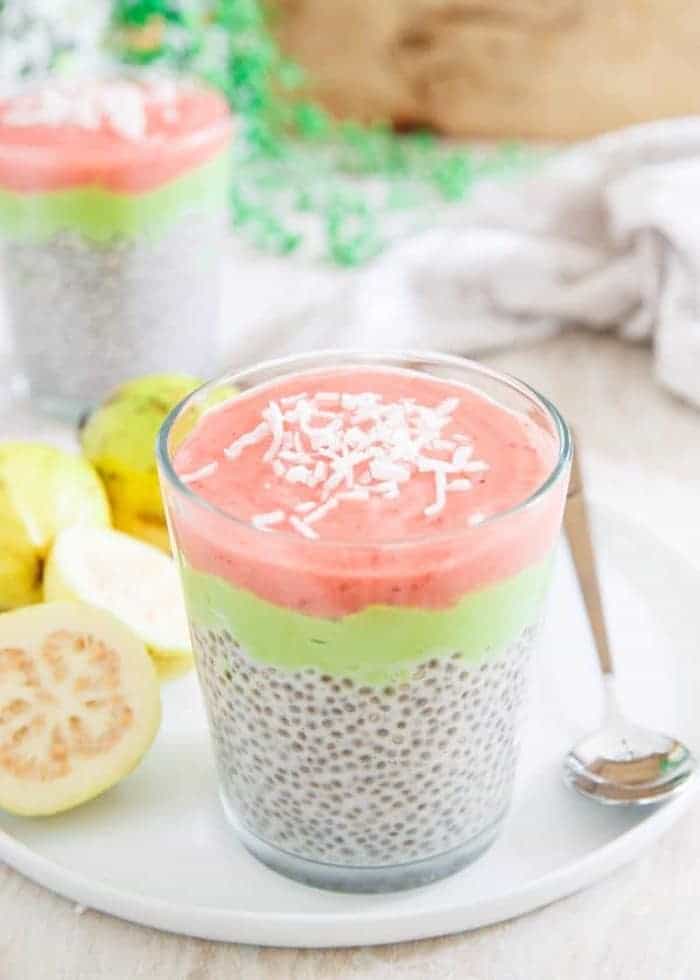 For all those of you who can't get enough summer fruits and sunny feelings, this guava chia pudding from Gina is for you. It has a light vanilla extract chia base and a gorgeous avocado banana cream middle layer (I love this green!). The topping is a sweet and tangy strawberry guava jam. This dessert has it all and is a celebration of the best the summer season has to offer.
Detailed recipe and credit – runningtothekitchen.com
---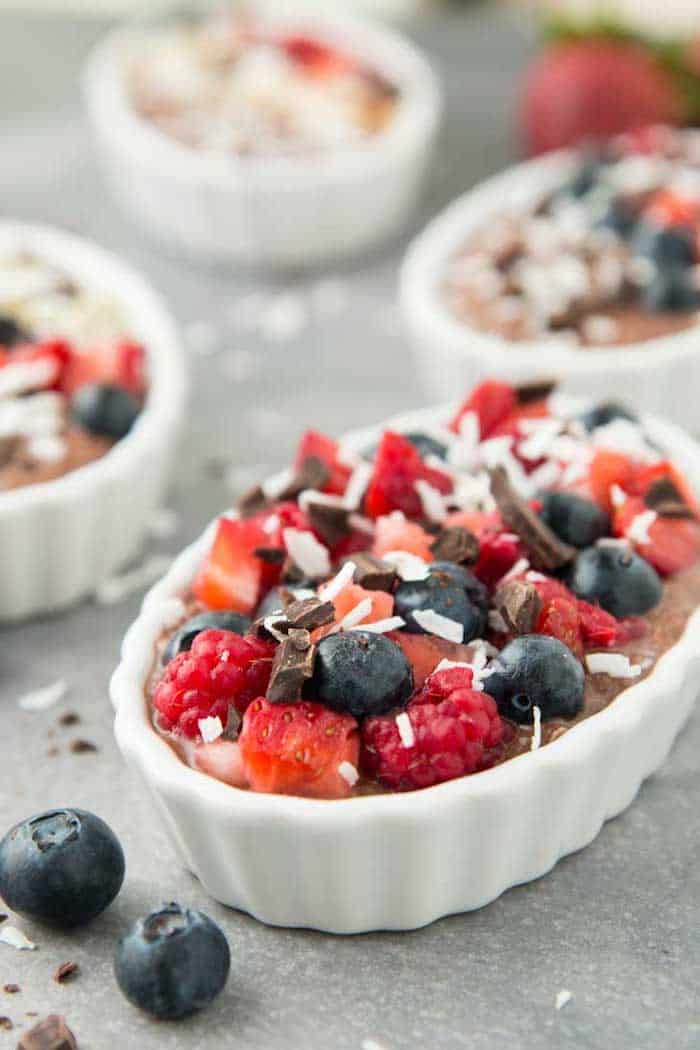 This 7-ingredient chocolate chia pudding pie by Anjali requires only 10-minutes of prep, is no-bake, gluten-free, and refined sugar-free! It is the perfect dessert for dinner parties, especially if you don't know what to bring with you to a friend's house. It is quick and easy, relatively healthy (ok, there is some sprinkled chocolate), yummy and a guaranteed crowd-pleaser.
Detailed recipe and credit – vegetariangastronomy.com
---
Matcha or chai inspired versions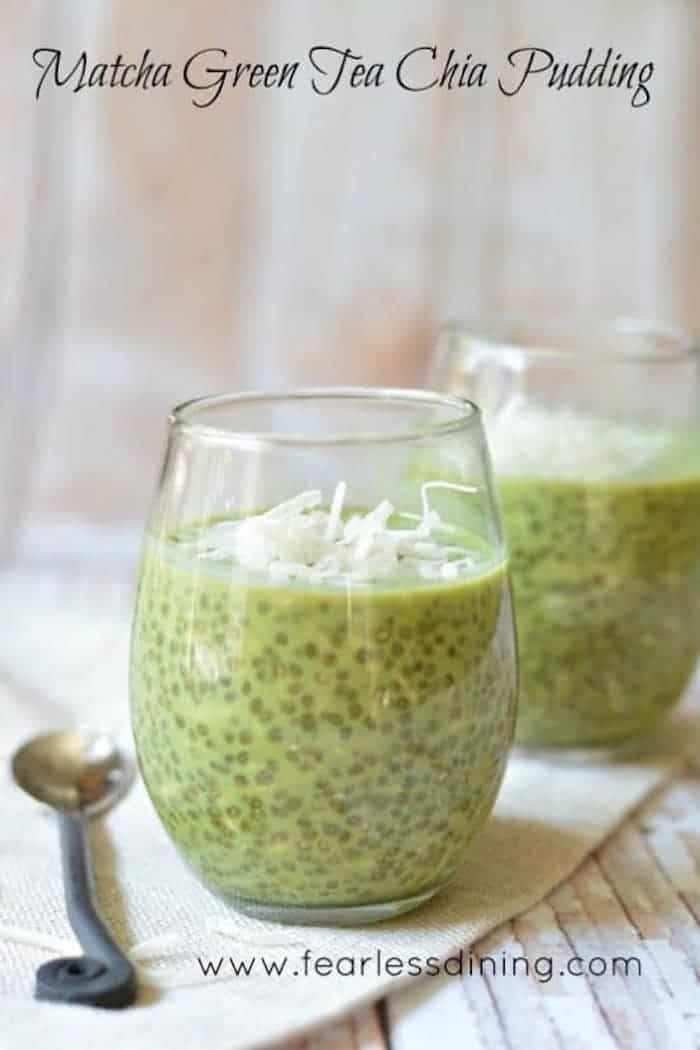 This must be the easiest matcha green tea pudding you've ever seen. Sandi Gaertner just dumps a few ingredients like chia seeds, matcha green tea powder, coconut milk, and unsweetened coconut into a container and put it in her refrigerator overnight. She wakes up to a creamy, gluten-free matcha chia pudding breakfast! As a sweetener of choice, I recommend replacing the table sugar in the ingredient list with coconut sugar which has a lower glycemic index. Even date or maple syrup are better options than white sugar.
Detailed recipe and credit – fearlessdining.com
---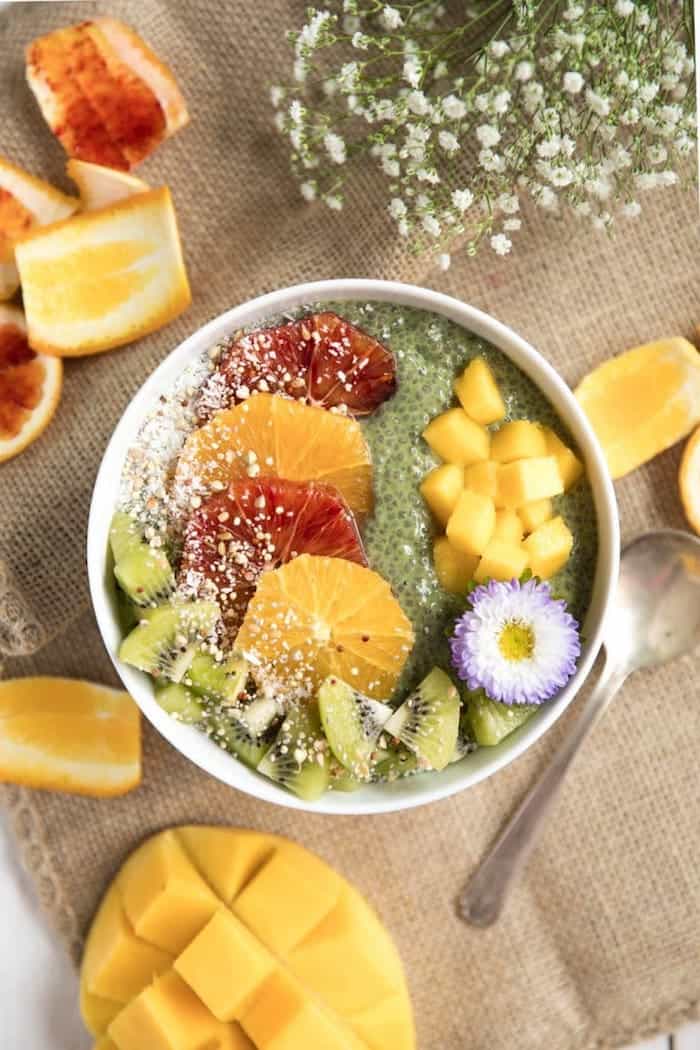 The combination of kiwi, citrus fruits and mango with matcha in this matcha chia pudding fruit bowl recipe by Jessica is heavenly. The mango and orange made it especially delicious and the sprinkled coconut is just icing on the cake.
Detailed recipe and credit – theforkedspoon.com
---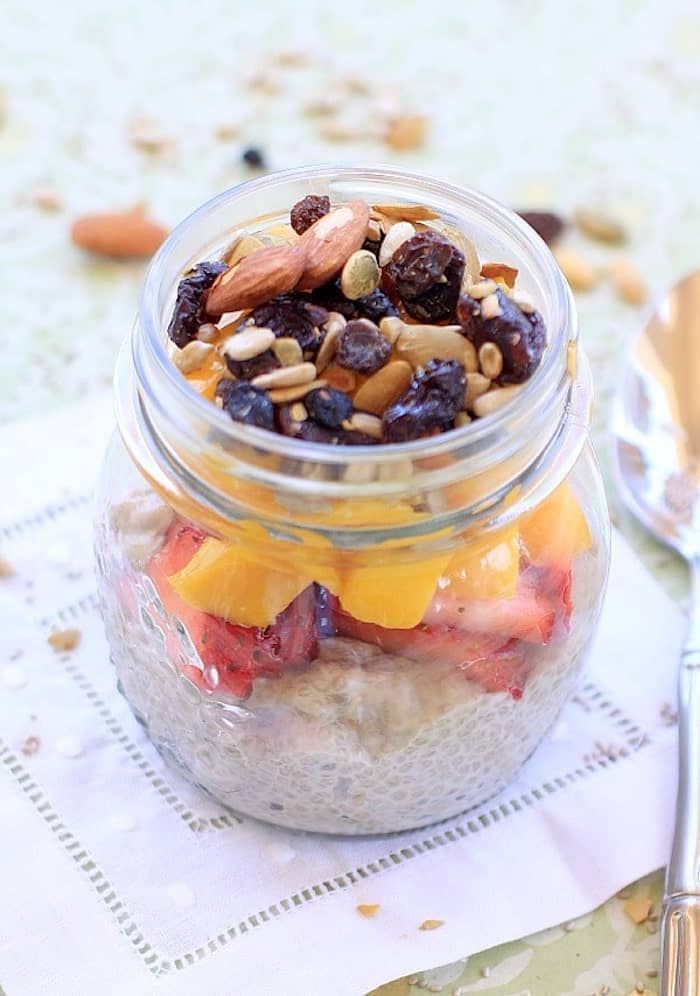 This creation by EA is for all lovers of warm pudding. Green infused teas and ginger with chia seeds and coconut milk, plus fresh strawberries and mango on top, are really a match made in heaven. Then top it with whatever nuts, seeds, dried cranberries etc, that you have on hand. Yummy!
Detailed recipe and credit – eastewart.com
---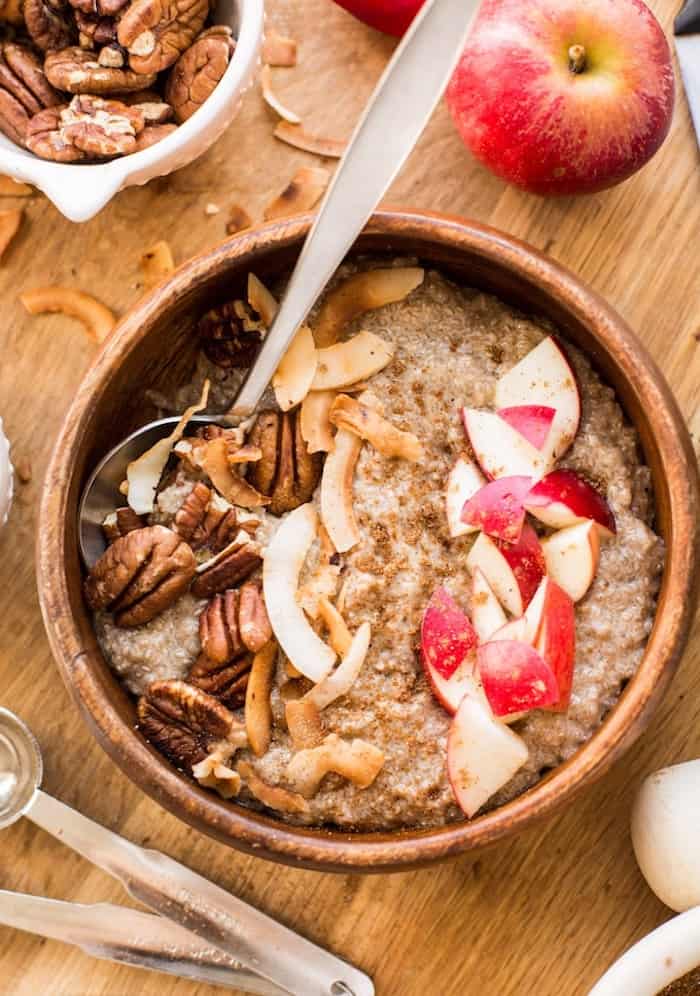 Here comes another warm and cozy chai chia pudding that according to Sarah smells like a dream….tastes like one too! I'm totally convinced. Her recipe is super easy to make and requires only 5 ingredients and about 5 minutes on the stove top. As plant milk, I recommend almond milk. Her tip: If you don't have chai spice on hand you could always use just cinnamon.
Detailed recipe and credit – asaucykitchen.com
---
One recipe – several variations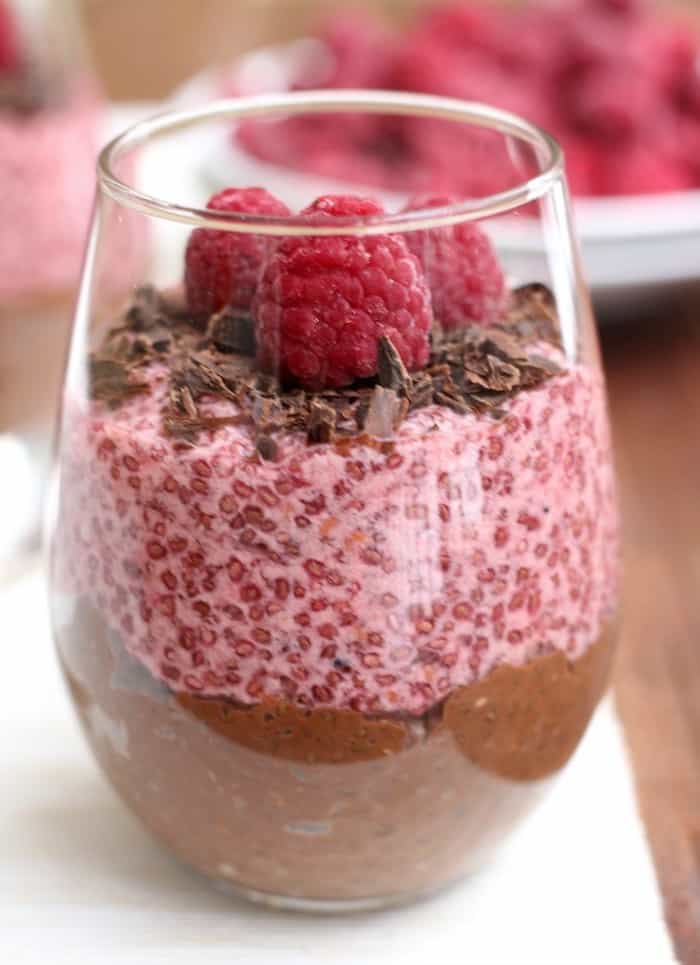 This chocolate and raspberry chia dessert by Maria Ushakova is rich, tart, and oh so smooth. Maria shows 4 easy ways how to present this seducing dessert. It's the perfect semi-sweet treat for chocolate lovers. What an attractive culinary delight!
Detailed recipe and credit – mariaushakova.com
---
Do you know the benefits of chia seeds?
I hope my roundup could inspire you and you love these chia pudding recipes as much as I do. If you are new to the world of these famous seeds make sure to read also my article on what are the benefits of chia seeds. Instead of pudding, you may want to print the recipe for my fiber-rich chia seed jam.
Buying Tip
If you are looking for a good resource, check out my recommendation on Amazon:
=> Nutiva Organic Chia, 2 pack – organic 32 Ounce (Affiliate Link)