Perhaps you have already discovered chia seeds for yourself. Someone who prefers a conscious and plant powered diet, will inevitably come across these small seeds that are incredibly nutritious, versatile and easy to use in the kitchen.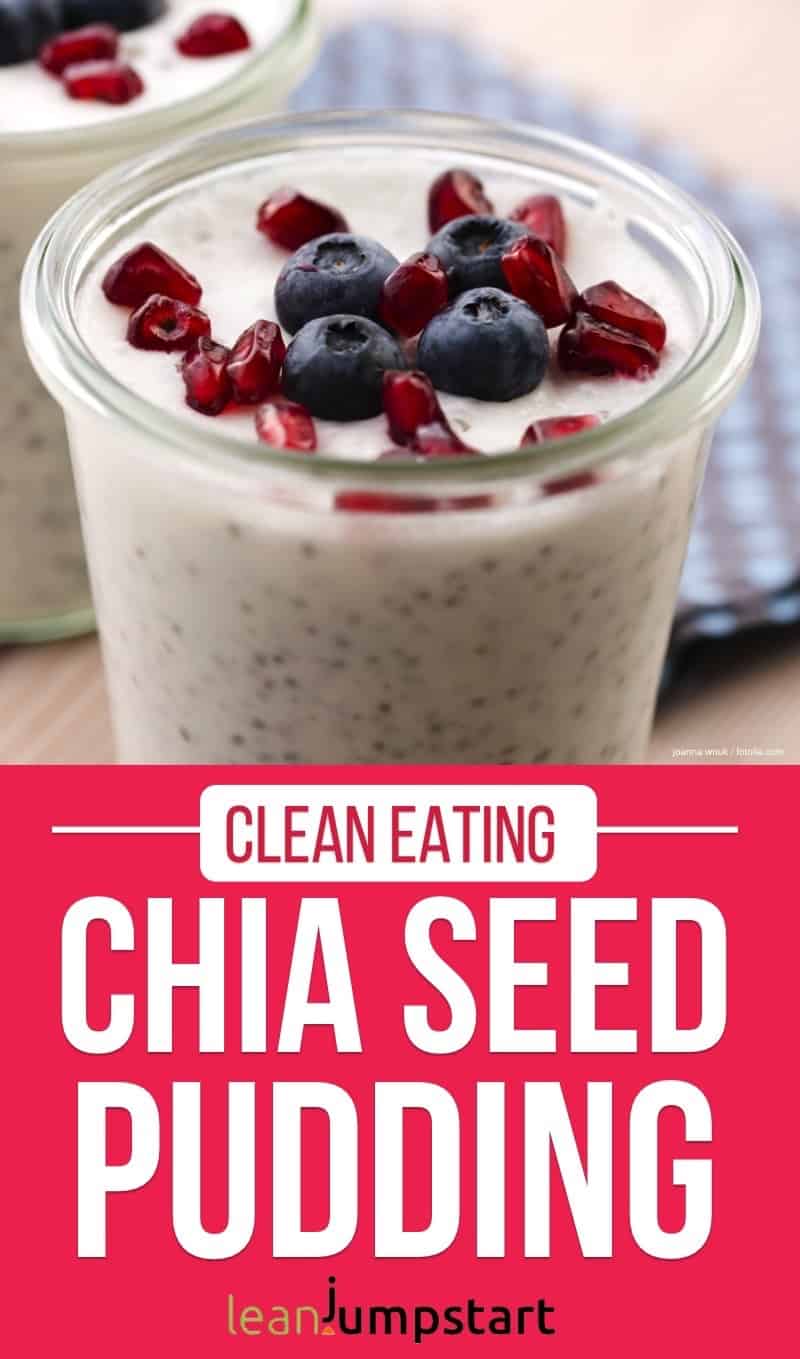 Lover of store-bought chocolate or vanilla puddings will probably hesitate trying chia pudding. But when I tell you that it is the perfect clean eating power breakfast that provides you with all the valuable nutrients in the morning, you will be thrilled.
If you are willing to experiment a bit with plant-based breakfast options then you will soon realize that chia puddings are hard to top! By the way, the following basic creation is flexible enough to be served as a wonderful clean eating dessert too.
How to make chia pudding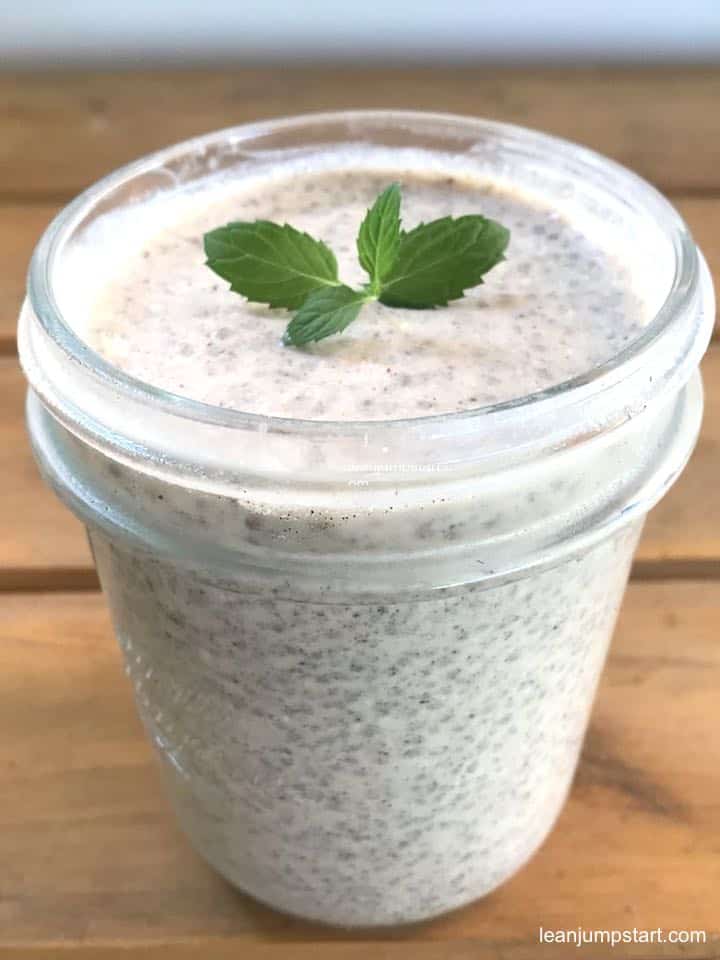 1. Play with consistency
Don't expect a traditional pudding, rather it is in liquid soaked chia seeds resulting in a jelly-like cream. The consistency depends on the amount of liquid and how long you soak the seeds. If you like your pudding smoother, add more liquid. If you like it firmer, add less fluid. You can adapt the recipe to your personal taste.
2. Prefer plant milk as fluid
You can also choose the fluid individually. Perfectly suitable is dairy free plant milk:
almond milk,
cashew milk,
rice milk,
soy milk,
hemp milk
oat milk,
coconut milk,
and even water…
My personal advice, however, is to soak the seeds always in plant milk. There is a simple reason for this. Chia seeds are naturally neutral in taste. By soaking them in plant-based milk they gain taste, which would not be the case with water.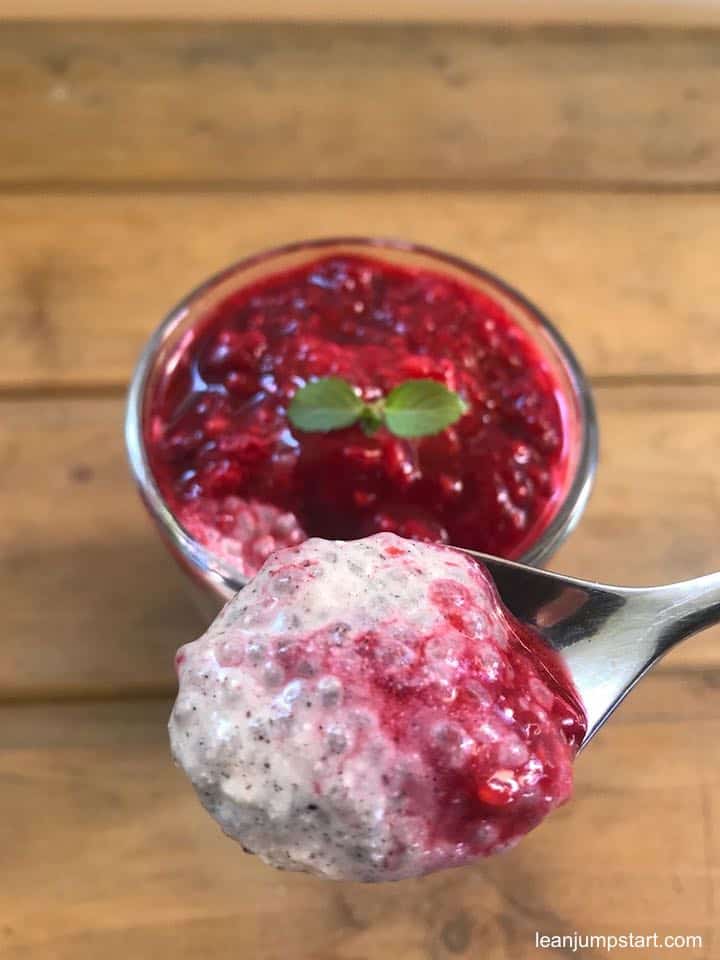 3. Best preparation method
Now you can take meal prepping to the next level. The best way to make chia pudding breakfast is to prepare it the evening before.
Chia seed ratio: Add 2 tablespoons of chia seeds to 200 ml of liquid and refrigerate overnight. After this soaking process, the basic pudding gel is ready.
To speed up this process, you can soak about 200 ml liquid with 4 tablespoons of seeds for 2 to 3 hours. In that case, of course, you can still feel the consistency of the seeds while eating.

4. Refine with spices and natural sweeteners
To taste, you can add spices such as cinnamon, vanilla, coconut or cocoa powder. Sweeten it with e.g. maple syrup, date syrup or coconut sugar. Especially with unsweetened cocoa powder and some coconut sugar you can easily create an amazing chocolate chia pudding.

A perfect sugar free combination is also all kinds of fruits or fruit purees. One of my favorite toppings is mango puree.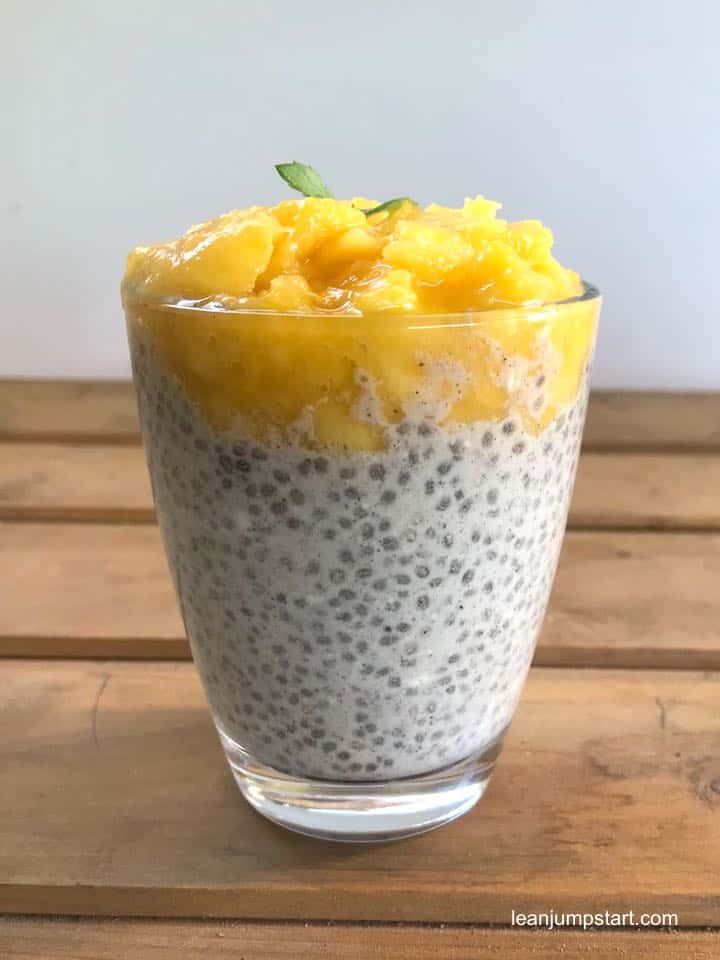 Nut butters like peanut or almond butter are delicious additions too. If you are a sweet tooth then dates and ripe bananas offer great natural sweetening options.

The sky is the limit! There exist even combinations with butternut squash, protein powder or matcha tea. For inspiration I've curated 30 amazing chia seed pudding recipes from some of my favorite food bloggers on the web.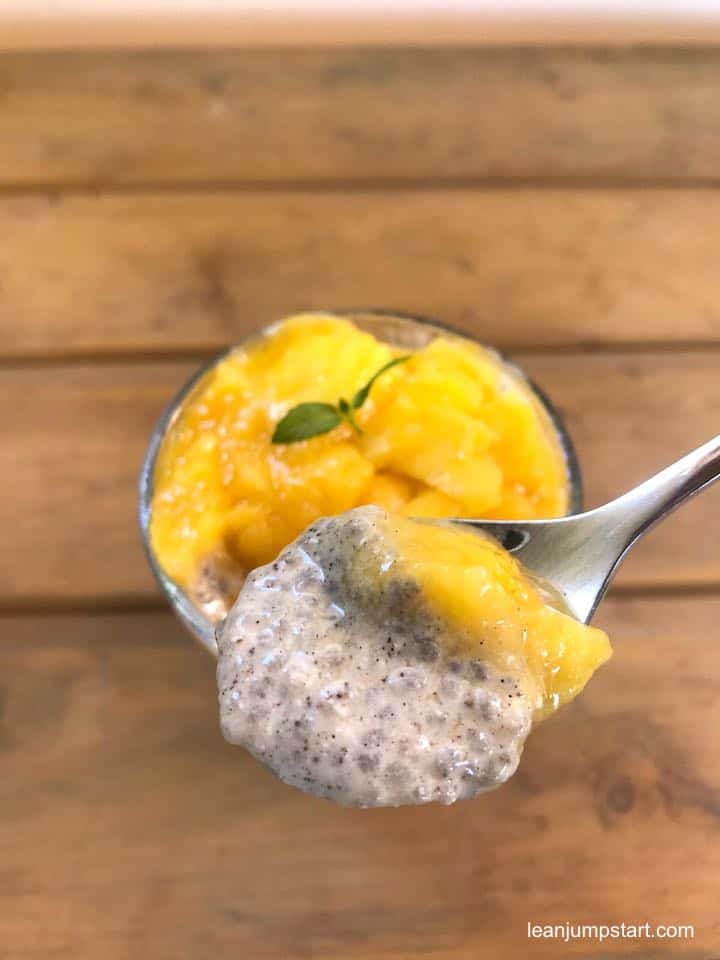 Keep chia gel up to 1 week in your fridge
If you prepare the seeds with water, you can keep the gel for up to 1 week in your refrigerator. Just mix 1-2 tablespoons of gel with plant milk, fruits or nut butter, add some spices – and your 5-minute breakfast pudding is ready. I recommend however to use up "plant-milk gel" after 2 days at the latest.
Chia seed benefits
Nutrient-dense power booster
The small seeds act like power boosters from nature due to their concentrated nutrient composition. They stimulate the metabolism, promote digestion and keep you full for a long time without causing any discomfort. This all helps you start your day with a happy mood.
Many vegans rely on them
It is rich in important nutrients that are otherwise found mainly in animal products. Chia seeds have an extremely high protein content, contain many healthy fats like omega-3 fatty acids and are also an excellent source of calcium and iron.
Popular among endurance athletes
Due to their high protein and fiber content, they are particularly popular among active people and endurance athletes. Marathon runners love to supplement their diet with these power seeds. Even the smallest quantities provide a lot of energy, strength and endurance over a long period of time.

As a sustainable source of energy, they not only increase endurance but also provide numerous vitamins and minerals as well as the already mentioned anti-inflammatory fatty acids in high concentrations.
I've raved already about the many benefits in various blog posts. If you didn't read it yet, don't miss this important background information on chia seed benefits! But now let's jumpstart right into this great recipe.
If you are not used to these kind of puddings, it might look a bit weird and also this seed is surprisingly tasteless. Dependent on the recipe and ingredient combination however it can tastes delicious. Convince yourself and check out the following mild tasting, fiber-rich breakfast.
Print
Clean Eating Chia Pudding
A delicious clean eating dessert recipe for weight conscious
Author: Gabi Rupp
Prep Time:

15

Total Time:

15 minutes
4 tbsp

chia seeds

1 1/2 cup

coconut milk or almond milk (

300

ml)

2 tsp

pure vanilla extract

1 tsp

date syrup or honey
Topping: fresh fruits like kiwi, strawberries, blueberries, or almonds
Instructions
Combine chia seeds, milk, and vanilla extract together in any container with a tight lid – I prefer Mason jars.
Mix and stir until chia seeds are well dispersed with the other ingredients.
Stir in your honey for sweetness.
Store it in your fridge overnight or for at least six hours.
When ready to eat, stir well again.
Top with pomegranates and blueberries. But you could use also kiwi, strawberries, raspberries or hacked almonds.
Notes
Indulging and healthy clean eating couldn't be easier.
It is healthy enough to have it as nutritious breakfast too:)
More chia seed recipes
Since they have neither a taste-altering effect nor a pronounced taste themselves, they are particularly easy to use in puddings, smoothies or soups. Check out in this context my quick and easy chia seed jam. You can also use these tiny power houses for baking or thickening sauces.
The seeds are available as black and white seeds. Good to know: According to scientific research, there is no difference in nutrient composition attributable to their colour.
My shopping tip!
If you are looking for a relaible brand with non-gmo, organic products I can highly recommend "Nutiva". It offers among others superb quality for a reasonable price:

=> Nutiva Organic Chia Seeds, 2 pack – organic 32 Ounce (Affiliate Link)