Are you in a rush in the morning but don't want to pass on a healthy breakfast? Then you urgently need some easy breakfast smoothie recipes.
I'll present to you my favorite whole food plant based (WFPB) breakfast smoothie and also smart ways how you can adjust it to your individual taste.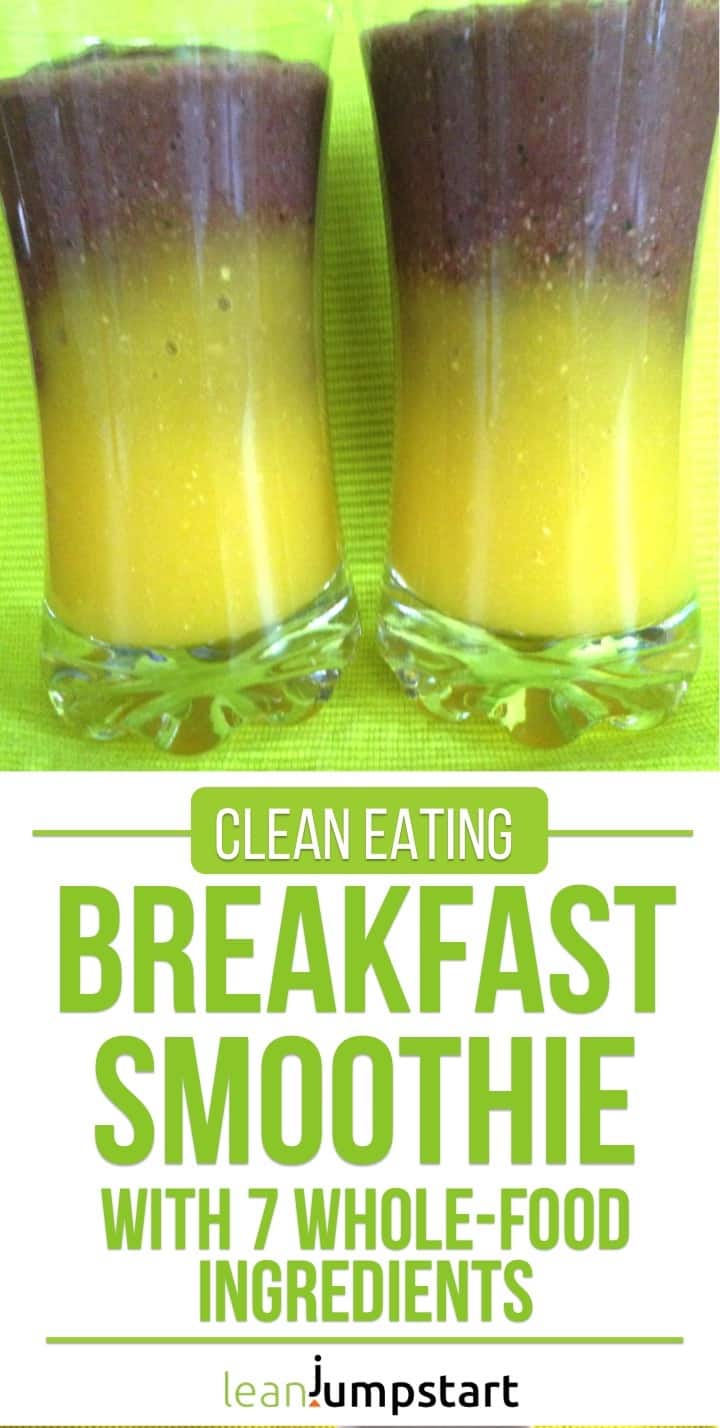 Inspired by Dr. Michael Greger's "daily dozen"
My clean eating breakfast recipe is inspired by Dr. Michael Greger's "daily dozen" – a list of essential plant foods that you should eat every day for best health and well-being. Dr Greger is also the founder of nutritionfacts.org my go to site for information on all things health and nutrition. I'll share more about him at the end of this blog post.
Healthy breakfast drinks are not only super quick to prepare but they provide you with all the necessary nutrients you need for an energy rich start in your day.
How to make a smoothie?
You just need a few whole food ingredients that you blend in your food processor. In that case the result will look like the photo below and might discourage you from drinking. Fact is, we all eat with our eyes…If you invest an extra little step however (see instructions) then your smoothie will look a bit more appealing like the photo above.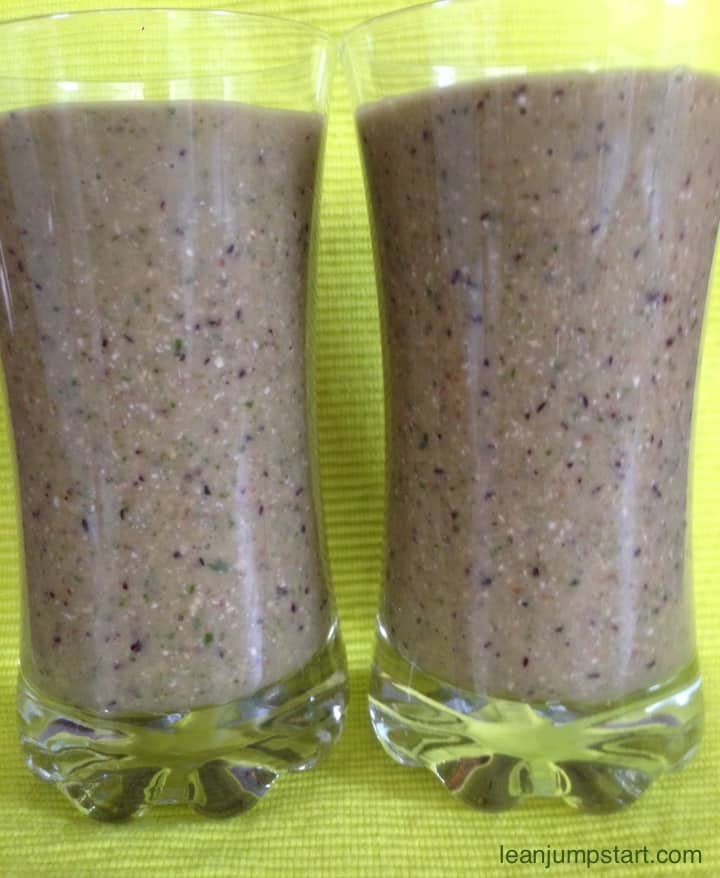 Breakfast smoothie recipes with 7 whole food ingredients
Most breakfast smoothie recipes call for fruits. Which fruit types you use is a question of taste and season. Bananas will make your drink pretty creamy and supply a natural sweetness. Red berries add an appealing color. In my favorite healthy smoothie recipe below I use blackberries from our garden (stored in our freezer) and frozen mango chunks I buy at Aldi. It is a smart idea to store your breakfast fruits in your freezer. Did your know that you can also buy frozen berries in your discounter?
The best smoothie recipes contain of course also vegetables. Zucchini, red chard or baby spinach is my first choice as they deliver an extra portion of vitamins and minerals and you almost don't taste them.
Rolled oats or other grain flakes (whole rye, whole barley, etc.) grant a proper portion of fiber and also keep you satiated for longer.
High fiber ground flax seeds are an essential ingredient for your breakfast smoothie. Flax seeds are known as one of the richest plant sources of essential omega-3 fatty acids. They also average about 15 times more cancer-fighting lignan content than other seeds. Several evidence-based studies show significant benefits for weight loss, blood sugar, cholesterol, blood pressure or inflammation.
You can pimp up your drink with spices like ginger, cinnamon or vanilla. Ginger however is my absolute favorite spice and turns my fluid breakfast into a liver cleansing smoothie.
Also lemon juice shouldn't miss in a wholesome breakfast. With its citric acid is a contributing factor in causing less kidney stones. It's also a natural diuretic assisting your body to flush fluids regularly.
At the end you mix everything with water. I mostly add just 1-2 cups of water.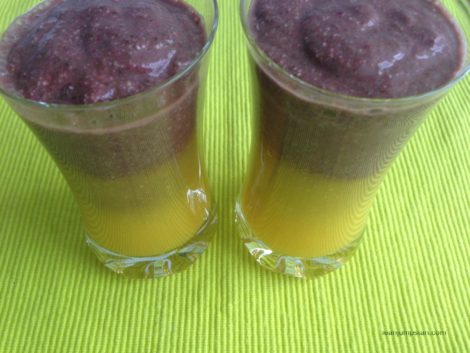 Breakfast smoothie recipe with 7 whole food ingredients
2018-01-21 11:08:28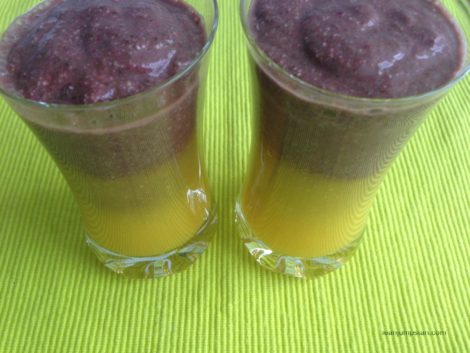 Serves 2
A delicious whole food breakfast smoothie
Ingredients
2 cups frozen mango chunks
1/2 cup frozen blackberries
1 cup rolled oats
1 tsp. ground ginger
Lemon juice from 1/2 lemon
1 cup of baby spinach
2 tbsp. ground flax seeds
1-2 cups water
OPTION 1
Place mango chunks, blackberries, rolled oats, ginger, lemon, baby spinach, and water in a blender.
Blend until smooth and creamy, about 2 minutes.
Pour into two glasses.
OPTION 2
If you want the look and feel of the photo above then just blend mango chunks and ginger in the first step.
Pour into two glasses.
In the second step add the remaining ingredients in your blender, mix again and pour it over the mango base.
Notes
For maximum taste and freshness, smoothies will only keep well for around 24 hours.
Leanjumpstart Clean Eating Habits https://leanjumpstart.com/
Who is Dr. Michael Greger?
Dr. Michael Greger is a physician first and foremost and the founder of NutritionFacts.org.
Whenever I want to know more about a topic on nutrition and health I research his site and/or videos to see what science has to say.
So just in case you ask yourself, where I find all those evidence based studies I'm citing in my posts, now you have the answer. NutritionFacts.org is a truly unbiased source that just follows the science behind all the studies that are published.
Additionally nutritionfacts.org is a 100% non-profit website. You will never see an ad on there and Dr. Greger does not sell any supplements.
Breakfast smoothie recipes that will help you thrive
This nourishing and clean breakfast smoothie contains depending on the recipe between 400 and 500 calories. It provides your body with energy for a long time and keeps you wonderfully satiated. That's exactly what you need for a fitter jumpstart in your day.
Enjoy!