Last Updated on October 10, 2020
If you love strawberries, then you will be delighted with my strawberry banana smoothie recipe for weight management.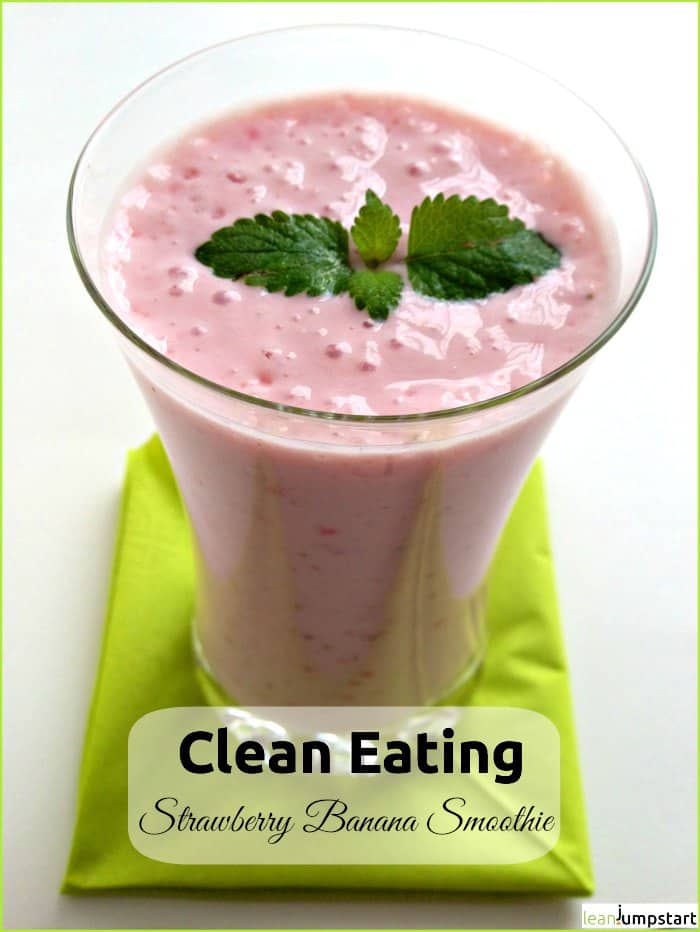 Both fruits have weight loss properties you maybe wouldn't have expected. More about it in a minute.

No need to be a big fan of bananas…They will give this beverage just the necessary sweetness without tasting dominantly. I've also included a short video with step by step instructions below to demonstrate how simple this recipe really is.
Perfect for people on the go
If you are not a morning person or you don't have much time for a clean eating breakfast then smoothies are a perfect, almost addictive option. Breakfast smoothies are of course extremely versatile, that's why I'm experimenting a lot with many different fruit and vegetable types.
But there is one easy smoothie recipe that I'm doing over and over again either as vegetarian or as vegan version. It is not the famous green smoothie you probably know from social media. Instead it is the following strawberry banana smoothie that consists of only 3 or 4 ingredients and needs little preparation time. You can call it definitely my favorite breakfast smoothie combination at the moment, as strawberries are in season!
Rev up your metabolism with strawberries
Whipping up a gluten-free smoothie for breakfast will help you sip away your pounds. The blended beverage offers you among others, protein, fiber, and calcium that help you keep full until your next meal.
Especially strawberries play a crucial role in the context of weight management. Studies indicate that fresh flavonoid-rich fruits can melt fat. (1) They provide the nutrients your body needs to stay full longer and deplete fat reserves. In addition, they boost metabolism and also tighten the connective tissue.
What are more, fresh or frozen strawberries contain many vitamins that are able to bind free radicals at the same time? This has also a positive effect on the skin. Berries also lead to the release of happy hormones in the body. This influences the mental state, the mood and of course the metabolism.
Now I ask you, who doesn't want to jumpstart in a new day with the best mood?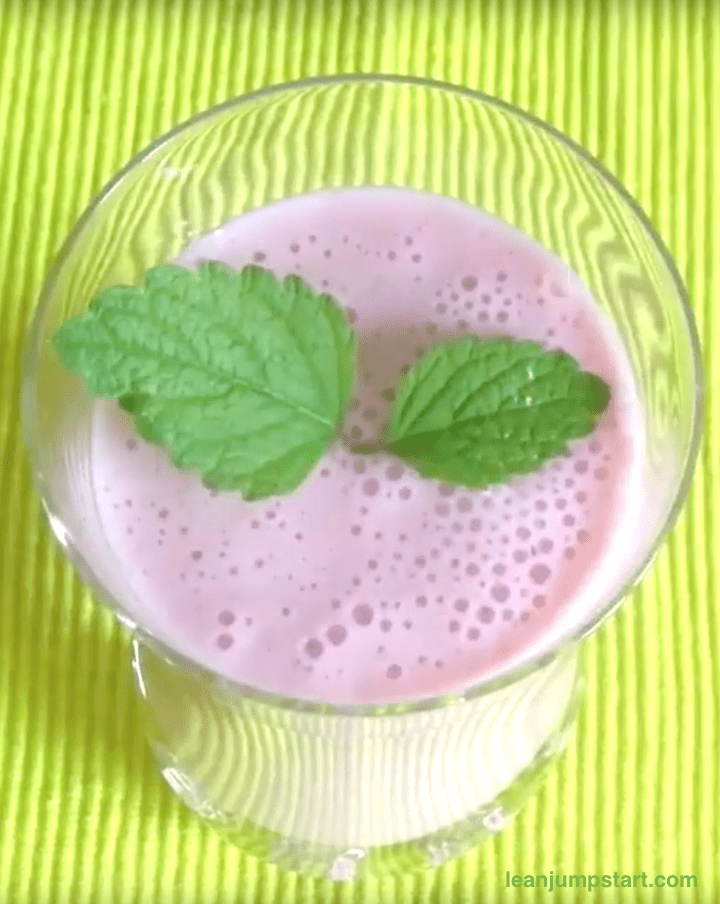 Bananas surprising weight loss properties
For a long time bananas have had a bad reputation for making you fat. Various studies, however, have shown, that exactly the opposite is true: bananas are excellent for your body and can also help with weight loss if eaten in moderation. Its high potassium content prevents fluid retention, which in turn can lead to flatulence in the abdomen and other parts of the body.
When this tasty fruit is combined with "fat burners" – such as berries, spinach or flaxseed – you can create wonderful banana shakes that provide you with energy while promoting a sustainable weight loss.
From garbage to gourmet
Believe me, I don't like the taste of overripe bananas. It makes me cringe… And yet for the strawberry smoothie, you see in my picture I have used an overripe banana with black skin. The refereshing smoothie tasted still super yummy!
Obviously, the strawberries gave this combination the perfect twist resulting in a delicious taste experience. As I don't use any frozen fruits this breakfast drink has just the right room temperature to sip it immediately.
On hot summer days, you may want to cool your drink in the fridge or add a few ice cubes. If you freeze your bananas like I do then you'll love to have some overripe banana slices at hand that come handy for such or other occasions.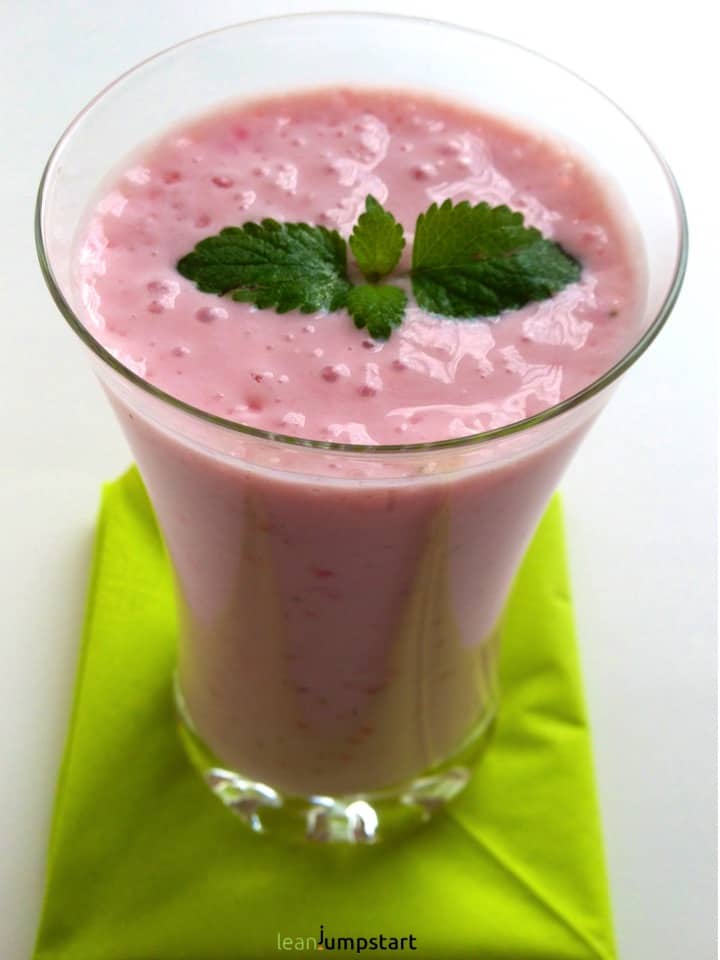 A smoothie typically consists of several portions of fruits and optional some sort of milk. Athletes often add some sort of protein powders. But this recipe goes one step further and adds besides of the milk some Greek yogurt to make it really tasty.
Print
Strawberry banana smoothie recipe
A delicious breakfast smoothie
Author: Gabi Rupp
Prep Time:

4

Total Time:

4

Category:

Breakfast

Method:

Blend

Cuisine:

American

Diet:

Vegetarian
7

fresh strawberries

1

ripe banana

1/2 cup

low-fat milk of your choice

1/2 cup

fat-free Greek yogurt 
Instructions
Pour milk and yogurt first in the blender container.
Add strawberries and banana.
Blend the ingredients until perfect consistency is achieved.
Garnish with some lemon balm leaves
Enjoy immediately!
Notes
For a dairy-free version replace low-fat milk and Greek yogurt with 1 cup of coconut milk or almond milk.
For variation, replace strawberries with other fresh berries like raspberries or blueberries.
Keywords: strawberry smoothie, quick breakfast
Yummy & Easy Recipe Variation Tips
Frozen banana ice cream
Are your strawberries out? But instead, you have only an overripe banana? Don't fret but try instead of my yummy, 1-ingredient frozen banana ice cream🙂 It is a wholesome, surprisingly yummy dessert idea all minimalists will love.
Thick, ice-cream like a strawberry banana shake
If for some reason you want your smoothie to be thicker and cooler (say, to spoon it like an ice-cream), just use deep-frozen strawberries and banana instead in a relation of 5 to 1. Add one cup of milk of your choice, blend it in a good food processor and ready is a thick dessert for a hot summer day. This recipe tip is also a great idea if you are reading this blog post offseason and only have frozen berries at hand.
Strawberry ice cream
This homemade strawberry ice cream recipe is clean, lean and you also don't need an ice cream machine;)