Last Updated on August 5, 2020
I'm happy to present to you a vegan strawberry ice cream recipe with just 3 ingredients. It doesn't need any ice-cream machine and is ready within 5 minutes.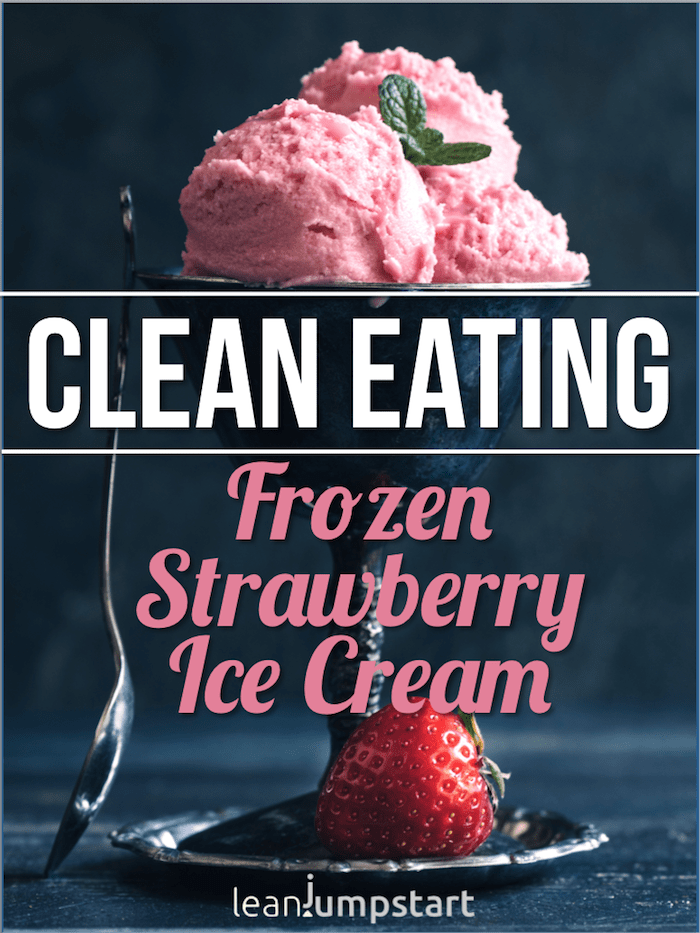 Why this strawberry ice cream recipe is healthy?
Can you imagine that this easy, cool dessert is almost guilt-free? It is hard to believe that such a yummy looking dessert could be healthy too.
First of all, strawberries are a real nutrition powerhouse – they contain many minerals like iron and are rich in vitamin C. Did you know that strawberries are slightly higher in vitamin C than oranges or lemons? They help to prevent heart diseases and anemia. Another compound of this superfood – C3G – could help with weight management by increasing fat-burning and regulating appetite.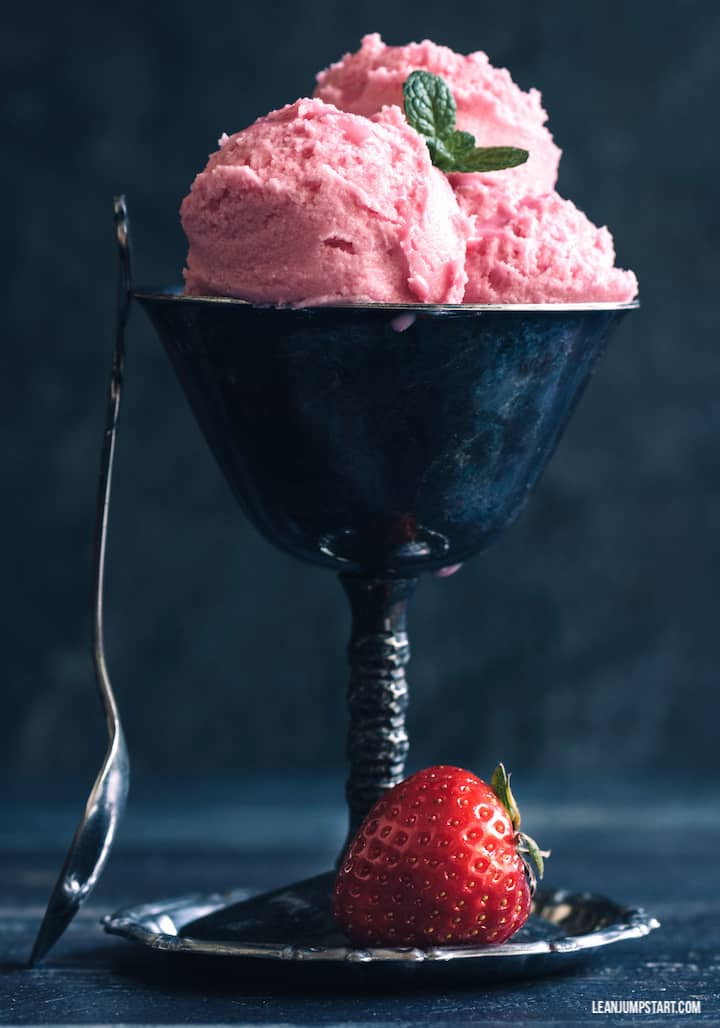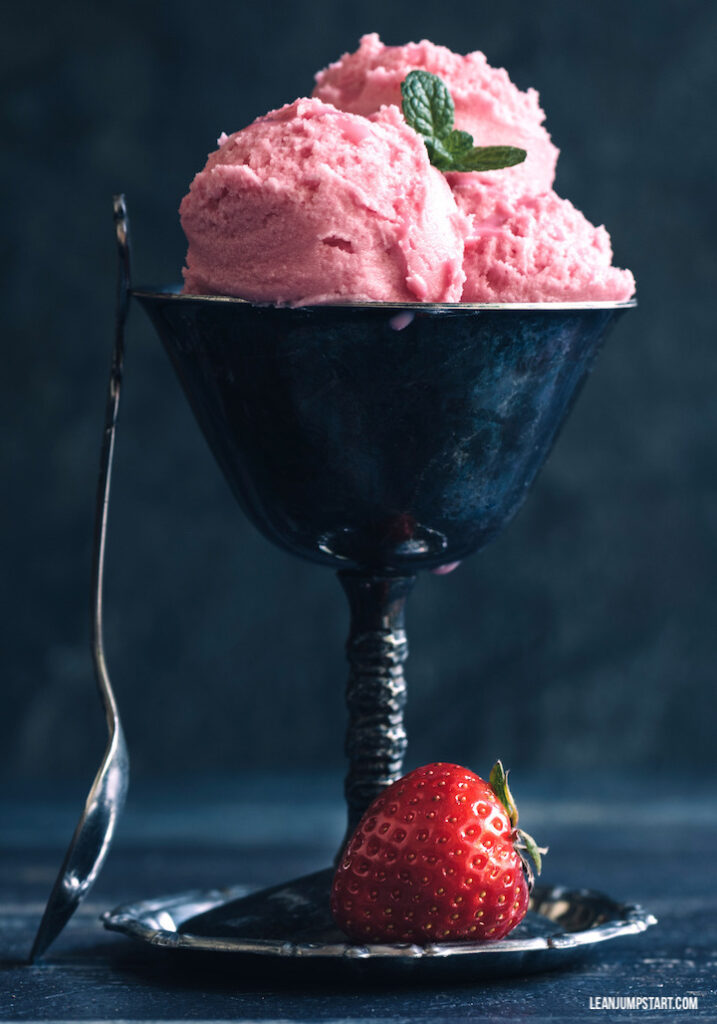 Then this homemade strawberry ice cream doesn't need any fatty cream, processed sugar or additives and yet it tastes very aromatic.
I think this is a real keeper for your clean eating recipe folder or box:)
It's still strawberry time
It is still strawberry time here in Germany and it was the last time this weekend that we went strawberry picking at a farm nearby for this year. For a flavorful fruit ice cream it is best to use regional strawberries of the season which you can freeze for later use.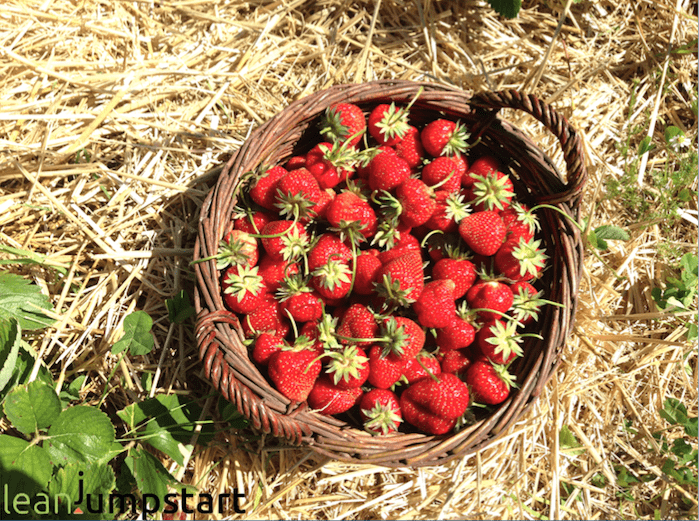 End of this week the season for the strawberry farm will be over but not for us.
I've stored many frozen strawberry bags in my freezer waiting patiently to play the main role in delicious strawberry dessert recipes. Of course, we need them for our famous strawberry smoothie recipes too. I just love the idea to have flavorful fruits at hand whenever we need them.
What I've used instead fatty cream in this frozen strawberry dessert is vegan curd cheese (in Germany we call it Magerquark) and as sweetener some maple syrup. If you don't have curd cheese in your area you could use plain soy yogurt instead.
This strawberry ice cream recipe calls for a sturdy food processor
Maybe the most important success factor for this strawberry ice cream recipe is a sturdy food processor.
If you are sugar addicted like I was many years ago, please use maple syrup cautiously and carefully. Better you get the main sweetness from ripe strawberries, which is, by the way, another important success factor.
Many people in vegan circles use maple syrup or coconut sugar as clean and natural sugar substitute. Fact is that these sugar substitutes contain more nutrients than white, processed sugar, but in the end, they can be just as addictive.
Print
Strawberry Ice Cream Recipe
A delicious, clean and lean strawberry ice cream without ice cream machine!
Author: Gabi Rupp
Prep Time:

5

Total Time:

5

Category:

Dessert

Method:

Freezing

Cuisine:

American

Diet:

Vegan
500 g

frozen strawberries

250

vegan curd cheese or Soy yogurt

2 tablespoons

maple syrup or coconut sugar
Instructions
Add the frozen strawberries, maple syrup/coconut sugar, curd cheese or yogurt to the bowl of a food processor.
Process until creamy. (2-5 minutes, depending on your food processor)
Notes
I prefer to serve the frozen strawberry ice cream immediately. You can also transfer it to an airtight glass container and store it in the freezer for up to 1 month.
Keywords: strawberry ice-cream, vegan dessert, plant-based ice-cream
Step-by-step video instructions
Please be aware that freezing will change the chunky consistency of this homemade strawberry ice cream recipe. When taking out of the freezer it is often too hard to eat it immediately and you will have to thaw it a bit.