There is this single one whole wheat bread recipe I'm baking again and again since several years. The dough can be ready within a few minutes and it's so basic and flexible that you can vary it according to your whole grain and seed preferences.
Of course it is a clean eating bread and I'll also explain why a whole wheat bread nutrition is superior to a white bread consumption at the end of this blog post.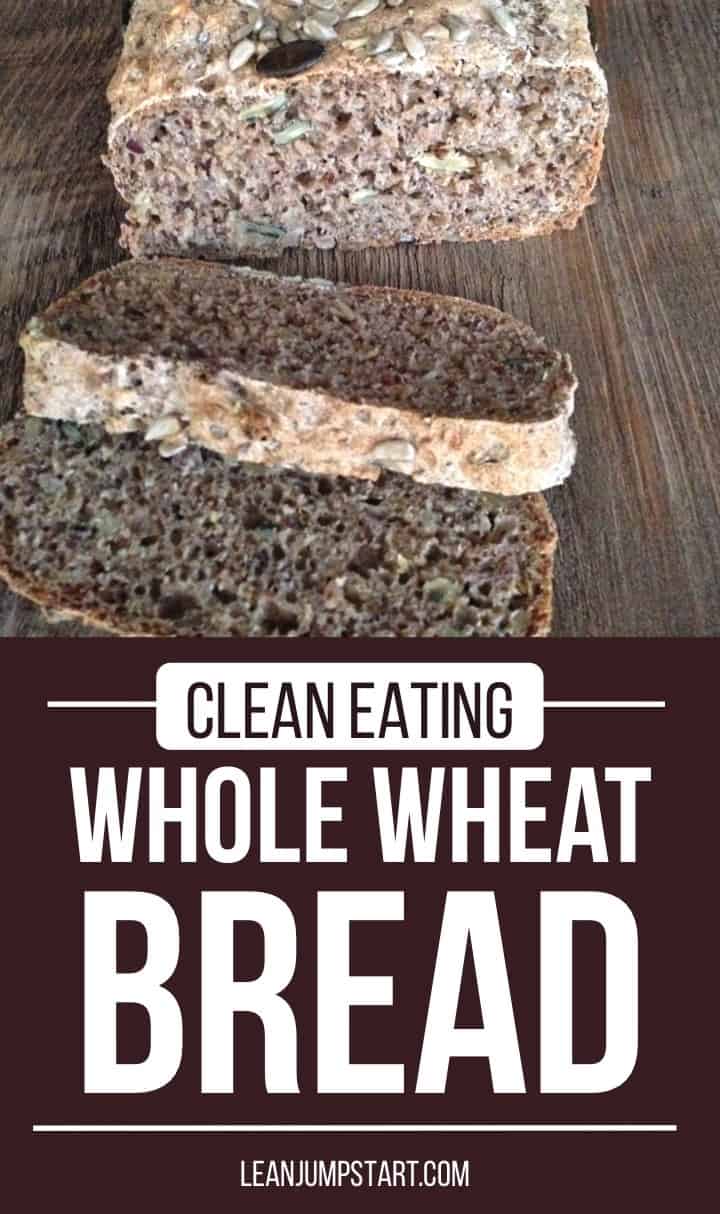 One goal for me this year is to get into the routine of baking whole grain bread at least once per week. So far I didn't break the chain, but hey, the New Year is still young…
Why making whole wheat bread?
Did you know that Germany, where we live, produces more varieties of breads than any other country in the world? But this doesn't have to be an advantage…
Although we seem to have here a land of plenty when it comes to bread types it is still not easy to find healthy bread choices without added sweeteners, preservatives and other additives. If you live in the US you can probably relate to this.
Also more and more traditional bakeries are replaced by bakery chains, which for profit then often save on raw material quality. And the worst: They offer many "fake whole grain breads" – dark loaves with grains that in fact are disguised white breads colored with rye malt. So as consumer you have to keep you informed and really choose wisely.
Of course I still buy 100% whole grain bread in selected bakeries but taste and quality is not so convincing that we would stick to one single bread type or bakery.
So the time is ripe for baking this homemade whole wheat bread recipe more regularly. In my humble opinion everybody should know how to bake his own bread. And after a few fails I'm convinced that everybody can do it – prevented you have the right bread recipe.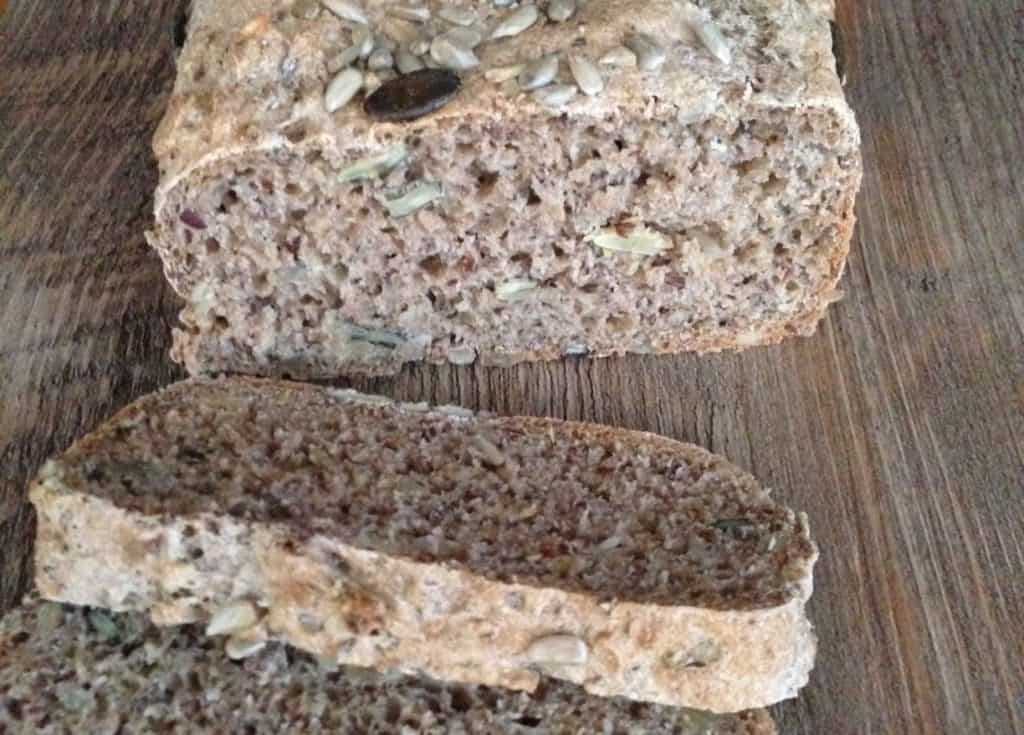 Easy whole wheat bread recipe
2018-01-18 03:20:40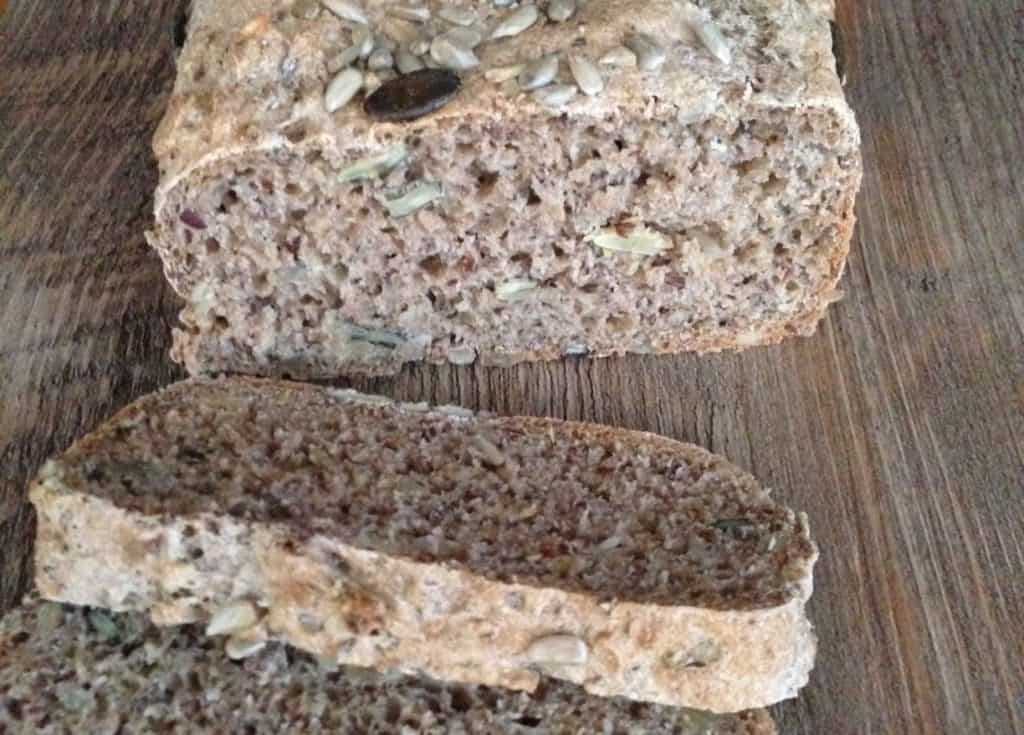 An easy and delicious whole wheat bread recipe
Ingredients
1 1/2 tsp. dry yeast or 42 gr./1.5 oz. fresh yeast
450 gr./16 oz./ 1 pound lukewarm water
1/2 teaspoon honey, coconut sugar or date sugar (optional)
500 gr./17.6 oz./1.1 pound whole wheat meal*
50 gr./1.8 oz. sunflower seeds
50 gr./1.8 oz. pumpkin seeds
50 gr./1.8 oz. ground flax seeds
1-2 teaspoon salt (optional)
2 tablespoon vinegar
additional sunflower and/or pumpkin seeds for sprinkling at the bottom and top
Instructions
Do not pre-heat your oven; dough goes into cold oven.
In the bowl of a standing mixer or Thermomix add water, yeast (+ honey) and mix briefly for 2 minutes to dissolve yeast. (If you have a Thermomix then blend at 37°C/speed 1 for 2 minutes).
Add all other ingredients in the order mentioned (except for additional seeds).
Knead for 3 minutes in your food processor/Thermomix.
This should result in a smooth yet sticky, stringy dough.
Line baking sheet with parchment paper.
Sprinkle some seeds on it.
Put dough into the baking sheet (lined with parchment paper).
Sprinkle again with some seeds on top.
Pop into a cold oven and bake for 50 minutes at 340 °F/170 °C in a convection oven or for 60 minutes at 390 °F /200 °C in a regular oven.
Let bread cool down for some minutes before you transfer it to a cooling rack. It's important to let it cool down completely before you store it in your bread box, refrigerator or freezer.
Notes
*Instead of whole wheat bread flour you can also use whole spelt flour, rye flour or a combination of it. The healthiest approach would be to grind the grains on your own.
Leanjumpstart Clean Eating Habits https://leanjumpstart.com/
Big advantage: no rising of dough needed
Below you can see the dough which I placed in a baking pan with parchment paper. You'd don't need to wait that the dough raises but you can put the form directly in your cold oven.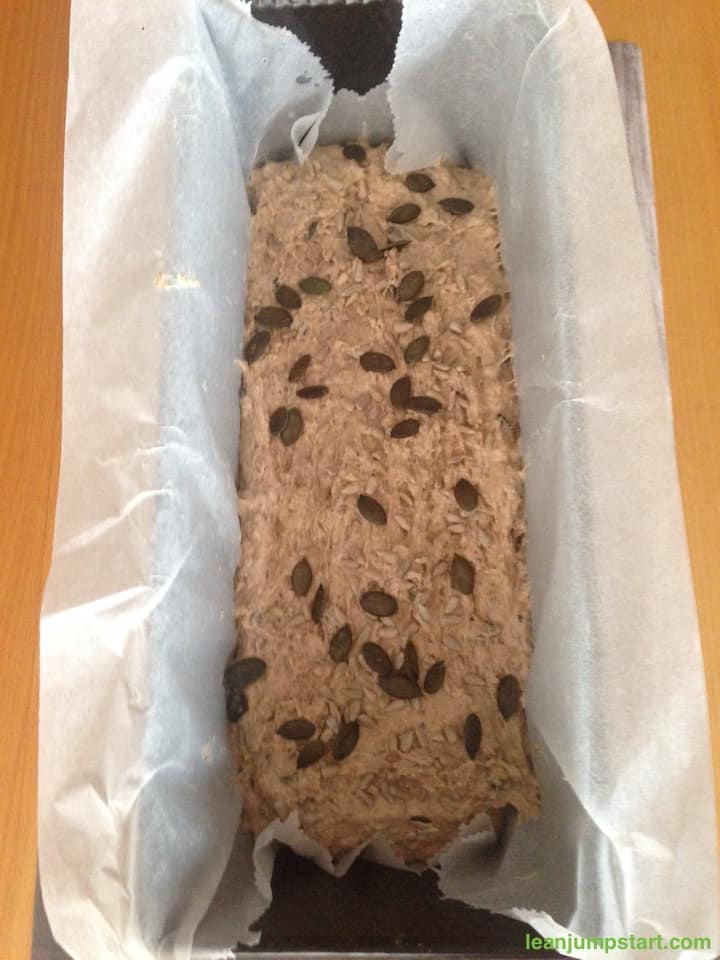 My possible foundation for sugar addiction
I remember that in my childhood my mother always bought the same loaf of wheat and rye bread in the same little bakery. It was our family's favorite bread then and when my mom sent me to buy this bread as little girl, I also got – after paying – exactly 3 Haribo* gummy bears in return from the nice saleslady. Did this kind act layed the foundation for my later sugar addiction? Who knows…;)
Once I had my own little family bread consumption had changed and a multitude of evidence based studies had proved that whole grain bread is more nutritious and better for us, health-wise. Time to speak about whole wheat bread nutrition benefits.
Health benefits of whole wheat bread
Evidence based research has shown for many years that those who eat the fiber rich whole grains on a regular basis live longer and seem to be overall healthier. This was proved again recently in an analysis published in the British Medical Journal. An international research group examined 45 studies in the context of whole grain consumption.
While earlier research proved evidence that an increased whole grain consumption protects against cardiovascular diseases, type 2 diabetes and weight gain, they now added the following results: eating 90 grams of whole grain products per day can already prolong the life expectancy and reduce the risk for coronary heart diseases, cancer, stroke, respiratory and infectious diseases. Check out in this context also my top 100 list of high fiber foods.
Whole wheat bread recipe: 4 more Tipps & Tricks
1. How to get a crispy breadcrust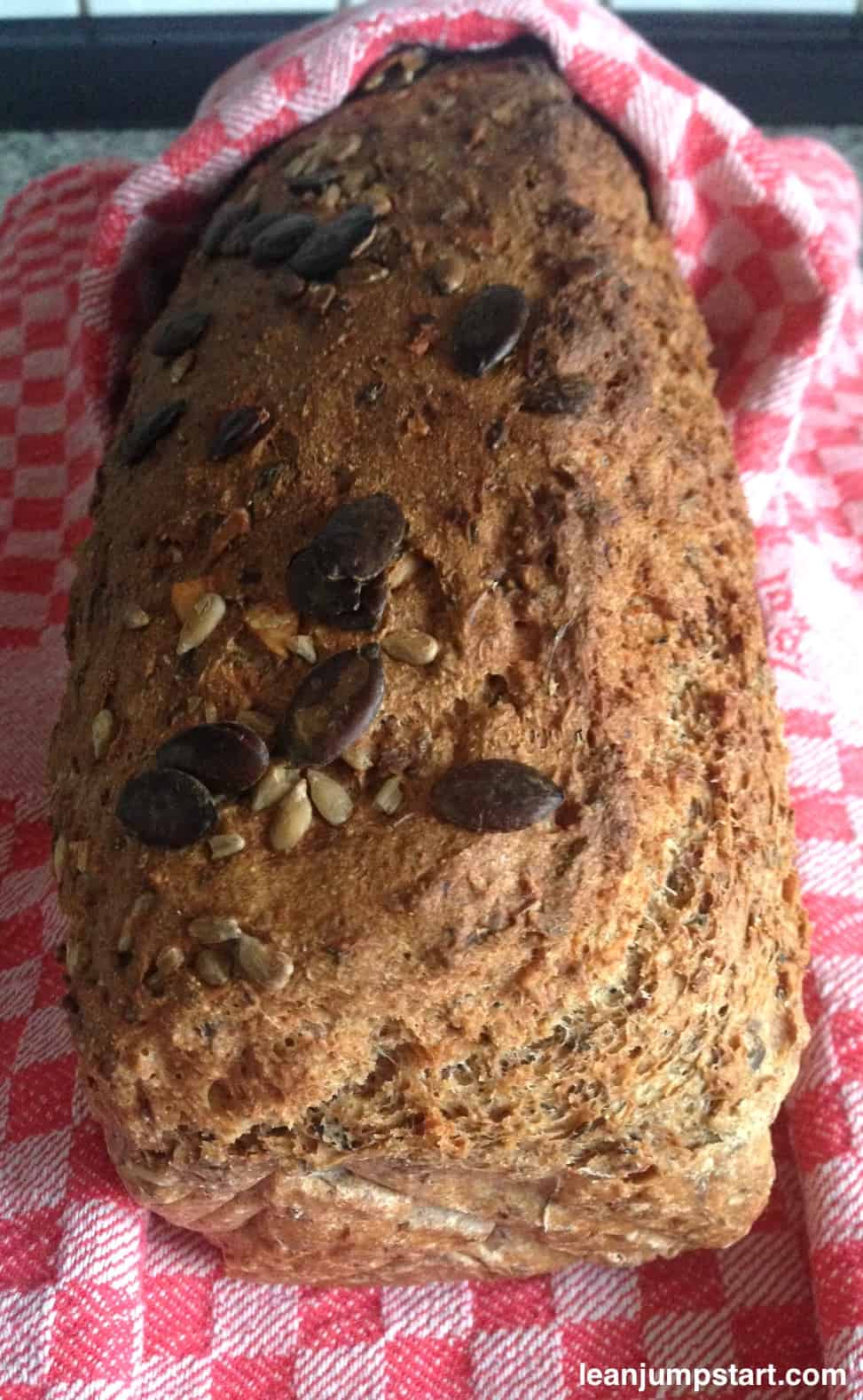 If a crispy bread crust is important for you (for us it is!) – then it's critical to bake your loaf in a "regular" baking oven. Baking in the convection oven might save you some time, but it won't result in a crusty bread.
2. What baking pans to use
Here you are very flexible dependent on your preferences. I use 2 different baking pans. Both work perfectly for the whole grain bread.
When I want the bread slices to have a more rectangular form as seen above, then I use my "large" baking pan with 10 x 5 x 3 inches outer dimension.
When I want the slices to be more like a pentagon (see below), then I use my smaller "pound loaf pan" with 8.5 x 4.5 x 2.75 inches outer dimension.
For your convenience I've sourced below also some appropriate baking pans (similar to mine) for you on Amazon.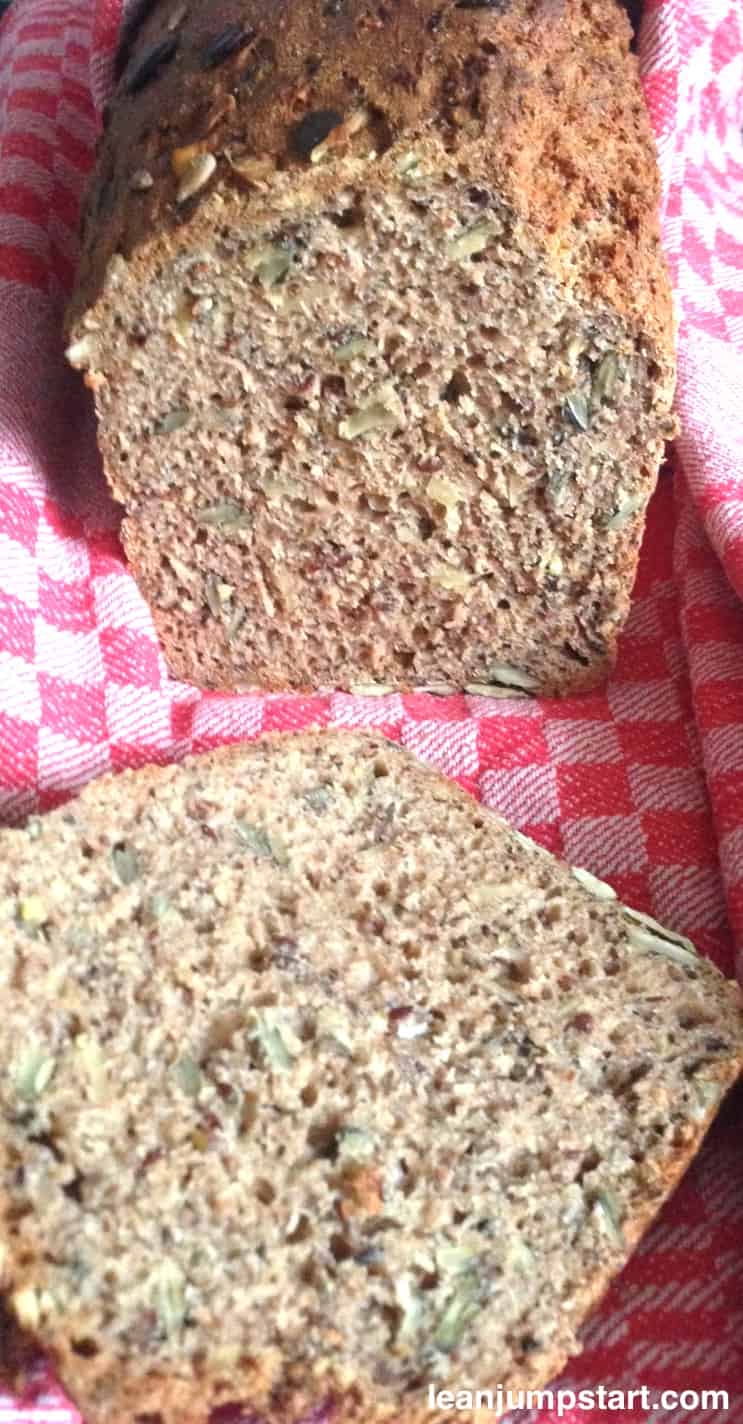 3. What to do if you don't have enough yeast?
One of the most important ingredients for this whole wheat bread recipe is dry or fresh yeast. The last time I made this bread my fresh yeast was out and I had just 3/4 teaspoon of dry yeast instead of 1 1/2 teaspoons called in the recipe.
How did I replace the missing yeast? I just gave the dough some time to rise (45 minutes) before I popped it in the oven. Again the bread was a success! See for yourself below!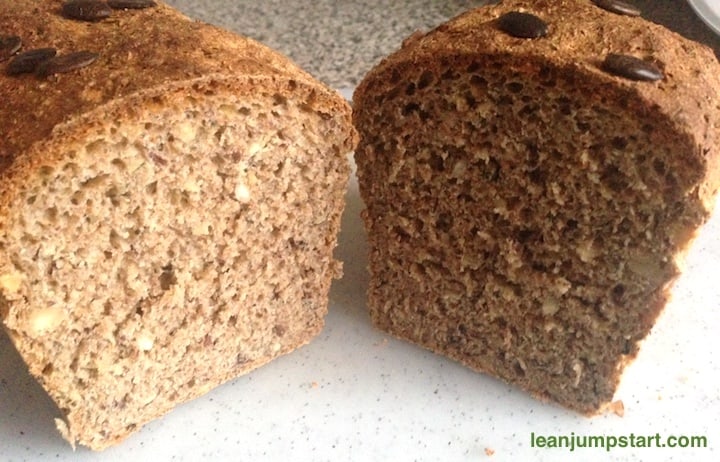 4. How you can replace some of the seeds
If you don't have enough seeds replace them with some oats or nuts you have at hand. For the whole wheat bread above I replaced part of the seeds with hazelnuts. Yummy!
With each new homemade bread I bake this list of tips & tricks will get longer. So feel free to bookmark or pin this page and come back from time to time.
If I can do it you can too!
Let me tell you that I'm a lousy baker on instinct. I was never spoiled with high success rates regarding baking but this easy bread recipe is really idiot-proof. Just give it a try and enjoy a great feeling of accomplishment.
Bottom line
If you want to further reduce your risk for chronic diseases and premature mortality it is strongly recommended to increase your whole grain consumption.
According to Dr Michale Greger, an internationally-recognized lecturer, physician, and founder of NutritionFacts.org the consumption of three portions of whole grains a day seems as powerful as high blood pressure medications in alleviating hypertension.
This could be an oatmeal in the morning, a soup or salad with whole grain bread for lunch and a dinner with millet or brown rice as side dish. Using this whole wheat bread recipe to bake your own homemade bread could be a great first step.