This quick, plant based homemade mac and cheese recipe was something my daughter asked me to try out some time ago. As a big cheese lover I just could not have imagined how this American macaroni pasta dish with cheese sauce could work without cheese.
Curious enough I gave it a try.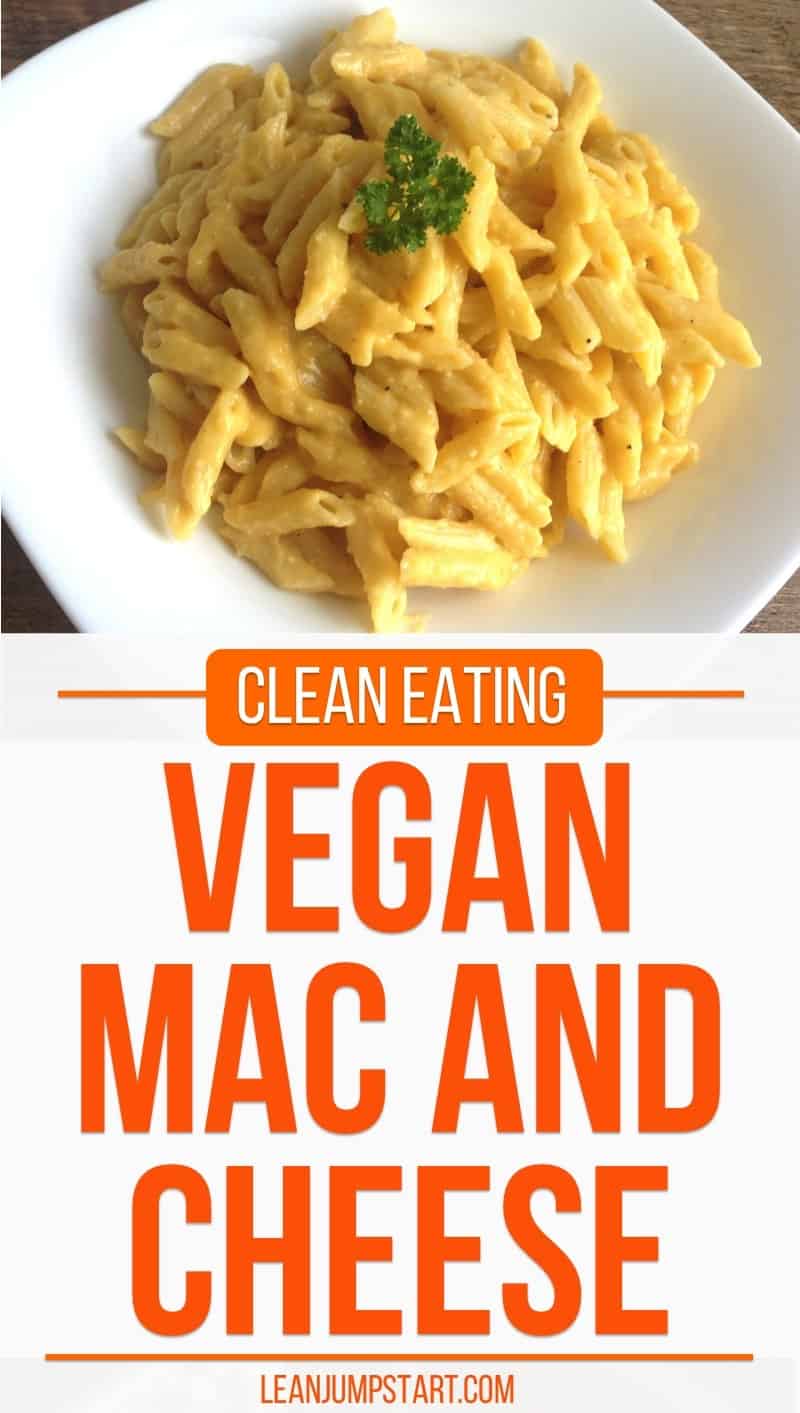 In fact the homemade mac and cheese recipe I'm presenting you today has become a staple in our kitchen. It is much leaner and healthier than the original comfort food that needs e.g. butter, cheddar, flour and cream. Although all those typical cheese sauce ingredients are missing this recipe doesn't sacrifice flavor or creaminess.
Homemade mac and cheese can be also a clean eating recipe
I appreciate its short preparation time as this homemade mac and cheese recipe can be ready within 20 minutes. If you use whole grain pasta this homemade mac and cheese can even be declared as a clean eating recipe. Together with a fresh salad you can create a healthy meal for fast weeknight dinners in a snap.
Eat clean 80/20 rule in action
Maybe you know that I'm following the 80/20 rule in my clean eating, That way I have always some room for less clean exceptions. As seldom exception I used regular pasta in the following recipe. I thought that when I had already to replace the cheese I at least wanted to copycat the look and feel of the original homemade mac and cheese recipe. But in the meanwhile as my family got used to it I very often replace regular pasta for whole grain pasta, I've added a photo after the recipe.
So here it goes!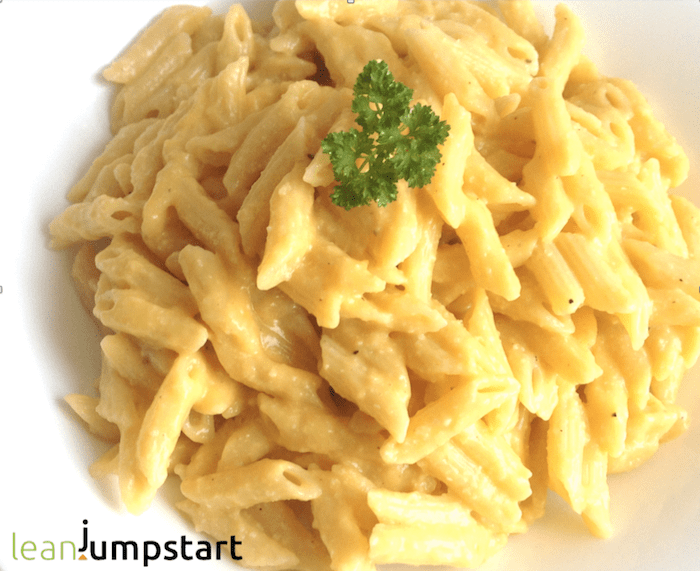 Homemade Mac and Cheese
2016-10-03 03:25:37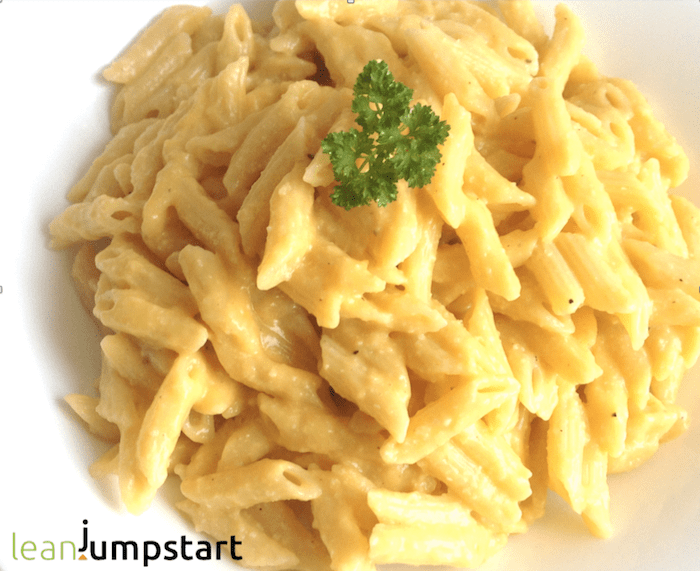 Serves 3
A delicious, quick and lean weeknight dinner
Ingredients
7 oz./200 g yellow potatoes, peeled/diced
1 small carrot, diced
1 onion, chopped
3 teaspoons salt
2 oz./56 g raw cashews
1 clove garlic
2 tablespoons nutritional yeast flakes
1 tablespoon lemon juice
1 pinch chili powder
1 pinch pepper
In addition
17 oz./500 g macaroni
some hacked parsley to garnish
Instructions
Cook macaroni "al dente" in sufficient salt water according to package direction, drain and set aside.
In a large saucepan add potatoes, carrots and onions.
Pour in 8.5 fl. oz./ 250 ml water and add 2 teaspoons salt.
Bring to boiling point and let it simmer for 10 minutes.
Place vegetables in your high-speed blender or food processor together with half of the cooking water along with the remaining ingredients (cashews, garlic, yeast flakes, lemon juice, salt, pepper, chili)
Blend until smooth.
Add macaroni to saucepan and toss to coat with the vegan sauce.
Sprinkle with parsley.
Notes
Serve it with a big green salad.
Leanjumpstart Clean Eating Habits https://leanjumpstart.com/
Hint: Don't forget to pour out half of the vegetable cooking water otherwise the macaroni sauce will be too fluid.
On special wish of my family (and me!) I'm cooking this homemade mac and cheese at least twice a month alternating now between regular and whole grain pasta.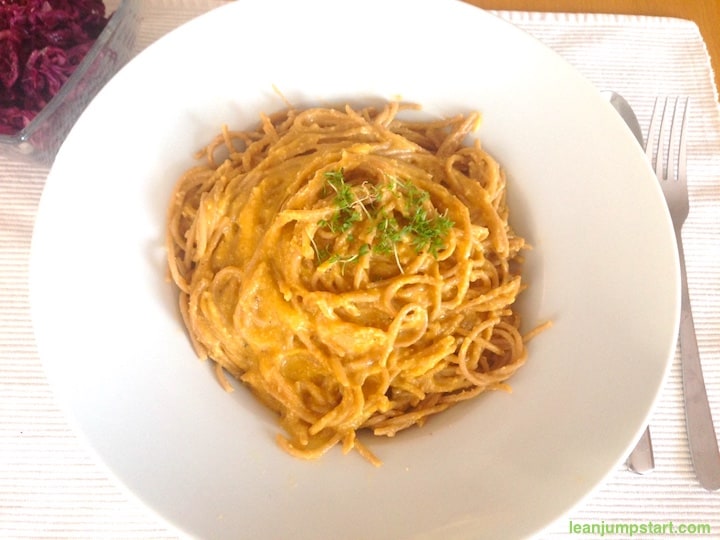 And only recently I found out that this vegan cheese sauce is also a perfect match for our beloved zoodles. (spiralized zucchini pasta)
OTHER LIGHT PASTA SAUCES YOU MIGHT ENJOY