Last Updated on January 19, 2021
It doesn't always have to be tomatoes! This paprika sauce is an epic, the pepper is roasted in the oven and then processed into a creamy pasta sauce without the use of olive oil or any other oil.
While I was searching for a tasty pasta recipe on Pinterest, I recently came across a "vegan roasted red pepper pasta", a clean eating dish with a creamy paprika sauce.
Wow! I had to cook that.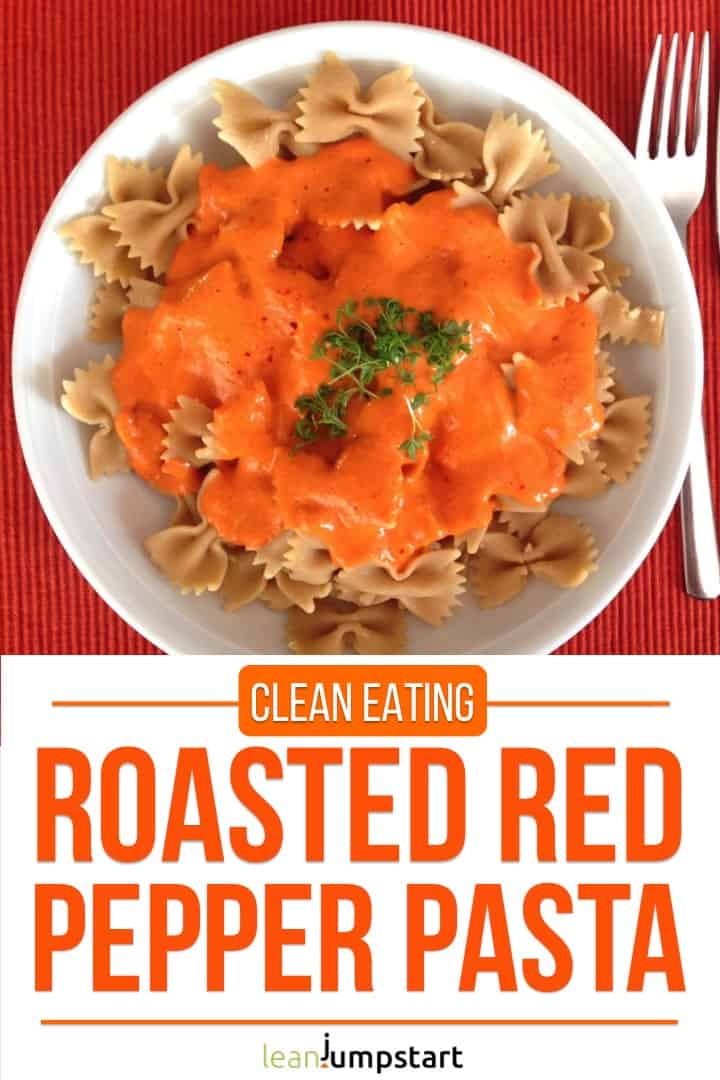 The recipe comes from Sina and her blog Vegan Heaven, here you can find the original.
I modified ingredients for me and also roasted the peppers a bit longer in the oven. The result after less then 30 minutes: bombastic – I can highly recommend this plant based meal to you. But there are more reasons to eat red peppers more often.
Roasted red pepper pasta – the best vitamin C bomb
Do you know which fruit and vegetables contain the most vitamin C? Oranges and lemons might come to your mind, but this is wrong. The queen of vitamin C is in fact the red bell pepper. Depending on ripening stage, it contains between 120 and 400 milligrams of vitamin C per 100 grams of vegetable.
Lemons contain only 34 milligrams. This is why paprikas even in cooked form still supply at least four times as much vitamin C as citrus fruits.
The color indicates the ripeness of the capsicum (Latin name): green peppers are still immature pods, which have comparably little aroma and also contain less vitamin C. Yellow peppers are already riper and sweeter.
The most rich in vitamins, however, are the fully ripened red or orange pods that we need for the roasted red pepper pasta.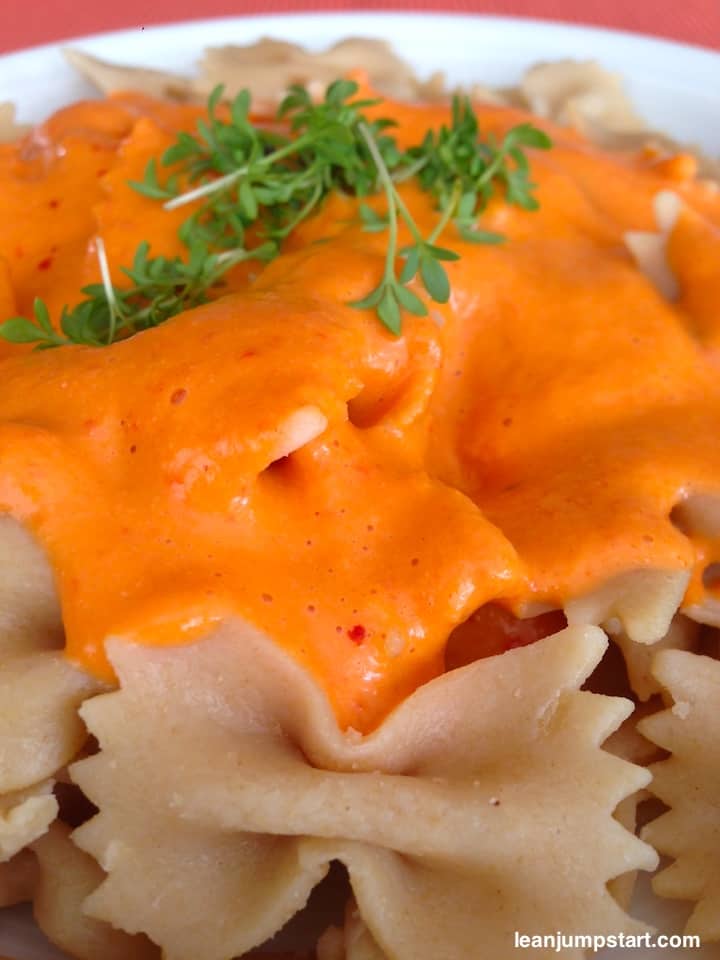 They have also the most intense and sweet taste and are therefore particularly well suited for salads or raw vegetables.
Less than 100 grams are enough to cover an adult's daily vitamin C requirements.(1)
Plenty of secondary plant compounds
In addition to vitamin C, paprikas also provide us with other remedies: they contain plenty of the antioxidant vitamin E, as well as the minerals potassium, magnesium, iron and calcium.
These nightshade vegetables also have secondary plant substances such as carotenoids (lycopene), which produce the color of the red and yellow capsicum. These prevent cell damage and capture free radicals. Especially with red peppers we consume a great deal of these healthy plant substances.(2)
Convinced?
Then it's time to create this nutrient dense meal with whole grain pasta. By the way, I got these cute whole grain farfalle also known as bow-tie or butterfly pasta at Aldi.
Before I forget it, peppers are also great veggies for weight management. More about this at the end of this blog post.
Watch to make the recipe
Print
Roasted red pepper pasta recipe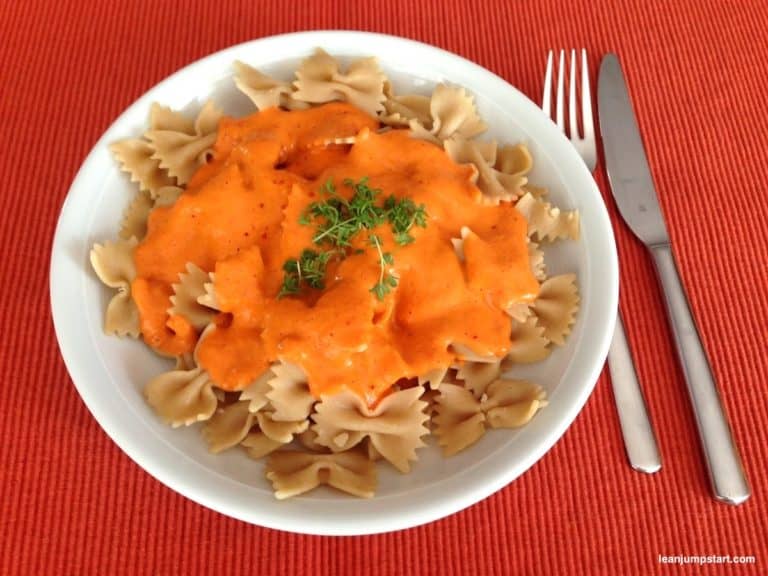 A delicious vegan pasta meal
Author: Gabi Rupp
Prep Time:

5

Cook Time:

5

Total Time:

25

Yield:

3

1

x
Scale
Ingredients
3

 red bell peppers, cut in stripes

2

 onions, cut in stripes

3

 cloves of garlic

3/4 cup

 cashews

3

 tablespoons nutritional yeast

1

 cup clean, unsweetened almond or soy milk

3/4 teaspoon

 salt

1 teaspoon

 smoked paprika powder
red pepper flakes, to taste
fresh basil, garden cress or parsley (optional)

14

 oz./400 grams al dente cooked whole grain pasta
Instructions
Preheat the oven to 370 °F/190°C.
Place red bell pepper stripes, onion and garlic on a baking sheet lined with parchment paper and bake for 15 minutes.
Get the vegetables out of the oven and place them in a food processor together with the cashews and nutritional yeast, smoked paprika powder, red pepper flakes and salt.
Process until smooth.
Add plant milk and process again.
Pour the red bell pepper sauce into a large pot or skillet.
Cook it in the pot or large skillet over medium high heat for a couple of minutes.
Stir in the al dente cooked whole grain pasta (drain the pasta thoroughly), heat and serve immediately.
Sprinkle with more red pepper flakes and garnish with fresh basil, garden cress or parsley.
Enjoy!
Notes
You can vary the recipe with whole grain spaghetti or tagliatelle.
Tip for Vegetarians: Sprinkle some Greek or goat cheese over the pasta dish.
Fiber rich food – perfect for weight management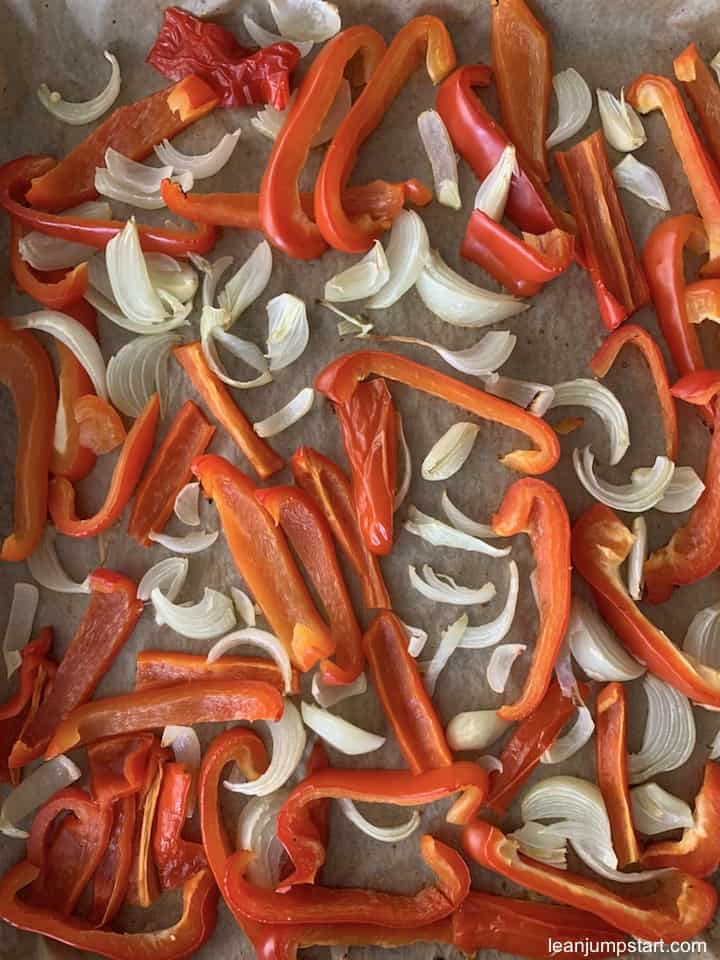 Peppers can promote digestion and reduce appetite in a natural way. After all, this healthy vegetable contains as much fiber as red cabbage. For an overview you can check the chart "top 30 fiber rich vegetables" below.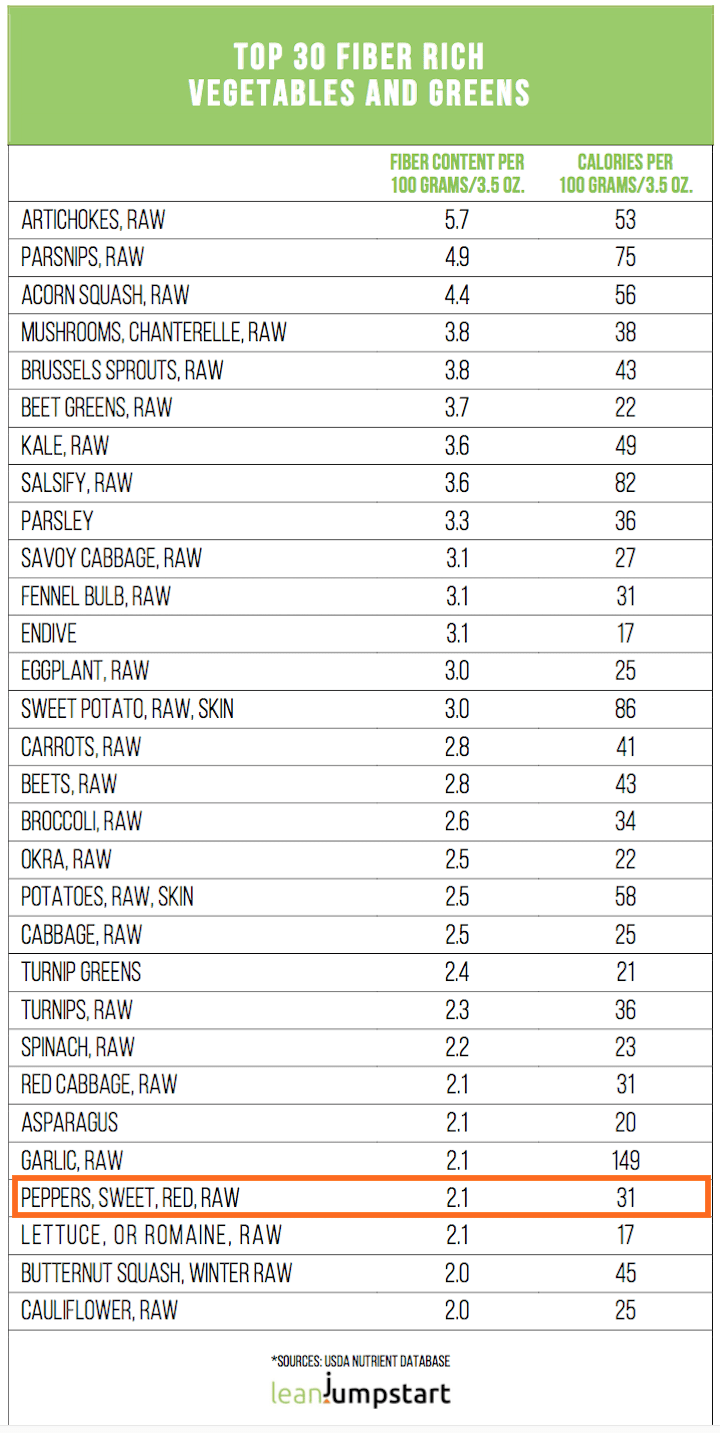 Studies show that specific microbes in the intestines break down the dietary fibers. Their metabolic waste products in turn reach the brain via the blood and have an impact on our perception of hunger. Click through to learn more about the health benefits of high-fiber foods.
Buying and Storage tips
As peppers were again tested positive by the EWG for a number of different pesticide residues, I highly recommend to buy organic peppers whenever you can. You can recognize fresh peppers by their crisp, firm and shiny skin and their green and fresh looking stems. Omit wrinkled pods with cracks and soft spots.
Although peppers may prefer it cool and dark, it is almost too cold in the fridge. They are very sensitive to cold and should not be stored below eight to ten degrees Celsius. A better place for storage is the pantry or cellar. Most of its vitamins are retained at a temperature of around 13 degrees Celsius.