Here comes an easy Alfredo sauce recipe – vegan style, which I tested out recently to have another simple pasta sauce for my daughter. Once you are used to clean eating, it is quite simple to turn dishes into a vegan version. Most of my clean eating recipes are anyway plant based and that way vegan by nature.
It's just important to leave out any animal based products. The big advantage with this skinny and simple Alfredo sauce is, that it helps you keep in shape. On top of that it's really tasty:)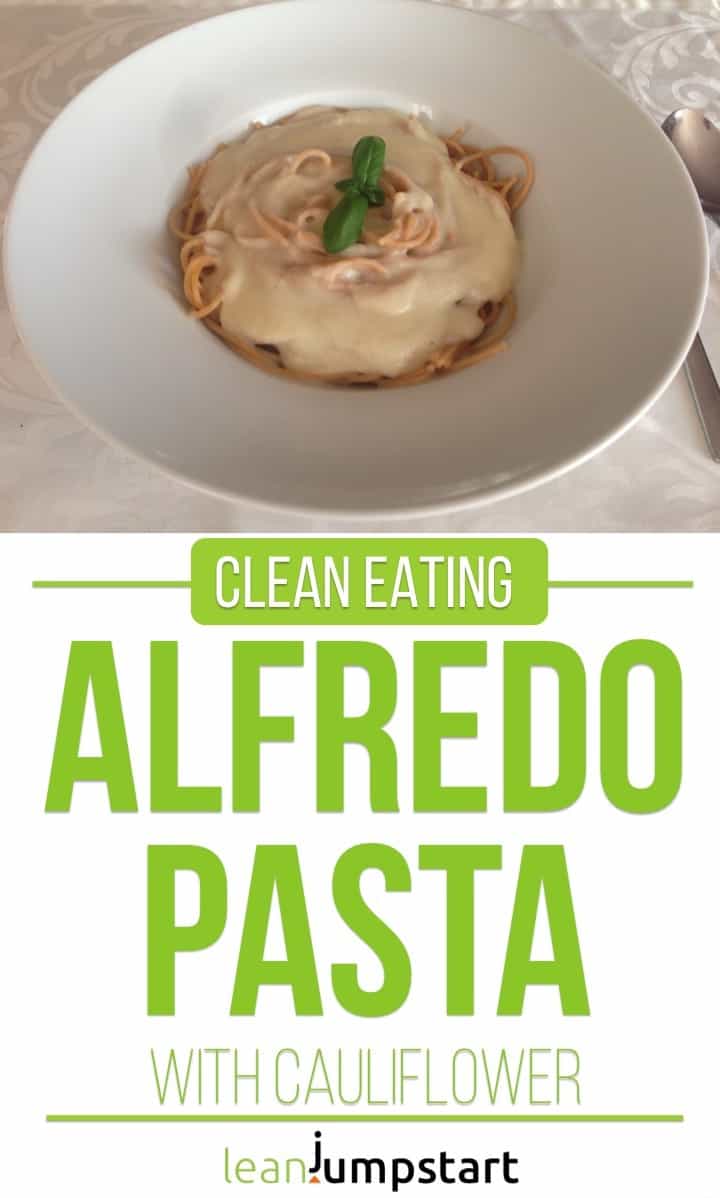 What is Alfredo sauce?
Alfredo pasta sauce is traditionally made with lots of butter, cream, mascarpone and Parmesan cheese resulting in a fat and calorie rich pasta companion. Sometimes even eggs are added to the sauce. Maybe you know the famous Italian dish, called "Fettuccine Alfredo".
I remember the pleasure when eating it at Italian restaurants in my twenties. But I also recall very well the tired and bloated feeling after I've finished the heavy meal. Since then I've always preferred the much lighter tomato pasta sauces. But with this new recipe things have changed…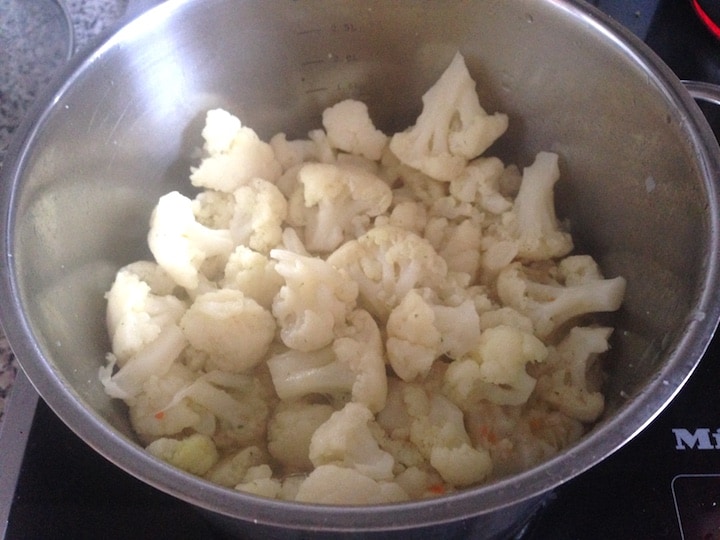 This vegetable based pasta Alfredo will boost your metabolism and keep you energized. No need to drink a Ramazzotti (Italian bitter) after dinner to aid digestion, promised:)
Where I got the idea for this easy Alfredo sauce recipe
On the food blog of Canadian Angela Liddon (ohsheglows.com) I discovered some time ago a plant based alternative to Alfredo sauce.
Angela had the really ingenious idea of using cauliflower as the basis for her creamy sauce. This lighter sauce is just as smooth, has much fewer calories and actually consists almost exclusively of fresh vegetables!
I changed and simplified Angela's recipe a little bit according to my preferences.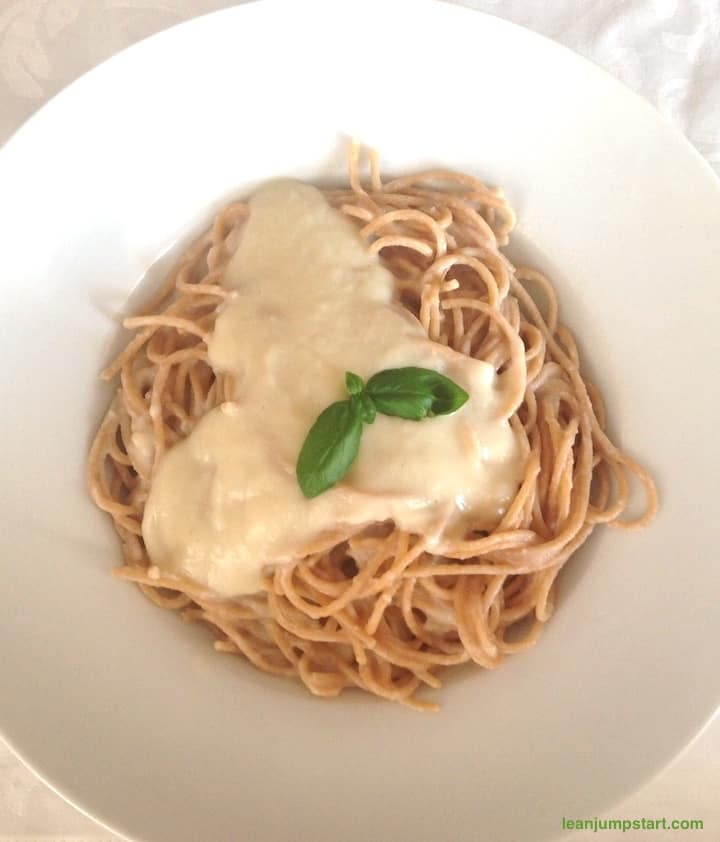 Our whole grain pasta battle
Of course I used also whole grain spaghetti (didn't have Fettuccine) instead of plain pasta to give this dish an even higher fiber content. If you can get whole grain Fettuccine or broader wholemeal noodles they would help the thick sauce even better sticking on the pasta.
My daughter would probably prefer the plain pasta version, but she accepts our whole grain compromise. She knows my opinion on this in her sleep: "While plain pasta is in fact animal-free, it is based on white flour (refined carbs) and far away from being beneficial for our system. Whole grain pasta is the better, fiber-rich alternative with complex carbohydrates".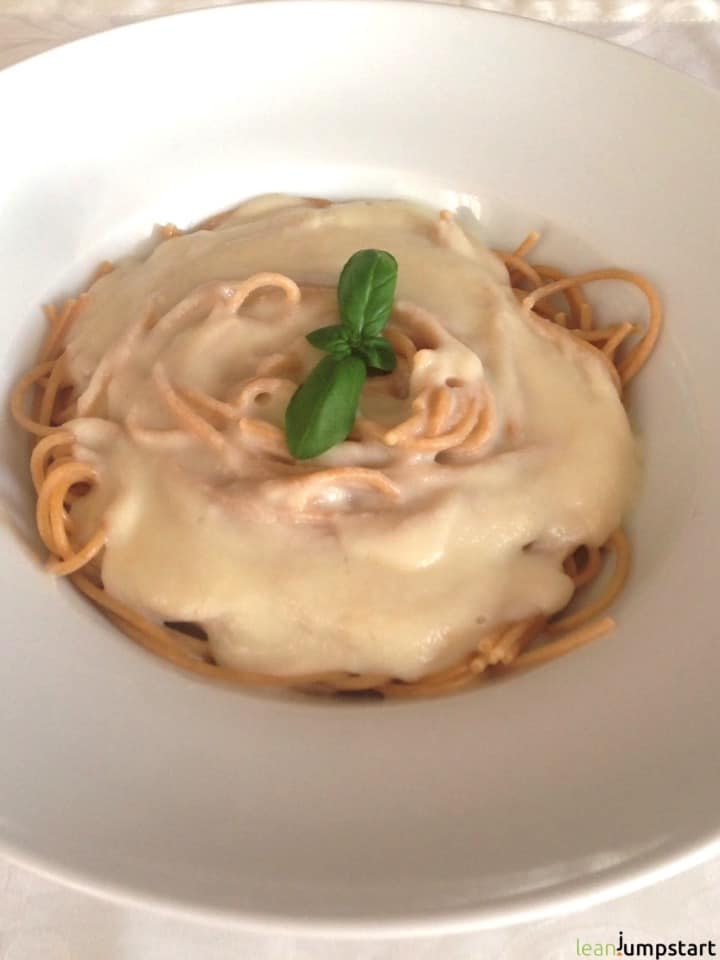 As much as we try to please her with her vegan meals, she knows that she has to please us with our more health-conscious, clean eating approach.
Sidebar: While I respect people with a vegan lifestyle and understand their ethical reasons, I regret that many of them make poor food choices. Many vegans opt for vegan convenience food instead of testing out the multitude of easy, plant-based meals, which can be cooked in a snap. Hey, there are vegans, who are mainly living just of French fries and Coke, no joke…
Ok, let's come back to the easy Alfredo sauce recipe.
Print
Easy Alfredo pasta sauce recipe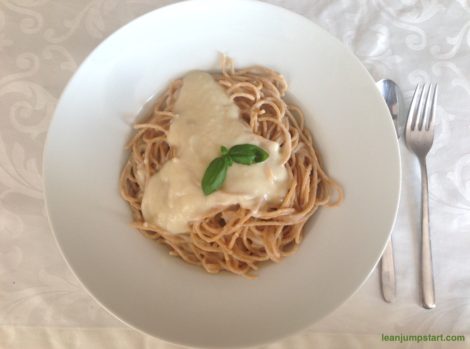 A plant based and light Alfredo sauce
Author:
Prep Time:

10

Cook Time:

20

Total Time:

30
Ingredients
1 onion
2 tbsp. olive oil
600 gr. cauliflower cut in florets
500 ml vegetable stock
300 ml almond milk or soy-milk
3 cloves garlic
3 tbsp. yeast flakes
1 tsp. salt
1 tablespoon lemon juice
some basil leaves or
1/2 bunch flat parsley, chopped (optional)
Instructions
Prepare wholegrain Spaghetti or Fettuccine according to instructions on the packet.
Heat olive oil in a large pot.
Sauté onion cubes in it over medium heat for 4 minutes.
Then remove from pot and put aside.
Add vegetable stock to the pot
Cook cauliflower florets in vegetable stock for 10 minutes over medium heat until firm to the bite.
In the meantime bring enough salt water to a boil for pasta and cook it "firm to the bite." according to instructions on the packet.
Remove 100 ml of broth.
Puree cooked cauliflower florets with remaining vegetable stock, onions, garlic, milk, lemon juice and salt in a food processor.
Return the sauce to the pot, bring to a boil for a moment and then simmer over low heat for 2-3 minutes.
Mix the drained pasta with sauce and yeast flakes and garnish with basil leaves or coarsely chopped parsley.
Notes
Garnish with basil leaves or sprinkle with chopped parsley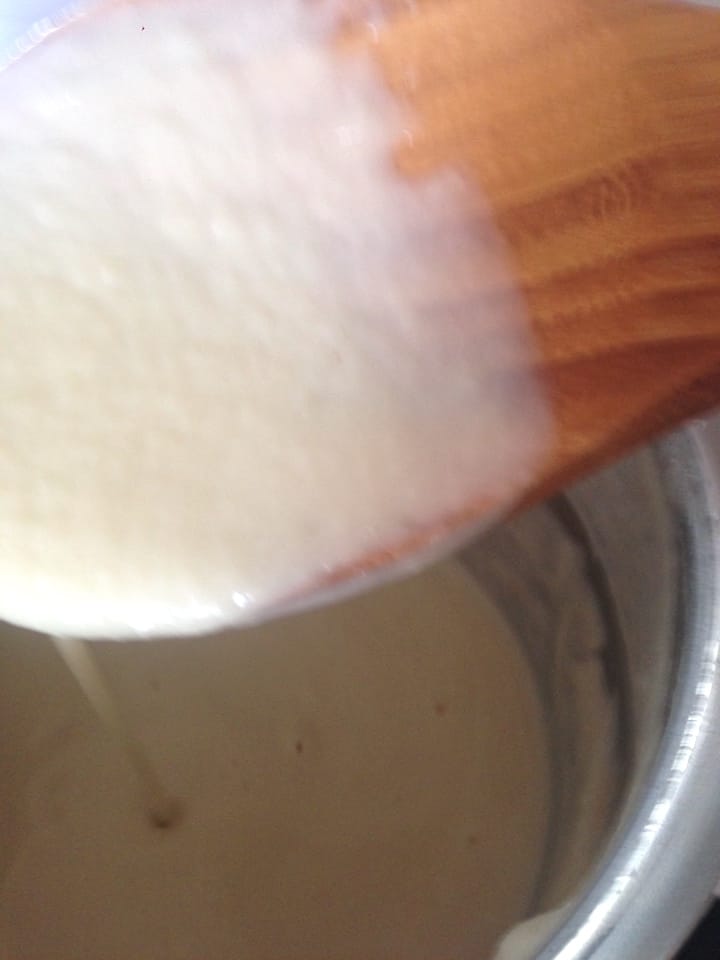 Easy Alfredo sauce recipe variations
The best Alfredo sauce recipe for me is one which is creamy, has a garlic taste and ideally doesn't make you fat. Luckily this cauliflower Alfredo sauce has it all! If you prefer a vegetarian version you can use regular milk instead of almond milk or soy milk and still benefit of a light pasta sauce.
You can easily pimp up this sauce up with adding mushrooms or broccoli and serve it to brown rice.
OTHER CAULIFLOWER RECIPES YOU MIGHT ENJOY