Last Updated on November 4, 2020
When I've made this roasted cauliflower salad for the first time, this common side dish in the Middle Eastern kitchen tasted delicious but didn't look very appealing. Sometimes it's just a little color contrast you need to beautify a dish. In this recipe, I've just added green onions and pomegranate seeds…and voilà now it is almost a festive eye-catcher on a salad buffet.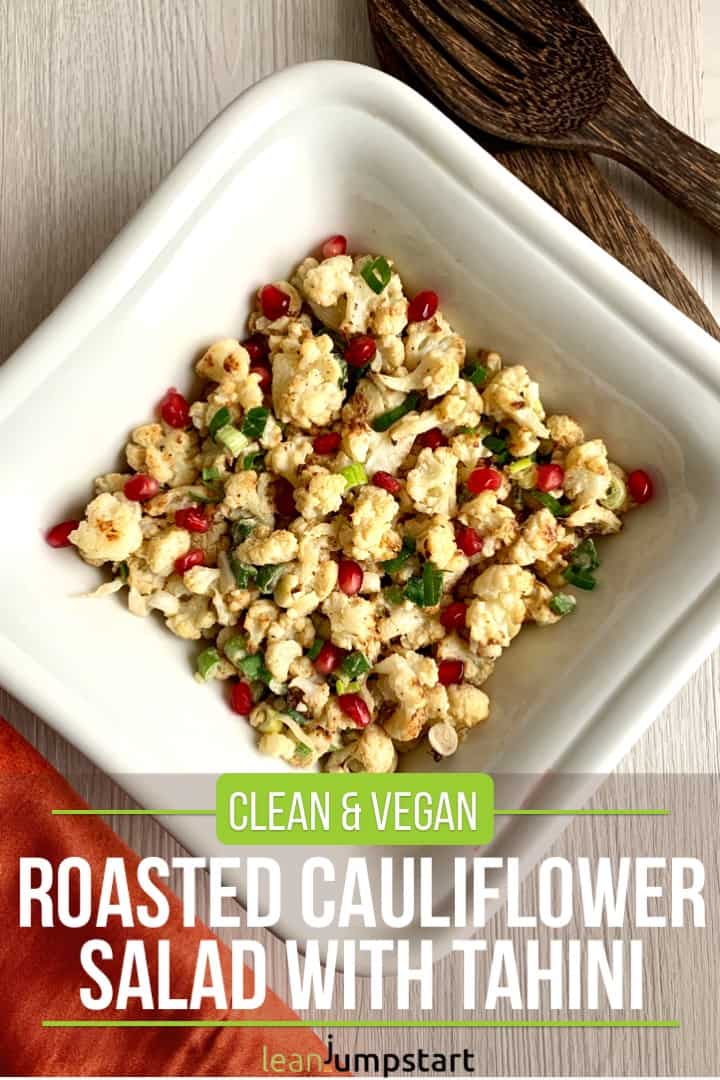 I tried this creamy salad for the first time on the Maldives where we've spent part of our summer holidays in 2017. Besides of Indian cuisine, the middle eastern kitchen was present there too, offering us a huge culinary variety. I was on the mission to try each salad on the buffet at least once. One fork full of roasted cauliflower salad was enough and I was obsessed.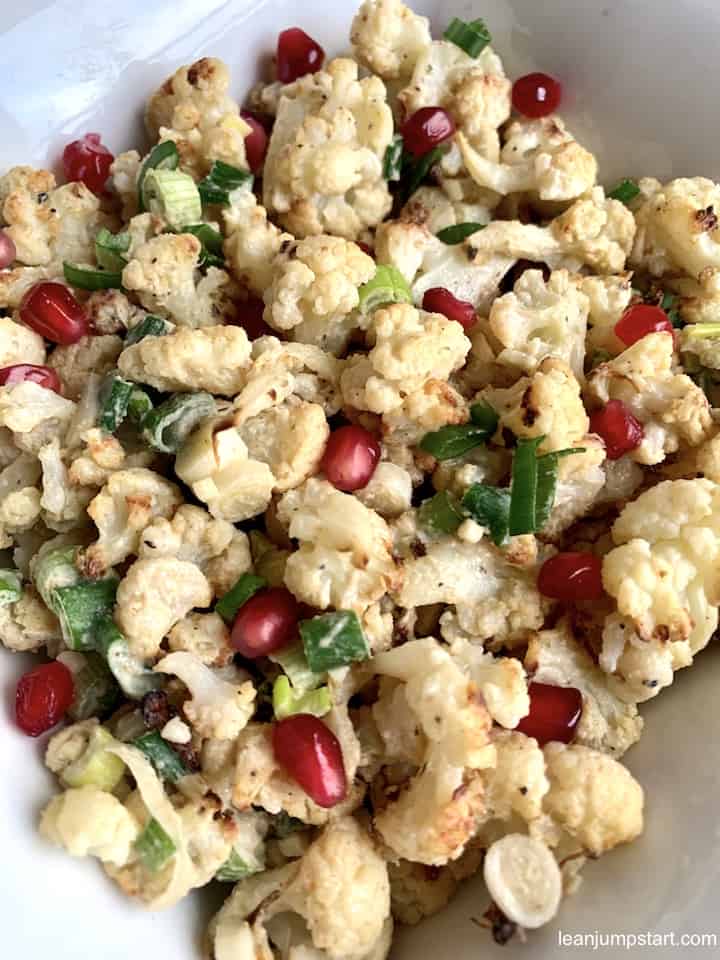 You don't need to add pomegranate seeds to this cauliflower side dish. I can guarantee that it tastes delicious also without these little red bulbs. But overall I think it just looks a bit boring without pomegranates. It's up to you, see below for yourself.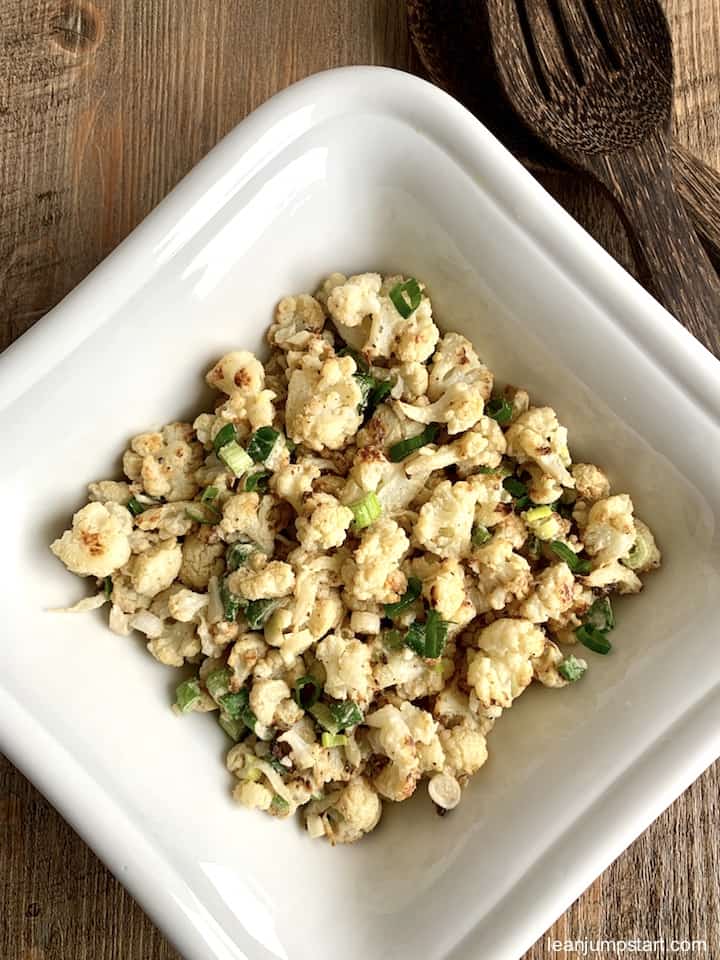 Slightly sweet & absolutely irresistible
This white cabbage type is one of those ingredients that only heat transforms into a wonderful dish. Raw cauliflower is nothing special, but when you roast it in the oven, this vegetable gets a superb, slightly sweet and absolutely irresistible taste.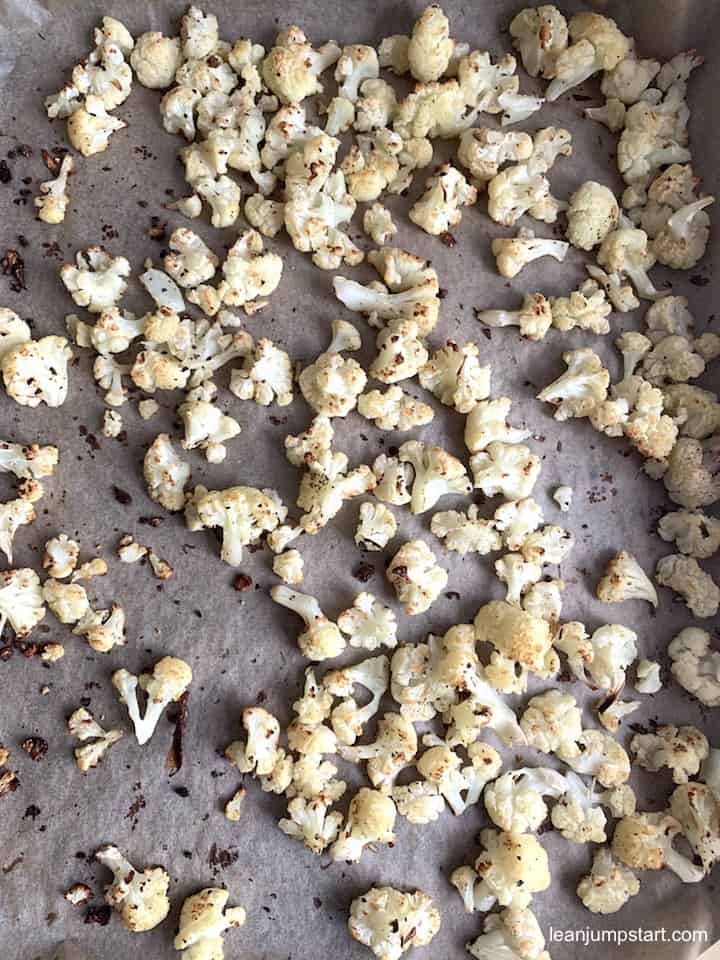 The florets get crunchy and the Tahini dressing complements the earthy taste and crisp-tender consistency of this low-carb side dish.
Print
Roasted cauliflower salad recipe
A delicious gluten free side dish
Author: Gabi Rupp
Prep Time:

15

Cook Time:

30

Total Time:

45
1

head cauliflower, chopped into small florets

2

spring onions, cut into strips
salt and pepper to taste

100

gr. pomegranate seeds (optional)
Tahini lemon dressing
2 tablespoons

Tahini

2 tablespoons

lemon juice

2 tablespoons

water

2

cloves garlic, minced

1/2 teaspoon

cumin

1/4 teaspoon

cayenne pepper

1/4 teaspoon

salt
Instructions
Preheat the oven to 400 F/200 C.
Place cauliflower florets in a large bowl
Add seasonings.
Toss everything slightly together until all florets are coated in salt and pepper.
Roast the vegetables in the preheated oven for 15 minutes on a rimmed baking sheet, then stir.
Return them to the oven, and roast for an additional 15 minutes, or until the cauliflower is browned on the edges.
Make the Tahini lemon dressing while the cauliflower is roasting,
Blend in a small bowl water, tahini, lemon juice, cumin, cayenne, garlic, and salt until smooth.
Then keep cool until ready to serve.
Combine the roasted vegetables in a salad bowl with the chopped spring onions. Sprinkle the tahini dressing over top, and toss to combine.
Garnish with pomegranate seeds (optional)
Notes
Enjoy this salad slightly warm from the oven, or chilled from the fridge.
How to serve it
The easiest way to serve this cruciferous vegetable salad is with a slice of whole grain bread or a bowl of brown rice. A great idea for a whole food meal is to combine it with roasted chickpeas.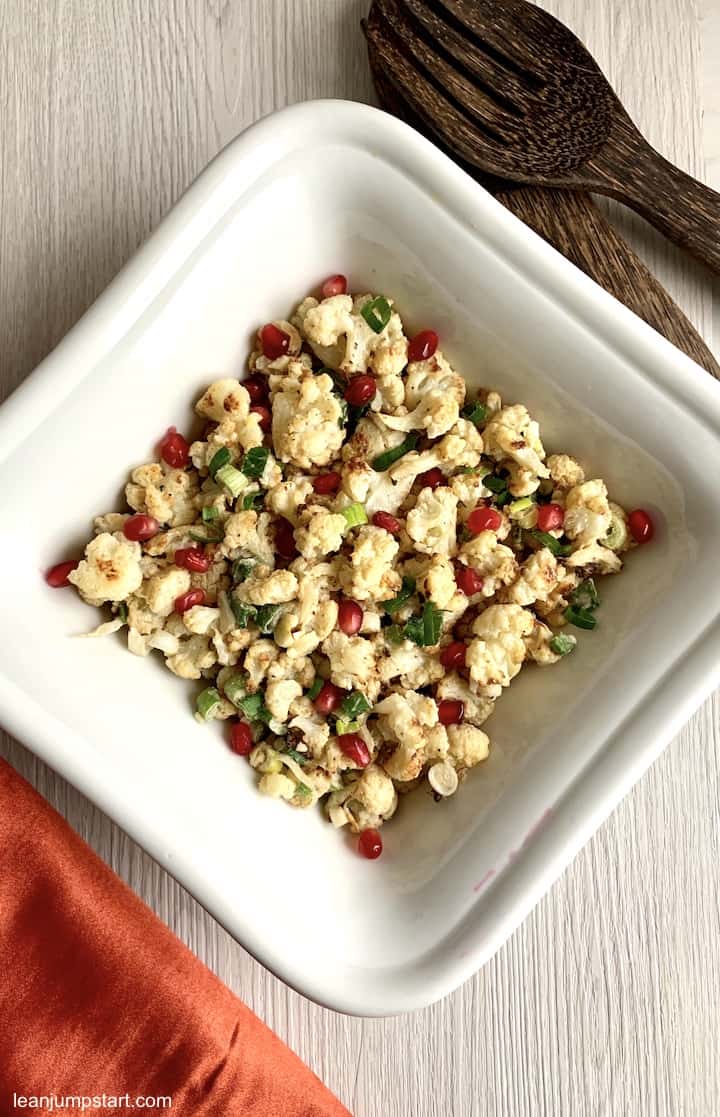 Some facts about Tahini
Maybe you know Tahini or sesame paste as an important ingredient for hummus. The Tahini sauce is traditionally served with pita bread, falafel and keftes, salads, fish or deep-fried vegetables.
Variation tips with chickpeas
This is a great variation if you don't like Tahini. You can combine cauliflower and chickpeas with slices of bell peppers and get a tasty, nutrient dense dish. As for dressing mix some olive oil, lemon juice and a pinch of salt.
OTHER CAULIFLOWER RECIPES YOU MIGHT ENJOY