This baked cauliflower recipe I'm presenting you today is a dish my 15-year old daughter surprised us yesterday. She wanted to test and simplify a meatless recipe for Christmas she saw at hotforfoodblog.com. Impressed by cauliflower's intense taste and the ease of preparation I felt the urgent need to share it with you.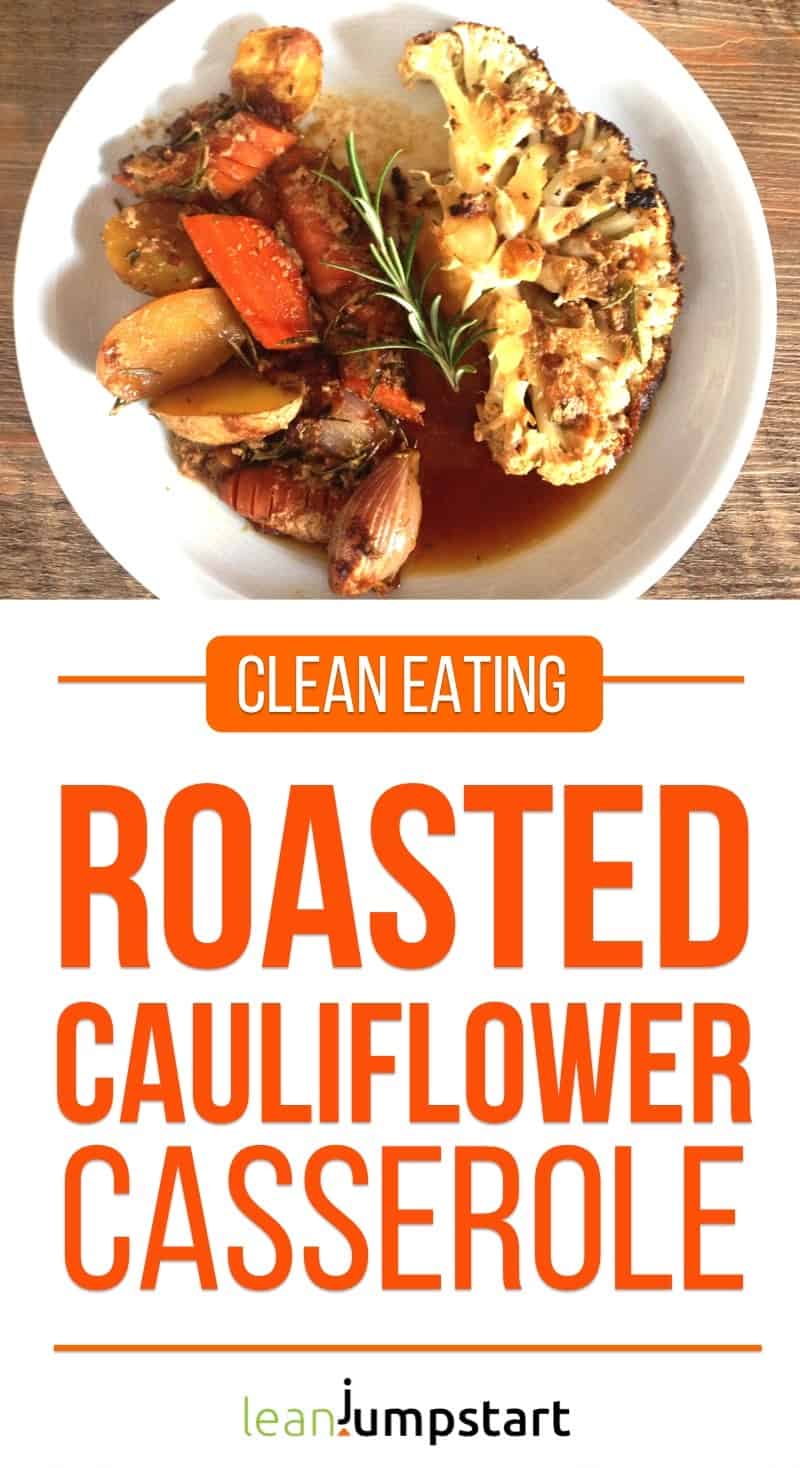 It's an oven roasted cauliflower recipe that many vegans enjoy for Christmas. But it can be also an impressive vegetarian option for the thanksgiving feast.
In fact when you look at the casserole below the cauliflower bake really looks a bit like a turkey.
…And when you try it you are overwhelmed by its roasted and savory taste. As dark as it is, it doesn't taste burnt at all. And its gravy can easily compete with the rich braised beef gravy I enjoyed as child with my family.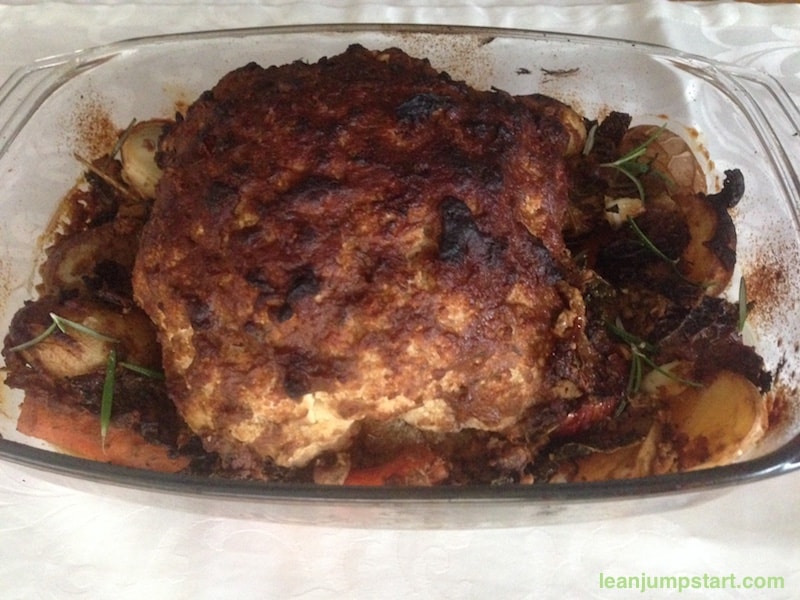 I have to confess that the big oven roasted turkeys always scared me, so this baked cauliflower might become quickly my favorite cauliflower recipe ever.
Heads Up: While this dish is easy to prepare it is NOT a quick recipe and you should plan for a baking time of almost one hour altogether. But compared to roasted turkeys that need three or more hours in the oven it is almost "fast food".
Like most clean eating casserole dishes it is also a one-pot-meal – all ingredients you need for it are placed into the casserole: Cauliflower, potatoes, carrots, onions etc…and not to forget my favorite herb – rosemary which we can still pick in our garden.
And here comes the baked cauliflower recipe.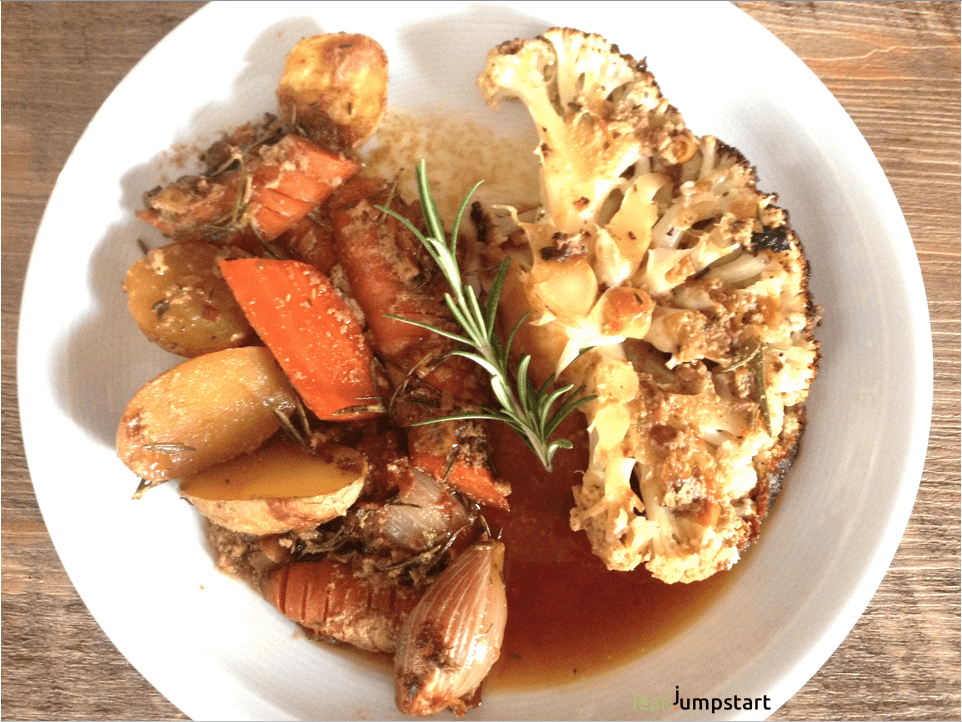 Clean Eating Baked Cauliflower Recipe
2016-12-05 09:43:44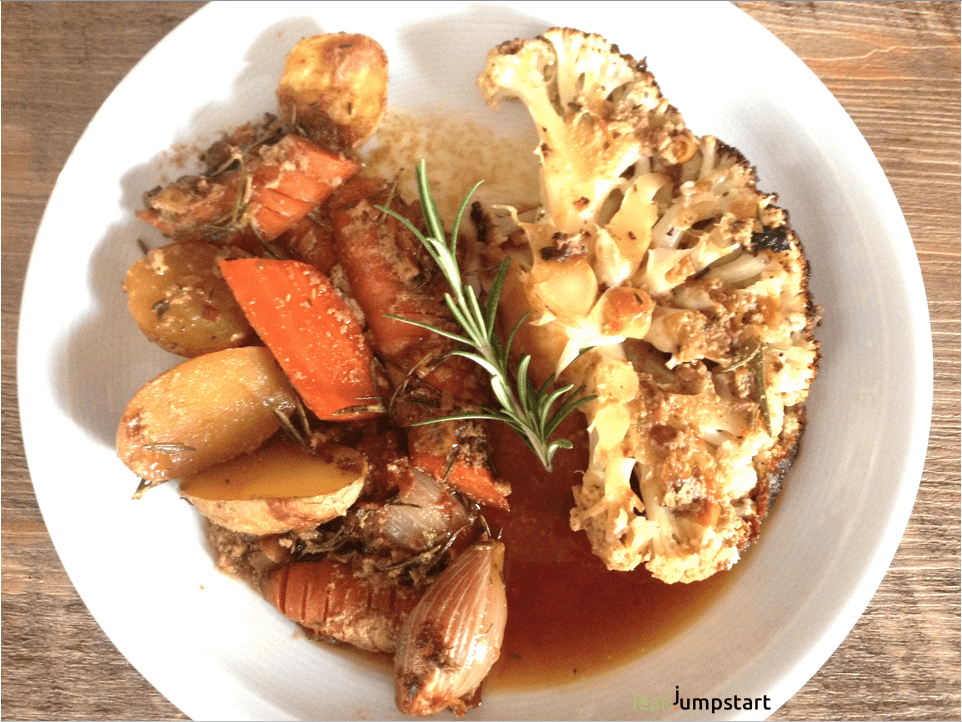 Serves 4
A delicious vegan dish for Christmas or Thanksgiving
Ingredients
1 large cauliflower (trim cauliflower stalk)
4 small (organic) potatoes - unpeeled, halved
2 large carrots, cut diagonally
2 small onions, halved
4 springs of rosemary, cut into small pieces
1/2 teaspoon ground pepper
Gravy Ingredients
5 garlic cloves, minced
2 shallots finely chopped
1/4 cup (2 oz./56 gr.) vegan butter (or olive oil)
1 teaspoon nutmeg
1 teaspoon sea salt
1 teaspoon fresh, finely chopped (or dried rosemary)
1 teaspoon dried thyme
1 cup tamari
1/2 cup (4 oz/110 ml) maple syrup
2/3 cup (5 oz./140 ml) tahini
2 tablespoons water
Instructions
Toss potatoes, onions, carrots and rosemary with salt and pepper.
Preheat oven to 425 F/220 °C
Place cauliflower head stalk side down into a casserole or roasting pan.
Prepare sauce
Heat sauce pan over medium
Add vegan butter and let it melt
Add garlic and shallots
Cook and stir for about 2 minutes
Add rosemary, nutmeg, thyme and salt and continue stirring for a minute
Add Tamari, tahini, maple syrup and combine well.
Bring gravy to simmer while whisking occasionally.
Once it is heavy boiling, lower heat and let it simmer for 10 minutes.
It should be a thick gravy with pourable consistency.
(Add water or vegetable broth if it is too thick)
Prepare bake
Turn cauliflower in the casserole and pour some tablespoons of gravy into the bottom (so it reaches the florets.)
Now coat the entire cauliflower with sauce thoroughly using a brush and place it back head stalk side down.
Surround the cauli with the vegetables and most of the rosemary springs (leave a few pieces for garnish).
Roast cauliflower casserole for 20-25 minutes.
Thin out remaining gravy with some water and pour it over vegetables.
Roast cauliflower for another 25 minutes.
Arrange cauliflower steaks with vegetables and sauce on a plate
Garnish with rosemary
Notes
You can add any vegetables you want, e.g. celery, squash what ever your heart desires
Adapted from hotforfoodblog.com
Leanjumpstart Clean Eating Habits https://leanjumpstart.com/
OTHER CAULIFLOWER RECIPES YOU MIGHT ENJOY