Last Updated on April 5, 2021
Do you know bean thread noodles? You should. Hopefully, after reading this blog post I can convince you to include bean threads more often into your healthy nutrition.
I'll share with you also my favorite glass noodles recipe. It is a Chinese vegetable stir-fry, which is the best clean eating meal I can cook if I have only a little time and a few veggie leftovers sitting in my pantry.
Important ingredients for this simple recipe are bean threads, which in my opinion you should always have at hand for at least three reasons:
unlimited shelf life
ready within 3-5 minutes
healthier than regular pasta
But first, let's look at some basics and background information
What are bean thread noodles?
Bean thread, glass or cellophane noodles are often needed for various, especially Chinese recipes. As the name suggests, they are transparent when cooked and thus similar to glass. In addition, they are razor-thin, so you can cook them very quickly.
Glass noodles are made of starch from mung beans in combination with water. Sometimes, especially in Germany, you'll find a blend of mung bean starch and green pea starch.
Also known as mung bean noodles, mung bean vermicelli, or bean thread vermicelli, they are very rich in carbohydrates and free of gluten, fat, and protein. The translucent pasta itself is quite tasteless, but it is easily combined with other flavors. It has a springy texture, similar to an 'al dente' cooked wheat noodle.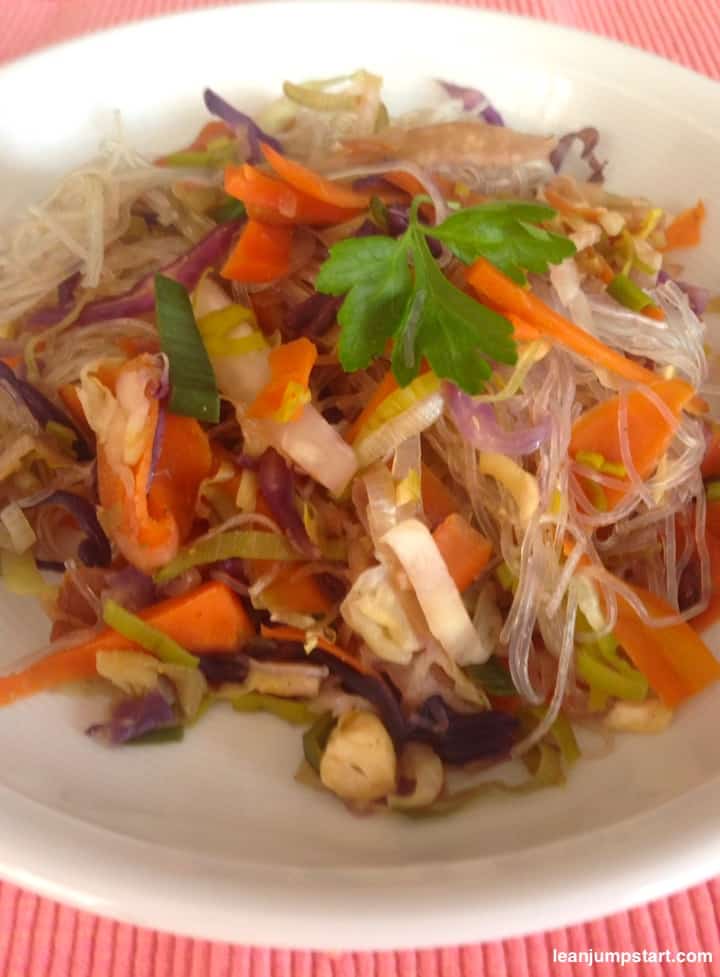 How to cook bean thread noodles
Unlike other types of noodles, mung bean threads are generally not boiled but soaked in water for 3-5 minutes and roasted or added directly to soups, salads or wok dishes. In some recipes, they are also raw fried or deep-fried. You might know them as part of a filling in spring rolls.
It is advisable to break the pasta into shorter pieces, or cut it with a kitchen scissor, otherwise you will literally get "noodle salad" afterward. By the way, the pasta is easier to cut when already covered with water.
Don't forget to rinse through with cold water
To remove the excess starch drain well and rinse through with plenty of cold water. Hint: If you want to keep bean threads from sticking together toss them with a 1/2 teaspoon of oil.
An example of soaked bean threads (after 3 minutes) you see on the picture below.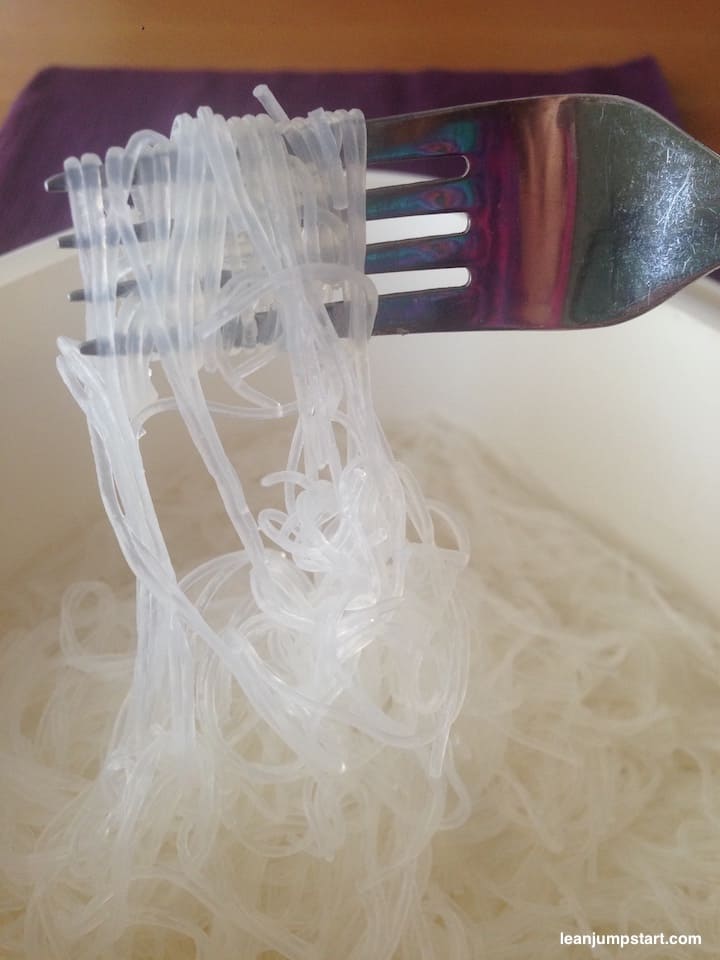 Bean thread noodles nutrition facts
Usually, Chinese, Thai or Korean glass noodles contain a large portion of gluten-free complex carbs that provide power and satiation. They are also a good source of the minerals selenium and iron (1).
The starch in bean threads is called "resistant starch", a fermentable insoluble fiber, which functions kind of like soluble fiber. It has the property to feed your friendly gut bacteria in the colon. (4) Fibers which can be fermented by the gut bacteria are also called prebiotics. Resistant starch actually improves our ability to tolerate glucose and increases insulin sensitivity while it doesn't spike blood glucose.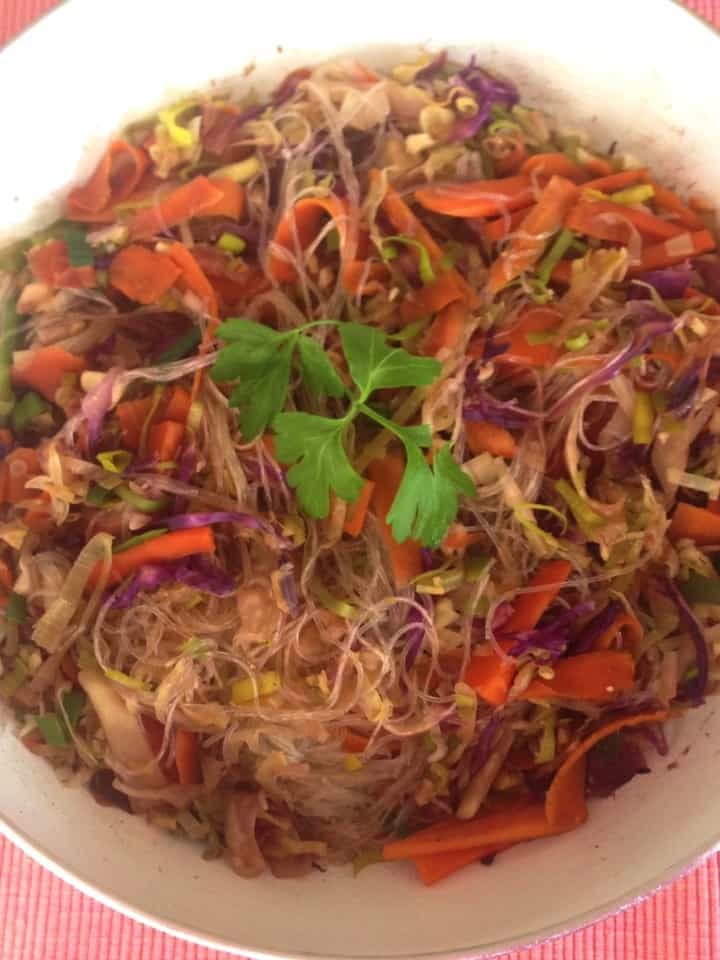 Resistant starch is also the reason why, in a recent study into the Glycemic Index of two rice varieties and six different Thai noodles, mung bean glass noodles elicited the lowest glycemic index response of all. (2)
In short, they convert to blood sugar slower. Here are the 4 most important reasons to eat foods with a low glycemic response (3). They:
decrease the risk of diabetes
lower risk of heart disease
curb inflammation
help lose weight
For many of my readers especially weight loss is their biggest struggle. If you need another staple that can help you with your weight management, I highly recommend cooking with this resistant starch-rich pasta more often.
Read the labels!
Heads up: I highly recommend to read the label before buying bean threads. There exist some types of Chinese glass noodles that are based on other starch sources (potato starch, sweet potato starch, rice starch etc.) that may not be as beneficial as mung bean starch.
So if you ask "are glass noodles healthy?" my answer is: Yes if the above-mentioned health benefits are an issue for you.
Let's look in the following how to cook bean thread noodles for stir-fry.
Vegetable stir-fry – ready within 10 minutes
You will love this simple glass noodles recipe. It is ready in a few minutes and can be varied again and again. Regarding vegetables, you are very flexible because almost everything fits perfectly.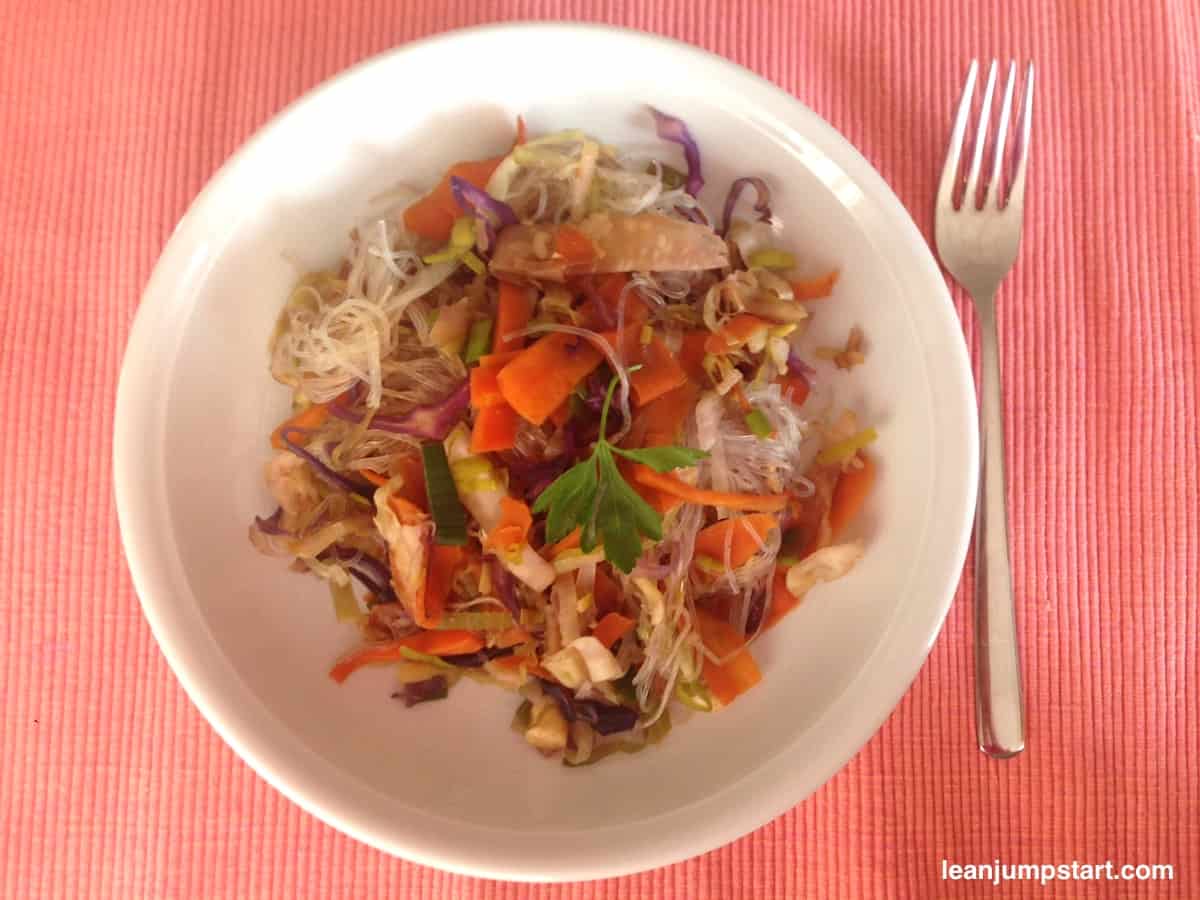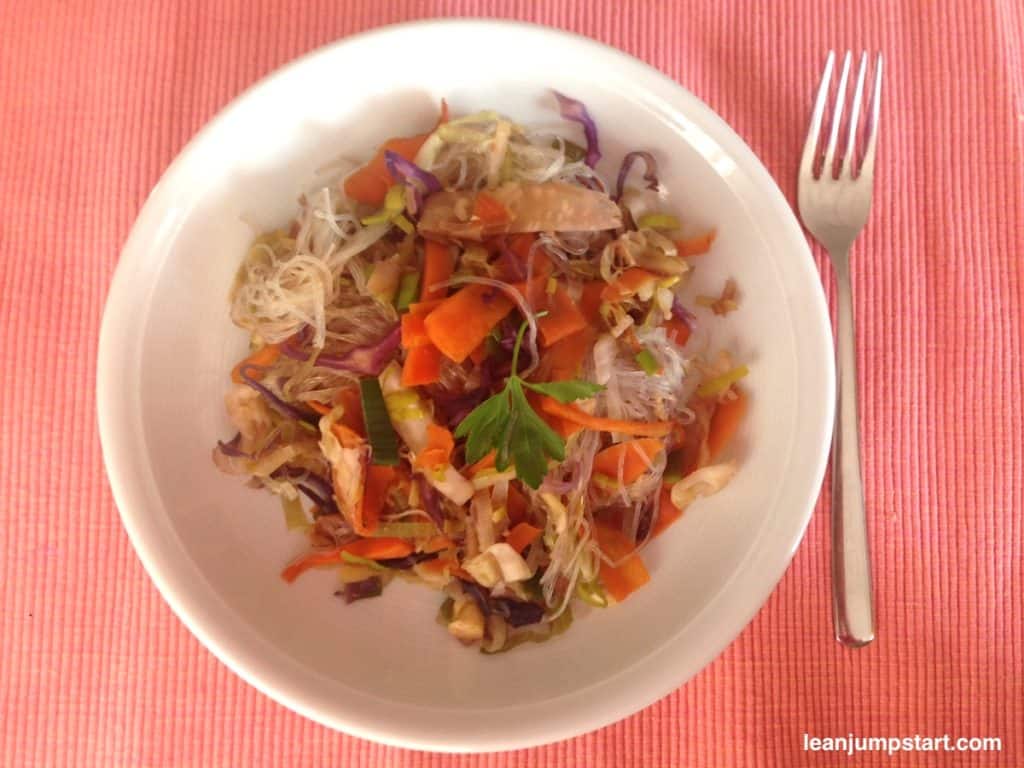 Since I know, that red cabbage is the no. 1 bargain antioxidant food, I have it more often at home than my beloved white cabbage. As you can see it is a perfect match for this glass noodles stir-fry.
Print
Bean thread noodles vegetable stir-fry
A delicious and simple clean eating wok recipe
Author: Gabi Rupp
Prep Time:

5

Cook Time:

10

Total Time:

15

Yield:

2

1

x
Category:

Dinner

Method:

stir-fry

Cuisine:

Asian

Diet:

Vegan
1

leek or green onion, cut in rings

2

cloves garlic, minced

2

carrots, cut in stripes

100

gr. celeriac, diced

300

gr. red cabbage, thinly shredded

250

gr. bean thread noodles

3 tbsp

low-sodium Miso sauce or Tamari sauce

1/2 teaspoon

chili flakes

3 tbsp

water or

1 tbsp

extra virgin olive oil
lemon juice to taste
parsley for garnish
Instructions
Place noodles in a large bowl.
Then add boiling water.
Cut bean threads into small pieces using a scissor (works best in water)
Allow noodles soak in water for 3-5 minutes and then drain in a colander.
Next fry leek and garlic in a wok or pan with some water or olive oil.
Add chili flakes to taste.
Add the celery, carrots and red cabbage and stir-fry for a few minutes.
At last, add the soft glass noodles and season to taste with tamari sauce and lemon juice.
Garnish with parsley.
Notes
If you want you can put some roasted sesame seeds on top.
For spicy glass noodles just add more chili flakes
Keywords: bean thread noodles, glass noodles, mung bean, cellophane
Recipe variations
As mentioned before you can chop almost anything into this bean threads stir fry, especially (shitake) mushrooms are a great addition. When I don't have celeriac bulbs I often use celery stalks, kohlrabi or sweet potato instead.
On the picture below you see my recipe variation with kohlrabi, carrots, and zucchini. For a brighter color of the pasta leave out the red cabbage. At last, I've sprinkled some sesame seeds on top.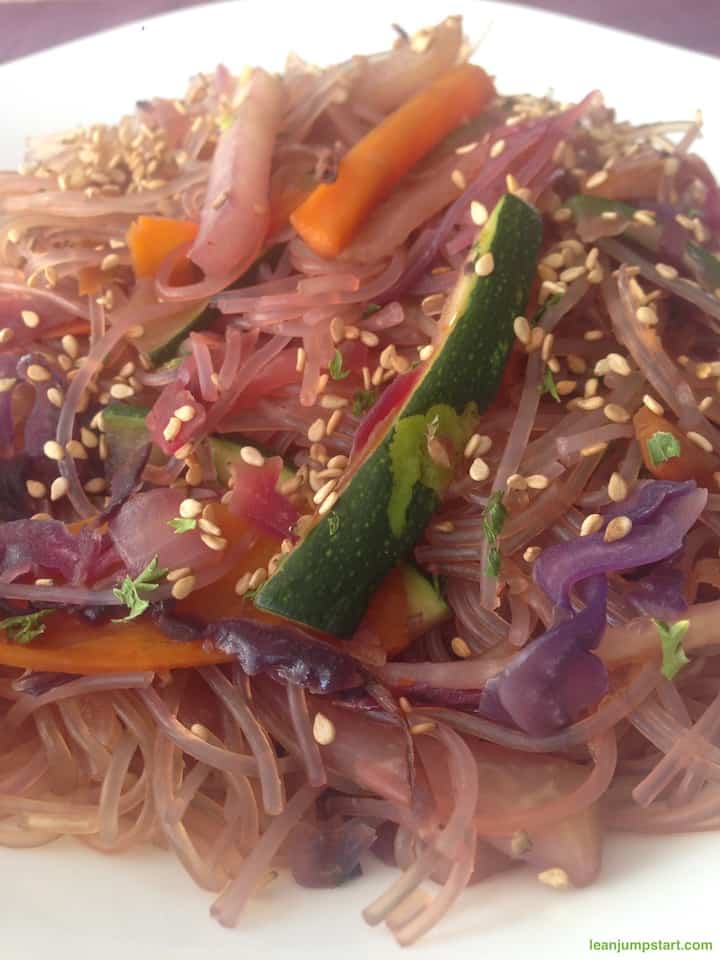 Chopped tofu, chicken breast pieces, shrimp or fish sauce also harmonize very well with glass noodles.
A very popular variation is to replace Tamari sauce with peanut butter which gives this dish a very distinctive taste.
Another idea is to create a colorful bean thread salad with sugar snap peas and other veggies.
Where to buy glass noodles
Glass noodles are not only available in Asian markets, but also in specialized shops and larger supermarkets. Of course, you can get them online e.g at Amazon too. One of the recommended brands is "Longkou" or "Saifun".
Since no salt is used in the classic production process they have practically an unlimited shelf life as without salt they do not absorb any moisture. It's important however to store the packed noodles in a dark, cool and dry place.
Glass noodles vs rice noodles
In contrast to glass noodles, cooked rice noodles are rather matt white and consist mainly of rice flour. Depending on the recipe, either cornstarch or tapioca flour is also added.
Rice noodles have a more as double as high glycemic index than bean threads and are thus less beneficial for our system.

OTHER BEAN THREAD RECIPES YOU MIGHT ENJOY