Last Updated on November 4, 2020
Sometimes life gets crazy and you have very little time to whip up a clean eating meal. Bok choy noodles with mushrooms is such a welcome last minute dish.
It's nutrient-dense, as among other healthy ingredients, you use another member of the cruciferous vegetable family: Bok choy also known as Pak choi.
You'll learn more about bok choy's health benefits in a minute.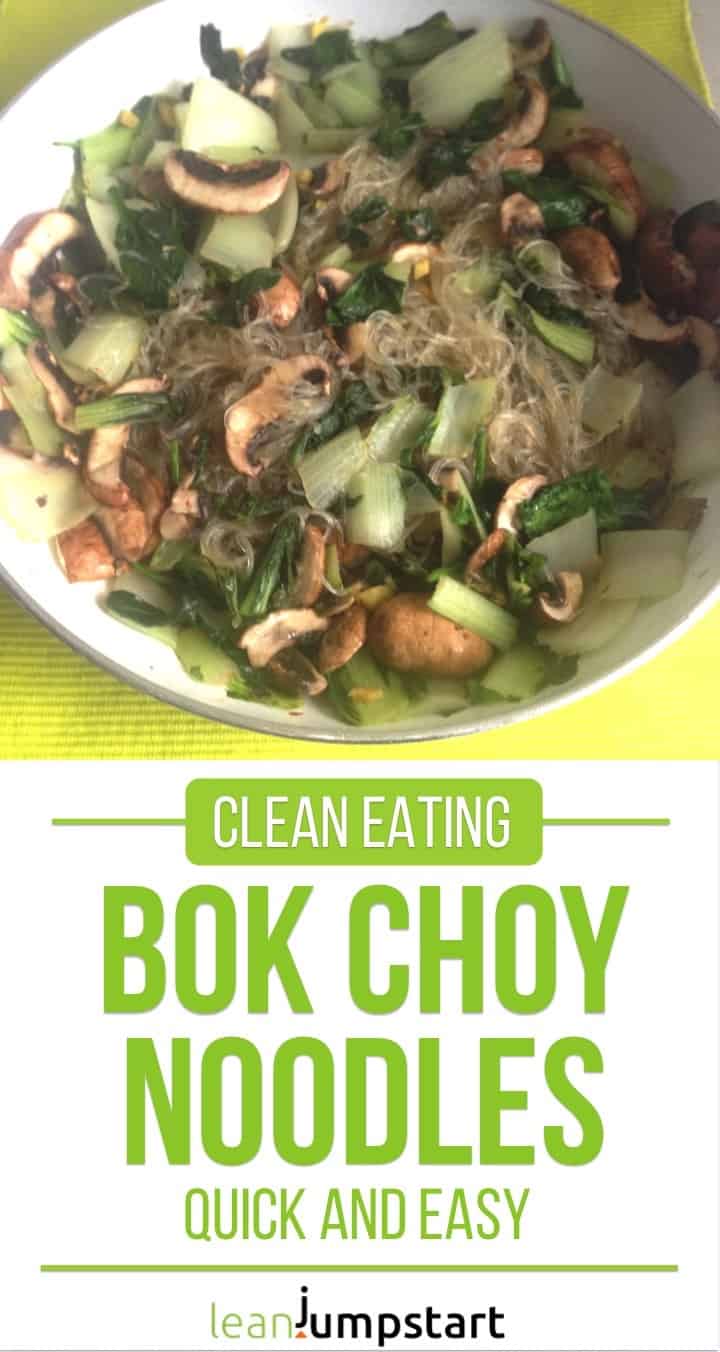 This one pot meal credits its short cooking time to the special noodles I'm using for this quick and easy clean eating recipe.
There are plenty 'alternative' noodles to traditional pasta available these days and the sky is the limit. Until now I've mostly used whole grain noodles with more complex carbs. These carbs are broken down more slowly by the body, and prevent blood sugar spikes. But for these quick bok choy noodles I used something different.
My latest findings: bean thread noodles
Last year my daughter introduced to me glass or cellophane noodles. They are also called Chinese vermicelli, crystal noodles or just bean threads. I seemed to remember them from my "all-you-can-eat" times. But I always thought that transluscent noodles are an "instant crap" with empty calories. How wrong was I!
Nutrient-dense bok choy noodles
Besides being lower in refined carbohydrates and higher in protein, bean thread noodles usually have a springy, firm texture, similar to a perfectly cooked 'al dente' wheat pasta. They're also a great source of gluten-free complex carbs, selenium and iron.
The best and most famous bean threads come from Longkou city (Shandong Province, China). Tip: If you spot the word "Longkou" on the packaging for Chinese noodles you know you get the best quality bean thread noodles.
So, if your family is missing traditional pasta and can't get used to whole grain pasta, then these bean thread noodles offer a healthy alternative.
Print
Bok choy noodles with mushrooms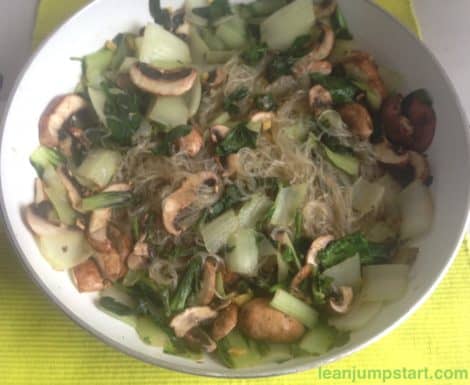 A delicious, plant based one pan meal
Author: Gabi Rupp
Prep Time:

3

Cook Time:

7

Total Time:

10
1

large head bok choy – chopped

1 cup

spinach – chopped

2

cloves of garlic, minced

1 tablespoon

olive oil (or some water)

8 oz

./220 gr. sliced mushrooms

1 teaspoon

ginger

1 teaspoon

crushed red pepper flakes

4 cups

vegetable broth

8 oz

. /220 gr. bean thread noodles
season with salt + pepper
Instructions
Heat olive oil or water in a wok or pot over medium high heat
Add bok choy, spinach, mushrooms, ginger, garlic and red pepper flakes.
Stir to combine them while cooking for 2 minutes until the greens wilt.
Add 4 cups hot vegetable broth.
Once boiling add bean thread noodles, cooking as instructed on noodle package.
Season with salt + pepper if needed.
Enjoy!
Bean thread noodles recipe tip
Another idea is to combine bean thread pasta in a cool salad with some spring onions, thinly shredded carrots and a tangy Asian-inspired vinaigrette.
Health benefits of bok choy
When it comes to greens then we all know that spinach is full of health benefits. In fact it is known as a vegetable to target multiple cancers at the same time. So it's never a bad idea to include it in a vegetable dish.
And what about bok choy?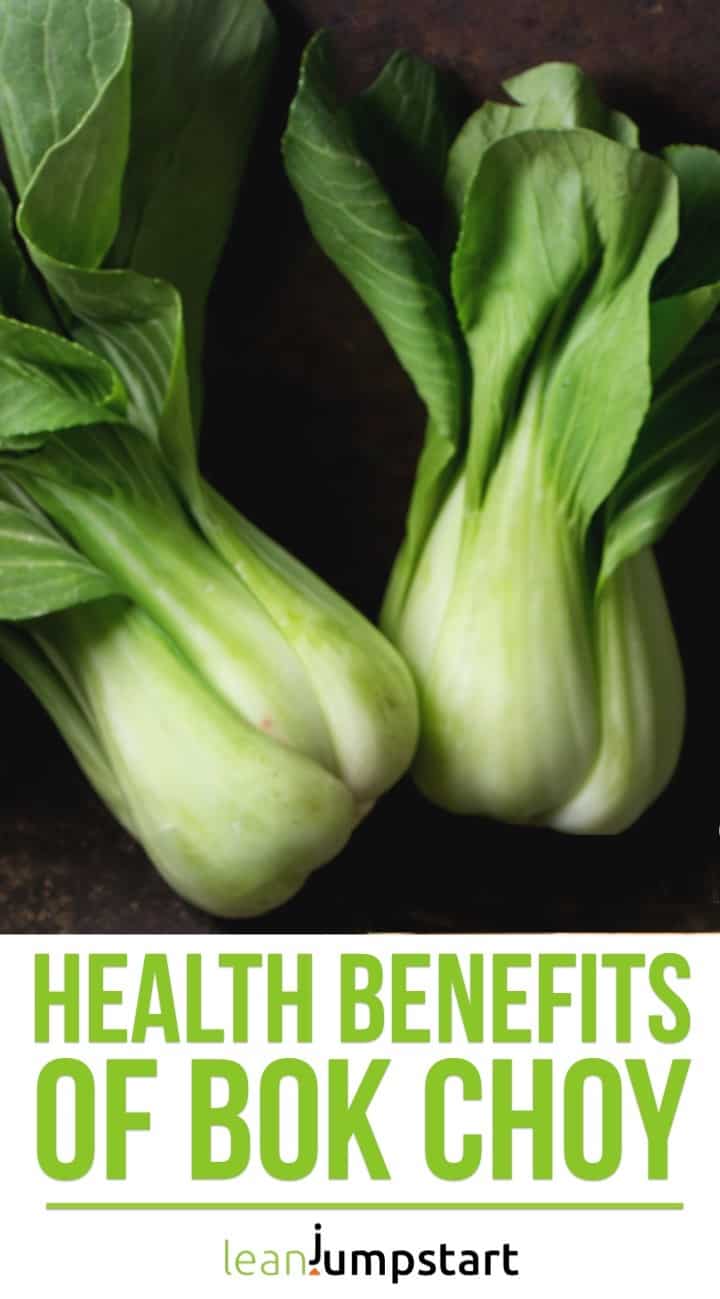 Bok choy comes already with the privilege of being a member of the cruciferous vegetable family such as cabbage, Brussels sprouts, kale, broccoli, turnips and cauliflower.
Cruciferous vegetables are low-calorie, and rich in fiber, vitamins C, E, K, and folate. If weight loss is your goal, then you probably know that fiber is an important nutrient to incorporate as it helps you keep fuller longer.
Cruciferous vegetables also contain plant-based compounds (phytonutrients) – especially glucosinolate, that may reduce the risk of developing cancer. (1)
Researchers have concluded that the inclusion of cruciferous vegetables in the diet is essential for effective dietary based, preventive strategies.
In many different studies cruciferous veggies show the highest inhibitory activities towards cancer cells. Bok choy is maybe not the superstar within this potent family and yet it showed moderate activity towards prostate, breast and stomach cancer cells.(2)