Last Updated on March 13, 2020
For some people this baked sweet potato toast in oven tastes even better than bread. Probably they never tried my homemade whole wheat bread…anyway, if you are looking for a smart way to serve sweet potatoes then you'll love this fiber rich clean eating snack.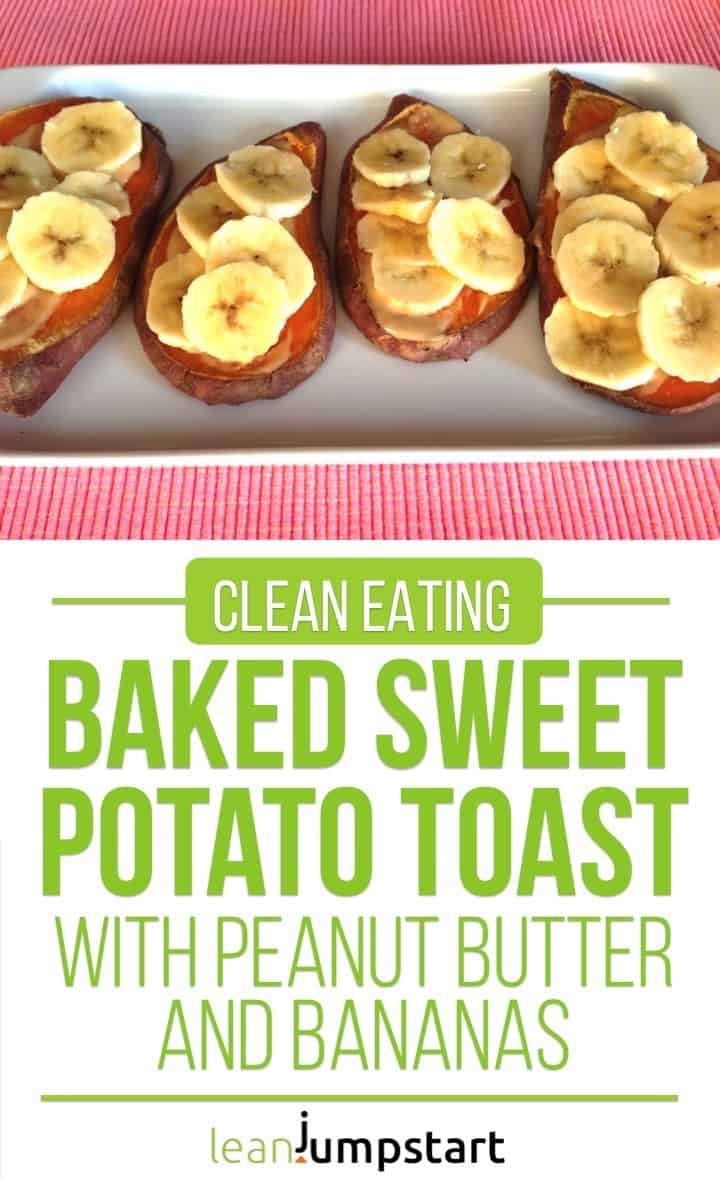 A highly addictive taste experience
I have to admit that usually, when I have the choice between sweet potatoes and "regular" white tubers, then I mostly prefer the regular ones. That's a bit sad given the fact that sweet potatoes contain more dietary fiber than white potatoes. You'll learn more about the specific nutrition facts at the end of this blog post.
See, the sweetness of "sweet potatoes" is just something I'm not used to from my early childhood. I was only introduced to these orange bulbs in my thirties when I got them for the first time in my organic vegetable subscription box.
But combined with peanut butter and bananas it is a totally different story.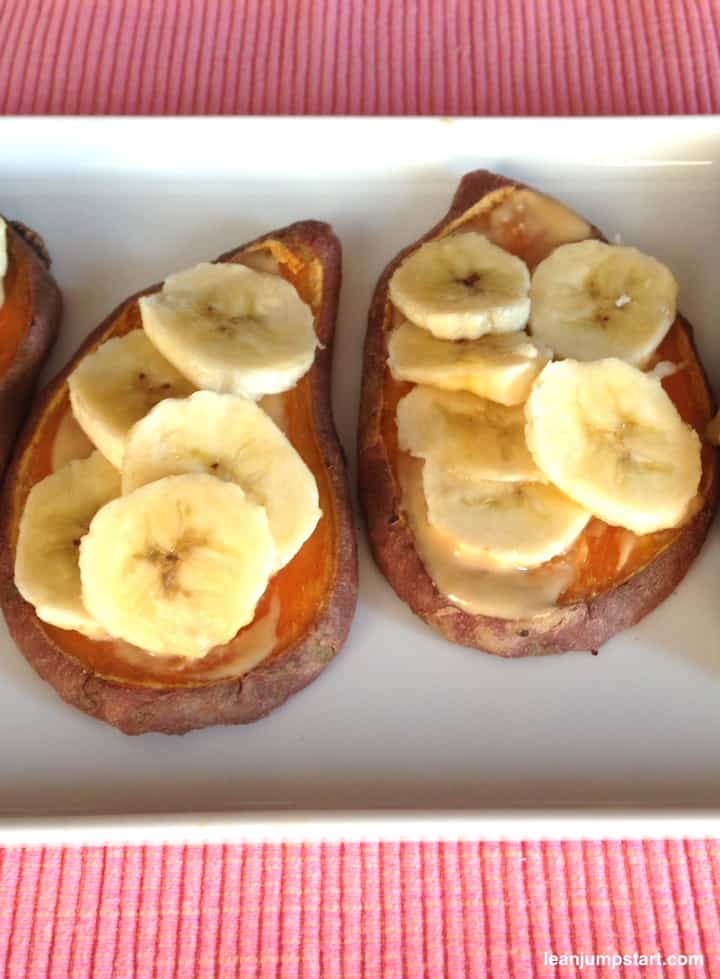 Sweet potato's and banana's sweetness seem to be the perfect match and when you combine it with peanut butter you get a highly addictive taste experience. If you have a sweet tooth like me, then you'll love it as a nutrient dense, afternoon snack. But they make also a great clean eating breakfast variation although you have to stand up a bit earlier to bake them.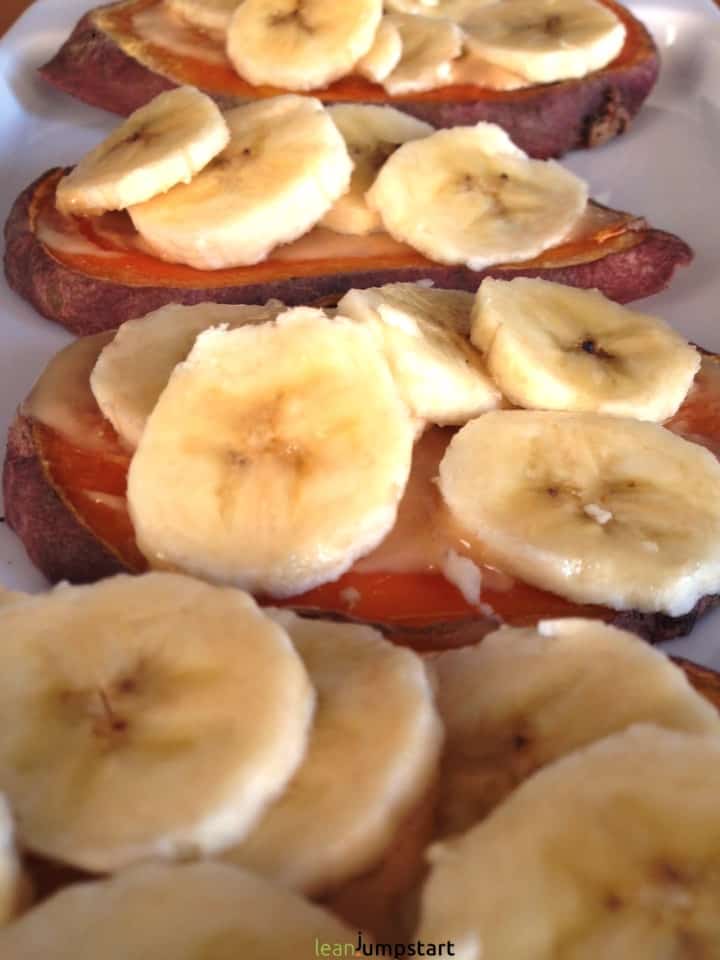 The gluten free recipe itself is self evident but at least I want to give you some baking instructions. By the way, I was introduced to this recipe on the Food revolution summit 2018 which I attended three weeks ago. It was such an amazing, life changing experience and I'll tell you more about it in one of my following posts. Now let's jump to the recipe.
Print
Baked sweet potato toast with peanut butter and bananas
A delicious clean eating snack or breakfast
Author: Gabi Rupp
Prep Time:

10

Cook Time:

35

Total Time:

45
1

large sweet potato (or

2

medium)

1 tbsp

peanut butter

1

–

2

banana(s) in slices
Instructions
Line a sheet pan with parchment paper.
Preheat oven to 375 F°/190 C°
Rinse and scrub sweet potatoes.
On a cutting board cut lengthwise into 1/4-inch/0.6 mm thick slices.
Place potato slices on lined sheet pan.
Pop in oven and bake for 20 minutes.
Remove from oven and turn around.
Return to oven and bake another 15 minutes.
Remove from heat.
Divide peanut butter evenly.
Sprinkle with banana slices.
Enjoy!
Notes
For variation you could try it also with chia seed jam, cream cheese or another favorite spread.
Other healthy toppings
As mentioned, for me there is no better clean eating topping than peanut butter and banana for this healthy sweet potato recipe. But here are some other favorite toast toppings you might enjoy:
coconut butter + roasted almond flakes
nut butters (almond, cashew etc.) + thinly cut apple slices + cinnamon
tahini + arugula
guacamole + tomato slices
Why I don't recommend the toaster
You can find sweet potato toast recipes as food trend on social media where most recommend to prepare the slices in the toaster. This might save you some time but overall I feel it's not worth the hassle. At least my experience with my kitchen gadget was "sub optimal", when you know what I mean…
Either the vegetables were not done or burnt, I somehow couldn't make it work. But hey, maybe you have more luck. Baked sweet potato slices on the other hand are super easy to prepare.
Talking about my toaster… what really works very well for me is when I toast frozen whole grain bread slices in it. No need to defrost, just pop the frozen slices some minutes in your toaster and they are ready to eat. So yummy!
Ok…let's close this recipe tip with some fascinating nutritional insights.
Sweet potato nutrition facts
As already mentioned, sweet potatoes are much healthier than regular potatoes:
They contain more vitamin A and beta carotene, which is good for vision and skin. The beta carotene content is close to that of carrots.
Vitamin E is also abundant in healthy sweet potatoes and protects skin cells from aging. Already 100 grams of sweet potatoes cover a third of an adult's daily vitamin E requirements.
Since sweet potatoes also contain more dietary fiber than conventional ones, they also provide a longer satiation effect and are perfect for weight management. Curious to know what foods have fiber? Then check out my list of high-fiber foods.