Last Updated on March 2, 2021
If you like middle-eastern appetizer like hummus then you will also love this super easy baba ganoush recipe. The gluten free eggplant puree is a plant-based dip or spread that is also very popular at any party.
A little warning…this is not a 20-minutes recipe. Although it's a simple you have still to invest some preparation time, but I promise you – it is worth it! To make it as easy as possible for you, I've included step by step photos and also a video.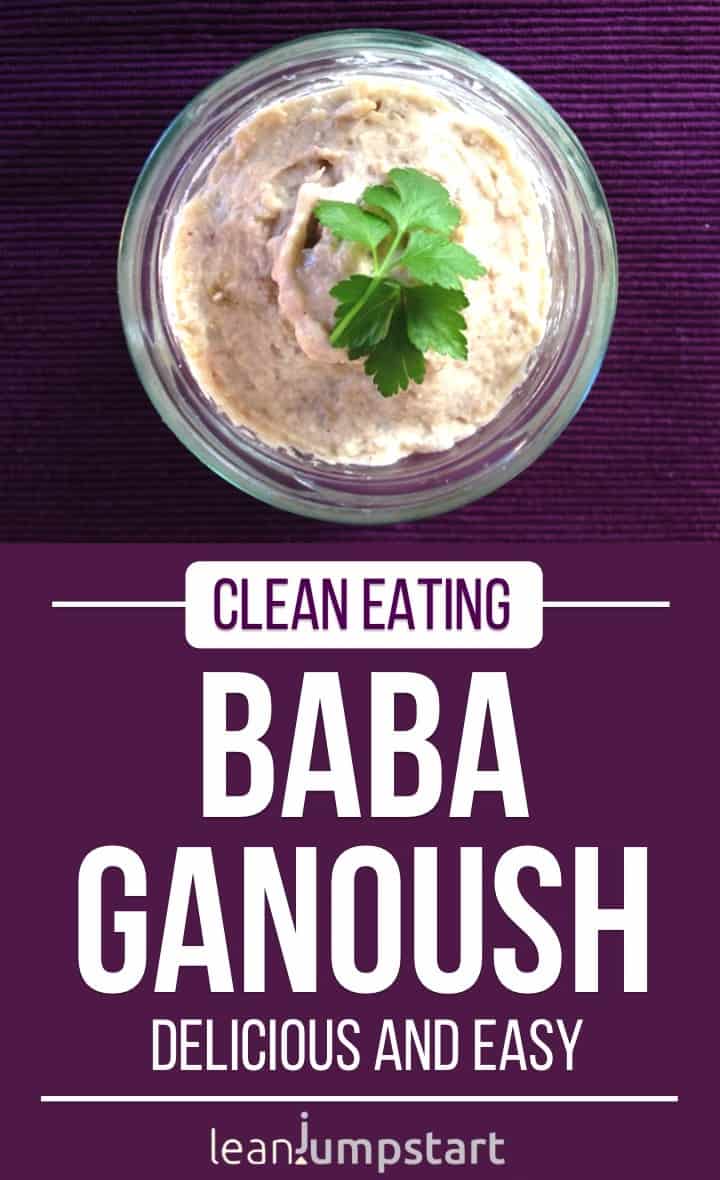 What is baba ganoush?
If I wouldn't prepare baba ghanoush because of its great taste, I would do it just because of the awesome name. This eggplant dip originally originates from the Arab world – Lebanon and Syria, but is also very popular in Egypt and Turkey.
Curious as I am, I've tried baba ghanoush for the first time twenty years ago on my first diving trip to Dahab (Egypt). This aubergine puree of the finest kind was the standard repertoire of a decent "mezze" (appetizer) plate alongside of hummus and tzatziki. Whenever I've spotted it on my later vacations in Turkey or Egypt I've jumped right into it;)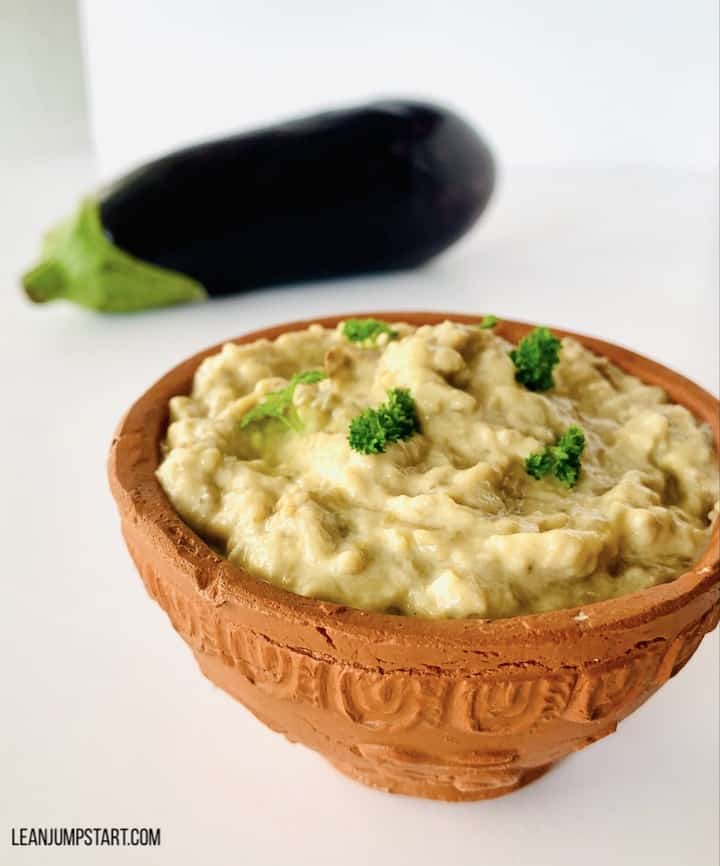 And that in spite of the fact that this veggie dip is not one of those dishes that turn you on visually. You have to have confidence in the greyish-yellowish puree before it embraces you with its wonderful taste.
Dependent of the tahini you use the color can be also darker.
An ingenious idea
After cooking, the meat from the eggplant must be so soft that it can be easily scraped out of its skin and simply peels off. Only then most of the bitter substances have faded away. The flesh is then soft and fluffy and can easily be whisked into a puree with a fork.
The idea of cooking aubergines until their structure is completely dissolved and then processing them into a paste with light acidity, garlic and spices is simply ingenious. The taste full-bodied and fresh, the texture is velvety soft, at minimal preparation work.
That's what you'll need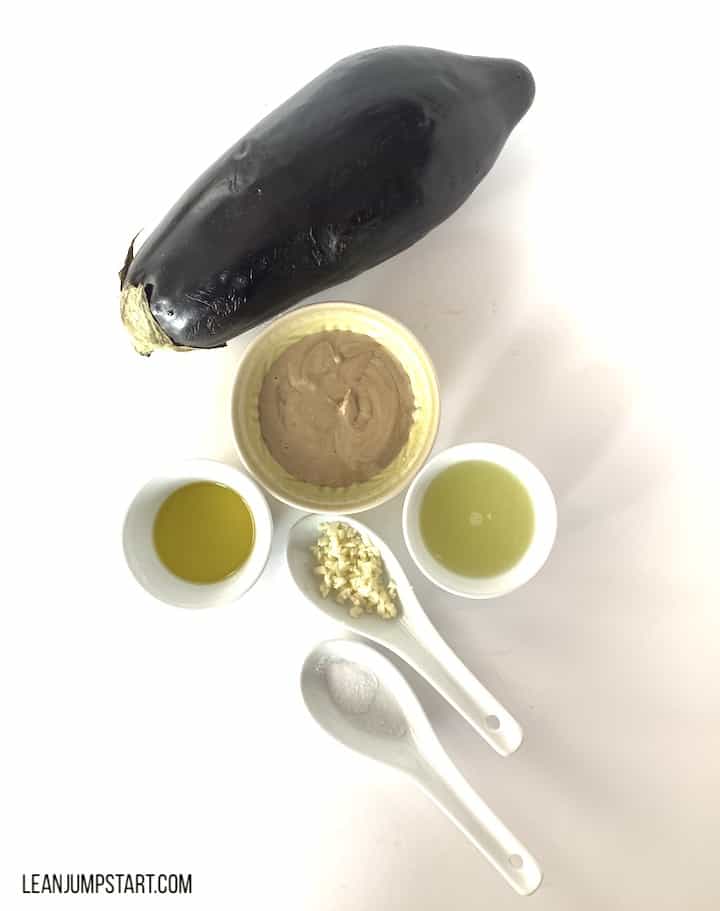 In the region between Turkey and Egypt there are dozens of variations of this celestial homemade food. The authentic recipe can be reduced however to the essential components:
• eggplants,
• tahini,
• garlic,
• lemon juice and
• olive oil.
Variations of this great recipe often include fresh herbs, different nut pastes, pomegranate seeds, pine nuts, green peas, or a little yoghurt.
How to roast or grill the eggplant
You can' t take just raw eggplants for this dip but you have to cook or roast them before they develop their flavorful goodness…
By far the best way to get the intense smoky flavor the dish demands is blackening the aubergine over an open flame. As I don't have an open flame and also don't grill in March I've baked them instead high-heated in my oven.
For us the eggplant dip still tastes delicious and is probably healthier than the roasted version which can release harmful free radicals. If you however wish an extra smoky taste you could season the dip with some smoked paprika spice.
Step by step photos
Step 1: For my easy method you just cut the eggplants in half and place them with the cuts facing down into a fireproof baking sheet or dish. Pin eggplant with a fork several times. For some people drizzling with olive oil is a must, but I skip this step for a leaner version.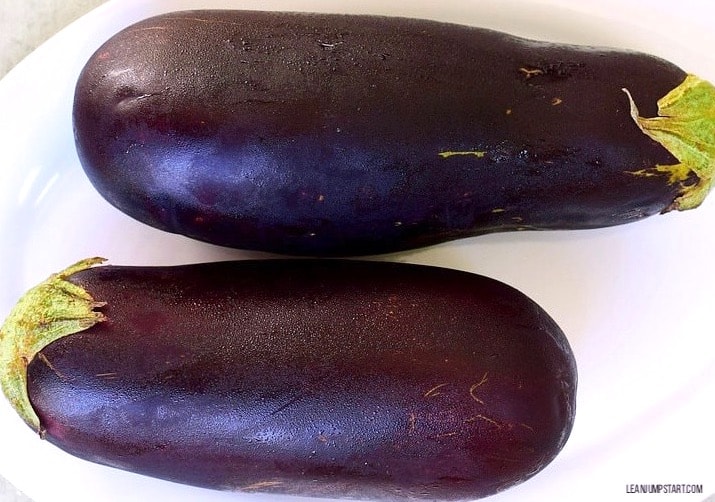 Step 2: Cook for 45-60 minutes at 230 C°/446 F° top and bottom heat until the skin is wrinkled and black. If you have very small veggies, 30 minutes might work too.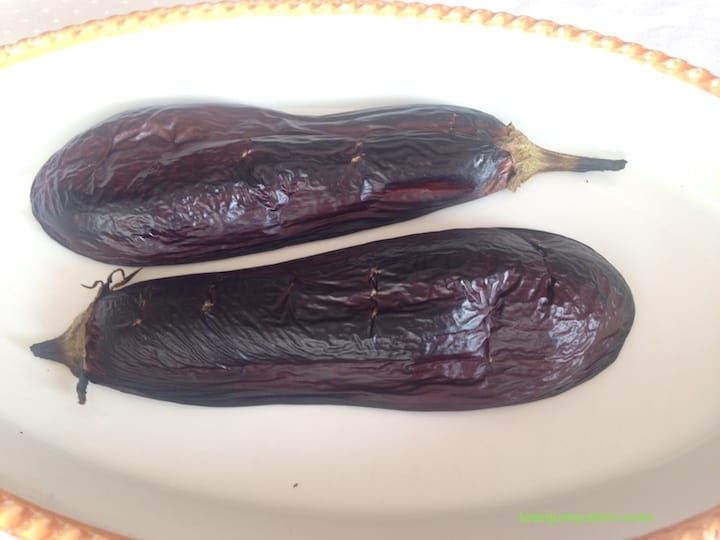 Step 3: Remove from the oven, turn around and allow to cool briefly.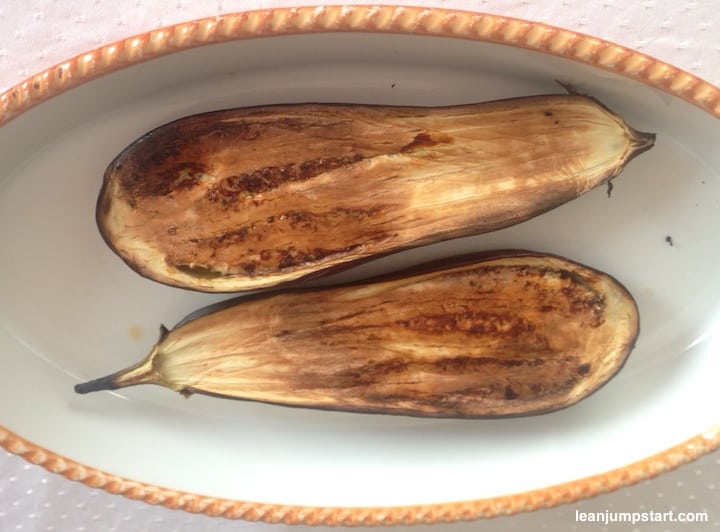 Step 4: As soon as the cooked eggplant is cool enough to handle, scrape the flesh out of the skin with a spoon. Discard the skins.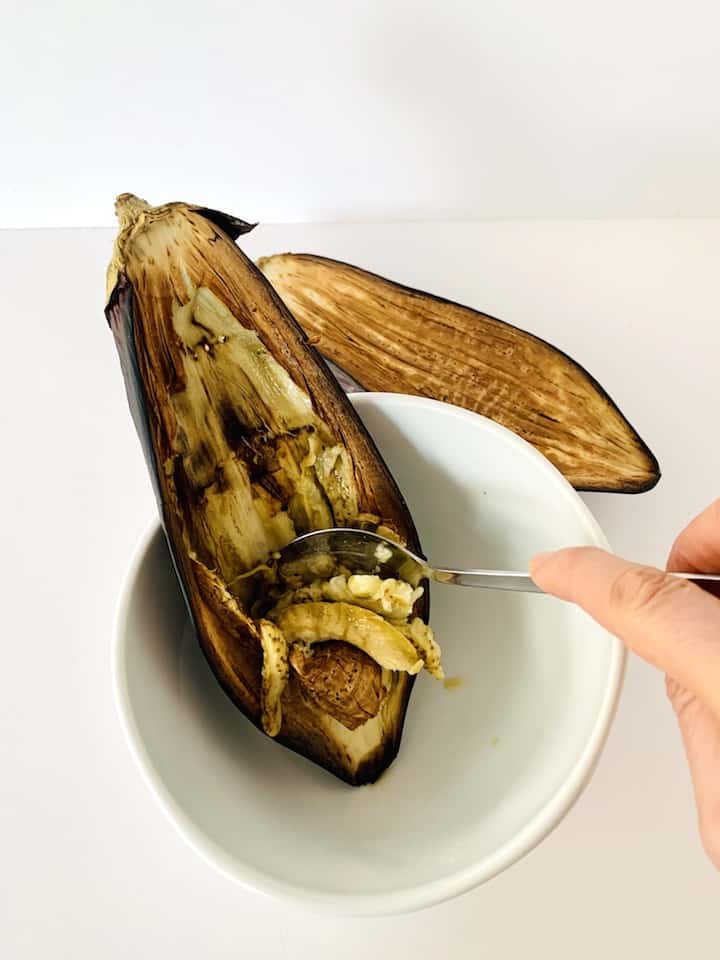 Step 5: Place it in a bowl, add the tahini, olive oil, lemon juice and garlic. Use your fork for whisking and let the magic happen. If you prepare a larger quantity or with it extra smooth you might want to use a food processor or blender.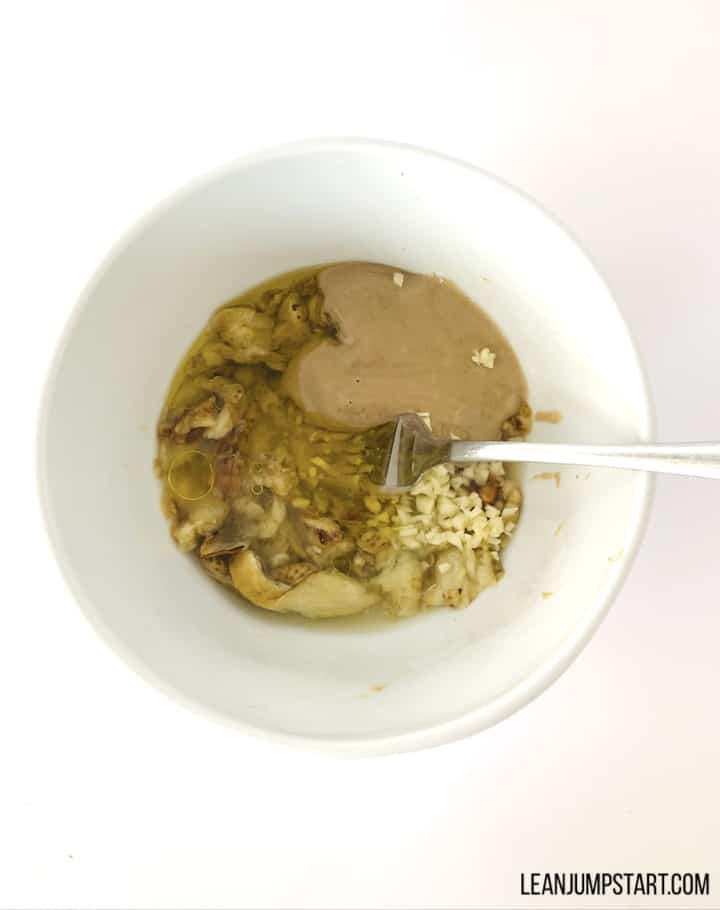 Now all you have to do is serve some bread, vegetable sticks, or pita chips for a delicious finger food.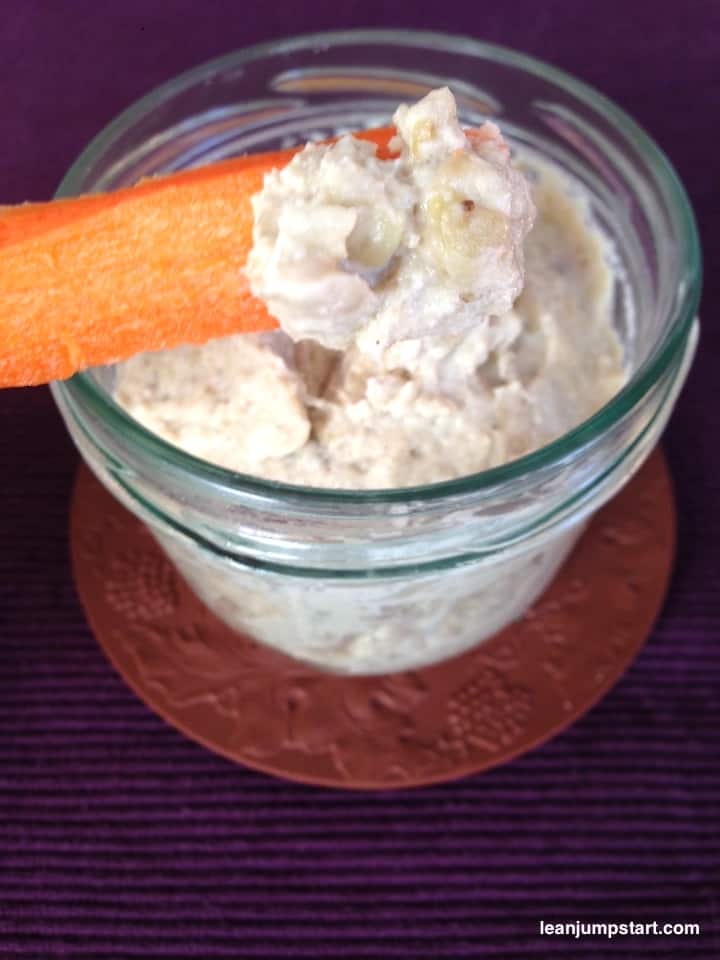 The aubergine dip is also ideal for lunch or dinner, because you can easily customize it with the right spices. I enjoy it often as flavorful topping on a buddha bowl or with pita bread.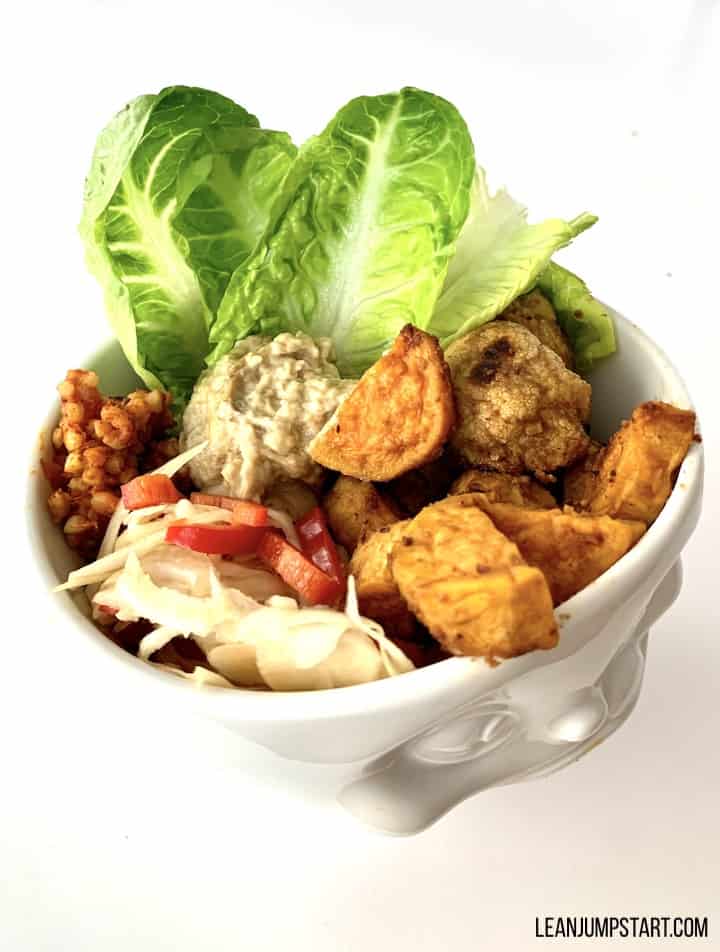 Watch how to make it
The following is one of my best loved recipes for baba ganoush – as it is simple and always successful. As we are huge eggplant dip fans I often use two aubergines and double ingredients.
Print
Easy baba ganoush recipe
An flavorful eggplant dip – naturally vegan and gluten-free
Author: Gabi Rupp
Prep Time:

5

Cook Time:

60

Total Time:

65

Yield:

4

1

x
roasted flesh of a medium eggplant

2 tbsp

. tahini

1

large garlic clove, grated or finely minced

1

lemon, juiced
sea salt

1 tablespoon

extra virgin olive oil (optional)
Instructions
Cut the aubergines in half.
Place them with the cuts facing down into a fireproof baking dish.
Pin vegetable with a fork several times.
Preheat oven at at 230 C°/446 F°.
Bake for 45-60 minutes at the top of the oven until the skin is wrinkled and black.
After slightly cooling down scrape out flesh using a spoon.
Place roasted eggplant flesh, tahini, garlic, lemon juice, olive oil (optional) and a pinch of sea salt in a bowl.
Whisk it using a fork and let the magic happen.
Notes
If you prefer a smooth cream you can mix the ingredients in a food blender. But this I would only recommend if you double the ingredients.
Fill the eggplant paste into a serving bowl or store it in a jar in the refrigerator for a week minimum.
Sprinkle them with some sesame seeds before serving
You can use wrinkled eggplants
Do you know the situation? You buy a crunchy, rich purple eggplant. You see it in your delicious stuffed, oven baked eggplant dish or a colorful ratatouille and then – forget it in the vegetable drawer of your fridge. By the time you remember it again, it is already slightly wrinkled, has lost its shine and no longer looks very appealing.
The here presented recipe is just the thing for this eggplant, because it makes it look best once again: as eggplant paste that tastes smoky, creamy and just awesome!
Baba Ganoush meaning
Maybe you ask yourself "what is baba ganoush meaning?" It appears also as "baba ghanouj". The Arabic "bābā" means "father", while "ghannūj" might be a personal name. I've also found the very poetic translation from Arabic: 'the darling of her father'. So beautiful!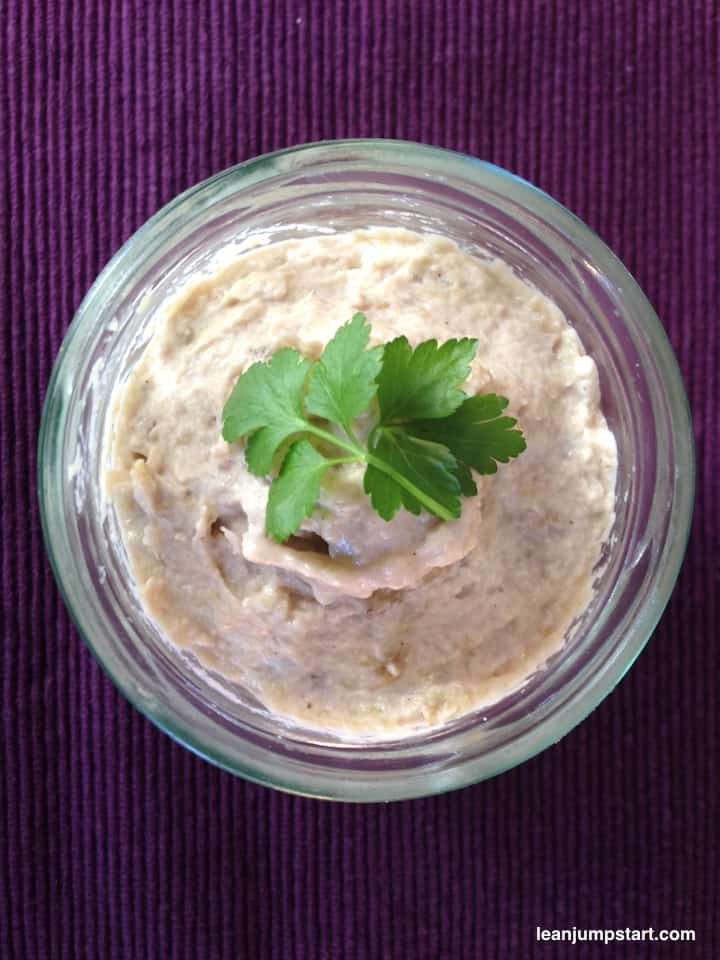 If you are watching your weight
The simple recipe I've presented to you is a skinny version for weight management with little fat from a bit of olive oil (optional) and the fiber rich sesame paste. You'll find however many other oriental recipes that call for much more olive oil although I don't think it is necessary for a great taste experience.
Baba ganoush vs hummus
Hummus is slightly related to Baba Ghanoush. Both use sesame paste. Hummus, however, consists of chickpeas instead of eggplants and is therefore higher in protein and fiber. In addition, hummus also contains curry spices.
Can you freeze baba ganoush?
Great news, baba ganoush can be frozen for 4 months! The lemon juice in the aubergine dip preserves color, neutralizes the tannic bitterness. Since it already has a mashed or pureed texture, you won't notice a change in its consistency after thawing.
Tipp: To minimize the formation of ice crystals it helps to strain the baba ghanoush before freezing.
OTHER DIP OR SPREAD RECIPES YOU MIGHT ENJOY