This clean eating ratatouille recipe will blow you away!
It's a refined presentation of the traditional ratatouille dish that is often served in France, especially in Nizza (Provence). Chopping everything up and making a classic stew based on aromatic vegetables, that is probably the typical and quickest preparation method.
But sometimes it is worth to invest a little more time in the kitchen – even if you are very busy and prefer simple and quick clean eating recipes.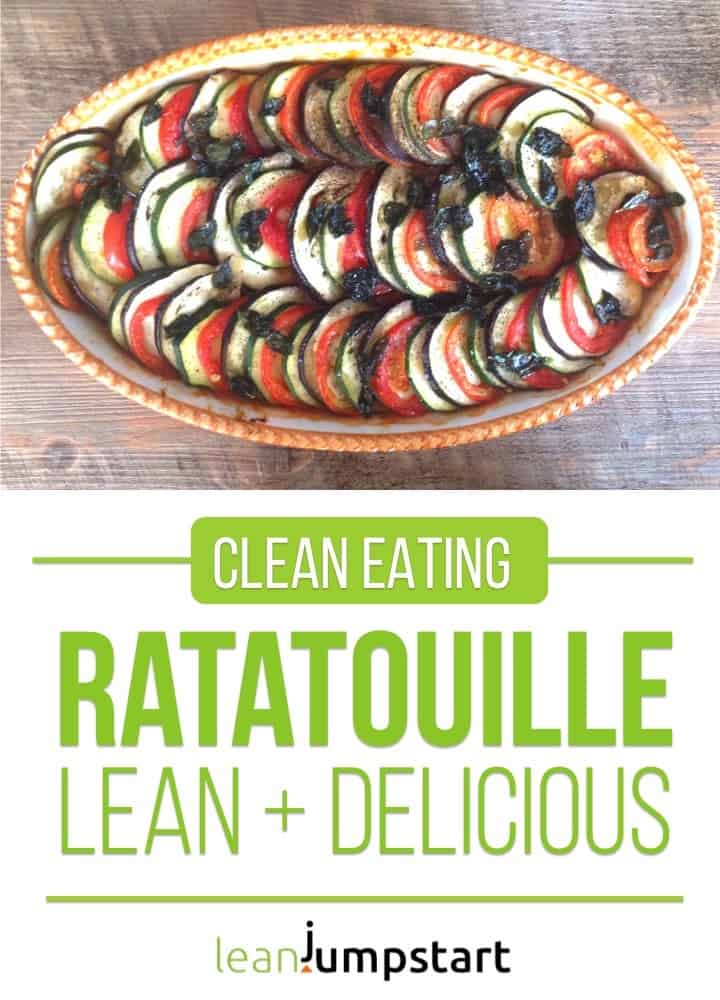 For this recipe I needed 90 minutes from cutting the vegetables till serving. Yes, I know…this is really long for me. You won't find many clean eating recipes on leanjumpstart that will beat this long preparation time.
But standing almost one hour longer than usually in the kitchen made really the difference, not only regarding ratatouille's gorgeous appearance but also regarding the overwhelming taste of this meal. Why?
Clean eating ratatouille recipe convinces even eggplant hater
See, my family and me we are not too fond of eggplants in a vegetable stew – in doubt, we'd rather go without them. Partly it's a texture thing, partly it's taste…
But the thinly sliced eggplants in combination with a herb oil seasoning brought out the best of eggplants taste and transformed us to real eggplant fans.
And while the lean ratatouille dish is baking in the oven combining flavors into a very satisfying dish, you have plenty of time to clean up your kitchen and set the table. Check it out for yourself!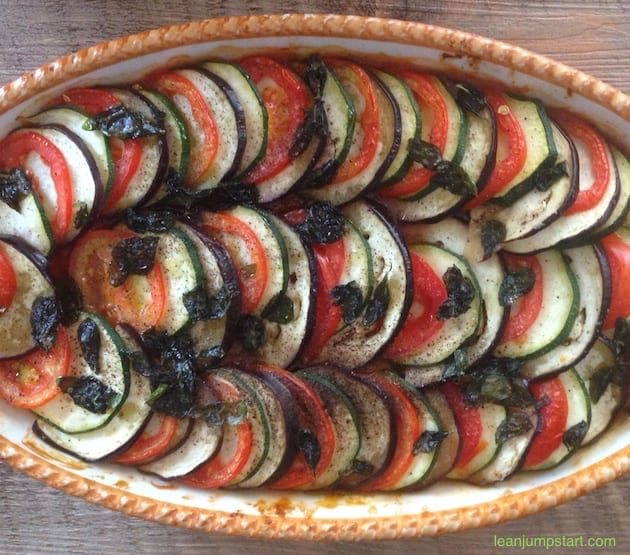 Clean eating Ratatouille
2017-10-23 05:42:22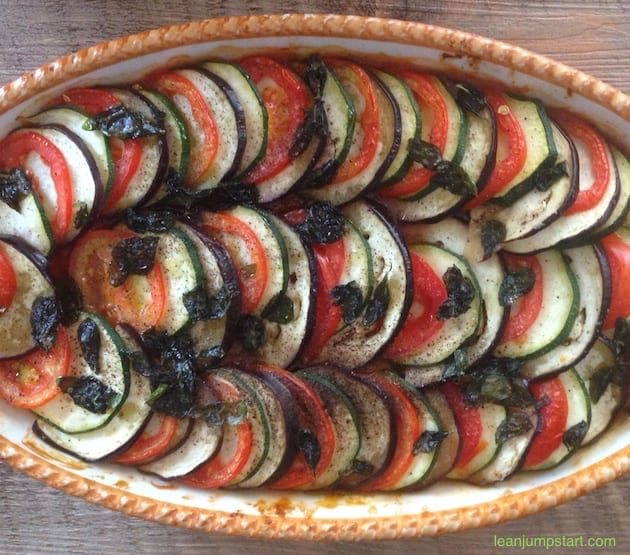 Serves 2
A gorgeous tasting and eye-catching casserole recipe
For the base sauce
1 onion, diced
3 garlic cloves, minced
2 tablespoons olive oil
1 red bell pepper, diced
Salt, to taste
Pepper, to taste
1 can (15 oz.) crushed tomatoes
1 tablespoon thyme
For the sliced veggies
1 eggplant
1-2 zucchinis
3 Roma tomatoes
For the herb oil seasoning
4 tablespoons olive oil
3 tablespoons fresh basil (approx 15 leaves)
1 teaspoon garlic, minced
2 teaspoons fresh thyme
Salt and pepper, to taste
Instructions
Preheat the oven for 190˚C/375˚F.
Slice the eggplants, zucchini, and tomatoes, into thin slices (approximately 1/16-inch rounds), then set aside. (You can also use a mandoline slicer for the vegetables).
Heat 2 tablespoons of olive oil in a pot.
Sauté onions, garlic, and bell peppers until soft.
Add crushed tomatoes, thyme and season with salt and pepper.
Let it simmer for a few minutes.
Then transfer sauce to a casserole and smooth the sauce with your spatula.
Arrange the sliced veggies in alternating patterns, (e.g. eggplant, zucchini, tomato, eggplant etc.) and season with salt and pepper.
Combine herb oil seasoning and sprinkle over veggies.
Cover the casserole with tin foil and bake for 35 minutes. After 35 minutes, uncover, then bake for an additional 15 minutes.
Serve ratatouille as a side dish with whole grain rice or as a main dish.
Enjoy!
Notes
Tastes fantastic also the next day.
Leanjumpstart Clean Eating Habits https://leanjumpstart.com/
How to combine clean eating ratatouille?
The traditional way to combine ratatouille is to serve it with white bread, potatoes, meat or fish. I love to serve it with brown rice, polenta or mashed potatoes. Sometimes I serve it with a salmon steak.