Last Updated on March 9, 2020
Some time ago my vegan daughter inspired me to curate the best homemade hummus recipes. She hoped that I could eternalize my findings in a roundup post. That way we and others could easily find whatever flavor we like in one place.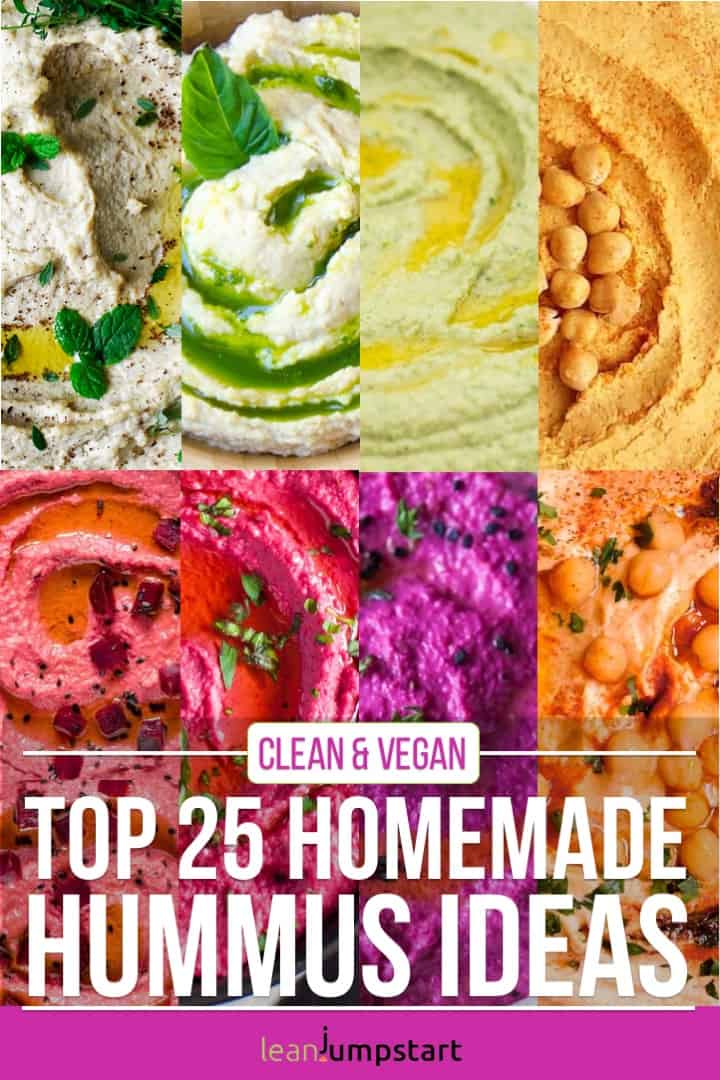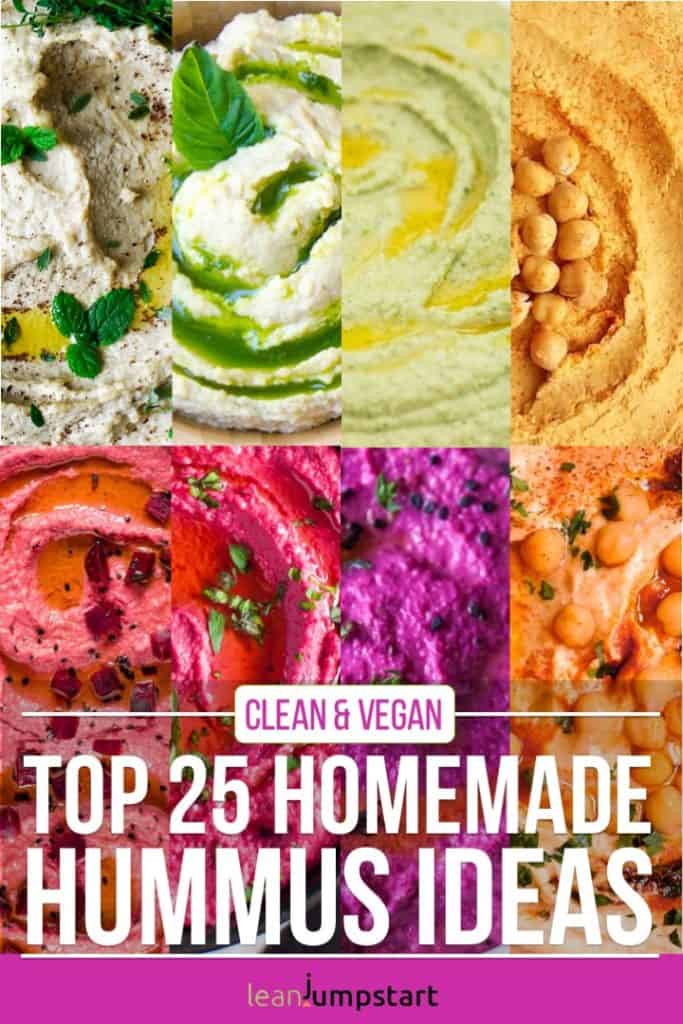 As we love to eat hummus almost on a daily basis, I thought her idea was brilliant. This great make-ahead appetizer, dip, spread or snack is full of protein, fiber and nutrients. In addition it's gluten-free, so it's very allergy-friendly.
Versatile and easy control of ingredients
The advantage of this homemade dip is that you have maximal control over the ingredients. Of course it's more affordable than store bought too. On top hummus is super versatile – here are just a few examples:
enjoy a quick lunch with crunchy vegetable crudités such as carrots, celery, radish, and cucumber or combine it in a buddha bowl.
slather it on a whole grain-, naan bread or toast, sandwich wrap, or burger bun.
serve it with pita chips, whole grain crackers, falafels, tartines or even pretzels.

Absolutely delicious hummus variations
I hope you will enjoy the following recipes as much as we did when researching them. You may expect a selection of the best hummus recipes on the web. Let some of my favorite food bloggers inspire you to make your homemade hummus with :

garlic
roasted red pepper
sun dried tomatoes
beets
carrots
beans
sweet potatoes
edamame
…or without chickpeas
…or without tahini
and other ingredients.

Classic hummus recipes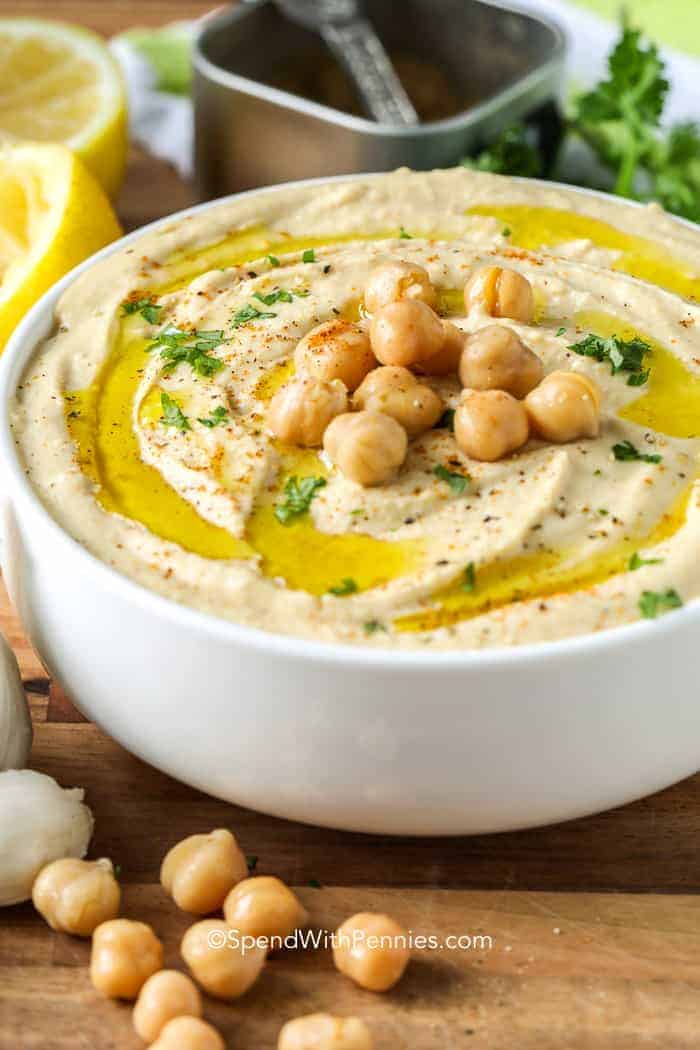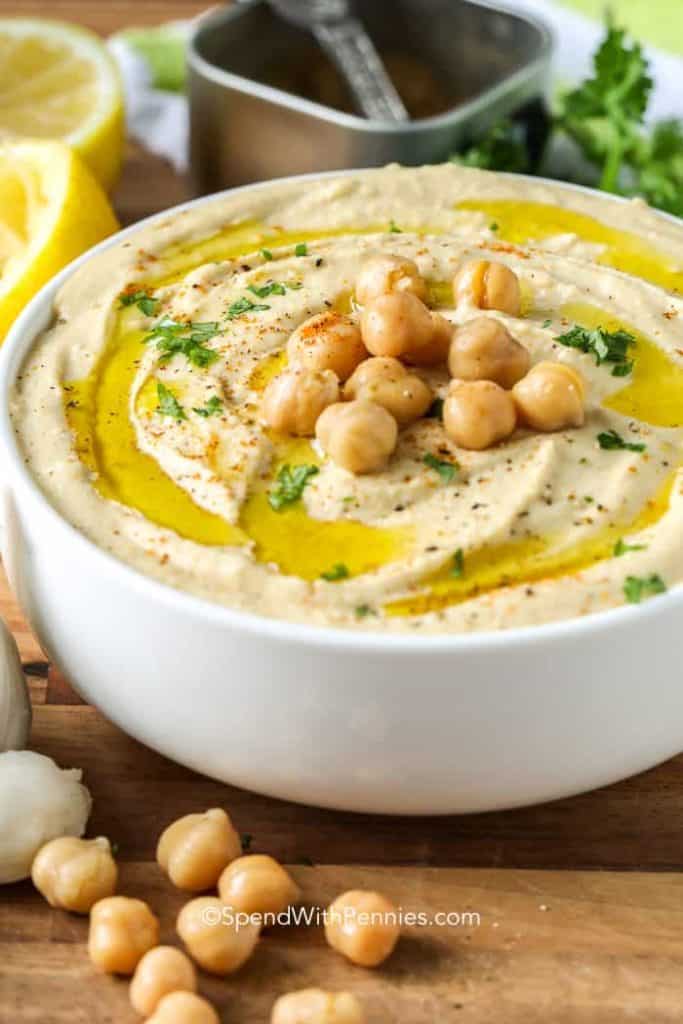 The beginning makes a classic recipe by Holly. It is based on the traditional hummus ingredients like garbanzo beans, tahini, olive oil, garlic, lemon, ground cumin and salt. Don't despair if any of the ingredients are missing in your kitchen. I will show you in the following how you can repalce almost any ingredient and still get a tasty dip.
Detailed recipe and credit – spendwithpennies.com
---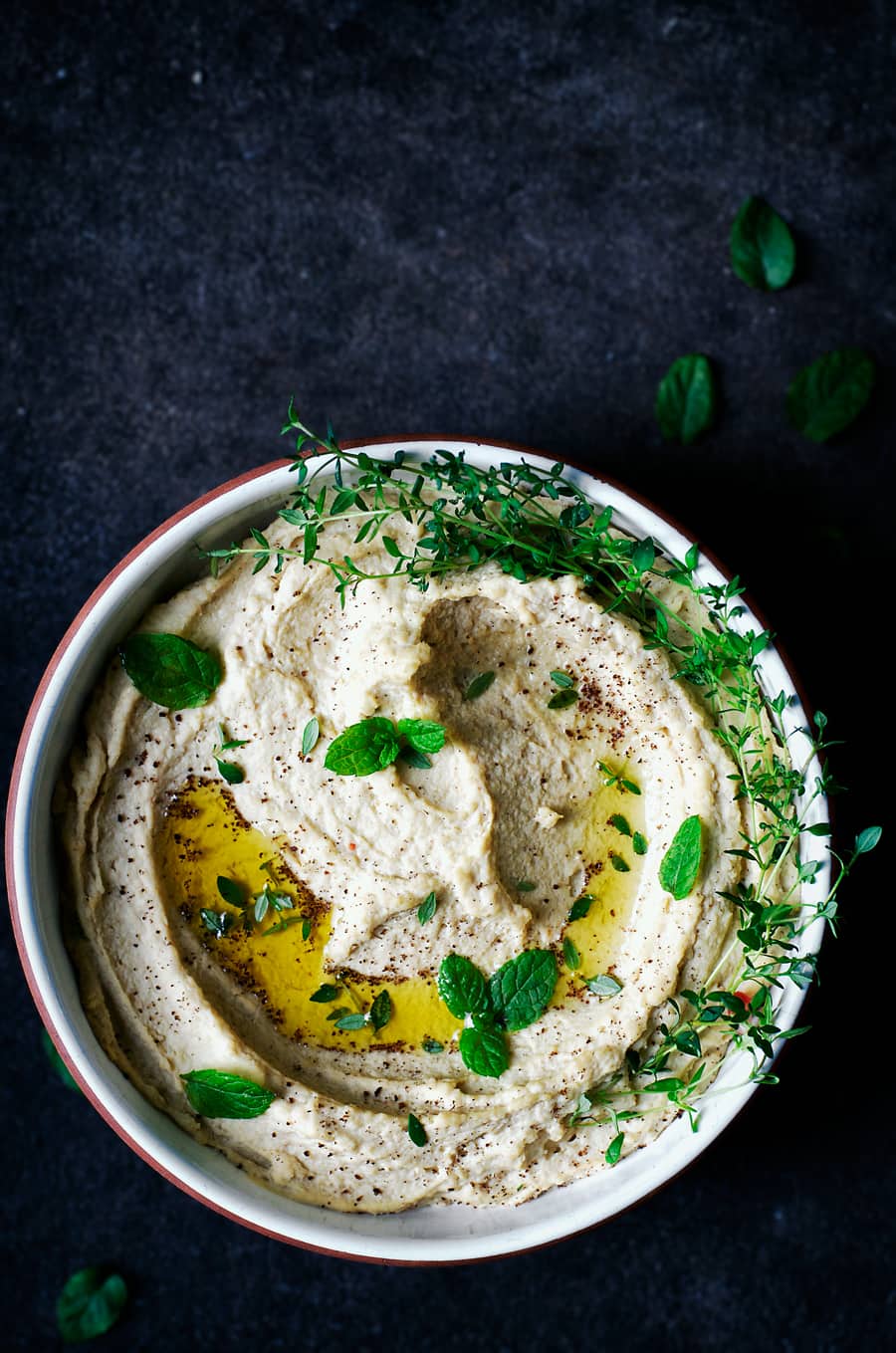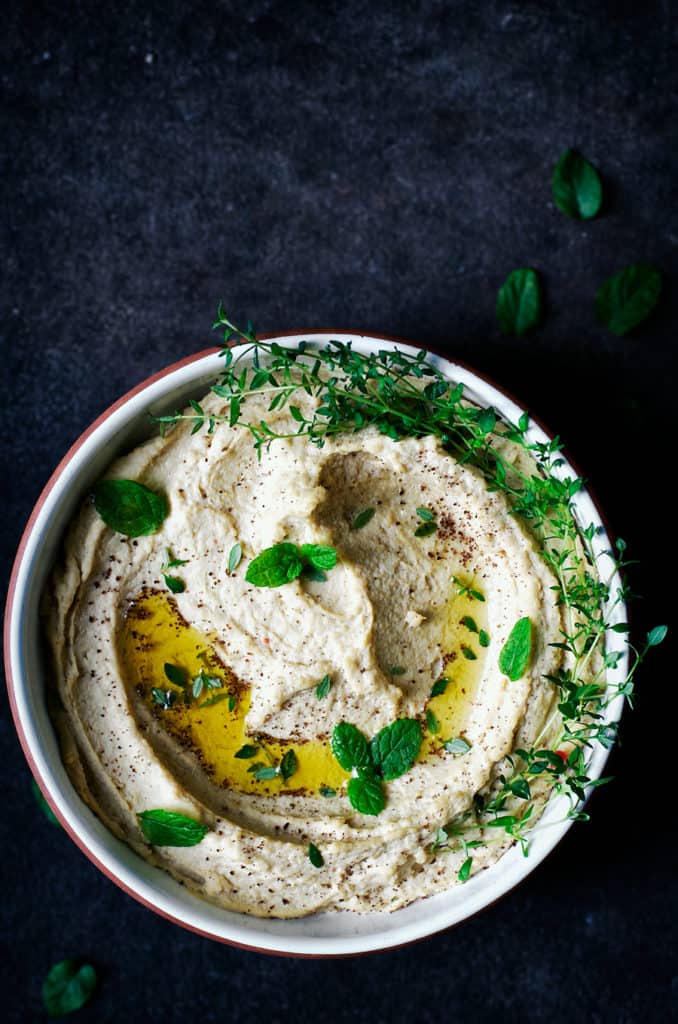 This vegan Lebanese creation by Khaled takes it to the next level with a special trick. First she adds a pinch of nutmeg to the traditional ingredients. But what for me was more impressing is the addition of 4 ice cubes. She explains that the ice prevents the dip from heating as it blends and makes it creamier. Clever!
Detailed recipe and credit: occasionallyeggs.com
Garlic hummus recipe ideas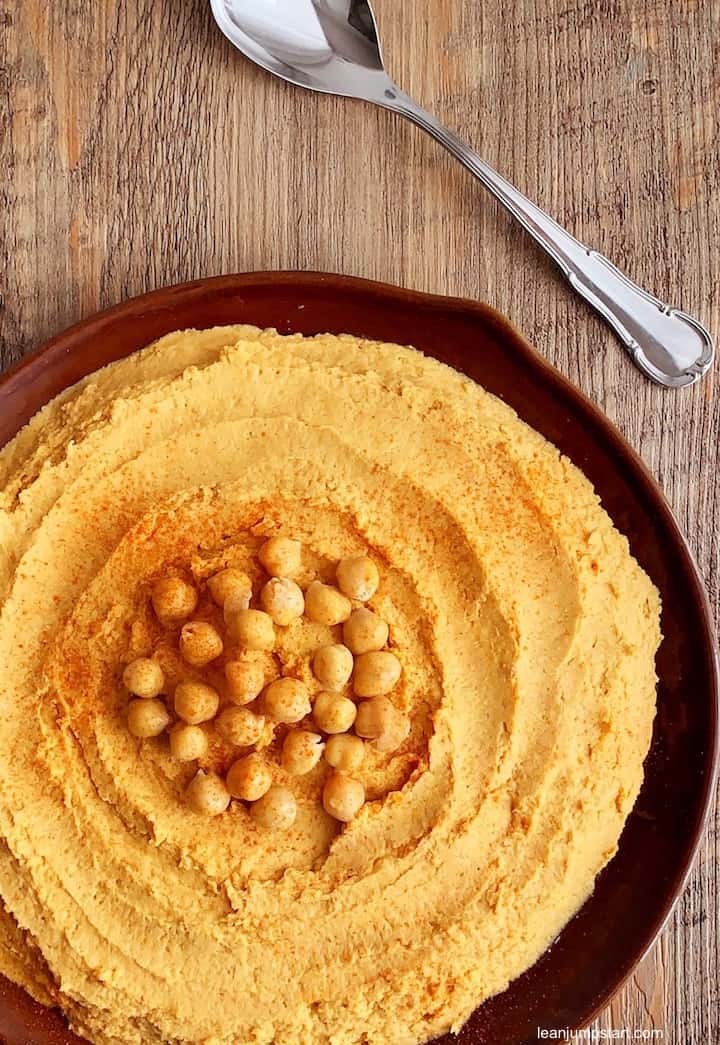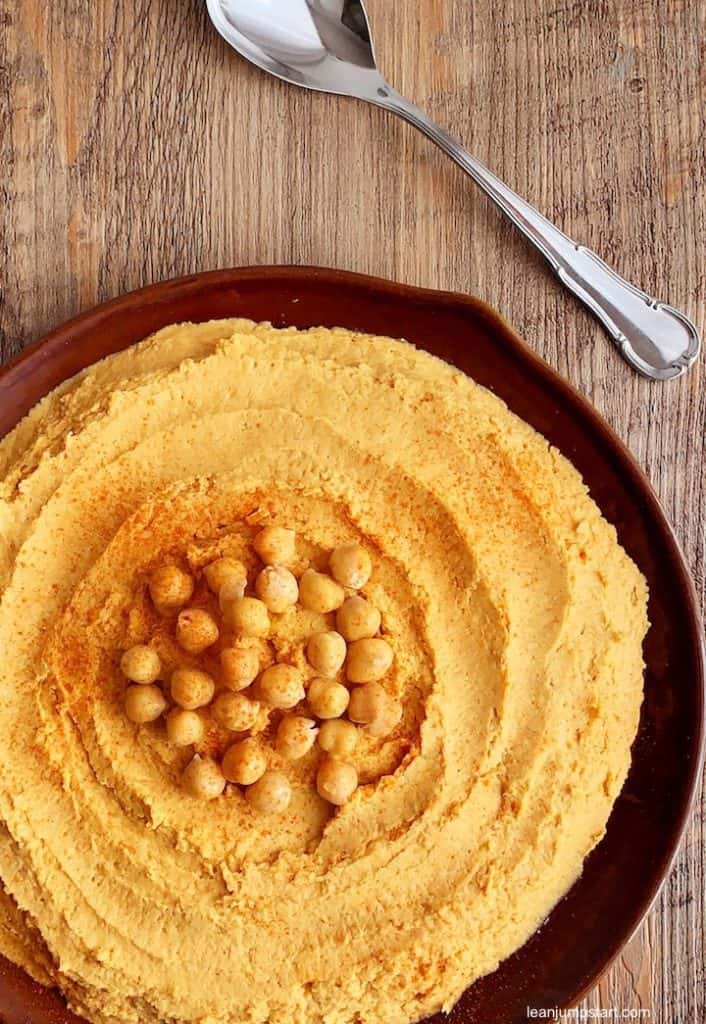 The overall method and preparation of any homemade hummus is pretty simple and swift. All you need is a food processor or blender and a few staples from your pantry. For my light and simple garlicky hummus I've just added some turmeric and red pepper. This boosts not only the taste but also the color experience. Click below to watch my video.
Detailed recipe: https://leanjumpstart.com/clean-eating-hummus-recipe/
---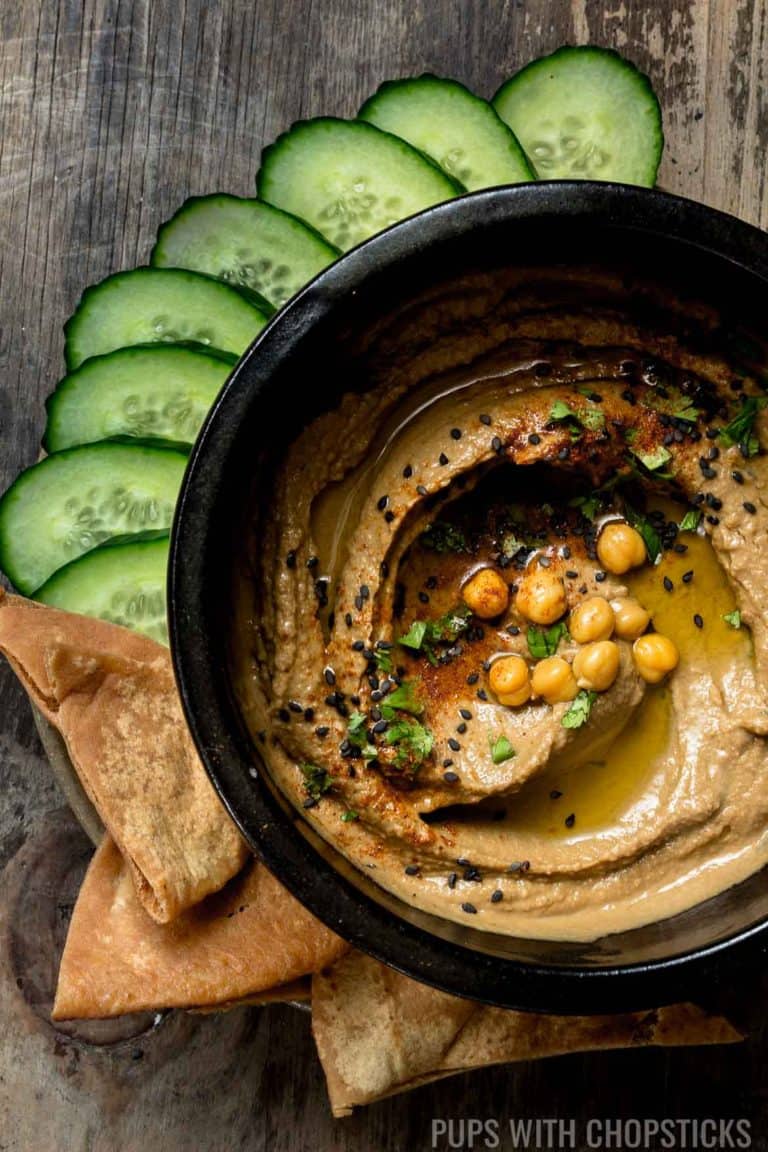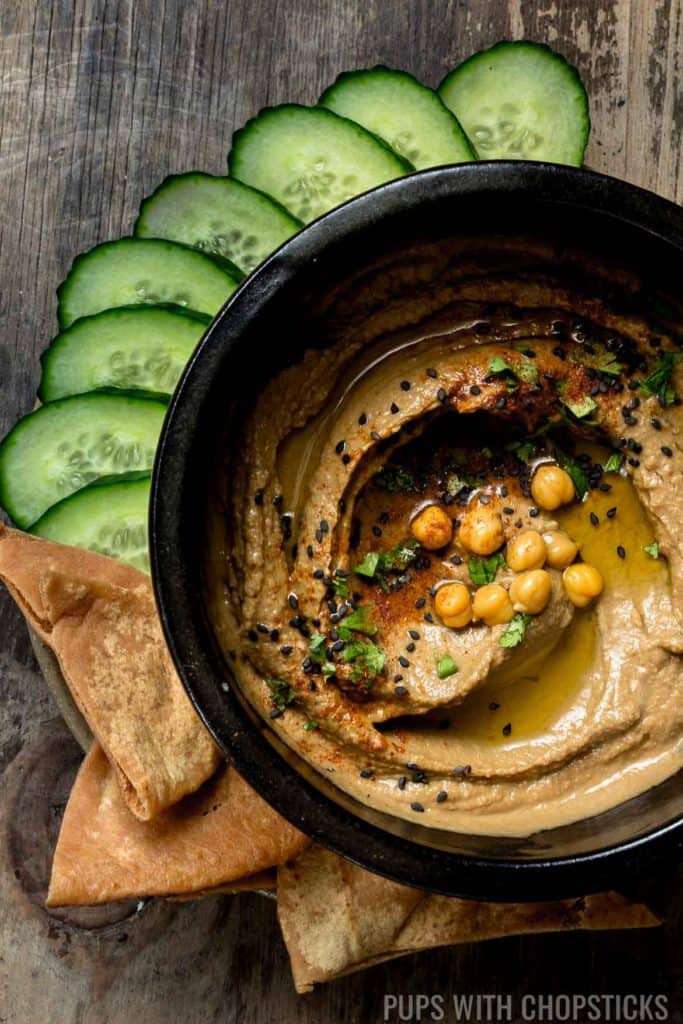 Joyce shares an easy and great recipe for creamy black garlic hummus. You can taste hints of nuttiness, sweetness and umami from the white and black garlic. Especially the black garlic gives this chick pea dip a sweet and savory flavor profile. According Joyce the easiest way to find black garlic is through Amazon.
Detailed recipe and credit – pupswithchopsticks.com
---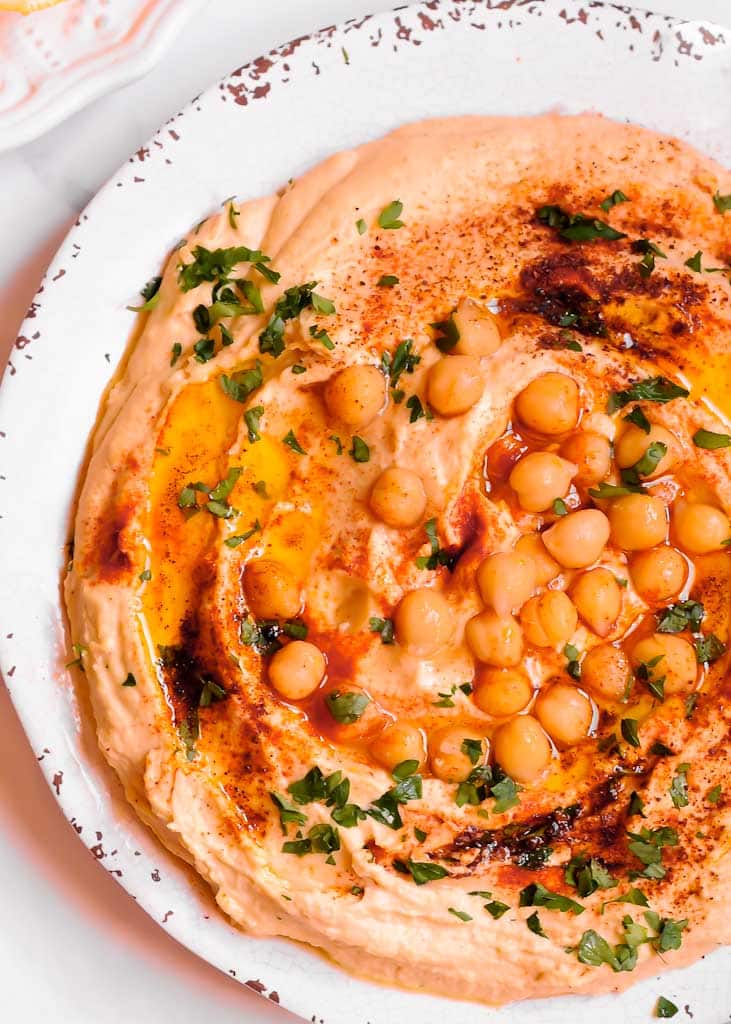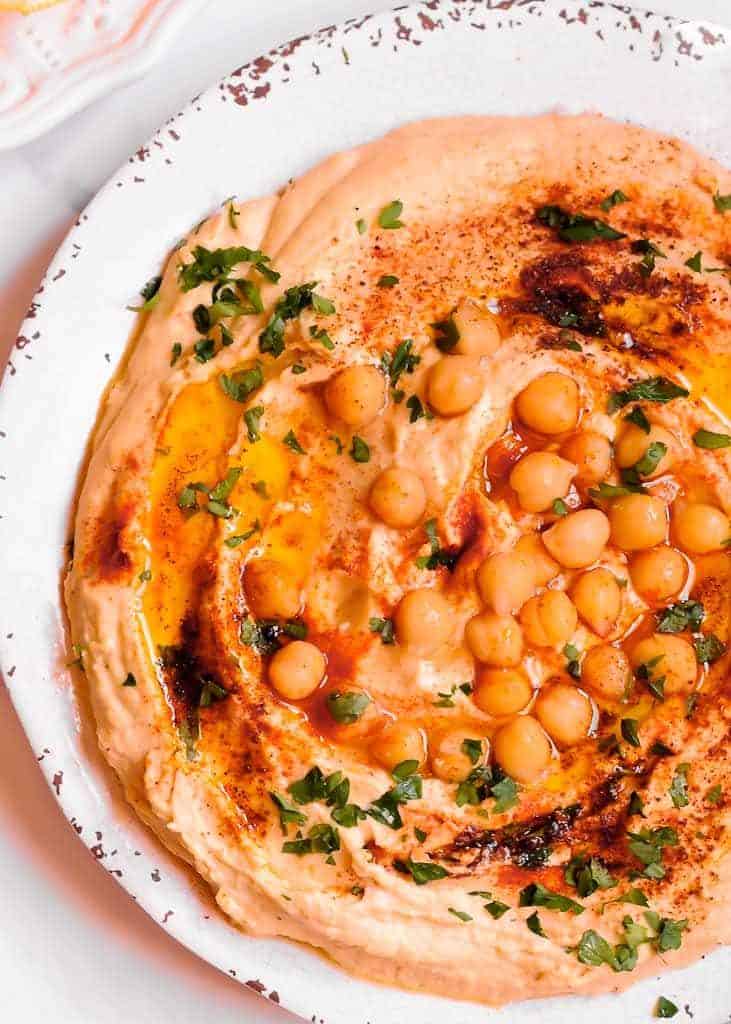 Of course Olga's mediterranean appetizer is filled with amazing garlic flavor too! The combination of roasted garlic cloves in the oven combined with the smooth texture of garbanzo beans will blow you away. Just follow her step by step photo instructions and you have a ultra-smooth dip with creamy texture in no time.
Detailed recipe and credit –whatsinthepan.com
---
Roasted red pepper hummus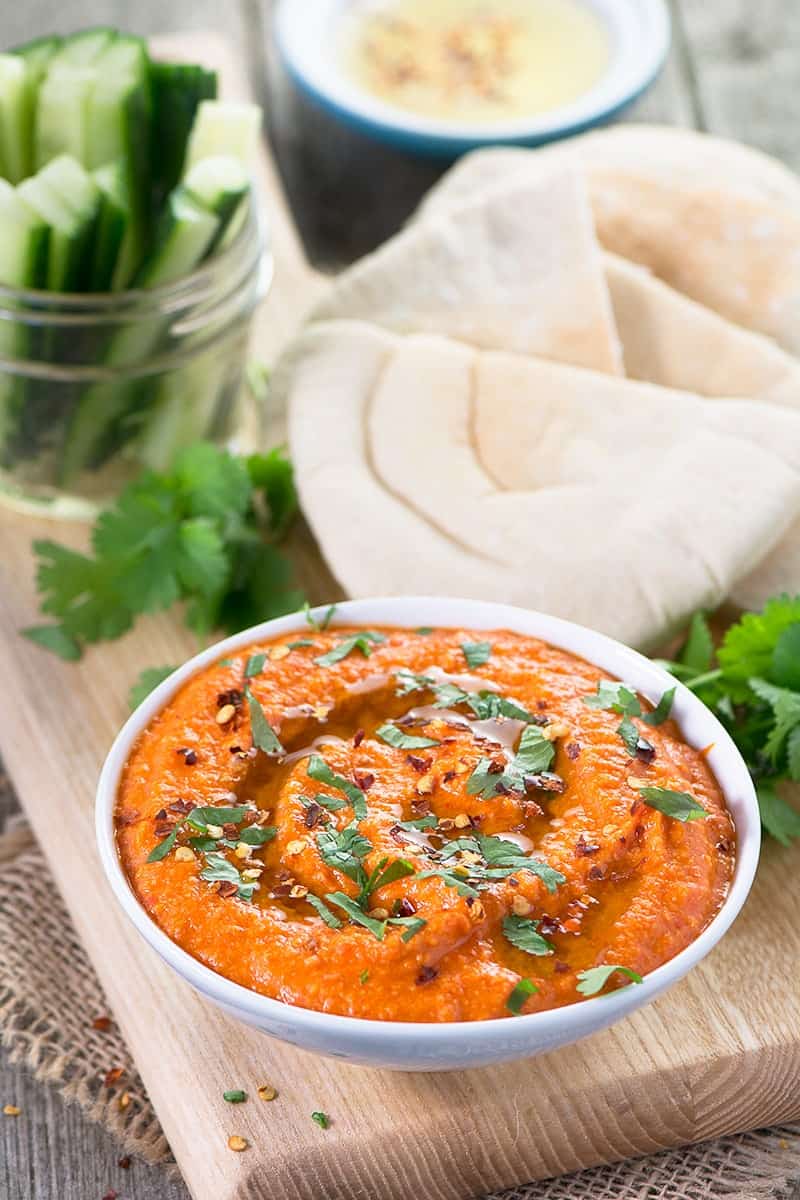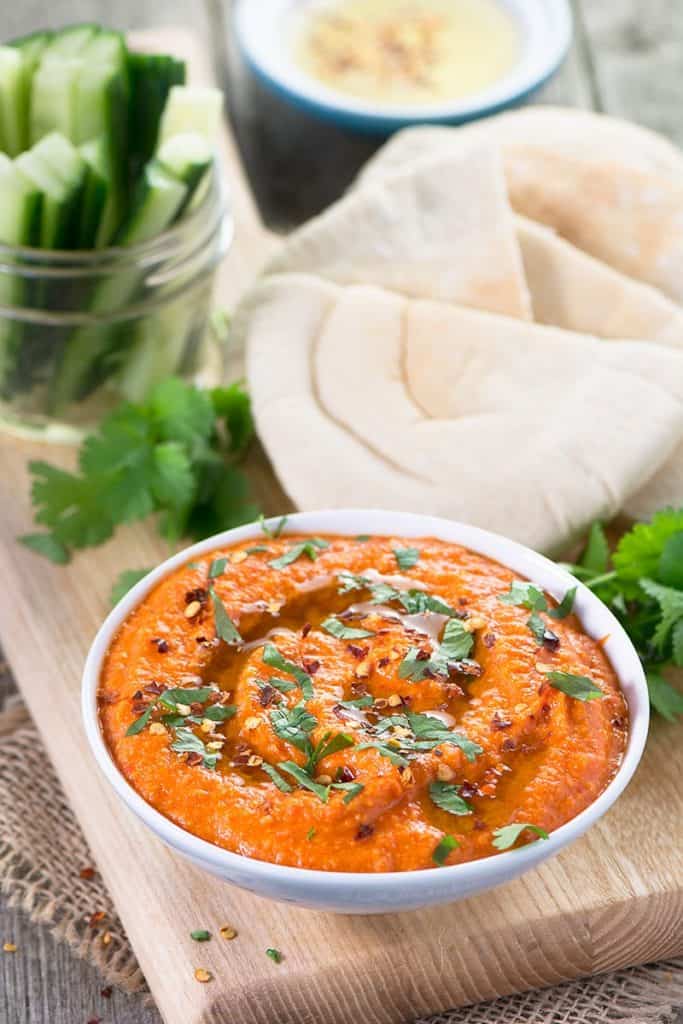 Here comes the first hummus recipe without tahini. To avoid the sometimes slightly bitter sesame taste Charlotte uses just roasted sesame seeds. With a little kick of chilli and the added sweetness of roasted red peppers she adds a tasty twist on the classic recipe. A real keeper!
Detailed recipe and credit –charlotteslivelykitchen.com
---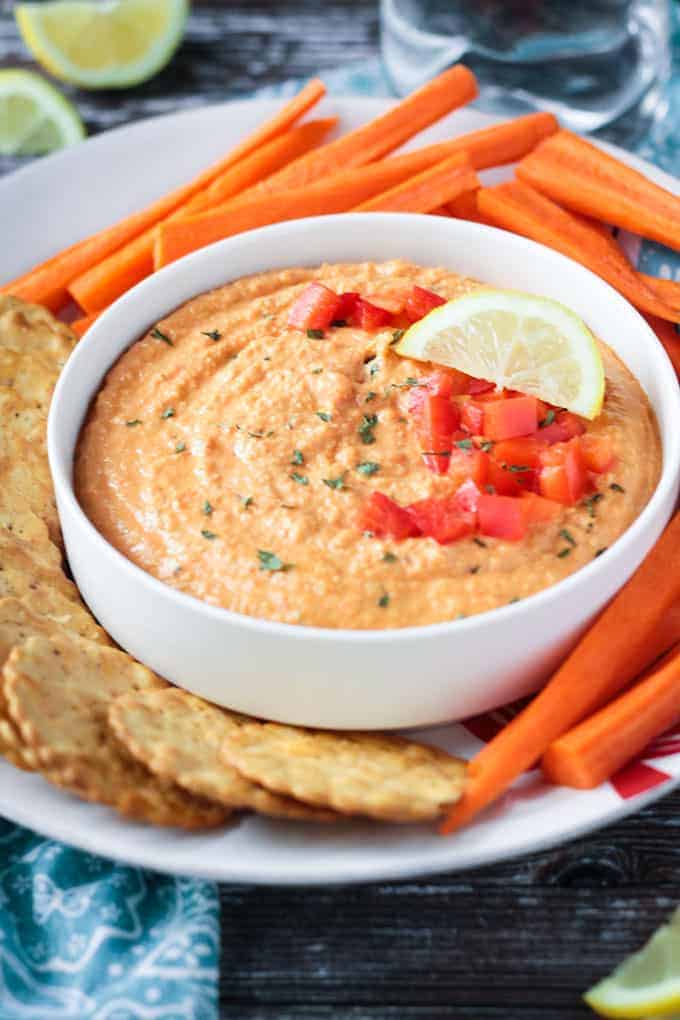 Jenn has always a batch of hummus on hand motivating her kids making better choices! Her roasted red pepper hummus is made using mostly traditional hummus ingredients. With the addition of jarred roasted red pepper you get a smooth, creamy, and flavorful delight.
Detailed recipe and credit – veggieinspired.com/
---
Beet hummus inspirations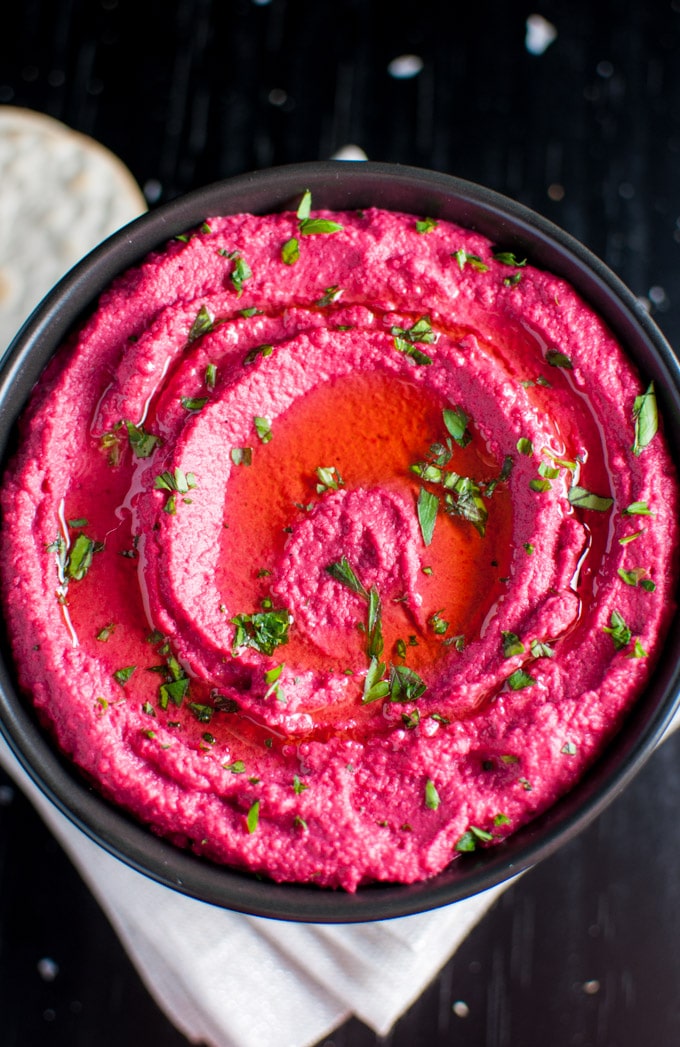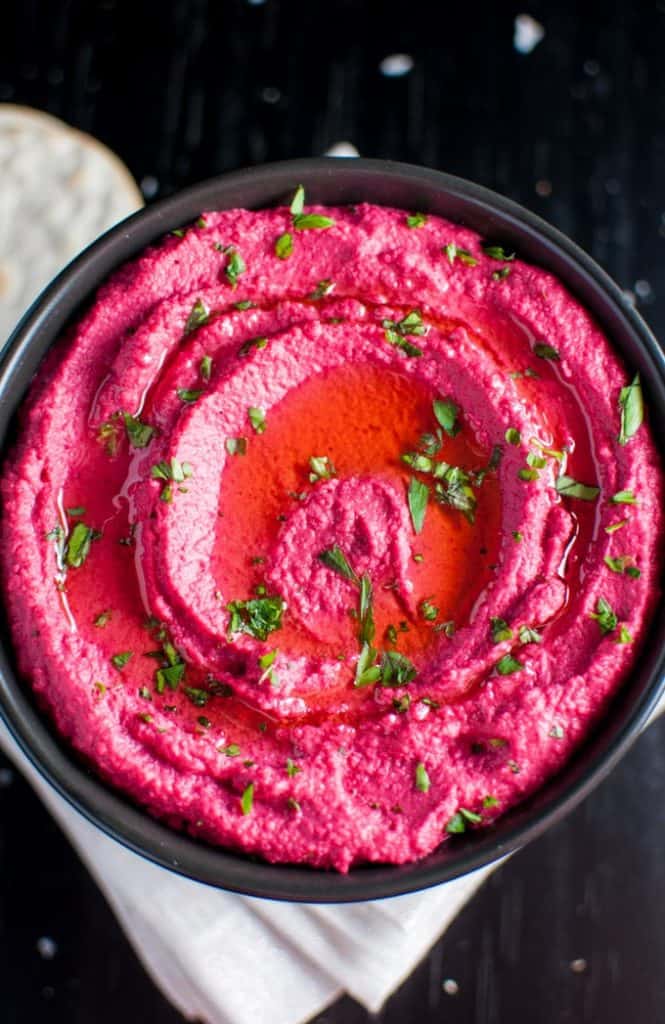 Natasha's roasted beet hummus recipe will knock your socks off. Trust me you don't risk anything if you don't like beets. Surprisingly the root vegetables do not overpower the other flavors. This gorgeous dip is creamy and without doubt nutrient-dense. With its bright pink dip color it will make a great appearance at your next party soon.
Detailed recipe and credit – saltandlavender.com
---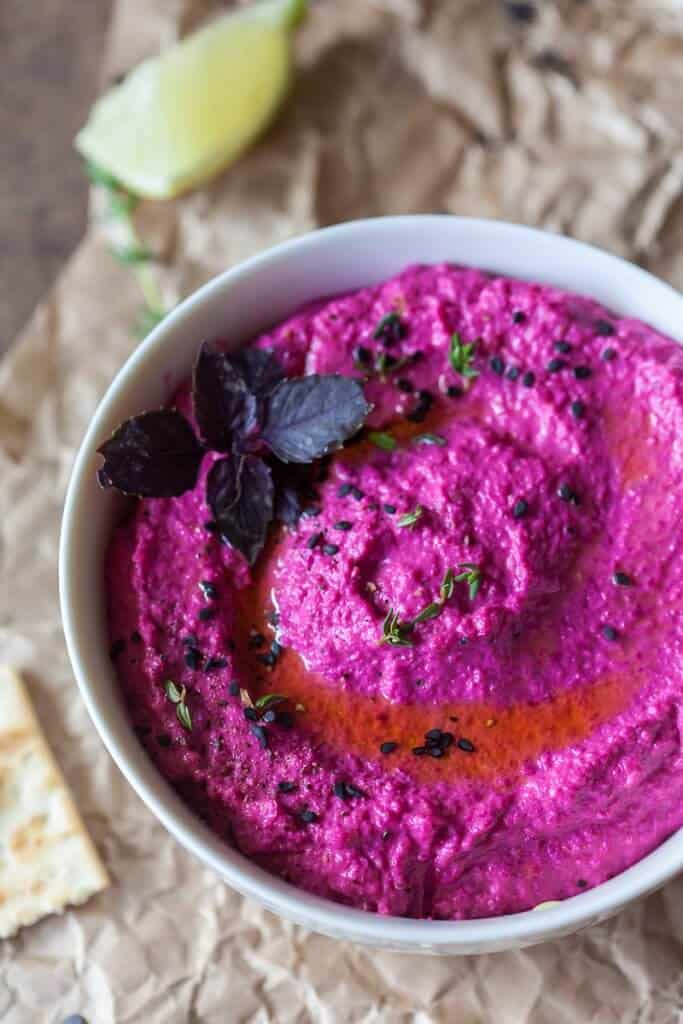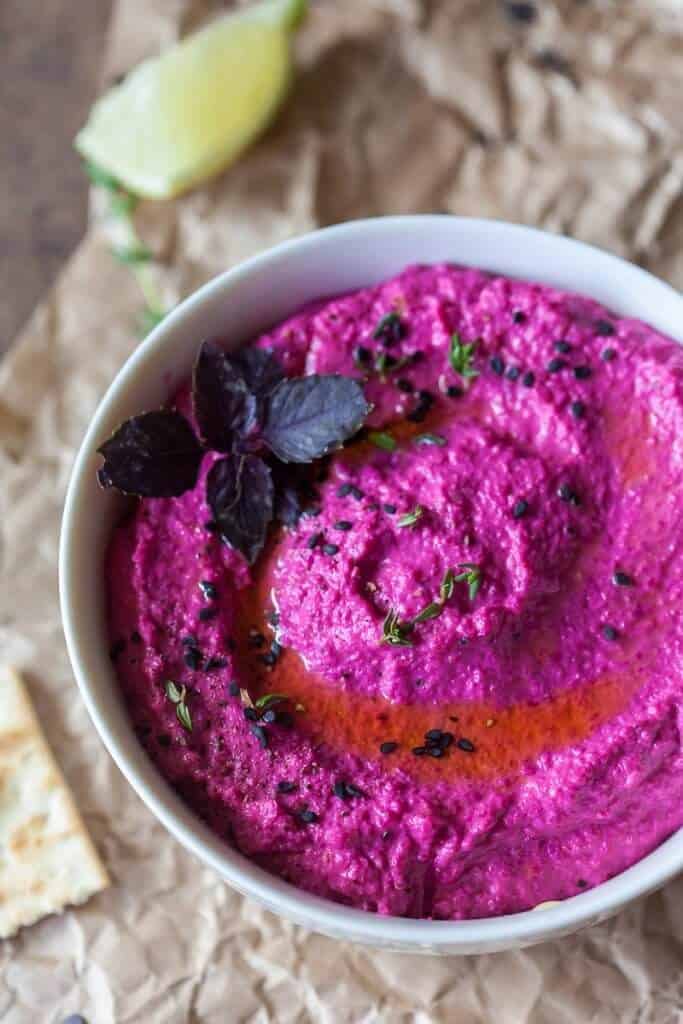 Here comes another real crowd-pleaser for beet fans that will add some color to your life. Kristina and Mitja from loveyl Slovenia created this eye-catching hummus without tahini. They are using just a hint of cooked beetroots and still get this hot pink color. If cooking beets is too tedious for you can also buy ready cooked beets stored in water. For perfection garnish with some olive oil, black sesame seeds and purple basil. Heavenly!
Detailed recipe and credit –vibrantplate.com
---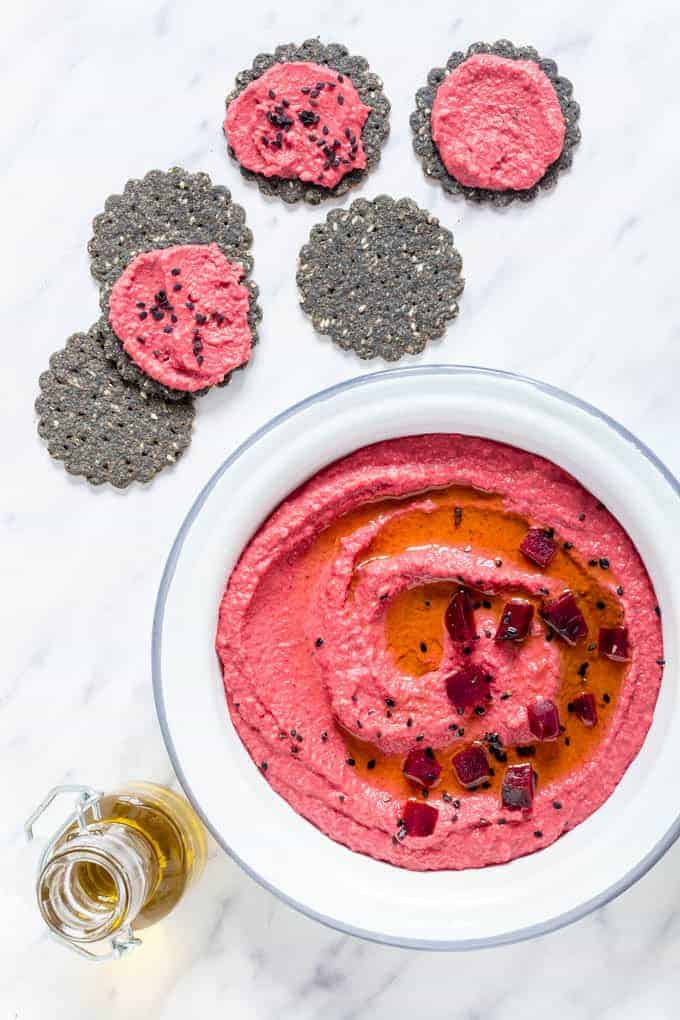 I can't get enough of this vibrant color. If you are a raw food fan you can also use raw beetroots to create this super easy appetizer. This tip comes from Bintu who shares another simple beetroot hummus recipe with us. Besides of the basic ingredients she also includes a pinch of cayenne pepper. What a spicy delight!
Detailed recipe and credit – recipesfromapantry.com/
---
White and black bean hummus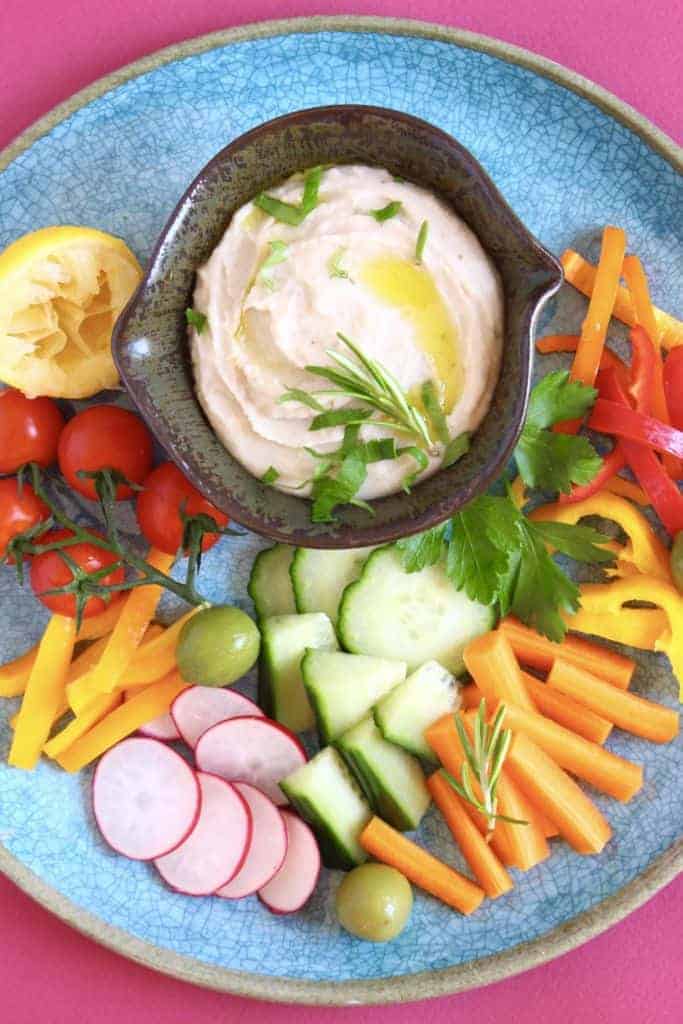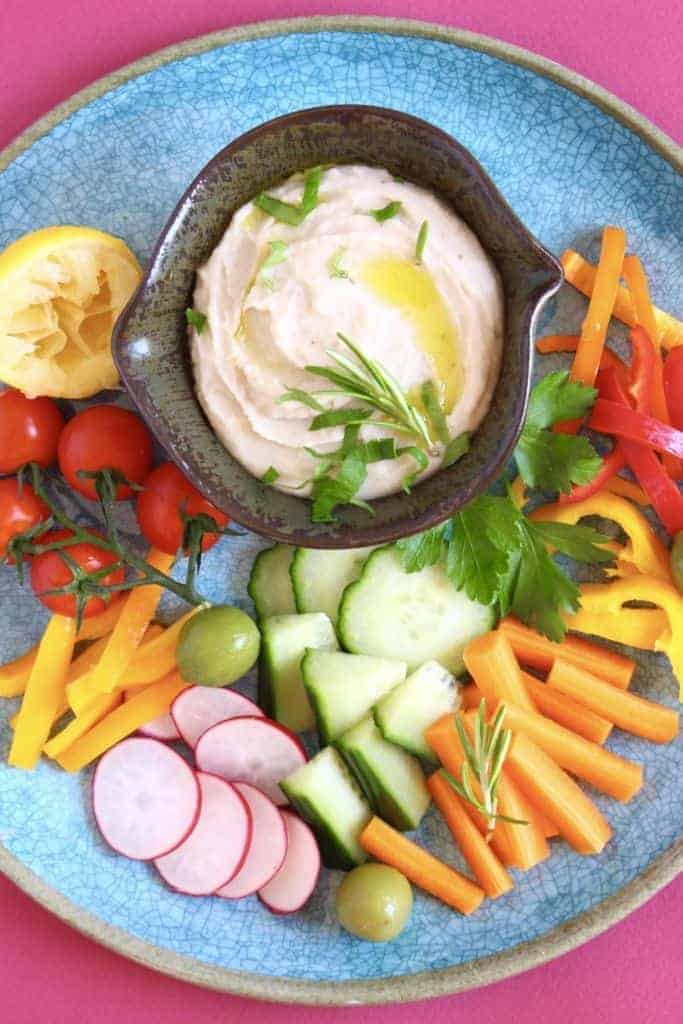 If you don't like chickpeas you will love Rhian's Italy inspired creation. She recplaces chickpeas with creamy white canellini beans and enriches it with fragrant rosemary. When I combine it with fresh rosemary from my garden it is just another vegan hummus recipe I can't get enough. Yummy!
Detailed recipe and credit – rhiansrecipes.com
---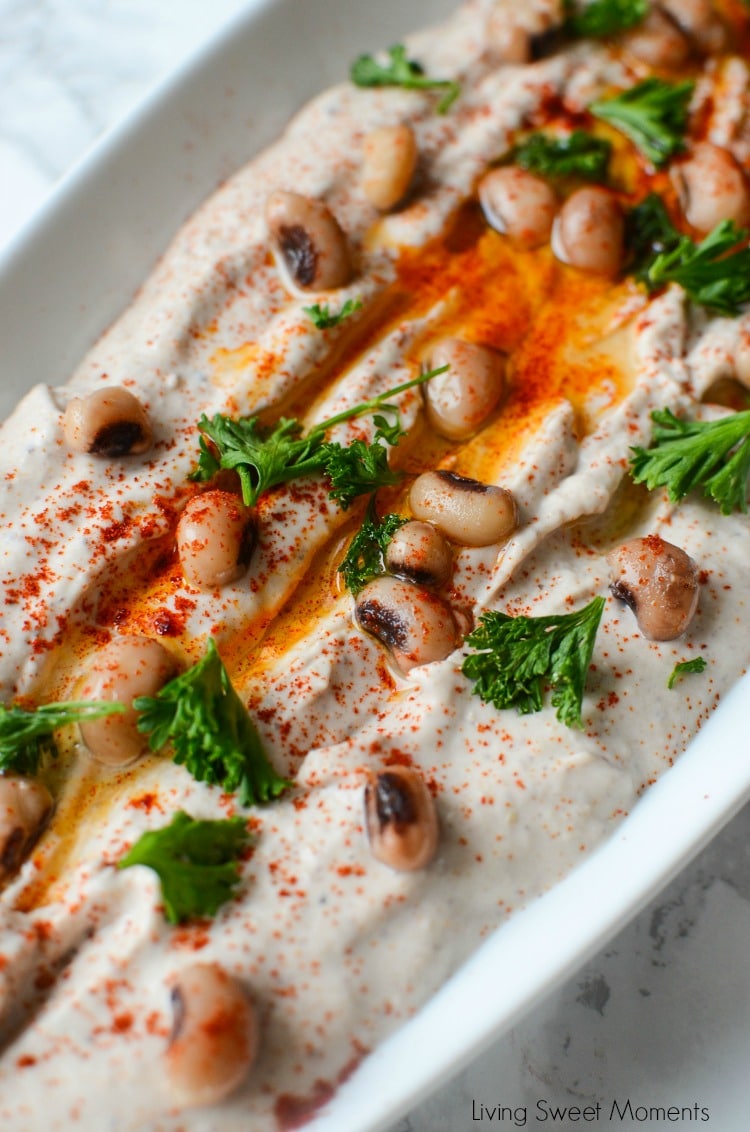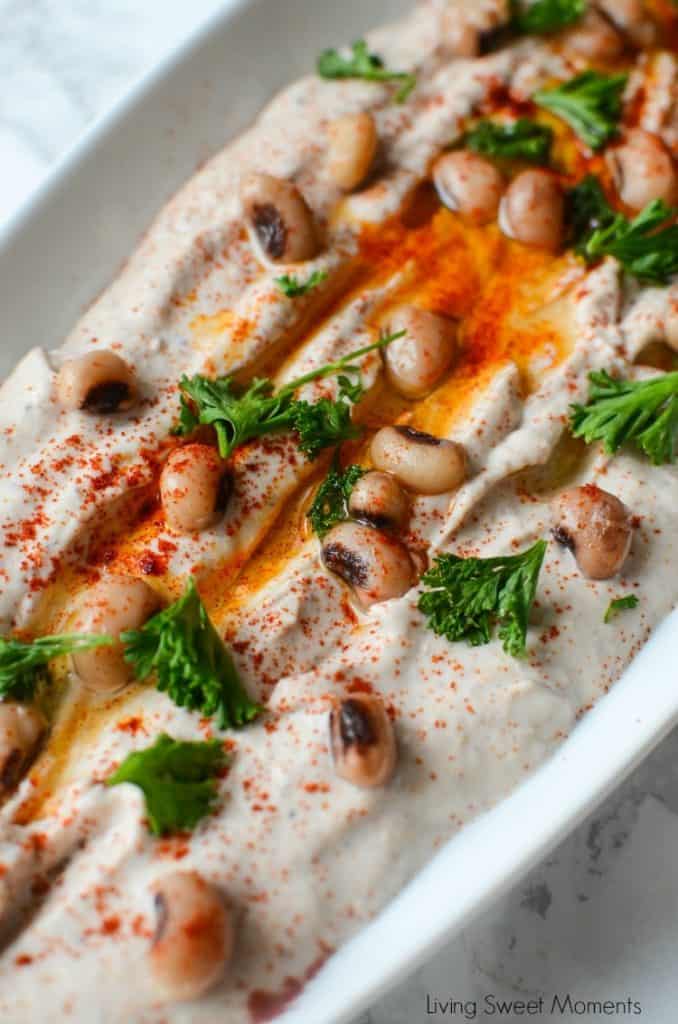 This delicious black eyed pea hummus from Tiffany is the perfect appetizer to entertain with style. These peas are not only cute, but they are creamy and savory as well. You will love especially their ability to absorb spices very well. What a tempting appetizer! If you don't have black eyed peas you can replace them with any beans from your pantry – even with black beans.
Detailed recipe and credit – livingsweetmoments.com
---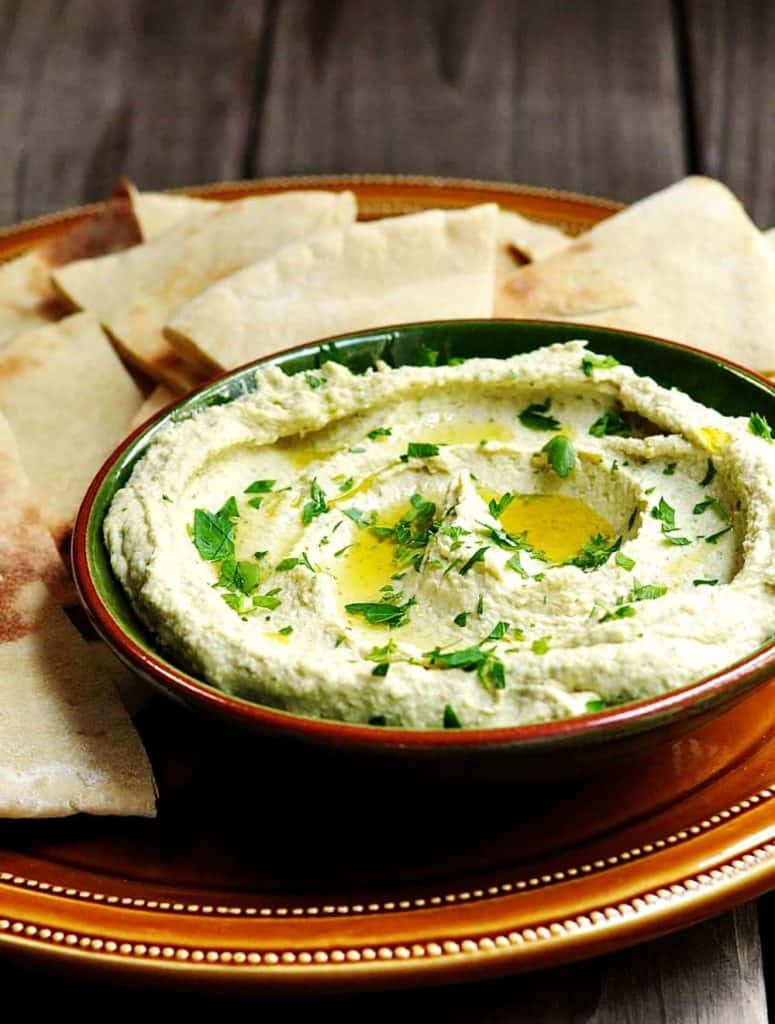 This aromatic interpretation without chickpeas comes from Marissa. It is ultra-creamy and thick with a delicate garlic heat. Combined with silky tahini, earthy parsley, and zesty lemon you can easily prepare it in 10 minutes flat. I think it's sublime!
Detailed recipe and credit – pinchandswirl.com
---
Carrot hummus delights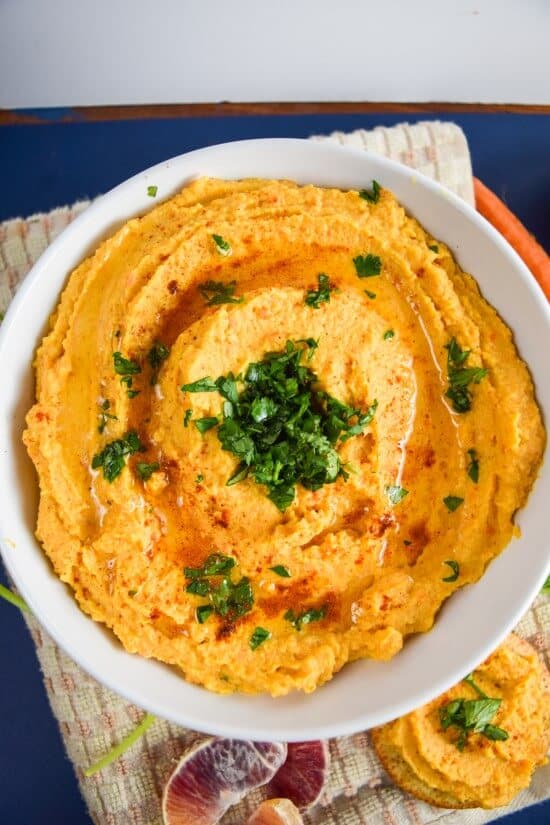 Do you need an Asian fusion twist? Then you will enjoy Shannon's dip that comes with a subtle sweetness thanks to the roasted carrots. It builds the excellent counterpoint to tangy fresh ginger. A touch of rice vinegar and fresh cilantro gives it a convincing eastern flair. Don't skip the smoked paprika to round out the complex flavor.
Detailed recipe and credit – yupitsvegan.com/
---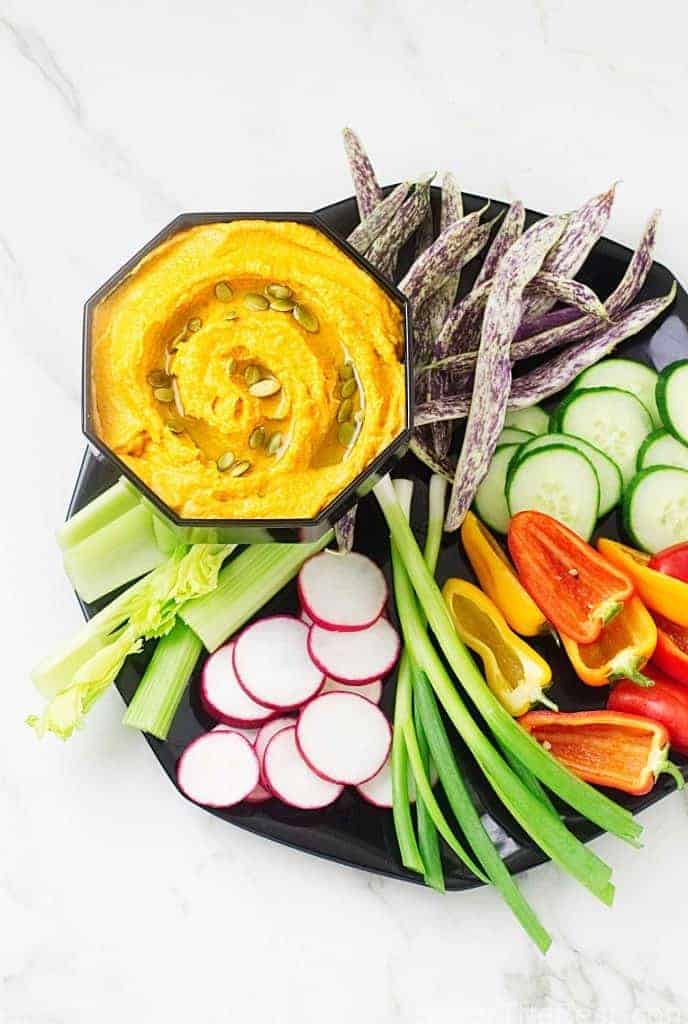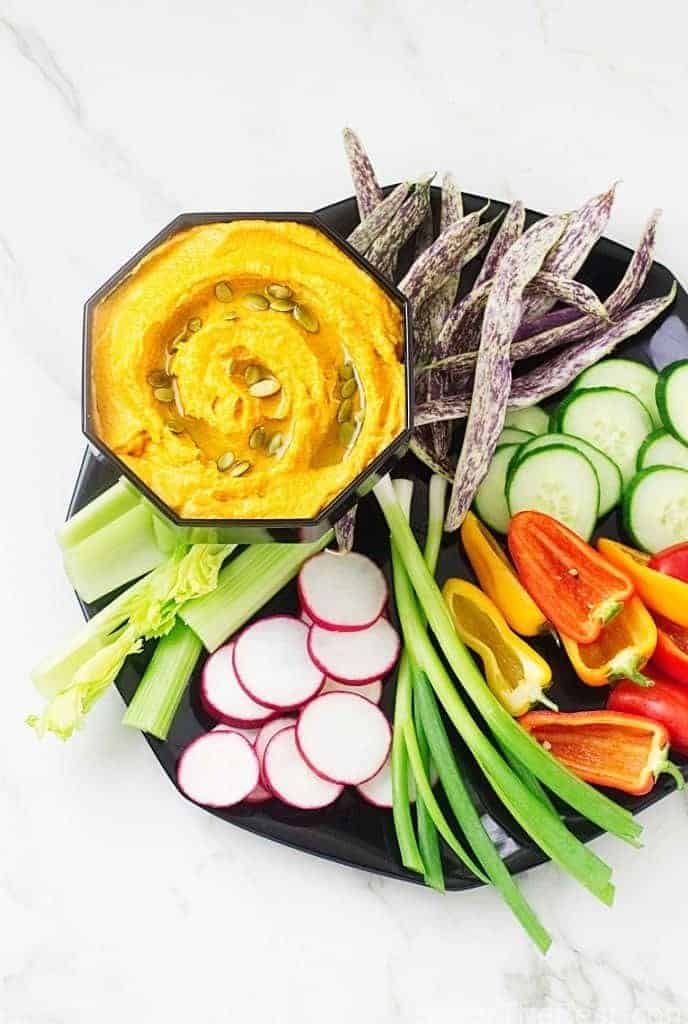 Here comes another carrot hummus recipe. It is oil-free and instead of chickpeas the recipe calls for white beans. Pat and Dahn use Sriracha as spicy counterpart to the sweet roasted carrots. On top it is is a low-fat, low-calorie and high-flavor appetizer that will fit into anyones diet preferences. Amazing!

Detailed recipe and credit – savorthebest.com
---
Sweet potato hummus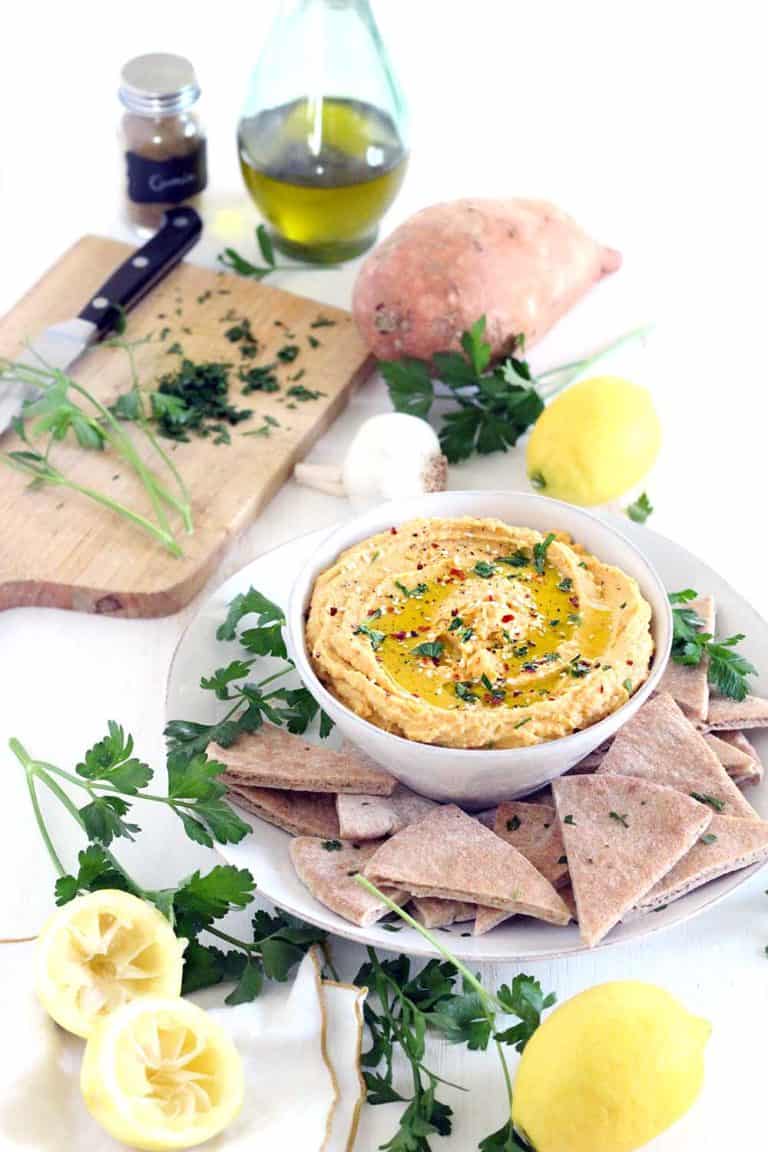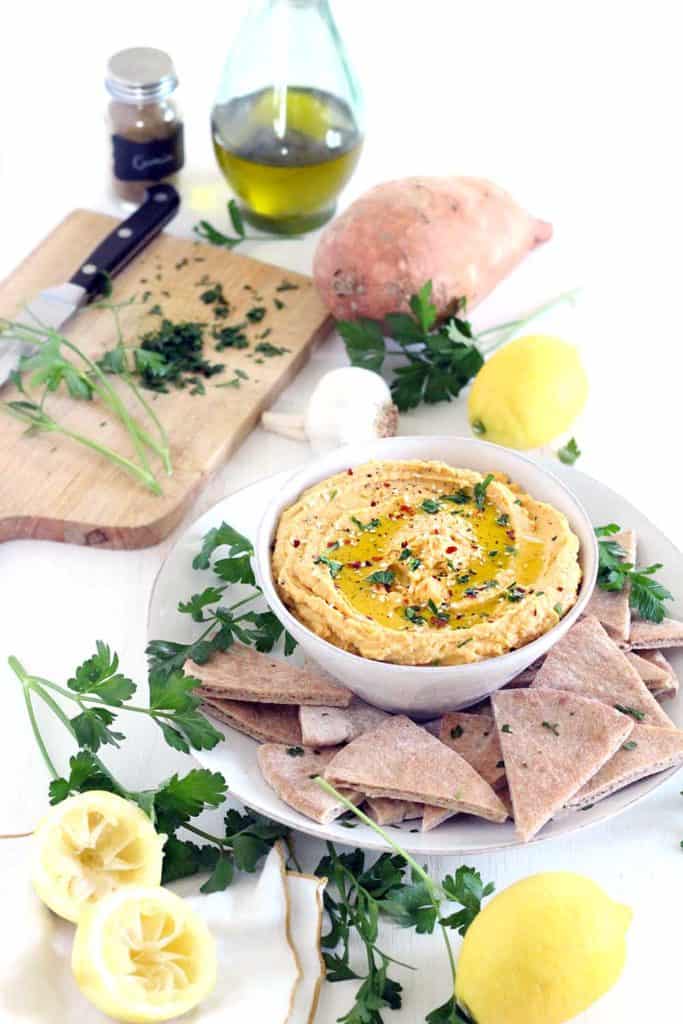 Elizabeth's sweet potato hummus takes a bit more time, since you roast sweet potatoes first. The flavor the nutrient-dense tubers add to the basic recipe is phenomenal. To save some time in your kitchen you can use leftover roasted sweet potatoes.

Detailed recipe and credit – bowlofdelicious.com
---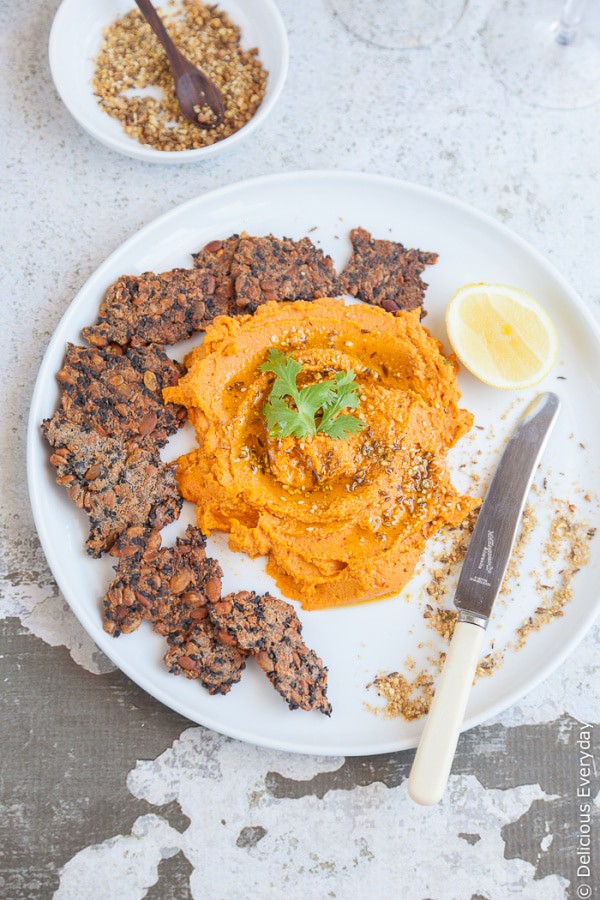 If you need to shake things up then Nicole's Moroccan-styled sweet potato hummus comes handy. To get the rich flavors and starchiness you'll have to roast not only the sweet potatoes but also the the red pepper and chilli. Altogether this recipe takes over one hour to prepare, but boy oh boy, it's worth it.

Detailed recipe and credit – deliciouseveryday.com
---
Sun-dried tomato hummus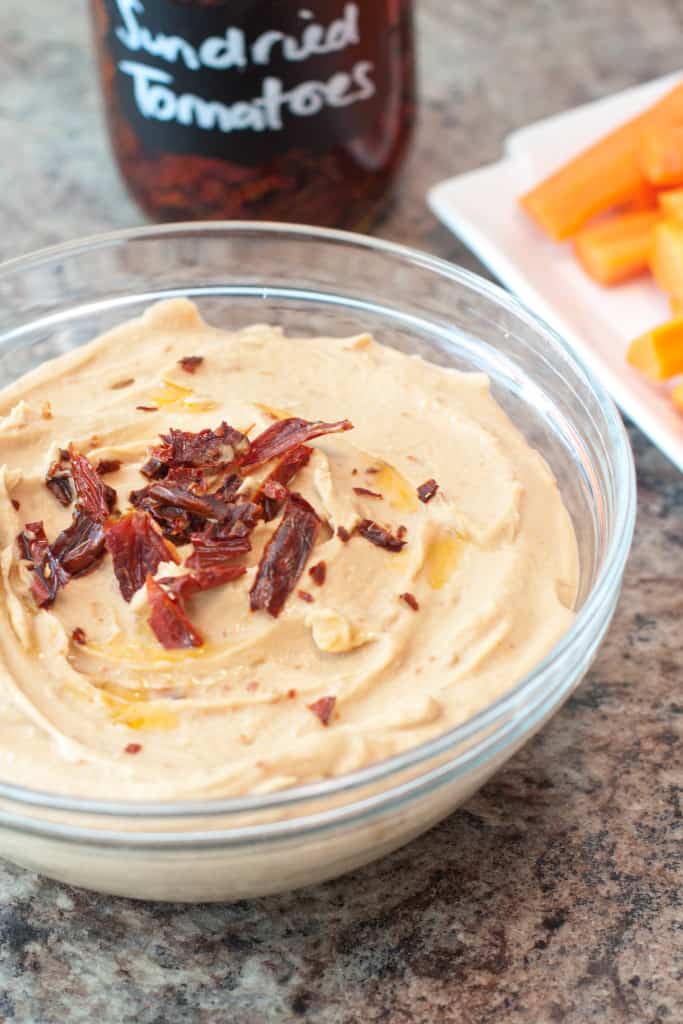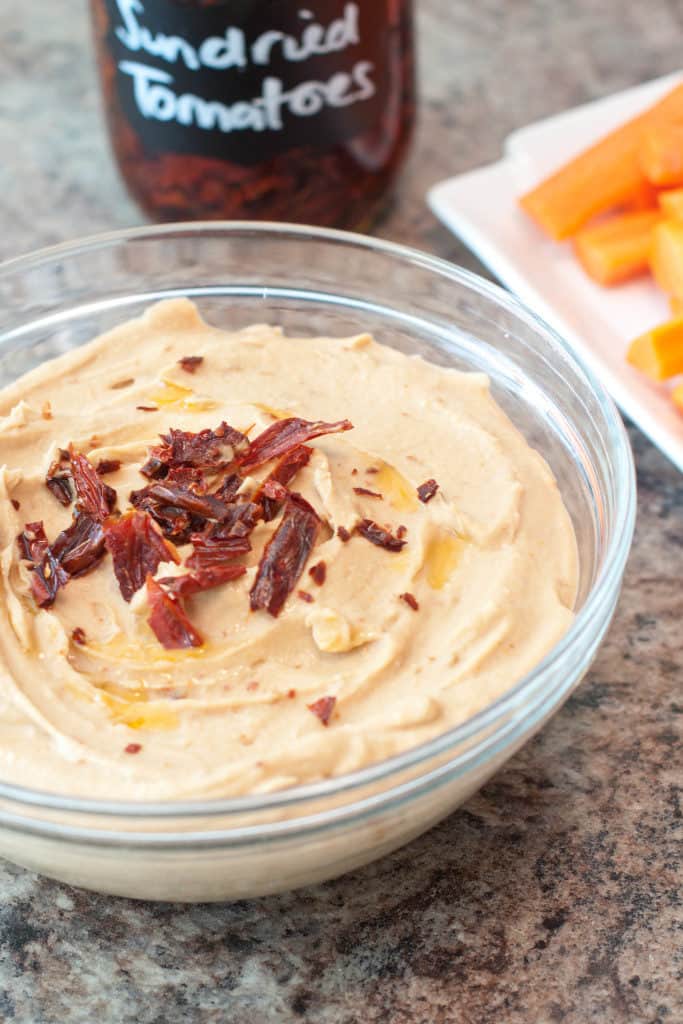 To get the creamiest of creamy hummus, Tracy swears by slow cooked dried chickpeas. To speed up the cooking process you could use an instant pot too. As she didn't have tahini at home she replaced it with some sesame oil instead, which was just as tasty. Combined with some of her home grown sun-dried tomatoes from scratch and plenty of garlic she created a totally addictive delight.
Detailed recipe and credit – servedfromscratch.com/
---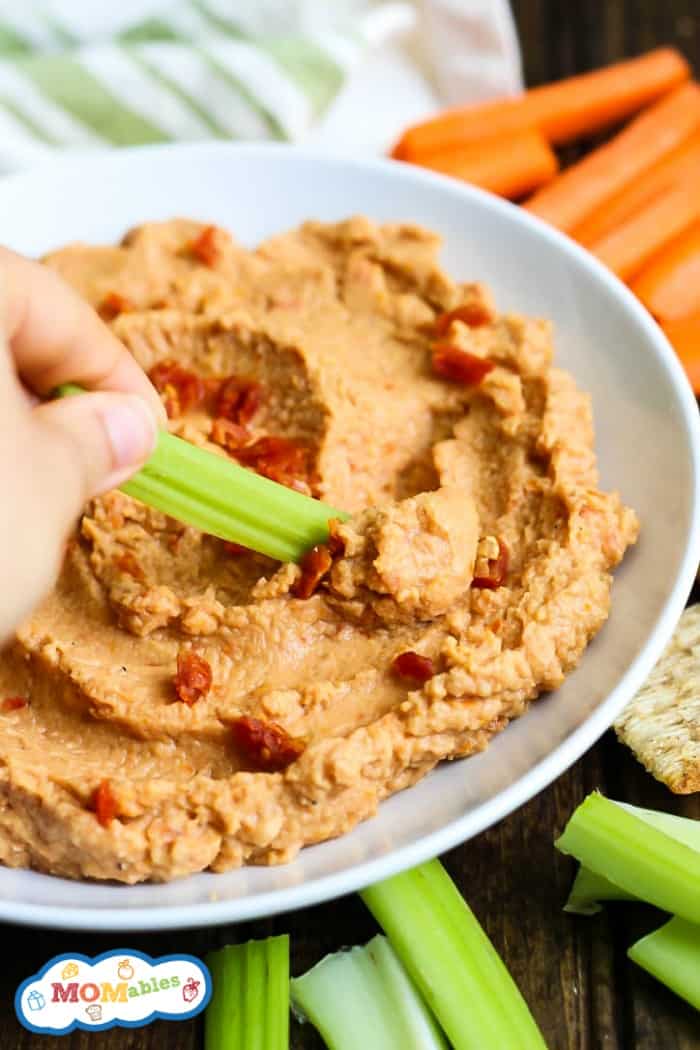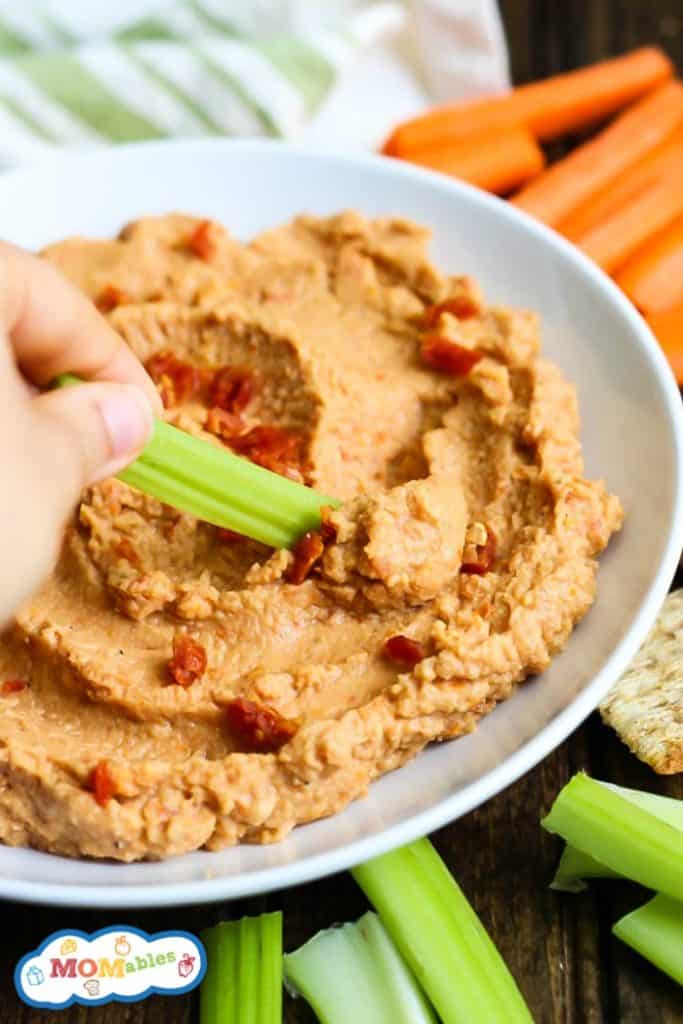 You can call Laura and her family real "hummus connaissuers". If there's a way to add this chickpea dip to a meal, they're going to do it! She is convinced that her variation with sun dried tomato will be your childrens' new favorite snack! It's full of flavorful nutrients and can be ready in under 5 minutes. What are you waiting for? Grab this simple recipe!

Detailed recipe and credit – momables.com
---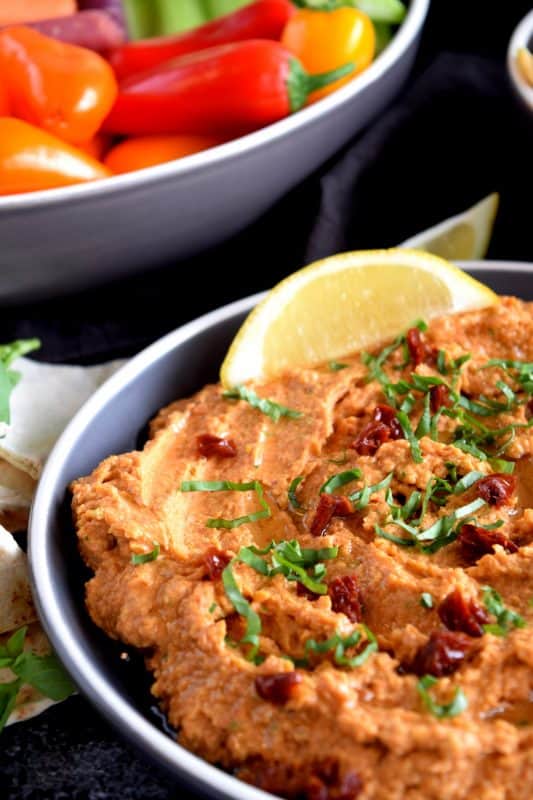 Byron combined just a few basic ingredients to make this luscious sun dried tomato and fresh basil hummus. While researching the perfect chickpea dip Byron even invented the verb "hummusing". How cool is that?! My tip: for a lighter version you may want to use oil-free sun dried tomatoes.
Detailed recipe and credit – lordbyronskitchen.com/
Edamame hummus recipes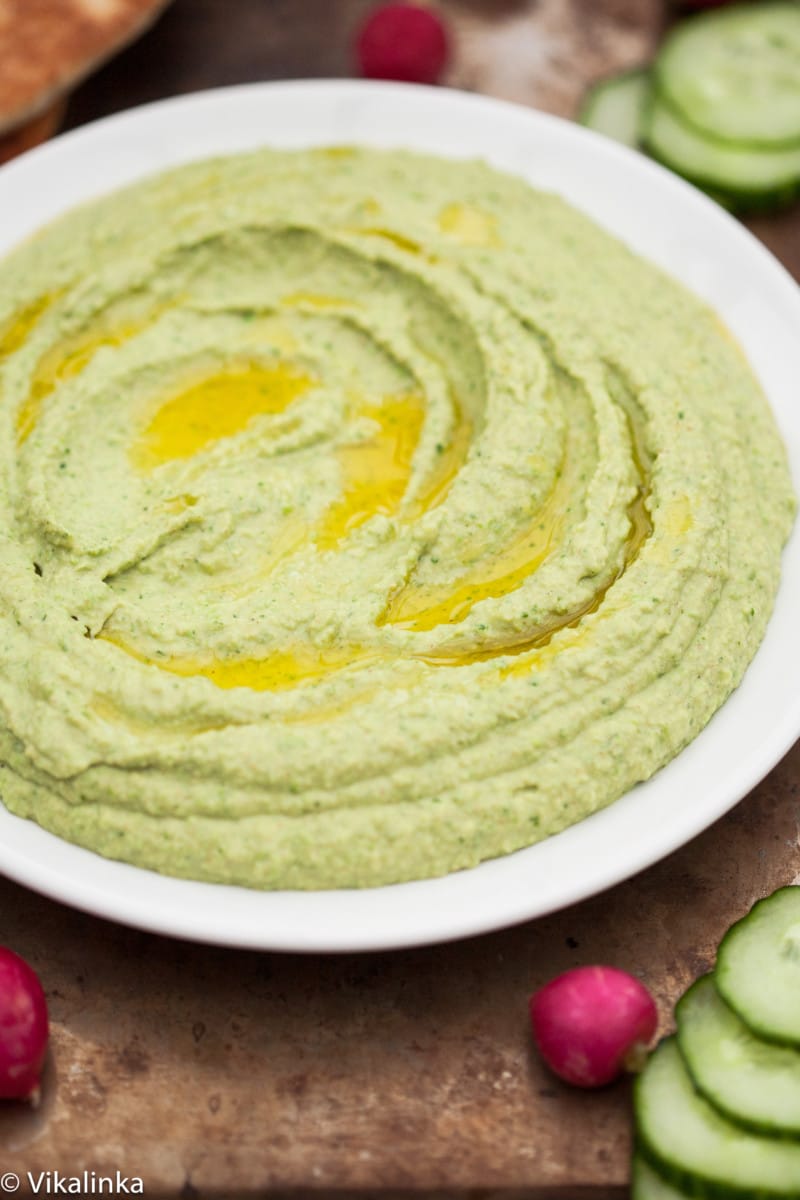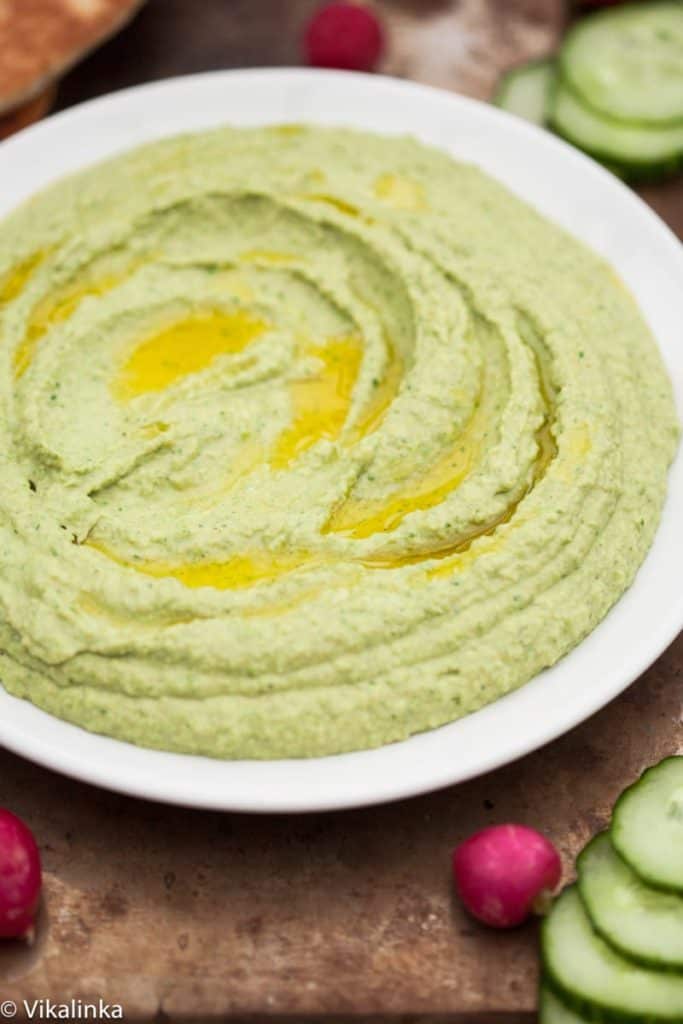 Julia aka Vikalinka's lemony appetizer with a Japanese spin is a nutritionist's best friend. It is high in protein, equally rich on fiber and carbs, and brimming with vitamins and minerals. Her secret besides of butter beans are shelled edamame beans which provide a springy and freakin' fresh taste experience. Well done!
Detailed recipe and credit – vikalinka.com/
---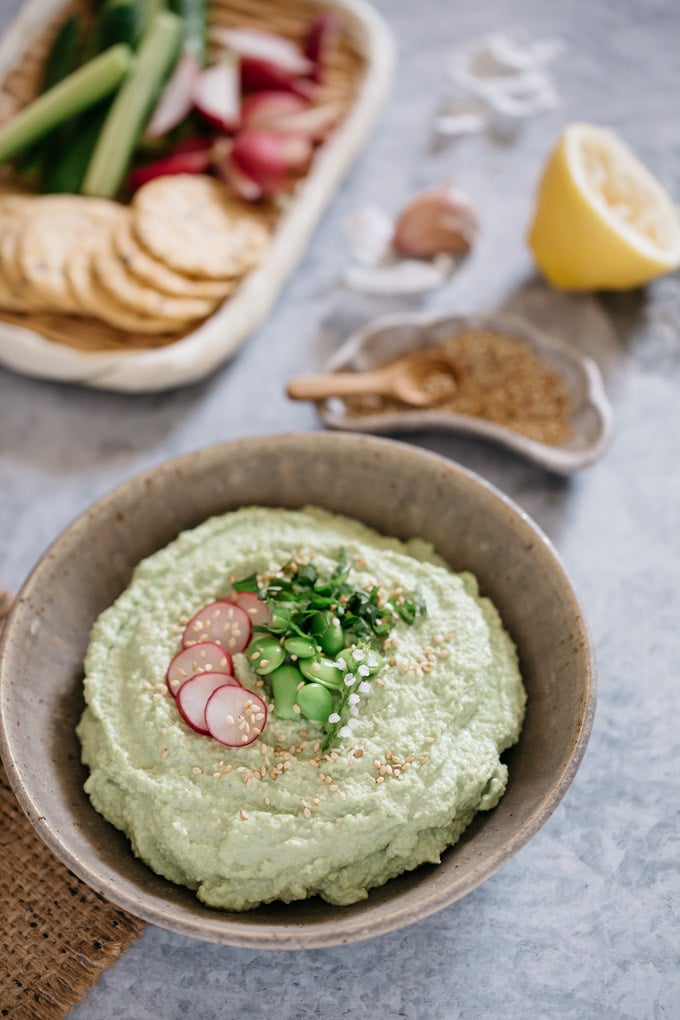 Shihoko is so convinced by Edamame that it also plays the main role in her dip. The born and raised Japanese native who is now living in Australia shares her secret for an extra smooth textured hummus. She removes Edamame's skin one by one. To add a pungent flavour she recommends garnishing with shiso leaves and flowers. I just love this recipe!
Detailed recipe and credit – chopstickchronicles.com
---
Basil hummus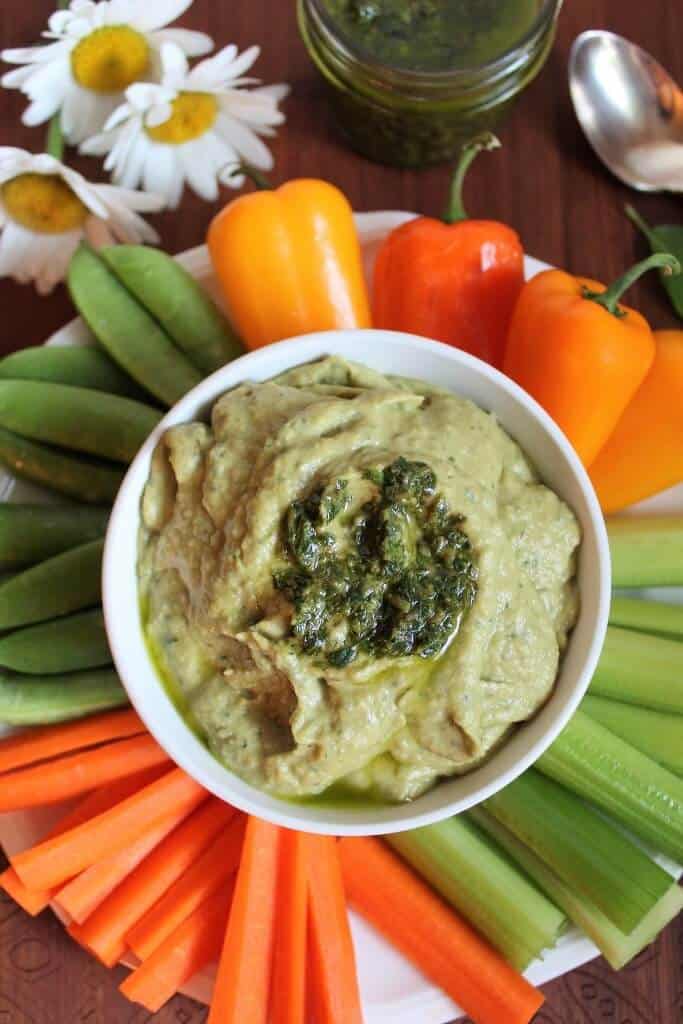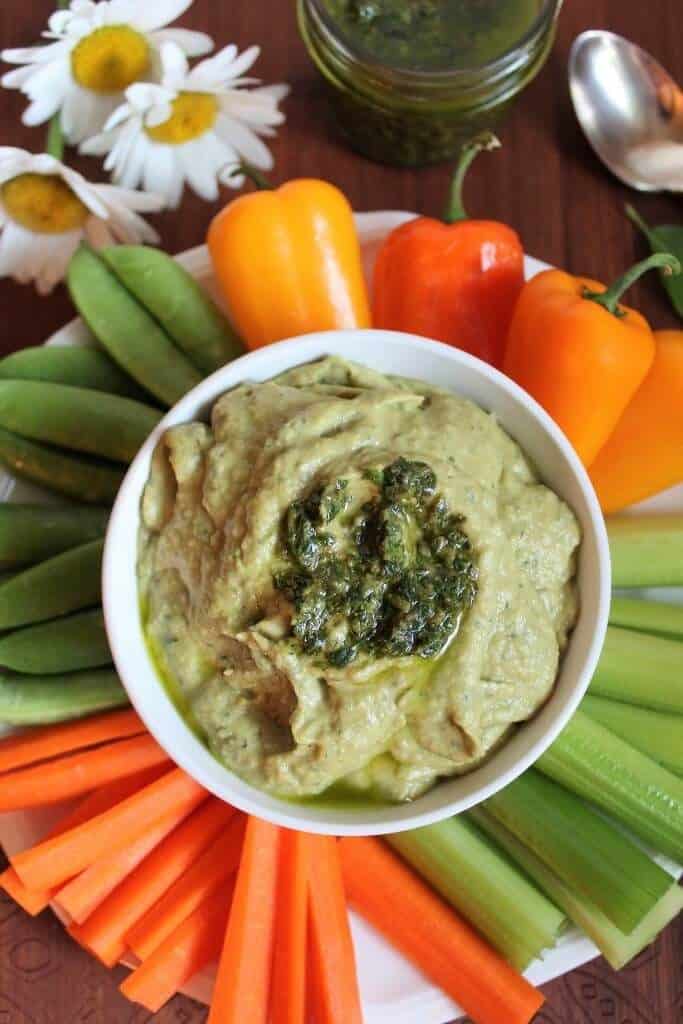 With almost 20 years of being vegan and raising 2 vegan boys since birth, Monica has learned how to please a hungry family based on plants! For her flavorful pesto hummus her kids devour she doesn't need any tahini. With one tablespoon of nutritional yeast she creates an extra cheesy tasting. Awesome!
Detailed recipe and credit – thehiddenveggies.com
---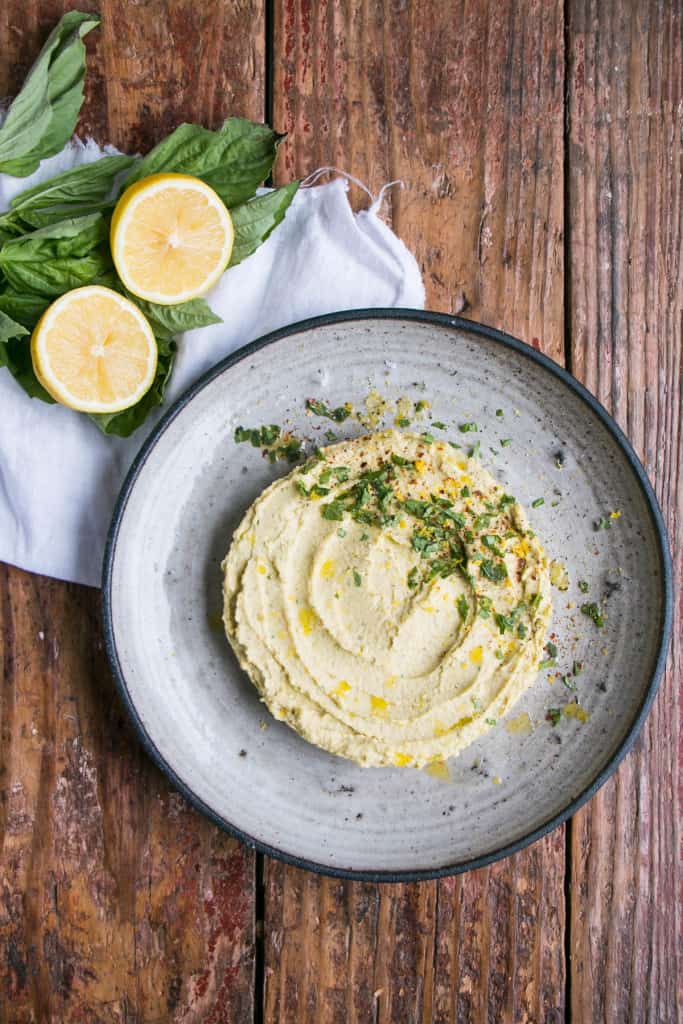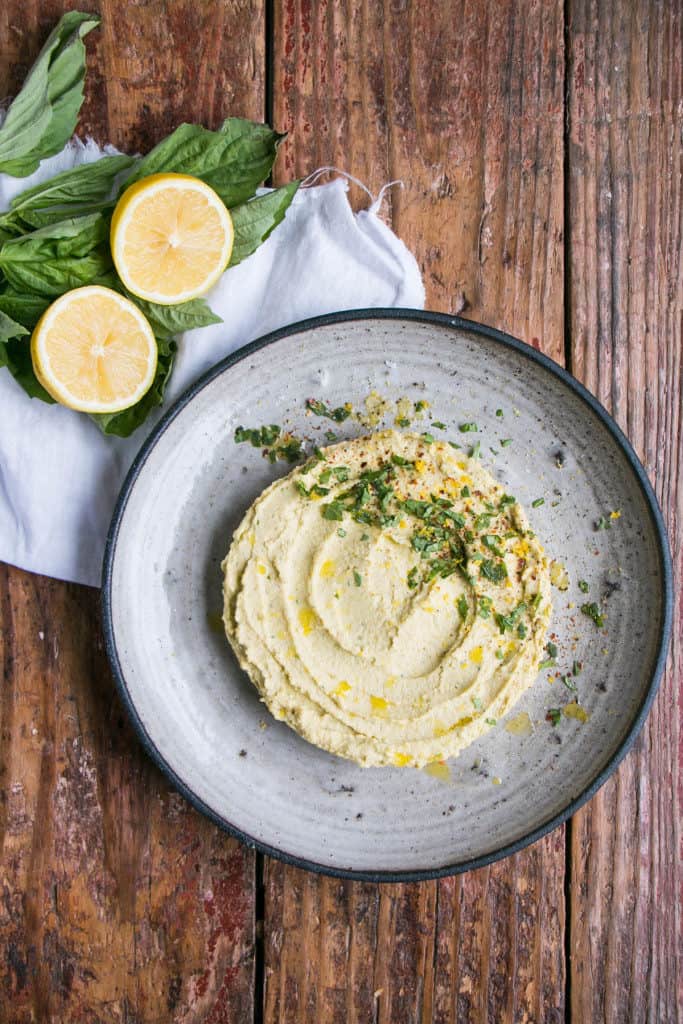 This bright lemon basil hummus is the fantastic creation of Samantha – a mom with 3 young daughters. Her lemon and basil combo sounds like an amazing upgrade to the classic recipe and could convince even the pickiest eater in her famliy. Ok, with one exception…You'll never convert a hubby with a preference for barbecue grilled meat!! I absolutely know what Samantha is talking about;)
Detailed recipe and credit – mykitchenlove.com

---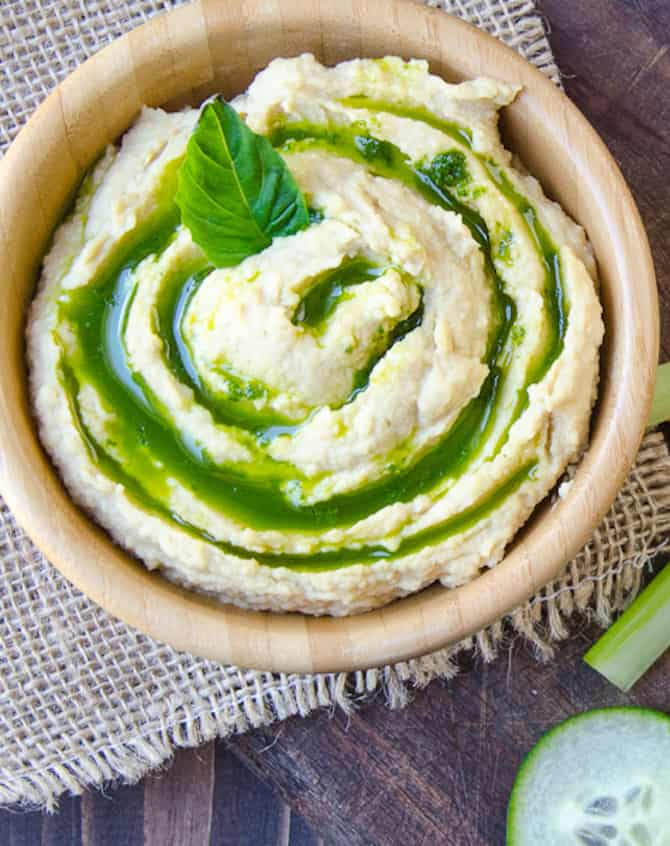 I'll end my roundup with Lisa's eye-cathcing creation. She loves to experiment with unexpected flavors, either as topping or mixed into the puree. Here she tops her appetizer with a special bright, emerald-green sauce based on fragrant basil-cilantro oil. I think it's divine!
Detailed recipe and credit – garlicandzest.com/
---
Hopefully you've enjoyed my homemade hummus roundup. Please let me know your favorite in the comment section below.