Last Updated on March 16, 2019
One of life's great comforts is the aroma of homemade soup warming on the hob. This red bean soup recipe enriched with chickpeas, spinach and nutritional yeast flakes gives you the confidence to create plant based bowls of delicious goodness in your own kitchen.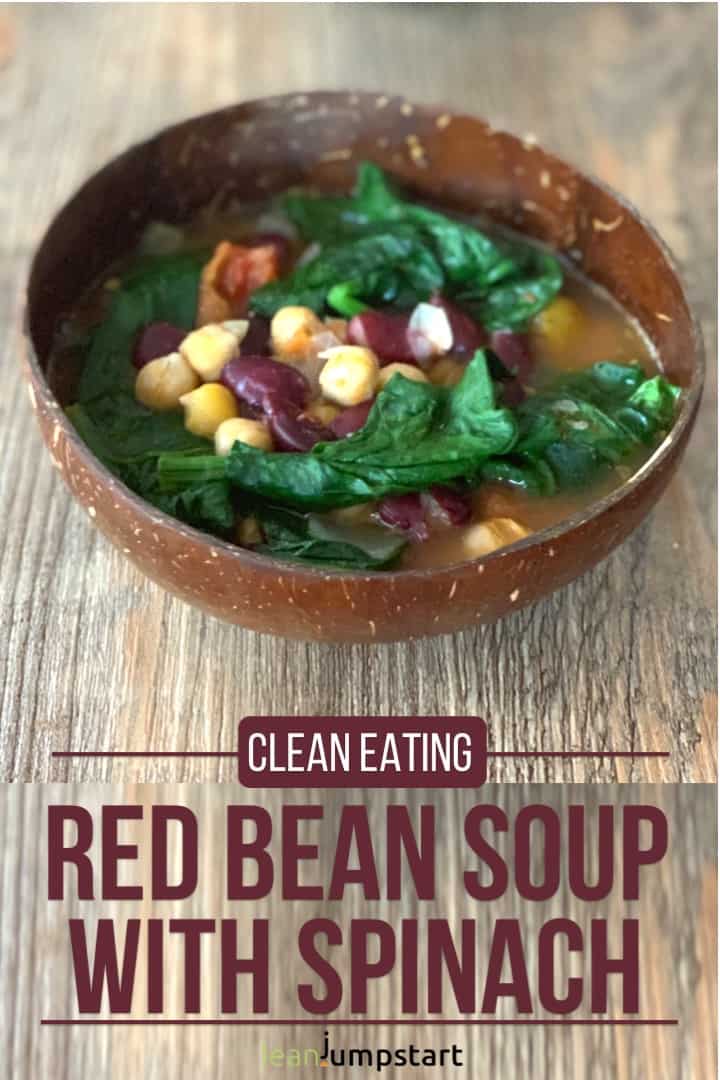 On top of that it is a clean eating meal that can be cooked within 10 minutes. If you are a busy clean eater who is watching her/his weight, this red bean soup is a must-have in your recipe collection.
Our beloved Saturday habit
Don't run away yet, if you don't have nutritional yeast flakes in your pantry, I'll give you some tips below, how you can easily replace them. But maybe I can convince you to make them part of your nutrition once you have learned below how healthy nutritional yeast flakes are. But first let's talk about the recipe.
As you might know, we mostly eat soup on Saturdays. Our family rule: The colder the season the thicker the soup has to be. This easy bean soup is a great stand-alone meal and soul food for the autumn and winter season.
Beans and vegetable soup increases fullness more than meat based meals
Warning: Although it is a "slim meal" and perfect for those of you, who are watching their weight, it is at the same time so super filling that you won't need any whole grain bread you might usually enjoy with soups.
By the way, did you know that beans and peas increase fullness more than meat? According to a recent study by the University of Copenhagen', meals based on legumes such as beans and peas are more satiating than pork and veal-based meals. From own experience I can only confirm:)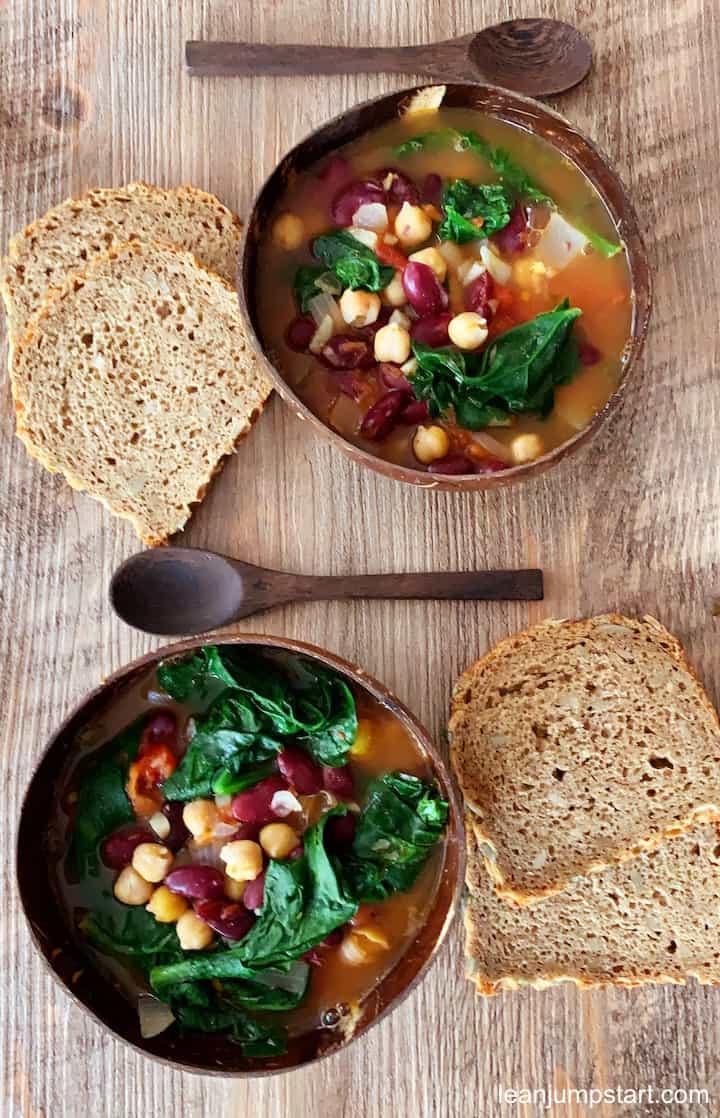 After eating this vegan soup for lunch, I could almost skip dinner…This has partly to do with the roughage which is abundant in legumes and don#t forget the fiber in spinach. Click through to learn more about the amazing health benefits of high fiber foods. On the other hand, animal-based products don't contain any fiber at all.
Most ingredients are staples
You will also love the fact that most of the ingredients are staples in your kitchen you've probably never combined before.
…So what are you waiting for? Learn below how to make bean soup and give this vegan dish a try. You won't regret it! I'll give you also some tips for a vegetarian bean soup at the end of this blog post.
Print
Red bean soup with chickpeas and spinach
A delicious and super filling soup
Author: Gabi Rupp
Prep Time:

7

Cook Time:

8

Total Time:

15

Yield:

4

1

x
2

(15 oz. | 420 g) cans red beans (Kidney beans), drained and rinsed

2

(15 oz. | 420 g) cans chickpeas, drained and rinsed

1 tablespoon

olive oil

2

yellow onions or green onions, diced

6

cloves garlic, minced

6 cups

(

1.5

liters) vegetable broth

1

(15 oz. | 420 g) can diced tomatoes, drained (or

4

fresh tomatoes in cubes)

3/4 cup

nutritional yeast flakes

6 cups

fresh baby spinach (about

10 oz

.) or 6 frozen spinach pellets

1 tablespoon

Oregano (or other Italian dried herbs)

2

bay leaves (optional)

1 teaspoon

salt

½ teaspoon

black pepper
additional nutritional yeast flakes (for serving)
salt and pepper to taste
Instructions
In a large pot or saucepan heat olive oil over medium heat.
Add onions and garlic.
Steam about 2-3 minutes, stirring occasionally.
Add tomatoes, broth, herbs, salt and pepper.
Bring to a boil.
Reduce to medium high heat and simmer for 5 minutes, stirring occasionally.
Add the beans, chickpeas and spinach, and continue to cook stirring occasionally gently until the spinach has wilted (a few minutes or more if you use frozen spinach pellets).
At last add 3/4 cup of nutritional yeast.
Season with extra salt and pepper.
Serve immediately.
Notes
Leftovers of this vegan bean soup taste also delicious the next days
Nutritional yeast nutrition facts
These amazing flakes taste mild/nutty to cheesy/umami. They give each dish an extra portion of spice and enhance the taste. In the raw food and vegan kitchen, they are particularly popular as cheese substitutes.
As an inactive yeast, it is not the same as the "active" baking yeast you would use to make muffins or cakes. Rich in vitamins B1, B2, B6 and pantothenic and folic acid, it is more than just a spice. Only 15 grams of yeast flakes cover the daily requirement of vitamin B1. This B 1 vitamin helps your body to turn food into energy. Nutritional yeast flakes contain also many trace elements, minerals, fiber and protein in form of easily digestible amino acids.(1)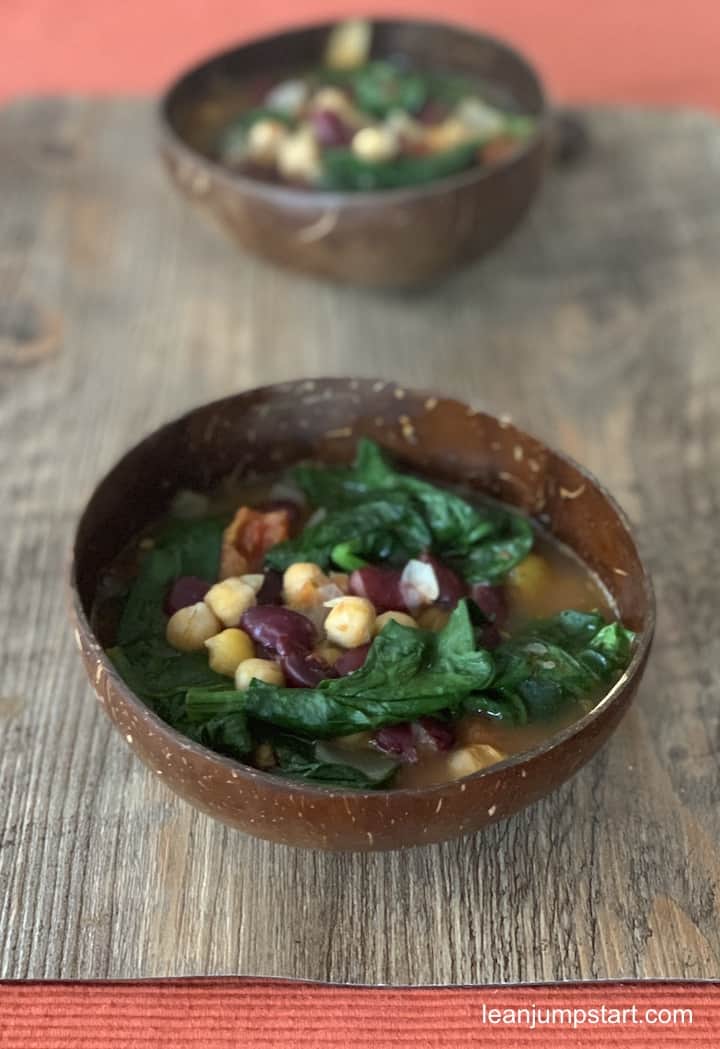 Buy nutritional yeast flakes
The best choice for truly healthful nutritional yeast flakes is to choose organic, unfortified stuff (e.g. Sari Foods brand). If you are vegan you might want to use those brands with fortified B12 vitamins.
Tip: To preserve as many nutrients as possible use nutritional yeast towards the end of the soup cooking process.
3 homemade bean soup variation tips
You can vary this recipe to your heart's content.
An easy and delicious variation is to leave out chickpeas and double instead of the quantity of red beans. You could also replace them with white beans if you don't have red beans at hand. What legumes you use is just a matter of preference and convenience.
For a kale and bean soup just replace the spinach for kale. You can also replace part of the greens with stripes of green bell peppers.
If you are cooking for vegetarians you can use a 3/4 cup of grated Gruyère cheese as a substitute for the nutritional yeast flakes. Omnivores will be delighted if you use grated Parmesan cheese instead of the flakes.
Legume soup & freezing
I love the fact that legume dishes in general freeze very well and you can let them sit in your freezer for up to 6 months. This is true of course also for this beans and greens soup, which is a great protein-packed meal to have ready to go in the freezer. If you plan to freeze your soup after cooking I recommend to slightly undercook the spinach.
OTHER NUTRITIONAL YEAST RECIPES YOU MIGHT ENJOY