Last Updated on March 13, 2020
As you might assume my family and me, we are real bean lovers. What I especially love about this white bean pasta with broccoli is:
It is protein-rich due to white beans
It is high in fiber due to whole grain pasta and again the fibrous white beans (excellent for your gut!)
The recipe includes a powerful member of the super healthy cruciferous family: Broccoli (by the way, the fiber in broccoli is also impressive.)
Among the ingredients are also members of the amazing allium family: onions and garlic
…and it is low in fat, so you can eat a huge bowl without guilt
In short, a perfect wholesome dish for all weight loss aspirants.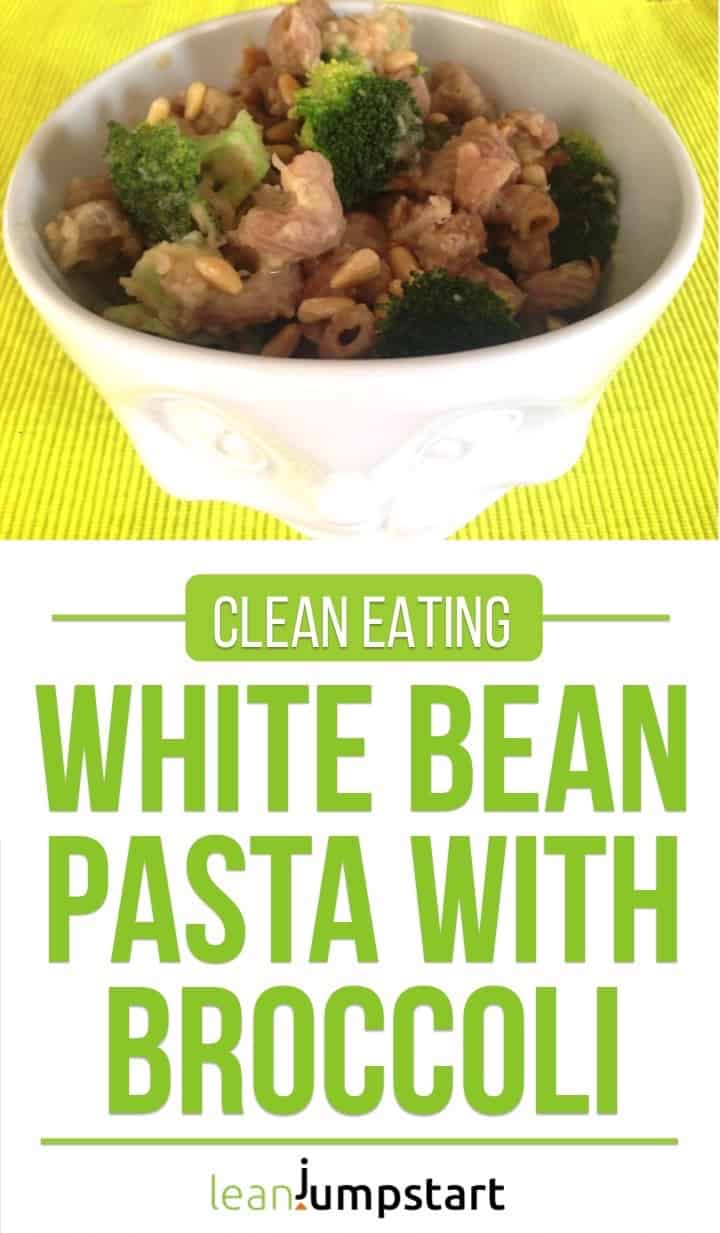 On top of that this white beans recipe is creamy, super homey, and tasteful in its own way. Besides of this yummy recipe expect at the end of this blog post also some insights regarding the "protein combining myth".
Keep a few cooking dishes at hand
I wish I could say that this high fiber pasta recipe is quick and easy too…But the truth is somewhere in between. You'll have to invest at least 30 minutes in your kitchen before you can wholeheartedly enjoy it, it is not too complicated but don't expect a one-pot meal. You'll need at least 3 cooking dishes…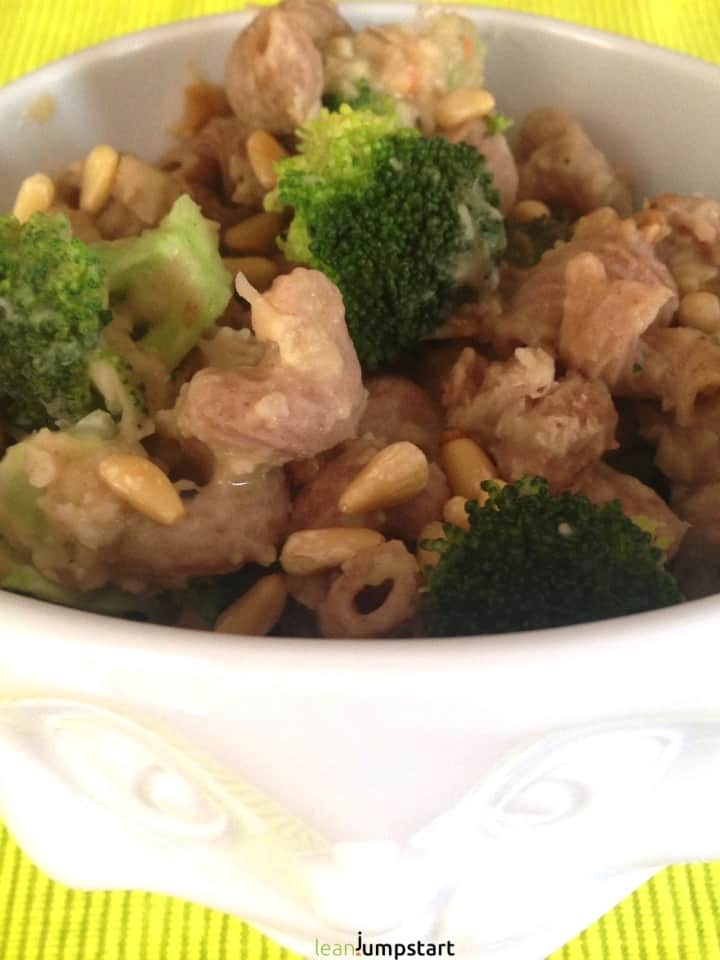 Types of white beans
This recipe is flexible enough that you can use any white bean cans you can get:
Cannellini beans,
Navy beans,
Great northern or
Baby Lima beans.
If you can't get BPA-free bean cans in your region you might want to cook your legumes on your own and store small potions in the freezer. This is what I do regular­ly.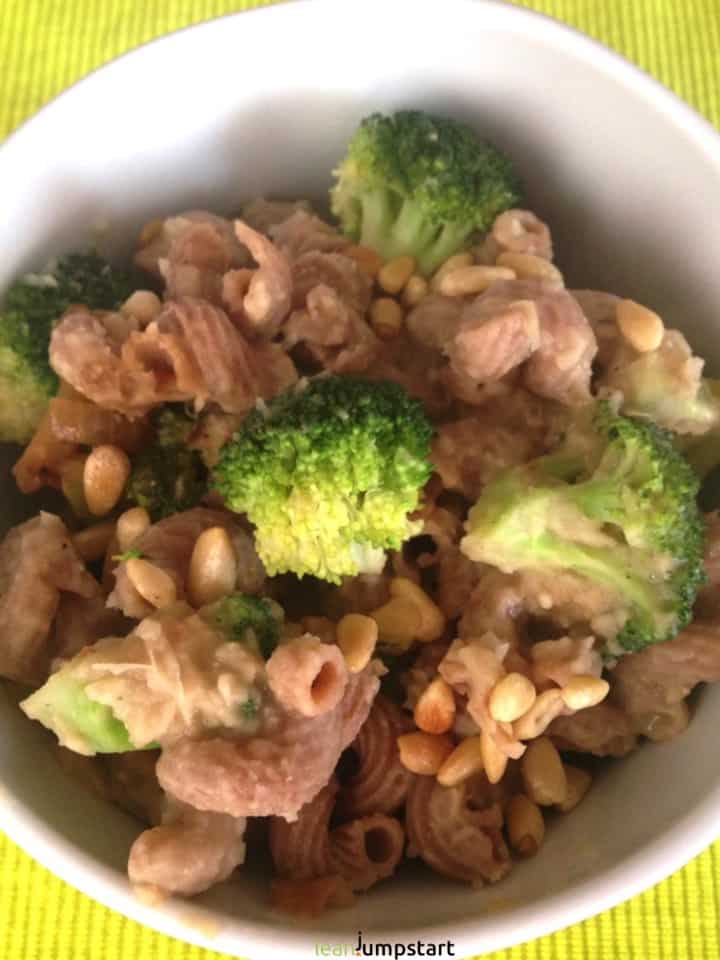 How to cook and freeze beans?
I buy a larger package of white beans and soak the pulses 24-48 hours in sufficient cold water (Cover with at least 4 times their volume). This not only reduces cooking time but also helps you to better tolerate beans. Make sure to change the soaking water at least 1-2 times.
Then drain beans, add them to a pot and cover them with sufficient cooking water. Bring white beans to a boil and let them simmer at medium heat for at least 45-60 minutes or until they are tender but not mashy (read package instructions!). You can reduce the cooking time by using a pressure cooker. Once cooled down pack them flat in plastic freezer bags (I use 100 grams each) and store them for up to 2-3 months in your freezer.

The protein combining myth
For a long time, vegetarians and vegans were recommended to combine different vegetable protein sources with each meal. The amino acid profiles of the different vegetable protein sources would complement each other and increase the biological value of the meal.
But this has been dismissed by the nutrition community as myth decades ago. (1) Legumes, whole grains, vegetables, nuts and seeds all contain both essential and non-essential amino acids. There is no need to consciously combine these foods within a given meal.
The body can create tissue even if it does not receive all the necessary amino acids at the same time, but gradually. This has to do with the fact that our body can mix and match amino acids to whatever proportions we need.
In other words: As long as you eat a varied whole food plant based diet over the day, the week and the seasons and as long as you eat enough calories overall, you don't have to worry about a protein deficiency.
Of course, there's nothing wrong with combining different vegetable protein sources – you probably do it automatically, for example when you spread hummus on whole wheat bread or combine whole grain pasta with a legume sauce like in this yummy pasta dish.
Ok let's finally jump to the recipe for this high fiber meal:
Print
White Bean pasta with broccoli
A yummy high fiber, high protein meal
Author: Gabi Rupp
Prep Time:

15

Cook Time:

15

Total Time:

30
2 1/2 cups

whole grain pasta

2 tbsp

. water or 1 tbsp. extra virgin olive oil (EVOO)

6 cups

broccoli florets and leaves, chopped stems (keep them separate)

1

onion, chopped

1/2 cup

toasted pine nuts
For the white bean sauce
Rinse and drain 1 (14.5 oz.) can cooked white beans,
or 2 cups/250 grams cooked white beans

3 tbsp

. fresh lemon juice

1/2 cup

vegetable broth

1/4 cup

nutritional yeast

1

minced garlic clove

1/2 tsp

. grated nutmeg

1/2 tsp

. sea salt
Instructions
Pasta
Prepare whole grain noodles according to the instructions and cook pasta until al dente. Drain, set aside and keep covered.
Sauce
In a blender or food processor (e.g. Thermomix) mix white beans, lemon juice, broth, nutritional yeast, garlic, nutmeg, salt and pepper, until smooth. Set aside.
Heat water or oil in a large skillet and sautée onions 3 minutes.
Add the chopped broccoli stems and cook for 4-5 minutes.
Stir in the broccoli florets and leaves and a splash of water.
Cover and let it simmer on low heat for 2-3 minutes.
Add the drained pasta, then stir in the sauce, adding some water if the sauce is too dry.
Heat up and let it simmer for a minute.
Season to taste with more lemon juice, salt and pepper.
Portion into bowls.
Garnish with pine nuts or roasted tomatoes.
Notes
For all eaters you could also garnish with Parmesan cheese instead of pine nuts
If you serve it with a salad a starter this dish could be extended to 4 portions.
You can also use cooked grains instead of whole grain pasta
Other white sauce pasta recipes you might enjoy: