Today I proudly present my first energy balls recipe on leanjumpstart.com – the best fiber-rich snack idea for a long vacation or business trip. As prunes are one of my favorite dried fruits (I see you giggling), they play the main role in these fabulous clean eating snacks. The prunes in combination with cinnamon give these power bites a pleasant warm winter taste.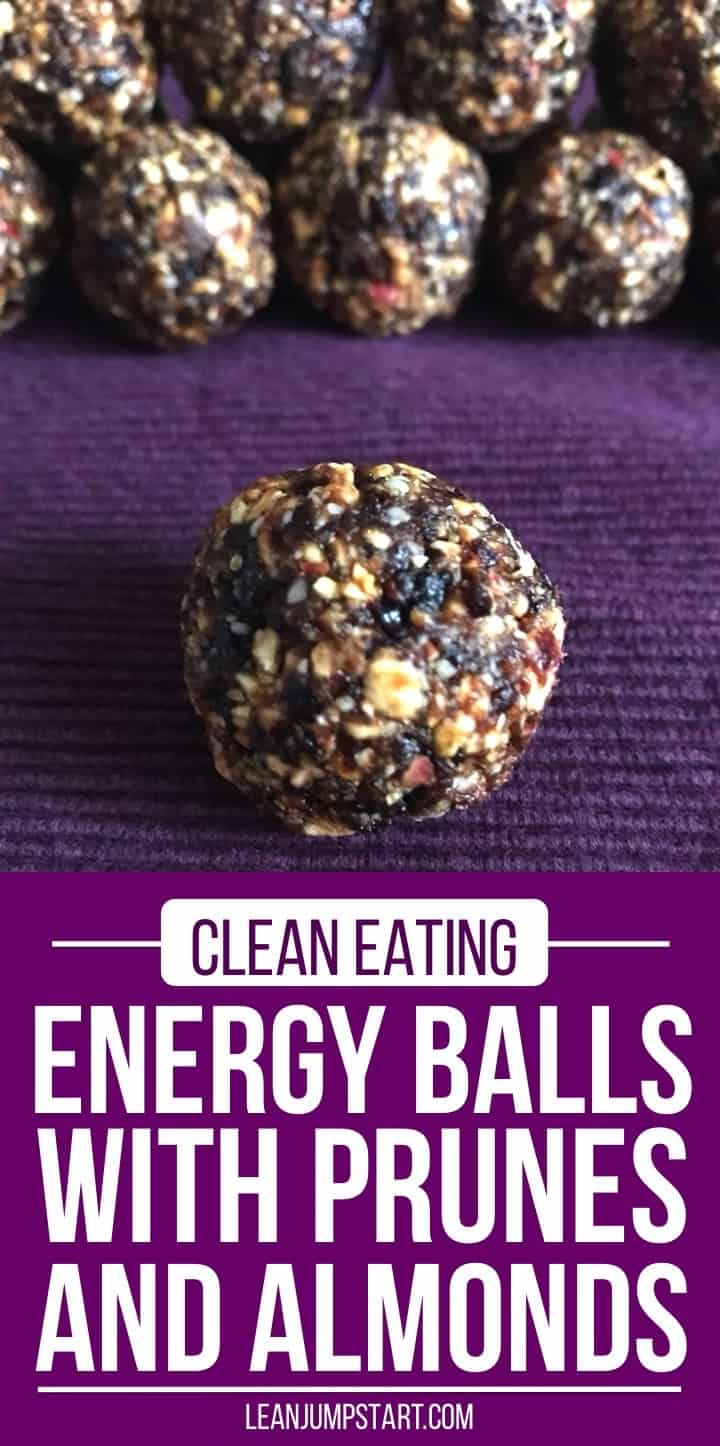 Energy balls have many different names and are also called:
bliss balls,
raw balls,
energy bites,
bliss bites,
no bake bites etc.
They are especially known in raw food and vegan circles and have been around for quite a few years.
Where have they been all my life?
In fact you'll find thousands of energy ball recipes on the web and that is wonderful. Still I ask myself, did they hide under a rock or where have they been all my life? These little treats can't gain enough spotlight, as they are quick and super easy to prepare, full of valuable nutrients, filling, affordable and so yummy.
We love energy balls and so far we don't know anybody who doesn't like them when introduced to this yummy snack idea.
Love at second taste
Ok, maybe I should admit that when my chocoholic hubby tried the dark balls without warning, he expected from the "look and feel" at least the taste of Ferrero Rochers;) So for him the bliss balls with dried plums meant "love at second taste"…
Most people probably subconsciously think of their bowels when they hear prunes;) And talking about bowels, if weight management is an issue for you, make sure to read until the end of this blog post.
This energy balls recipe proves again how delicious clean eating can really be. Let's jump right into the healthy snack recipe that needs just 4 very whole ingredients: Prunes, dried apples, almonds, and cinnamon. That's it.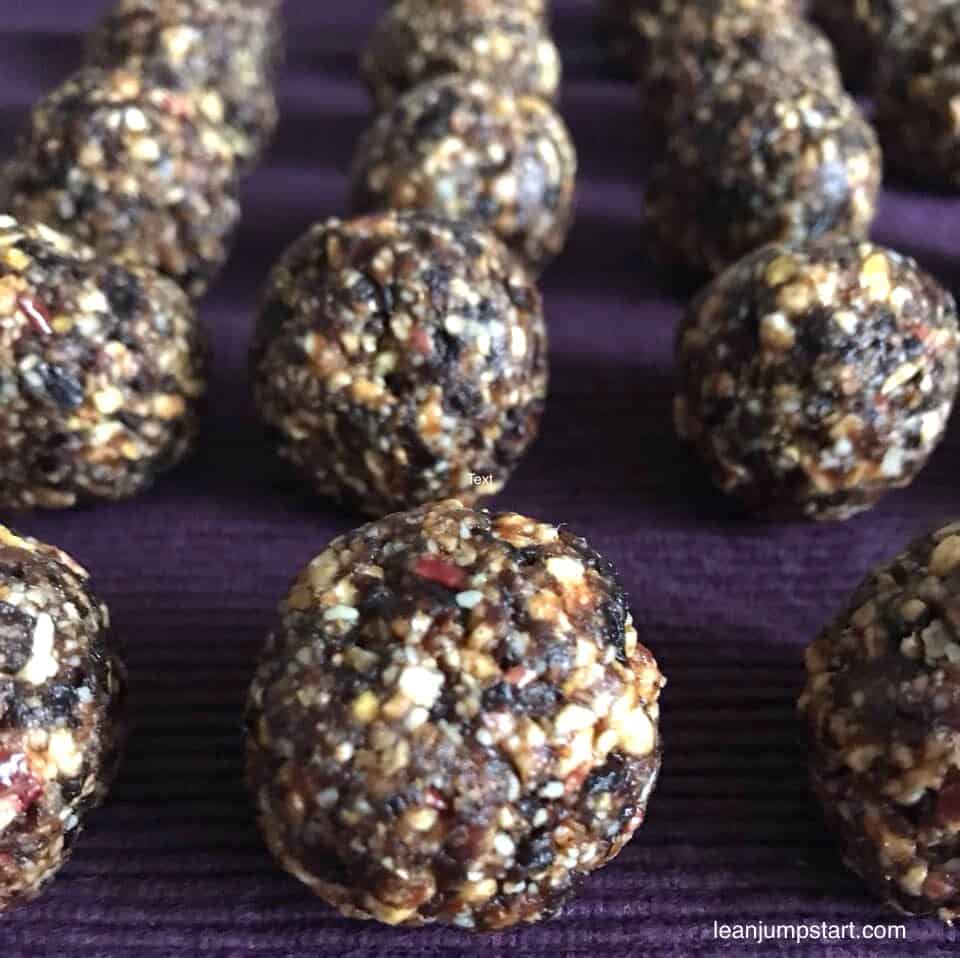 Energy Balls with dried plums and almonds
2017-12-05 08:08:35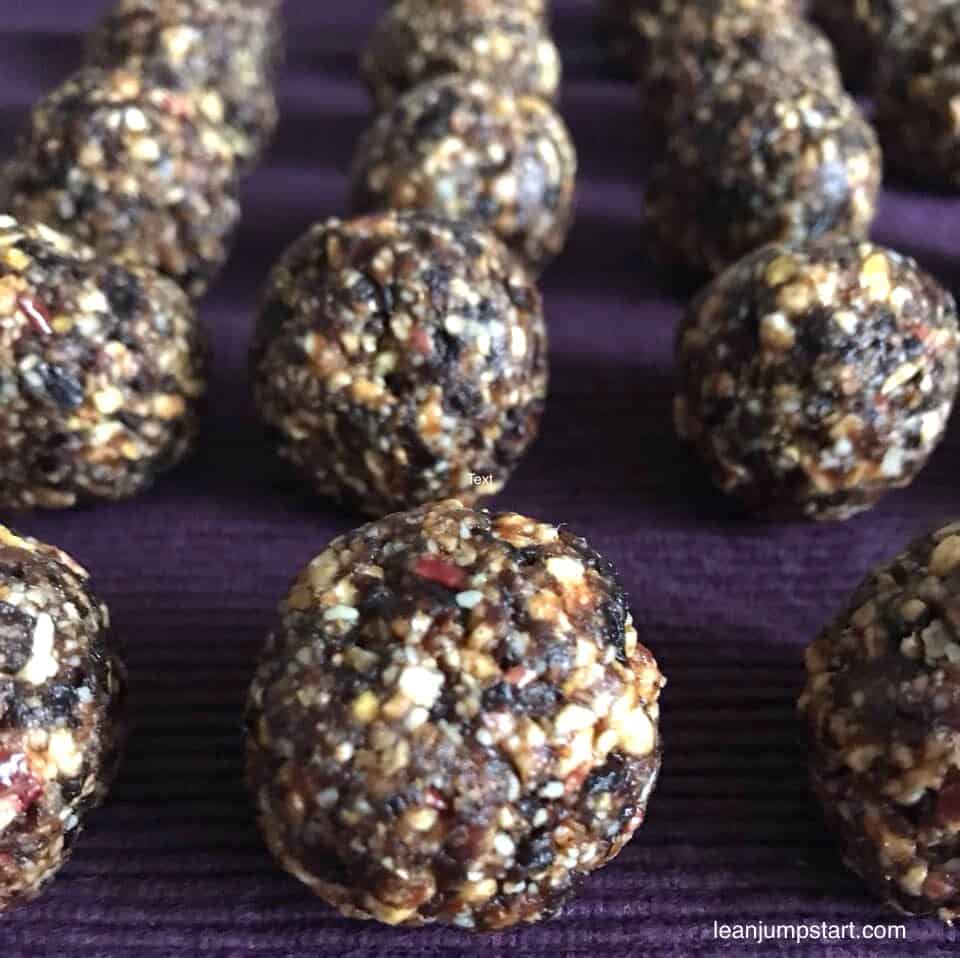 A delicious clean eating snack
Ingredients
200 gr. prunes
100 gr. dried apples
60 gr. almonds or almond flakes
1/2 teaspoon cinnamon
Instructions
Blend all ingredients together in a food processor until a sticky mix form.
Roll into balls.
You can eat them straight away.
Enjoy!
Notes
Tip: They're even tastier when they've set a little in the refrigerator, so try to give them around thirty minutes before snacking.
Leanjumpstart Clean Eating Habits https://leanjumpstart.com/
Energy balls freeze really well
I usually freeze a big bunch of them in an appropriate glass container. You can store them up to 3 months in your freezer and the best part of it – defrosting is super quick. I can eat them straight from the freezer, yes even in winter time;) In general they thaw at room temperature within 15 minutes.
Weight management with prunes
Dried plums (prunes) are an excellent source of dietary fiber which can help reduce high blood cholesterol and prevent constipation. For more fiber-rich foods check out my top 100 list of high fiber foods.
As prunes have such high nutritional values, you can snack just one piece and still gain significant nutrients. So if you are watching your weight I recommend a mindful snacking approach. But if you are planning a workout one hour later, then these energy balls are a powerful pre-workout snack.
Part of our travel survival pack
You can imagine that these energy bites with prunes are also a perfect snack on a long vacation or business trip to prevent the annoying and all-too-common travel constipation. Instead of regular prunes I'm now taking with us a bunch of energy balls with prunes on our 8 hour car ride to my dad. I highly encourage you to make those bliss balls part of your next travel survival pack.
More energy ball recipes to come
This was my first energy balls recipe for you. I'm so thrilled with this simple and quick clean eating snack that you can expect more energy ball recipes to come in 2018. You can look forward to bliss balls with dried apricots, cranberries, dates, peanut butter etc.
I'm wishing you much fun experimenting with this energy balls recipe and happy travels:)
OTHER ENERGY BALLS RECIPES YOU MIGHT ENJOY