What a satisfying taste revelation – so yummy!!!
These peanut butter protein balls with self made chocolate chips, rolled oats and crispy flax seeds are the hit. If you need an easy but delicious clean eating snack with success guarantee then you are at the right place.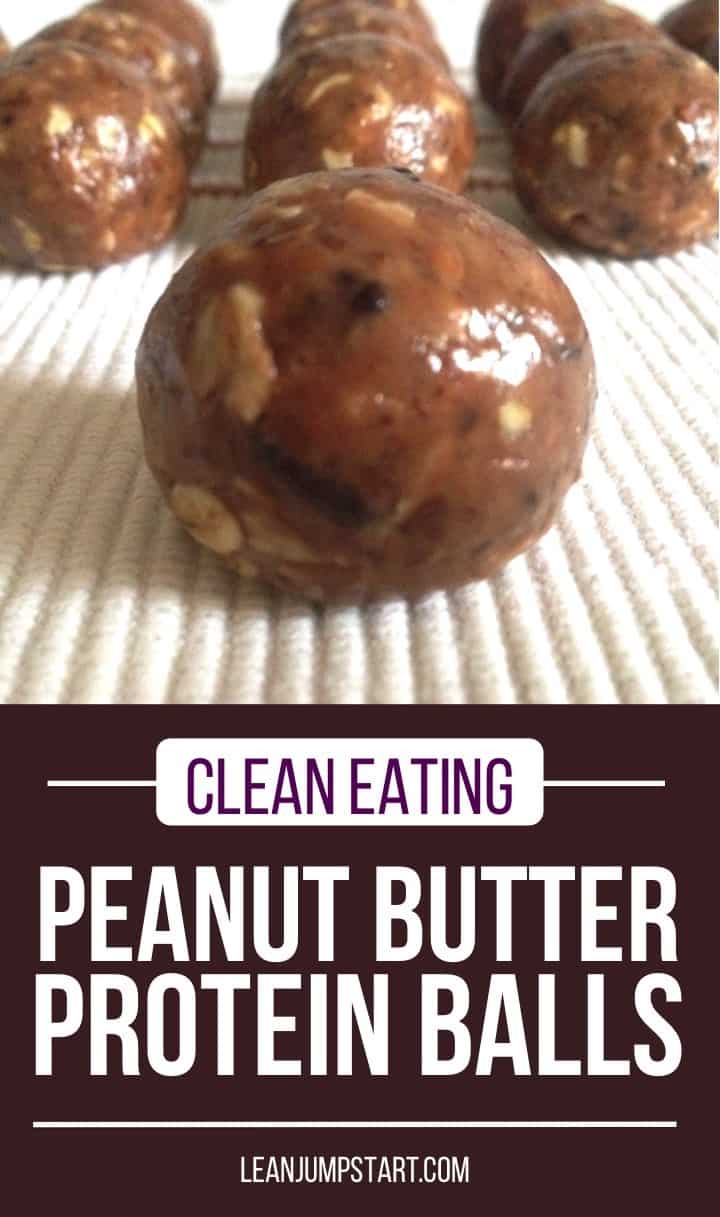 How do I know?
My husband has been again a great "guinea pig" for testing out these no bake balls. After I served him my first energy balls creation some weeks ago he was a bit reluctant to test my new ones.
See, the last energy bites – although they looked like chocolate balls – were mainly made of prunes and dried apples. You should have seen his "surprised" face, when he tried them…
My best healthy snack ever
This time however his picky and chocoholic palate was rewarded and I can pretty much guarantee that these peanut butter protein balls are delicious. My hubby goes even so far to say that they are the best "healthy snacks" I ever presented to him.
Do you remember the taste of the "Snickers" chocolate bars by the Mars family? These peanut butter balls come quite close to its taste and that might be also the reason why my hubby is so convinced.
From now on I have to always have them handy in my freezer.
Sneaky way to get your Omega 3 fatty acid & fiber
Another great thing about these oatmeal balls is that they consist of the healthiest ingredients. I love especially the fact that they contain line seeds also known as flax seeds. Line seeds contain over 50% of the omega 3 fatty acid (alpha-linolenic acid ) which in different studies has shown significant cardiovascular benefits.(1) Only chia and hemp seeds have more omega 3 in a vegetarian form.
If you are mainly eating plant foods then finding smart ways to add the line seeds to your meals can be a challenge. Yes, you can bake it in your whole grain bread or add it in your muesli but combining them in peanut butter protein balls is now my favorite way to consume the flax seeds. You bite on the tasty ball and experience a wonderful crunchiness due to the fiber-rich flax seeds.
Let's jump into the easy recipe!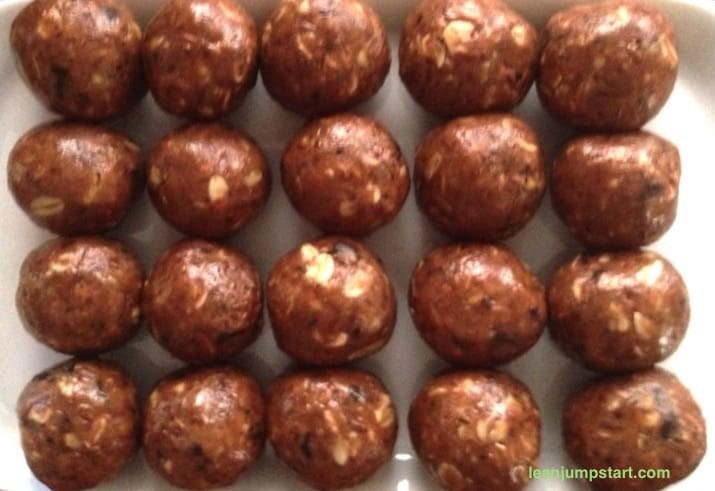 Peanut butter protein balls
2018-01-15 03:02:48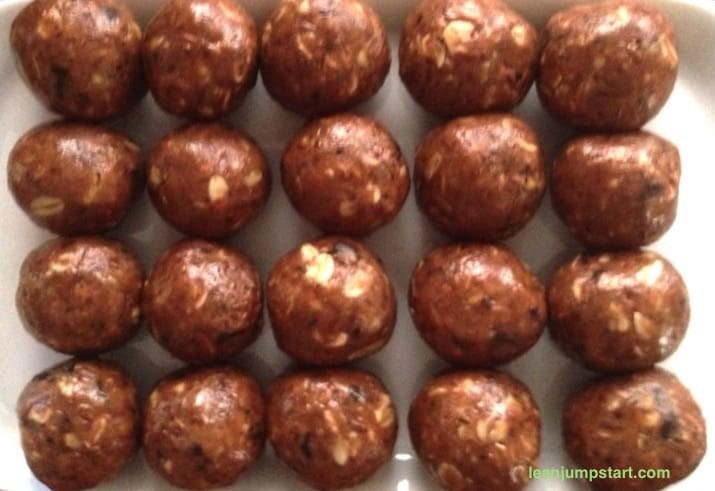 A delicious, clean eating snack
Ingredients
2/3 cup creamy 100% peanut butter (180 gr.)
1/2 cup very dark 80% chocolate chopped* (50 gr.)
1 cup rolled oats (100 gr.)
1/2 cup ground flax seeds (50 gr.)
1 tablespoon honey, coconut sugar or date sugar
Instructions
Combine all ingredients in a food processor until a sticky mix forms.
Place in fridge for 15-30 minutes.
Roll into small balls.
Store in the fridge for up to a week. Even better, freeze them. They taste excellent straight from the freezer - and they can be stored in your freezer for up to 3 months.
Notes
You can replace the flax seeds for chia seeds or shredded coconut.
Leanjumpstart Clean Eating Habits https://leanjumpstart.com/
Peanut butter protein balls & weight management
These high fiber energy balls are for sure the perfect snacks before or after an exhausting work out. But when it comes to weight management I highly recommend to indulge wisely.
I often use them as little dessert after a wholesome meal and one ball is usually enough with my espresso to be satisfied.
You know that peanut butter is very high in fat, so I don't have to point it out. Yes, it contains more unsaturated fat than saturated fat and on top of that also 30% protein and yet, to prevent weight gain you should watch your overall fat consumption.
So, if weight loss is an issue for you, I recommend to not eating more than 1 peanut butter protein ball per day.
Click here to check out my top 11 high fiber snacks.
*How to chop chocolate in a food processor
It is not always easy to find extra dark and clean eating chocolate chips without sugar and other additives. That's why I often chop chocolate in my food processor.
First I break the dark chocolate up into pieces and put it in my food processor (Thermomix). Then I process for at least 10 seconds on "speed 5" and ready are my chocolate chunks. I love the fact that not all chocolate chips have the same size. This gives you different taste experiences when you snack on the peanut butter protein balls.
For other food processors just pulse it on and off until you get the size you need.