Last Updated on November 4, 2020
Do you need a quick and healthy snack that tastes great? Don't look any further! These top 12 no-bake energy balls are clean, plant-based and still as yummy as truffles. Although they look seducing you won't experience the feeling of guilt after snacking them.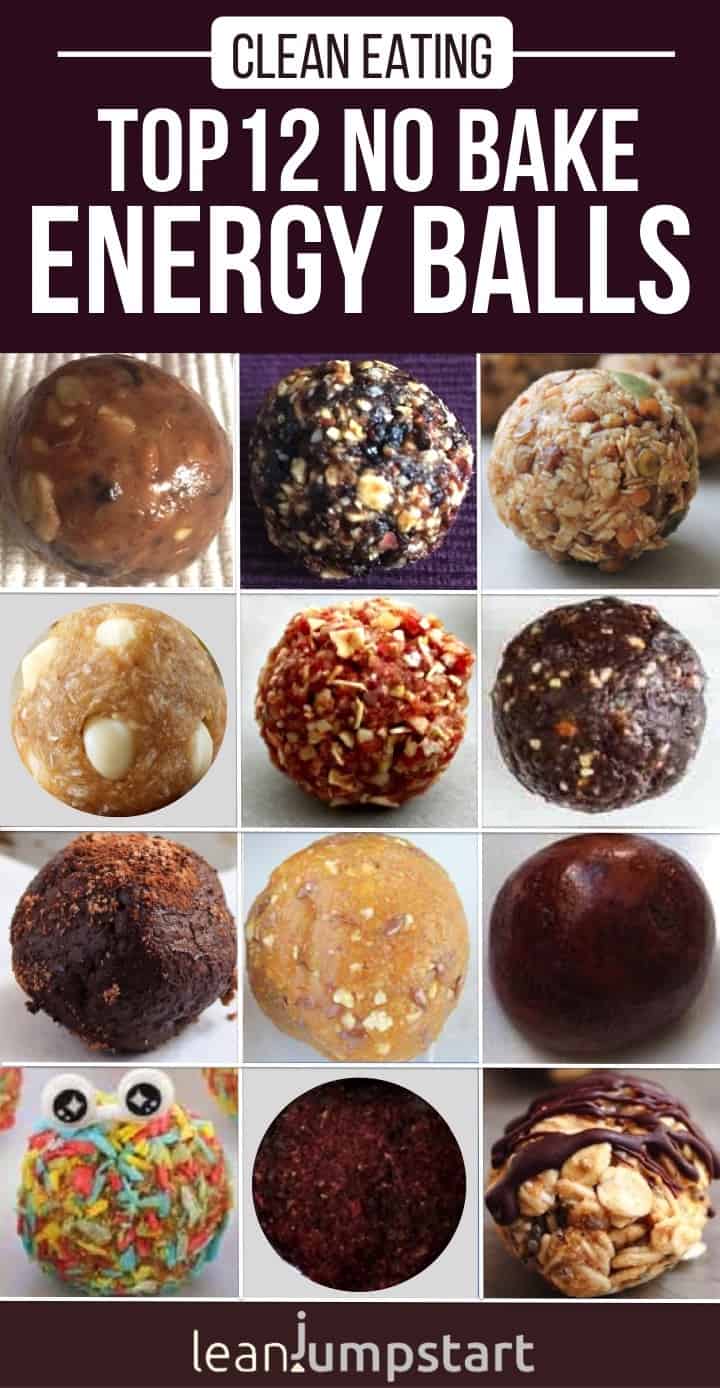 They provide you with wholesome and lasting power throughout the day. On top of that, these easy clean eating snacks make you fit and happy. At least me;)
Plan ahead!
Just plan a quarter of an hour (or 20 minutes for a huge bunch) on Sunday evening to make a bunch of bliss balls in your food processor ready for the week. Packed with proteins that are beneficial for the body, they are the perfect power snack for the afternoon or serve as little dessert treats. For some, they are even a nutrient-dense, quick breakfast option.
In this blog post, I've curated the most amazing clean eating energy balls on the web. Of course, I've included my own favorite recipe ideas too.
---
1. Peanut butter protein balls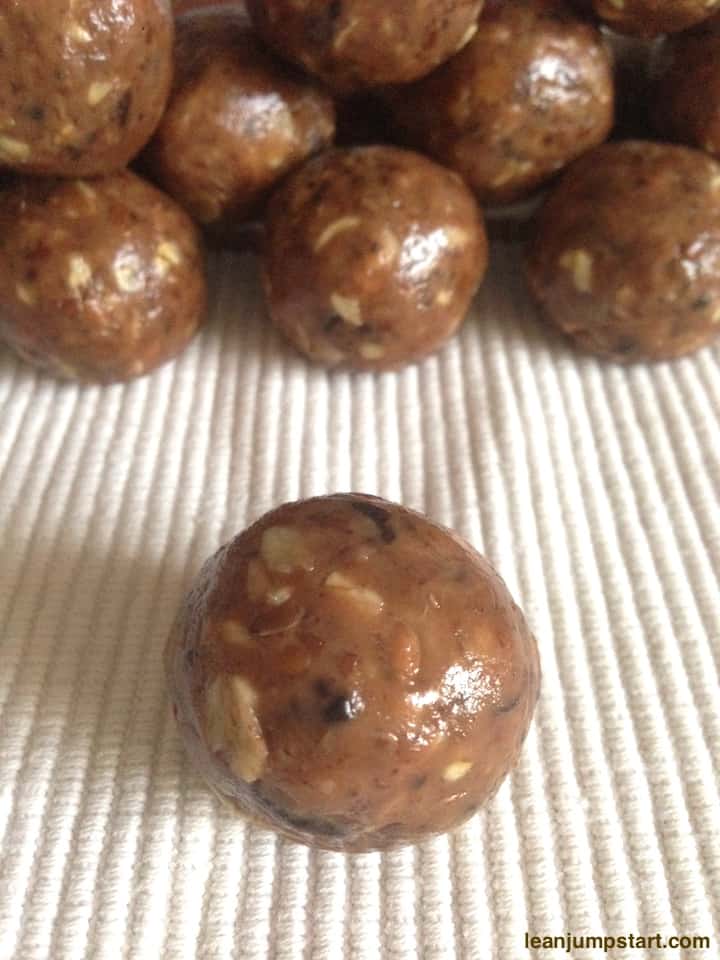 I'll start with my own protein balls creation. In fact, these were my first energy bites which got a raving review from my hubby. He says that they taste a bit like his beloved "Snickers". These treats offer probably the yummiest way to increase your flax seeds consumption. You can pop them in your mouth right from the freezer.
Detailed recipe: peanut butter protein balls
---
2. No bake energy balls with prunes and dried apples

Here is another recipe from me, the perfect clean eating snack for your travel survival pack. These bliss balls consist just of 4 ingredients with prunes playing the main role. Preventing the annoying and all-too-common travel constipation was never easier and more delicious. Wishing you a happy trip!
Detailed recipe: energy balls recipe with prunes
---
3. No cook apricot energy bites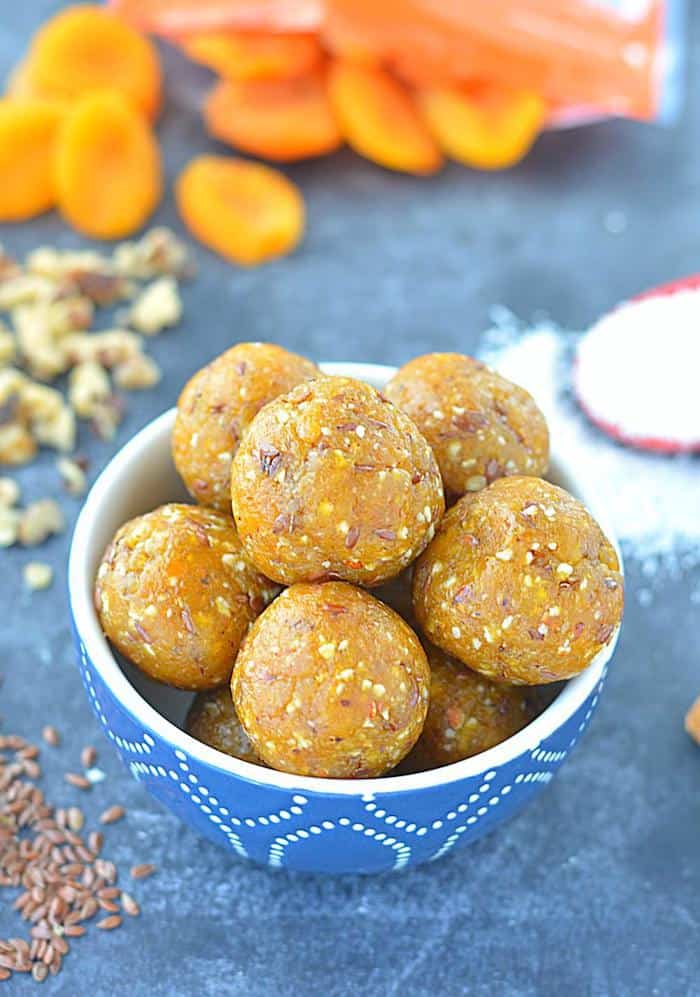 Ruchi created the perfect sugar-free snack made with dried apricots, raisins, ground flaxseed, healthy nuts, and desiccated coconut. I love how the apricots are dominating the color of the bites.
Credit and detailed recipe: ruchiskitchen.com
---
4. Lemon cashew bites (vegan and gluten-free)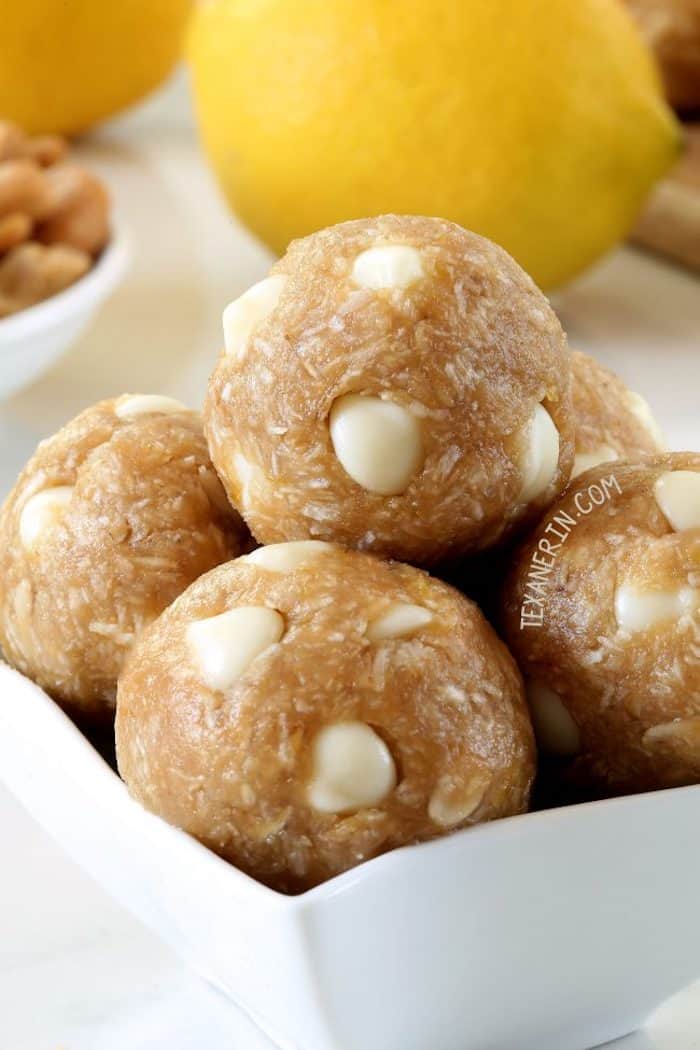 You'll find many energy bites recipes with oats, cashew butter and coconut flakes as a base, but this one comes with a special twist. To bring a bit tang to the flavor, Erin adds freshly squeezed lemon juice. What else? For an extra pinch of yum, she uses vegan, dairy-free white chocolate chips. If you want a 100% clean eating treat, just leave out the white chocolate chips.
Detailed recipe and credit: texanerin.com
---
5. Healthy homemade protein balls with strawberries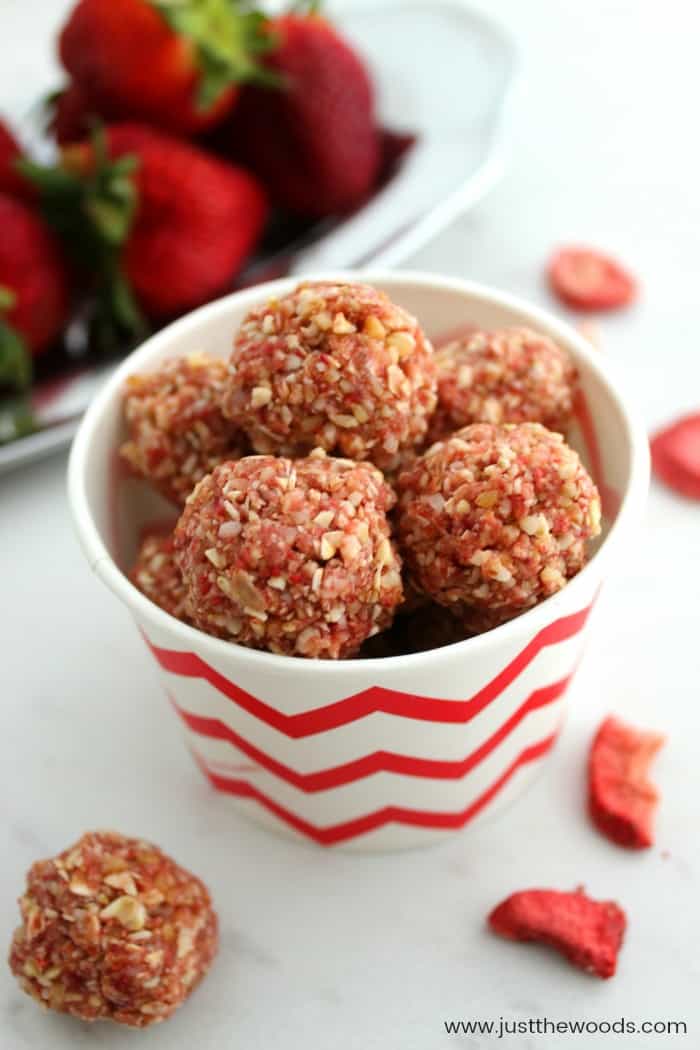 No need to wait for the next year's strawberry season as Kandice combines her protein balls with freeze-dried strawberries. Together with some nuts, rolled oats and vanilla extract she creates seducing bites that are hard to resist.
Detailed recipe and credit: justthewoods.com
---
6. Chocolate paleo energy balls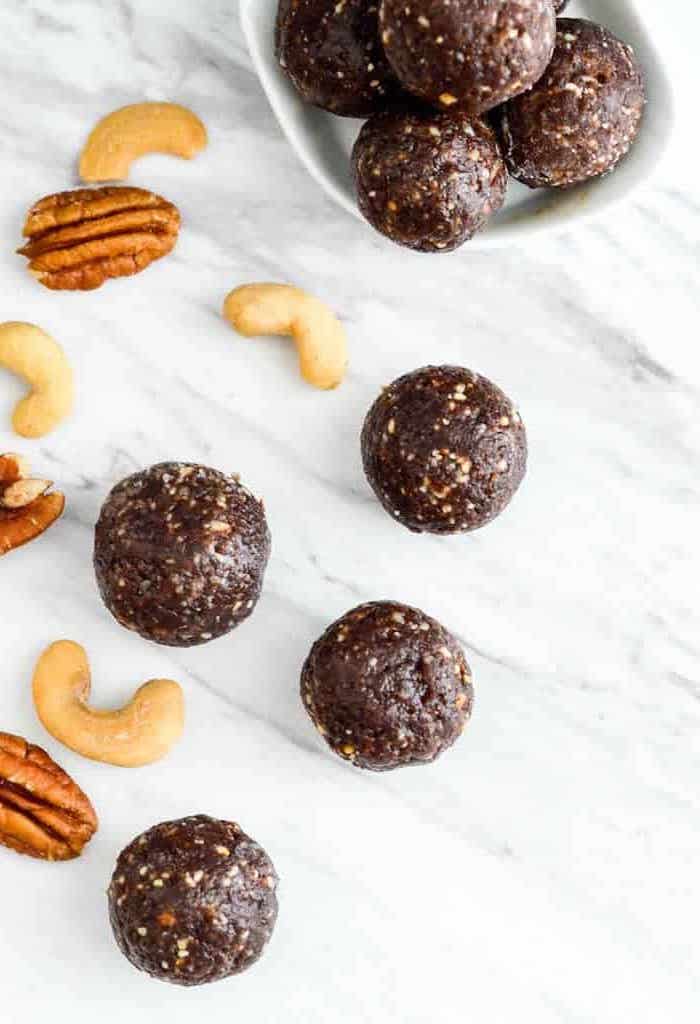 Finally a no-bake energy bites recipe for chocoholics. Full of wholesome, calorie dense ingredients I would consider Laura's truffles more as a dessert than a snack. The buttery/sweet combination of pecans and cashews together with maple syrup makes these chocolate balls taste like little treats of chocolate brownie heaven. If you indulge wisely with not more than one cookie per day you could maybe maintain your weight. Maybe…
Detailed recipe and credit: joyfoodsunshine.com
---
7. Healthy chocolate protein bites (vegan)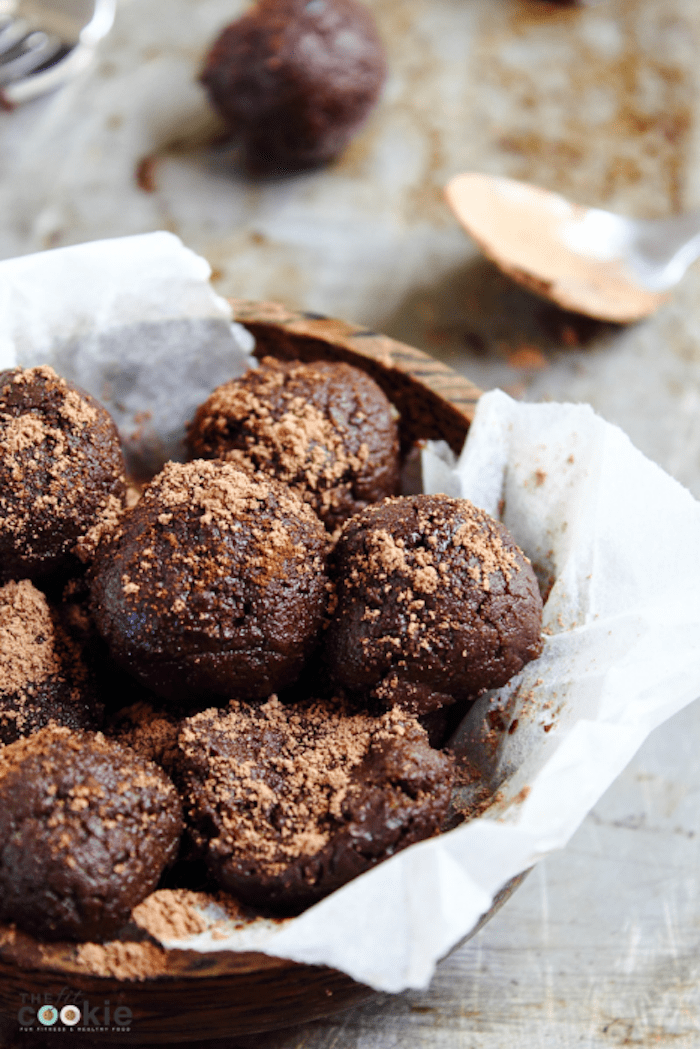 Wow, another chocolate truffle you should hide away from me. Sarah made them based on avocado, protein powder, and nut butter. They are full of healthy fats, fiber, and protein to give you energy and fill you up e.g. after an exhausting workout. Heads up: Make sure to use the cleanest protein powder you can find, we love those with organic pea protein.
Detailed recipe and credit: thefitcookie.com
---
8. Raw superfood energy balls with diatomaceous earth

Megan created an energy ball with 4 superfoods that are easy to digest, low-sugar, no nuts, and genuinely a super-food ball. If you love to experiment with some nutrient-dense and fancy ingredients like hibiscus, spirulina, bee pollen or diatomaceous earth, then this recipe is for you.
Detailed recipe and credit: eatbeautiful.net
---
9. Paleo power balls with almond butter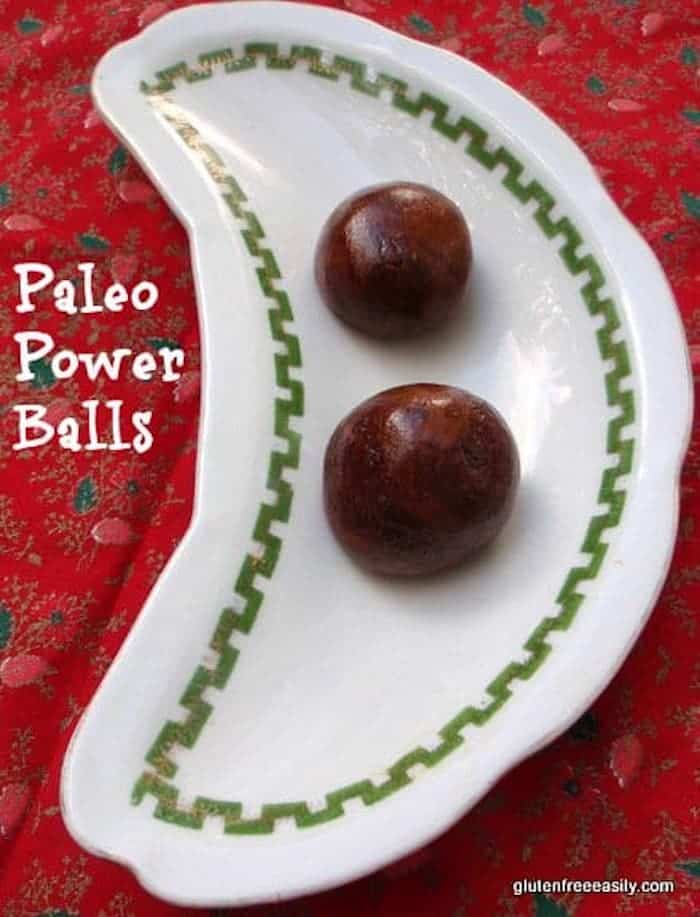 Shirley is educating folks on gluten issues and shows on her website how simple eating gluten-free can be. She proved it again with these seducing paleo power balls where she combined just 4 ingredients (almond butter, raw cacao powder, coconut flour, and coconut sugar) to a perfect sweet enough protein "power" treat.
Detailed recipe and credit: glutenfreeeasily.com
---
10. Salted caramel chia oat balls

Do you need to satisfy a sweet tooth craving? Then these salted caramel chia energy bites by Kristin can help out with their high content of fiber. They are all-natural (if you leave out the chocolate), gluten and dairy free snacks made with chia seeds and oats!
Detailed recipe and credit: thefitcookie.com
---
11. Fun and easy monster energy bites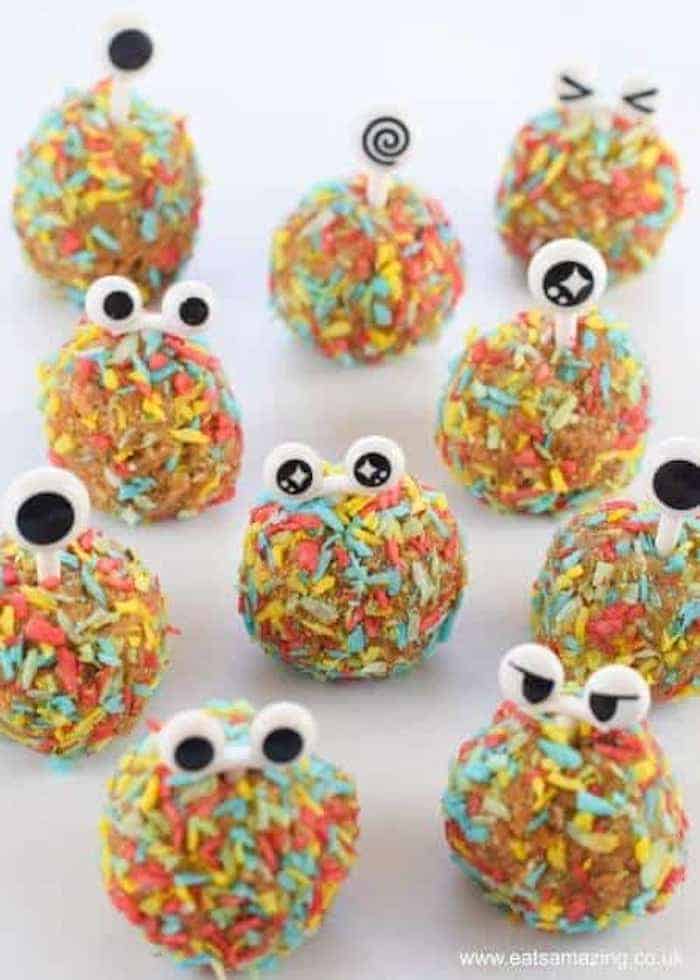 Feel inspired by Grace's creativity and turn your bliss balls into cute little monsters. They are dairy free, nut free, vegan and will be the hit on any kids birthday party or in a lunch box. The rainbow sprinkles can be easily made of desiccated coconut and natural food colorings. Click through to learn how.
Detailed recipe and credit: eatsamazing.co.uk
---
12. Crispy lentil energy bites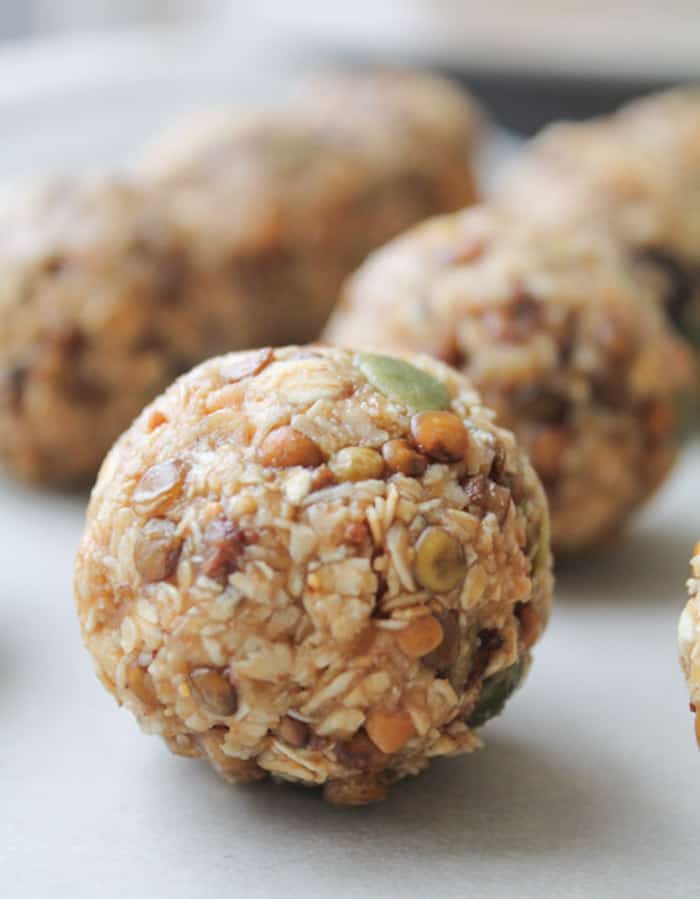 Are you looking for something very unique to up your energy balls game, then this recipe will elevate you to that next level. Sharon dared to experiment with legumes and incorporated green lentils into these gorgeous bites. As a huge lentil fan, I can't wait to try this extravagant recipe.
Detailed recipe and credit: thehonoursystem.com
---
Tips for storage
Ready in an instant, the energy balls stay in the fridge for a whole week. I store them in the freezer to prevent huge snack attacks as soon as I see them. That way I can store them up to 3 months although I doubt this will ever happen.