Last Updated on October 28, 2020
I'm sure you've already noticed that I love dips and spreads. Why else would I have created this refreshing mint pea dip and many other whole food plant strong recipes like the avocado cashew cream, spinach artichoke dip or lentil spread?!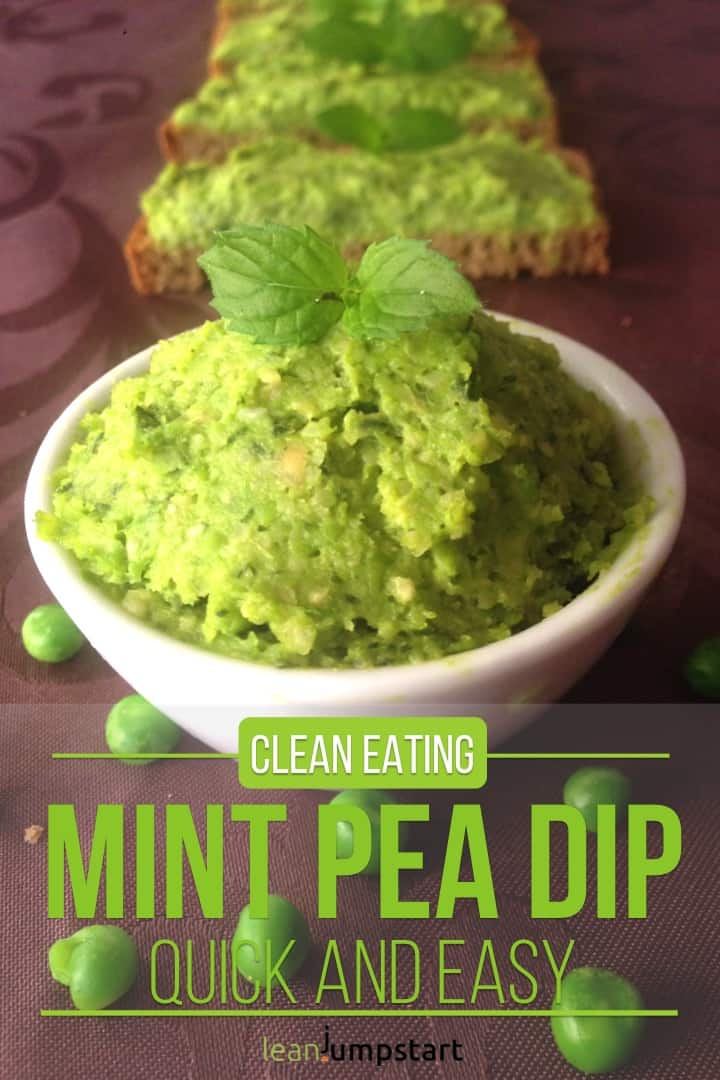 This green pea cream is not only appealing to the eye, but it is also very flexible to use! The clean eating recipe is so simple and easy to follow that you can keep some of it in the fridge at any time!
This vegan pea spread is perfect for ending up on a homemade bread or roll to make it even tastier and better…Mild and slightly sweet in taste I love it even for breakfast.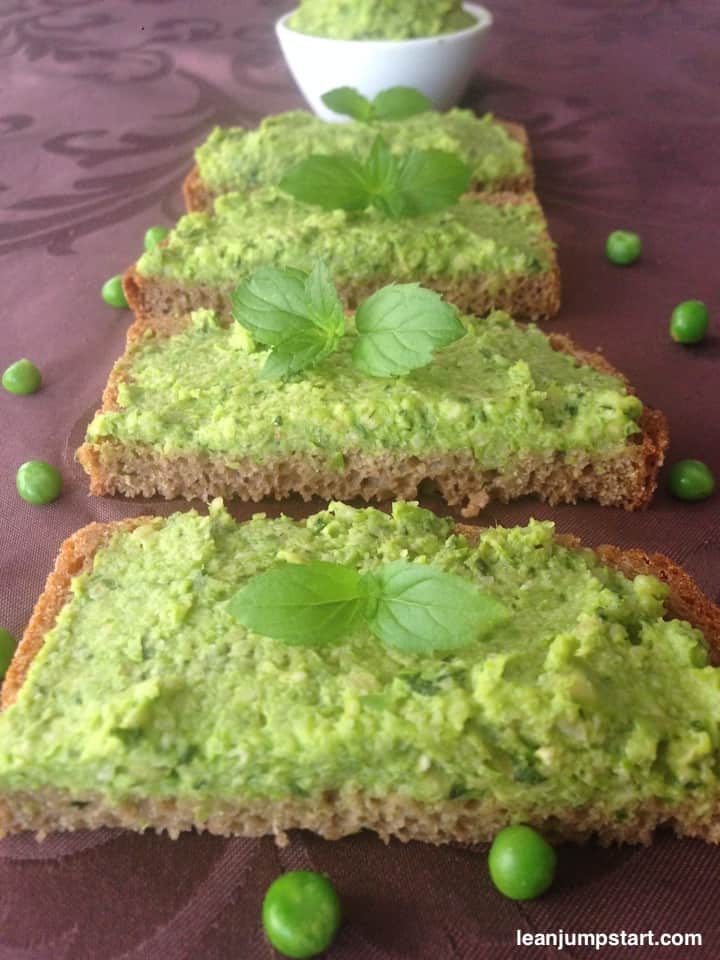 As eye catching vegetable dip it could also enrich any party table.
Green peas nutrition facts
I feel that green peas are a must in every freezer. As member of the legume family these tiny energy balls are not only protein rich but also high in vitamins and fiber.(1) Especially the beneficial fiber is something you won't get with animal based products.
To protect their valuable nutrients, peas are briefly blanched after harvest, i.e. heated in steam or simmering water, and then shock-frozen. This process is known to be quite vitamin-friendly.
You can imagine that green peas preparation options and recipes are endless. Make sure to read also my buying tips for frozen peas at the end of this blog post.
Canned peas on the other hand are boiled before filling, which is particularly detrimental to heat-sensitive ingredients such as vitamin C. Furthermore, often flavor, sugar and salt is added to canned peas.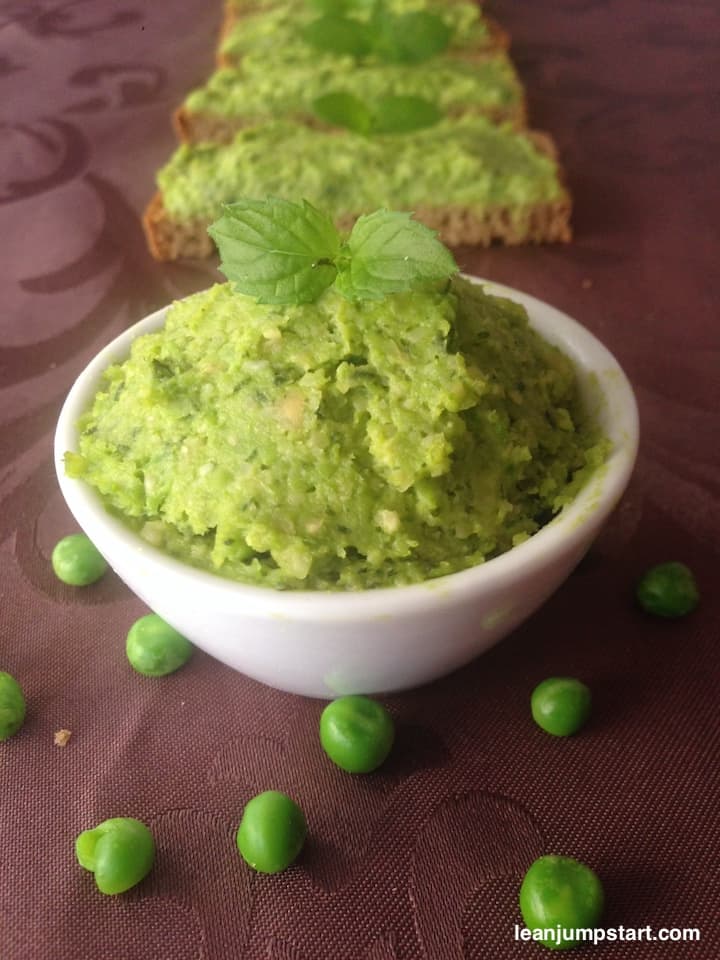 Mint pea dip: 4 ways to quickly thaw your frozen peas
The main ingredients for this mint pea recipe is…surprise, surprise…thawed frozen peas. For thawing you can leave out the frozen peas for 10 to 15 minutes at room temperature. There exist however at least four quicker ways for thawing frozen peas like a pro:
1) The easy colander method
Take them out of the freezer and put them in a colander or sieve. Now let them run under some cold water, which will thaw the peas in no time.
2) The convenience of a microwave
To microwave 300 grams (11 oz.) of frozen peas, you can follow these steps:
Place frozen peas in a microwave safe plate
Ad 2 tablespoons of water
Cook on full power for 5 minutes (750W).
3) Steaming to keep maximum nutrients

Fill your pan or pot with 5-7 cm of water and let it come to a boil.
Now place a steaming basket over the water. (It should not touch the water)
Add the frozen veggies and cover the pan with a lid.
Your peas will be cooked and ready to use for the mint dip after 2-3 minutes. (not more!)
4) Blanching to enhance sweetness
Bring a pot of water to a boil and add peas.
Cook for 2-3 minutes maximum to keep vegetables bright green and tender.
Plunge them into very cold water or an ice bath to halt the cooking process.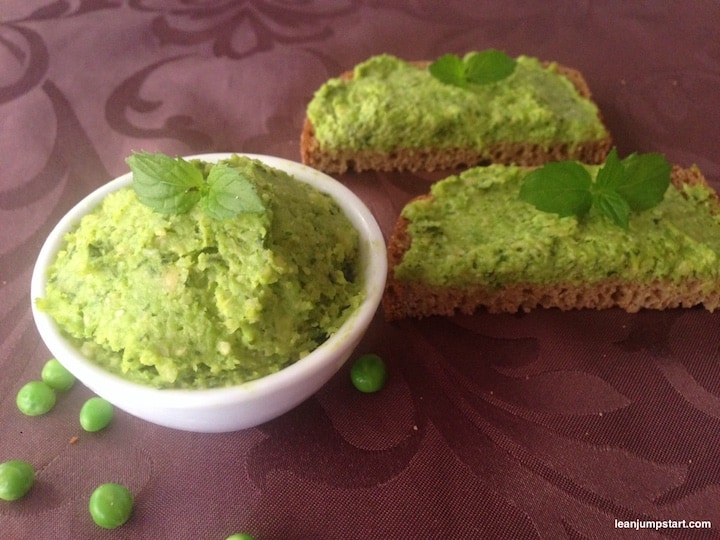 Print
Mint pea dip
a delicious vegan spread or dip
Author: Gabi Rupp
Prep Time:

5

Cook Time:

5

Total Time:

10

Yield:

4

1

x
2 cups/300 grams (11 oz.) of frozen peas (thawed)
1/2 cup mint leaves
juice of 1 lime
1 cup of cashews
1/2 tsp salt
some mint leaves as garnish (optional)
Instructions
In a blender or the bowl of a food processor, combine the thawed green peas, mint leaves, lime juice, cashews and salt.
Process until smooth puree is formed, scraping down sides as necessary, about 30 seconds total.
Transfer to a serving bowl and garnish with mint leaves.
Notes
If you use it as spread garnish it with some thinly sliced radishes for a festive little bite.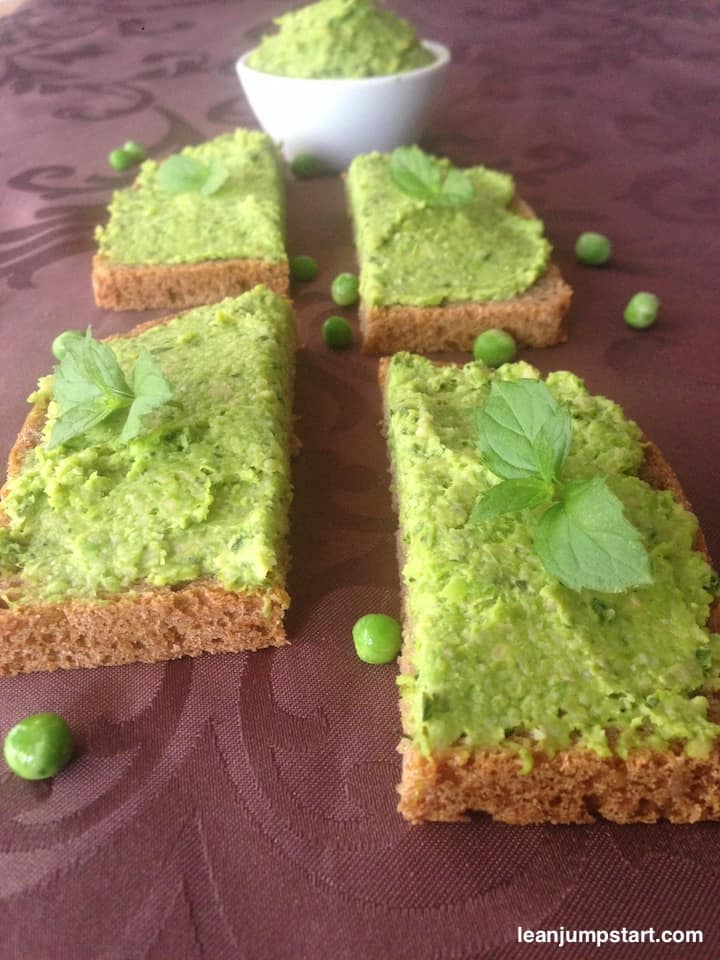 Pesto variation tip
You can easily turn this minted pea puree into a flavorful mint pea pesto and combine it with your favorite whole grain pasta. Just add 2-3 tablespoons of olive oil to it and season to taste. Voilà!
More frozen peas recipe ideas
Buying tips for frozen peas
Hopefully this mint pea dip could convince you to make your own creation of mint mushy peas.
When buying frozen peas, make sure that the ingredients are not lumped together or that there is no 'snow' in the bag. This indicates that the cooling chain has been interrupted. As a result, peas can lose many important vitamins. It is also crucial not to interrupt the cooling chain for too long from purchase to storage in your freezer.
By the way, I buy my frozen peas at Aldi and never go shopping without my convenient insulated freezer shopping bag.