Publishing the recipe for this clean eating split pea soup was on my to-do list for quite a while. It is a simple and lean legume soup which I love to serve weekdays just with slices of (homemade) whole grain bread. Isn't this lime green color of the soup below just gorgeous?
Of course you'll also learn why split peas are healthy for us at the end of this blog post.
By the way, are you curious to know what we got last Christmas from our teenage daughter? Maybe you wonder what this has to do with the split pea soup?
Wait a minute, I'll tell you soon.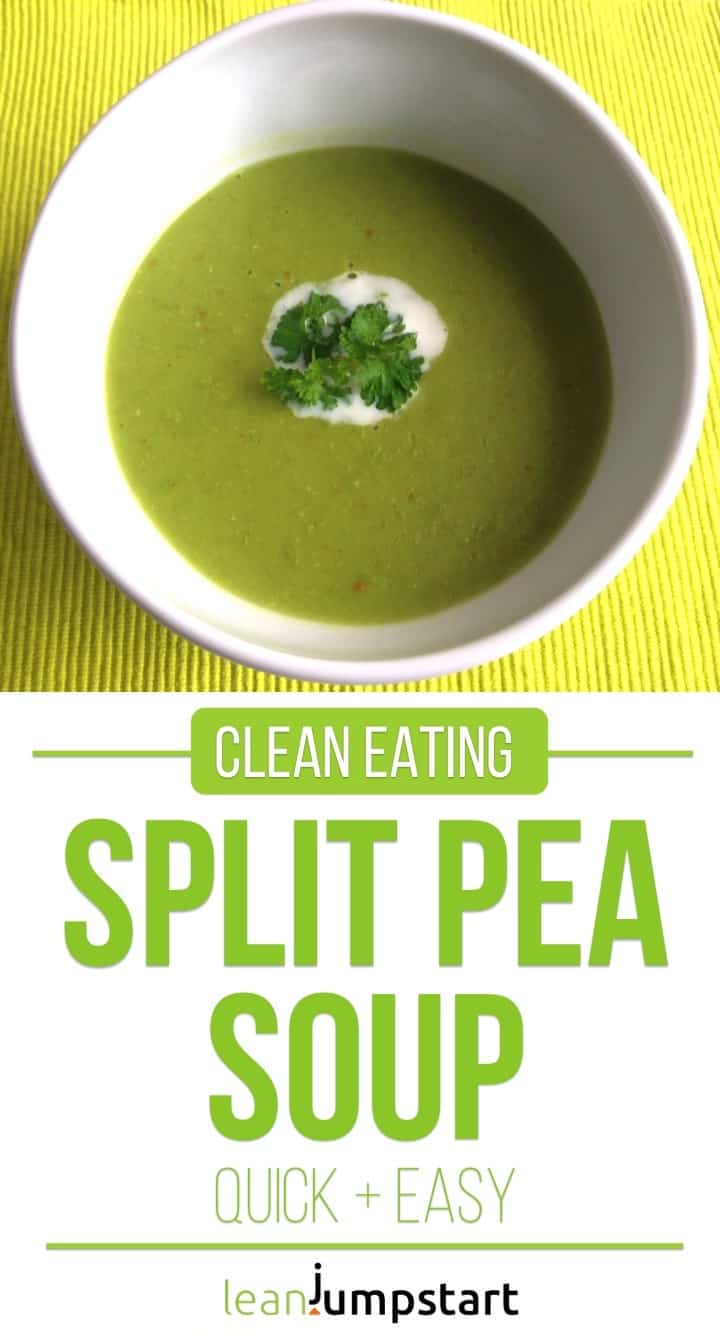 Clean eating split pea soup – made with staples
Ok, but first let's jump right into my best split pea soup recipe. The great thing about this clean eating meal is that all of the ingredients are staples which I have usually at hand:
frozen split peas or green peas in my freezer from Aldi
organic potatoes from my mother in law
my pantry is always full stocked with onions
home made vegetable stock concentrate for the broth in my fridge
cream in my fridge (this could be soy, half-and-half or sour cream)
spices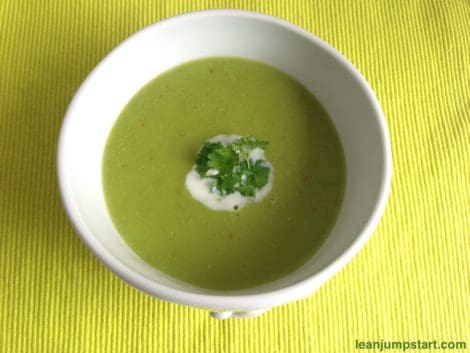 Split pea soup recipe
2018-01-24 03:40:44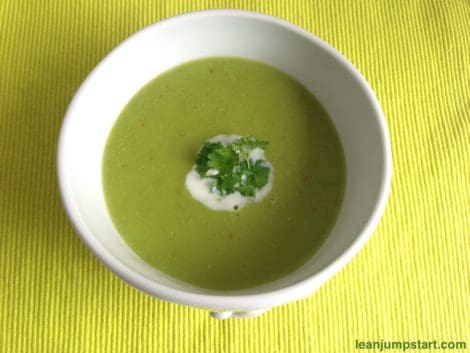 A flavorful and simple legume soup
Ingredients
3 medium potatoes in cubes
1 onion in cubes
300 gr. frozen split peas or green peas
1 teaspoon Turmeric
1/4 Teaspoon salt
1/4 Teaspoon pepper
100 gr. (soy) cream or 2 tbsp ground cashews
750 ml vegetable broth
some parsley for garnish
Instructions
Put potatoes, onions and peas with the vegetable broth in a pot or Thermomix.
Bring it to a boil and let it simmer for 25 minutes (for Thermomix use Varoma speed 1, 30 minutes)
Add (soy) cream or ground cashews, turmeric, salt and pepper.
Puree in your food processor or with your blender until you get a smooth soup consistency.
Garnish with some cream (optional) and parsley.
Enjoy!
Notes
Serve it with whole grain bread.
Leanjumpstart Clean Eating Habits https://leanjumpstart.com/
Health benefits of split peas
Ok, why are split peas healthy? These little peas offer levels of protein, zinc, iron, and phosphorus. A nutrition rich in legumes like e.g. split peas may help lower hypertension, cholesterol, and may also provide significant anti-inflammatory effects.
This little green power balls contain magnesium, which may affect some inflammatory and metabolic disorders in a positive way, including heart disease and diabetes.
Cute (valentine) gift idea for soup or muesli lovers
Time to show you what we got last Christmas from our daughter. She knows that we both love eating soups and muesli. So she surprised us with these cute muesli bowls from fiftyeight that are large enough to be used as soup bowls. See below.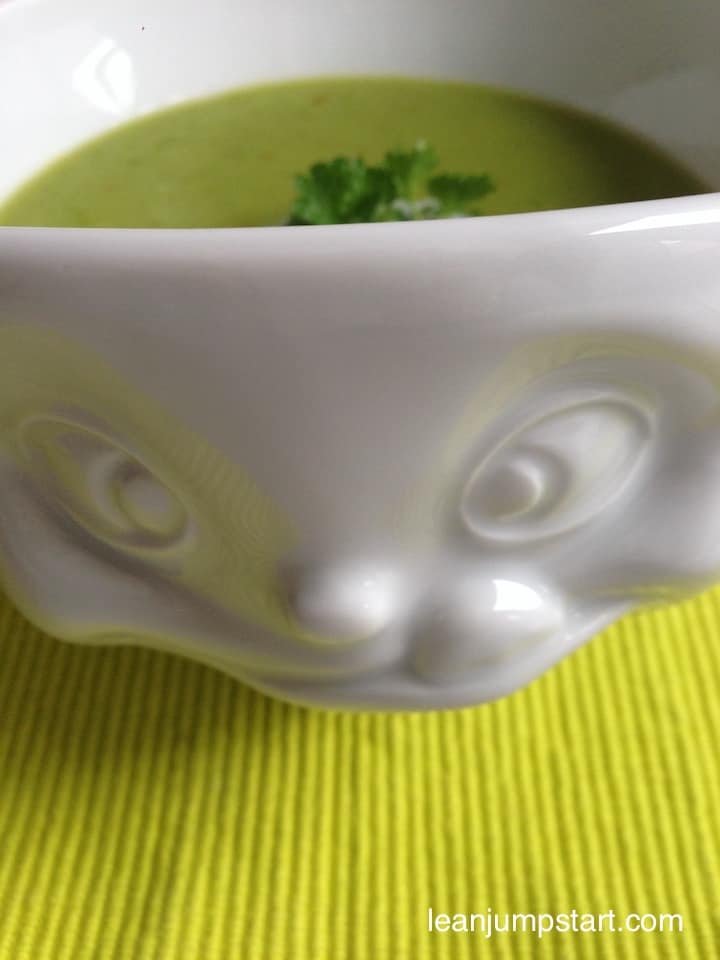 But these are not just plain white bowls. Just look again, they come all with cute faces at the front that are grinning, kissing or smiling.
I was admiring the "Fiftyeight" porcelain collection for many years. The German company is offering many different porcelain items (like cups, mugs, eggcups or vases) in high quality with these cute faces. So far I was just too much of a minimalist to buy it for us. But hey, when we get them as gift, then of course we won't say no;)
So with Valentines around the corner you might want to consider such a cute gift too for your loved one, maybe filled with some clean eating goodies?
Great news, you can purchase these bowls and other items from "Fiftyeight" directly on Amazon.com.
Click here to learn more (Affiliate Link!)
Calories in split pea soup
For me calories don't play a role with my clean eating nutrition. More important to me is that my food is mostly whole-food-plant-based, filling, nutrient rich and of course clean. When all these attributes come together I know that I've done the best I can for a healthy nutrition and I can't go overboard calorie-wise.
And yet for some people calories in this clean eating split pea soup might be interesting to know. So here they are. As reference I used a half and half cream version. If you use full fat cream the calories will go up accordingly.