Last Updated on June 18, 2020
Finally, I've made my very first homemade vegetable stock concentrate. As easy as this clean eating recipe is, I can't believe that it took me decades to try it on my own. Now I can't wait to teach you how to do it.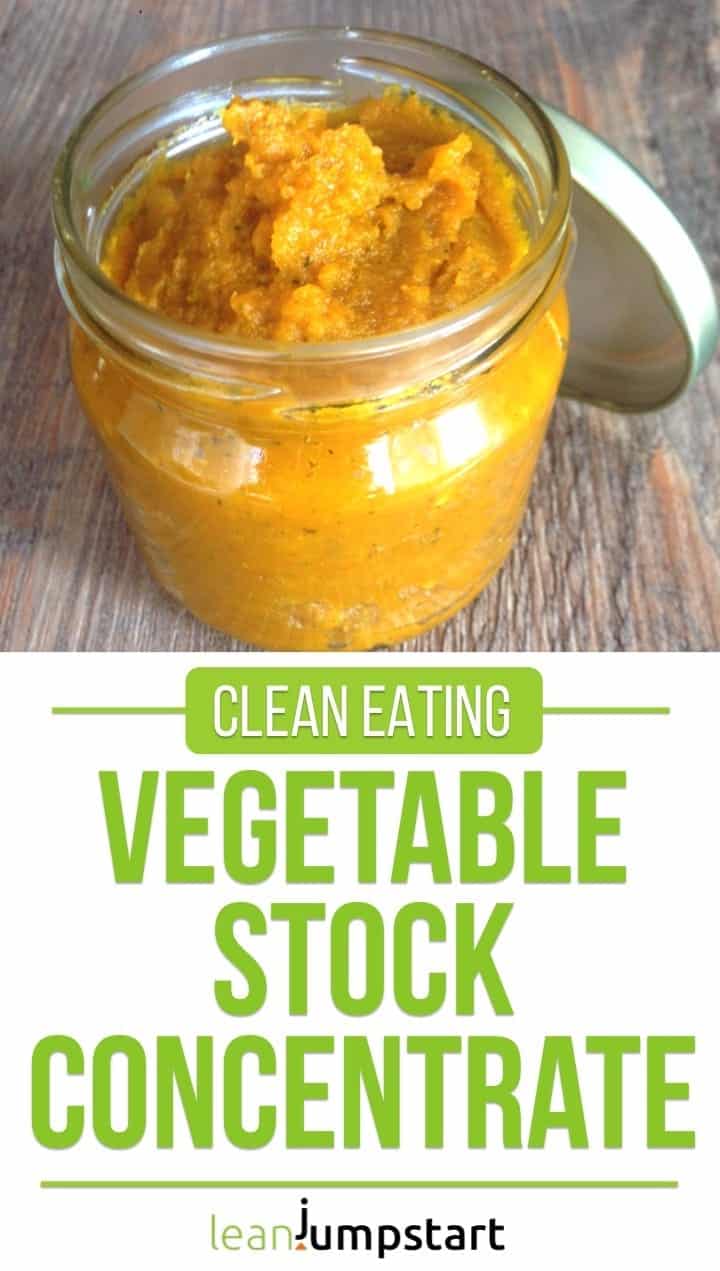 You might be wondering why on earth you should make your own stock concentrate with all the vegetable bouillon cubes and powders available?
I hear you.
Now: Vegetable broth cubes or powders are probably present in any kitchen as they are practical and convenient. They have a long tradition. I remember my mother already used Knorr and Maggi bouillon cubes when I was a kinder garden child. You can use it for soups, stews, sauces, stir-frys etc. The sky is the limit.
It is, however, no secret that the store-bought cubes contain only a fraction of vegetables but instead a high amount of sugar and flavor enhancer like monosodium glutamate (MSG).
It gets even worse.
In some instant stock cubes from the supermarket, the vegetable content is below 1%!
Organic stock cubes – a weak compromise
Maybe you are like me and you sometimes use organic vegetable broth cubes. Yes, these contain usually more vegetables and less critical additives, and yet they also include certain types of sugar and yeast extract (monosodium glutamate in disguise).
With an 80/20 approach to clean eating the store-bought organic vegetable stock cubes built for me a weak compromise for the longest time. I was always aware that they were not clean. But hey, as I've never aimed for a 100% clean eating kitchen, luckily the 20% gives me room for less clean exceptions.
I tried to stop using store bought broth cubes altogether, but…
I remember a time when my aversion to food with added monosodium glutamate was at its peak. Many years ago I learned that "yeast extract" on food labels is used by the food industry to disguise the presence of monosodium glutamate (MSG).
Although most mainstream sources (like the FDA) assure that MSG is safe, health communities claim that it can cause asthma, headaches, and even brain damage. MSG is generally found in low-quality, processed foods.
Other food additives that always contain MSG are:
Hydrolyzed Vegetable Protein
Hydrolyzed Plant Protein
Plant Protein Extract
Calcium Caseinate
Sodium Caseinate
Hydrolized Oat Flour
Corn Oil
This is just the tip of the iceberg and there are many more food additives that contain MSG. Shocked by this finding and misleading labeling of the food industry I stopped to use store-bought broth cubes and base altogether. This was more than 20 years ago – even before I started my clean eating journey.
But here is the kicker.
When my daughter was born and I had my own little family, I started to cook many meals from scratch and banned most processed foods from my kitchen. I got better and better with clean eating, my self-confidence grew and the helpless and shocking feeling over the food industry fainted.
This kind of self-confidence combined with a portion of thoughtlessness was the main reason that store-bought vegetable stock cubes slowly found their way back into my kitchen drawer.
Also, they take so little space and look less intimidating than a bag of potato chips.
On top of that these broth cubes help to save tremendous time in the kitchen and enhance the flavor of many meals. Don't get me wrong – I usually season with herbs, spices, salt, and pepper. But as mentioned, there are exceptions…
So for me, as a fan of the clean eating kitchen, making my own vegetable paste was more than overdue.
Here I am today and it makes me even a little proud to present to you my simple recipe for a vegan vegetable stock concentrate.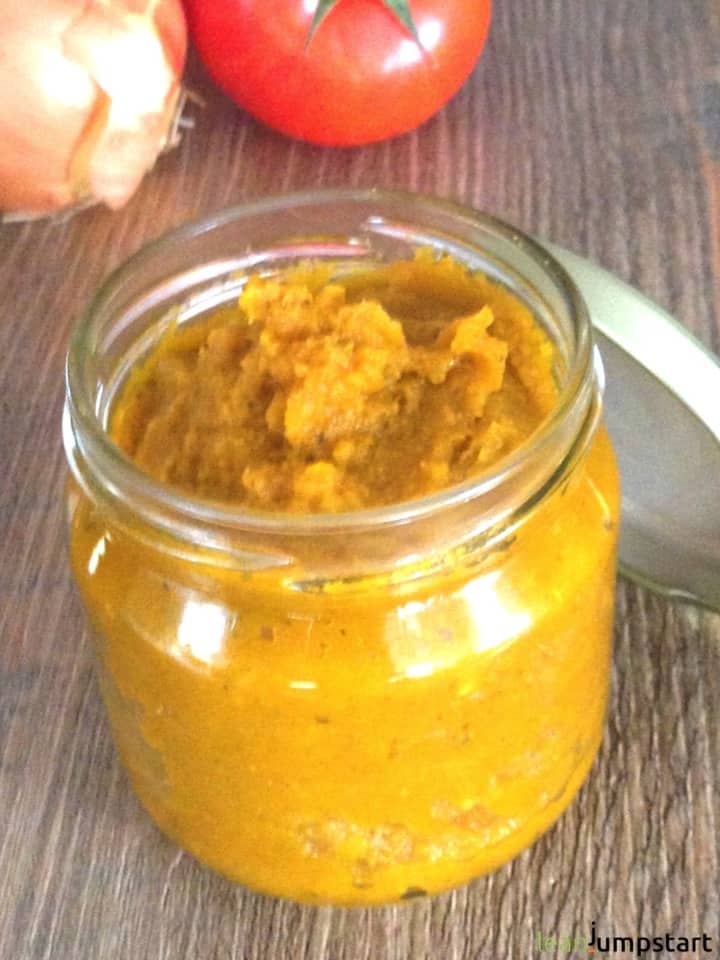 How to make concentrated broth
Making your own concentrate sounds complicated but in reality, it is pretty simple. Big advantage: You process fresh vegetables and herbs. The addition of salt makes the instant broth spicy and durable at the same time.
Theoretically, you can make your own instant vegetable broth powder. This means however that you have to dry your vegetable mix in the baking oven for a long time. I think this is crazy.
To save your time and on your electricity bill, there is a better method. I recommend making instead a vegetable stock paste that lasts long and is as flexible as an instant powder.
Recipe ingredients
The ingredients for this homemade vegetable stock paste you can vary according to your taste. Just experiment a bit to get your favorite version.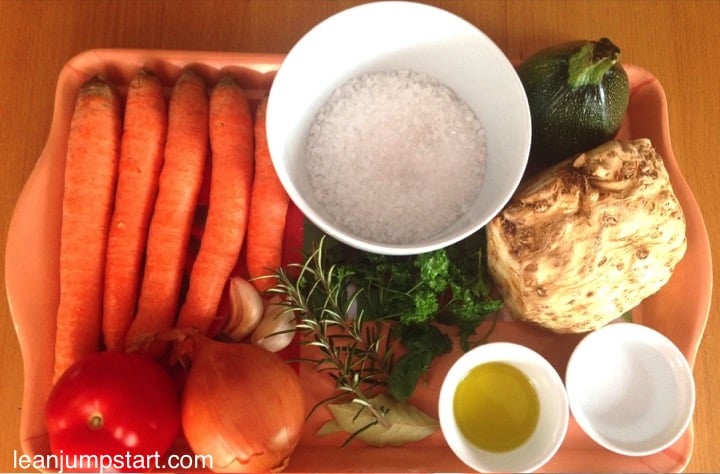 But attention!
If you use less salt, the shelf life of the soup stock paste will reduce, as this is what preserves the ingredients. Besides of the ingredients you only need a food processor or a blender and clean jars.
How to use it
You can use your self-made paste in the same way you would use vegetable stock powder. It lasts several months in your fridge.
Print
Clean Eating Vegetable Stock Concentrate
A better alternative to store-bought stock cubes
Author: Gabi Rupp
Prep Time:

10

Cook Time:

40

Total Time:

50

Yield:

8

0

1

x
Category:

Seasoning

Method:

boiling

Cuisine:

German

Diet:

Vegan
200 grams

celeriac (celery root), roughly chopped

5

medium carrots, roughly chopped

1

medium tomato in halves

200 grams

zucchini, roughly chopped

1

brown onion, peeled and halved

2

garlic cloves, roughly chopped

6

sprigs of fresh herbs (parsley, rosemary etc.)

1

bay leaf

30 grams

water

120 grams

sea salt

1 tablespoon

extra virgin olive oil
Instructions
Place all the vegetables and herbs into a mixing bowl and chop until you get a fine puree.
Add salt, oil, and water and mix again.
Transfer to a large pan.
Cook over very low heat for 40 minutes, uncovered until the liquid evaporates.
Stir frequently to avoid the bottom catching and burning.
Let it cool down.
Transfer mixture into jars or containers and close firmly.
Notes
To use: For a vegetable broth you use one teaspoon vegetable stock paste
(= 1 cube) per 1/2 liter of water.
Keywords: vegetable stock paste, veggie broth
Great Gift Idea
By the way, the homemade vegetable stock concentrate is also a great little gift idea.
How to ban even more processed foods from your kitchen
Are you new to clean eating or maybe you are here because you want to simplify clean eating? If you are busy and you don't have much time to spend in your kitchen then you will love my 52 Chef Habits Course teaching you step by step how to easily create healthy habits. Click here to learn more!