Since I learned from a renowned physician that red cabbage is the number 1 bargain antioxidant vegetable, a red cabbage stir fry was overdue.
So here comes my first "warm" clean eating recipe with this purple cruciferous vegetable playing the main role. I'm sure you'll love the fact that this slim dish can be ready within 20 minutes – if you have cooked brown rice at hand. And if not, I'll give you a tip below how to speed up cooking time. Read on!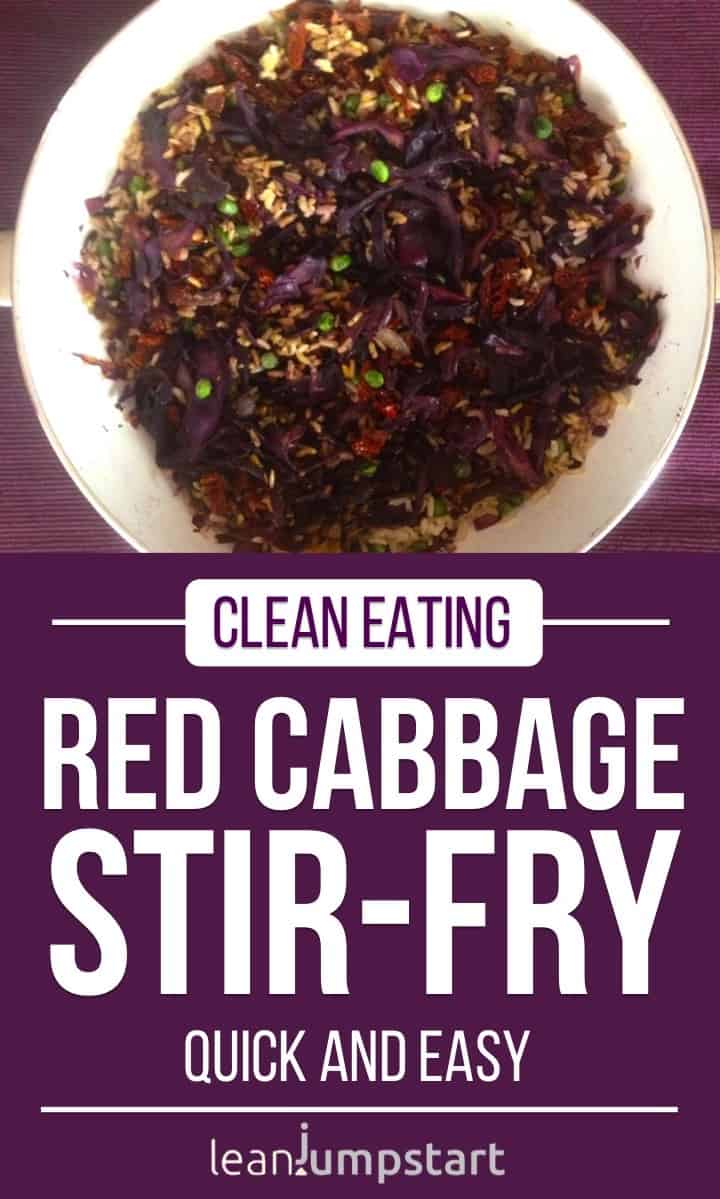 Time saving tip: replace brown rice with bulgur
If you don't have cooked brown rice at hand, you could easily use bulgur instead which can be cooked in a breeze. Just cover it with boiled salted water and let it sit for 20 minutes. Don't tell me now that this important whole grain is missing in your pantry?!
This coarse wheat meal is full of dietary fibres, which make you longer satiated and thus helps with your weight management. Other substances in bulgur calm the nerves and regulate blood sugar levels.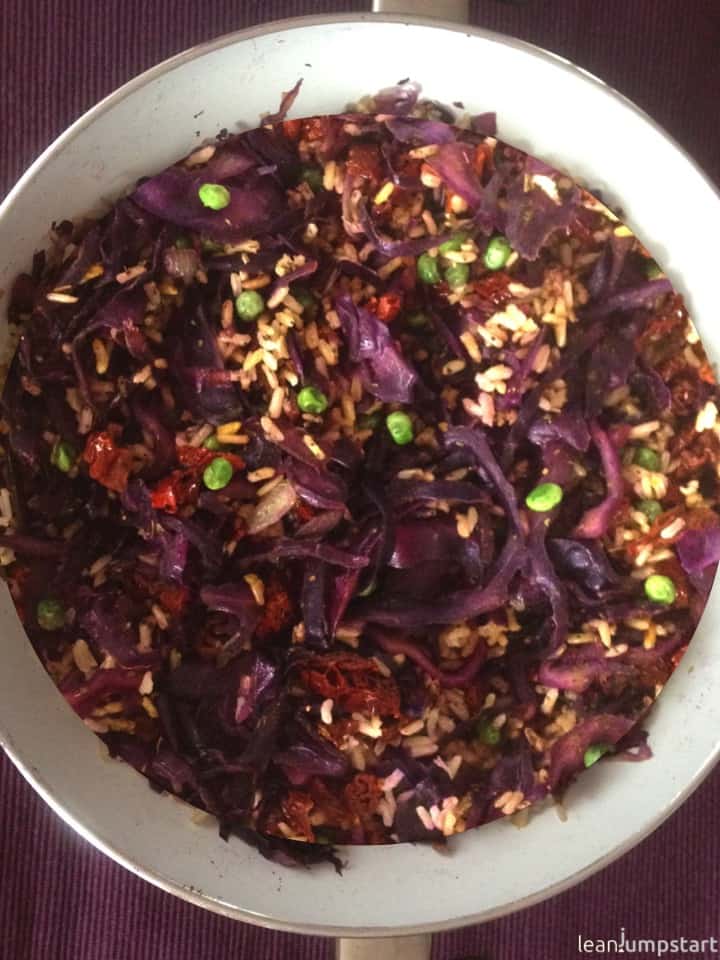 Red cabbage stir fry: why you'll need sun-dried tomatoes
Ok, back to the red cabbage stir-fry. As you can see it is an easy and colorful one-pan meal. While I'm jotting down this blog post I realize that there might be another ingredient not all of you have at hand: dried tomatoes.
While you can skip maybe the frozen split peas, it's the dry tomatoes that give this flavorful dish the ultimate kick. By the way, did you know that dried tomatoes are high in fiber, antioxidants and proteins?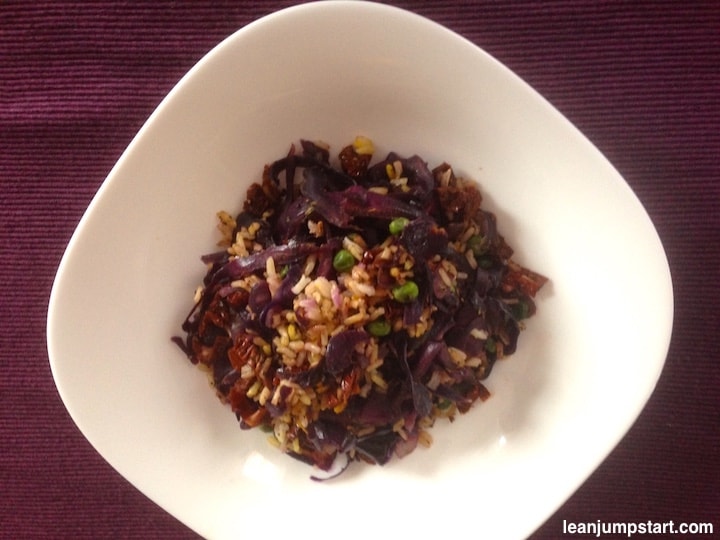 They are available either in jars with oil, but even better if you can get oil-free sun-dried tomatoes in resealable bags to keep this low fat recipe as light as possible. I don't know about the US, but imagine, here in Germany I can purchase little bags with oil-free sun dried tomatoes even at Aldi!
Heads up regarding seasoning. Sun-dried tomatoes are usually salty, so you often won't need any additional seasoning when this fiber-rich dish is ready. Don't tell me that I didn't warn you, especially if weight loss is important to you.
Print
Red cabbage stir fry recipe

Author:
Prep Time:

10

Cook Time:

10

Total Time:

20
Ingredients
250 grams brown rice, cooked
250 grams red cabbage, thinly grated
100 grams frozen split peas (optional)
2 white onions, dices
2 garlic cloves, minced
100 grams dried tomatoes, thinly sliced
1 tablespoon olive oil
1/2 teaspoon turmeric
1 teaspoon dried oregano
1 tablespoon hacked fresh basil, or dried basil
salt and pepper to taste (optional)
Instructions
Heat olive oil in a frying pan and sauté onions for 1 minute.
Add red cabbage and frozen split peas and fry for 5 minutes. Add garlic and turmeric and fry for another 1 minute.
Add cooked rice, stir fry for 3 minutes.
Then add dried tomatoes, oregano and chopped basil.
Season slightly with salt and pepper. (optional)
Notes
Tip: Don't go overboard with the salt as the dried tomatoes are usually salty.
More red cabbage recipes
If you love red cabbage but you don't know what else to do with it, you've come to the right place. Some time ago I've posted a vitamin-rich recipe about a juicy purple cabbage salad with apples and carrots.
I'm sure you'll enjoy it too. In this blog post I've also put together the top health benefits of this cruciferous vegetable. Click here for the clean eating red cabbage salad recipe.