This clean eating red cabbage salad recipe is perfect as a fresh dinner starter or a quick lunch on the go. It tastes delicious and is full of bright colors from the purple cabbage, apples and carrots. And as usually with my recipes for busy people this red cabbage salad is quick and easy – ready within a few minutes.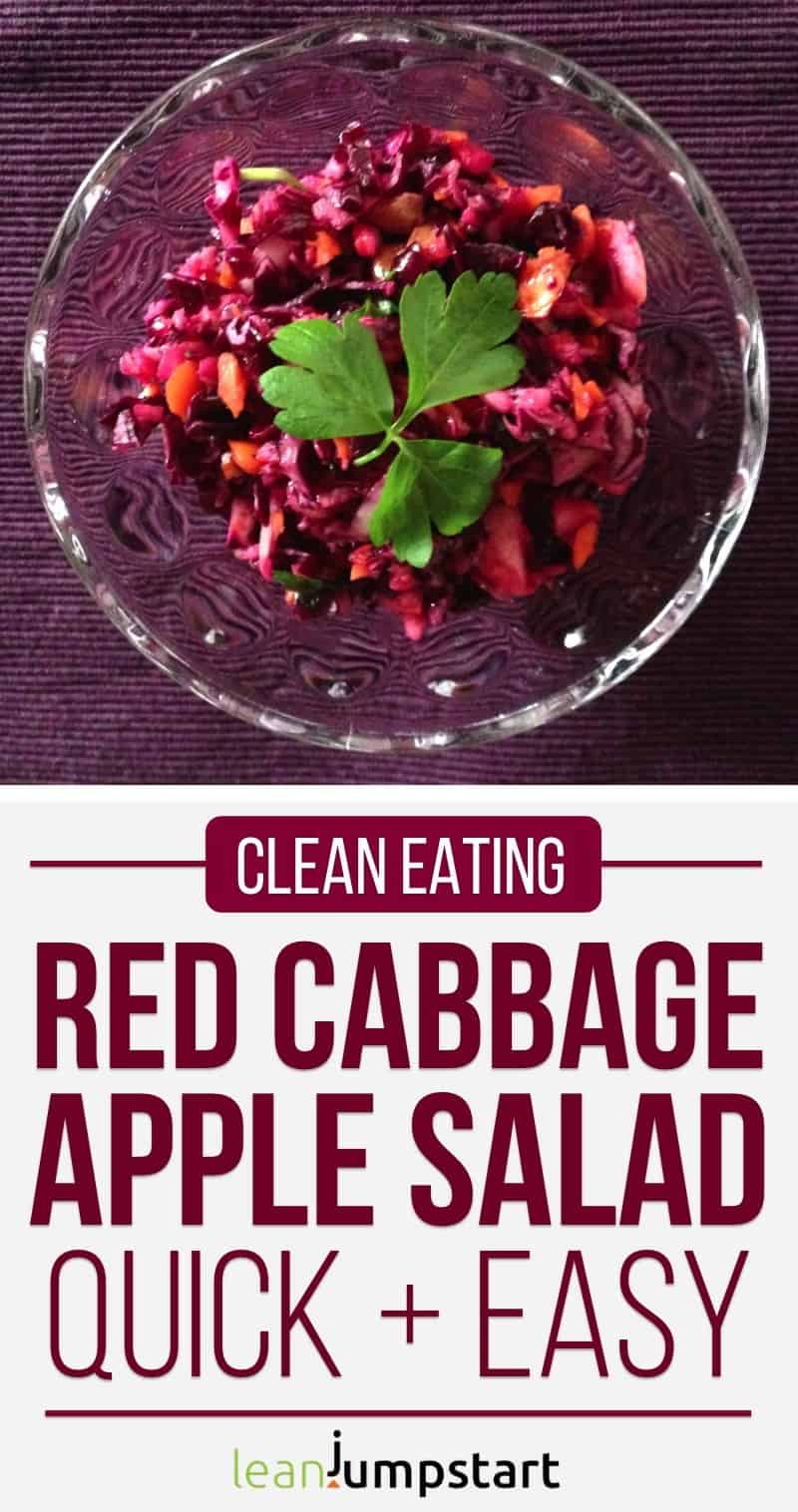 Other than typical coleslaw recipes this red cabbage salad recipe is especially low in calories and fat as I don't use any cream or egg yolks.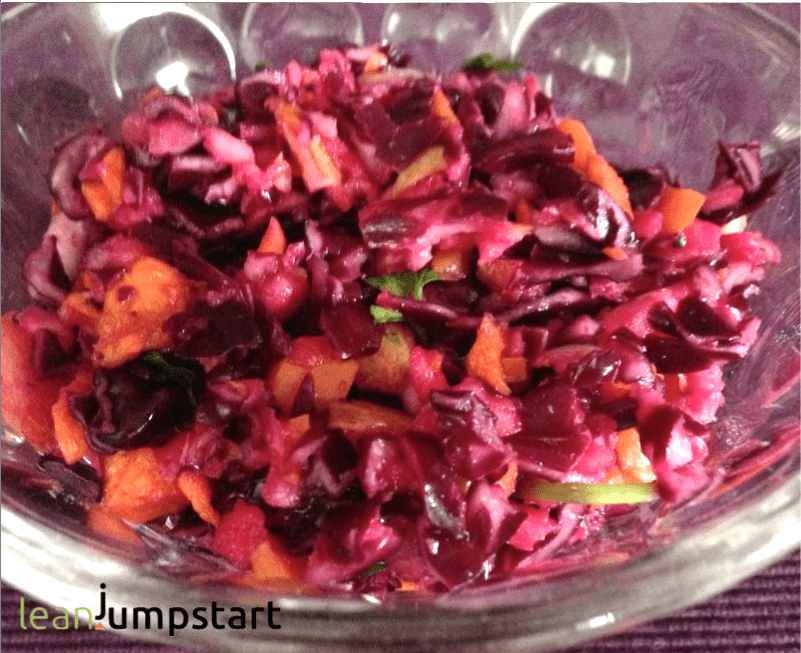 Clean Eating Red Cabbage Salad Recipe
2017-07-25 06:23:43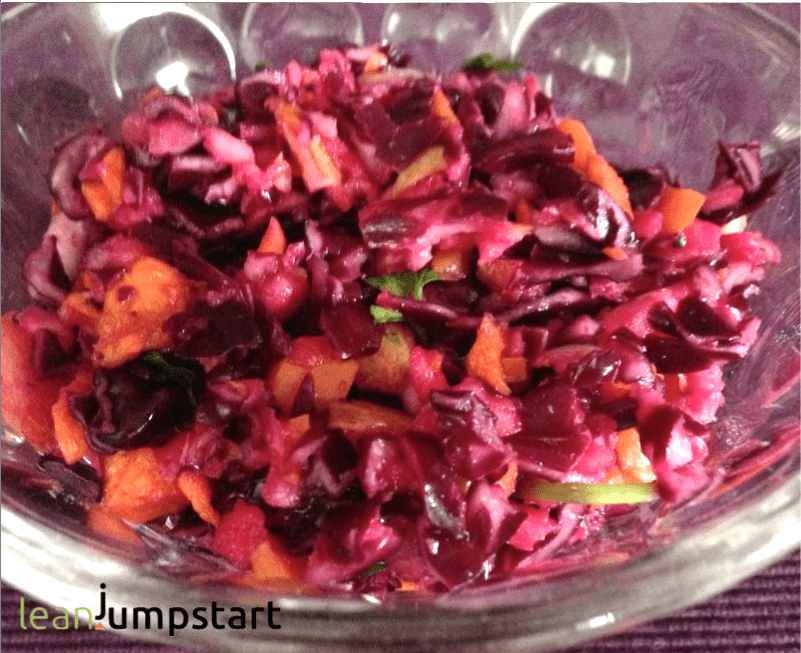 Serves 4
A delicious and crunchy salad recipe
Ingredients
500 g red cabbage
250 g apples
1-2 medium carrots
1 small onion
1/2 bunch of parsley (put some aside for garnish)
Red cabbage salad dressing
2 tablespoons balsamic vinegar
1 tablespoon whole grain or yellow mustard
1 tablespoon olive oil (optional)
salt, pepper to taste
1 teaspoon honey (optional)
Instructions
Put all ingredients in a food processor and chop according to your preferences.
As always for raw salad I'm using my Thermomix and process it for 5 seconds (speed 4).
Garnish with some parsley.
Notes
Tip: let it sit in your fridge for an hour before serving
Leanjumpstart Clean Eating Habits https://leanjumpstart.com/
Red Cabbage Health Benefits
While most of us are used to eat green cabbage (think about my famous cabbage soup) – I highly recommend trying red cabbage because of its robust hearty flavor and added nutritional benefits.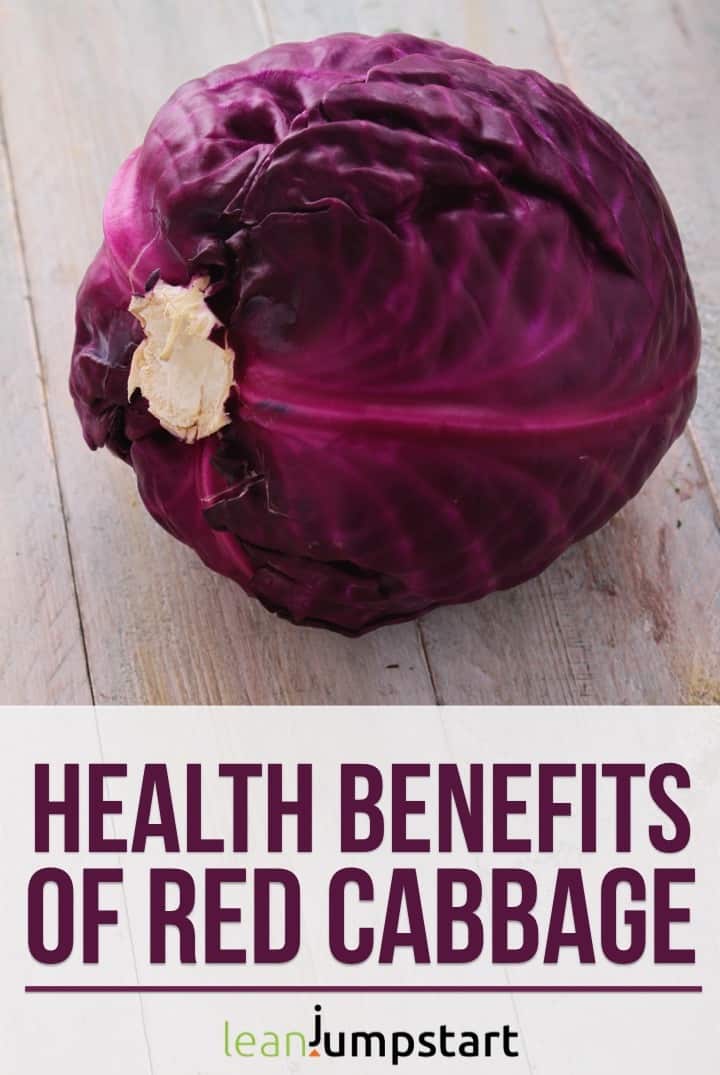 200 g/ 7 oz. of red cabbage cover already the daily recommend amounts of vitamin C – that's more than the same amount of white cabbage has to offer. But that's not all. It contains also high amounts of vitamin K – an essential vitamin required for blood clotting and protein modification. On top of that red cabbage contains plenty of Selenium, Magnesium and Pottasium.
Also its high content of fibers is a big plus, resulting not only in a higher satiation effect but also in stimulating a "lazy" digestion.
Number 1 antioxidant bargain in the world
Especially striking is its high content of protective phytonutrients, which give the red cabbage its typical color and provide a pile of health benefits: the so called antioxidants like Bioflavonoids, Chlorophyll, Indoles und Phenole and the natural pigment Anthocyanins protect cells.(1) That's why purple cabbage can play a potentially preventative and therapeutic role in a number of human diseases.
Dr. Michael Greger from nutritionfacts.org calls red or purple cabbage the "number 1 antioxidant bargain in the world". As cheap as you can get it, it is packed with antioxidants giving the expensive goji berries or acai berries a hard time to compete.(2)
Clean eating red cabbage salad: From side dish to main dish with feta & bulgur
A great variation of this clean eating red cabbage salad is to add feta cheese and/or cooked bulgur to it resulting in a satiating main dish deluxe. Or how about a mouth-watering red cabbage stir fry with sun-dried tomatoes?
How do you like this clean eating red cabbage salad inspiration? Let me know in the comment section below!