I've tested this delicious lamb's lettuce salad yesterday, as I plan to include it in my Christmas menu. But in fact it will rock any menu throughout the year.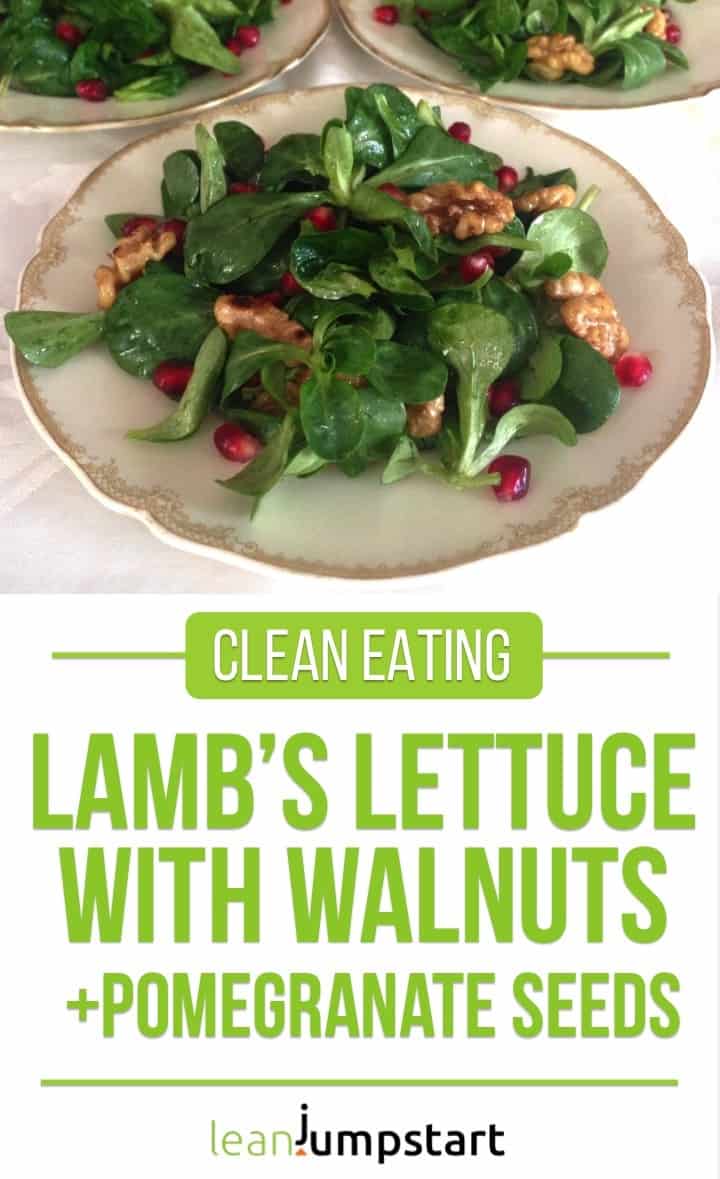 Doesn't this leaf salad just look gorgeous combined with the nutrient rich walnuts and sprinkled pomegranate seeds? For me these red seeds always resembled little shiny Christmas bulbs. Together with the green lamb's lettuce rosettes they create a festive Christmas impression.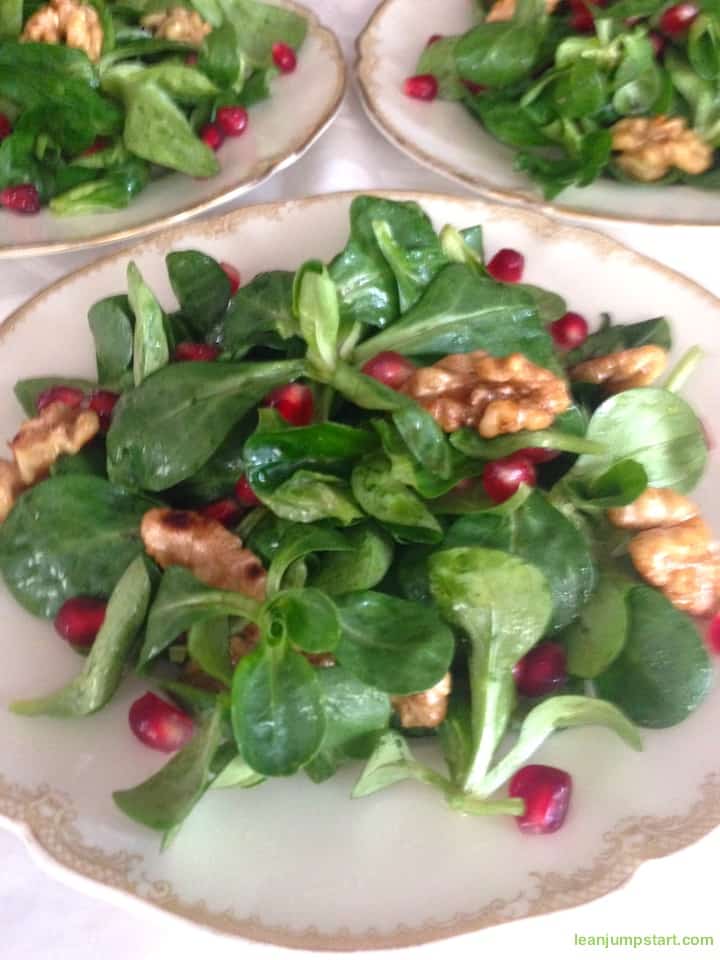 Luckily my family tasted and approved the holiday salad and I'm happy to share the whole foods recipe with you just in time…
What is mâche or lamb's lettuce salad?
This tender leaf salad can also be found under the name lamb's ear lettuce, mâche rosettes or corn lettuce. It has dark green, spoon-shaped leaves and a tangy , distinctive flavor.
While it is a very common crop in Europe, I realize that lamb's lettuce is not so present in American's kitchens. At least I didn't find many mâche recipes on Pinterest…
But don't worry, I'll give you some tips where you can buy it in the US at the end of this blog post.
Why YOU need Lamb's lettuce
Did you know that lamb's lettuce is one of the most nutrient dense leaf salads?
So, if you are a health-conscious foodie – you are reading this blog, so you probably are – then mache lettuce is a must. I'll share more about its nutrition facts later.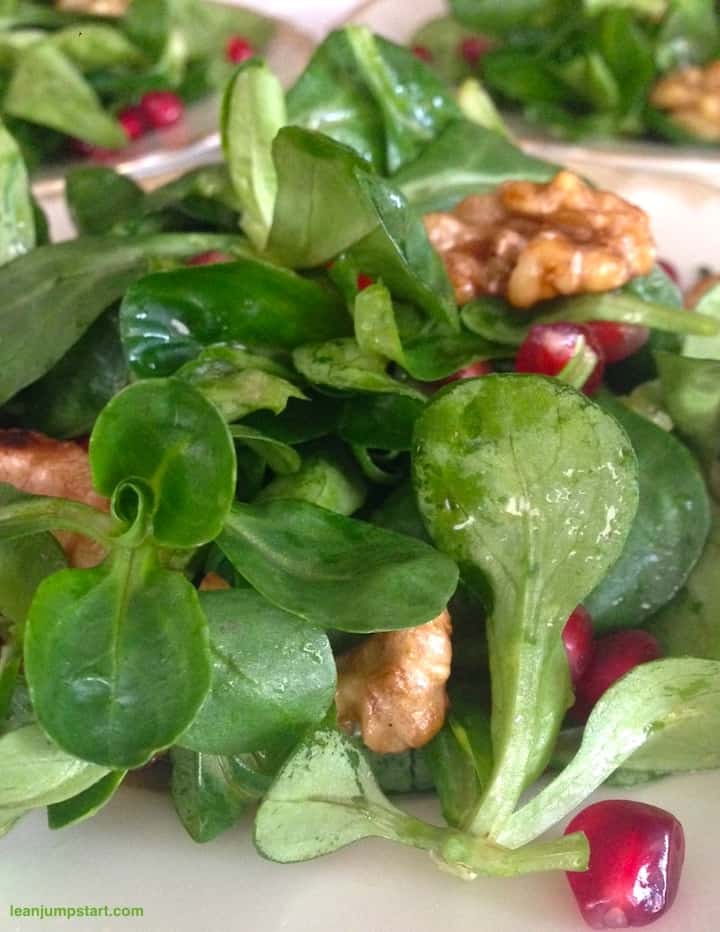 My absolute favorite leaf salad ever
Let me just rave a bit and tell you that lamb's lettuce salad (in Germany we call it Feldsalat or Ackersalat) is by far my most favorite green leaf salad ever. I could eat these soft and tender leaves with a nutty taste all year round but…
In fact it is a typical winter salad and as I prefer to eat veggies in season I often can't wait the opening of the "Feldsalat Season".
For a clean eating lamb's lettuce salad I usually combine it with just a simple vinegar oil dressing. But for Christmas it's nice to include some "whistles and bells".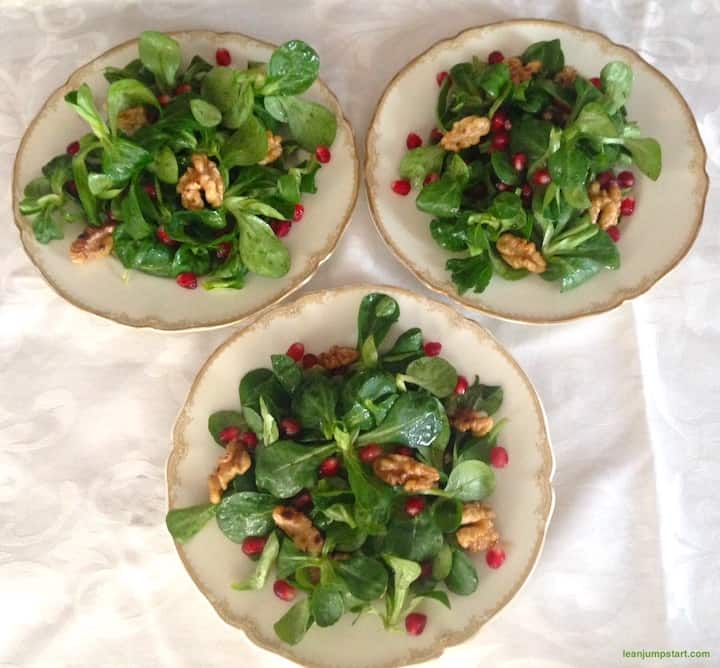 Where you can buy mache lettuce in the US
Although I'm not living in the USA I researched (with the help of a wonderful Facebook group) that you can buy Lamb's lettuce at your local Whole Foods, Bristol Farms or Meijers in the boxed salad greens section. The brand "Iloveorganicgirl" sells it under the name "mâche rosettes". They are even washed so you don't have to. The only thing you have to remove is the tiny part of the root at each rosette.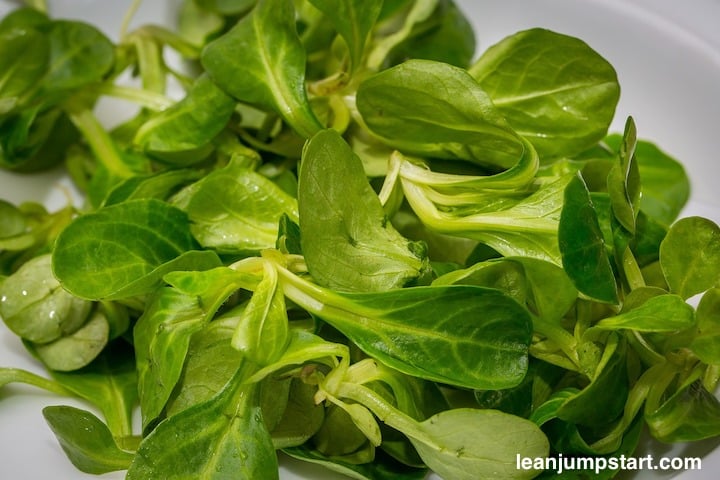 If you can't get it in your region
You can mimic the look of this recipe and use baby spinach leaves instead. Lamb's lettuce is anyway often confused with baby spinach. Ok, you won't have the rosettes and all its nutrients but at least the leaves seam similar. 
Lamb's lettuce: nutrition facts 
Lamb's lettuce has many nutrients, with 3 times as much vitamin C as lettuce it is super-charged with Vitamin C and it provides 14 times as much pro-vitamin A as iceberg lettuce.(1) Mache is also a great source of beta-carotene, B6, potassium and iron. To reap most of its nutrients it is best to eat it in season and as fresh as possible. 
My hardest earned and most organic "Ackersalat"
When my daughter was in kinder garden my father in law used to bring us wild growing lamb's lettuce right from the field. He called it "Sonnewirbeli" or "Ackersalat" and the rosettes were smaller than those you get in the store. When he came with the salad I was of course very grateful but I also knew that I needed to carve out some extra time in my kitchen;)
Look, it took me almost an hour to thoroughly wash the salad as it was quite grainy and gritty. I can't even imagine how long it took him to find and pick all the tiny rosettes from the field.
I know what you are thinking…But hey, that was probably the freshest, most organic and nutrient-rich lamb's lettuce we've ever eaten.
Don't run away yet…
Before you run away and forget about this vitamin bomb, let me reassure you…the mache rosettes you get in the store nowadays are for sure much larger, cleaner and especially in the US they are offered prewashed.
Here is finally the recipe for my festive salad recipe.
Print
Lamb's Lettuce with walnuts and pomegranate seeds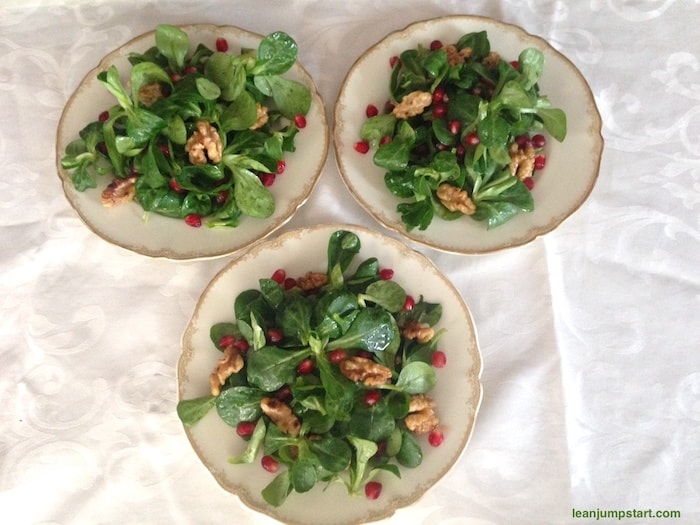 A nutrient-dense and festive leaf salad
Author:
Prep Time:

20

Total Time:

20
Ingredients
10.5 oz/300 gr. Lamb's lettuce/mache rosettes, washed thoroughly
1 tablespoon maple syrup
1 tablespoon coconut oil
1 medium pomegranate, seeded
7 oz./200 gr. walnuts
1 tablespoon extra virgin olive oil (EVOO)
2 tablespoons vinegar
salt, pepper
Instructions
Heat a medium sized pan over medium heat.
Add walnuts and stir for 5 minutes.
Turn off the heat and add coconut oil, maple syrup and salt.
Toss to coat the walnuts.
In a large bowl, combine vinegar, olive oil, salt and pepper.
Put washed lamb's lettuce in the bowl and mix well.
Spread the lettuce with dressing on 8 salad plates,
Garnish each salad plate with the walnuts and pomegranate seeds.
Enjoy!
So, don't you think it's time to include this precious little greens into your whole foods nutrition?