From all codfish recipes I know, this pan-fried clean eating cod fish might be the quickest dish. The correct culinary terminology would probably be pan-seared cod fish as I'm searing the fish in little oil and not frying it in an oil bath. This recipe is very simple to do at home and it is the way cod and similar white fish are often cooked in restaurant kitchens – although I admit I do it a bit different…
Cod fish is a mild fish that contains more firm "muscle meat" than other fish. That's why it lends itself perfectly for the preparation in a pan. Enjoy tender white flakes of juicy cod, with nice and light flavor, that is healthy and delicious within a few minutes.
Most cod fish recipes will call for oil with a high smoke point like canola oil which is usually processed and not clean. I'm using for most of my clean eating recipes olive oil and I feel it works for this recipe too. There are some other tricks to ensure some extra crispiness I'll share with you below.
Preparation of your Clean Eating Cod Fish
For this recipe it is important that you have either fresh cod fish fillets or you thawed your frozen cod fish in your fridge for at least 5-6 hours. You can use cod fish with skin or without. I've used skinless cod fish.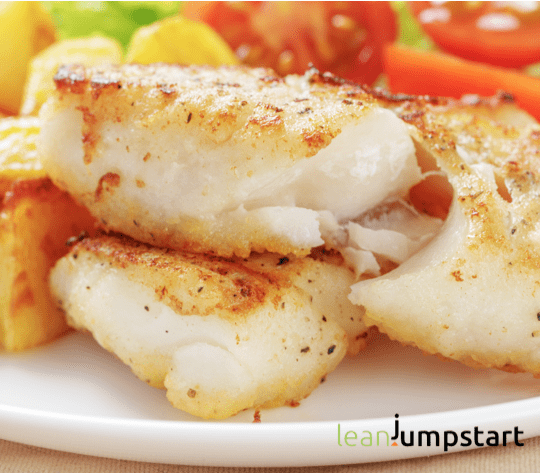 Clean Eating Cod Fish
2017-06-06 00:44:36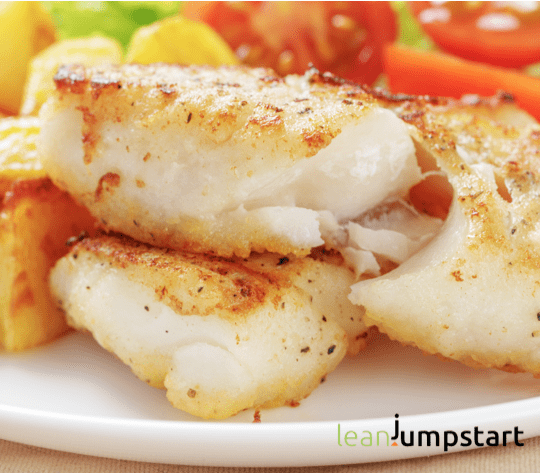 Serves 2
A delicious and affordable fish meal
Ingredients
2-3 cod fish fillets
1/2 tsp salt
some pepper
2 tbsp plain flour
2 tbsp oil (I use olive oil)
Instructions
Wash your fresh or thawed fillets under current cold water and dry them with kitchen roll.
Heat oil in a frying pan. (The pan should be really hot)
Mix flour with salt and pepper on a plate.
Once the pan is almost hot, turn the cod in the flour mixture and tap the excess off. (It should be just a light dusting of flour!)
Fry cod in hot oil at medium heat until golden - 2-4 minutes per side. (Resist the temptation to move it and turn it only one time to prevent fish falling apart)
Notes
For a lean meal serve it with a large mixed salad or some steamed vegetables.
Leanjumpstart Clean Eating Habits https://leanjumpstart.com/
Clean Eating Cod Fish – Tips and Tricks
Here are some additional tips to prevent cod fish falling apart:
Add some sprinkles of lemon juice to the oil versus the end of the searing process.
Don't fry the fillets longer than 4 minutes on each side.
As you might have noticed, I'm using white flour for this recipe that usually should be avoided in a "clean eating kitchen". But as you might know, I'm not a 100% clean eating advocate but prefer instead the 80/20 approach to clean eating.
The flour mix is essential for keeping fish firm and crispy – it forms a protective coating.
Best Kitchen Gear
For best searing results I recommend to use a cast iron skillet or a stainless steel pan. Check below my recommendations:
Fish on Fridays has a long family tradition
I'm used to eat fish on Fridays since my early childhood. Even nowadays we have seafood at the end of the workweek. Our favorite meal is of course a salmon dish but from time to time I cook simple, less expensive cod fish recipes. I serve pan-fried, clean eating cod fish mostly with German potato salad and/or cucumber salad.
Besides of pan-frying you can also bake, steam or grill your cod fish fillet.
What is your favorite clean eating cod fish recipe?
Now it's your turn! What is your preferred cod fish recipe? Share it with us in the comment section below!
Clean Eating Fish Recipes: Important part of 52 Chef Habits
Did you know that simplifying your clean eating habits for weight management is a crucial part of my 52 Chef Habits Ecourse, featuring the best clean eating fish recipes that are quick and easy to prepare. Click here to learn more!