I love this easy cucumber salad recipe since my early childhood for its cooling, refreshing and delicious taste. At the same time it is healthy because besides of the cucumbers it needs just a few ingredients. Again you will be thrilled by the fact that this clean eating salad is ready within a few minutes.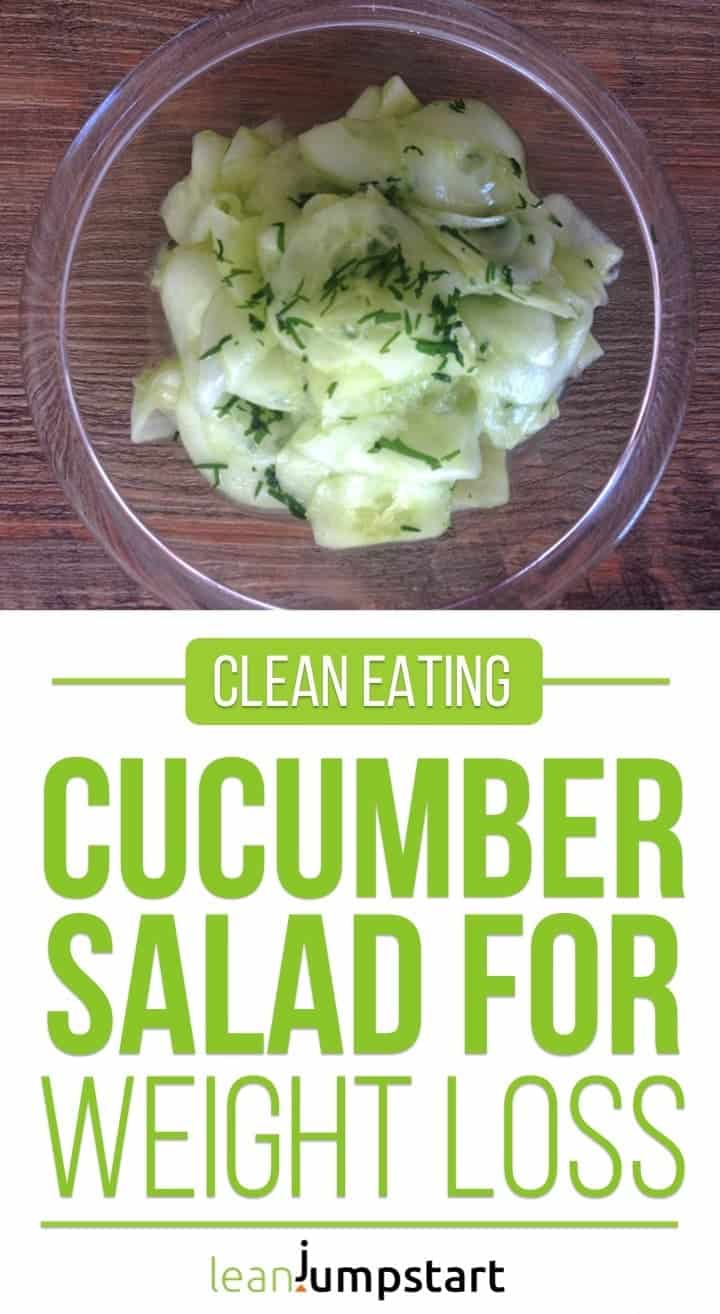 This little treatment works wonders
As much as I enjoy snacking watery, crispy cucumbers, I don't like how their extra moisture can water down a whole salad. As cucumbers consist for 90% of water, I recommend the following little treatment for best taste experience.
So here is the trick:
When you are making a cucumber salad, salt and drain the sliced cucumbers first to prevent turning your salad into a suggy mess.
How?
Place the salted cucumbers in a colander and let it drain for 5-10 minutes, then squeeze between your hands. The longer the treatment the more water will be drawn out. In my case 5 minutes make already a big difference.
At the end of this blog post I'll also share with you why I don't throw away the squeezed cucumber juice and what I do with it instead.
Most nutrients are in cucumber's skin
If you can get organic grown cucumbers you could also use the nutrient-rich skin, which I highly recommend. The cucumbers I used in my easy cucumber salad recipe below were sadly not organic, that's why I peeled the skin off.
Easy cucumber salad recipe with skinny dressing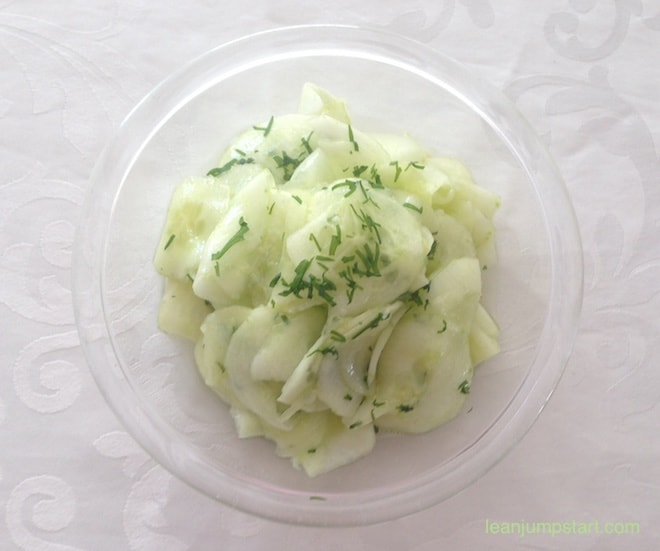 There are many ways you could prepare a cucumber salad. When you are watching your weight then I highly recommend a cucumber salad dressing based on vinegar and oil instead of a creamy dressing. My following directions describe a typical German cucumber salad recipe.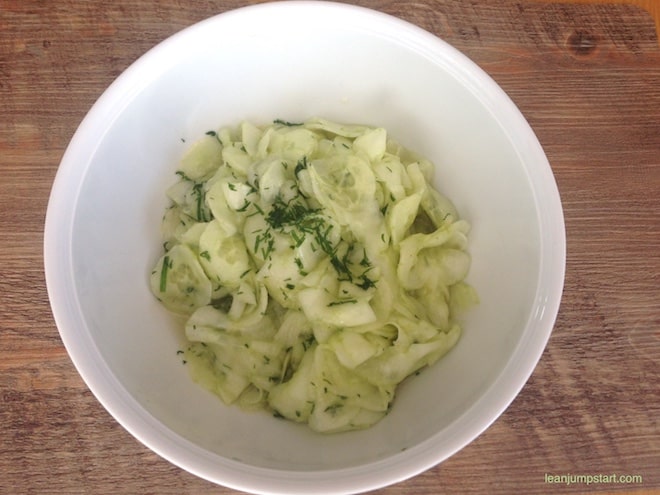 Easy Cucumber Salad Recipe
2017-06-19 05:40:13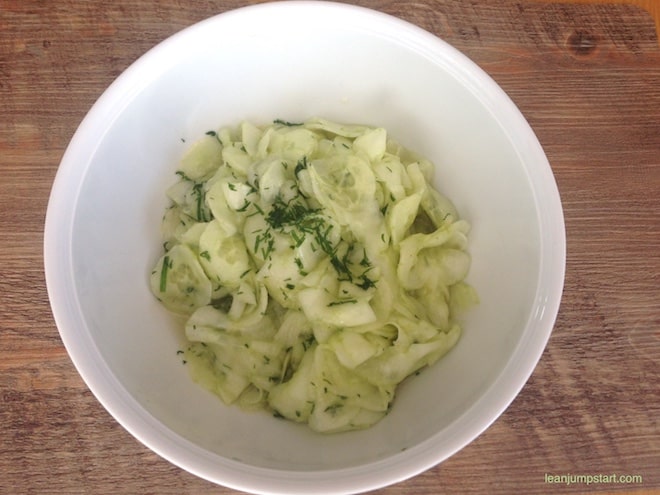 Serves 4
A lean and refreshing clean eating salad
Ingredients
2 cucumbers, (peeled), sliced thinly with a box grater or mandolin, drained.
2 Tbsp vinegar
2 Tbsp olive oil
2 Tbsp dill, hacked
1/2 Tsp salt (for treatment)
Additional salt to taste (optional)
1/4 Tsp Cayenne Pepper
Instructions
Combine vinegar, olive oil, (salt) and pepper in a salad bowl.
Add drained cucumbers and dill.
Gently toss cucumber, dill and dressing together.
Notes
Serve it as side dish with fish and potato salad.
Leanjumpstart Clean Eating Habits https://leanjumpstart.com/
What to do with the strained cucumber juice?
I love to keep the cucumber juice cool it in my fridge and drink it the same day as refreshing sports drink with electrolytes after a running or workout session. This healthy cucumber juice rivals even commercial brands for sports drinks.
As I use just half a teaspoon of salt for 2 cucumbers the juice doesn't taste too salty. Heads Up: Drinking this kind of cucumber juice is only safe if you don't have to watch your sodium intake strictly.