I can't believe that it took me ages to try out a roasted Brussels sprouts recipe. But a recent incident changed my mind forever and catapulted these "baby cabbages" into my Top 10 list of winter vegetables.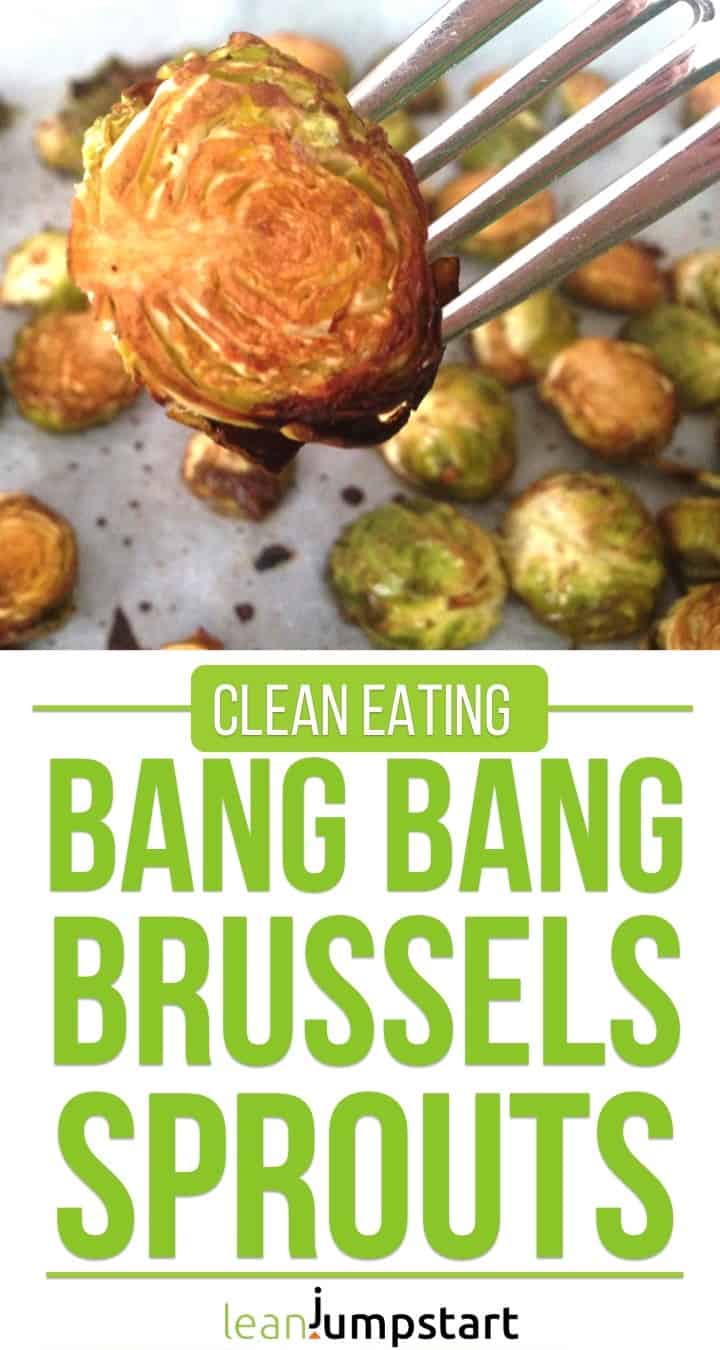 You know, Brussels sprouts are one of those vegetables my family and me have omitted for a long time. Hey, there are so many other vegetables around we prefer, that passing on this "bitter veggie balls" didn't really bother me. My mostly plant-based clean eating kitchen offers anyway a multitude of different fruits and vegetables throughout the week.
I don't know about you, but here in Germany Brussels sprouts are often served as side dish with roast goose. As none of us really enjoy goose the probability to eat Brussels sprouts in a restaurant tends to zero.
But recently something happened that turned my mind…
Bang Bang Brussels sprouts hype
When it comes to recipe inspirations or smart ideas in general, then Pinterest is my favorite place to go. Some weeks ago I spotted a recipe for "Bang Bang Brussels sprouts" by Lindsay Funston from delish.com that sparked my curiosity.
Can you imagine that it was shared over 178,000 times on Pinterest since February this year. This kind of social proof was something I could not ignore. I had the strong urge to give this roasted Brussels sprouts recipe a try.
As inspiration I used Lindsay's recipe and turned it to a clean eating recipe we could enjoy without guilt. Their recipe calls for store-bought chili sauce, but I made my own cleaner marinade instead. I found out that "Bang Bang" stands for a sweet, sour and spicy Asian sauce that is often used for Asian "Bang Bang chicken". Nowadays you'll find many "Bang Bang recipes" that are based on a sweet, sour and spicy sauce.
A Roasted Brussels sprouts recipe everyone goes crazy
When I finally took the mouth-watering dish out of the oven something very unusual happened. I invited my daughter and husband to snack one or two vegetables with me before dinner. The result: Overwhelmed by the taste explosion, we ate all the Brussels sprouts right from the sheet pan until nothing was left for dinner;)
This day in November 2017, marked the beginning of a life long "Brussels sprouts love affair". Make sure to read until the end of the blog post where I also share some facts on the nutritional value of Brussels sprouts.
But first let's jump into the roasted Brussels sprouts recipe, that will make your family fight over these veggies.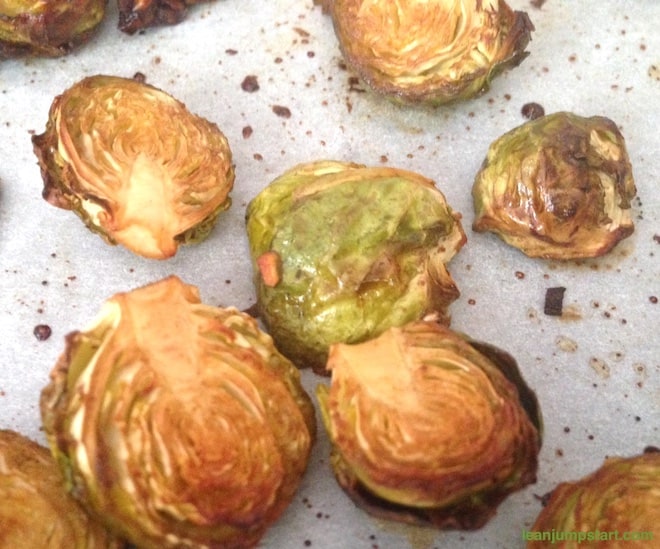 Roasted Brussels Sprouts Recipe
2017-12-01 07:12:31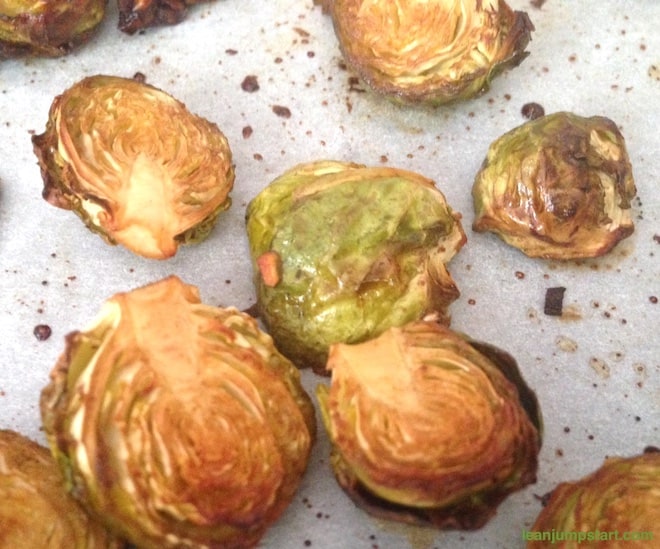 Serves 2
A delicious side dish
Ingredients
500 grams/1 lb. Brussels sprouts, trimmed and halved
1 tbsp. extra-virgin olive oil
2 cloves garlic, minced
2 tbsp. Balsamic or red vinegar
1 tbsp. maple syrup
1/2 tsp. Cayenne pepper or red chili flakes
salt to taste
Instructions
Preheat regular oven to 425 F/210 C° or 360 F/180 C° (convection oven).
Line a large baking sheet with parchment paper.
Whisk together olive oil, vinegar, maple syrup, minced garlic and seasonings using a large bowl.
Add trimmed and halved Brussels sprouts.
Massage in the marinade until all sprout halves are lightly coated.
Spread out the sprouts onto the baking sheet.
Bake 20-30 minutes. The Brussels sprouts will look shrunken, but this is ok.
Transfer them into a casserole dish.
Notes
I love to serve them with baked salmon.
Adapted from Delish.com
Leanjumpstart Clean Eating Habits https://leanjumpstart.com/
Brussels sprouts nutrition
Very high in nutrients and vitamins the nutritional value of the fiber-rich Brussels sprouts can't be praised enough. You'll find almost 100 studies in PubMed that are concentrated on Brussels sprouts. Over half of those studies show a connection between this cruciferous vegetable and cancer prevention.
Here is just one study as example.
Furthermore these protein rich, tender sprouts protect us from colds and other infections. On top of that Brussels sprouts contain secondary plant substances, which can help with arthritis, asthma and even autism.
Learn more about the many health benefits of Brussels sprouts including their detox support here!
Now it's your turn!
Hopefully with this recipe and health benefit information you'll have much more fun with Brussels sprouts in future. Let me know how you liked it.