Last Updated on March 13, 2020
I recently realized that I've never published an easy guacamole recipe – this great appetizer from the land of Sombreros. It might have to do with the fact that we had always eaten this yummy avocado dip before I could shoot any appropriate photos.
As much as I love guacamole, I wanted to leave nothing to chance. In consequence I've planned a day of this week for photo shooting – but then I came up with an even better idea…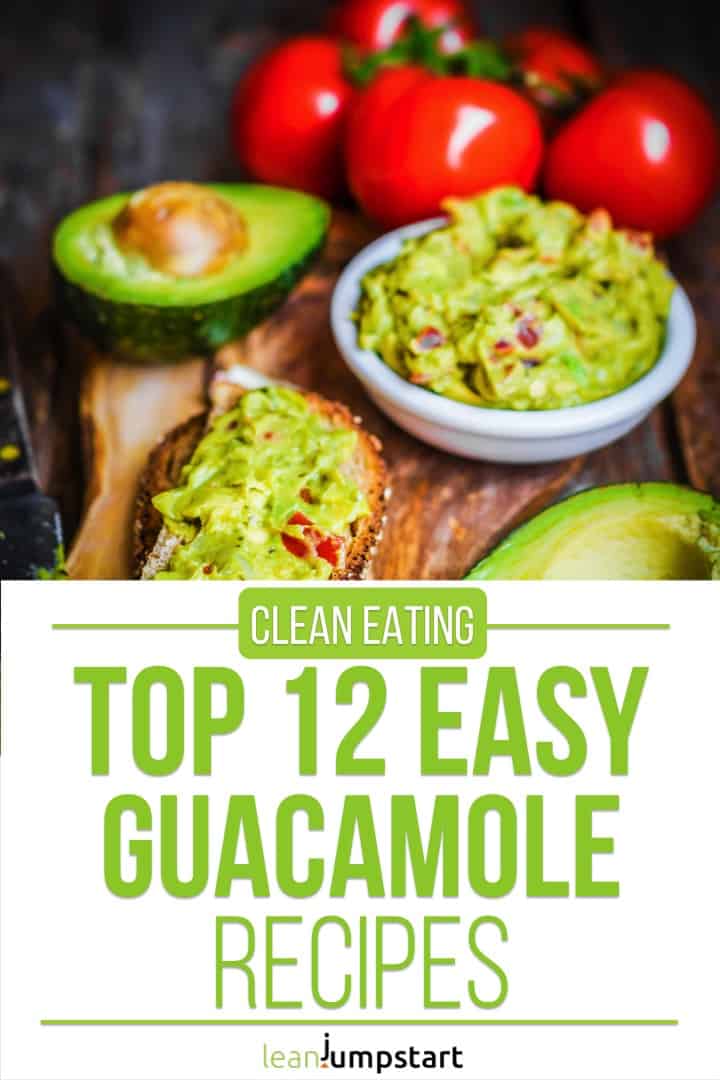 Curated homemade guacamole recipes in less than 15 minutes
In this blog post, you'll discover 12 simple guacamole recipes – all plant-based, quick, and easy. I curated the best guacamole ideas from some of my favorite "chefs" on the internet. You can expect easy, vegan recipes – some very traditional and others with a surprising twist. I selected recipes that were free from fancy ingredients, so they take less than 15 minutes to make.
First, let's take a look at the basics.
How to make guacamole
Every housewife in Mexico prepares it slightly differently. The typical guacamole ingredients call for:
Ripe avocados
Lime juice
Salt and pepper
Lime juice not only gives the dip a refreshing taste, but it also prevents the cream from turning brown. (Red) onions, garlic, fresh cilantro, and chilies can be stirred in for extra spice. Tomato cubes are a popular addition and add variety to the dip.
If you want, you can serve the guacamole with fresh parsley or basil instead of coriander. The gluten free, green cream can be varied as desired and spiced up with seasonal fresh herbs. I often use lemons instead of limes, as I often have them at hand.
My basic recipe
For my basic recipe I combine avocados, lemon juice, minced garlic, salt, and pepper in a mixing bowl. Cover with plastic wrap, if you don't use it immediately. On days when we go out, I replace the garlic cloves with garlic powder – although it tastes much more intense with fresh garlic.
For me, guacamole is extremely tasty and perfect as a dip to serve with tortilla chips, nachos, tacos, quesadillas or as a topping for savory wholegrain sandwiches or baguettes. It's also excellent on a burger or in wraps.
1. Authentic tableside guacamole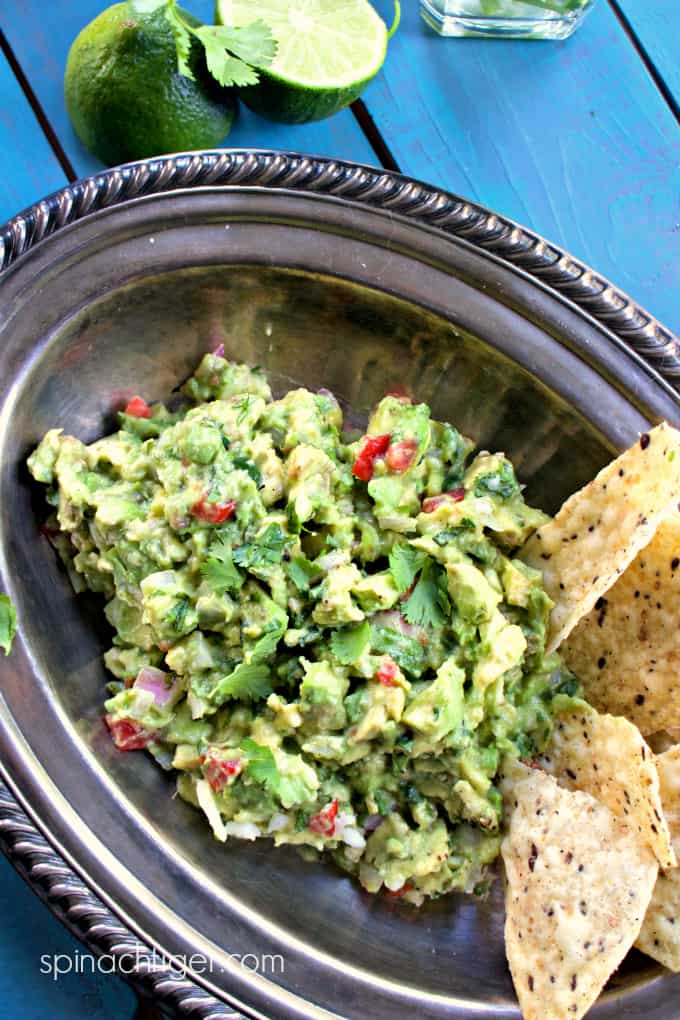 Angela shares cute memories in Mexico and a tableside guac, something you can do when your guests arrive. The easy guacamole recipe takes about five minutes.
Detailed recipe and credit – https://spinachtiger.com
---
2. Chef approved guacamole
Jenn's avocado dip was one of the first foods she gave her kids when they started eating solids. Not only do all her three love it to this day, but her creation won the taste buds of a chef at a popular Chicago restaurant.
Detailed recipe and credit – https://www.veggieinspired.com
---
3. Stay green prepare ahead guacamole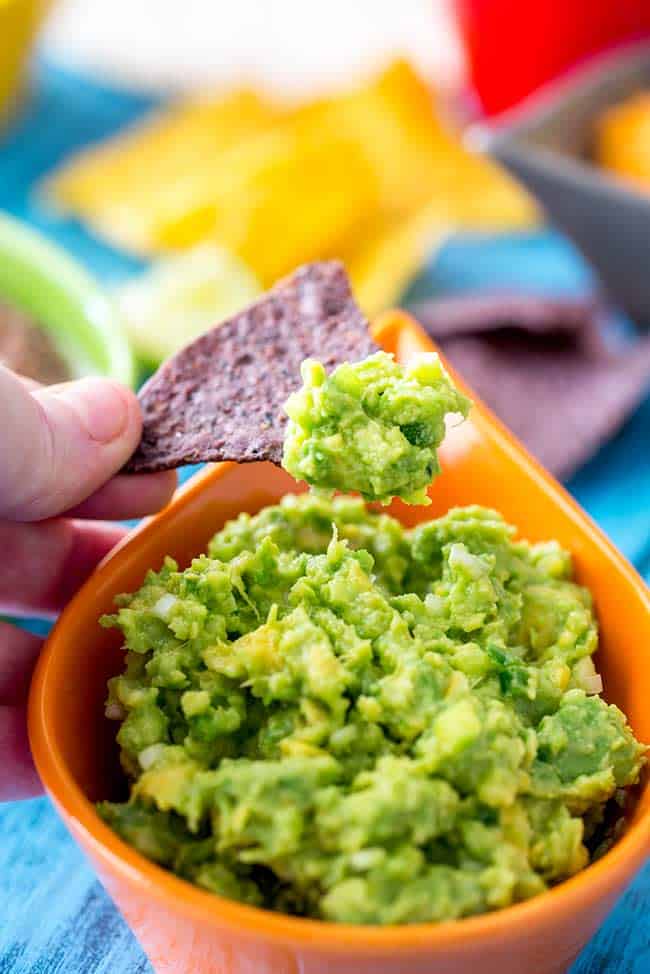 Isn't the green color of Claire's avocado dip amazing? She shares some fascinating tricks to keeping guacamole green. Want to know one of them? Claire uses Shepard Avocados that don't oxidize as quickly and also tend to have a much brighter green flesh.
Detailed recipe and credit – https://www.sprinklesandsprouts.com
---
4. Healthy and delicious 4-ingredients guacamole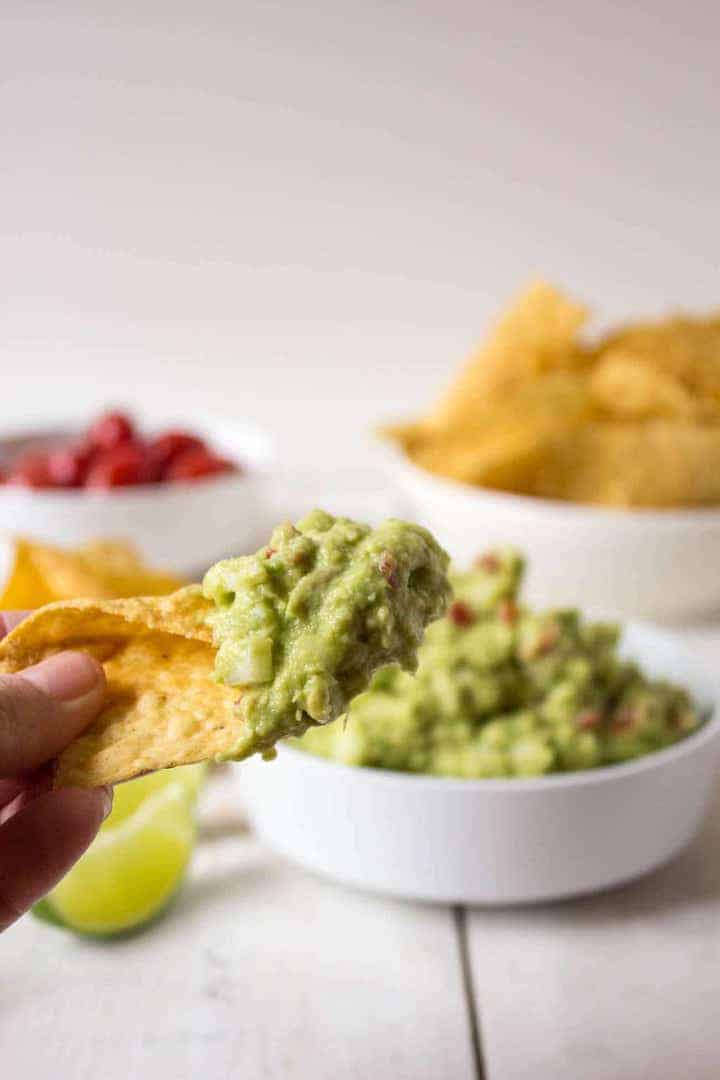 Kathy combined just 4 healthy ingredients into a tasty avocado dip that will leave you begging for more. She also gives some great tips on how to freeze your guacamole safely.
Detailed recipe and credit – beyondthechickencoop.com
---
5. Spicy jalapeño shallot guacamole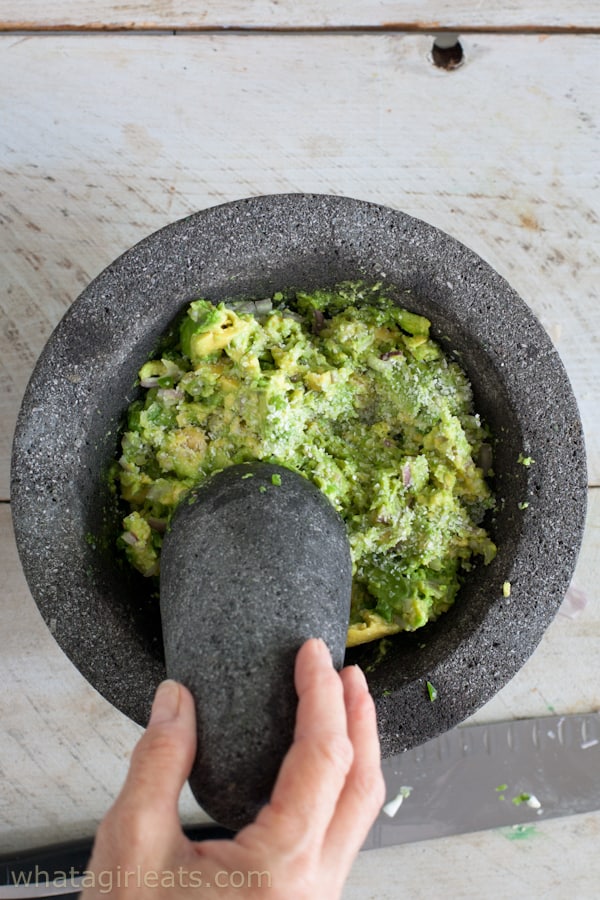 If you love "hot" stuff, then you will really enjoy Cynthia's avocado dip, which uses a finely chopped jalapeño. You can vary and tune down the "hot factor" by removing seeds and ribs.
Detailed recipe and credit: https://whatagirleats.com
---
6. Weight watchers guacamole recipe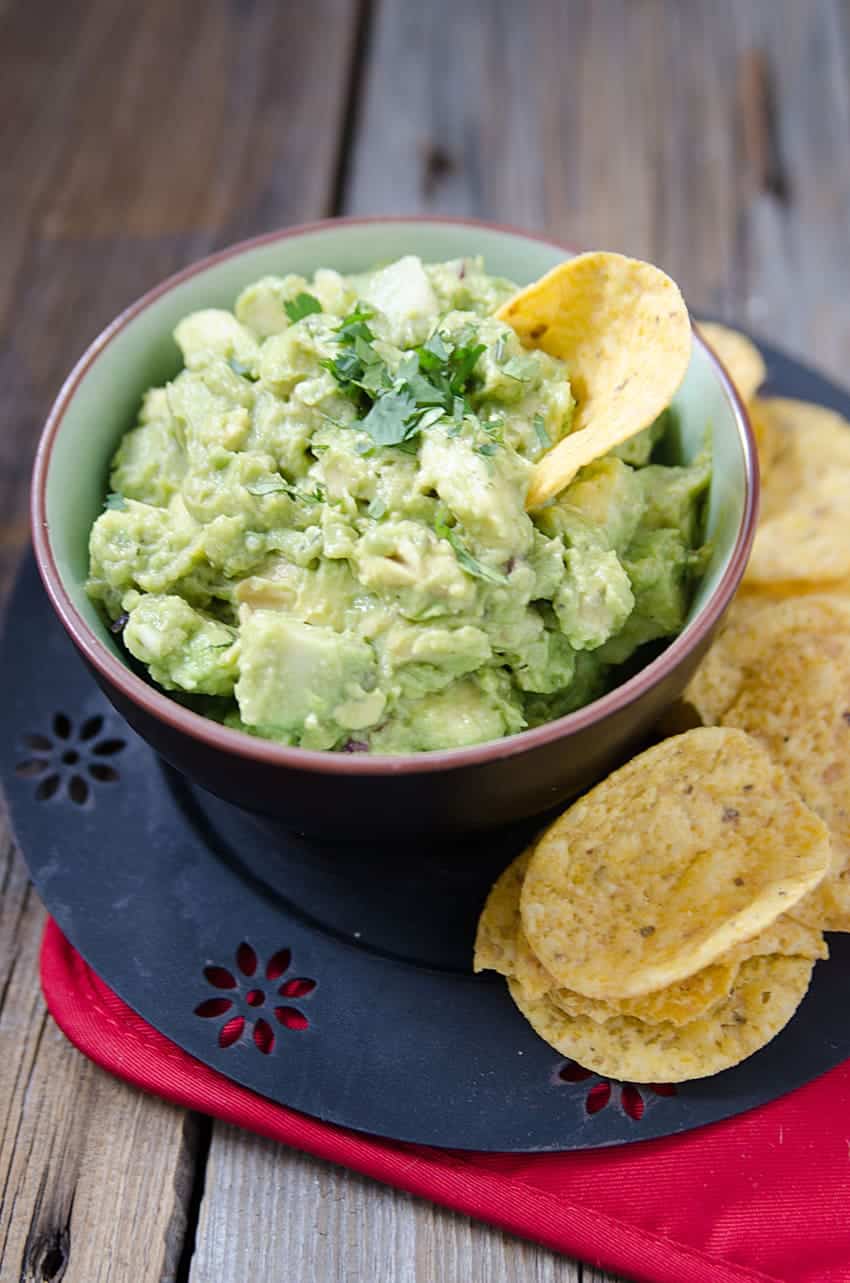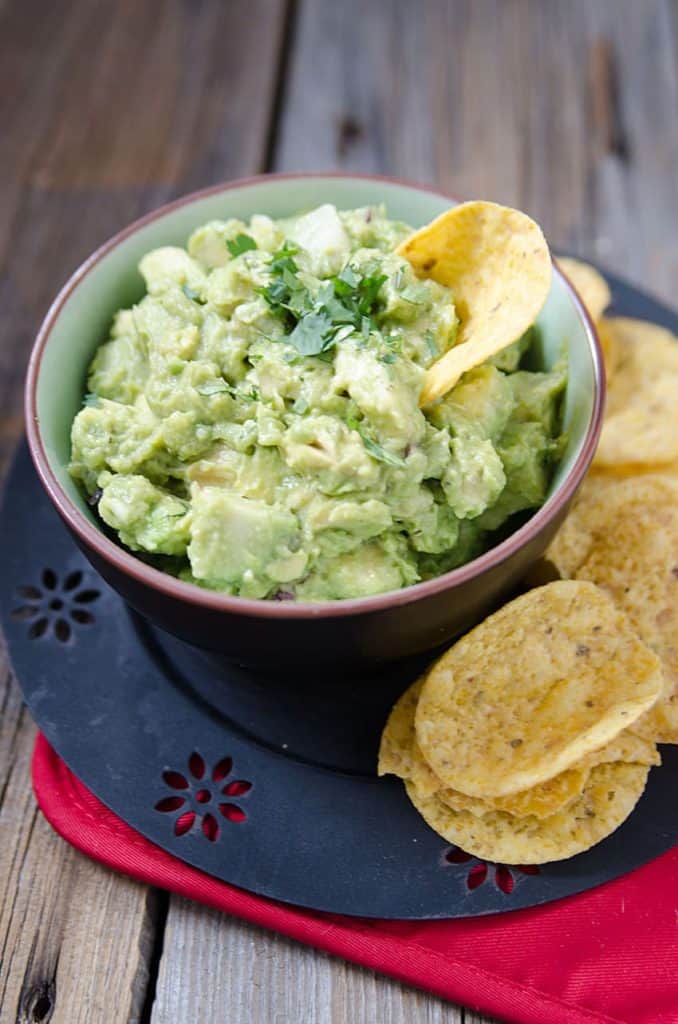 Are you taking part in Weight Watchers? Then you will love Michele's homemade guacamole recipe that includes smart points for easy calculation. Tip: Don't forget to count the food used for dipping!
Detailed recipe and credit: https://www.midlifehealthyliving.com
---
7. Great guacamole recipe with cumin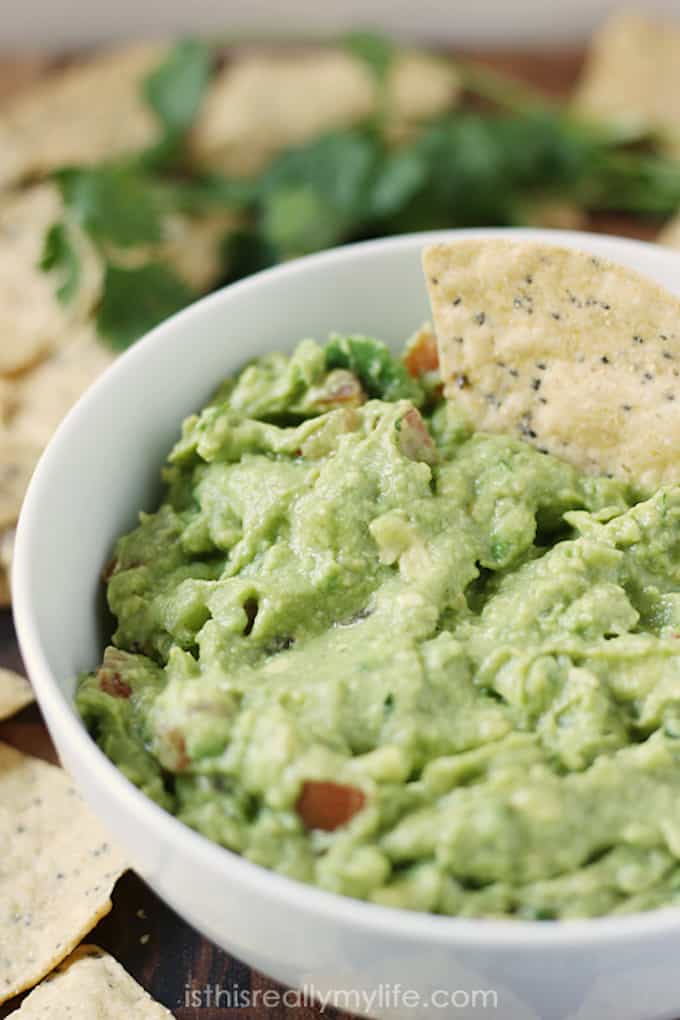 If you would like to experiment with some more spices besides of lime juice and salt, then you'll love Emily's simple "guac" recipe with added cumin, cilantro and more. Not a fan of guac with the kick, then leave out the diced jalapeño.
Detailed recipe and credit: https://www.halfscratched.com
---
8. Easy guacamole recipe with salsa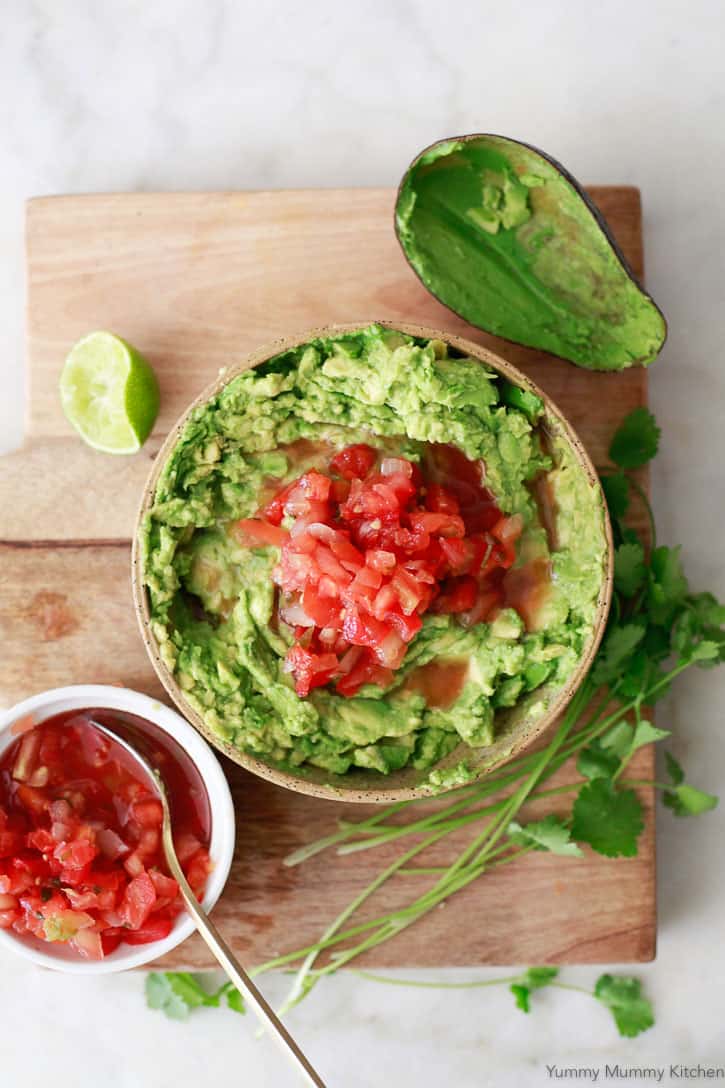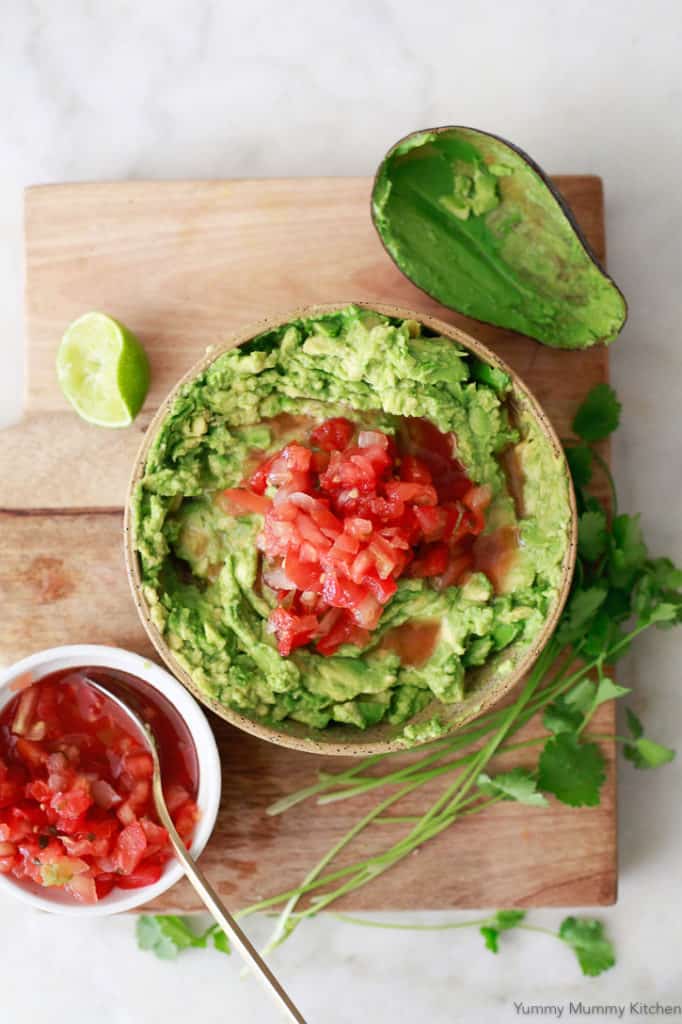 Marina presents a semi-homemade delicacy with just 3 ingredients. She skips the chopping and teary onion eyes and adds some store-bought salsa straight into the mashed avocados. If you want to try it, make sure to check labels and use the cleanest salsa you can find, e.g., 365 "Everyday Value, Organic Hot Salsa" or "Muir Glen Organic Salsa".
Detailed recipe and credit: https://www.yummymummykitchen.com
---
9. Pineapple jalapeño guacamole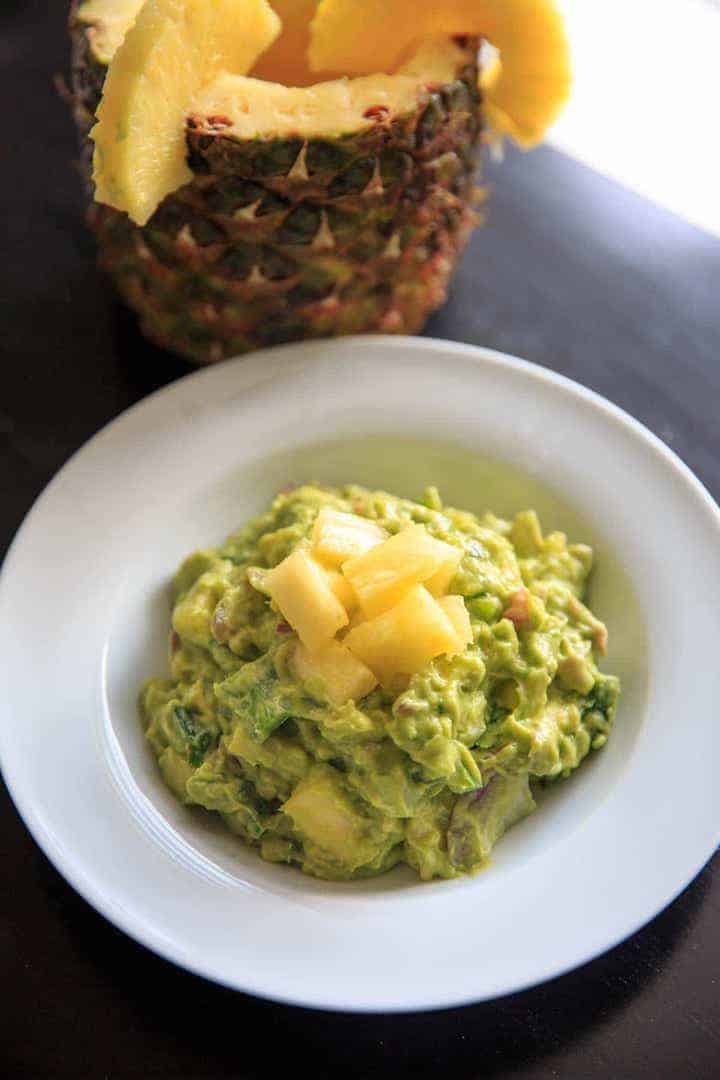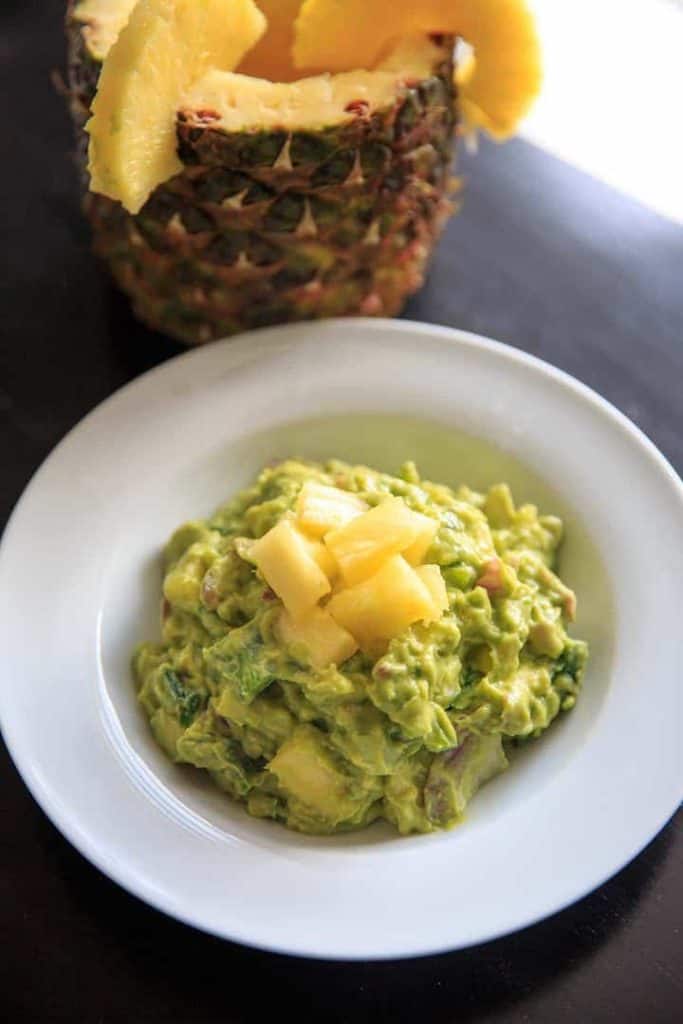 As a huge pineapple fan, I really love the tropical spin Kelly gives this chunky avocado dip. She replaces the tomato with the pineapple and adds more jalapeños than usual. I can imagine that this dish served in a pineapple would be a vegan hit at every summer party.
Detailed recipe and credit: https://www.trialandeater.com
---
10. Mango habanero guacamole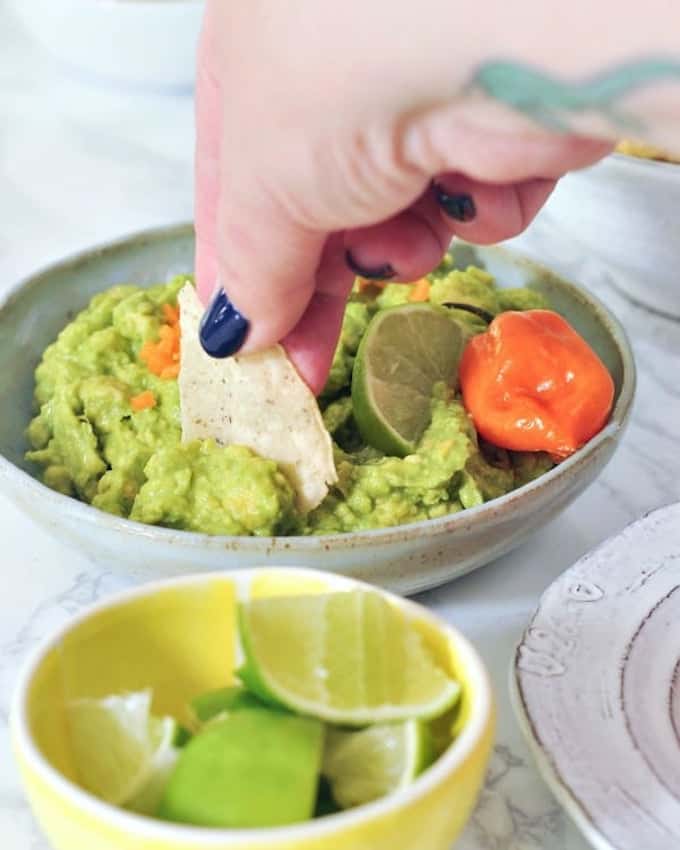 Here comes another sweet interpretation of this popular avocado dip. Kristina combines it with mango, another tropical fruit I can't live without. The result is a sweet and spicy guacamole, where the heat of the habanero is a perfect balance to the cool of the avocado.
Detailed recipe and credit: https://www.spabettie.com
---
11. Kale + Avocado = Guac-Kale-Mole (Kale guacamole)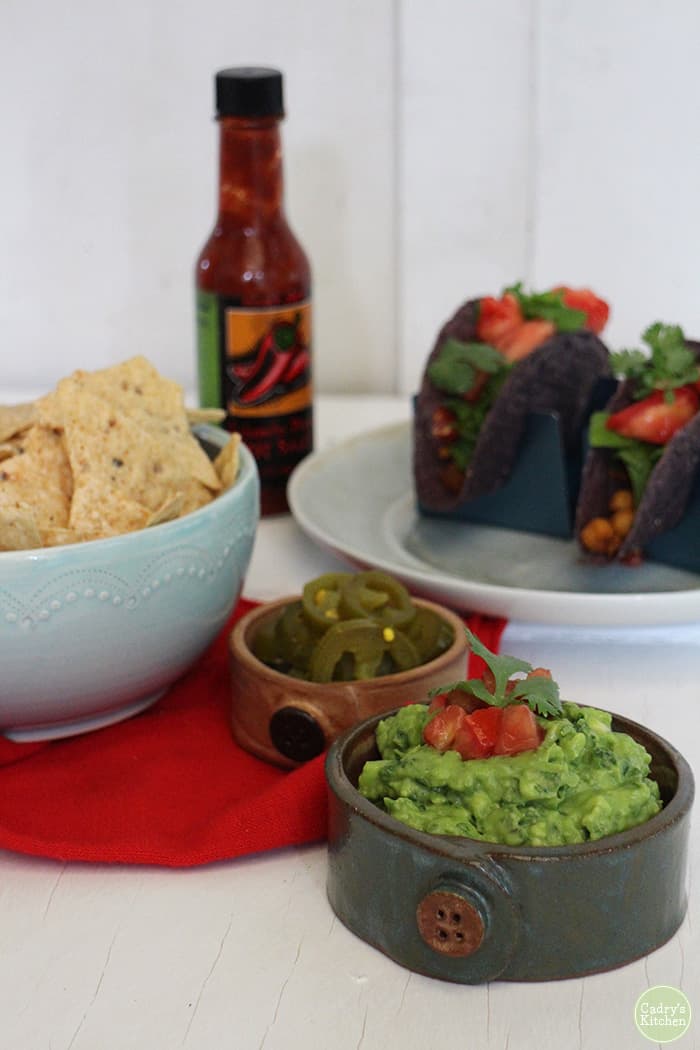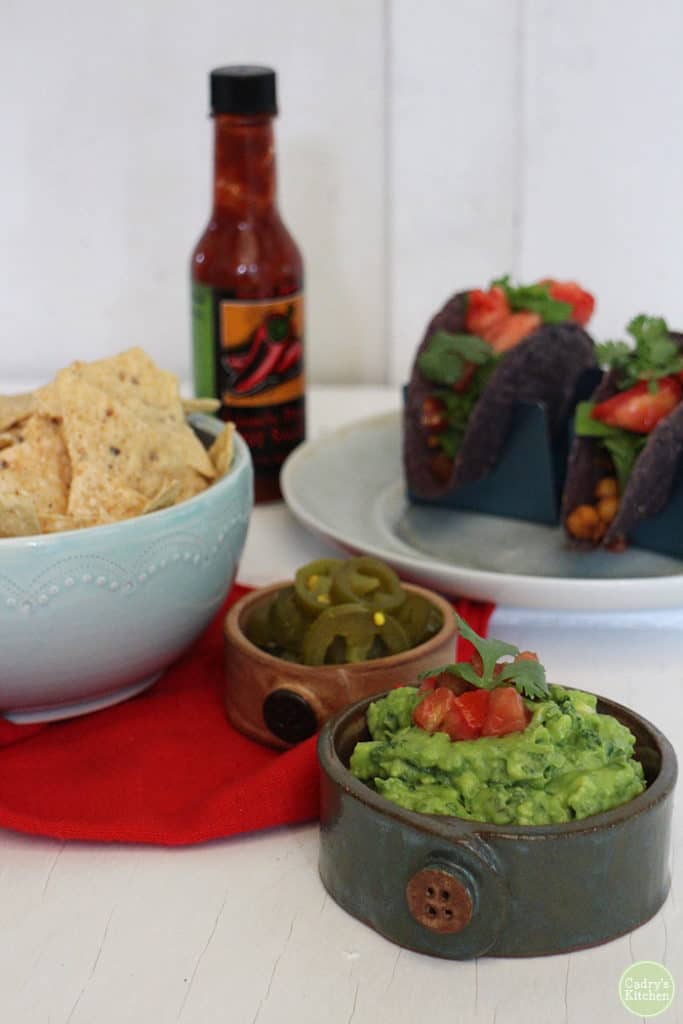 If you are looking for a sneaky way to implement more superfoods like kale into your family's diet, then Cadry's "Guac-Kale-Mole" is worth a try. She got the inspiration for this amazing combo when she visited Whole Foods on an Omaha trip. She thinks that her creation is even better than Whole Food's Guac-Kale-Mole since it is fresh and full of chunky avocado. I bet she is right!
Detailed recipe and credit: https://cadryskitchen.com
---
12. Black bean guacamole cups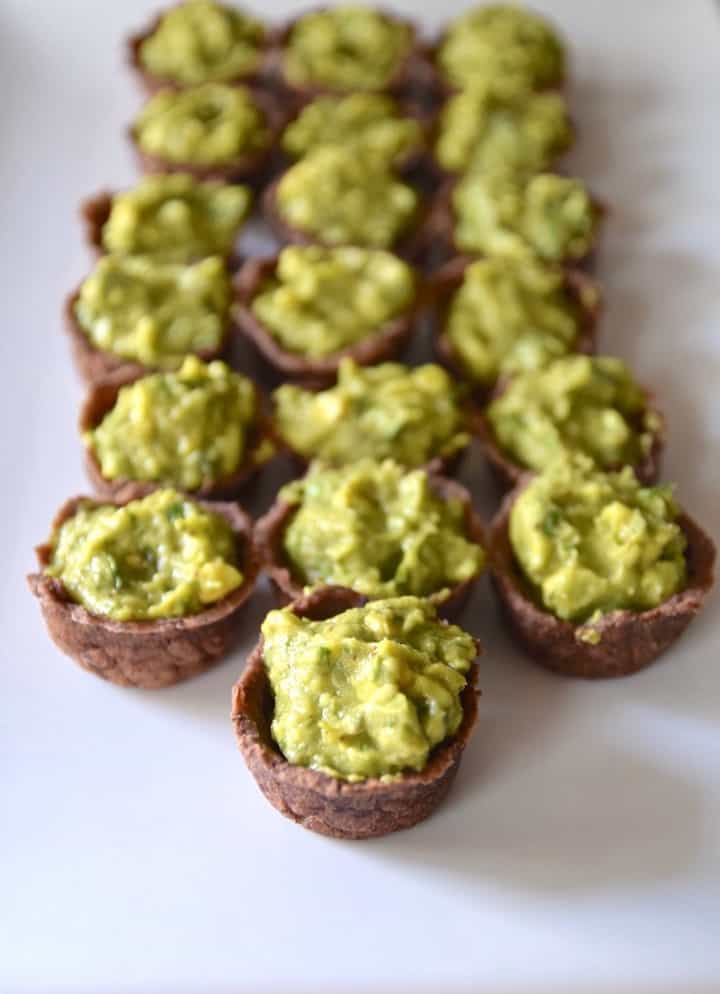 Kelly's gluten-free guacamole cups are beautiful and had to have a place on this list. The avocado mix is quite simple, but the presentation in a black bean cup hits the spot and will make an eye-catching one bite snack on every buffet or barbecue. Take your boring chip appetizer to the next level with these high fiber black bean cups.
Detailed recipe and credit: https://www.tastingpage.com
---
OTHER AVOCADO DIPS YOU MIGHT ENJOY
Avocado cashew cream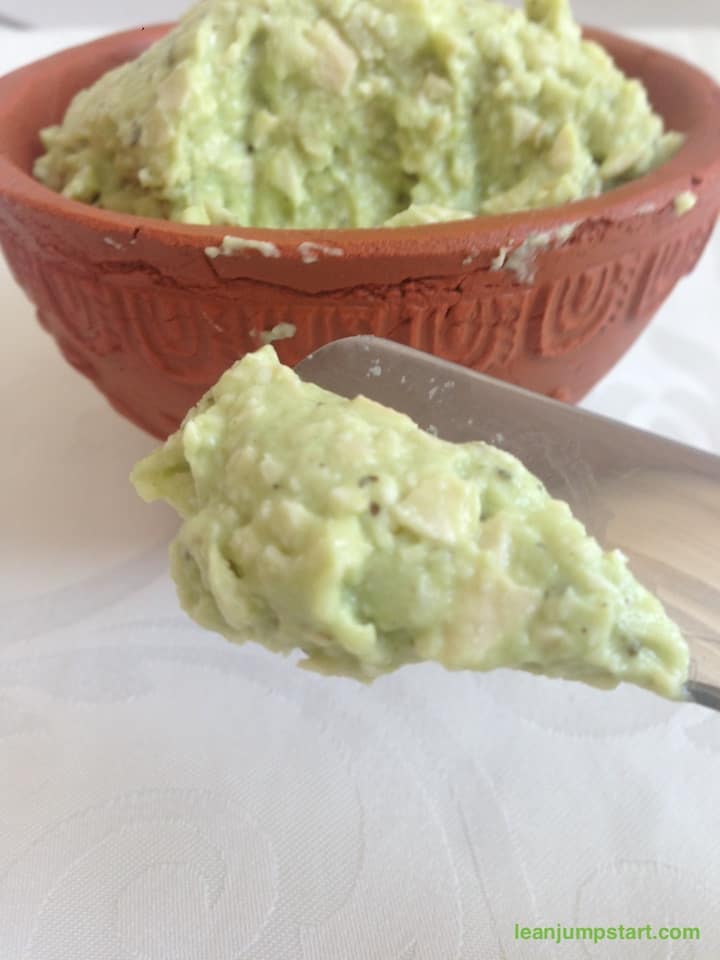 I can't let you go without sharing my own avocado dip recipe with you. As mentioned before, I don't have any photos of my own guacamole yet, but I want to at least share my avocado cashew cream with you. For me,it is a great and healthy replacement for cream cheese.
Detailed recipe and credit: Avocado cashew cream on leanjumpstart.com
---
Guacamole nutrition facts & health benefits
Guacamole is healthy thanks to its delicious main component. Although avocados are very fatty, it's one of the healthiest types of fat around. Its essential amino acids and unsaturated fatty acids are an excellent regulator of cholesterol levels.
This vitamin-bomb contains also a large amount of vitamin A, alpha-carotene, beta-carotene, biotin and vitamin E. It is surprisingly rich in fiber, containing almost 7 grams per 100 grams of avocado (more than Medjool dates!). Click here to learn more about high fiber foods and their health benefits.