Last Updated on January 31, 2021
Since I've experimented with this mouth-watering, spicy mango curry recipe, mangoes have had a hard time to survive in our fruit basket for more than one day. Not only that this exotic fruit is plain just a wonderful snack, in the meantime I just know too many plant-based recipes where mango is also a perfect ingredient.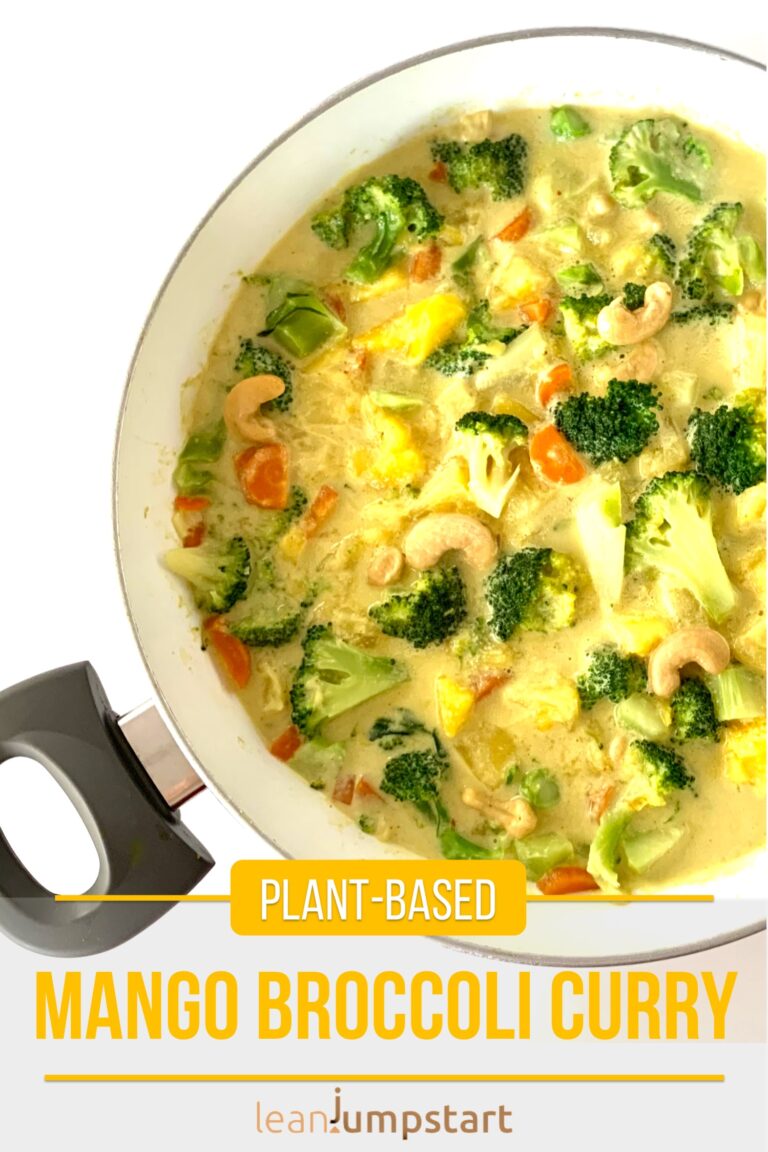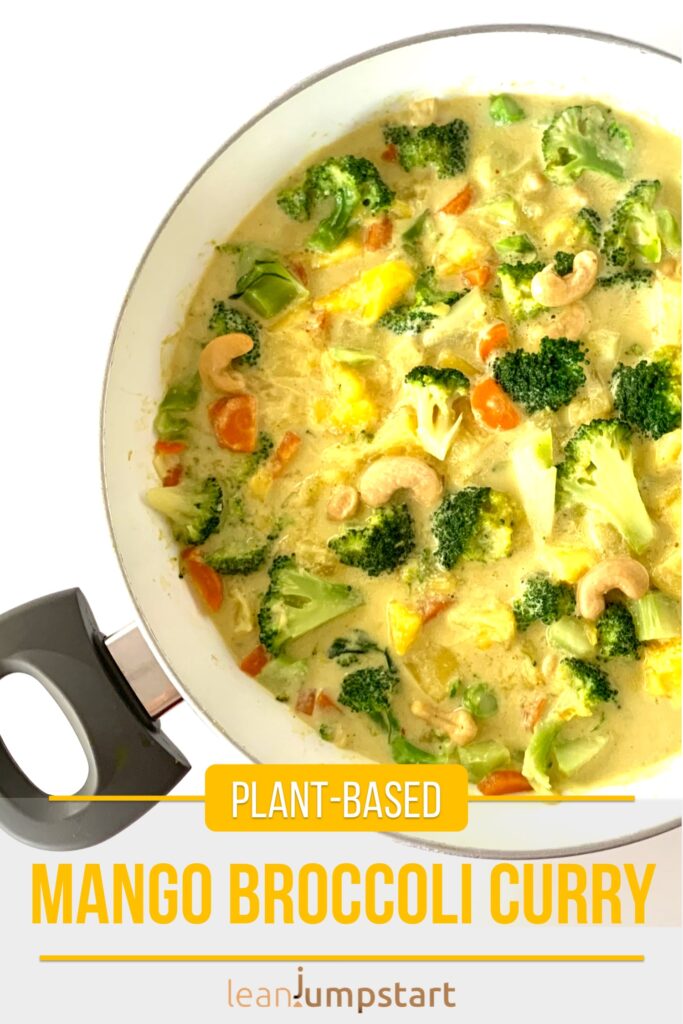 Recipe features
quick and easy – all you need is 30 minutes and a skillet
boosts mood – the yellow green color is a real mood booster
freezer-friendly– keep it stored in your freezer for a quick lunch or weeknight dinner any time you need it.
That's what you'll need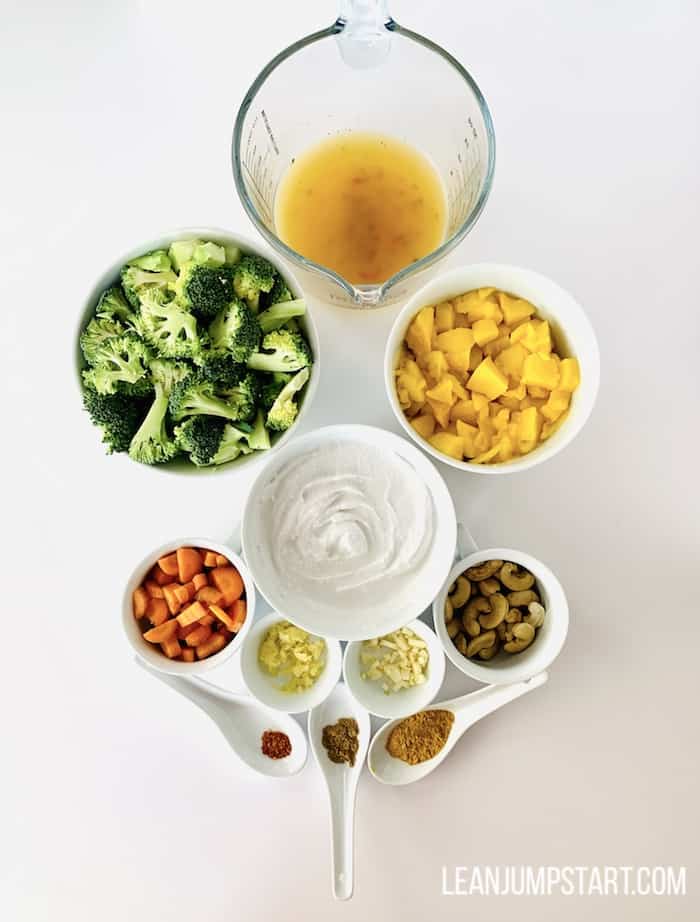 Ingredient notes
Vegetables: broccoli, carrots, garlic
Mangoes
coconut milk
cashews
vegetable broth
spices: ginger, curry, cilantro, red pepper flakes
Optional ingredients include a little oil, pepper and salt
Ingredient swaps
If you don't have all ingredients at hand here are some variation ideas you can try.
Use pineapples instead of mangoes. Some brands like e.g. "Dole" offer cans of pineapple chunks in 100% pineapple juice.
Reduce fat with with low-fat coconut milk.
Use almond slices or pine nuts if you don't have cashews at hand.
If you are not a fan of garlic use onions instead or sprinkle some green onion rings versus the end of the cooking process.
Step by step photos
This is an easy recipe, but it requires a little preparation work (don't worry though, the hardest part is cutting the mango). Besides of the step-by-step photos I've prepared also a little video for you. You'll find it below the recipe.
Step 1: Sweat ginger, garlic and chili pepper flakes in a little oil or water over medium heat
for about two minutes. The garlic should be slightly browned and you can taste the smell of the chili peppers.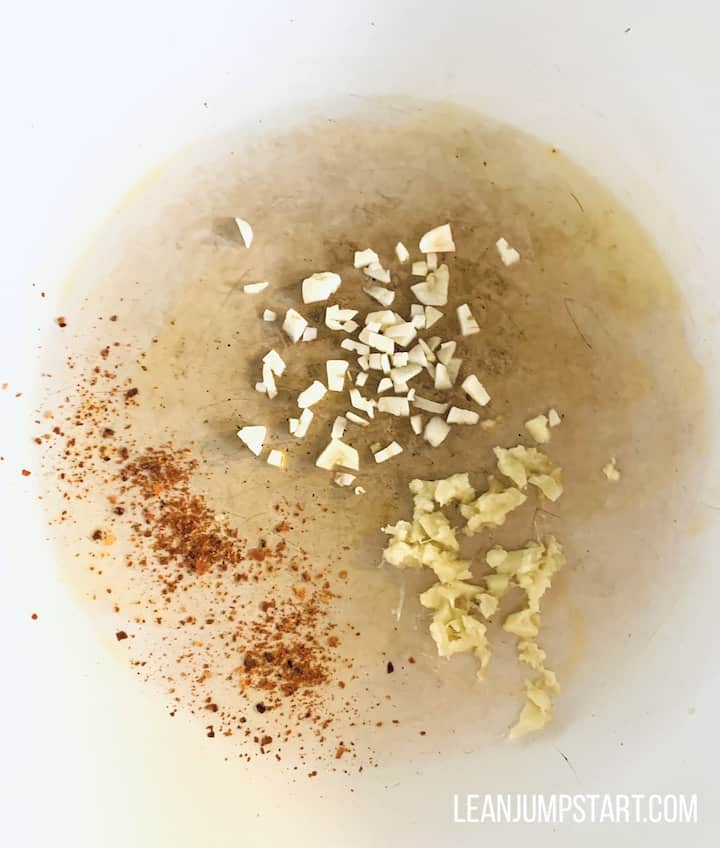 Step 2: Deglaze it with vegetable stock and coconut milk.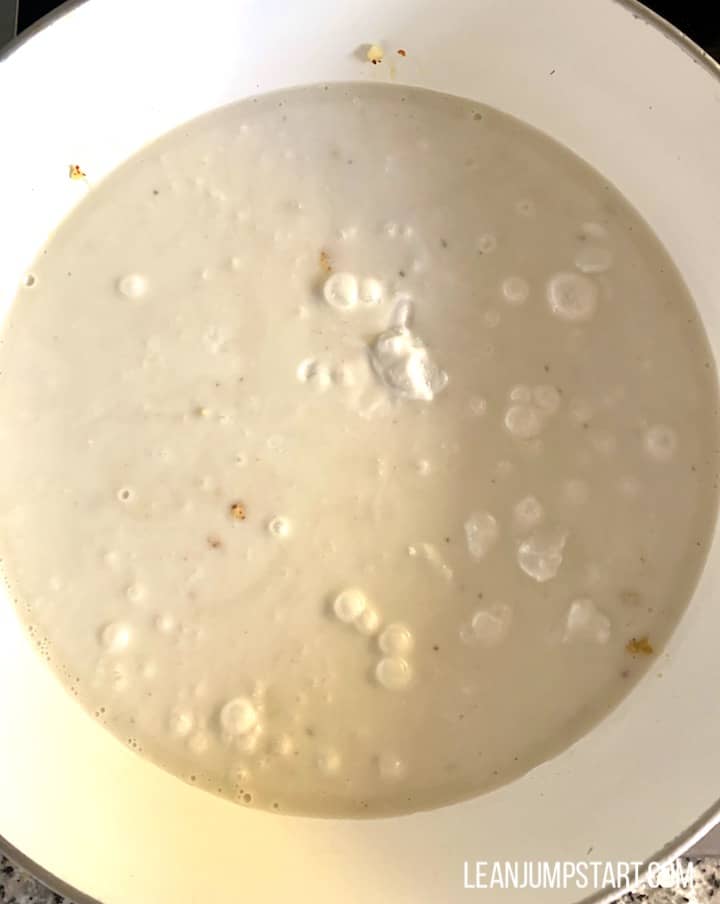 Step 3: Add carrots and broccoli then bring to a boil.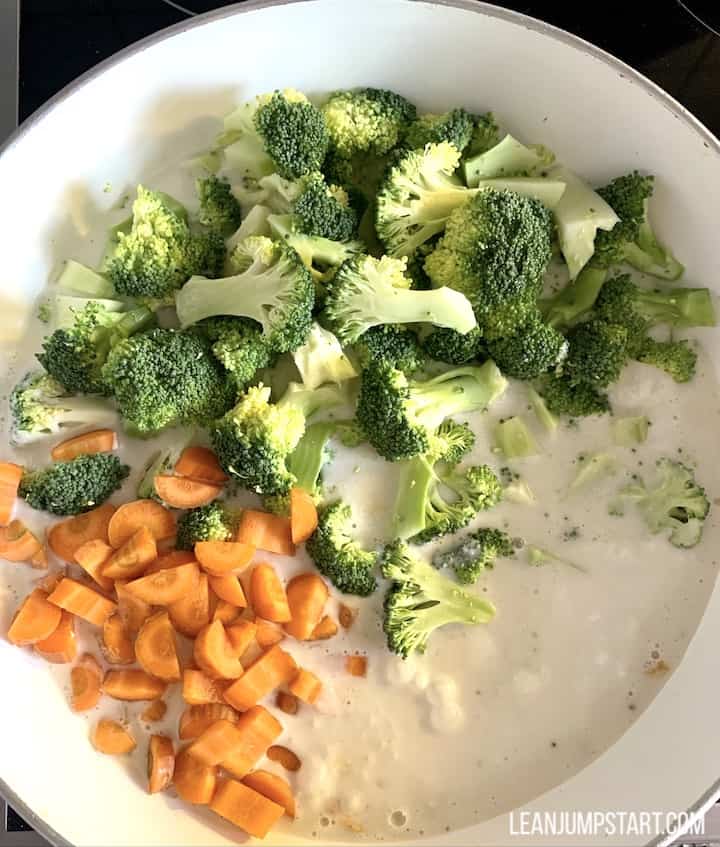 Step 4: Spice it with curry and cilantro. Simmer on a low heat for about 10 minutes until broccoli and carrots are almost cooked.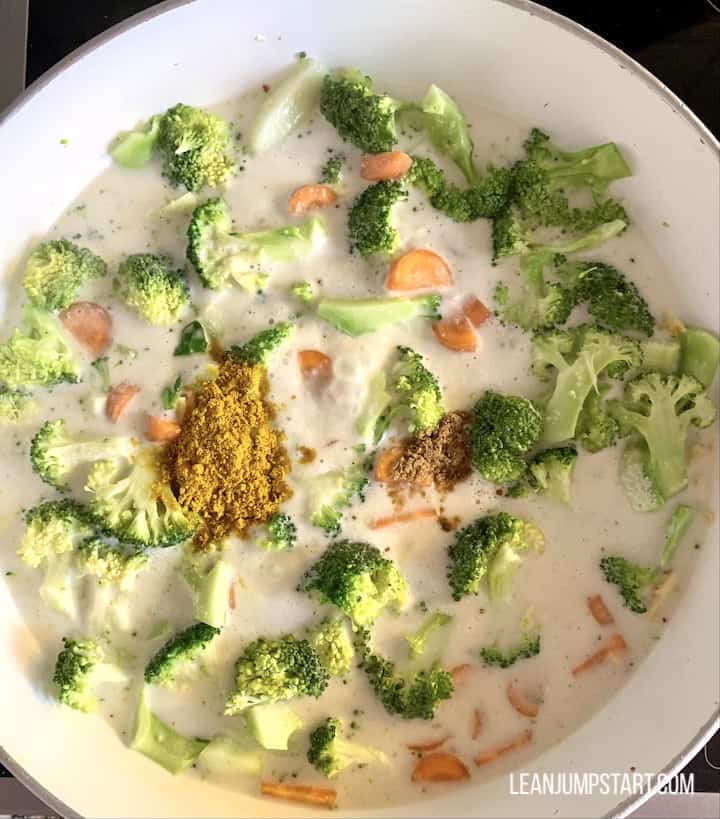 Step 5: Add mangoes and cashews, stir well and simmer for around three minutes. (Don't overcook broccoli)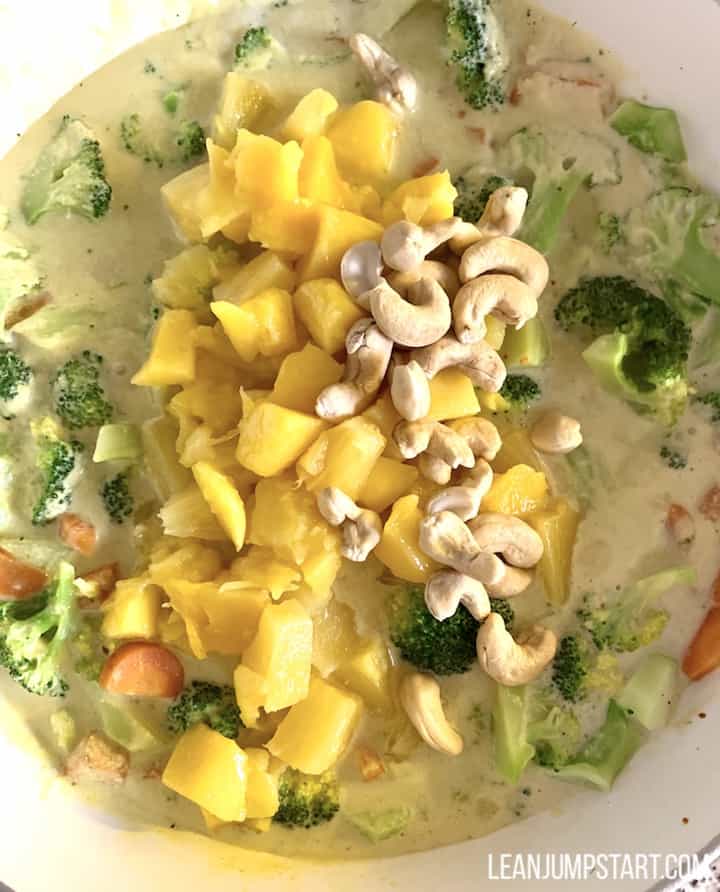 Serve it without or with grains like brown rice or millet. Get below the full recipe details!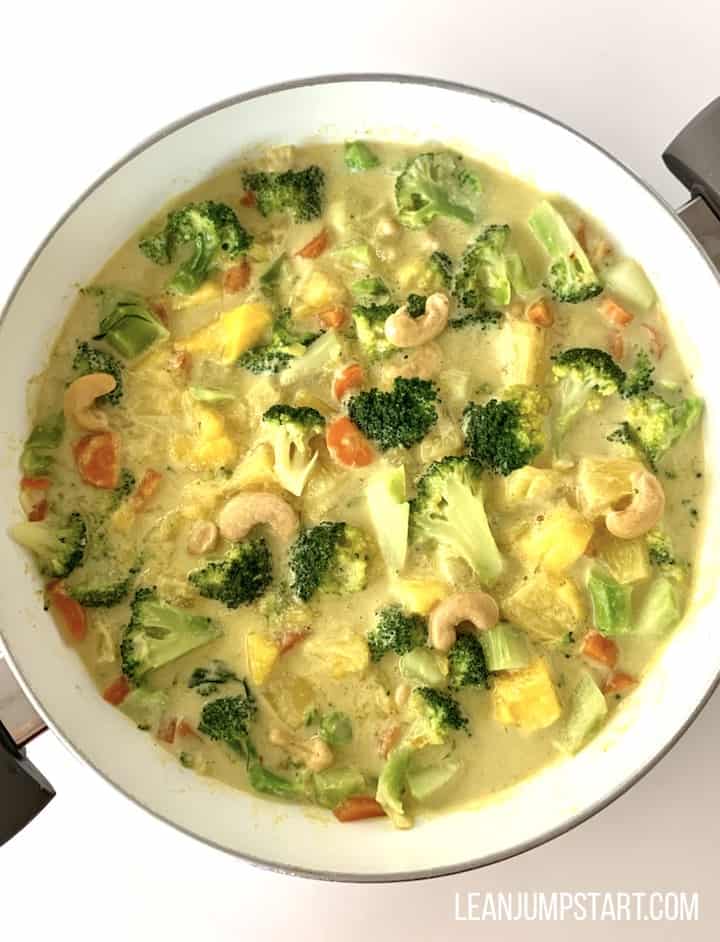 Mango curry vegan style recipe
Print
Mango Curry Recipe with Coconut Milk and Broccoli
A delicious, gluten free, plant based curry recipe
Author: Gabi Rupp
Prep Time:

10

Cook Time:

15

Total Time:

27

Cuisine:

Asian

Diet:

Vegan
500 grams

broccoli florets, diagonally split

1

ripe mango, diced

100 grams

carrots, cut in small pieces

2

cloves garlic, minced

1

piece ginger, minced

1/2 tsp

chili flakes

50 grams

cashews

400

ml coconut milk

200

ml vegetable broth

1 tsp

curry powder

1/2 tsp

cilantro

1 tsp

olive oil or

1 tbsp

water
some salt and pepper (optional)
Instructions
Sweat garlic, ginger and chilli pepper flakes in a little oil or water over medium heat
for about two minutes until the garlic is slightly browned and you can taste the smell of the chilli peppers.
Then use the vegetable stock and coconut milk to deglaze.
Add broccoli and carrots and bring to a boil.
After boiling, add the spices and simmer on a low heat for about 10 minutes until broccoli and carrots are almost cooked.
Add mango, and cashew nuts, stir well and simmer for another three minutes.
Season with salt and pepper (optional)
Notes
Serve it without or with a side dish, e. g. nutty brown rice, wild rice or quinoa.
Step-by-step Video
Where to buy affordable mangos?
Luckily, I can stock up our mango at Aldi for a reasonable price. On sale these fruits cost only 0.77 Euro ($0.96) – that's when I grab a few of them and we celebrate a week full of exotic snacks and dishes in my kitchen:)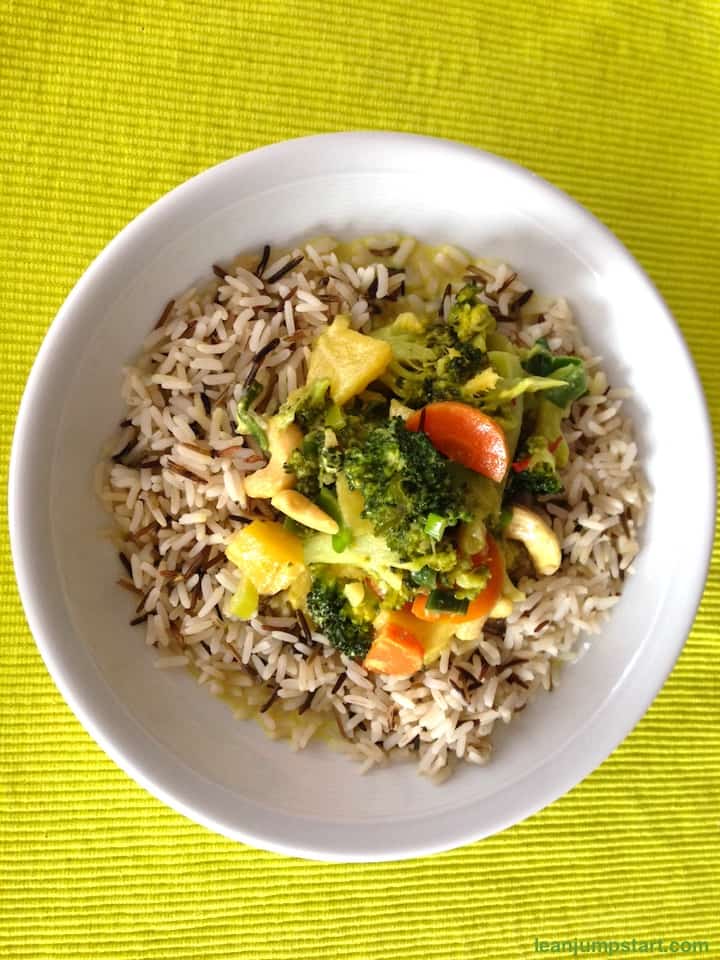 For this recipe you could also use convenient, frozen mangoes which in my region I can also get at the discounter. Let me know in the comment section if these juicy exotic fruits are affordable in your region too? If yes, where do you buy them?
The mood booster for Easter
When looking at the photos, don't you think that this yellow dominating mango curry could make a perfect, vegan Easter dish?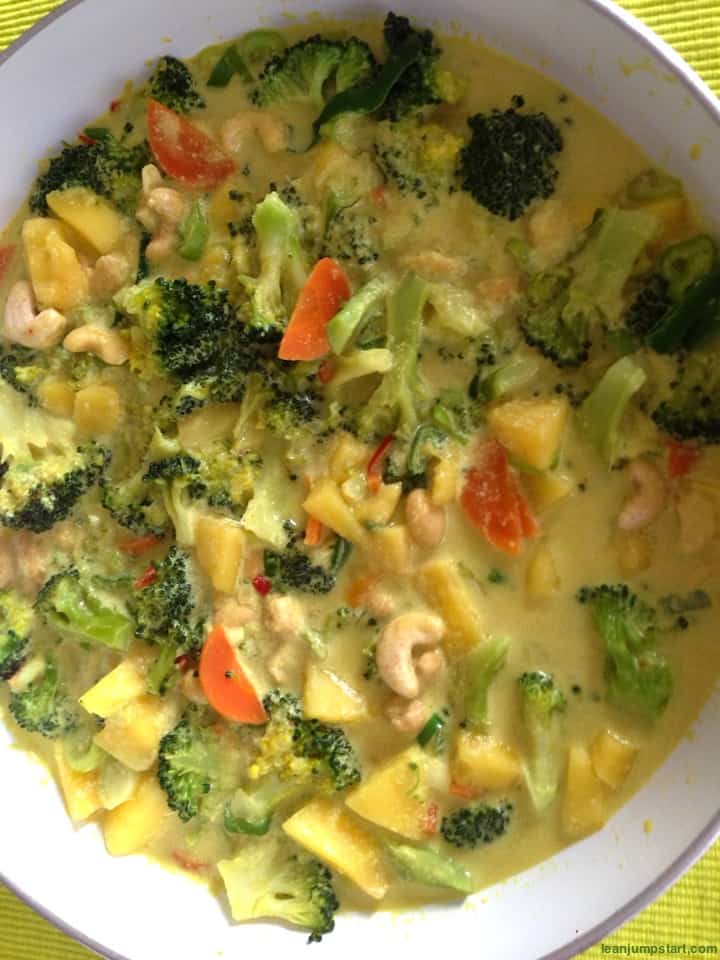 Easter is a feast of joy created by nature. We are surrounded by yellow flowers such as daffodils and dandelions. We also eat yellow dishes such as Easter pancake, Easter eggs, polenta, and curry. This has an effect on our state of mind, because yellow is considered to be the real mood booster among colors.
A yellow tablecloth and yellow napkins and/or a bouquet of yellow Easter bells or tulips on the table are the perfect requisites to spend happy hours with family or friends.
Easter is three weeks away. So there is still enough time left to test out this simple and creamy mango recipe in time.
Does broccoli have fiber?
You probably know that it is advisable to include more fiber-rich foods in your daily diet to keep you fit and in shape. Thanks to the fiber in broccoli combined with brown or wild rice and cashews you can easily create a nutrient-dense meal high in roughage. Such a meal can prevent constipation, aids in digestion, and helps manage cholesterol levels.
Yummy variations for omnivores
It is easy to vary this soy free recipe regarding vegetables and also meat. If you have omnivore guests for Easter or any other event, then you could easily add some chicken breast stripes or shrimps to this tasty curry recipe with steamed rice. Especially chicken and mango are a perfect match.
OTHER RECIPES WITH FRESH MANGOES WE ENJOY
When I spot a mango in our fruit basket I would besides of this recipe use it in: