Last Updated on March 5, 2021
This amazing mango cucumber salad recipe is pretty exciting because it's simple and as good for you as it is delicious. Use it as a yummy starter or upgrade it into a delicious wholesome meal. More about this variation at the end of this blog post.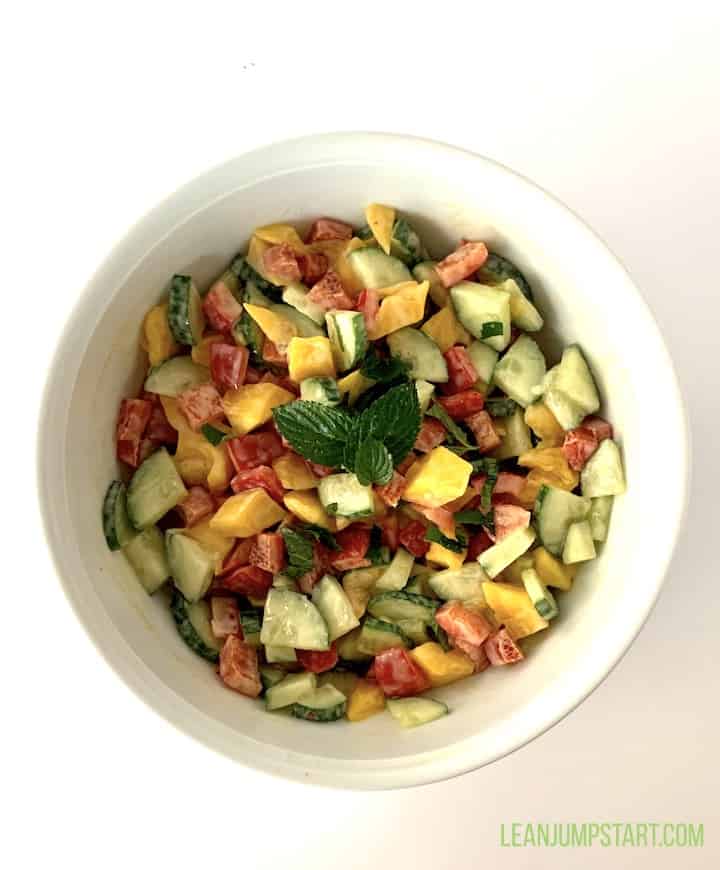 Do you need again a quick plant-based salad with just a few ingredients? But this time it should be something special? I know, Easter is just around the corner once again, which means lots of chocolate and yummy Easter treats!
My tip: Fuel your body with a vitamin bomb!
Try this mango salad as a starter and fuel your body with a lean and healthful salad. That way you are almost satiated when the main course arrives, let alone the dessert;). A smart approach to save on some Easter holiday calories. On top of that, you bring for sure some color and fun to your Easter table!
Of course, this easy recipe is also perfect if you just have a ripe mango sitting in your pantry waiting to be used as soon as possible.
Ingredients you'll need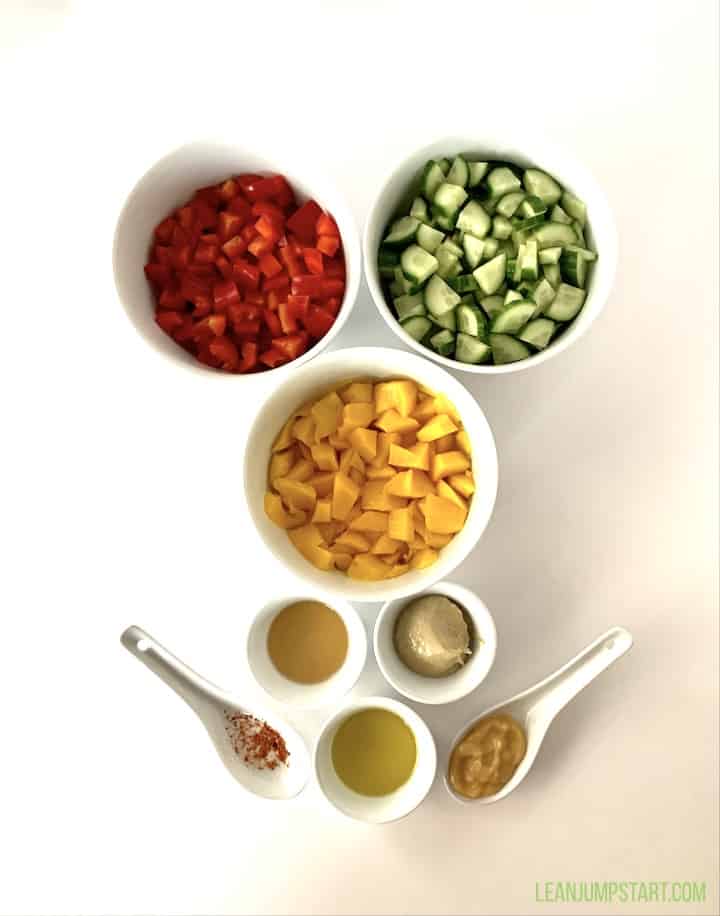 Ingredient swaps
If you don't have much time for this amazing creamy dressing then just 2-3 tablespoons of lemon juice are enough for the dressing. You can easily skip the oil too.
Even if you further simplify the recipe – the 3 main ingredients (mango, cucumber and red pepper) work for themselves. The textures and flavors in this salad recipe are perfectly balanced.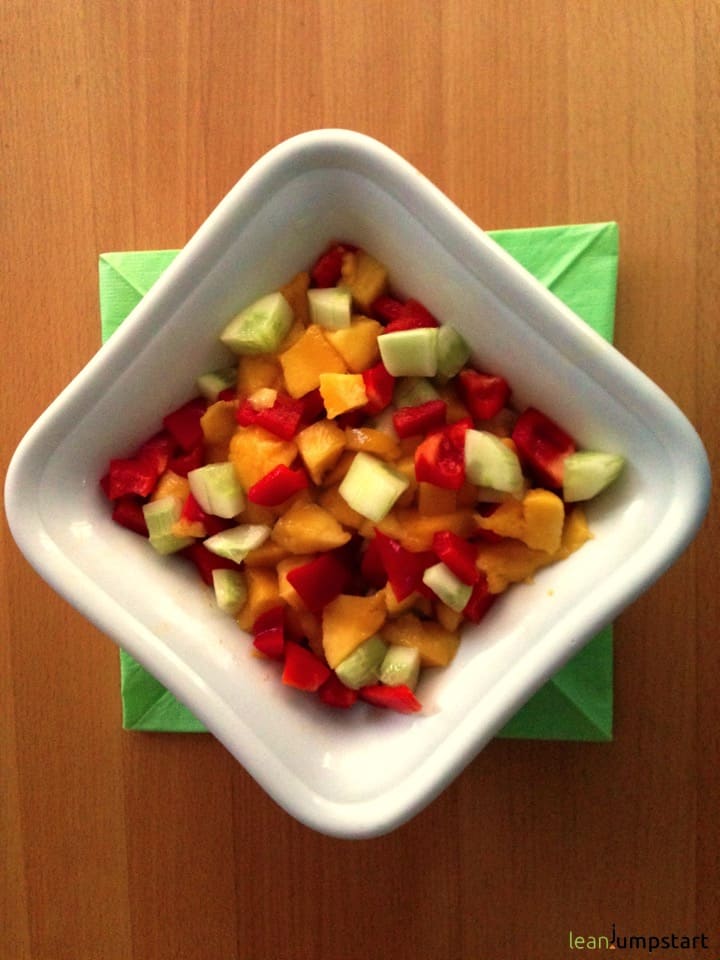 Take your taste experience to the next level with this yummy dressing below.
Step-by-step photos
Step 1: Whisk cashew paste, apple vinegar, white miso paste, linseed oil, red chili flakes and salt together.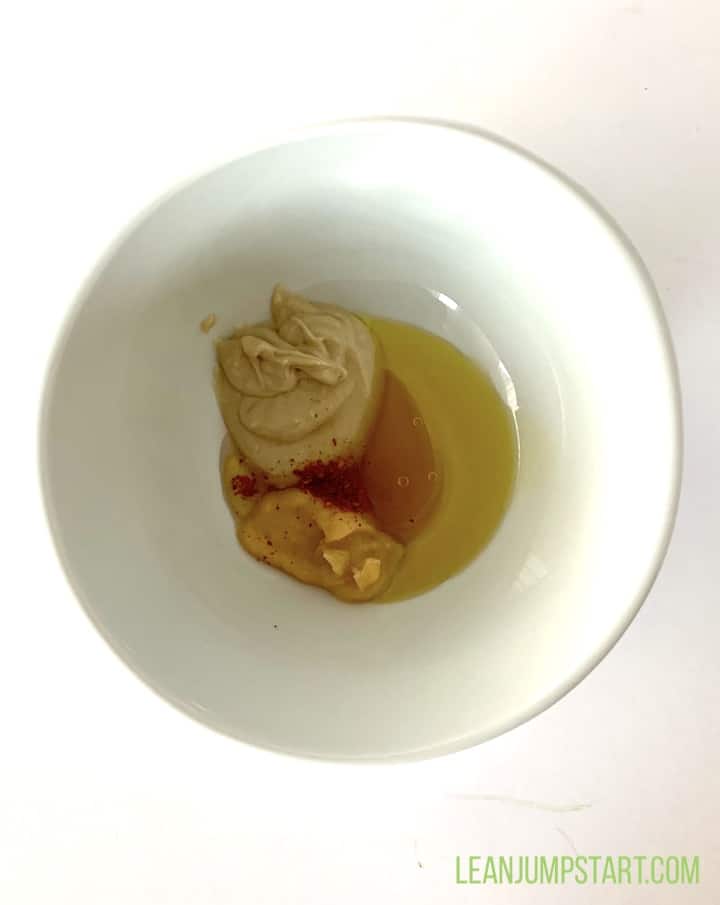 Step 2: Add dressing to the mango, cucumber, and red pepper cubes.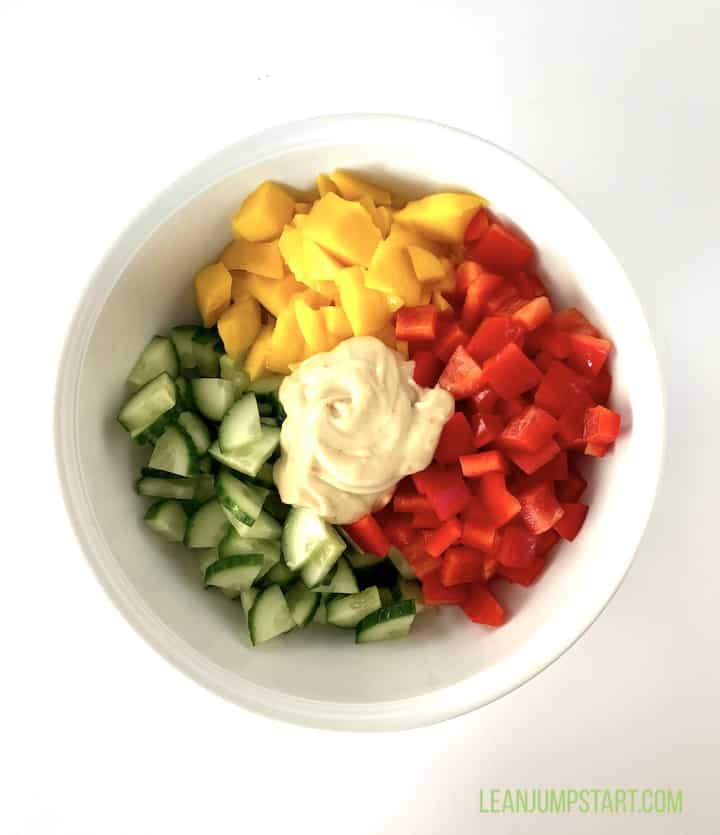 Step 3: Gently mix to combine. Sprinkle with some mint leaves. Serve cold.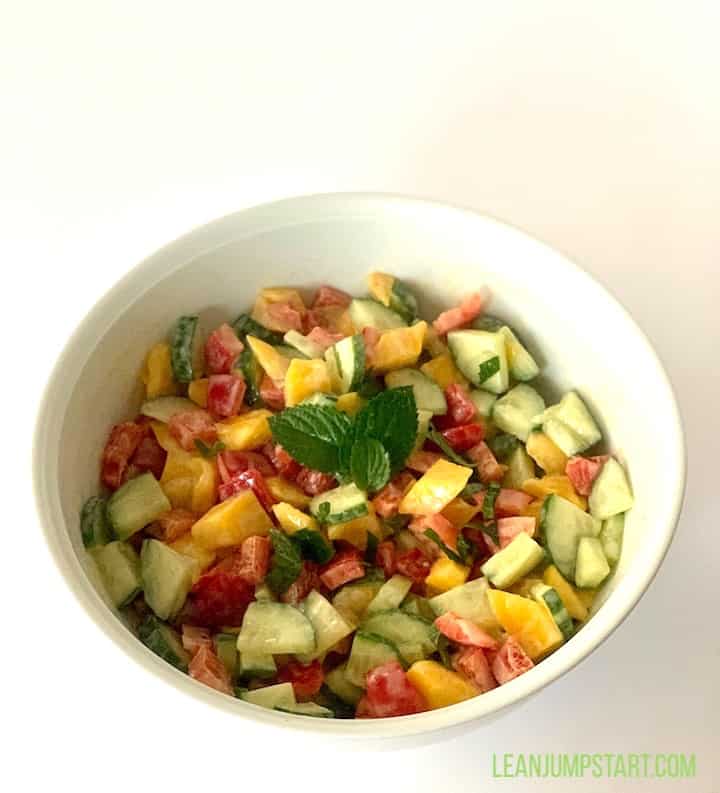 Watch how to make it
Print
Mango cucumber salad recipe with red peppers
A delicious Easter or summer salad
Author: Gabi Rupp
Prep Time:

15

Total Time:

15

Diet:

Vegan
1

ripe mango, peeled and chopped into

1/2

inch cubes

1

large organic cucumber, chopped into

1/2

inch cubes

1

red bell pepper, seeded and chopped into

1/2

inch cubes
For the dressing
1 tablespoon

cashew paste (or almond paste)

2 tablespoon

apple vinegar

1 tablespoon

white Miso paste

2 tablespoon

linseed oil (or olive oil)
a pinch of red chili flakes
some mint leaves
some water (optional)

1/4 teaspoon

salt
Instructions
In a large bowl, whisk all dressing ingredients together.
Add cream dressing to the mango, cucumber, and red pepper cubes.
Gently mix to combine.
Sprinkle with some mint leaves (optional)
Serve cold.
Enjoy this vitamin bomb that will make you look and feel great.
Notes
Tip: Refrigerate in an airtight glass container for up to 2 days.
Keywords: mango, red pepper, cucumber, vegan
Lean & Nutrient-Dense Salad Idea
With a portion of this glorious sweet and sour mango salad you immediately get your vitamin C supply for the day. Both mangos and red peppers are vitamin C powerhouses.
I love this dish also by itself for a snack and you could easily create a main dish of it. Check my inspirations below.
A filling main dish with white Cannellini beans
Upgrade this salad with white Cannellini beans and you get a protein and fiber-rich meal. Take it with you to your office or enjoy a light weeknight dinner on hot summer days. Instead of mint leaves try this time fresh cilantro which are a perfect match and give this salad an Asian touch.
Additional 3 salad variations
Replace cucumber with avocados to get a filling mango avocado salad.
If you want to have another filling main dish just add 2 cups of cooked quinoa and create a delicious mango quinoa salad.
If you just have a ripe mango and cabbage in your pantry then slice the cabbage thinly and create a refreshing mango cabbage slaw.