Last Updated on March 12, 2020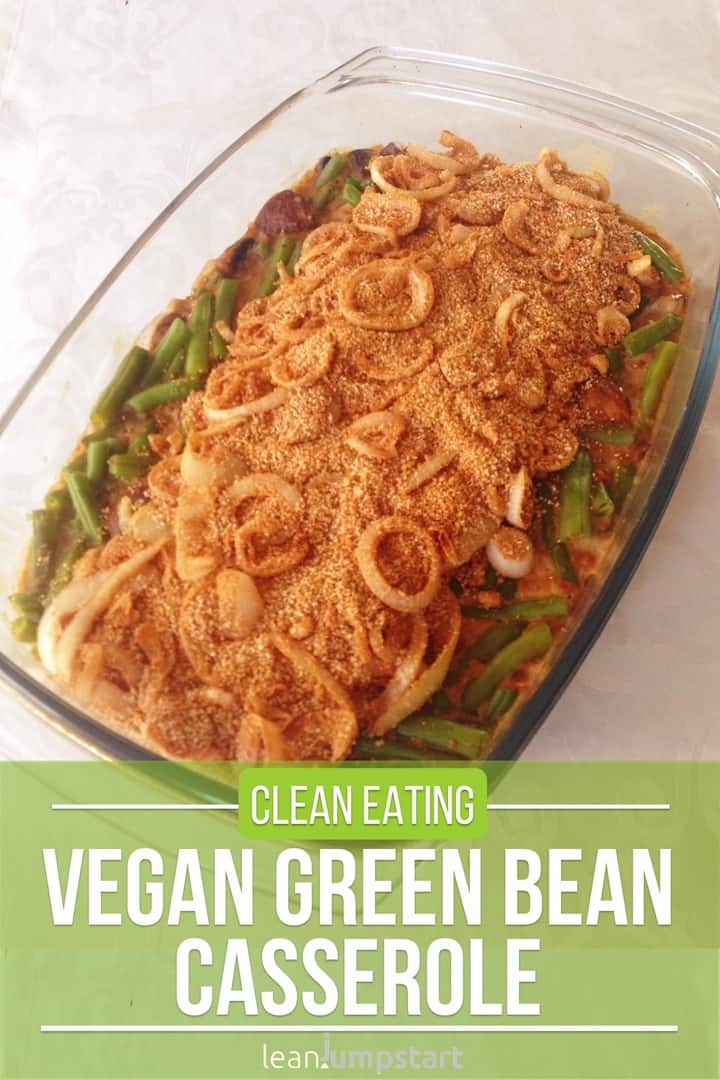 Inspired by my last roundup post I've decided to create a vegan green bean casserole from scratch. Ok, not totally from scratch – I admit that I've used frozen green beans as a little time saver. Read on also, if you want to use fresh legumes for this recipe, I've covered that too.
Enjoy it as main course or side dish
I've been living in Europe for all my life, hence I'm not used to the traditional Thanksgiving side dish in the US. In consequence I love the idea to enjoy these legumes as a main course of a meal all year around. This delicious recipe is laid out for 2-3 persons.
With a salad as starter it makes a skinny and easy dinner (or lunch) for all three of us. If you want to serve it as a healthy side dish, then it will make around six portions.
How to make green bean casserole vegan and clean?
Since my daughter turned vegan over two years ago, I've had to come up with lots of plant-based recipes. Creating vegan clean eating recipes was and is sometimes a challenge, especially with the actual legume recipe. But over time you get used to it and also in this case I've found a workaround.
There are usually 3 main components going into this healthy comfort food you can use as easy Thanksgiving side or simple main dish:
Green beans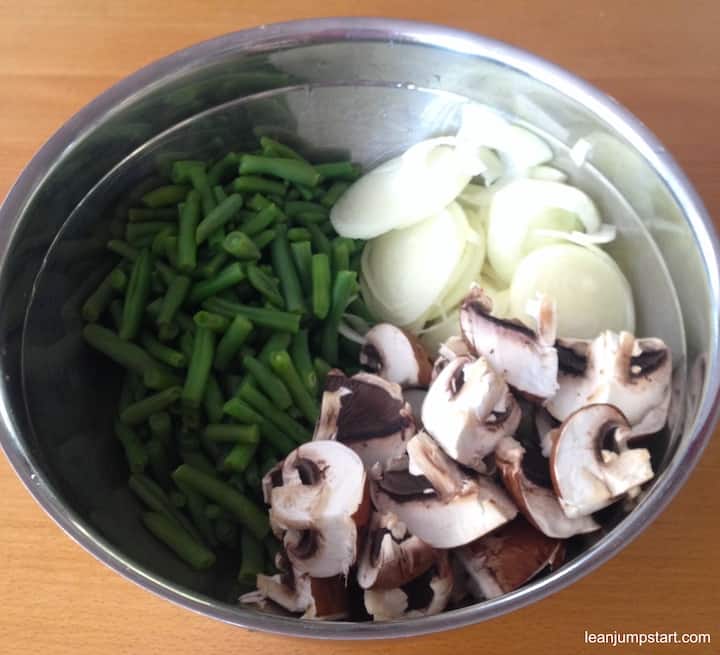 I know that Campbell's original recipe calls for legumes in cans which have a salty flavor at best and metallic at worst. Frozen green beans offer a convenient and healthier way to bake this delicious plant based meal independent from the season.
You just take a big pot, fill it with a small amount of salted water and cook your frozen beans for about 3 minutes. They don't have to be completely cooked yet. Plunge your legumes in a bowl with iced water to cool them quickly. This is an important step to get bright and crunchy beans.
Do you have fresh beans at hand? You just need to remove ends and strings before cooking them 5 minutes in some boiling salted water. Again, you have to cool the vegetables quickly to keep the bright green color.
2. Creamy mushroom sauce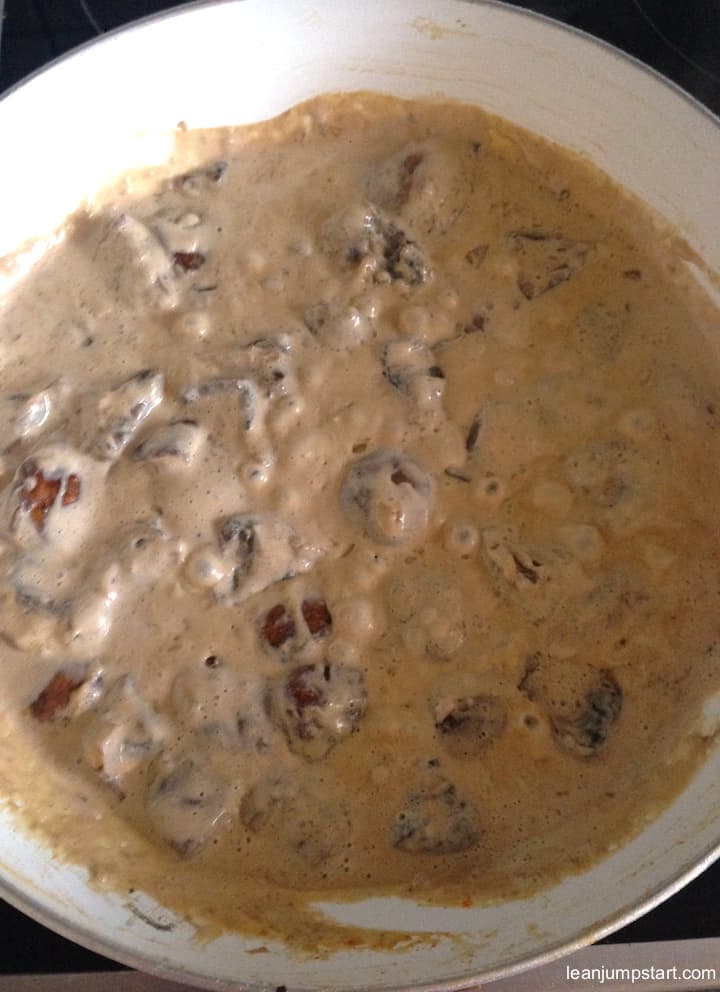 Instead of Campbell's cream of mushroom soup in cans I'm cooking a homemade mushroom cream sauce which is either vegan, clean or both. For the mushroom sauce from scratch you have two options to get a dairy free green bean casserole:
use a soy cream (see picture above) and plant milk (e.g. almond milk), which is not clean.
use regular cream and milk, which is not vegan
or, if you want a skinny, vegan and clean recipe, then the cauliflower puree is your best friend.
For me it really depends, if I have cauliflower puree at hand or not. I've added some instructions how to make pureed cauliflower at the end of this blog post. But in the most cases I will practice my 80/20 approach to clean eating and will use a light soy cream for this recipe.
At last you just add the legumes and pour the mixture into an oven safe baking dish.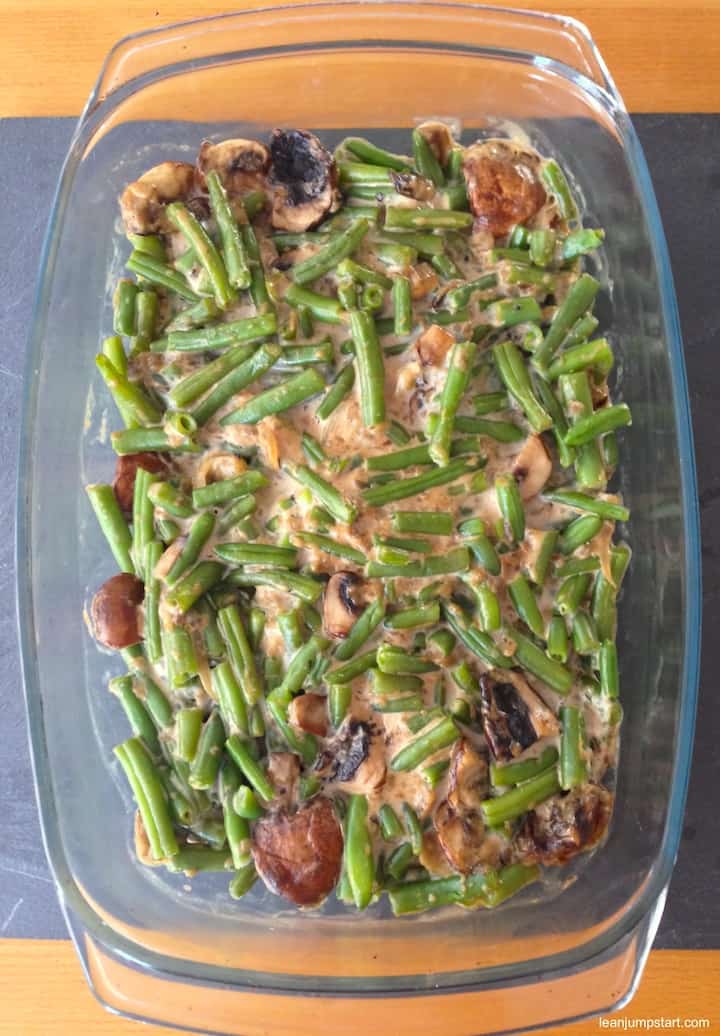 3. Healthy onion topping
Most vegan green bean casserole recipes I've found on the web couldn't live without the crunchy French-fried onions as topping. I suppose this has to do with their irresistibly crunchy texture similar to the addictive potato chips. Maybe a bit of Thanksgiving nostalgia plays a role too.
I'm glad that I've learned to control my former potato chips addiction, so I don't have the intention to use these highly processed French-fried onions. Here is my direction, if you also want to make a healthier onion topping:
Take a skillet without oil and roast your whole wheat bread crumbs carefully to prevent them from burning. Fill the roasted bread crumbs into a bowl and put aside. In the same pan you can now heat 1 tablespoon of olive oil and sauté garlic and onions. After 5 minutes add a dash of date syrup.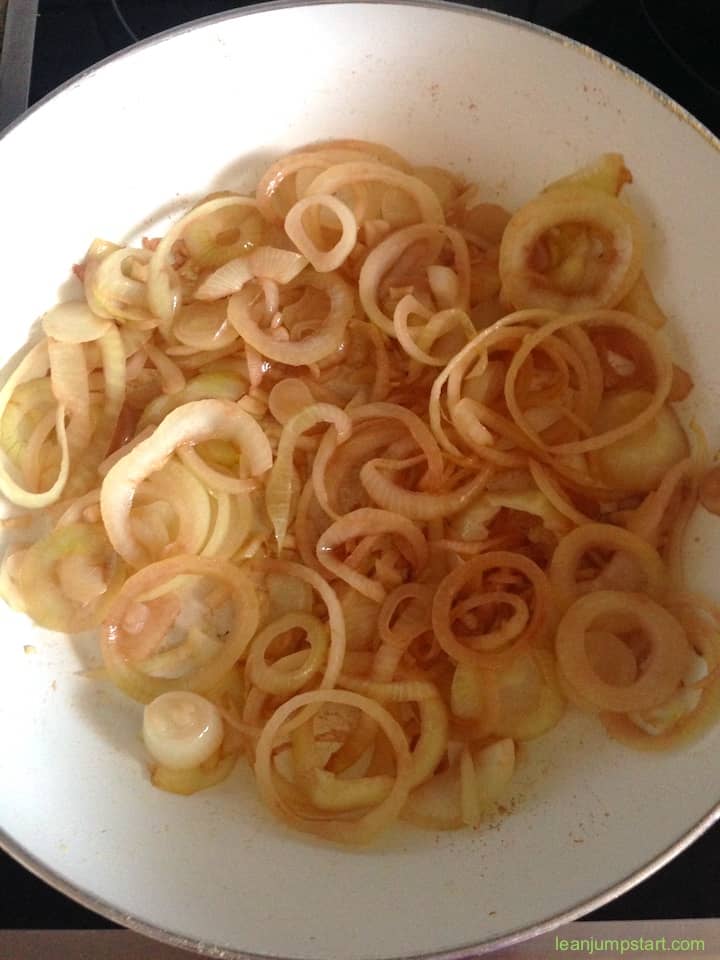 Sauté for another 5 minutes and then add onions to the roasted bread crumbs, mixing well.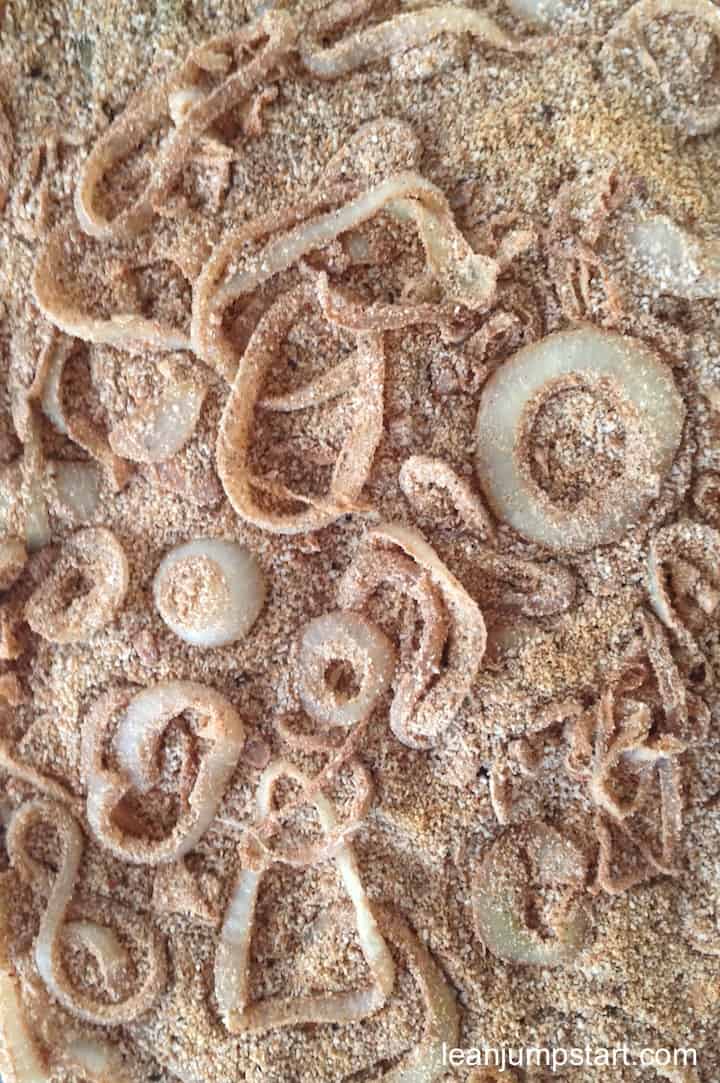 We love this kind of "whole wheat bread crumbs onion rings" topping.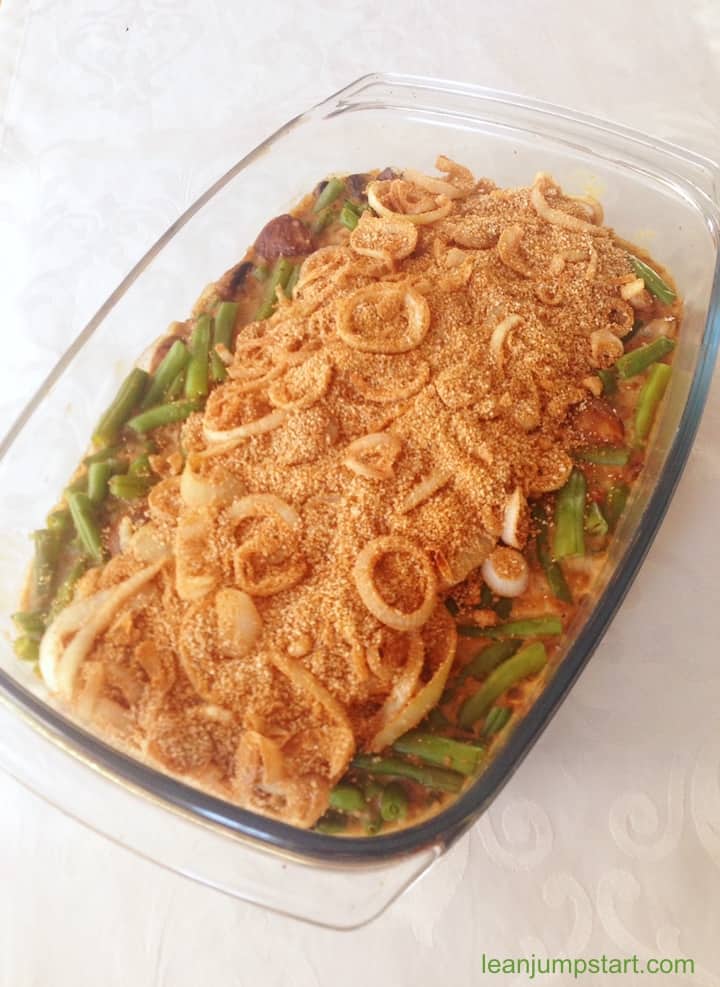 Ok, here is the full recipe for a homemade green bean casserole with frozen green beans.
Print
Vegan green bean casserole recipe with frozen green beans – easy clean eating dish
Best ever green bean casserole as main dish
Author: Gabi Rupp
Prep Time:

30 minutes

Cook Time:

25 minutes

Total Time:

55

Yield:

3

1

x
400 g

frozen green beans, cooked and chilled in ice water

4

medium onions cut in rings

200 g

mushrooms, quartered

3

cloves of garlic, minced

150 g

roasted whole wheat bread crumbs

2 tbsp

olive oil

3 tbsp

wholemeal flour

3 tbsp

(plant-based) milk

250

ml (light) soy cream or cauliflower puree
In addition:
some date syrup
iced water
salt & pepper
red pepper powder, nutmeg
Instructions
Bright Green beans:
Take a big pot, fill it with some salted water and boil frozen beans at medium heat for about 3 minutes.
To cool them quickly, plunge legumes in a bowl with iced water.
(This is key for bright green and crunchy beans.)
Then transfer legumes into a bowl and put aside.
Crunchy onion topping:
Heat 1 tablespoon of olive oil in a pan and sauté onions and garlic for 5 minutes.
Add a dash of date syrup and let it cook for another 5 minutes.
Then add sautéed vegetables to the bread crumbs and mix well.
Set aside.
Creamy mushroom sauce:
Use the pan again, heat another 1 tablespoon of olive oil and stir-fry mushroom quarters.
After about 7-10 minutes sprinkle the mixture with 3 tablespoons of whole grain flour and let it fry for another minute.
Add a large dash of (plant) milk and stir well to prevent lumps from forming.
Then pour in the soy cream (or cauliflower puree) and continue stirring steadily to prevent clumping.
Let it simmer for 3-4 minutes.
Taste it with salt, pepper, nutmeg and paprika.
Combining and baking:
Combine the green beans with the creamy mushroom sauce and pour it in an ovenproof dish.
Bake it in the oven for 15 – 20 minutes at 180 °C /360 °F.
Then take out the dish briefly, sprinkle with the onion and bread crumbs mixture and bake the bean casserole for another 10 minutes.
Serve it warm.
Notes
Instead of salt you can season your vegan dish also with some soy sauce.
You can optionally replace part of the bread crumbs with nutritional yeast.
Instead of the soy cream or cauliflower purée you could also use garbanzo beans puree for an extra portion of protein and fiber
Keywords: green bean casserole, vegan, clean eating
How to increase your fiber consumption
You can even increase your fiber intake by using whole wheat panko bread crumbs which seem to be unbeatable as a crunchy topping for casseroles and baked foods. But please check the ingredient list as they are not always clean.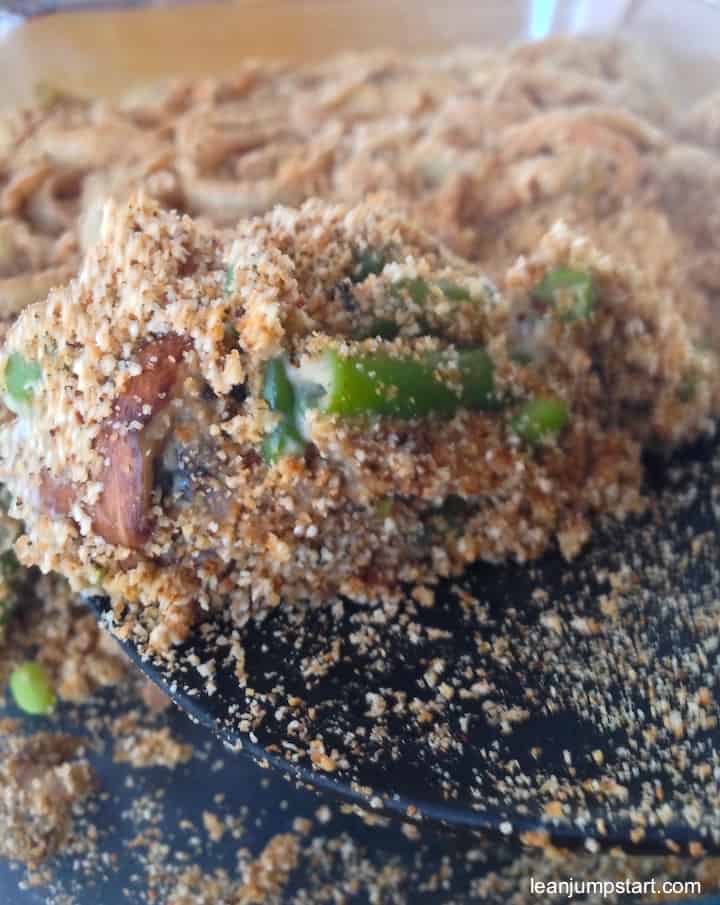 How to make cauliflower puree
If you desire a 100% clean eating, vegan recipe, my recommendation is to use cauliflower puree instead of cream. Here are the directions for an easy pureed cauliflower recipe:
Use a large pot and bring 4-quarts/3 liter of salted water or vegetable broth to a boil.

Add cauliflower florets and let it simmer for 7-10 minutes (until tender)

Drain vegetables, reserving 1 cup cooking liquid.

Process cauliflower and 2 tablespoons of liquid in a blender until smooth.

Add more water until wished consistency is reached.

At last add some olive oil and blend until incorporated

Season with some salt and nutmeg.
Tip: You can freeze leftovers in BPA free containers for up to three months. Just thaw them overnight in your fridge, when you know you need the puree the next day,
Other legume recipes you might enjoy
Need some more inspirations? Feel free to check out my roundup post with top 7 with fresh green bean casserole recipe ideas from my fellow blogger.