A long family tradition of mine is having fish on Fridays. This delicious steamed salmon with quinoa spinach is one of my favorite seafood recipes.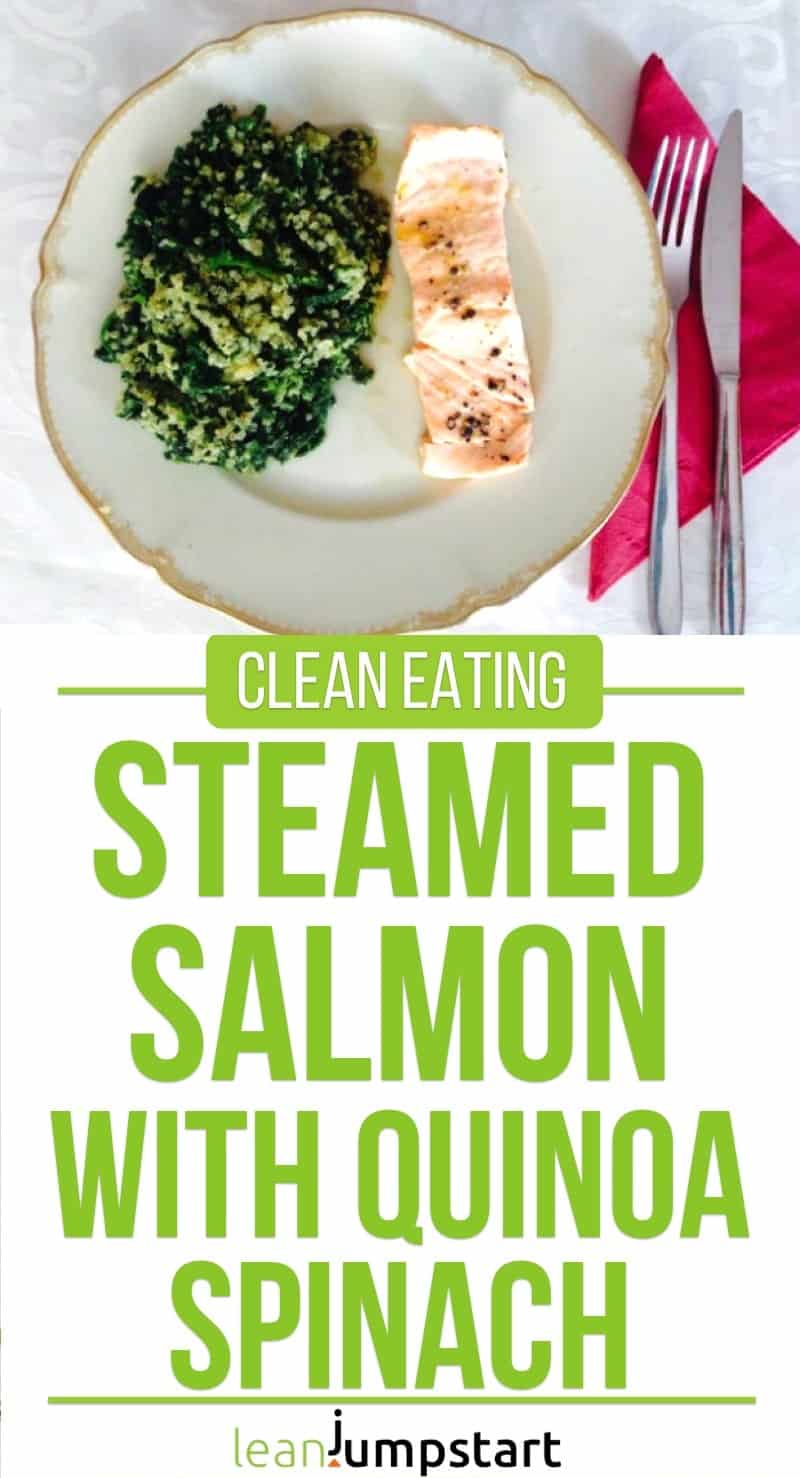 It combines 3 ingredients I'm a big fan of in an artfully way. On top when it comes to salmon it uses one of the most healthy cooking methods  – steaming.
What is more … the fiber-rich quinoa is one of the best plant sources of protein.  Together with salmon, you have a real protein bomb that is also an ideal post-workout dish.
How long to steam salmon
If you use fresh fish fillets like suggested in the recipe then you won't need longer than 10 minutes to steam your seafood. As a steaming base, we use a boiled water wine combination. Don't steam longer than 15 minutes or your fillet will fall apart. In that case, you can still fold it under the quinoa spinach for a delicious one-pot meal.
Print
steamed salmon with quinoa spinach
Ingredients for Quinoa
2

cloves garlic, minced

1 tsp

. olive oil or canola oil

500 g

fresh spinach

5 oz

. (

150

ml) vegetable broth

100 g

quinoa
Ingredients for Salmon
2

salmon fillets

1 tsp

. fine ground organic lemon peel

1 tsp

. olive oil
Salt, pepper

⅛

l dry white wine
A pot with a steamer basket or a wok with a steamer rack
Instructions
Instructions for Quinoa
Fry garlic in a large pot with olive oil over medium heat (1 minute).
Wash quinoa thoroughly with hot water, add it to the pot and fill it up with broth.
Bring it to a boil and let it simmer for 10 minutes.
Wash spinach and add it to the pot.
Let it simmer, covered, for an additional 10 minutes.
Notes
Instructions for Salmon
While the quinoa is cooking, in the meantime thoroughly rinse the salmon in cold water and pat dry.
Mix lemon peel, ½ tsp. salt and a dash of pepper with olive oil. Rub the salmon with this marinade.
Place fish fillets in a steamer rack/basket.
Bring wine with 4 oz (125 ml) of water to a boil using a wok or pot for the steamer basket. Insert the steamer basket/rack and let it steam covered at medium-high heat for 10 minutes. Test the fish for doneness.
Arrange salmon and quinoa spinach on a plate. Enjoy!
Quinoa is so healthy that I dedicated a whole clean eating challenge week only to this superfood. The same is true for salmon. Check out some valuable background information below:
How do you like my fiber-rich seafood dish?
Salmon is especially rich in the so important Omega-3 fatty acids. Vegans who don't eat fish or any other animal-based products should try to get their Omega-3s from algae.
But did you know that fish and other animal foods don't contain any fiber? That's why it's so important to pair animal-based foods with high-fiber vegetables or grains. Especially the addition of the nutrient-dense quinoa to this meal makes sure that you are eating foods high in fiber and protein. Spinach further increases the fiber intake level.
Now it's your turn! Let me know how you like my clean eating recipe in the comment section below.