A long family tradition of mine is having fish on friday. This Clean Eating Steamed Salmon with Quinoa Spinach recipe is one of my favorite fish recipes.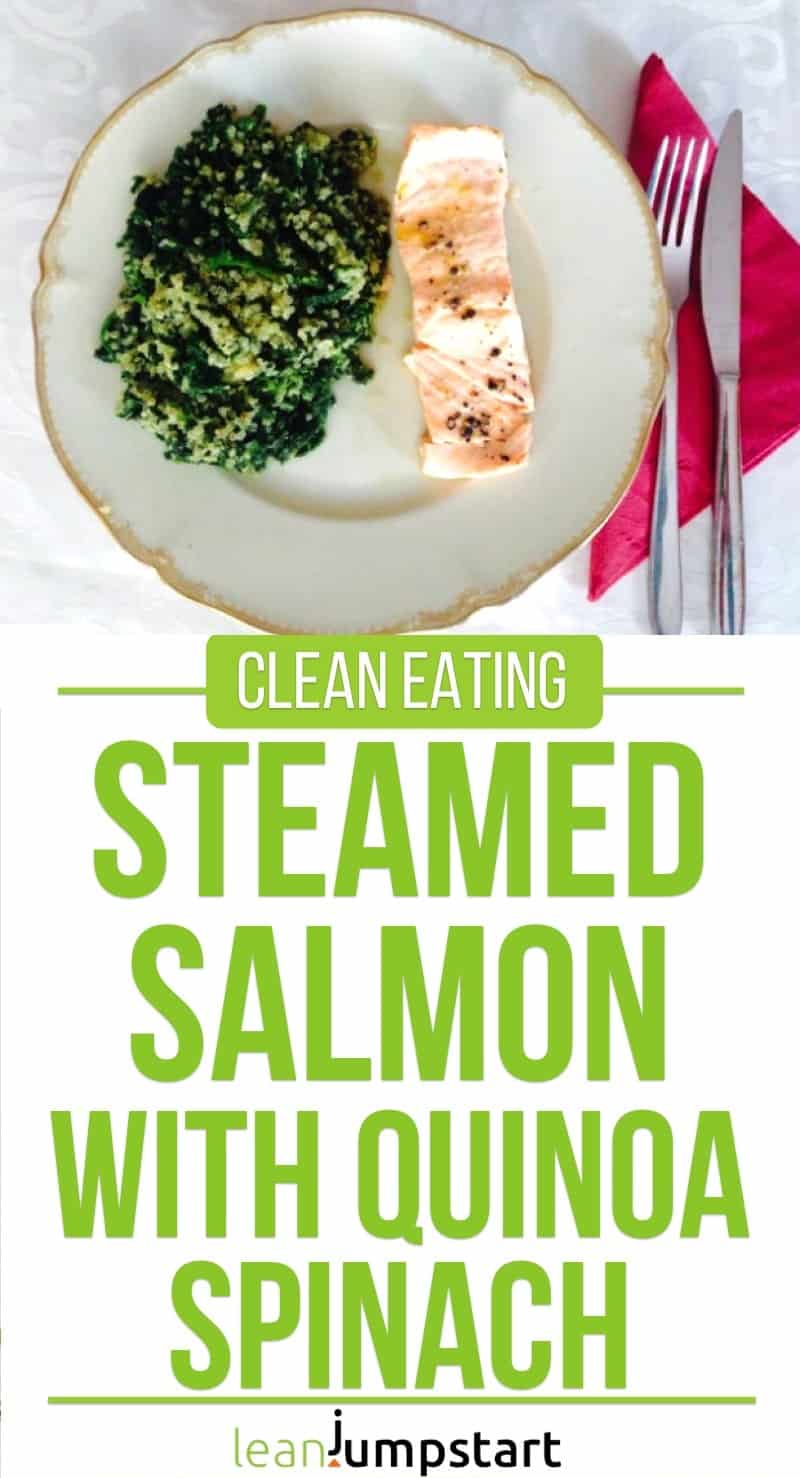 This clean eating steamed salmon recipe combines 3 ingredients I'm a big fan of in an artfully way. On top when it comes to salmon it uses one of the most healthy cooking methods – steaming.
What is more …quinoa is one of the best plant sources of protein, together with salmon you have a real protein bomb that is an ideal post workout dish.
Clean Eating Steamed Salmon with Quinoa Spinach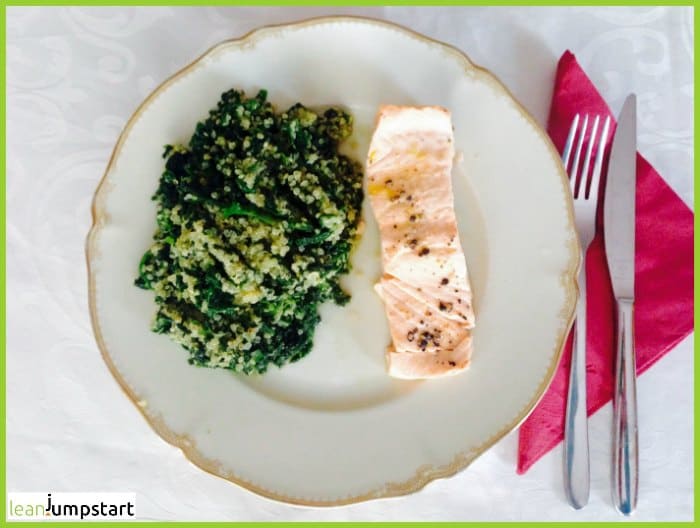 Ingredients
Ingredients for Quinoa
2 cloves garlic, minced
2 tbsp. olive oil
500 g fresh spinach
5 oz. (150 ml) vegetable broth
100 g quinoa
Ingredients for Salmon
2 salmon fillets
1 tsp. fine grinded organic lemon peel
1 tsp. olive oil
Salt, pepper
⅛ l dry white wine
A pot with a steamer basket or a wok with a steamer rack
Instructions
Instructions for Quinoa
Fry garlic in a large pot with olive oil over medium heat (1 minute).
Wash quinoa thoroughly with hot water, add it to the pot and fill it up with broth.
Wash spinach and add it to the pot after 10 minutes of simmering.
Let it simmer, covered, for an additional 10 minutes.
Notes
Instructions for Salmon
1. While the quinoa is cooking, in the meantime thoroughly rinse the salmon in cold water and pat dry.
2. Mix lemon peel, ½ tsp. salt and a dash of pepper with olive oil. Rub the salmon with this marinade.
3. Place salmon fillets in a steamer rack/basket.
4. Bring wine with 4 oz (125 ml) of water to a boil using a wok or pot for the steamer basket. Insert the steamer basket/rack and let it steam covered at medium heat for 10 minutes. Test the fish for doneness.
5. Arrange salmon and quinoa spinach on a plate. Enjoy!
Quinoa is so healthy that I dedicated a whole clean eating changes week only to this superfood. The same is true for salmon. Check out some valuable background information below:
How do you like the clean eating steamed salmon recipe?
Now it's your turn! Let me know how you like the steamed salmon recipe in the comment section below.