Take control of your clean eating meals with 3 simple steps (+ free template)
In this week's challenge, you will learn how to make a simple clean eating meal plan. Meal planning is an essential habit to save time and money while sticking to a clean eating diet.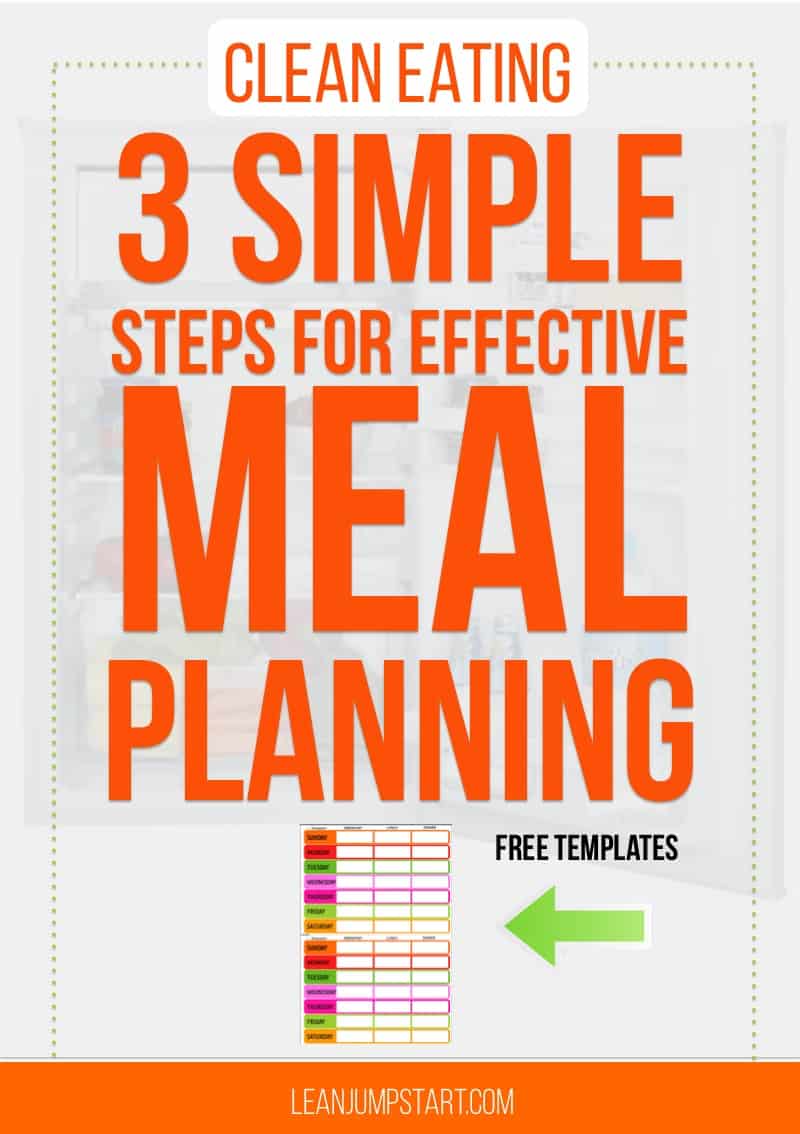 Over processed convenience food is booming
…too time consuming, too challenging, too inconvenient, too expensive…Homemade meals seem to be a thing of the past for the majority of American families. On the other hand, the market for over processed convenience food is booming.
Here are some statements from you in my survey that mirror this alarming situation:
"I don't always have a lot of time to prepare fresh meals. And let's face it, I can feed my family of six Kraft Dinner for $5."
"I hate to cook and fresh fruit and vegetables go bad so fast I can't keep them very long."
"I arrive home from work and am HUNGRY! Chips are quick, tasty, and a comfort food. That is my struggle time."
Could one of the statements be from you?
Lack of home cooking contributes to obesity
Do you hate cooking? Or are you too tired to cook healthy meals after work? The lack of home cooking is one of the major factors contributing to obesity! But what can you do now?
It is true – homemade food takes time!
On the other hand, cooking is one area in your life that you can easily keep under control. You just have to take a few simple, basic steps.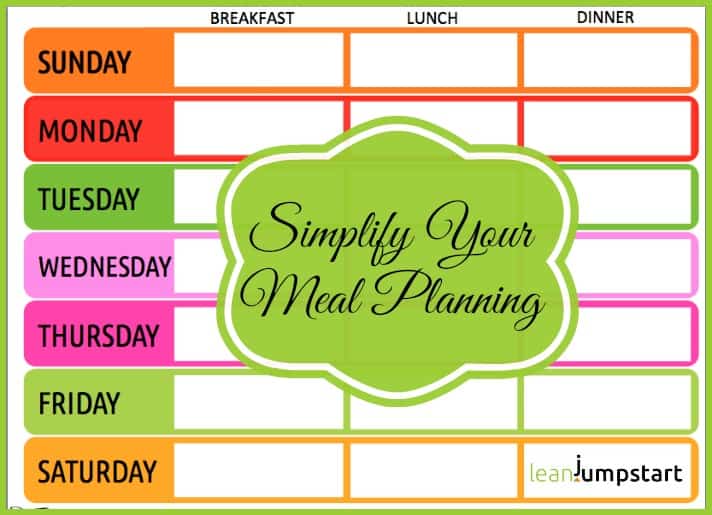 Plan your meals!
If you want to eat clean and healthy, start to plan varied, tasty, nutritious meals. Once your clean eating meal plan is in place, follow it! No need to be overly ambitious…Again, an 80:20 approach is more than enough!
Keep in mind what you learned about clean eating; remember the foods you should and shouldn't be eating.
You know them!
I recommend meal planning at least a week at a time, especially if you like it keeping interesting with variety and experimenting.

Benefits of a clean eating meal plan
It's healthier because you cut-down fast food and drive-thru runs
You can extract a shopping list from your clean eating meal plan
Less food is wasted as you buy only what you need
Cooking is a lot more fun because you'll have the ingredients on hand
You can intentionally cook with clean, seasonal and local ingredients
Including more variety in your meals is easy, because you've planned it
You save money too, because you're eating out less and you can plan your meals
around coupons, grocery sales, farm share, vegetable boxes and/or what you have on hand
You always know what's for dinner – no last-minute 5 pm craziness.
Baby Steps: How to write an effective clean eating meal plan quick and easy
If the thought of planning menus for your family strikes terror in your heart, take a deep breath and think again.
It really isn't as complicated as it sounds!
Again, I will make it so simple that you can't say "No."
While it's easier to improvise with breakfast and lunch, dinner never falls into place by itself. That's why the Lean Jumpstart Approach is to start by planning just dinner.
Below is a simple 3-step habit change that will help you automate your dinner planning.
Set a timer for 5 (or 10) minutes.
Write down a quick and rough dinner plan for the following week. Try to use up the food that's already sitting in the pantry or fridge.
Now, write down any ingredients you need for the dishes that you don't already have in your home. I suggest you make your own customized shopping list.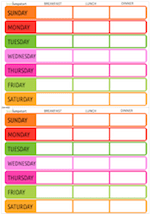 => Click here and you can download my simple weekly meal planning template to get started!
Once you get used to dinner planning, add in breakfast and lunch.
6 extra tips for a Clean Eating Meal Plan
1) Consult your family calendar first when you plan dinner. Busy evenings with sports or other activities will require a freezer meal or another quickly prepared dish.
2) Try to repeat certain themes from one week to the next. You could have a whole grain dish every Monday and Mexican food every Wednesday. We have fish every Friday. A general theme can help you as an inspiring, rough guideline and still offer you enough room for many different variations.
3) If you have kids, it's a smart idea to have them choose something for the meal plan each week. They will be more likely to try new foods and even more motivated in helping you prepare the dinner.
4) Go shopping as seldom as possible but as often as necessary based on your customized shopping list. For most people, weekends are the best time for shopping. "Cut out shopping" is an important habit we will tackle in a future challenge.
5) Try to make extra servings of whatever you're having for dinner. You can then freeze the leftovers and integrate them in a future meal plan for days with a busy evening schedule.
6) Another way to make sure delicious and healthy food is quickly available when you come home from work is to prepare food in advance.
Make time on a weekend to cook a few dishes on your plan that will last well through the week. Part of the ingredients you might want to freeze. Having a well-stocked freezer is crucial if you want to eat a healthy diet.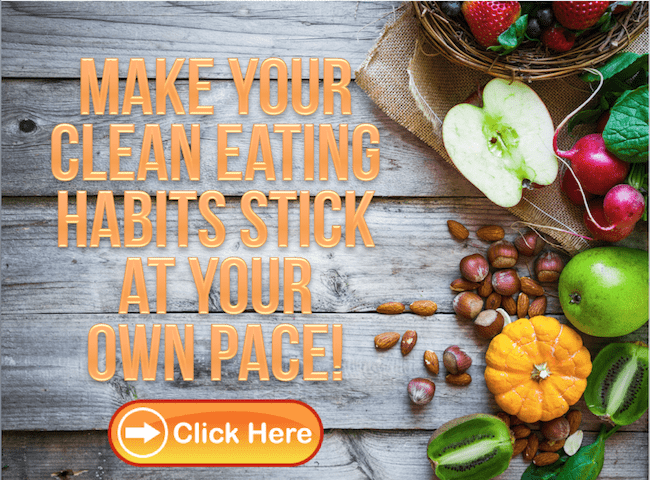 Take a fun approach
Think of your cooking and clean eating meal plan not as chore but as an act of love for your family and your body. Take a fun approach that avoids a sense of drudgery right from the start.
Turn on your favorite music and set the right mood. Don't be shy: sing along with the music while you cut and slice your ingredients.
You may find that when you make cooking an activity that you do while relaxed and without pressure, you'll start loving it.
…And I promise you…
The more you cook, the more comfortable you'll be.
I will address "menu planning" in detail later, but with this simple jump start approach you're already prepared to go a long way. You'll put it to good use, won't you?
=> Click here and you can download my simple weekly meal planning template to get started!