Welcome to the fascinating, rich realm of sandwich spread recipes. My goal this week is helping you minimize the use of commercial creams. With 8 top recipe ideas, I want to motivate you to make homemade, clean eating spreads that are cheaper, healthier, and better for you.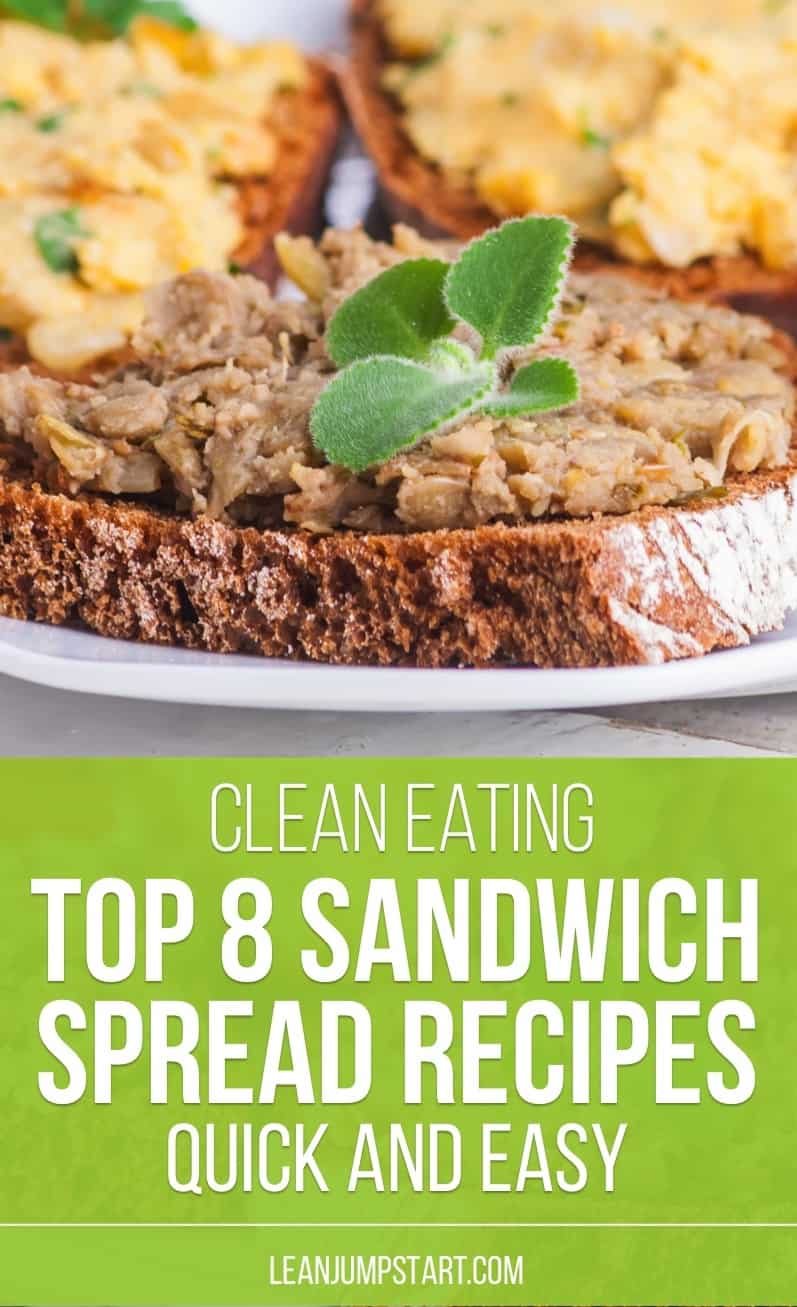 Together we will bring excitement and novelty into even the simplest everyday sandwiches. From now on, you will open your refrigerator's door and always have something nutritious and interesting to munch on.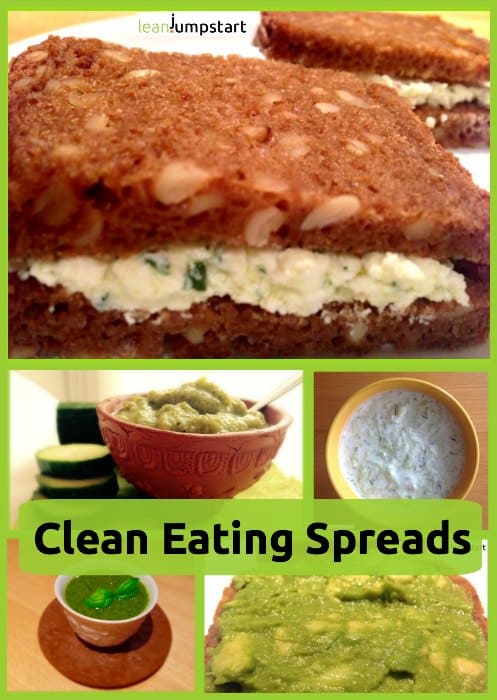 Appropriate for any occasion
Delicious spreads for bread can be made very easily and they are a great choice at any time of the day. Their soft texture allows spreading them on:
breakfast toasts
lunch sandwiches
party crackers
pre-dinner nibbles
dinner bread
…or as a supplement to other dishes.
By the way: the difference between dip, sauce, dressing, marinade, topping, and spread is just a matter of thickness. In our case, if it tastes delicious and you can spread it on a slice of bread, then we call it spread.
What's wrong with commercial products?
Classic spreads like butter or mayonnaise come with many calories and a high content of saturated fats. But also, store-bought cheese, ranch dressing or meat spreads can pack too many calories and unhealthy fats, not to mention the long list of additives and preservatives that can trigger allergies and food intolerances.
A glance at the sweet corner doesn't look much healthier. Just think of the sugar-packed Nutella, marmalade, or jam that can wreck havoc on your blood sugar system. With just a little time in your kitchen, you can make your sandwiches soar to new culinary delights.
Healthy sandwich recipes for smarter choices in your fridge
No matter if hearty, hot or sweet, spread recipes bring variety to your nutrition. In fact, you can find creams of all imaginable colors, tastes, and ethnic origins. And they can be used so easily for clean eating; all you need is a fresh slice of whole grain bread and a butter knife.
The here presented healthy recipes offer several benefits. They…
are all made of fresh, clean, and basic ingredients
can be varied endlessly
are filling and satisfying
are sugar-free and figure-friendly if eaten in moderation
are ready within a couple of minutes
can be unpredictable, original delicacies for your guests
Some of them you can create in large batches and freeze. Many of them are universal enough to be loved by all.
Hint: I use a reliable food processor to create those delicious toppings, that's what I recommend to you too.
1) With herbs and spices
If you followed my healthy spices and herbs challenges, then you already have all you need available for most of these yummy homemade culinary delights.
Print
Clean Eating Basil Spread
Author: Gabi Rupp
Prep Time:

10

Total Time:

10 minutes

Yield:

4

1

x
1 cup

fresh basil leaves

1/4 cup

extra virgin olive oil

1/8 teaspoon

sea salt

1 teaspoon

lemon juice
Instructions
Blend basil in a food processor.
While the food processor is running, pour the olive oil and continue to process until the basil is very finely chopped.
Add a 1/8 teaspoon sea salt for taste.
Add lemon juice to prevent discoloring
Keep refrigerated in glass containers with a tight lid.
Notes
Tip: freeze basil spread in appropriate containers for winter use.
In my second recipe, oregano dominates the scene.
Print
Clean Eating Oregano Feta Spread
serve it as a sandwich between two slices of whole grain bread!
Author: Gabi Rupp
Prep Time:

10

Total Time:

10 minutes

Yield:

4

1

x
1 cup

fresh oregano leaves

2

small garlic cloves

1/4 cup

extra virgin olive oil

1/2 cup

feta, crumbled
Instructions
Blend oregano and garlic in a food processor.
While the food processor is running, pour the olive oil and continue to process until the herb is very finely chopped.
Now blend in feta for 10 seconds or more.
And here comes a quick and easy arugula butter recipe packed in a short video tutorial.
=> Coming soon: Pesto Spread Recipe
More ideas:
Garden cress spread, red or green curry paste, chili pesto, Indian Harissa, roasted pepper spread, or coriander chutney are other recipes with herbs and spices used as their main ingredients. But usually, the recipes that need plenty of ingredients are more complicated to prepare than the two above presented.
Is store-bought honey mustard or any other mustard clean?
The most famous of all spreads in this category is mustard, based on mustard seeds. Yellow mustard is the only spread clean enough for you to buy directly from the store. If you are, however, following a sodium-restricted diet, please read nutrition labels carefully for salt content.
I use store-bought yellow mustard (medium spicy) often as a replacement for butter.
2) With nuts and legumes
If you are looking for alternative protein sources to animal meat, then spread recipes with nuts or legumes come in handy like for example my mint pea dip or my avocado cashew cream. Another avocado spread better known as guacamole I make most often when I get fresh avocados in my weekly vegetable box. It is also a great addition to any Tortilla wrap.
Click through for my top 12 easy guacamole recipe ideas!
Print
Clean Eating Avocado Spread
Author: Gabi Rupp
Prep Time:

15

Total Time:

15 minutes
2

ripe avocados, pitted and peeled

2 tablespoon

fresh lemon juice

1/8 teaspoon

sea salt
Cayenne pepper to taste, optional
Instructions
Put the avocado flesh into a plastic storage bag.
Add lemon juice, sea salt and Cayenne pepper (optionally).
Seal bag, and mash the avocado with your hands until mixture is combined.
Cut the tip off one corner of plastic storage bag and pipe spread onto whole grain bread slices (as seen in the picture) or slices of fresh vegetables.
More ideas
Hummus, lentils, peanut butter, pine nut butter, tofu, or walnut spread are other recipe examples with nuts and fiber-rich legumes as their main components.
Find here our beloved clean eating hummus recipe including a short video. Click here!
I freeze hummus spread up to 3 months. It's worth mentioning also that green lentils spread can be frozen for up to six months. I will add the recipe as soon as I can.
And here comes our brand new lentil spread recipe. Click here!
3) With Dairy
Cheese, mayonnaise, and butter fall into the dairy spread category. In refrigerator sections of supermarkets, commercial cream or blue cheese spreads are tempting, but if you want to save money and calories then you'd better opt for my cool and creamy yogurt spread below.
Print
Clean Eating Greek Tzatziki
The perfect companion to vegetables, grilled meats, and, of course, breads.
Author: Gabi Rupp
Prep Time:

15

Total Time:

15 minutes
2

medium cucumbers, finely diced

1 tablespoon

fresh dill, chopped

2 cups

Greek yogurt/homemade yogurt

2

cloves garlic, crushed

1 tablespoon

extra virgin olive oil
juice of

half a

lemon

1/8 teaspoon

sea salt
Instructions
Put all the ingredients in a large bowl and stir together
Chill for an hour in the refrigerator.
On a side note: The egg sandwich spread is another very popular relish in the dairy category. As it usually contains mayonnaise, it doesn't fit in our lean recipe collection.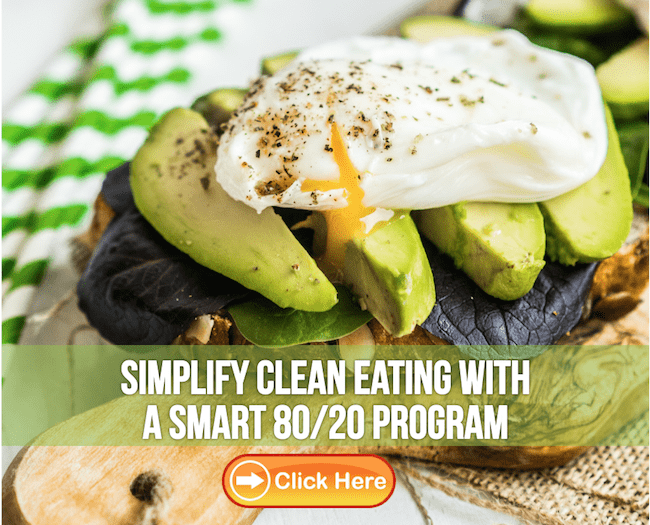 4) With vegetables
The following vegetable based recipes are not only suitable for vegetarians or vegans but are also loved by all body-conscious foodies.
Print
Clean Eating Zucchini Spread
This low-calorie clean eating zucchini spread is an ideal companion for weight conscious gourmets.
Author: Gabi Rupp
Prep Time:

7

Cook Time:

23

Total Time:

30
5

medium zucchini, grated

1

large onion

3

cloves garlic, crushed

2 tablespoons

olive oil for frying

1/4 teaspoon

nutmeg

1/4 teaspoon

salt

1/4 teaspoon

black pepper
lime juice
Instructions
Cut onions in fine cubes and fry in a large skillet with olive oil over medium heat.
Add crushed garlic and fry for a minute longer.
Add grated zucchinis to the pan and fry for another minute.
Add spices and salt, stir, and let it simmer covered over low heat for about 20 minutes.
Let it cool down and grind in food processor with lime juice until consistency is spreadable.
Notes
This is one of my favorite spreads:)
More ideas:
Cucumber, sun-dried tomato, or pumpkin spreads are other recipes with vegetables playing the main role. Aioli, a typical garlic spread recipe that is traditionally used in France and Spain, is part of this category too. Although it is a creamy and aromatic condiment, it is heavy, like chipotle mayo but goes especially well with a grilled chicken sandwich.
A special favorite of mine in this category is this easy baba ganoush recipe, a flavorful eggplant dip.
5) With fruits
Most sweet spreads are not clean and need white sugar like jam, jelly or preserves.
If you are a sweet tooth and still want to eat clean check you will love my sugar-free chia seed jam recipe.
5 steps to implement healthy creams into your nutrition
This week, take the chance to broaden your horizon on spreads.
Make some of the healthy recipes I presented above. Store them in glass containers with tight lids in your fridge.
Use them on different sandwiches throughout the week.
Decide upon your 2-3 favorite sandwich spread recipes, or research other recipes on the web until you find your favorites.
Adopt the recipes you and your family like best and incorporate them in your weekly meal planning. Use them for your whole grain lunch sandwiches or dinner bread.
After doing so for a while, reward yourself with a new set of glass jars or clear-glass storage containers (freezer-safe) e.g. from Pyrex, Glasslock or Kinetic for your spreads.
Prepare to be enticed…Guten Appetit!
Do you have a favorite, clean recipe?
Please leave a comment – I look forward to reading your spread inspirations.