Last Updated on January 19, 2021
This vegan lentil dip is a perfect treat for those who want a clean and healthy sandwich spread recipe without compromising the taste of their meal. Grab my new high fiber recipe or watch my short video below.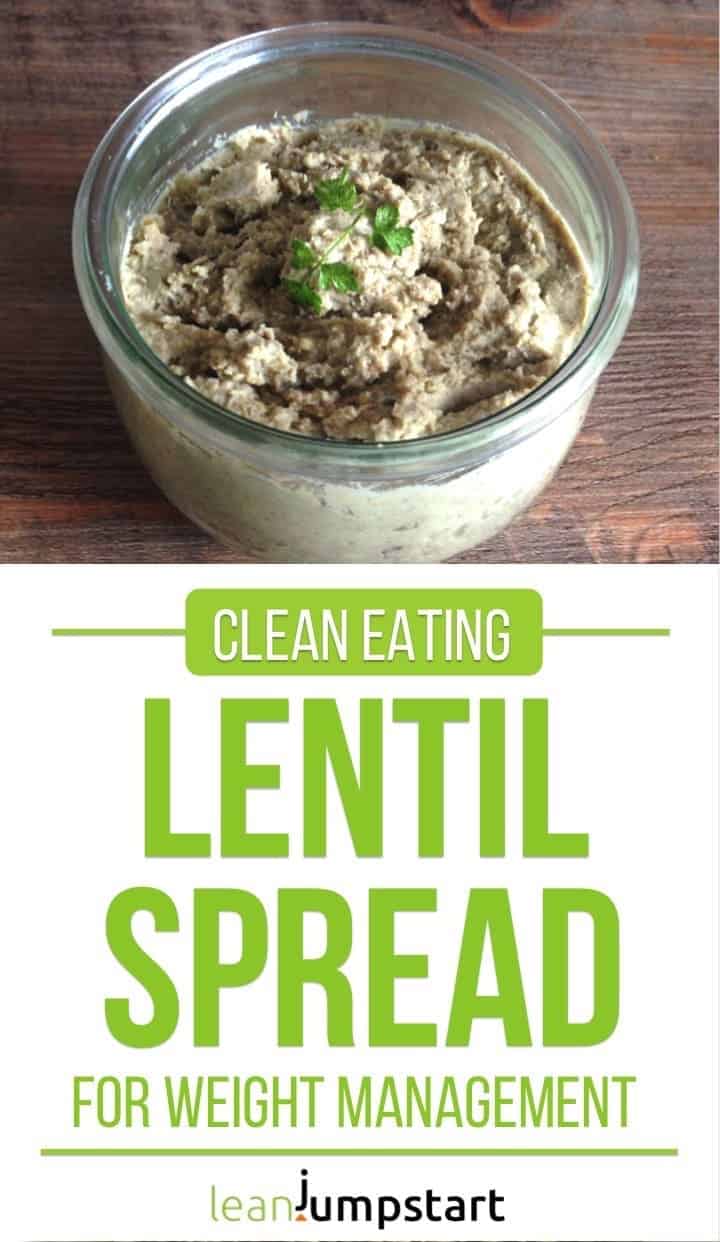 Don't judge this sandwich spread by its appearance.
I'm aware that it wouldn't win any "beauty contest". But liver sausage on the other hand also never looked very appealing to me and yet it was one of my favorite spreads in my early childhood.
My mother served it very seldom and I had to learn that liver sausage (Leberwurst) made of liver and pork mixed with fat is not the healthiest food. This typical German "Wurst" – contains unfavorable saturated fats, toxins and high amounts of sodium. But I loved its taste…
The more health conscious I got over the years the less liver sausage I ate and in the end, I totally forgot about it. I think I never served liver sausage to my own little family. But before I explain what my "Leberwurst" story has to do with lentil spread let me first present the lentil spread recipe to you.
Watch to make the recipe
Print
Vegan lentil dip
a hearty and healthy sandwich spread for a quick weeknight dinner. Works great also as school or work lunch.
Author: Gabi Rupp
Prep Time:

10

Cook Time:

40

Total Time:

50
3/4 cup

brown or green lentils (I used brown lentils)

4

tbs olive oil

2

garlic cloves, minced

1/2 tsp

cumin seeds, ground

1/2 tsp

cilantro seeds, ground

1 teaspoon

salt
pepper to taste
additional liquid from lentils
Instructions
Place lentils in a medium pan, cover by 2 inches (5 cm) of water and bring to a boil
Add salt to taste, reduce the heat and let it simmer uncovered until tender for 40 minutes (Time Saving Tip: If you let the lentils soak overnight the cooking time can be reduced to 10-20 minutes)
Drain lentils
Transfer to the food processor – in the meanwhile…
Heat 2 tablespoons olive oil in a pan
Add garlic
Let it simmer for 2 minutes
Add cumin, cilantro, salt, and pepper
Stir together for about 1 minute, then remove from heat to cool down a bit
Transfer to food processor too
Puree the lentils together with garlic and spices
Thin out according to your preferences with the remaining olive oil and broth of the lentils. The spread should be very smooth, if it is pasty or dry, add more broth or olive oil.
Fill it in glass jars and store it in your fridge for up to 1 week.
Notes
To save even more time you could try this sandwich spread recipe with red lentils too. They don't need to be soaked and are cooked within 15 minutes.
What has my "Leberwurst" story to do with the lentil dip recipe?
I love to experiment with different sandwich spread and dip recipes and I always wanted to try out a lentil spread. Given the fact that my vegetarian daughter more and more tends towards "vegan" options, I felt the urge to try out a vegan spread we could all love.
My family adores my lentil soup and any other lentil dishes I've cooked so far, so I assumed that a lentil cream could maybe work too?
This clean eating recipe took me a bit longer to prepare than expected as I had only brown lentils at hand and I forgot to let them soak overnight. But if you follow my tips below you can save some time on this spread recipe.
I prepared this legume spread on the last weekend and I experienced a real taste revelation – who would have thought?
To my surprise, this lentil spread not only looked like liver sausage but combined with slices of my homemade whole wheat bread it also tasted a bit like hearty liver pâté.
While my daughter and I were immediately hooked and are now raving fans of it, my husband remains still a bit skeptical. And I think he needs some more time to get used to it;)
A light and seriously satiating sandwich spread
In my opinion, you could never have too many healthy protein sources in your clean eating kitchen. This lentil dip has a sustainable level of calories and it is rich in nutrients – an excellent clean eating sandwich spread for all those of us who watch their diet.
On top of that lentils are high fiber foods and we all know how important dietary fiber is for best health and weight management. By the way, it can also be used as a yummy dip variation on parties.
Do you love healthy, yummy spreads with just a few ingredients? Then you shouldn't miss my 52 Chef Habits Ecourse. Clean eating spreads are an integral part of the 52 Chef Habits.
Other legume recipes you might enjoy